Inspired by family members with a Northstar TC650, Carol and Mark Wegner bought their own Northstar TC650.  Now the two Northstars lead each other to fun and adventure.

You literally have to dangle a truck camper off a bridge to get the local news to consider covering something related to truck campers.  Even then, the reporters will painfully refer to it as an RV.  In fact, truck campers are almost never in the media for any reason; news, editorial, or advertising.  It's like truck campers simply don't exist in the greater media world.
So how do most folks discover truck campers in almost 2014?  In a nutshell; word of mouth and chance, quickly followed by the internet.
A passionate truck camper will share their adventures with friends and family sending them to the internet to begin their quest.  Other folks just happen to see a truck camper rig at a campsite, parking lot, gas station, or driving down the highway sending them to the internet to find out more.
Today's story highlights a very clear example of how family members, by example, inspired other family members to not only buy a truck camper, but the exact same make and model of truck camper.  This is the most clear example of the power of word of mouth we've seen in the truck camper world.  It's also a stark warning.
Be careful with this truck camping stuff.  It's highly infectious.  A casual comment to a friend or family member about your totally awesome truck camping lifestyle can inspire that unsuspecting friend or family member to immediately buy a truck camper rig.  Just think how guilty you would feel if you got all of your friends and family truck camping and having the time of their lives.  As you're about to read, one truck camper can indeed lead to another.  It happens.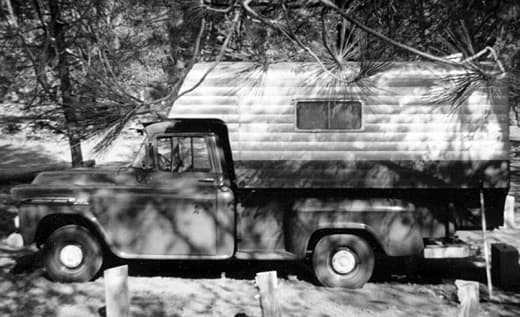 Above: Carol's father built a camper in the 1950s
TCM: How did you get into truck camping?
Carol: I grew up camping in a truck camper my father built in the late 1950s.  Our first trip in the camper was up to Vancouver Island.  At age five, I remember going to mainland Mexico with that camper.  That was right before I started kindergarten.
Mark and I owned two 1986 Volkswagen Westfalias when our children were growing up.  We loved the freedom it allowed us when traveling.  As the second Westfalia, a rare Syncro model, aged it became less dependable, expensive to maintain, and no longer fit our family.  Camping vacations also became less practical and the kids' enthusiasm begin to wain somewhat.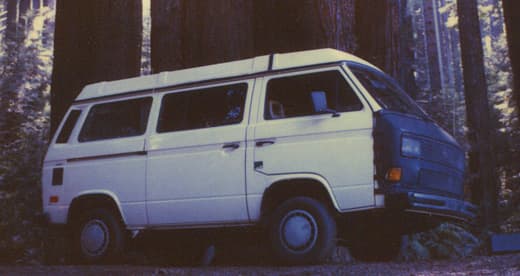 Above: Carol and Mark's VW van
Before getting our truck camper, we traveled up the West Coast to the Canadian border and did some tent camping.  We loved the flexibility, but sleeping on the ground got old.  That's when the idea of a truck camper began to percolate.  We had always liked the size and versatility of my sister's Northstar TC650.
I researched Northstar truck campers by reading your online magazine.  We found our TC650 and then went to the Toyota Dealer and purchased a four wheel drive Toyota Tundra.
Mark: We got the camper in late October 2012 after looking for a TC650 for over half a year.  The previous owner delivered it to us where it sat in our yard for a few weeks before we purchased the truck.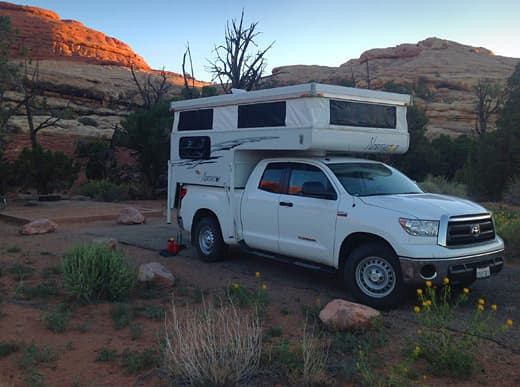 Above: Mark and Carol's Northstar TC650 in Canyonlands National Park, Utah
TCM: Why did you choose a pop-up truck camper?