Inspired by family members with a Northstar TC650, Carol and Mark Wegner bought their own Northstar TC650.  Now the two Northstars lead each other to fun and adventure.

You literally have to dangle a truck camper off a bridge to get the local news to consider covering something related to truck campers.  Even then, the reporters will painfully refer to it as an RV.  In fact, truck campers are almost never in the media for any reason; news, editorial, or advertising.  It's like truck campers simply don't exist in the greater media world.
So how do most folks discover truck campers in almost 2014?  In a nutshell; word of mouth and chance, quickly followed by the internet.
A passionate truck camper will share their adventures with friends and family sending them to the internet to begin their quest.  Other folks just happen to see a truck camper rig at a campsite, parking lot, gas station, or driving down the highway sending them to the internet to find out more.
Today's story highlights a very clear example of how family members, by example, inspired other family members to not only buy a truck camper, but the exact same make and model of truck camper.  This is the most clear example of the power of word of mouth we've seen in the truck camper world.  It's also a stark warning.
Be careful with this truck camping stuff.  It's highly infectious.  A casual comment to a friend or family member about your totally awesome truck camping lifestyle can inspire that unsuspecting friend or family member to immediately buy a truck camper rig.  Just think how guilty you would feel if you got all of your friends and family truck camping and having the time of their lives.  As you're about to read, one truck camper can indeed lead to another.  It happens.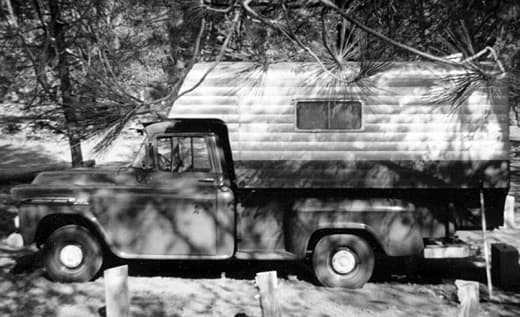 Above: Carol's father built a camper in the 1950s
TCM: How did you get into truck camping?
Carol: I grew up camping in a truck camper my father built in the late 1950s.  Our first trip in the camper was up to Vancouver Island.  At age five, I remember going to mainland Mexico with that camper.  That was right before I started kindergarten.
Mark and I owned two 1986 Volkswagen Westfalias when our children were growing up.  We loved the freedom it allowed us when traveling.  As the second Westfalia, a rare Syncro model, aged it became less dependable, expensive to maintain, and no longer fit our family.  Camping vacations also became less practical and the kids' enthusiasm begin to wain somewhat.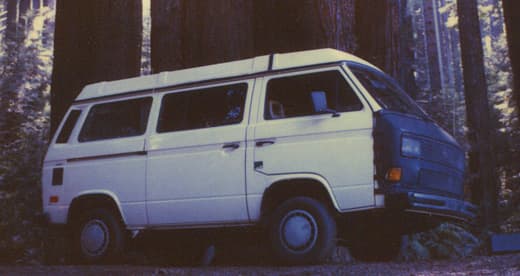 Above: Carol and Mark's VW van
Before getting our truck camper, we traveled up the West Coast to the Canadian border and did some tent camping.  We loved the flexibility, but sleeping on the ground got old.  That's when the idea of a truck camper began to percolate.  We had always liked the size and versatility of my sister's Northstar TC650.
I researched Northstar truck campers by reading your online magazine.  We found our TC650 and then went to the Toyota Dealer and purchased a four wheel drive Toyota Tundra.
Mark: We got the camper in late October 2012 after looking for a TC650 for over half a year.  The previous owner delivered it to us where it sat in our yard for a few weeks before we purchased the truck.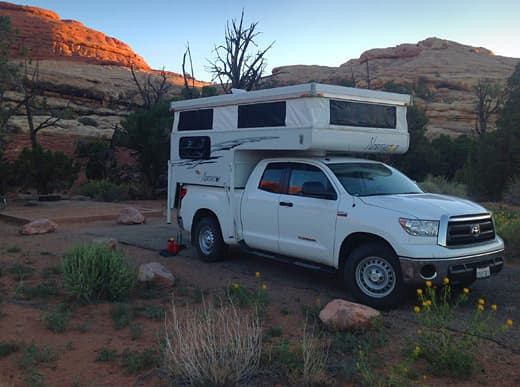 Above: Mark and Carol's Northstar TC650 in Canyonlands National Park, Utah
TCM: Why did you choose a pop-up truck camper?
Mark: We knew we wanted to go small, light, and portable.  A pop-up truck camper can go anywhere our truck can go.  The TC650 was the obvious choice and we still liked the micro-camping component that we utilized with our VW Vans.
Carol: We went to RV shows and looked at Northstars.  I really wanted the North-South cabover bed.  That was a big selling point.  We have a very comfortable mattress, added a foam top layer, love being able to make coffee inside, and enjoy not having to go outside when it's blustery and cold.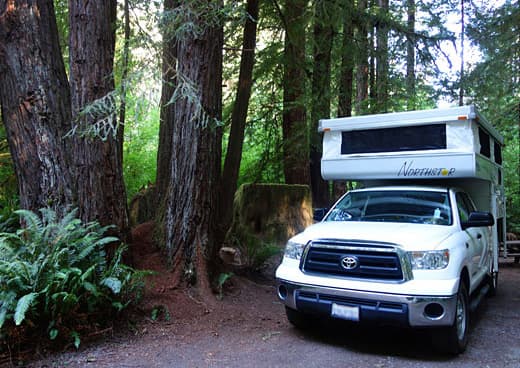 Above: Del Norte Redwoods, California
Mark: We also really enjoy the six large, zippered three-layer windows, which really bring the outdoors inside.  It's definitely one of our favorite features of the camper.
Carol: Truck Camper Magazine really helped me.  I read the reviews and read what people had written about their own Northstar Campers.  That was it.
TCM: Now that you have a TC650, do you go camping with your sister and bother-in-law in their TC650?
Carol: Yes, we do.  We camp a few days with Joan and Ted and, sometimes, they will take off one way and we'll take off another.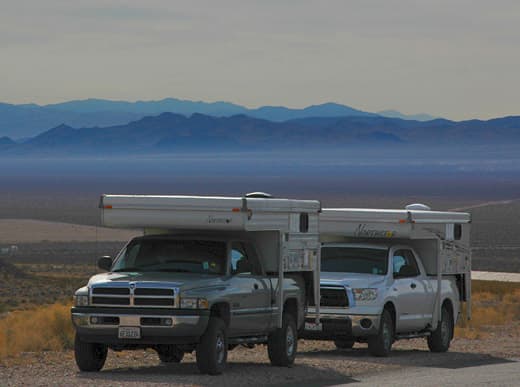 Above: Rhyolite Ghost Town, Nevada
We just went on a trip with them to the Southwest.  Last summer we went on a 3,700 mile trip to Bella Coola, and up through the inland passage of British Columbia with them.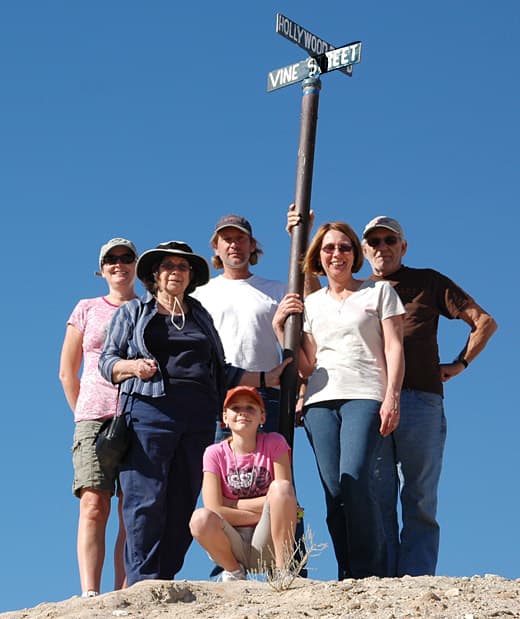 Above: The Bergers and Carol, The Sunset and Vine Signpost, Anza-Borrego State Park, California
We live close to each other, so we also have the luxury of going away for a weekend.  They were very excited that we got our own TC650 and we were definitely inspired to get out there.  They purchased their camper about twelve years ago so that they could boondock in the Mohave Desert.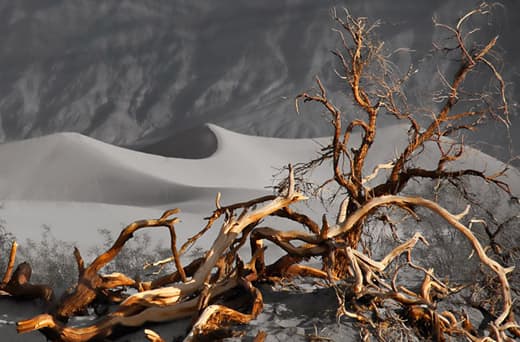 We have made it a tradition to go to Death Valley for Thanksgiving week.  This will be our fourth year.  It's a great time to be in the southern California desert.  It's warm there and cold here.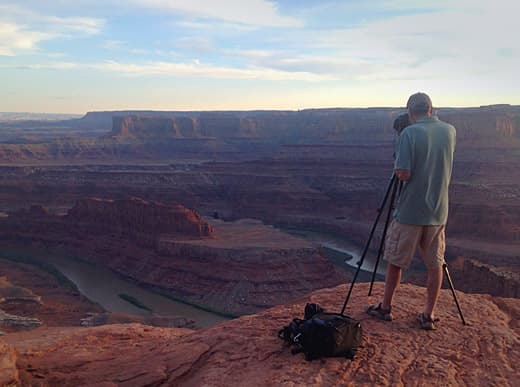 Above: Mark at Dead Horse Point, Utah
TCM: What do you like to do while you're on the road?
Mark: On a personal note, as a career advertising art director, I'm now devoting more time to shooting photography professionally, some commercial work but mostly fine art.  Many of the places we travel and camp at are prearranged locations that we've researched on the web.  As a result, I can maximize my photographing time versus spending time scouting locations.
Carol and I get some great quality time together and the big bonus is we get to stay right in the middle of these locations versus going back and being land-locked in some hotel room.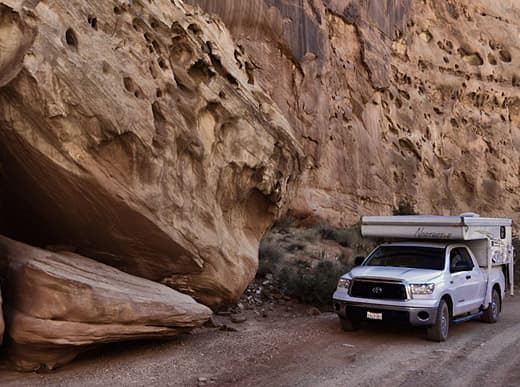 Above: Burr Trail, Canyonlands National Park, Utah
We'll get up before sunrise, go out, shoot some, and then make breakfast at some dramatic spot afterwards.  We go hiking, explore small towns along the way and do various day trips wherever we're at.  We'll get to our daily destination and we're on the road from sunrise to sunset.  We're not ones to sit around the campground all day.
We traveled and camped plenty before we bought the Northstar, but now we're going for longer excursions and spending more time in places we passed through quickly before.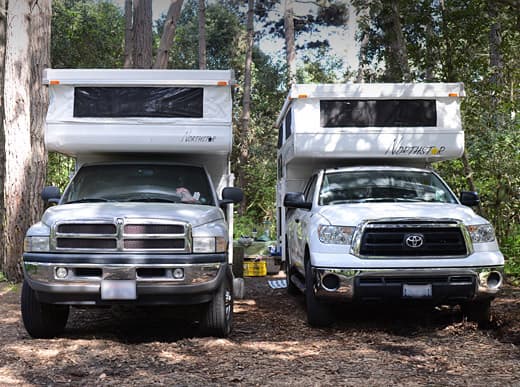 Above: Forestry Camp, East of Whistler, British Columbia
Carol: Before the camper, we sometimes stayed in hotels while visiting state parks, national monuments, and national parks.  Now we camp in those same destinations.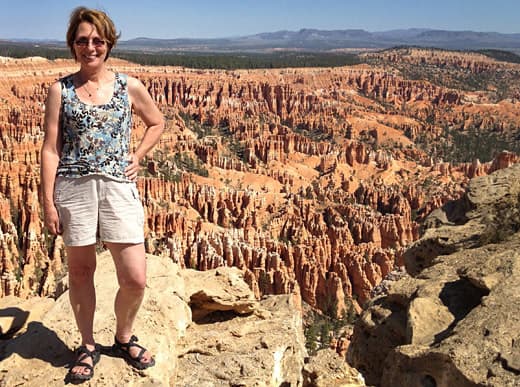 Above: Carol, Inspiration Point, Bryce National Park, Utah
TCM: Carol, as a school teacher, how do you get away during the school year?
Carol: If we can get away, we do.  It's harder in January and February because of weather, plus we can't travel too far when I'm teaching.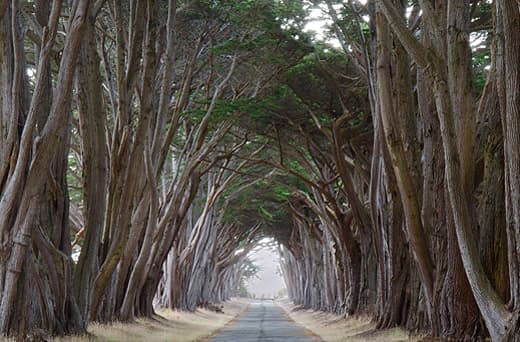 Above: Point Reyes National Seashore Tree Canopy
Last fall we went to Point Reyes National Seashore which is only an hour away from home.  It's hard with teaching, but I can take my papers with me
Mark: We have a favorite place an hour and a half up the road, at Fort Bragg, California called MacKerricher State Beach.  It's perhaps our favorite state park and a very diverse location.  We have been there four or five times since we have bought the camper.  It's good to have places to camp nearby.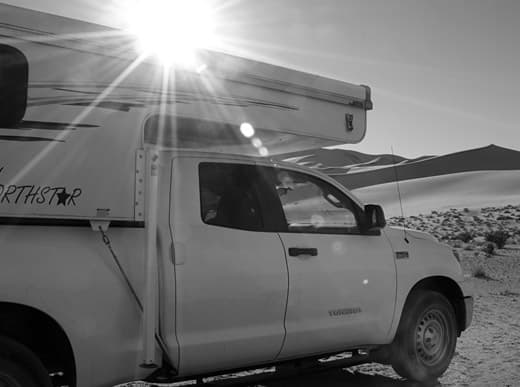 Above: Eureka Dunes, Death Valley National Park, California
TCM: Where else have you been with your Northstar?
Carol: We have been to Death Valley where we stay at Furnace Creek.  There are lots of off-road opportunities there.  Last year we couldn't stay at Furnace Creek because we didn't make reservations.
TCM: It's becoming increasingly important with the national parks to make reservations, especially in season.
Carol: Yes it is.  We also visited Vancouver Island and love Pacific Rim National Park on the west side of the island.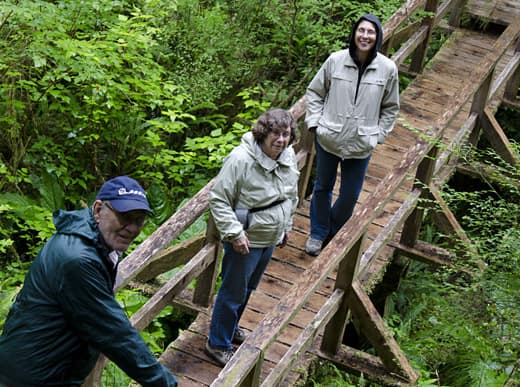 Above: Ted Berger, Joan Berger, and Carol Wegner at Pacific Rim National Park, Tofino, Vancouver Island, British Columbia
Mark: Tofino on Vancouver Island is an area we keep returning too.  There's a rainforest there with trails.  It's beautiful, lush and dramatic, but rains a lot, as you might imagine. It's nice to have our pop-up camper!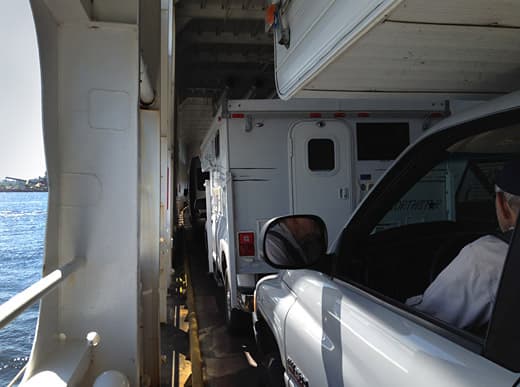 Above: Riding the ferry, Vancouver Island, British Columbia
Carol: We took the twenty-hour ferry from Port Hardy.  Being used to Highway 1, we were taken aback.  There was nothing there but wilderness.  It reminded us of Alaska with all the open space.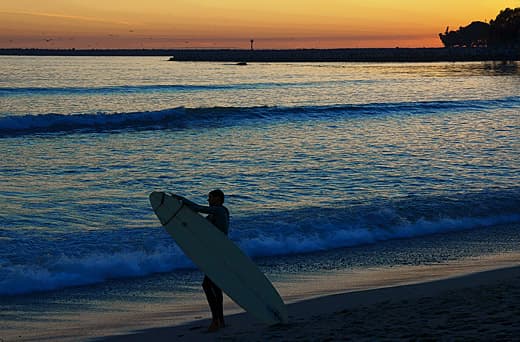 Above: Doheny State Beach
We also love Doheny State Beach.  We stay there in the winter.  It's right on the beach in Southern California.  It's $35 a night.  If you want to be on the ocean, it's $60 a night.  We also belong to the National Parks system and have a National Park's pass.  Mark is going to be a 62 this year so we'll get the lifetime park pass then.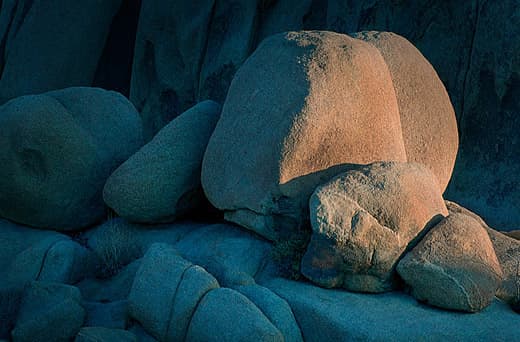 Above: Rocks at Joshua Tree National Park
We ended last year camping at Pismo Beach State Park and Joshua Tree National Park near Palm Springs, California.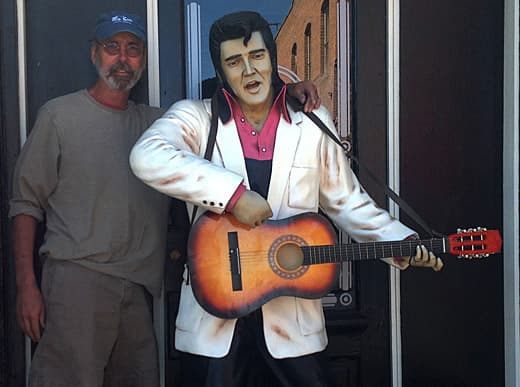 Above: Mark and Elvis, Route 66, Williams, Arizona
TCM: In one of your emails you wrote, "We love the freedom of winter camping, no reservations needed!"  What's it like to winter camp in the Northstar TC650?
Carol: We have camped in temperatures around twenty-six degrees.  We have the heater with the thermostat and it keeps our camper warm.  We thought we would need new sleeping bags, but I just bring a down blanket and put it on top of our sleeping bags during these colder nights.  That works out well.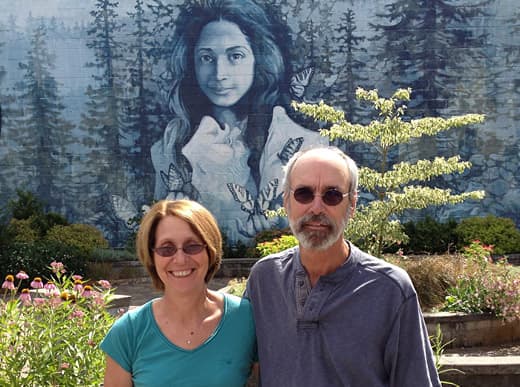 Above: Mark and Carol, Cottage Grove, Oregon
TCM: What's next for Mark and Carol?
Carol: We may go to Yosemite National Park over Veterans Day weekend, Death Valley National Park in November for Thanksgiving, Joshua Tree National Park for Christmas, and the Southern California beach for New Years.
Mark: Carol is quite a cook utilizing fresh cuisine, which Napa and Sonoma are well known for.  I am the lucky recipient of that.  We both enjoy the cooking and prep work and our evening activity usually revolves around preparing a gourmet meal.
Carol: I am always looking for recipes that are easy, and we like to stop at bakeries or get fresh fish on the coast when we're traveling.
When you're traveling and staying in motels, you get tired of eating out.  We like having the option of making fresh food in the camper for breakfast, lunch, and dinner.
Too many times I have said, "We should have done this years ago".  Now our kids are out of the house and this is perfect for us.  We've enjoyed every minute we can find to escape in our vacation home on wheels.
Truck: 2011 Toyota Tundra, double cab, single rear wheel, short bed, 4×4, gas
Camper: 2009 Northstar TC650
Jacks: Happijac
Tie-downs/Turnbuckles: Happijac
Suspension: Airbags
Gear: Honda 1000 portable generator
Do you truck camp with other family or friends who also own a truck camper?  If you do, please share your story.