Nine years ago this week, we launched Truck Camper Magazine.  What better way to celebrate nine years than with an all-new, totally rebuilt website?
Over the past three months, Truck Camper Magazine has been completely rebuilt with the latest and best performing technology.  Every section has been redesigned to improve the functionality and presentation.  On top of that, we migrated to a mobile responsive platform making Truck Camper Magazine fully compliant with tablets and smartphones for the first time.
Truck Camper Magazine Is All Here
While the design changes are considerable, the content, and its location, has not changed.  Starting from the top, the main navigation is the same.  Every section is where it was and named what it was, from Features to Back Issues.  If you're looking for the Buyers Guide, it's right where you left it.  If you want the Review section, it hasn't moved.
That is unless you're reading this article on a smartphone or tablet.  In that case, the main navigation items are still unchanged, but they're tucked into the mobile menu on the top left.  Click on the three stacked lines in the top left corner and the familiar menu items will come out from the left hand side in a new mobile menu.
Addictive New Features To Sort
Beyond the mobile responsive capability and fresh design, there are a number of new features ready for you to discover and enjoy.  For starters, we have developed sorting tools that allow you to find what you're looking for faster and easier.  Just be careful.  These new sorting features are fun and highly addictive.  Make sure you have food and water nearby before selecting one of the following sections.  You've been warned.
New Buyers Guide Sort
What if you were interested in a multi-slide truck camper, but didn't know which truck camper manufacturers offered multi-slide models?  With the previous Buyers Guide you had to click on each manufacturer to see if they made a multi-slide.  Not anymore.

The new Buyers Guide main page allows you to instantly sort truck camper manufacturers by six categories; pop-up, hard-side, non-slide, single-slide, multi-slide, and cabover-less.  Using this interactive sort feature, you can search the truck camper brands by type, and then click directly to their corresponding Buyers Guide pages.
In addition to the sort, we have also made the Buyers Guide specification and capacity charts bigger, cleaner, and easier to read.
New Gear Guide Sort

The new Gear Guide main page also allows you to instantly sort the truck camper gear manufacturers by categories; Accessories, Jacks, Suspension, Tie-Downs and Turnbuckles, Towing, and Bumpers.  Click on one of these six truck camper gear types, and the new sort feature will present the gear brands with products for that category.
New Dealer Sort By Brand

What if there was a way to see which dealers carried a brand of truck camper you were interested in?  With the new Dealer Inventory sort, you simply click on the brand you're interested in and – like magic – the dealers that carry that brand appear with their location information.  Then you can click on their dealer logos and go straight to their inventory to see if they have the camper you want in stock.
Find A Dealer Map
With the new Find A Dealer Map, you can visually see where the dealers are on every page.  Click the Find A Dealer Map icon and you will be taken to a full-size interactive version of this map.  On the map, dealers are presented by red pins making finding your local truck camper dealer fast and intuitive.  Click on a red pin for a dealer's contact information, lines carried, and a link to their Dealer Inventory page.
Look Out Below: Articles By Brand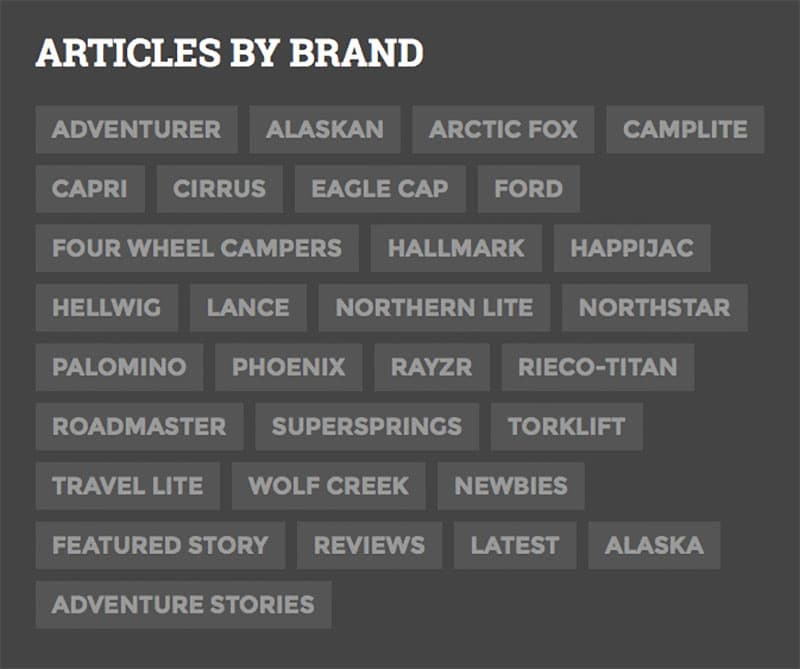 At the bottom of the website there's a new area called Articles By Brand.  In this area you will find every truck camper brand and truck camper gear company listed in a series of tiles.  Click one of these brand tiles and you'll be taken to a page listing every announcement, news article, review, and truck camping adventure story featuring that manufacturer.  Along with the significantly improved search feature, Articles By Brand will make finding content faster and easier than ever before.
Easter Eggs Galore
There are more new features, but we'll let you discover them on your own.  Consider this a virtual Easter Egg hunt, without the awkward bunny suit.  Happy hunting!
Find A Glitch? Please Tell Us!
We have carefully tested every facet of the new website, but we may not have tested it on your exact device, operating system, and web browser.  If you see a problem on your computer, tablet, or smartphone, please click on the link below, and report it immediately.
Welcome to the new Truck Camper Magazine
The new Truck Camper Magazine is full of new ways to rediscover and explore the 2,000+ published articles and blogs contained here-in.  In fact, we were repeatedly distracted by our own content during the construction of the website.  There are so many great stories from amazing truck camper enthusiasts all over the United States, Canada, and the world.  They're waiting to inspire you.
Thank you for reading Truck Camper Magazine!
Sincerely,
Gordon, Angela, and Harley White
Publisher, Editor, and Cat-In-Chief
Truck Camper Magazine