For 2015, Northstar completely overhauls their popular 650SC, a self-contained short-bed pop-up truck camper for full-size trucks.  Then Northstar teases us about the biggest Northstar Camper, ever.

Some truck camper manufacturers build the truck campers they believe their customers are asking for.  If they get enough requests for high faucets, they put high faucets in their campers.  They believe giving the customers what they want will result in more sales, and happier customers, and it usually does.
Other truck camper companies have their own internal time-tested logic.  They may hear customer requests and see market trends that deviate from their core logic, and they stick to their guns and build the product they believe in, year after year.  These companies often own a niche within the truck camper marketplace and standing firm with that niche has brought them great success.
Northstar Campers is one company that seems to have a foot in both camps.  On one foot, they stand firm with wood-frame, hung-wall, non-basement, non-slide hard-side and pop-up truck campers with cassette toilets.  That's their niche, and they've stuck to it for over five successful decades.
On the other foot, Northstar is also listening carefully to customer and dealer feedback and looking for opportunities other companies haven't recognized or fully-capitalized on.  This explains why Northstar leads the truck camper market internationally, builds full-size flatbed truck campers, and continuously finds ways to push the functionality per-foot envelope.
Speaking of standing firm and pushing envelopes, Northstar is announcing its first truck camper for the 2015 model year; the 2015 Northstar 650SC.  It's a ground-up redesign of the most popular Northstar pop-up truck camper, and a sign of things to come from this family-owned truck camper manufacturer.  And just when you think you've got Northstar pegged, they tease us with what might become one of the most talked about campers of 2014.
To tell us more about the 2015 Northstar 650SC, we talked to Rex Willett, President of Northstar.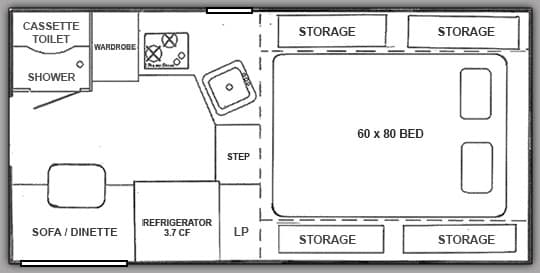 2015 Northstar 650SC Specifications:
The 2015 Northstar 650SC is a wet bath pop-up camper made for short bed trucks.  The interior floor length of the 2015 Northstar 650SC is 7'0" and the interior height is 6'5″.  The 2015 Northstar 650SC has a 20 gallon fresh tank, 6 gallon hot water heater, 4 gallon cassette reservoir, 13 gallon grey tank, and 5.3 gallon cassette black tank.  It can accommodate one battery and has one twenty-pound exchangeable propane tank.  The base weight of the 2015 Northstar 650SC is 1,610 pounds.  The base MSRP for the Northstar 650SC is $19,800.

Above: The exterior of the 2015 Northstar 650SC (click to enlarge)
TCM: Are the changes to the 2015 Northstar 650SC a simple refresh, or is this a completely new camper from the ground up?
Rex: The idea for the new 650SC floor plan came from our Northstar Liberty hard-side model.  Essentially, the new 650SC is a pop-up version of the Liberty.  We did this once before when we converted our Northstar Laredo floor plan and created the 850SC soft-wall.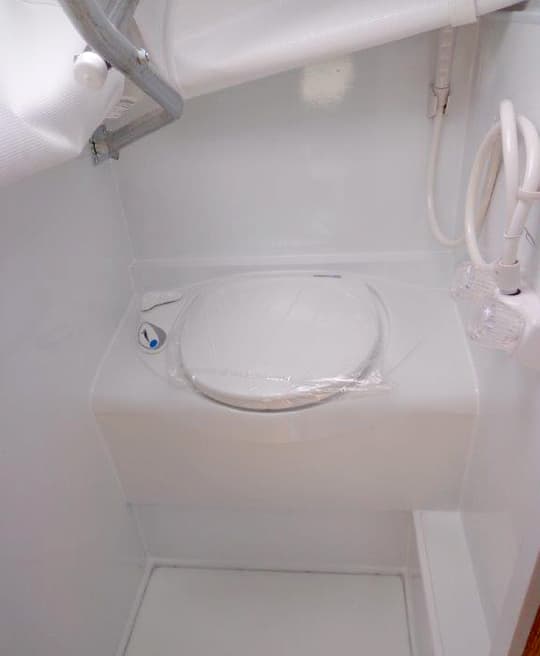 Above: The Northstar 650SC bathroom is usable with the roof down
TCM: Has the floor length or any of the other dimensions changed?
Rex: The floor length is the same as our TC650.  The height of side walls is higher, so you have an extra one and three-quarters inches in the up position.  I raised the wall to allow the bathroom to be usable with the roof down.  When you are traveling, you can jump in and go potty instead of doing the hovercraft in a rest area bathroom.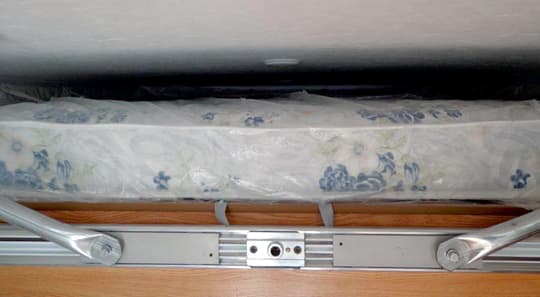 Above: There is six inches between the mattress and the roof when the top is down