Follow Truck Camper Magazine Star Eric Williams as he gets a Roadmaster InvisiBrake installed and tests it with his Alaskan Camper and rock crawling Jeep rig.  It's time to take a brake.

Boy do we have an action-packed story for you.  First, Bob Vondra, Publications Manager for Roadmaster, gives us the low down on what the Roadmaster InvisiBrake is, what makes it unique in the marketplace, and why a supplemental towing system is important for truck campers that tow vehicles.
Then we watch a Roadmaster InvisiBrake get installed on Eric Williams' Alaskan Camper and Jeep rig at Roadmaster's headquarters.  And finally, we ask Eric what's it like to go from no supplemental braking system to using the InvisiBrake.  Jeepers, that's a lot of content.  Let's get to it.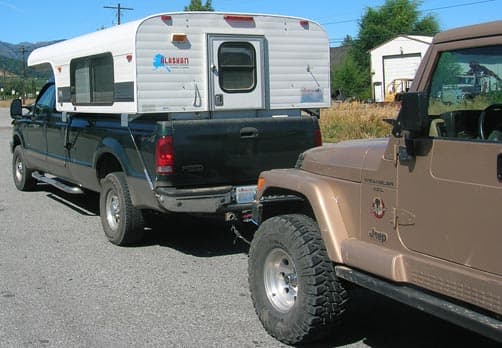 The following is an interview with Bob Vondra, publications manager for Roadmaster, on the Roadmaster InvisiBrake supplemental braking system.
TCM: What's your name and what's your position at Roadmaster?
Bob: My name is Bob Vondra and I'm the publications manager.  The developers come to me when they have a product and I work with them and come up with installation instructions and owner's manuals.
TCM: What is the InvisiBrake?
Bob: The Roadmaster InvisiBrake is a fully-automatic supplemental braking system that stops your towed vehicle in tandem with your truck camper.  Best of all, it's completely out of sight.  Once installed, the InvisiBrake doesn't need to be connected or disconnected for use.  It's totally idiot proof.  You set it and forget it.
TCM: What are the benefits of the InvisiBrake versus Roadmaster's other braking systems — the Even Brake, BrakeMaster, and 9700?
Bob: Our other supplemental braking systems are extremely reliable and work just as well as the InvisiBrake, but they're not invisible and need to be set up and removed for use.  The InvisiBrake is our new supplemental braking system and its key advantages are that it's out of sight and that it doesn't have to be set up or removed.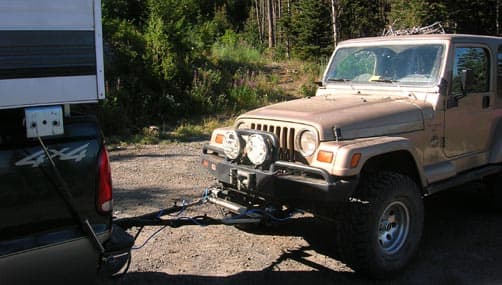 TCM: Why does someone need a supplemental braking system?
Bob: Safety is the most important reason.  You can't wish momentum away and towing a car behind a truck and camper without brakes will dramatically increase your stopping distance in an emergency situation.  The difference between a close call and an accident is usually a matter of a few feet.  At freeway speeds the Roadmaster Invisibrake will allow your combination to do a panic stop around seventy-five feet sooner.
If you talk to somebody and tell them to put 3,000 pounds of bricks behind their truck, people understand why there's a law that says you need to have a braking system.  But, a car doesn't seem to weigh 3,000 pounds in people's minds.  Another consideration is that taking some of the burden away from your truck's brakes will make them last longer.
And for legal reasons.  In virtually all the states and many Canadian provinces, if your trailer/tow vehicle weighs more than 3,000 pounds, it is required that you have an independent supplemental braking system.  As you're driving, people can't see if you have a supplemental braking system or not, but insurance adjustors will check and, if you don't have it, you may not get the insurance benefit.
TCM: Does your towed vehicle drive differently after the InvisiBrake is installed?
Bob: No, not at all.  The InvisiBrake is only activated when it's connected to the towing vehicle.  When it's disconnected, there's no difference in the way the vehicle drives.
TCM: Would the InvisiBrake work differently with a truck camper than a motorhome or would it work differently with a car than a Jeep?
First 1 2 3 ... Next → Last Read Entire Article