Overland Explorer Vehicles takes their Back Country (previously the Camp-X), turns it into a flatbed, and adds a flush toilet, an inside shower, and under-bed storage. The huge exterior compartments alone make the new Alpine (previously the Camp-FX) an important OEV addition. Don't look, Camp-X and Back Country, owners! Turn away now.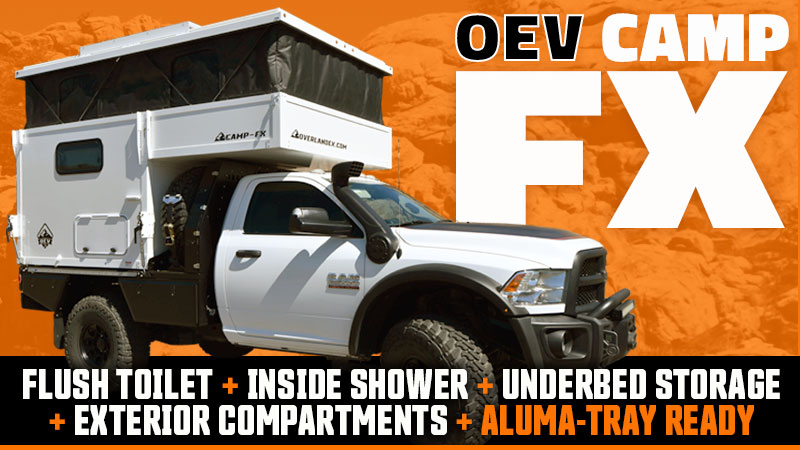 Editor's Note: The OEV Camp FX has been renamed the Alpine.
Have you ever wished you could turn your slide-in truck camper into a flatbed? We have often talked about how much more storage and tank capacity space we would gain without our truck's bed rails and wheel wells taking up so much precious space. Oh, the LP records I could store!
With that in mind, the following announcement is going to make OEV Camp-X owners nuts. Not only has Overland Explorer Vehicles turned their Camp-X slide-in into a new flatbed model, but they've added a number of tantalizing features made possible by the additional flatbed space and design.
As one might expect, the new OEV Camp-FX offers a huge amount of exterior storage on both sides of the pop-up camper. This is the kind of exterior storage normally associated with small fifth-wheels or motorhomes or hard-side truck campers with aluminum storage beds.  Speaking of storage beds, OEV has designed the Camp-FX to work as a system with their Aluma-Tray for even more exterior storage and utility.
Inside, the front-facing dinette seat hides one of the coolest and most compact wet baths ever designed for a truck camper. Move the dinette seat cushions, open the seat lid, and open a side door and there's a cassette toilet and shower stall. This kind of functionality per square foot is nearly unprecedented; seat, toilet, and shower in half a dinette.
Perhaps the Camp-FX's 'piece de resistance' is the under-bed storage. Where the Camp-X had only a cabover bed, the Camp-FX has lift-up storage space that will make most hard-side camper owners jealous. For a small pop-up camper, this is the kind of inside storage that makes longer-term travel possible, if not practical. Combined with the flush toilet, inside shower, and exterior storage, the Camp-FX becomes much more than just a flatbed version of the Camp-X. This is a much more capable design.
To get the full story on the new Camp-FX flatbed pop-up truck camper model, we contacted Arnold Baker, Managing Partner, for an exclusive interview.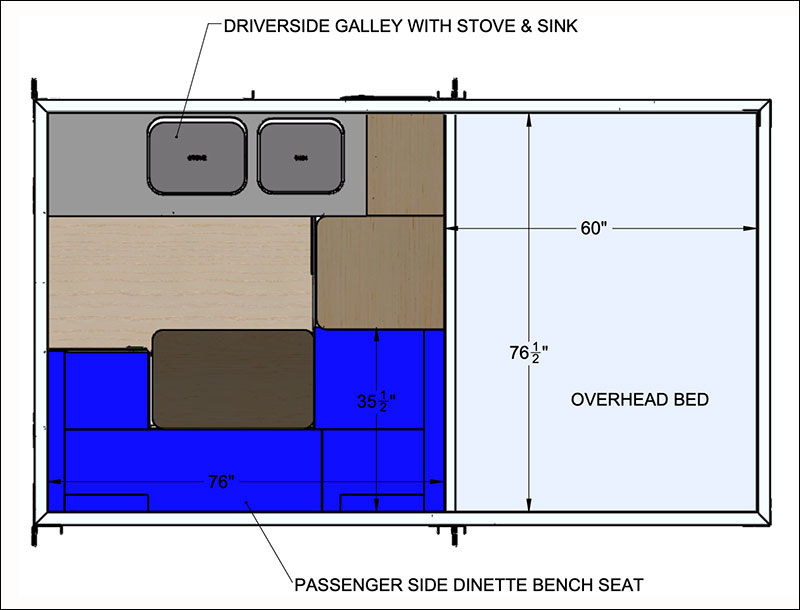 2023 OEV Camp-FX Specifications:
The 2023 OEV Camp-FX is a pop-up truck camper made for short and long bed flatbed trucks.  The interior floor length of the 2023 Camp-FX is 6'5", the interior popped up height is 6'10", and the exterior width is 81.5".  The 2023 OEV Camp-FX has 20-gallons of fresh water capacity, no grey tank, and an optional cassette toilet.  It has space for up to two batteries and one 20-pound horizontal marine propane tank.
OEV is reporting the base weight of Camp-FX to be 1,463-pounds.  The base MSRP for the 2023 Camp-FX is $57,995 USD/ $73,643 Canadian.  Click here to request a Camp-FX brochure.
Is the Camp-FX essentially a flatbed version of the Camp-X?
Yes, that's exactly what it is. A small percentage of our customers have asked for an 8-foot Camp-X. When we asked them why they wanted an 8-foot Camp-X they told us they wanted more storage and a wet bath with a flush toilet and the ability to shower inside the camper. We took that feedback and put the requested features into the 6.75-foot Camp-FX.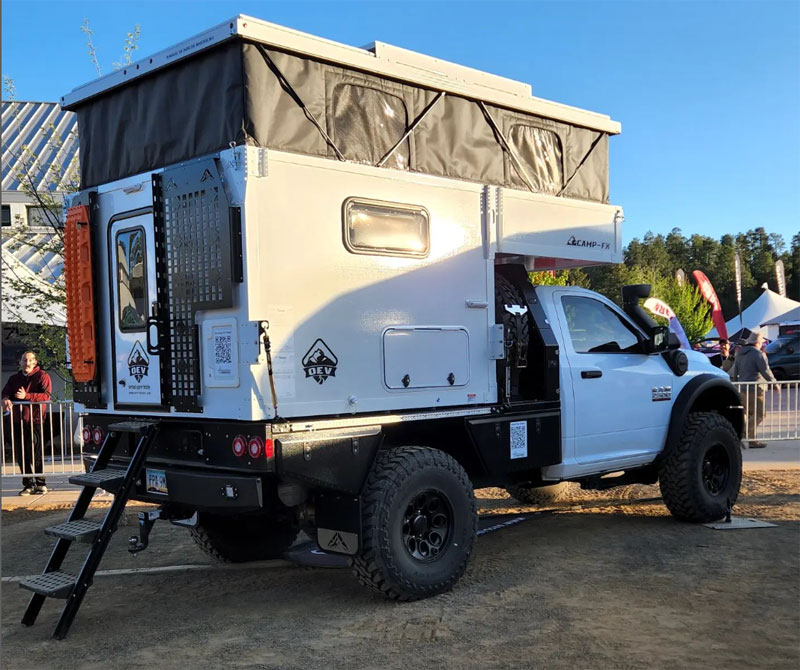 Another important opportunity occurred when we matched the Camp-FX design with our Aluma-Tray flatbed. The Aluma-Tray was originally developed for our Camp-HBE model. When we mounted the Camp-X on the Aluma-Tray, there was a considerable gap between the top of the truck cab and the underside of the cabover. We couldn't eliminate this gap since the Camp-X was designed for pickup beds that needed that clearance.
However, we were able to use this gap with the Camp-FX to lower the cabover and create underbed storage. The Camp-FX has a 4-inch thicker "beak" that creates a large 3-inch deep underbed storage area that dramatically increases the available interior storage in the camper.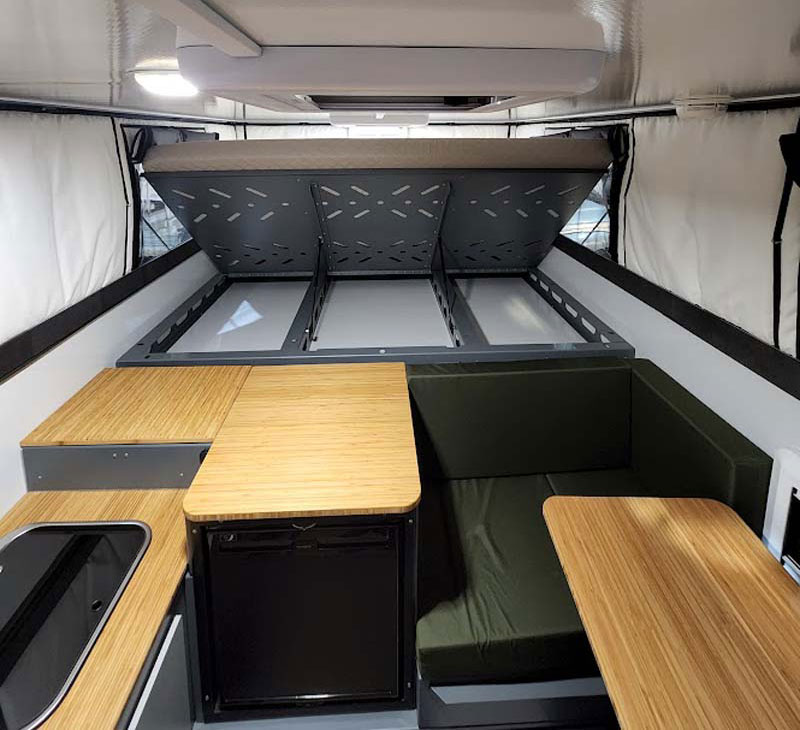 The flatbed also added three huge exterior storage compartments; two on the driver's side and one on the passenger's side. The passenger's side also features the cassette toilet door where the wet bath is located in the Camp-FX.
We had to raise the dinette seating to accommodate the cassette toilet. That wasn't a big deal since the Camp-X also had underseat storage in this area. All of these changes checked a lot of boxes requested by our customers and added more storage than even we were expecting. The exterior storage areas on both sides are 16-inches deep. I'm using a Camp-FX this summer and was able to fit my barbecue in one of these storage areas. It's almost too much storage.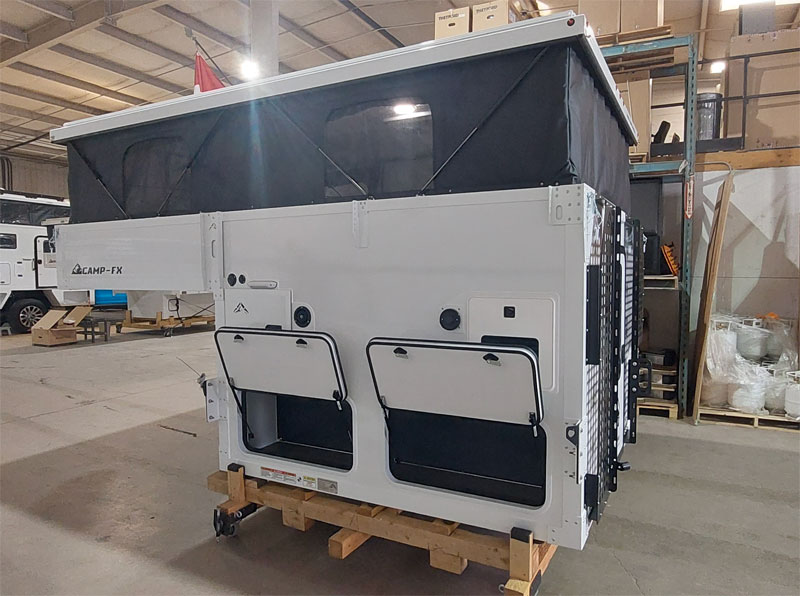 On the driver's side, we installed a sealed aluminum compartment under the galley. It's completely sealed off from the interior of the camper.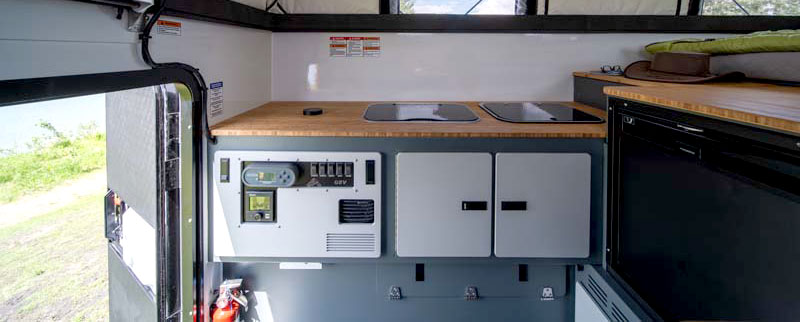 We put stickers on the compartments to make sure people are not storing fuel. We advise you to carry fuel on the rear MOLLE Rack with a Rotopax.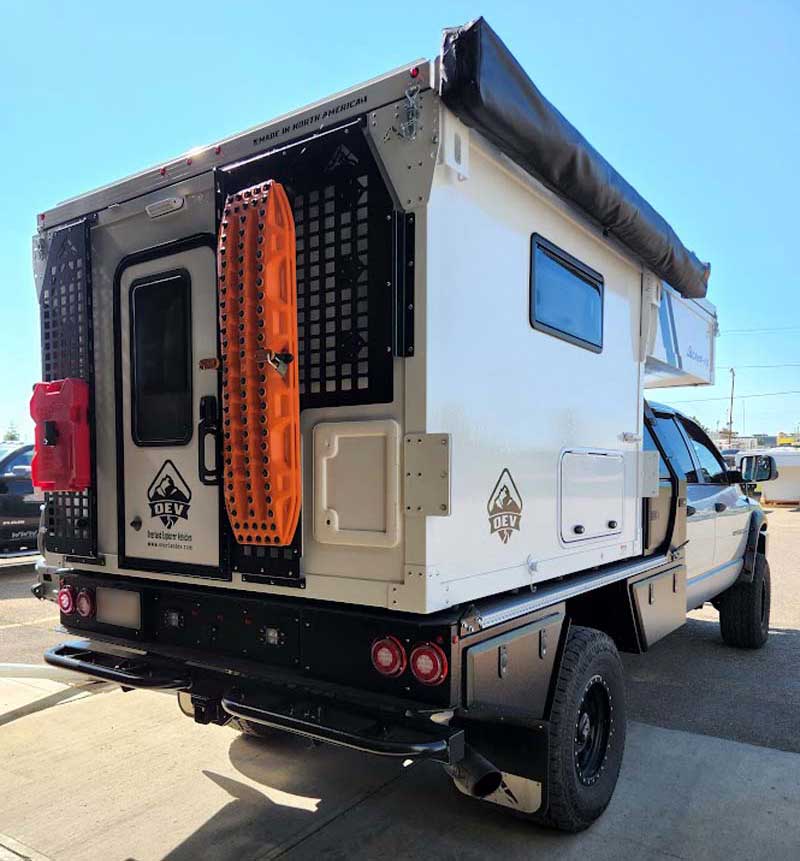 There can never be too much storage on a truck camper. Does the U-shape dinette convert into an adult-sized bed?
Absolutely. The floor-length is identical to the Camp-X at 6-feet 5-inches. If you remove the back cushions, that's the length of the dinette. The only challenge is if you need to use the bathroom. You can't use it as a bed at the same time.
Yes, the wet bath is under the forward-facing dinette seat, which is also part of the converted bed.
What we were trying to achieve with the Camp-FX is a multi-user tool. We wanted to incorporate as many things as possible into this camper. The flip side is that we had to reduce the size of the window on the passenger's side wall. That's because we raised the dinette seating when we put in the cassette toilet. On balance, we added a platform for the dinette that can store shoes and even high ankle boots. It's a great trade-off that adds even more versatility.
The underseat storage area in the dinette is also increased in the Camp-FX. And it's important to mention that the cassette toilet is optional. We have customers who do not want the wet bath because they need more storage. Those customers will use a porta-potty instead.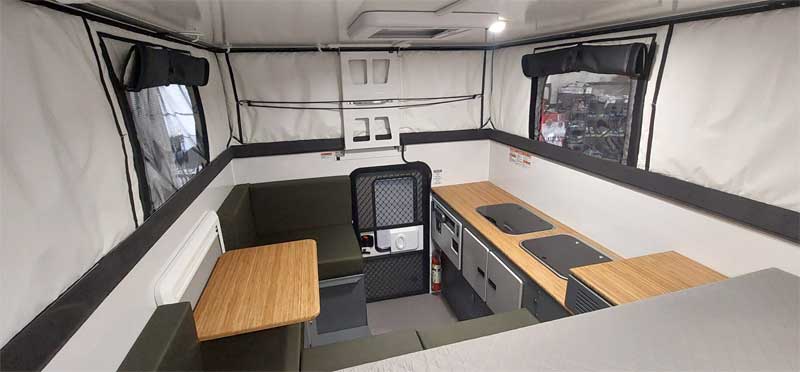 Does the Camp-FX gain any fresh water, propane, or battery capacity over the Camp-X?
The Camp-FX has the same capacities as the Camp-X: 20-gallons of fresh water capacity, space for up two batteries, and one 20-pound horizontal marine propane tank. For production efficiency and to keep costs down, the Camp-FX is very similar to a Camp-X. They are built on the same production line by the same team.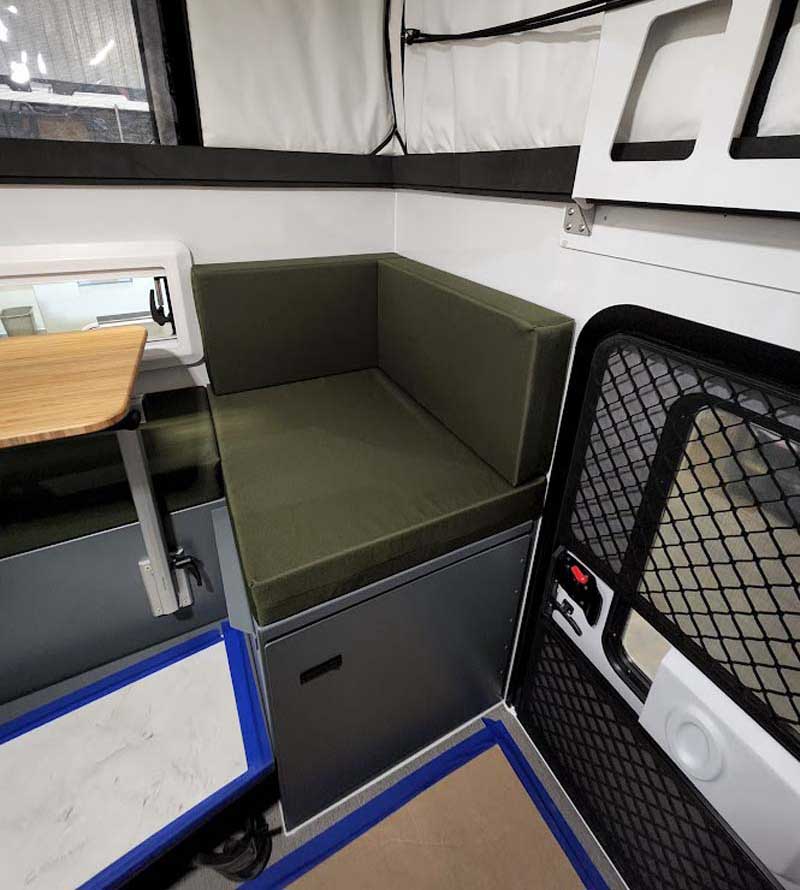 Tell us about the inside shower and cassette toilet located inside the front-facing dinette seat. How does that work?
First, you remove the dinette cushions on the back and side walls. Then lift the dinette seat lid which stays in place with a gas strut. Then, open the door that faces into the center aisle. The cassette toilet is located against the passenger's side wall.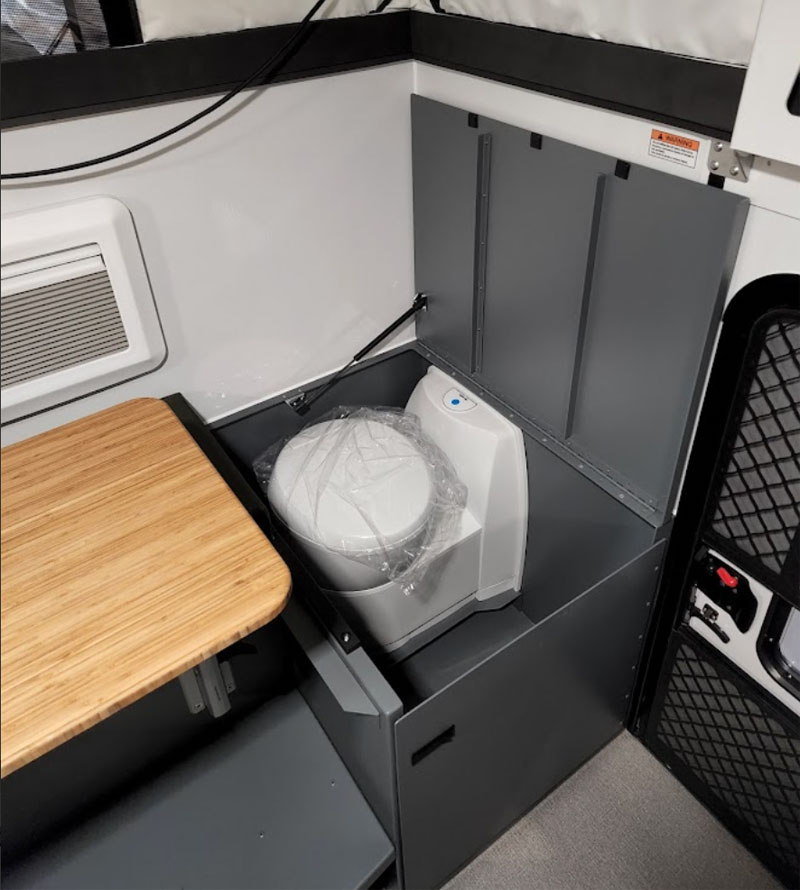 The shower pan and drain occupy the space in front of the cassette toilet. A shower curtain connects via suction cups or adhesive-applied hooks similar to what we use in our basecamp models. The shower uses the Sagiva shower system utilized in our other products. The Sagiva connection is located inside the wet bath area.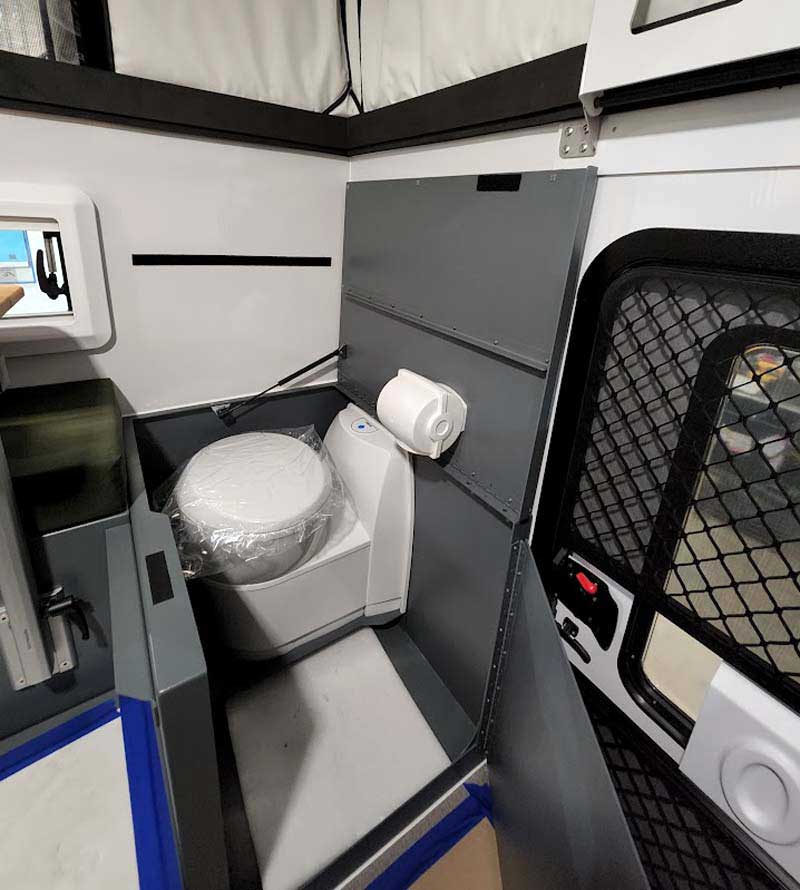 The Camp-FX has two drains; one on the passenger's side for the wet bath shower, and the other on the driver's side for the kitchen sink drain.
That's definitely the most compact wet bath we've ever seen. Does the optional King Bed extension create a North-South cabover?
Yes. When you push the King Bed extension in, it becomes an East-West bed. When you pull it out, it goes over the refrigerator cabinet and Redarc box to become a North-South bed.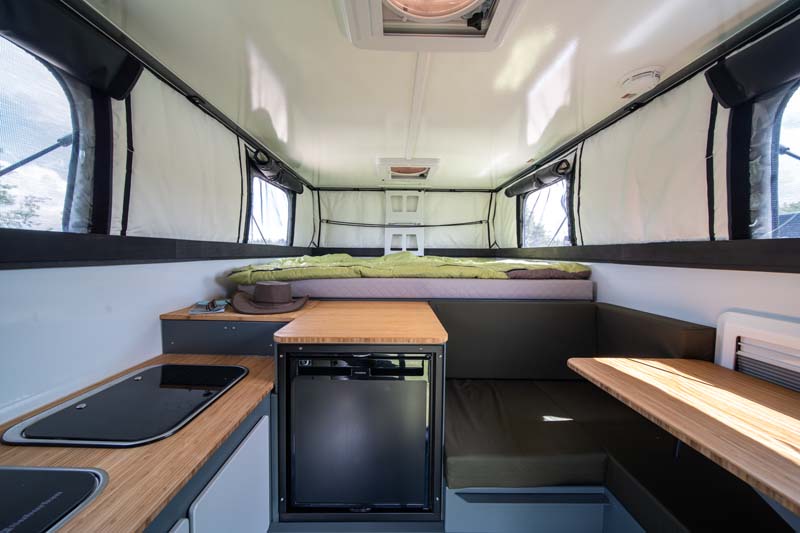 The Camp-FX is available with a built-in 12-volt compressor refrigerator, or a chest-style Dometic 65L refrigerator and freezer. What do you recommend?
That's up to each person's preference. In Colorado, it seems that everyone likes the 12-volt chest-style Dometic 65L. In Montana and the eastern United States, everyone wants the built-in upright refrigerator. There are advantages and disadvantages to both. I love the efficiency of the 12-volt chest, but that's where it ends. For me, they take up too much room compared to a built-in refrigerator.
OEV describes the composite used for the Camp-FX as, "Gen 4". Has there been a change to the composite materials you're now using?
We have been using our Gen 4 composite for all of 2022 and started rolling it out halfway through 2021. For Gen 4, we changed the foam in our panels to PET (polyethylene terephthalate), which is made from recycled water bottles.
We were very selective with our Gen 3 composite that used urethane foam but found the manufacturer had challenges providing us with consistent thicknesses. For Gen 4, we are using the same supplier, but they are able to achieve repeatable thicknesses, and we were able to achieve the same density and insulation value without going to a heavier foam. That helps with weight.
The side benefit of using recycled water bottles is fantastic. The material is also made in North America. Gen 4 is a definite improvement for all OEV camper products.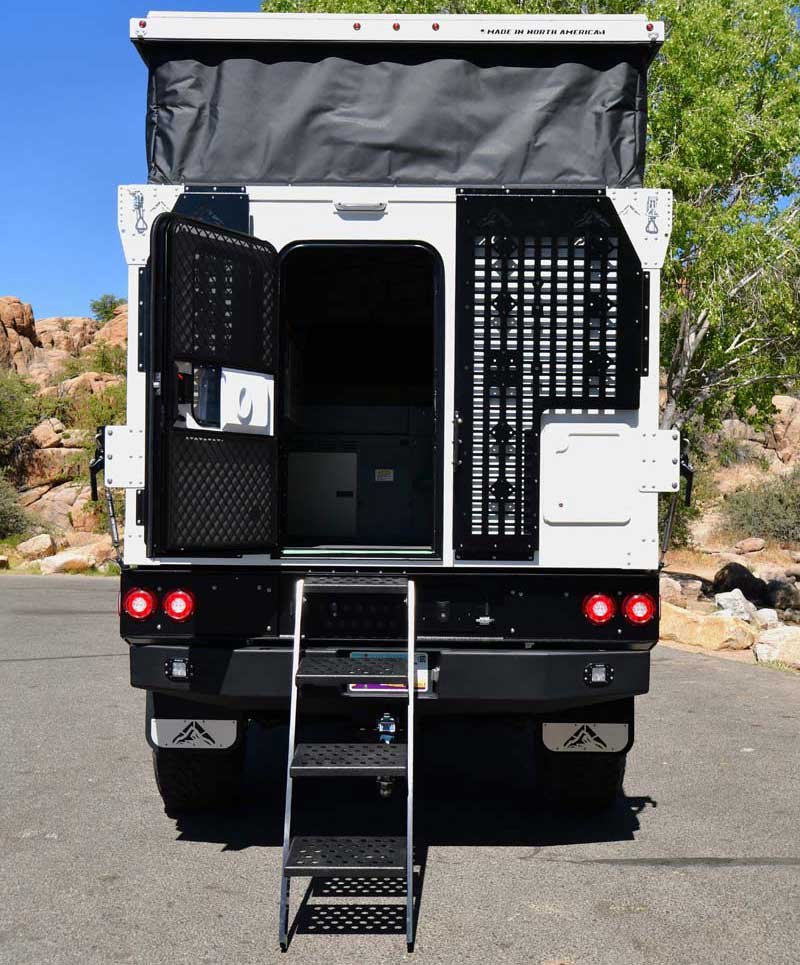 OEV lists the base weight of Camp-FX at 1,463-pounds without jacks. Does the Camp-FX come standard with corner jacks?
It does, but most of our customers remove them. Our customers are concerned that the corner jacks are going to get hung up during off-road travel. With increased fuel prices, removing the jacks is also a good way to reduce weight and drag.
What does the Camp-FX weigh with popular options?
The one I've got is optioned with the cassette toilet, 270-degree awning, shower cube, MOLLE panel, a solar panel, second fan, and the built-in refrigerator. I'm at 2,030 pounds.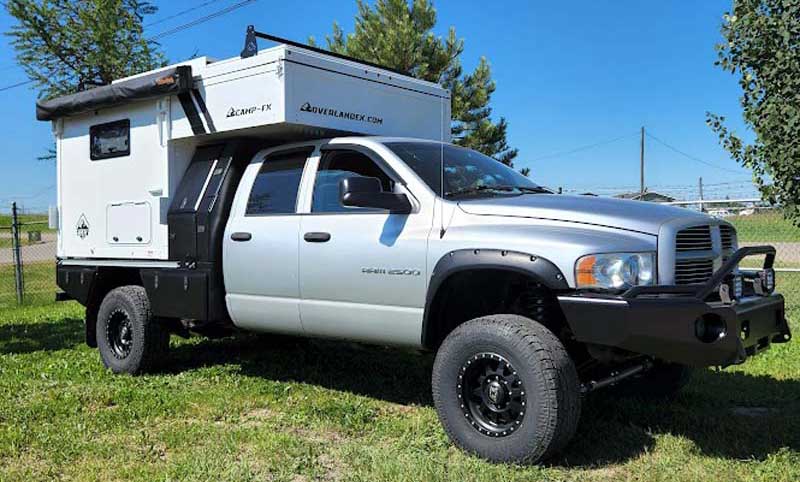 Is the Camp-FX designed to work as a system with the Aluma-Tray HD?
At well under 3,000-pounds, the Camp-FX is well suited for the original Aluma-Tray. The Camp-FX is designed for the 6'75", but can also work with the 8-foot Aluma-Tray for additional storage.
If you have bigger tires, you could opt for the 8-foot Aluma-Tray and put the spare tire between the camper and headache rack. Even in this configuration, the center of gravity was still ahead of the rear axle.
Can you use the Camp-FX without the Aluma-Tray?
You certainly could. It's designed to work as a system with our Aluma-Tray, but you could use it with other flatbeds. If you have a different flatbed, please contact one of our dealers to confirm fitment before making your purchase.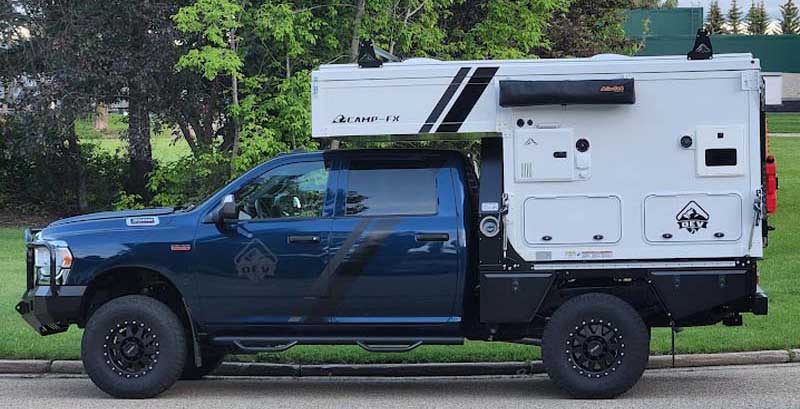 The Camp-FX and Aluma-Tray HD use Torklift AnchorGuard Derringer tie-downs. Tell us how you chose this solution.
That goes back to our Explorer X10; our first removable expedition cabin. We built those flatbed removable cabins, our own flatbed deck, and our own tie-downs for those units. The tie-downs were similar to what Torklift International offers.
We later evaluated the Torklift system. It was a no-brainer. It's well designed and built to last. We made the Torklift AnchorGuard Derringer tie-downs work by incorporating the tie-down points as we designed the tray. The Derringers are all stainless steel. It is a brilliant product. They come standard with every Camp-X, Camp-FX and Camp-HBE.
We had customers travel the Dempster Highway and keep measurements on where their OEV flatbed camper stayed on their OEV flatbed. Throughout their adventure, their camper stayed put.
That's a good test. Is every component and option in the Camp-FX the same as what's in the Camp-X; Dometic 65L 12-volt refrigerator, Redarc Manager 30, Truma AquaGo, Truma VarioHeat furnace, etc.?
Yes, everything is the same.
There have been some recent reports of altitude and temperature challenges with some Truma products. Have you had any challenges with Truma?
We've not had one customer reach out with any issues with Truma products. I have one Camp-X user who sleds at 9,200-feet above sea level and stays for a week and doesn't even winterize his camper. He's counting on everything working, including his Truma systems. We're still 100-percent onboard with Truma.
Have you found an air conditioner option that meets your requirements yet?
Nomadic Cooling has a small 12-volt roof mount system called the 2000. That's something we are looking at trying out. The challenge is that 12-volt air conditioners use so much power. The smaller Camp-X model only has so much room for batteries.
We are also concerned about weight. With the manual lift roofs, a roof-mounted air conditioner can add 55-pounds or more. That's a potential safety issue as people raise and lower their camper roofs. Our roof struts are there to assist, not to do the work.
We are also looking at portable air conditioner systems, especially for the Camp-FX. We'll be testing those solutions with my demo camper. Air conditioning remains a challenge.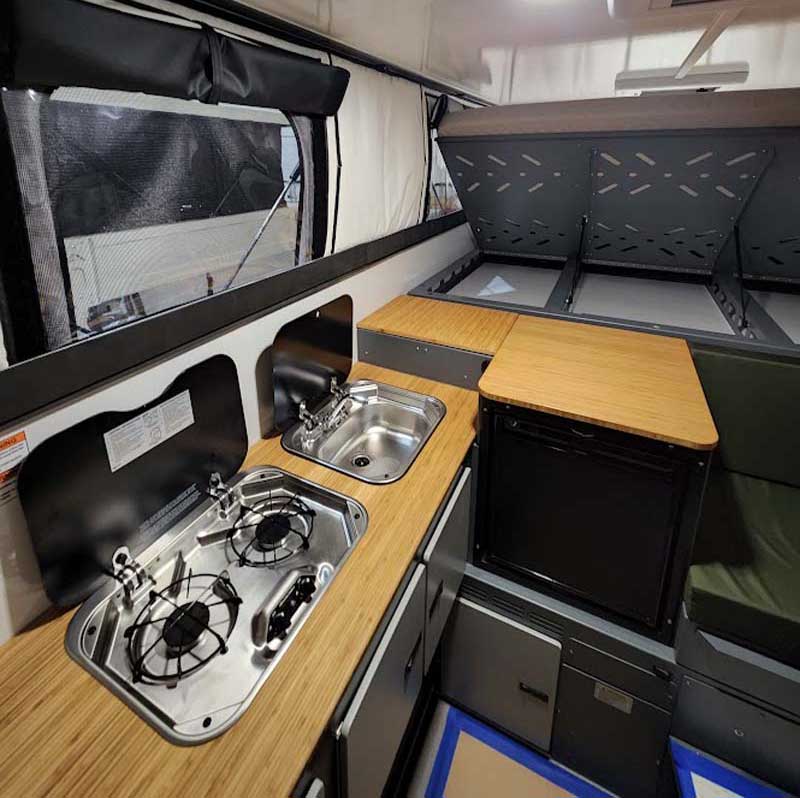 The bamboo countertops and table look fantastic. Are there any other interior materials options?
The bamboo countertops and tables are all that's available for 2023. We are thinking about offering new fabric choices. That decision will be confirmed in the next few weeks.
Other than the cassette toilet, are the Camp-FX options identical to the Camp-X?
Yes, the options are identical with the exception of the cassette toilet. You can also go with a Wrappon toilet. There's a new Wrappon toilet coming out, but it's not going to be available for four or five months. OK4WD is importing them and is expecting a large shipment when they arrive. The new Wrappon toilet will be on our 2023 options list.
As for the options, they include refrigerator delete, 200-watt solar panel with brackets, universal awning adaptor kit, OEV light bar, OEV roof rack, OEV King Bed extension kit with refrigerator, OEV King Bed without a refrigerator, and OEV soft storage.
The installation kit includes 20 rubber feet to protect the camper and truck bed. How big are these rubber feet, and where are they attached?
The rubber feet are attached to the underside of the camper. That gets back to loading the tray evenly.
Why not use a rubber mat?
Rubber mats are effective, but super heavy. The equestrian-style rubber mats are 1/2-inch thick. We got away from those because of the weight.
What is the base MSRP for the Camp-FX?
The MSRP of a base Camp-FX is $57,995 USD / $73,643 Canadian.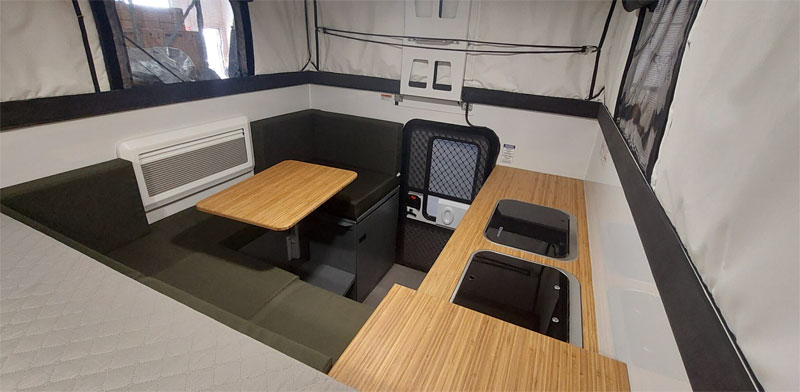 What would that Camp-FX weigh and cost with popular options?
The base weight of the Camp-FX is 1,463 pounds. Our dealers supply quite a few options at their locations which changes the price and weight, sometimes substantially. This makes it so that we do not have to ship components across borders, and it saves the end-user some money at the end of the day. For the price with options, you have to reach out to our dealer network.
Have you been able to supply your dealers with stock campers?
A couple of dealers have products on the ground, but only Camp-X models at this point. They also have Aluma-Trays available.
What is the ordering process for a Camp-FX?
Please go to your local OEV dealer and form a relationship. Our dealers are very different than RV dealers. They do so much more. And they're 12-volt specialists.
What is the current wait time for an OEV truck camper?
We're about eight weeks out. The supply chain issues have improved a lot. That situation isn't fully resolved, but it's much better now. In addition, due to high fuel prices and inflation, sales are not as robust as they were last year. Between the improved supply chain situation and slowing demand, we have been able to catch up and build an inventory cushion.
That's not how any company wants to catch up, but we are hearing similar reports across our industry. What is the OEV warranty?
The warranty for our campers is five years. Our soft wall warranty is three years. Auxiliary components have their own warranties.
We automatically direct everyone to our dealers for warranty claims. The dealer will let us know about the claim and then we approve it. Then, you are on the way to getting the problem fixed. If you are out traveling and not near a dealer, we will find you a nearby RV dealer.
We have always encouraged our customers to submit a warranty registration card. Our owner packet has auxiliary equipment warranty cards. For example, when you register a Truma product, Truma gives you an additional 12-months of warranty. There is merit to registering products. None of our auxiliary providers have denied customers help within the warranty period.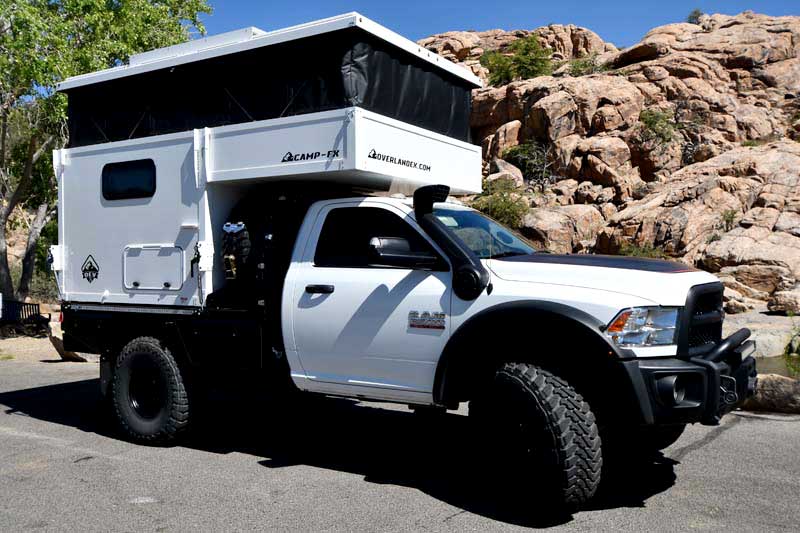 Is there anything else about the Camp-FX that you want people to know?
I use a different OEV product every year. This year I am camping in a Camp-FX. I think it has too much storage because I can't fill it up. There is lots of room for fishing rods. I have room for my waders, boots, and a couple of tackle boxes. I've got more room then I know what to do with. I haven't even tapped into the Aluma-Tray storage.
Our 2023 models will start production in August and will be rolling out in October. The Camp-FX is a 2023 model. We have also designed an optional underbed storage for the HBE and Camp-X that can be added to any existing Camp-X and HBE. When that's ready, we'll announce it here in Truck Camper Magazine.
For more information about the OEV Camp-FX, visit OEV's website at overlandex.com. Click here to find out more and get a free Camp-FX brochure.