Overland Explorer Vehicles presents the Aluma-Tray flatbed storage system for truck campers.  As a production product, it's competitively priced and offers the storage and functionality truck campers want.  Could Aluma-Tray be the product that makes storage beds go mainstream?
I've been there, many times.  Rig after rig pulls into a truck camper rally.  Attendees watch the parade, call out the owners' names, and comment on the set-up.  "Dave and Janice are here!"  "Looks like Bob got a new truck."  "That's a nice camper.  Who is that?"  Then they return to their adult beverage and the conversations truck campers rallies are beloved for.  "So you're going to Alaska this year?"
A moment later someone pulls in with a new storage bed.  The conversations instantly stop to carefully examine the bed design, study the fitment, explore every compartment door, and imagine of what could be stored inside.  In this rapt moment, Christie Brinkley in a Ferrari 308 GTS couldn't pull their attention away.   At least not right away.
When Overland Explorer Vehicles first contacted us, I was immediately impressed with their all-aluminum and composite panel approach to camper manufacturing, but it was their Aluma-Tray that really caught my attention.  The Aluma-Tray profile is sleek and modern.  Four below deck storage boxes offer a new world in exterior storage opportunities, not to mention the 39-inch rear pull-out drawer.  In look and functionality, OEV's Aluma-Tray is a stunner.
In our 2022 Dream Truck Survey, 11.89-percent of our readership said they wanted a custom storage bed, but less than 1-percent currently have one.  In that same survey, 8.33-percent said they wanted a flatbed, but only 1.95-percent said they currently have one.  Based on our 15-years of experience and research into the truck camper marketplace and community, I actually think all of these numbers would be higher, perhaps a lot higher, if there was a well-presented solution with the right look, the right storage opportunities, the right functionality and – most importantly – the right price.
Within its manufacturer-stated limitations, Aluma-Tray is as close to that tipping-point product as we have ever seen.  It looks the business.  It has the storage and functionality that truck campers want.  And as a production product, it's priced competitively to the custom storage beds products we have seen.  Could the Aluma-Tray be the product that finally makes storage beds go mainstream?
To explore every facet of the Aluma-Tray, we talked to Arnold Baker, Managing Partner of Overland Explorer Vehicles.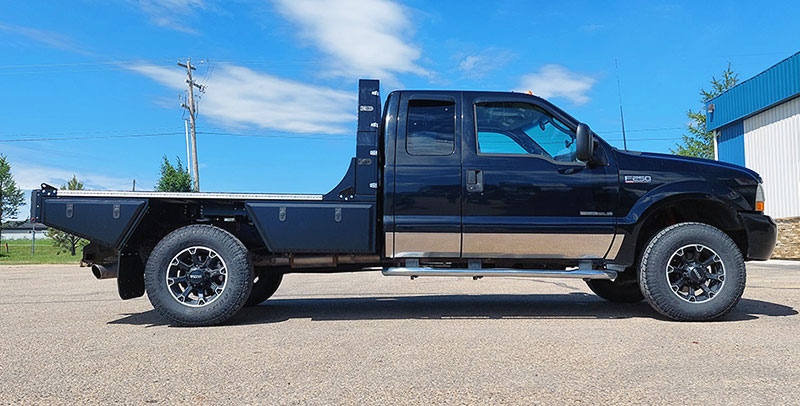 Above: The Aluma-Tray, all photos courtesy of Overland Explorer Vehicles.  Click here for an Aluma-Tray brochure.
What is the origin of the OEV Aluma-Tray?  Where did this product come from?
We have built a lot of truck bed decks for utility and gas companies.  Those are made from steel and aluminum, and our extensive experience gave us the knowledge to build trays (also known as flatbeds) for the overland camper market.
Before designing and building our own aluminum tray, we evaluated imported and domestic offerings from Ute, Norweld, RSI, and others.  We needed a tray solution for our Camp-HBE flatbed camper, but were not happy with the deck height or quality from these brands.  That's when we designed a tray that kept the center of gravity as low as possible and maintained the high level of material and build quality that OEV is known for.
Since then our tray design has undergone many improvements and evolutions as OEV customers asked for more storage and additional features.  Customers asked for boxes that could fit a grill or skis, expanded storage and functionality from the headache rack, options for a tire carrier, and more.
The Aluma-Tray line continues to evolve as we listen to customers and find out what they need.  Some of the latest features are so new that we don't have final photos yet.  The Aluma-Trays have really caught on as they solve problems a lot of campers have.  It makes sense.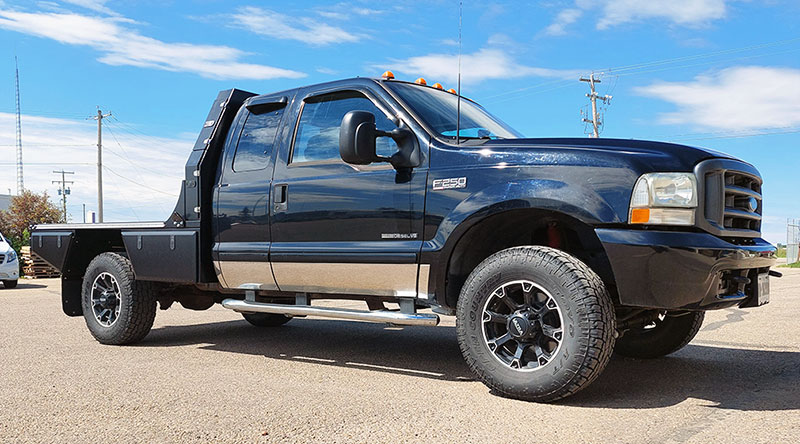 Are Aluma-Trays compatible with every pickup truck?
Most three-quarter ton and one-ton trucks and higher are compatible.  You need at least a 6-foot bed length.  We discourage people with half-tons and smaller trucks due to the weight of the tray.  You can do it, but if you are adding weight you need to be careful not to exceed your truck's GVWR.
For example, we had a 2018 Ford F-150 with a 6.5-foot bed and tailgate step.  The Ford truck bed and tailgate weighed 434-pounds.  That weight gets removed prior to installing the Aluma-Tray.  However, the Aluma-Tray for that truck weighed 685-pounds.  The net gain in weight was 251-pounds.  Not everyone has that much weight to spare on a half-ton truck and camper set-up.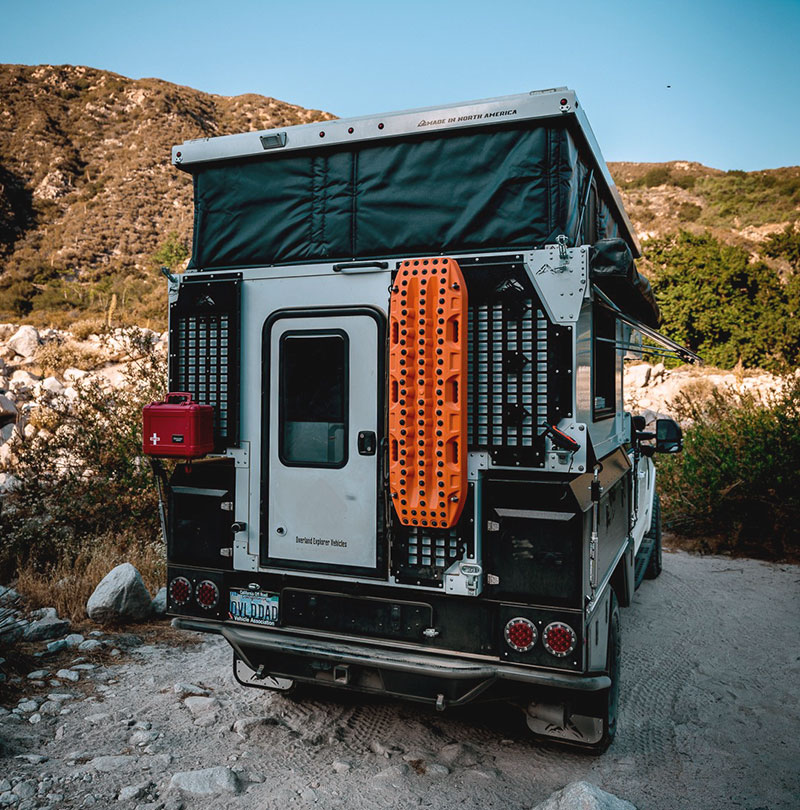 Custom bed fitment issues with the truck chassis can be challenging.  How do you go about the fitment process with a customer's truck?
Other than the two available lengths, every Aluma-Tray is built identically.  The difference is the tray mounting kit that adapts the Aluma-Tray to the frame of your Ford, Ram, or GM truck.
Do Aluma-Tray customers bring their truck OEV to Red Deer, Alberta, or to an OEV dealer for measurements and compatibility checks?
We handle the whole process through our dealer network.  Our dealers know the Aluma-Tray product and understand the fitment process.  In the unlikely situation that there are compatibility questions with your truck, they will contact us to make the necessary changes.
Our dealers also install the Aluma-Tray on your truck.  We ship them the Aluma-Tray, required fitment kit, and needed components; tail lights, seven-pin connectors, etc.  All the wiring is plug and play.  The dealer will remove your truck bed, install the Aluma-Tray, and make any final adjustments.  It's amazing how easy it is to remove a truck bed.  My own Ford F-150 bed is attached with eight bolts.
If an Aluma-Tray customer upgrades their truck down the road, can they transfer their Aluma-Tray to their new truck?
As long as the truck is the same bed length, they can move the Aluma-Tray to another truck.  They will need to purchase another fitment kit for their new truck.  We haven't had a customer do this yet, so the cost for the fitment kits hasn't yet been established.
We encourage customers to order their trucks with "truck bed delete".  That way they're not paying for the bed, and receive the truck ready for an Aluma-Tray installation.  If you have a truck bed, they are relatively easy to sell.  Your dealer might buy it from you or a local collision company.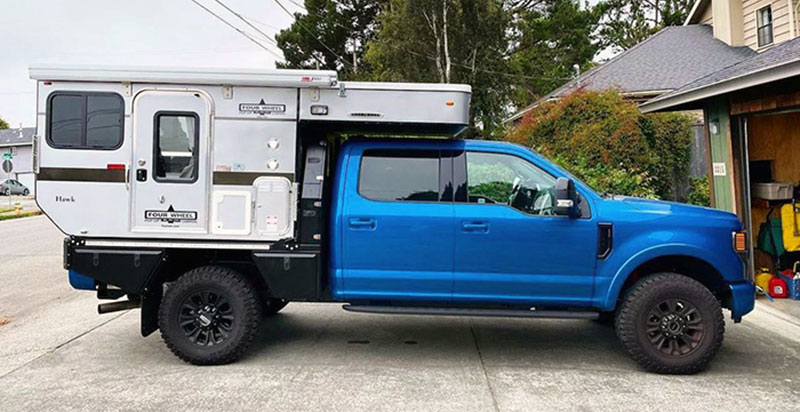 On your website, there are a number of Aluma-Trays shown with Four Wheel Campers.  Are OEV Aluma-Trays compatible with truck campers other than OEV models?
We have sold a good number of Aluma-Trays to Four Wheel Camper owners and specifically developed a version of the Aluma-Tray and upper boxes for that brand.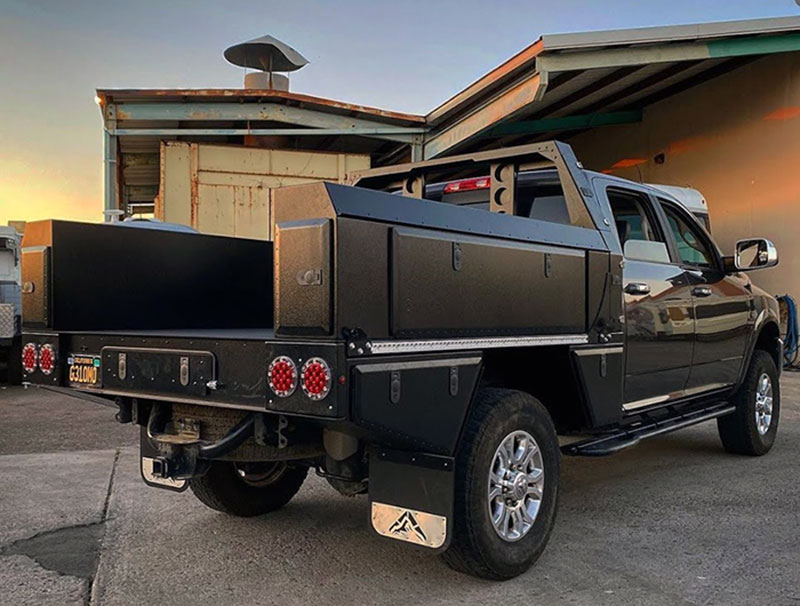 The boxes have large doors on the sides and go the full length of the tray.  Then we added doors on the end of the box towards the rear of the tray.  Aluma-Tray is becoming very popular with Four Wheel Camper owners.
How about other camper makes and models?
If you are considering mounting something other than an OEV or Four Wheel Camper product, you need to work with your camper manufacturer to make sure it's structurally compatible.  For example, our campers are designed to be tied down to jack mounts utilizing Torklift Derringer turnbuckles.  You may not be able to do that with your brand of camper.  In addition, Aluma-Tray was not designed to handle a camper over 3,000-pounds fully loaded (wet weight).  There are some limitations.
We are willing to work with a customer and their brand of camper to see if it's something that's suited to an Aluma-tray, but you will need input from your camper manufacturer.  We had a customer with a Northern Lite truck camper, but it was a smaller model that's no longer in production and required some modifications.  Northern Lite worked with the customer and was very helpful.  The customer is very happy with their Aluma-Tray.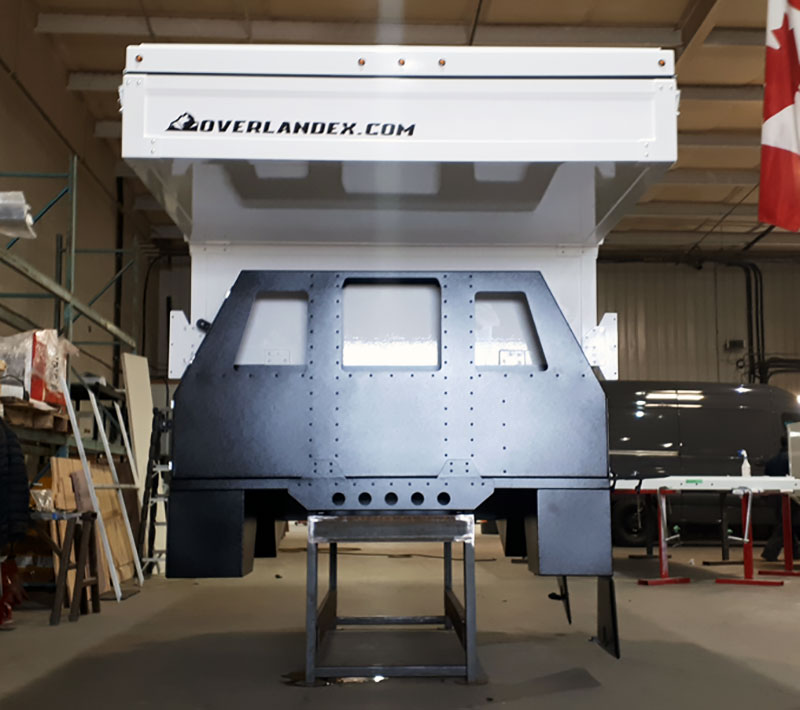 Aluma-Trays are CNC cut and formed with high-strength aluminum including 5-inch 6061 aluminum C-channel extrusions for the sills and laser-cut 5052 aluminum sheeting for the deck, headache rack, and boxes.  Why do you use aluminum to build the Aluma-Tray?
Aluminum provides the required strength, low weight, and cost-efficiency.  We could use high-strength steel, but the cost and production quantities would suffer.  There's also rust to consider.  We powder coat our Aluma-Trays to provide the best longevity and durability.
Are Aluma-Trays fully welded or are some parts riveted?
We use a combination of riveting and welding.  We keep welding to a minimum because it takes more time and can cause aluminum deformation.  Our aluminum storage boxes are welded, but most of the tray itself is riveted.
The system is described as "fully powder-coated".  Is the entire Aluma-Tray system powder coated?
The entire Aluma-Tray is powder-coated.  The fitment system is steel and the mounting brackets are steel.  Powder coating protects the aluminum and steel components from potential corrosion.
The powder coating is done in-house in our 10,000 square-foot powder coating facility.  We have different media blast rooms (not a dip) and different rooms for aluminum and steel.  The powder coating is a stand-alone company that we use, as do other manufacturers in our area.  We do two Aluma-Trays in one oven load.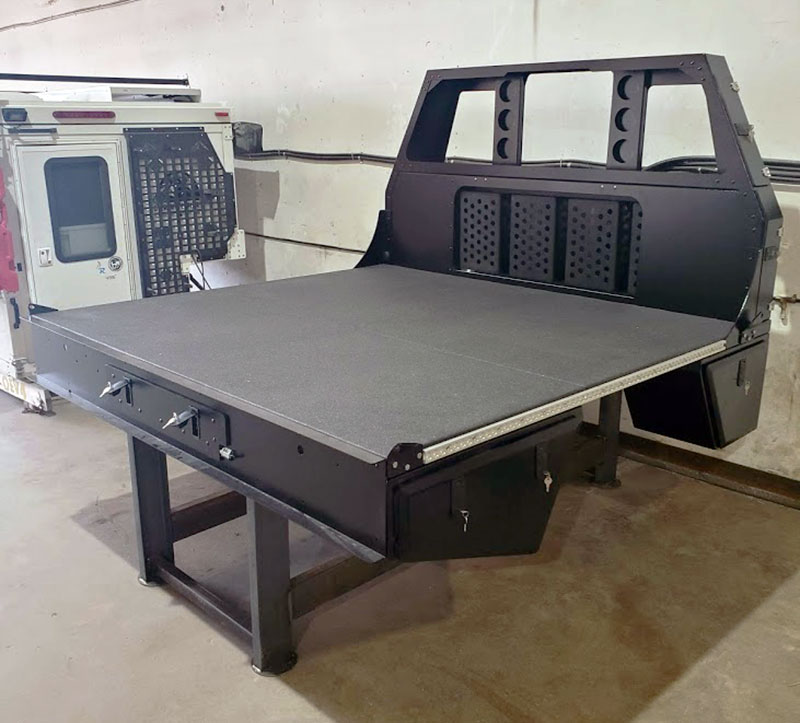 The Aluma-Tray surface is sprayed with two-component polyurethane for scratch resistance and grip.  Is this coating similar to a Line-X or Rhino Liner?
It's not a brand-name coating.  After the powder coating, the tray surface is coated with a polyurea bed liner for durability and traction.  It also helps prevent the camper from moving.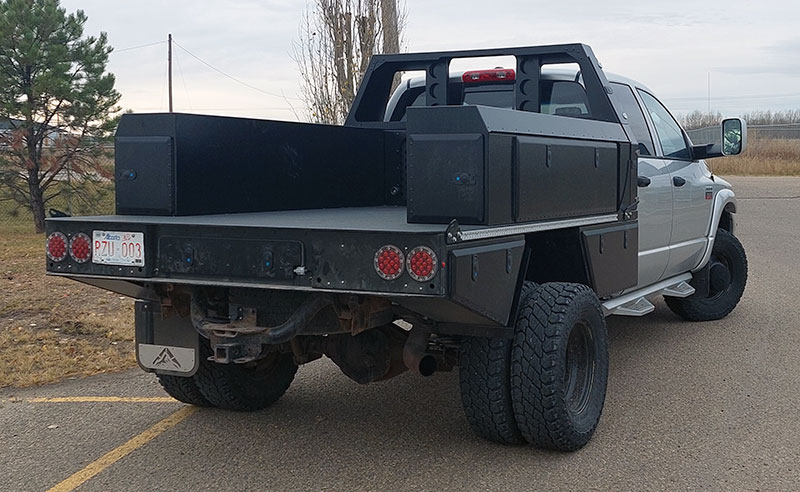 Aluma-Trays are designed to mount to the factory mount locations with urethane isolators to load the truck as the factory intended while providing isolation and chassis movement.  Why is it important to provide isolation and chassis movement?
We isolate the tray so it can move independently with the truck's chassis.  Truck frames are not something that stays static and fixed.  There is torsional movement.  On rough roads or off-road, your suspension does the majority of the work and absorbs that energy.  Once you get to a certain point, your frame moves a little bit as well.  Depending on the truck and what it's subjected to, that could be a few millimeters or a few centimeters front-to-back.  The isolators allow for this subtle movement.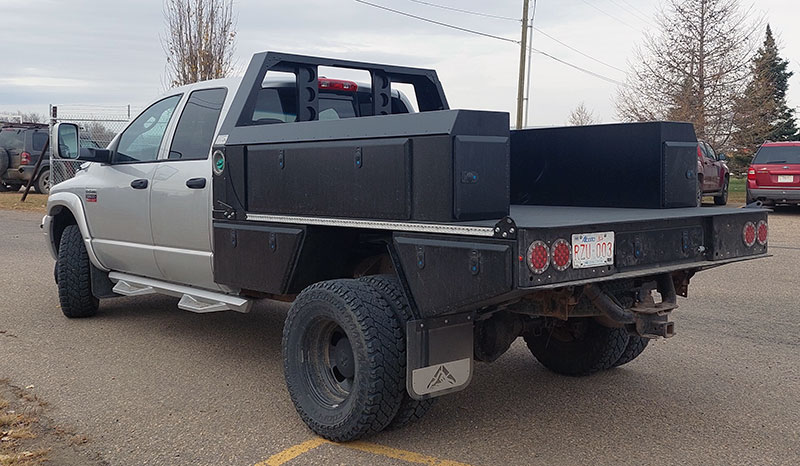 Are the lower cabinets, rear light boxes, and headache rack included in the base Aluma-Tray?
Yes.  The lower cabinets feature HD "D" cell seals, adjustable latches and are tapered to maximize departure angle.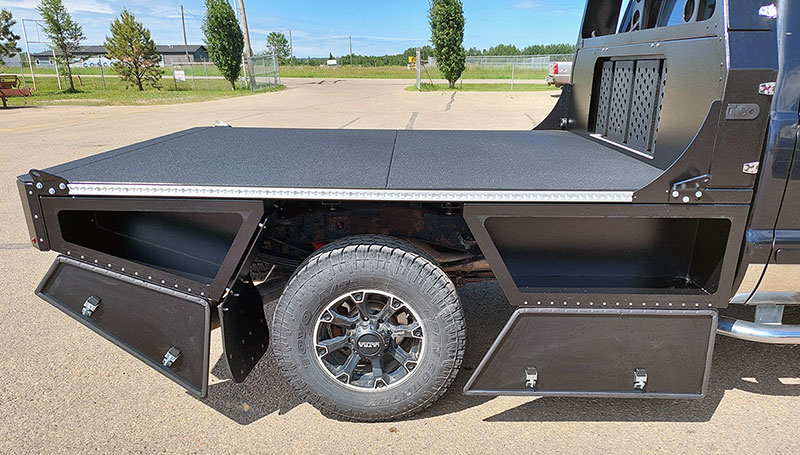 The rear light boxes feature two tail lights per side, internal backup lights, and clearance lights.  The headache rack features internal storage for optional OEV steps or other long items.  It also features latches and two levels of storage.
Are all the cabinets, boxes, and storage areas keyed alike?
Yes. They all use cast aluminum latches and the same key.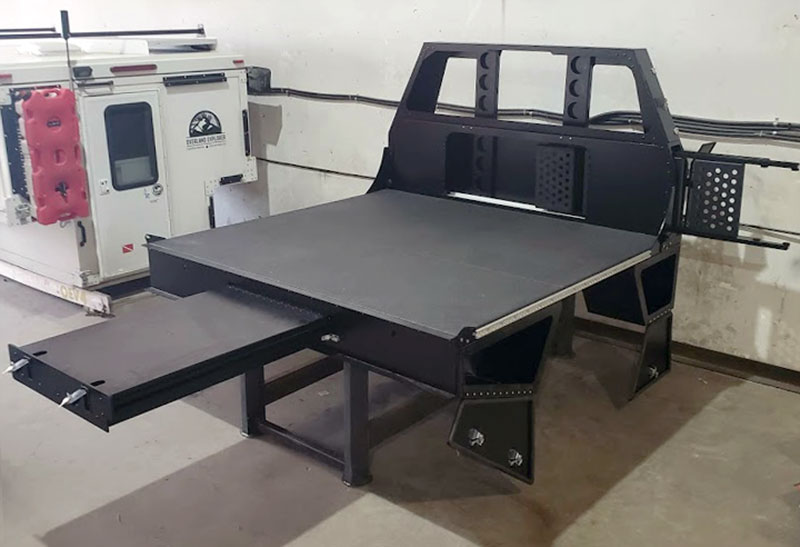 The 39-inch long rear slide-out drawer is a head-turner.  What do customers use this storage space for?
Anything they need to bring with them.  It's a large storage space that measures 39-inches long, 26-inches wide, and 4.5-inches tall.  I saw a customer's rig with firewood and an axe in this drawer.  When you are packing for a trip, you are making good use of the space you've got.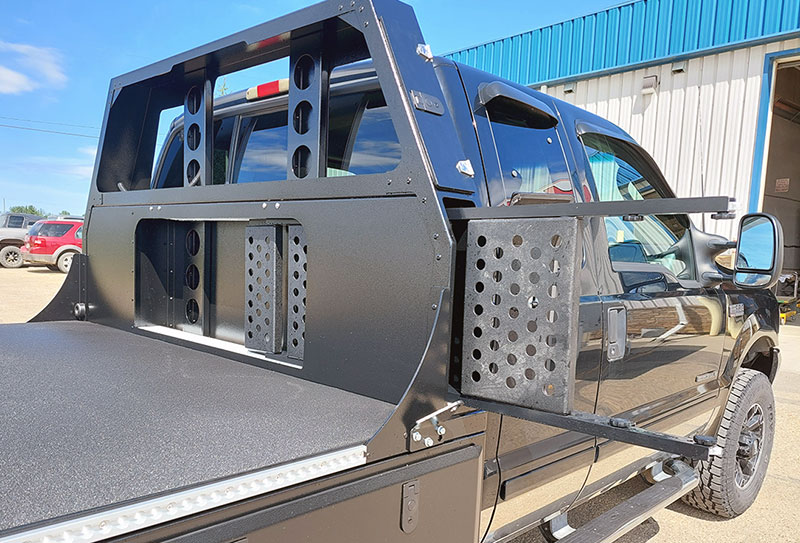 The standard headache rack accommodates a set of optional folding stairs.  Are the optional stairs made to the customer's truck and tray height?
They are built to a standard height, but the feet are extendable.  There are adjustment points at the top of the stairs that pin. You can move the feet of the stairs closer to the truck which maintains a level tread and gets you additional height.
We use a special anti-skid material on the steps made from rubber and crushed glass.  Combined with a deeper and wider tread, you get excellent traction even with wet or muddy shoes.  We eliminated the void between the steps so your foot won't fall through.
OEV reports the dry weight of the Aluma-Trays at 700-pounds for the 6.75′ version, and 800-pounds for the 8′ version.  Are those exact weights for the two lengths?
For the 6.75-foot version, the true weight is consistently around 685-pounds.  For the 8-foot version, the true weight is consistently around 800-pounds.  From unit to unit, there are small variables in the coating thickness and material weights.
There are a number of options available for the Aluma-Tray system; OEV folding stairs with anti-skid powder coating, gas install kit, diesel install kit (with or without DEF), spare tire rack (8′ tray only), additional storage boxes, etc.  What are the most popular options?
Our most popular trays for the Camp-HBE and Four Wheel Campers are a standard Aluma-Tray with either the gas or diesel kit.  The fuel kits are different faceplates and buckets to accommodate the smaller gas or larger diesel nozzle fill.  For late-model diesels, the fuel kit includes a DEF fill.  Both fuel kits fit into our headache rack which comes with the standard Aluma-Tray.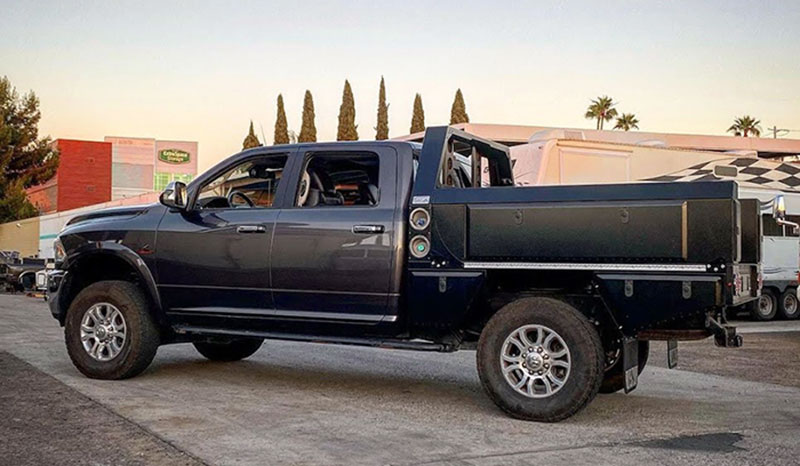 Nearly all of our Aluma-Tray customers purchase the optional stairs.  They have become so popular that we are developing a mounting kit for our Camp-X.  Once that's completed, you will be able to use the stairs even if you don't have a tray.  The stairs are expensive, but they are sturdy like stairs in your house.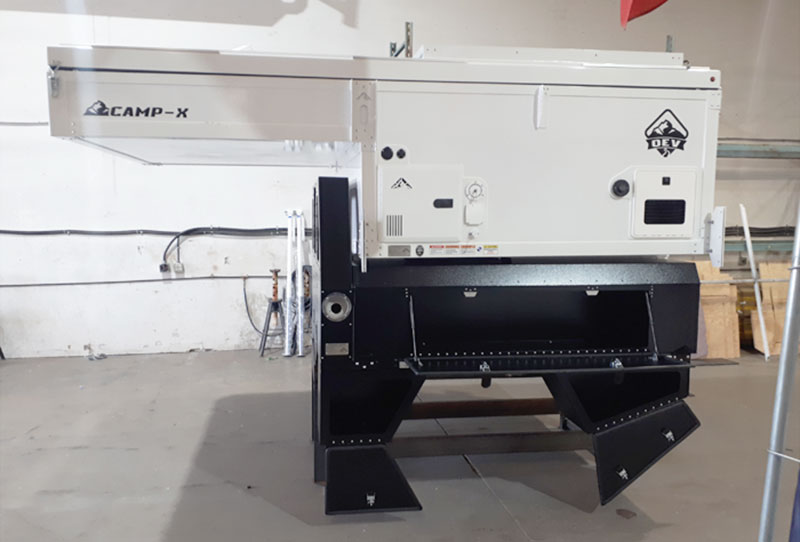 What is the MSRP for a base Aluma-Tray system?
The standard trays are $12,100 USD / $14,763 CAD.
What is the current wait time for an Aluma-Tray system?
The current wait time is a maximum of eight weeks.
How does someone go about ordering an Aluma-Tray for their truck and camper?
Contact one of our dealers and they will help you through the process.  A number of our dealers keep standard Aluma-Trays for stock.  The dealers do not have the fitment kits in stock as there are too many trucks to inventory.  They also don't inventory our tire racks and storage boxes, but that may change in the future.
Once the dealer knows what truck and fuel type you have, they order the required fitment kit and options from us.  When the Aluma-Tray, fitment kit, fuel kit, and any ordered options arrive at the dealership, the dealer will schedule an appointment with you, remove your truck bed (if you have one) and install the tray.  It's a simple process.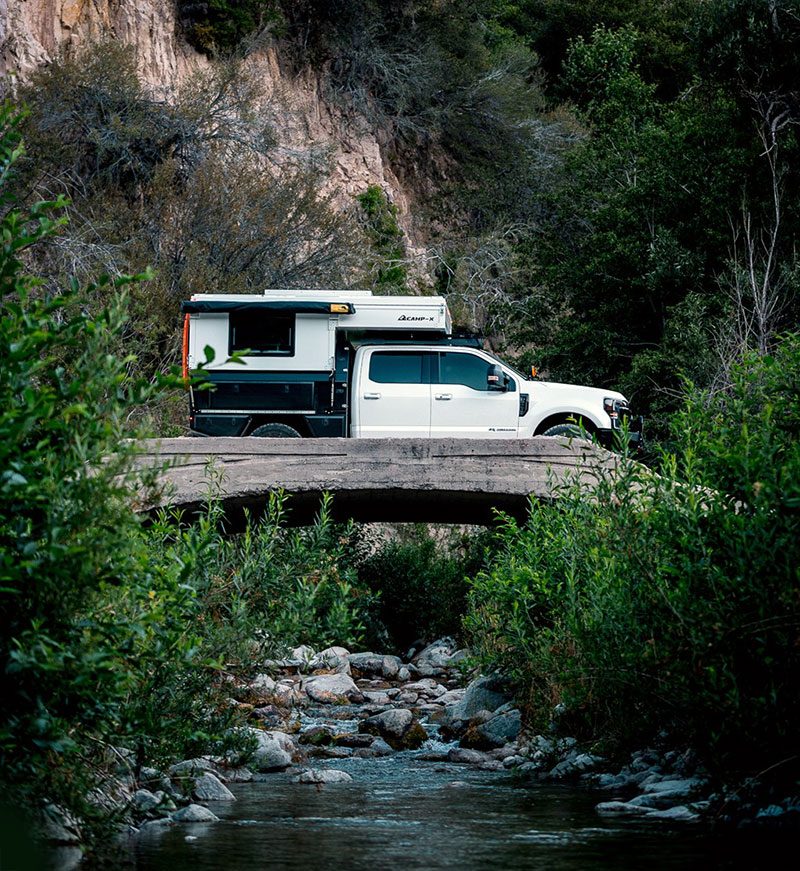 Is there anything else you want people to know about the OEV Aluma-Tray system?
Two areas that can be unexpected challenges are parking sensors and 360-degree camera systems.  There are liability issues that dictate not disturbing or moving the installation of these systems.
The rear camera systems are not a big deal.  We have solutions and mounting locations for that.  However, the parking sensors are a different story because they are set at the factory and can be thrown out of whack just by increasing your tire diameter, adding a lift kit, or installing a flatbed tray.  Our recommendation is to not order a truck with parking sensors or 360-degree cameras.  Alternatively, you can have your dealer delete those options with a flash, something that Ford has directly recommended to us.
Overall we are very excited about our Aluma-Tray product.  We are selling more Aluma-Trays than any other product right now.  Four Wheel Camper owners love the system, and so do our OEV Camp-X, Camp-M, and HBE owners.  If you want a multi-function tray and have a camper under 3,000-pounds wet, the Aluma-Tray is a game-changer.
For more information about the Aluma-Tray flatbed storage system, visit OEV's website at overlandex.com.  Click here to find out more and get a free Aluma-Tray brochure.