With their proprietary composite panel and extruded aluminum construction, Overland Explorer Vehicles (OEV) aims to advance the truck camper art.  Introducing OEV and their Camp-M and Back Country (previously the Camp-X) campers.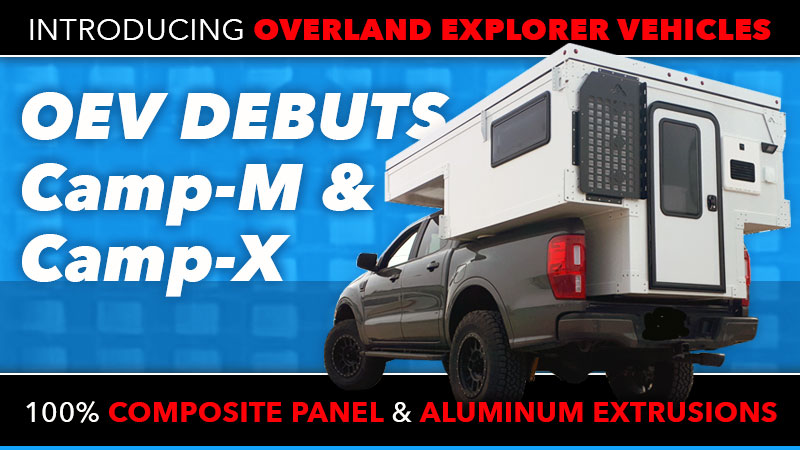 Editor's Note: The OEV Camp-X has been renamed the OEV Back Country.
It's becoming increasingly evident that the future of truck camper design could be defined by composite panel construction.  This doesn't mean that the days of traditional frame-lamination and clamshell-fiberglass truck campers are numbered, but rapid advancements in composite panel construction can no longer be ignored.
Perhaps this was the epiphany that Overland Explorer Vehicle's President, Mark Cymbaluk, and Managing Partner, Arnold Baker, had roughly seven years ago.  Based in Red Deer, Alberta, they were outfitting commercial trucks and vans with custom-mounted bodies for the then-booming oil and gas industry, mining industry and fire and rescue services.  Then, Alberta's oil and gas boom went bust.  In their search for a new niche, Mark and Arnold make a daring pivot toward a growing marketplace and a mutual passion; overland recreational vehicles.
In their quest to push the state-of-the-art, Mark and Arnold met with European overland vehicle builders, surveyed composite panel manufacturers, and pulled extensively from their own commercial project experience.  Their commercial projects had demanded extensive engineering to meet strict strength and weight requirements.  This demand led them to increasingly efficient uses of aluminum and composite panels.  With their aluminum and composite panel backgrounds, they partnered with choice manufacturers to develop proprietary composite panels and aluminum extrusions.  These materials are now the foundation of OEV and its products.
With a growing team of 26, a 39,000 square-foot factory, production delivering 10 to 12 campers per month, and 7 established dealers in the United States, Overland Explorers Vehicles is a dedicated truck camper manufacturer on the move.  To get the full story on Overland Explorer Vehicles (OEV) and their Camp-M and Camp-X pop-up truck camper models, we contacted Mark Cymbaluk, President, and Arnold Baker, Managing Partner, for an exclusive interview.
2021 OEV Camp-M Specifications:
The OEV Camp-M is a pop-up truck camper made for short bed trucks.  The interior floor length of the 2021 Camp-M is 5'5", the interior popped up height is 6'9", and the exterior width is 76".  The 2021 OEV Camp-M has 20-gallons of fresh water capacity and no grey tank.  It has space for up to three batteries and comes standard with a 10-pound propane tank.
OEV is reporting the base weight of Camp-M to be 975-pounds.  The base MSRP for the 2021 Camp-M is $36,363 USD (2022 pricing to be announced in September).  Request a Camp-M brochure.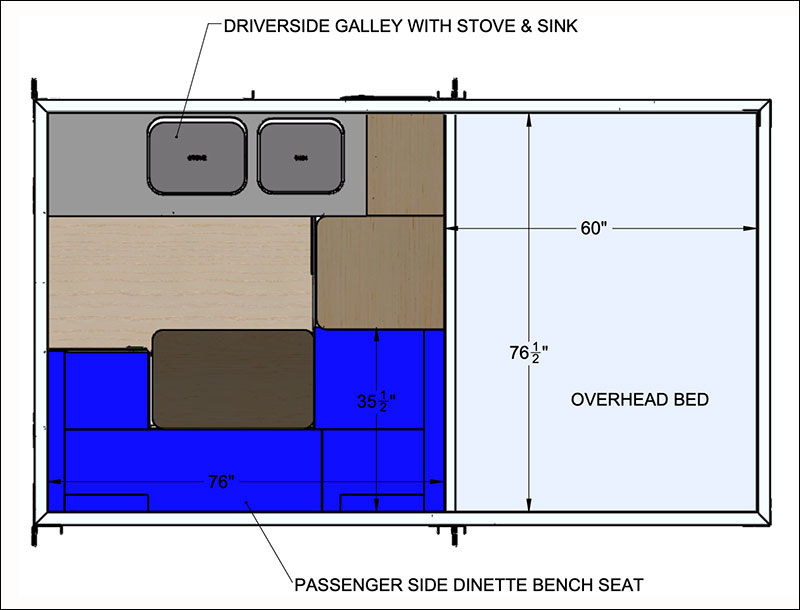 2021 OEV Camp-X Specifications:
The OEV Camp-X is a pop-up truck camper made for short and long bed trucks.  The interior floor length of the 2021 Camp-X is 6'5", the interior popped up height is 6'10", and the exterior width is 81.5".  The OEV Camp-X has 20-gallons of fresh water capacity, no grey tank, and an optional porta-potty.  It has space for up to two batteries and one 20-pound horizontal marine propane tank.
OEV is reporting the base weight of Camp-X to be 1,310-pounds.  The base MSRP for the 2021 Camp-X is $39,740 USD (2022 pricing to be announced in September).  Request a Camp-X brochure.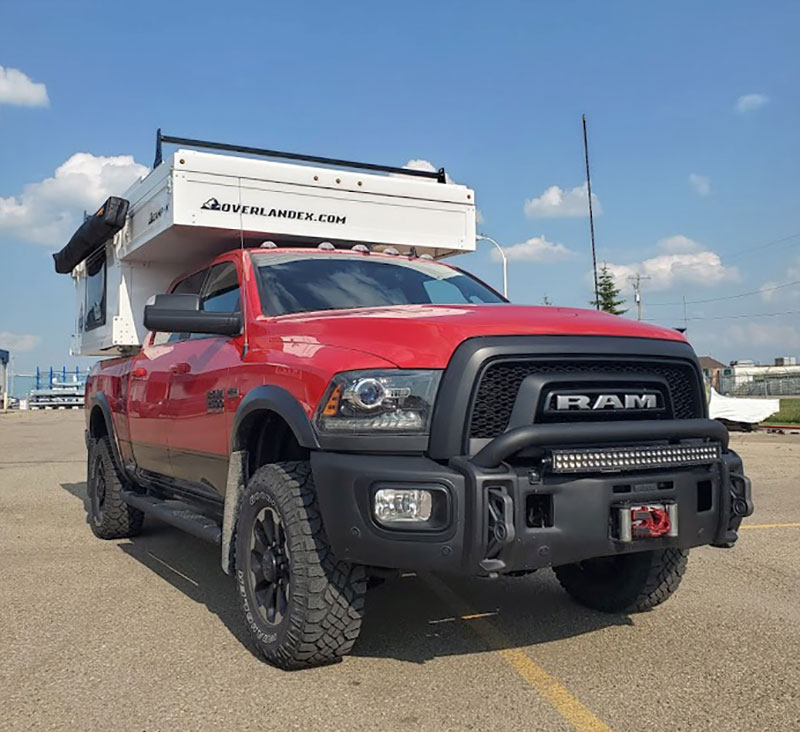 Above: The OEV Camp-X pop-up truck camper on a Ram 2500
How did Outdoor Explorer Vehicles get started?
Mark: Here in Alberta we have millions of acres of public lands, forest service roads, and massive wilderness areas with no services, including cell signal.  That's where we want to explore and camp.
Arnold: Alberta also has extremely rough roads and equally extreme cold and heat, heavy rainfall, and wind.  It's the same in many areas of North America.  There is no support where we want to go.
From early on, Mark had built a few off-road units from scratch for his own use.  Initially, I thought he was crazy, but we started working together on composite products used for commercial purposes in 2014.  During that time we kept talking about building something that would go where we want to go.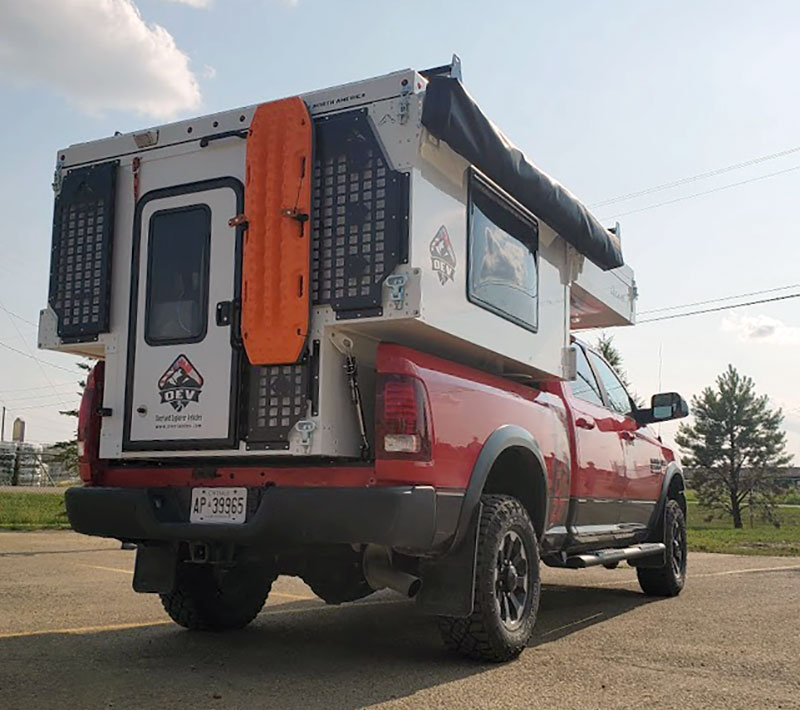 We were building composite body utility trucks for a power utility supply company in Alberta when we had an "ah-ha" moment about composites.  With composite materials, we could build the campers we had been talking about.
In 2008, oil and gas was the main thing for Alberta's economy.  We had been riding that up and down market for many years, but the oil and gas waves were ending.  In 2014, we started working on design and material tests for a composite camper.  In 2015, we built our very first one.  On Instagram, you will find Girl Gone Glamping.  She has the very first unit which was the prototype that kicked everything off.
Later that year, the oil and gas industry crashed in Alberta and has yet to recover.  We started building composite campers as a transitional business, but it ended up being our main focus.  That's how Overland Explorer Vehicles began.
OEV has previously built Sprinter van conversions and off-road composite trailers.  Are you now 100-percent dedicated to building truck campers?
Mark: Yes, all of our experience is now focused on truck campers.  Due to the crash of Alberta's oil and gas industry and the growing demand for recreational products, we have changed our business 100-percent.  We no longer build the products we offered before.  We have transformed our business.  All we do now is recreation.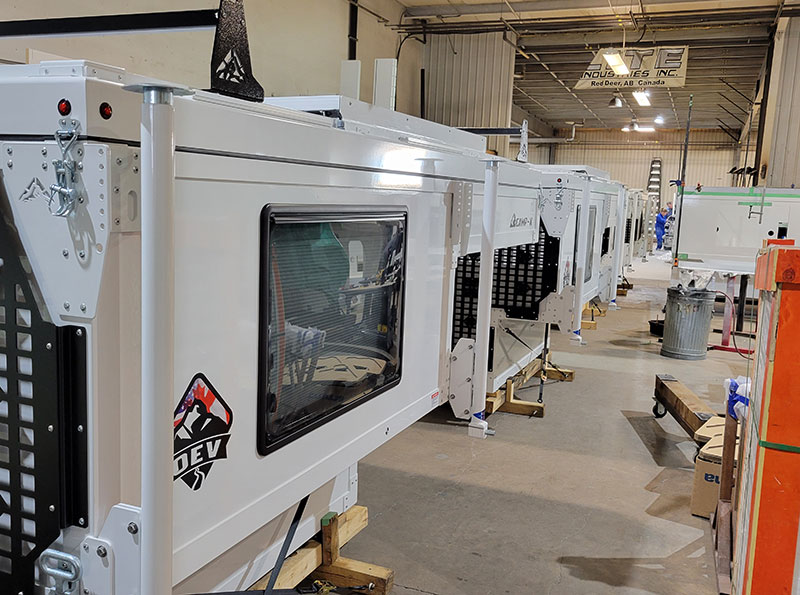 Right now there are only four camper models on your website; all pop-up truck campers.  You've built hard side and pop-up campers in the past, so why focus on pop-ups?
Mark: We are 100-percent focused on pop-up campers right now, but additional camper products are coming in the next few years.  We are going to keep our attention on pop-up campers until we perfect our process, refine the product and complete the accessories for each model.
I personally like truck campers.  It's easy to focus on something you like.  Truck camper customers are like-minded and they're also passionate about the product.  We are driven by passion and customer satisfaction.
Arnold: Our toes have been in several product streams as we searched for our niche.  In 2015, Mercedes Canada asked us to pursue Sprinter Van conversions for the recreation market.  We did and learned more about the recreational market and the direction it was taking.  What works best for our passion, expertise, and build approach is truck campers.  That's why we're now dedicated to building truck campers.
The pop-up truck camper market is populated with a number of established manufacturers and brands.  How do you see OEV standing apart from this competition?
Mark: There is absolutely nothing that offers the quality, durability, high-end construction, and components we offer.  We build the best pop-up truck camper, period.
Arnold: Our campers are light and durable as hell.  Our composite materials and aluminum extrusions are proprietary to us and designed by us.  We have three different composite panels that are used in the construction of our pop-ups.  Each panel serves a specific purpose in the build.  That's just part of what sets OEV apart from the competition.
Mark: Our composite panels and extrusions are produced in Canada and the United States to our exact specifications.  We have conducted extensive research and testing to find the right composite manufacturers and panels and adhesives.  During that process, we went back and forth with the best manufacturers until the panels were right.  There's nothing on the market that performs as well as what we use.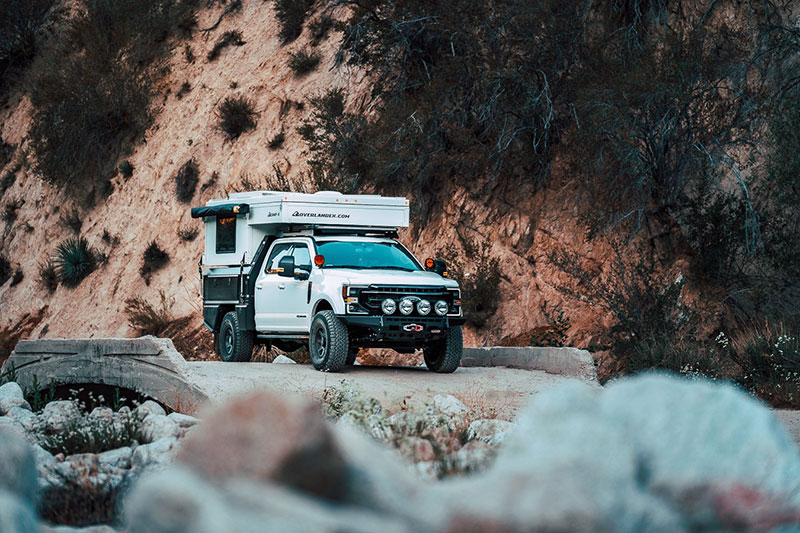 Composite panels are known for being lightweight, strong and durable.  What were you focused on when developing your composite panels?
Arnold: We focused on all three properties, and more.  During our composite panel research, we actually traveled to Germany and talked with several overland vehicle manufacturing companies.  They were very generous with their knowledge and experience and discussed the shortcomings of various composites with us.  This confirmed some of the issues we were seeing in the industry.  Once we had that information, we knew we were on the right path.
Mark: It's important to state that not one composite panel does every job properly.  There are three different composite panels in a pop-up camper build.  Each composite has a different job and is made differently for the job it's tasked to do.  It's the combination of all three composite panels that add up to the right build.
OEV's truck campers utilize aluminum extrusions but do not have an interior wall frame.  Why is this the right approach for OEV?

Arnold: People refer to our aluminum extrusions as an exoskeleton, but for every inch of aluminum we have nine square inches that are bonded with adhesives.  This results in 9 square inches per lineal inch laminated.  That is the real strength of our build.
Mark: The combination of our proprietary composites and proprietary aluminum extrusions make our campers not only the strongest but the best in the world.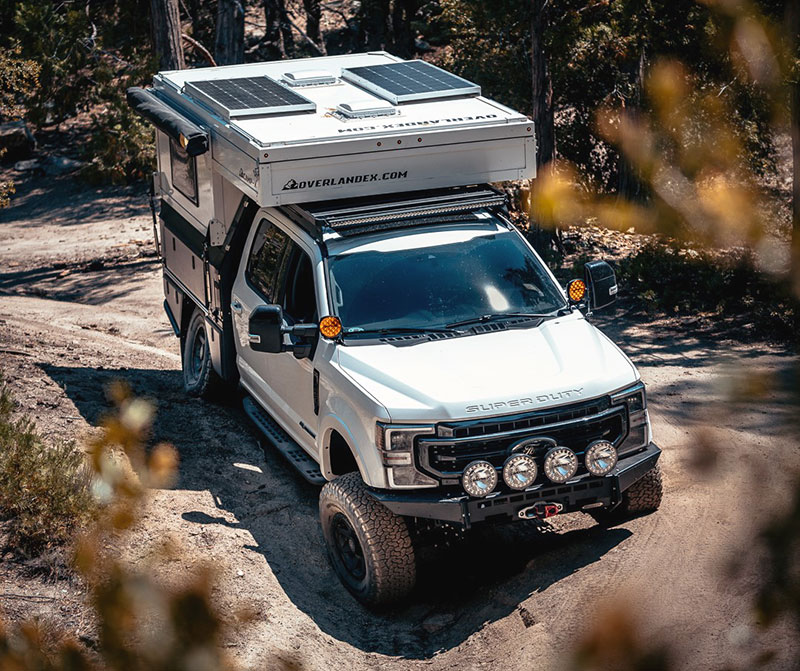 Where are your aluminum extrusions made?
Arnold: They're made right here in Alberta.  It would be convenient if we could buy off-the-shelf parts and materials, but nothing we could source was available.  We had to design our own.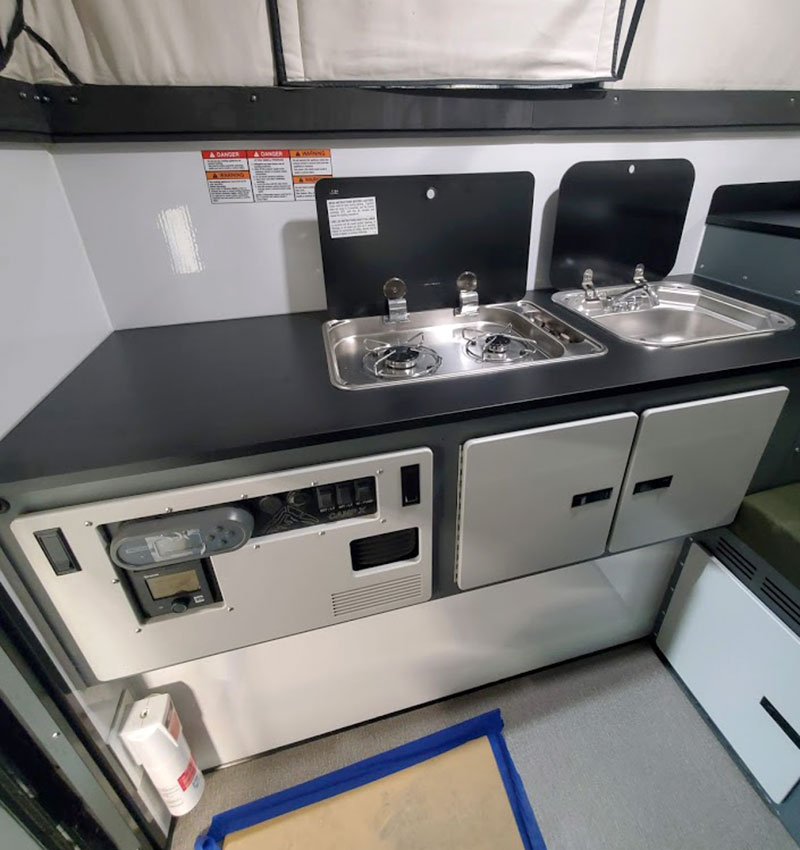 Above: Aluminum cabinetry in an OEV Camp-X
Why do you make your cabinets and furniture out of aluminum?
Arnold: We use aluminum for our cabinets and furniture because it's superior to wood, and we're really good at working with aluminum.  Nothing can compete with aluminum for lighter weight and durability.  If you get water on the floor, it really doesn't matter if everything is composite and aluminum; just clean it up.
Nothing is going to rot or mold in an OEV.  Our cabinet doors and drawer fronts are polymer.  Except for our countertops and tables, there's no wood in the structure of an Overland Explorer Vehicle.
If there's no wood anywhere in the structure, cabinetry or furniture, why did you select wood for your countertops and tables?
Mark: I've never seen a countertop rot.  Wood makes a great table and countertop.  In that application, I have not seen anything nicer than wood.
Is the aluminum cabinetry and furniture part of the camper structure?
Arnold: Our aluminum cabinetry and furniture increase the strength of our structure, everything ties in together.  Even without the interior aluminum components, our campers are incredibly strong.  To prove this point, we were going to buy a beater truck, load our prototype camper onto it and roll it intentionally down an embankment, but somebody bought the bloody prototype.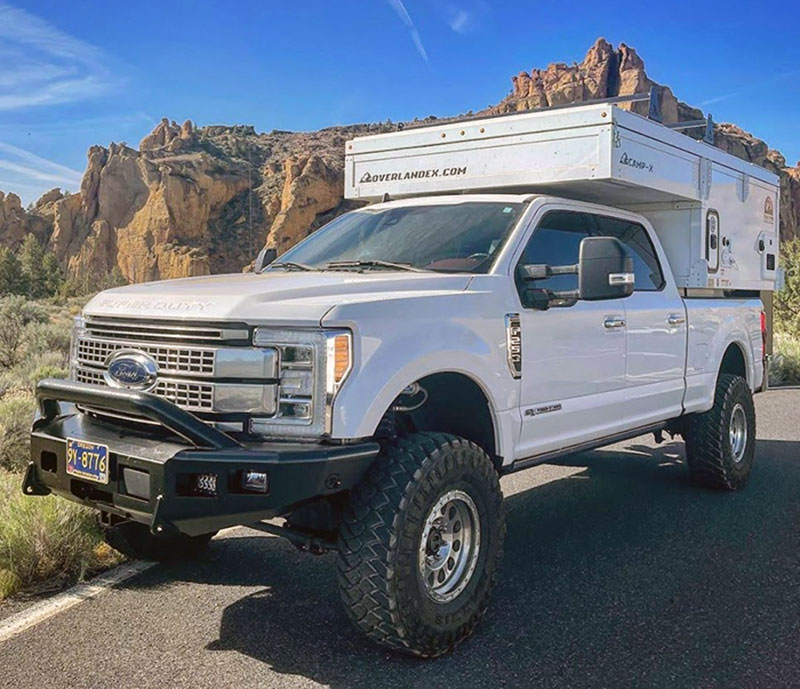 That would have been quite a test.  There are a number of what appear to be bare screws on the outside of the units.  Any concerns for rust or electrolysis?
Mark: Those are rivets, not screws.  And the rivets are coated, so there are no dissimilar metal issues.  We have been using rivets since the 1990s without any problems.
Arnold: Our composite panel and aluminum extrusions are assembled with advanced adhesives.  We probably don't need as many rivets as we use, but we would rather over-engineer than under-engineer everything.
The exterior of OEV campers have custom aluminum jack, awning, and roof rack brackets – all with the OEV logo.  Why do you make these components in-house?
Mark: If we used off-the-shelf components, we would have a heavy camper that looked like everyone else's.  We would also have to be concerned about the design quality, build quality, metal quality, and finish quality.  By designing and making our own components, they work properly.
Arnold: We brought a lot of available components here to evaluate.  Let's just say there's been a lot of nice things in our dumpster.  We're not going to put anything in our campers that we don't stand behind 100-percent.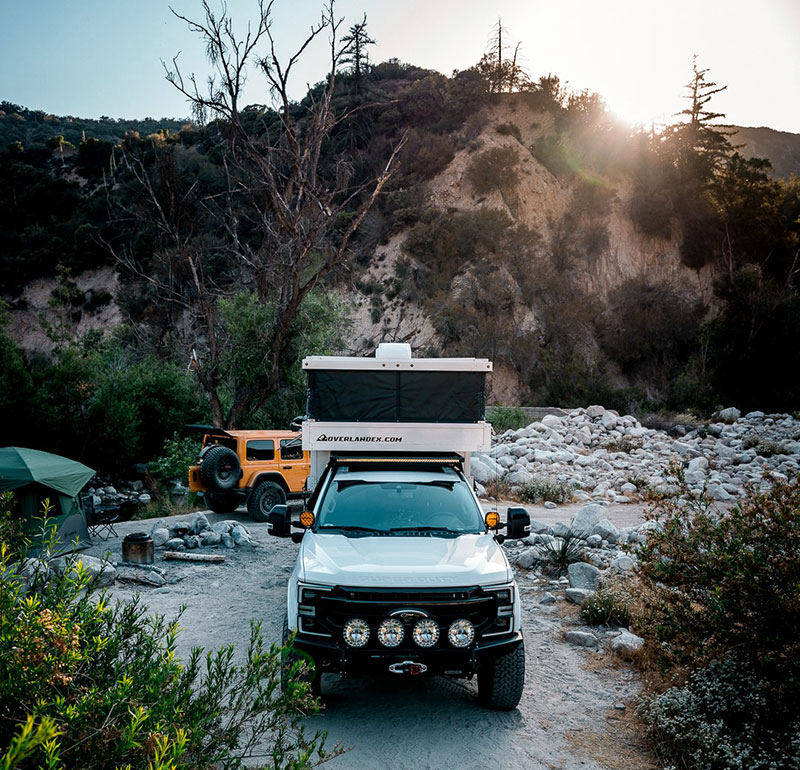 Where did you learn the proficiency with aluminum to be comfortable making so many aspects of your campers out of the material?
Mark: In 2014 we built 52 trucks in one quarter for the oil and gas industry, mining industry, and fire and rescue.  Most of our commercial work was aluminum construction.
We got those contracts by beating other companies with our engineering and quality.  Part of the way we did that was by using materials and metals strategically.  As a result, our builds were half the weight and twice the strength.
We have built below-ground roll-over protection systems, met falling object protection levels one and two, and mastered how frames behave on commercial and domestic chassis.  Our products are in use from the Arctic Ocean to Louisiana, and everywhere in between.
What is an OEV truck camper's roof made from?
Mark: It's composite and aluminum extrusions, like the rest of our camper.  The roof is a specific composite, as are our floor and walls.
How much weight can an OEV roof hold?
Arnold: Our roof is rated at 250-pounds.  We've had more weight on the roof than that, but we don't encourage our customers to go higher than 250-pounds. We typically don't encourage our customers to get on the roof, for safety reasons.  It's not anti-slip.  We also encourage our customers to load and unload kayaks and other roof stored items when the pop-up roof is down in the travel position.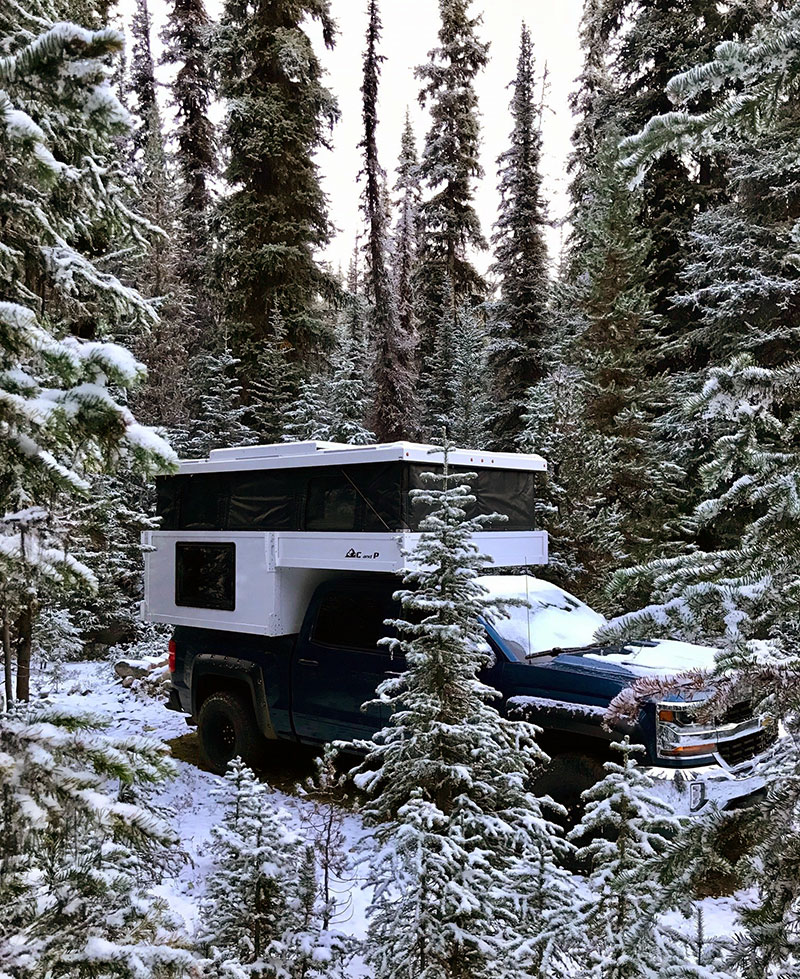 Above: An OEV Camp-X on a Chevy Silverado
On most campers, one needs to monitor and maintain the roof, side, and underbody seals.  Given OEV's composite and aluminum construction, how does an OEV owner maintain their seals?
Mark: Our method of construction is fully sealed from the factory.  We use advanced adhesives with composite panels and aluminum extrusions.  Everything is sealed and 100-percent bonded.
There are cosmetic sealing points that are located where a panel meets an extrusion that may eventually have to be replaced.  The sealant doing the work is underneath extrusions.  For every linear inch of extrusion, there are 9 square inches of sealant.  Because of this, there is hardly any maintenance of seals on an OEV camper.
Is there anything a customer needs to do to maintain their OEV camper?
Mark: Wash it.
Arnold: We do recommend regularly cleaning the exterior nylon soft walls to maintain their full UV resistance.  There's a spray coating that should be applied about once a year or as specified by the manufacturer.  The spray can be found on our website.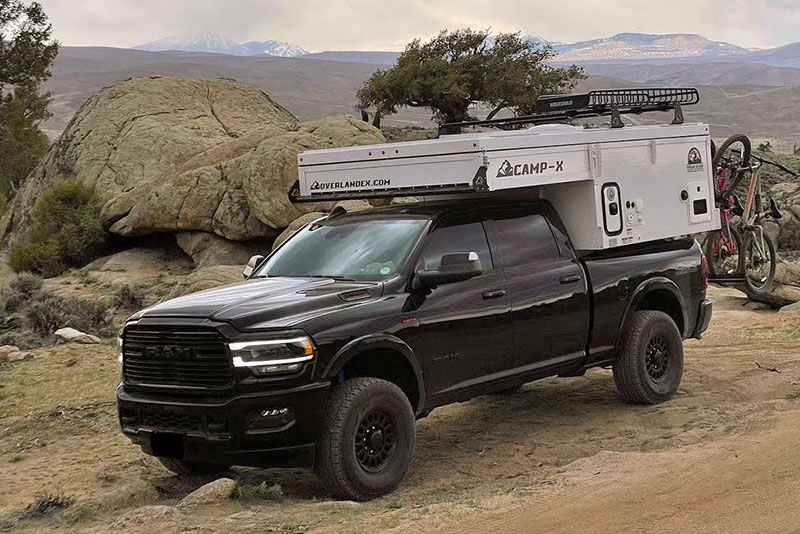 Is the exterior of an OEV painted or a gel coat?
Mark: The composite panels have the same automotive gel coat finish as a fiberglass boat or Corvette.  The aluminum extrusions are powder-coated white.
Can a customer paint their OEV camper?
Mark: Fill your boots.  You can absolutely paint your OEV camper, but we don't recommend a darker color.  For longevity, as in 25 to 30-years, we suggest painting a lighter color.  Even better, go with a wrap on the composite panels and stay off the extrusions.  Otherwise, our campers are white for a reason.
OEV states that thermal transfer is eliminated with its build approach.  How was this achieved?
Mark: The thermal transfer we are referencing is the extrusion perimeter between the lower body of the camper and the roof.  To eliminate that thermal path, we selected EVA foam (Ethylene-vinyl acetate).  It's fire-rated, extremely lightweight, won't absorb water, and eliminates a thermal bridge by interrupting the thermal path.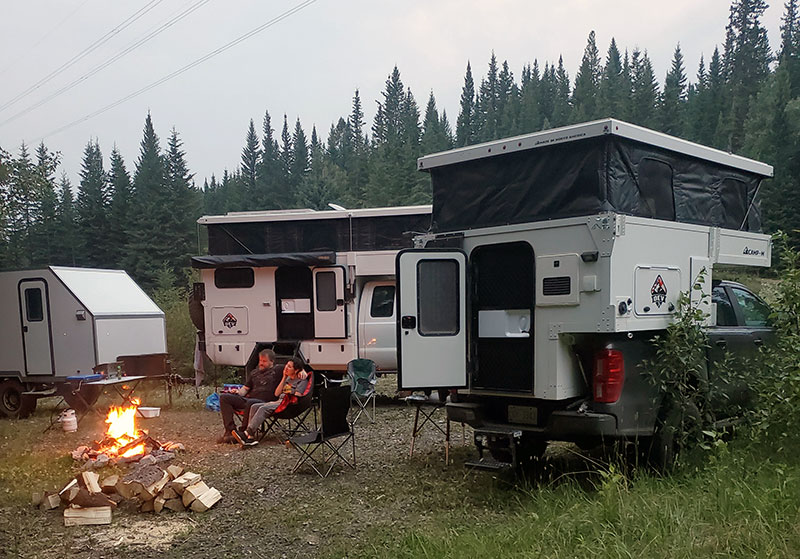 What materials are the soft wall layers made from?
Arnold: Our soft walls are made from a coated nylon on the exterior, a thermal fill for insulation, and a fire-rated canvas on the interior.  The nylon we chose has the highest UV rating on any exterior-purposed nylon product on the market.  The exterior nylon is dark grey for the highest UV block.  The interior canvas is light cream to brighten up the interior.
Mark: Our sidewalls are designed to breathe.  That prevents the sidewalls from retaining moisture.  The ability to breathe is an important part of the design.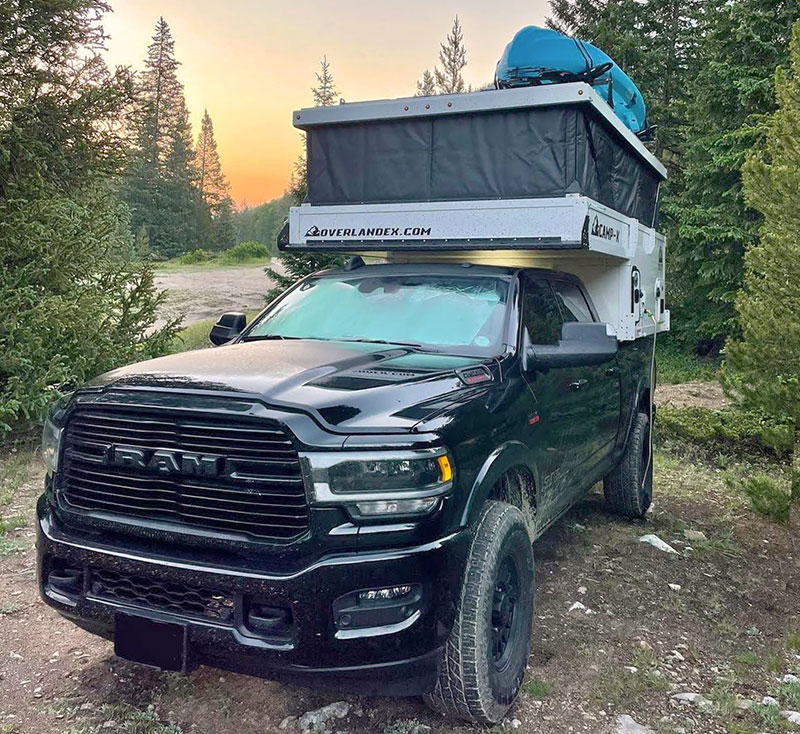 Above: The OEV Camp-X on a Ram truck
Are your soft walls made in-house?
Arnold: We have a company here in Alberta that makes our soft walls and other upholstery components.  We were making the soft walls and upholstery in-house, but our current and projected volume requires an outside vendor.
Tell us about OEV's roof lift and locking roof supports.
Mark: That system came from about 400-hours of engineering and work.  We developed spring-loaded lifting hinges that lift the first 25-percent before concealed gas struts take over to complete the lift.  The aluminum lift then over centers and fully locks into position.
When the aluminum lifts snap over, that roof isn't coming down.  The roof and lift system could easily handle a foot of heavy snow.  Of course, you should sweep that snow off before lowering the roof down.
Tell us about the concealed struts.
Mark: The concealed gas struts were part of the aluminum extrusion design.  On other campers you see the struts exposed on the exterior or crowding the interior cabin.  It makes more sense to tuck the struts in the side walls.  They are protected during travel to avoid road debris, and completely out of the way when you enter the camper.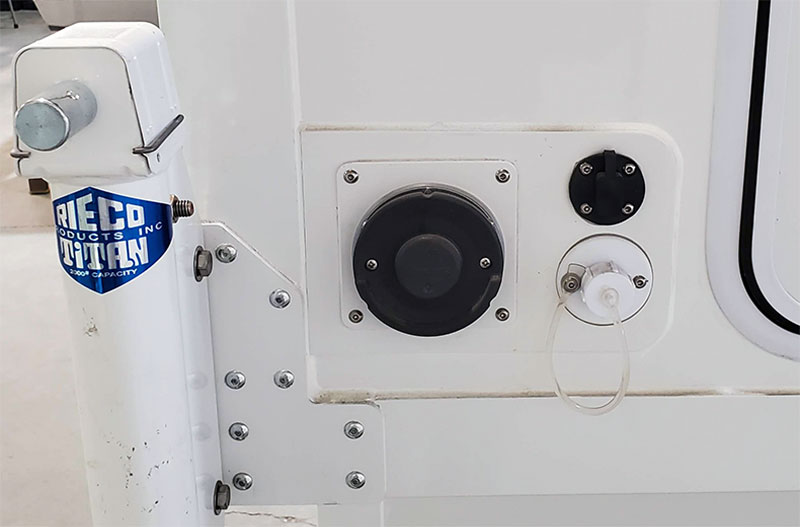 The Camp-M and Camp-X models are shown with Rieco-Titan manual jacks.  Once loaded onto trucks, these jacks are removed.  Are the jacks intended to be removed once loaded?
Arnold: Most of our customers are traveling off-road and don't want to be hauling around their jacks.  You can also leave your Rieco-Titan jacks on.  It's your choice.  Some customers mount them upside-down to keep them up and out of the way.
Mark: People are also finally becoming more weight conscious.  The jacks are an easy 25-pounds each to remove.  If you're concerned about the ability to remove our camper in the field, our camper structure is so strong that you could pick one up with a crane or forklift, provided it is done correctly.
The website describes a three-piece direct-to-frame bed-mounting kit.  It also describes using Torklift AnchorGuard Derringers as turnbuckles.  Tell us about the tie-down and turnbuckle system in a Camp-X or Camp-M rig.
Mark: We built frame-mounted aluminum brackets, one for the front of your truck bed, another for the rear.  These brackets lock your OEV camper into place using Torklift Derringer turnbuckles.  Our system also completely prevents the camper from ever impacting your truck; no wood blocks necessary.
Arnold: Once the Torklift Derringers are set, you don't need to check them every day.  And our frame-mounting kit is physically bolted to the truck frame.  It's rock solid and secure.
What are the standard windows in the Camp-X and Camp-M?
Mark: Everyone wants dual-pane acrylic windows in a pop-up camper.  We use the best vendor we could find and are quite happy with their lightweight and performance.
Tell us about the MOLLE (Modular Lightweight Load-carrying Equipment) racks on the Camp-X and Camp-M models.  What can they be used to carry?
Mark: A MOLLE system can be used for just about anything; Rotopax, MaxTrax, and more.  For this reason, they're a very common feature on military vehicles.  It only made sense that we employed them for OEV campers.
What is the entry step system in the Camp-X and Camp-M?
Arnold: There are a lot of options on the market.  We are currently designing a solution in-house.  The first unit that will have our new step solution will be at SEMA this year.  Tread Magazine is working on a feature for that unit now for their September/October issue.  That rig will also be at all three Overland Expos this year.  In the meantime, our customers use all kinds of third-party folding stairs and steps.
Why did you decide not to include a bathroom in the Camp-X and Camp-M?
Mark: The answer is available space.  There isn't enough room in the Camp-X or Camp-M for a dedicated bathroom or toilet closet.  Our customers are outdoor-oriented and understand the trade-off.  We don't get a lot of requests for that feature.
Is there a dedicated space to store a porta-potty in either unit?
Arnold: In the Camp-X there's a space for a porta-potty under the dinette seat beside the door (shown above).  It will fit most porta-potty designs.  There's no dedicated space in the Camp-M.  When my family goes camping in a Camp-M, we take a porta-potty and use an outside shower enclosure.
Are the Camp-X and Camp-M cabovers North-South, or East-West?
Arnold: Both campers have an East-West bed cabover, but you can get a bed extension that converts either model into a North-South King-size bed.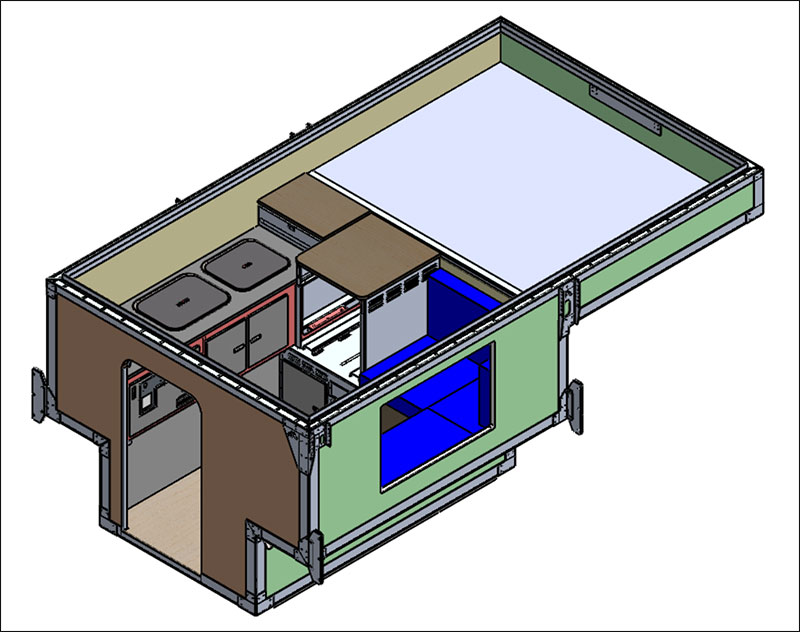 Above: CAD 3D model of the OEV Camp-X showing the cabover
OEV employs the Truma VarioHeat propane heating system and thermostat for the Camp-X and Camp-M.  Why did you choose the Truma VarioHeat system?
Arnold: The Truma VarioHeat was selected for space and weight.  Anytime we can give our customers more storage, that's what we're going to do.  Truma systems are also very quiet, reliable, and efficient.  They don't use a lot of propane, which makes an important difference.
Back in October 2019, it got down to -26 degrees Celsius (-14.8 degrees Fahrenheit).  It was bloody cold.  We had a Camp-X outside and I asked the guys to pop the roof, weigh the propane and put the thermostat at 20-degrees Celsius (68 degrees Fahrenheit).  Four hours later we weighed the propane again.  The VarioHeat had only burned a half-pound.
Later I learned that Mark had gone in and out of the camper a few times to measure the wall temperatures, plus we had forgotten to put on the standard insulated window coverings.  In a real-world situation, with the coverings on and people staying in the camper, the results would have been even better.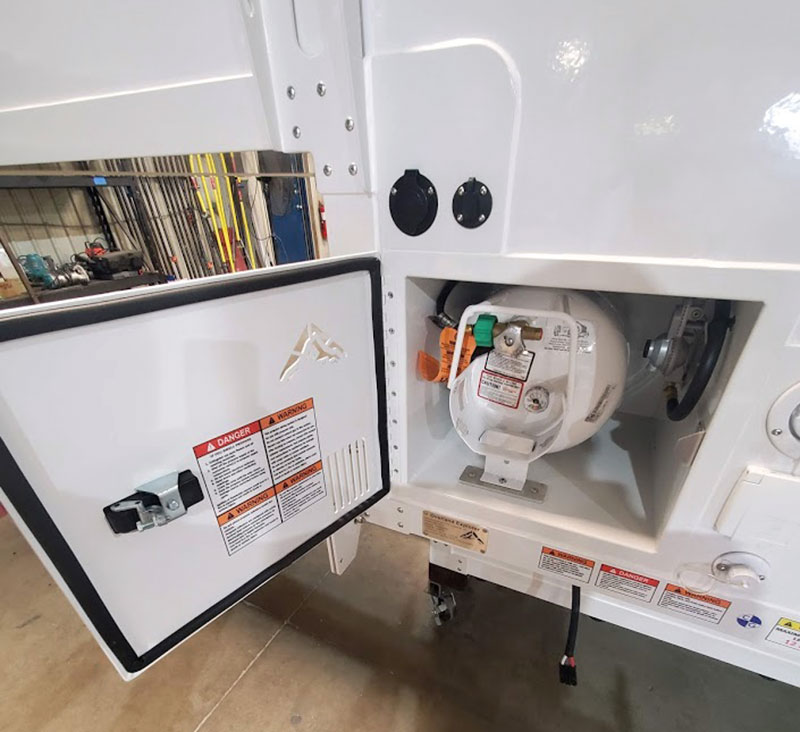 Rather than installing a permanent propane cooktop, the Camp-M offers an internal propane connection for a portable cooktop.  What's the thinking behind this approach?
Arnold: We took a more modular approach for the Camp-M.  There's not much space in that camper so a modular approach is necessary.  For the Camp-X, we have a fixed glass-top propane cooktop.  We started the Camp-X with a more modular approach, but the customers wanted a built-in cooktop in that model.
Is there a standard refrigerator for the Camp-X or Camp-M?
Arnold: Camp-M was designed to accommodate a portable 12-volt refrigerator (pictured above).  We made the refrigerator space big enough for a good-sized unit.  The Camp-X comes standard with a Dometic 65-liter compressor refrigerator.  You can order it without the standard refrigerator and use your own portable refrigerator.
What size fresh tanks are standard for the OEV Camp-X and Camp-M?
Arnold: Both have 20-gallon fresh tanks.  Customers use a container to capture grey water.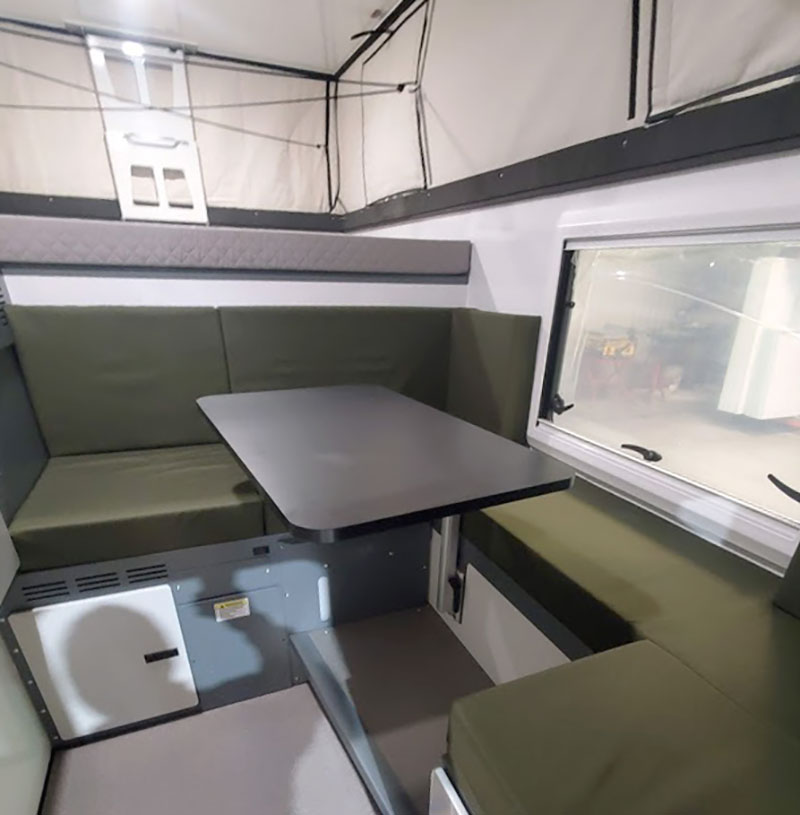 Is there an air conditioner option?
Arnold: We often get asked about air conditioning, but we haven't found anything that's small and light enough that will remove the heat and humidity.  When we find a quality solution, we will make it available.
What's the water heater option for the Camp-M and Camp-X?
Arnold: The Truma Aquago water heater is standard on the Camp-X, and optional on the Camp-M.  The Aquago is an on-demand water heater system.  We use a Sigiva (Bullfinch) outside shower connection.  It's a single-point hot-cold port.
How would you describe the standard electrical system in the Camp-M and Camp-X?
Mark: The Camp-M comes standard with a Redarc BCDC 1240D for DC-to-DC battery charging from your truck or solar panels.  The Camp-X comes standard with a Redarc Manager 30, a 30-amp battery management system to charge and maintain batteries from AC, DC, and solar inputs.
We do not supply batteries with our campers.  There are so many choices and everyone has their own preferred type and brand.  Our dealers can also help navigate battery choice.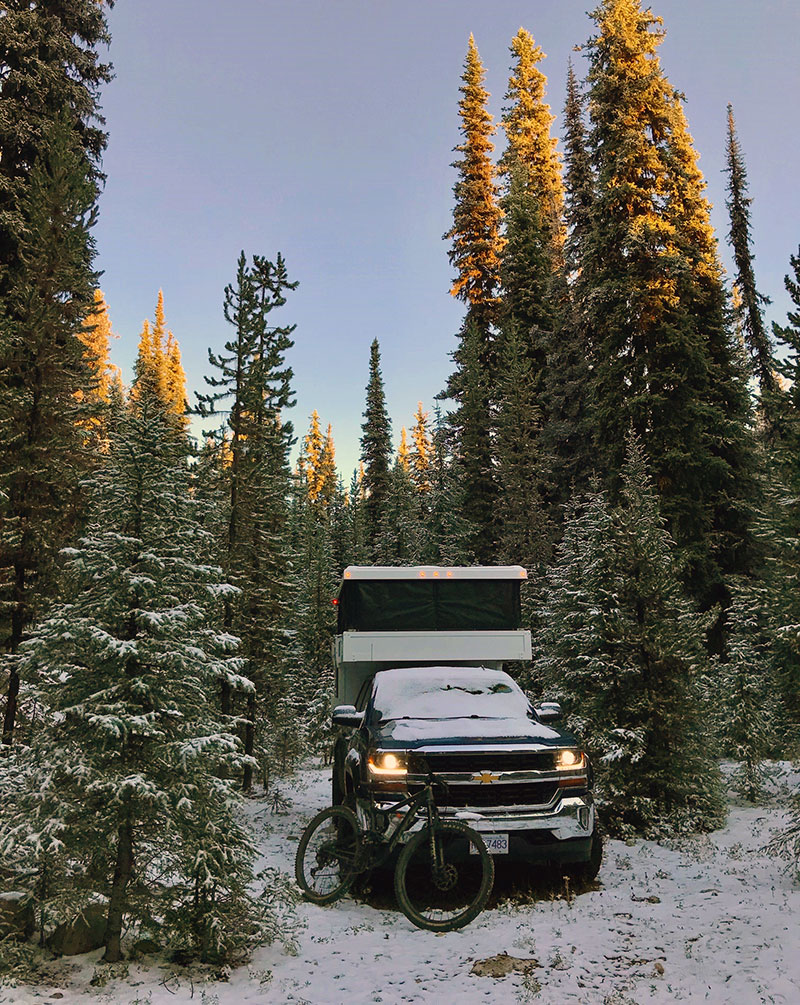 Where are the batteries located in the Camp-M and Camp-X?
Mark: Under the dinette floor in the Camp-M and under a seat in the Camp-X.  You are required to use a sealed AGM or lithium battery in either camper.  Our units are RVIA certified, but they made an exception for battery compartment ventilation if we stipulated the use of sealed batteries.
Does either camper come with standard solar panels?
Mark: Solar is optional for both campers.  We currently use a 200-watt Canadian Energy solar panel.  The panel offers the highest efficiency ratings and is hail-proof.  Most campers are ordered with the panel, so it may become standard at some point.
What options are available for the OEV Camp-X and Camp-M truck campers?
Arnold: Options for the Camp-M include 200-watt solar panel with brackets (33-lbs), awning adaptor kit (3.5-lbs), MOLLE Racks (7.5-lbs), roof rack kit with 4-piece track (21-lbs), additional multi-speed fan (4.5-lbs), OEV light bar (TBD-lbs), Truma Aquago water heater with Sigiva outside shower and hose extension (TBD-lbs).
Options for the Camp-X include refrigerator delete (-59 lbs), 200-watt solar panel with brackets (33-lbs), universal awning adaptor kit (2.2-lbs), OEV light bar (4.2-lbs), OEV roof rack (15.5-lbs), OEV King bed extension kit with fridge (12-lbs), OEV King bed extension kit without a fridge (TBD-lbs), and OEV soft storage.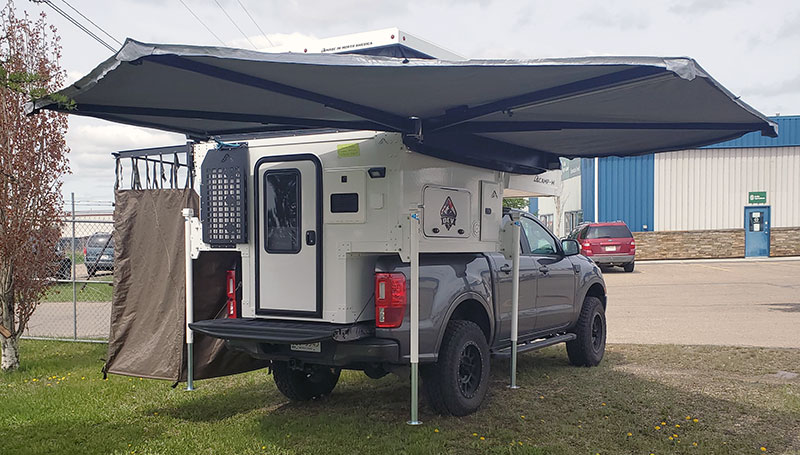 What are the center of gravity points for the Camp-M and Camp-X?
Arnold: From the exterior front corner cap, the center of gravity for the Camp-M is 20.5" and the Camp-X is 26.5".
What are the weights for a Camp-M and Camp-X?
Arnold: The base weight without any options of the Camp-M is 975-pounds.  With the addition of a MOLLE rack on the driver's side and the Truma Aquago option with an outside shower port, it is 1,055-pounds.
The base weight without any options of the Camp-X is 1,310-pounds.  It is 1,365 pounds dry with driver's and passenger's side MOLLE racks and a 200-watt solar panel.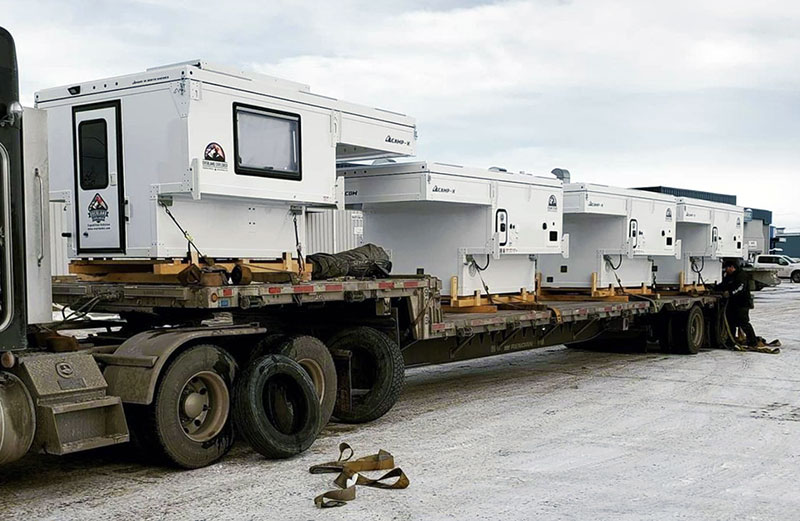 Above: OEV campers being shipped to dealerships
Are you selling factory-direct or through a dealer network?
Arnold: Overland Explorer Vehicles has seven dealers in the United States, and we are hoping to announce a new dealer in eastern Canada soon.  Until that announcement, all Canadian orders are handled factory direct.
Our dealers work directly with OEV customers and owners.  If you want an OEV camper, you place your order with a dealer.  The dealers handle any personal requests allowing us to focus on the build.  Our dealers normally stock one unit for customers to see, but most of them are currently sold out.
Mark: Our goal, once the current material and component shortages have been resolved, is to have stock units at our dealerships.  We are building over-the-counter turn-key products.  Throw in your gear and go. That's how we design and build our campers.
If a local dealer doesn't have one in stock, is it possible to see an OEV camper at the factory in Red Deer?
Arnold: Yes, we always have campers at various stages of completion in production.  We will also be showcasing our campers at a lot of shows in 2021 and beyond.  The focus right now is on our branding and getting our name out there.  I think 2022 will be a year of tremendous growth.
How does someone order an Overland Explorer Vehicle?
Arnold: If the customer is from the United States, they simply reach out to an Overland Explorer Vehicle dealer and they will walk you through the process.  If you can't get the answers you need from your local dealer, you can always call us.  We talk to customers from around the world all the time.
Once an order is placed, what's the wait time?
Arnold: Right now it's about 14-weeks.
Earlier you mentioned improving efficiency and meeting demand.  How are you working on those two fronts?
Arnold: We are continuously looking at efficiencies to speed production without dropping quality.  We just acquired an additional 6,000 square feet bringing our total footprint to 33,000.  Every time we make a change, it takes three months before we see the result of it.  That means we hope to have a production increase by November barring supply chain issues.
We're at 26 people and growing.  Right now we're pumping out 10 truck campers, 1 or 2 CAMP-HBE campers, and several trays a month.  We're gearing up for more production.  Our plan is to be building 500-campers per year within three years.
What is the base MSRP for the Camp-X and Camp-M?
Arnold: The base price of the 2021 Camp-M is $36,363 USD.  The base price of the Camp-X is $39,740 USD.  2022 pricing will be announced in September.
What would a fully loaded Camp-X and Camp-M cost?
Arnold: With popular options (solar, MOLLE racks, etc.) the 2021 Camp-M comes to $41,290.  That does not include a battery or freight.  With popular options (again solar, MOLLE racks, etc.) the Camp-X comes to $42,942 USD.  Freight typically adds $1,500 to $1,600 USD.   Again, 2022 pricing will be announced in September.
What is the OEV warranty?
Arnold: We have a five year warranty on the camper structure and a three year warranty on the soft wall.  The installed and optional equipment all comes with their own warranties.
If a customer has a warranty claim, how will that be handled?
Arnold: We've got a system in place.  Reach out to a dealer and discuss the claim on the phone with pictures or video.  Then, the dealer submits a warranty requisition outlining the estimate of repair.  We look at it, approve it, and the customer gets it taken care of.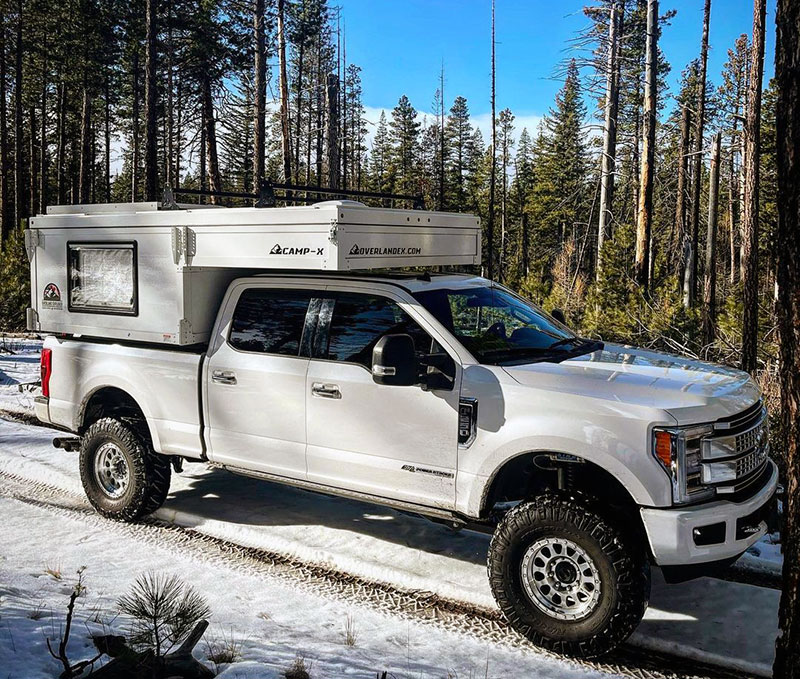 Should we expect to see new models in the coming year, or are you focused on the four current models?
Arnold: We are focused on the Camp-X and Camp-M, our flatbed HBE models, and the Aluma-Tray.  Until the current supply shortages are eliminated, and our production is dialed-in, we will stay with these models and products we currently offer.
In 2022, we will take orders on our new BASE CAMP, a fixed (non-demountable/removable) pop-up.  In 2023, we'll bring back our SUMMIT hard wall expedition cabin.
We decided to focus on truck campers when Ford said they were getting rid of cars.  When we went to Overland Expo West in 2017, we counted the various types of campers on hand.  We lost count of the pop-up truck campers.  It's an up-and-coming segment.
For more information on OEV, visit their website at overlandex.com. Click here for a free OEV brochure.