OEV advances its composite panel construction with a flatbed, side door pop-up camper designed to integrate with their award-winning Aluma Tray.  Don't miss the new Plyboo interior, auto-lift actuator roof and gurney bonus bed.  OEV Alpine tease ahead!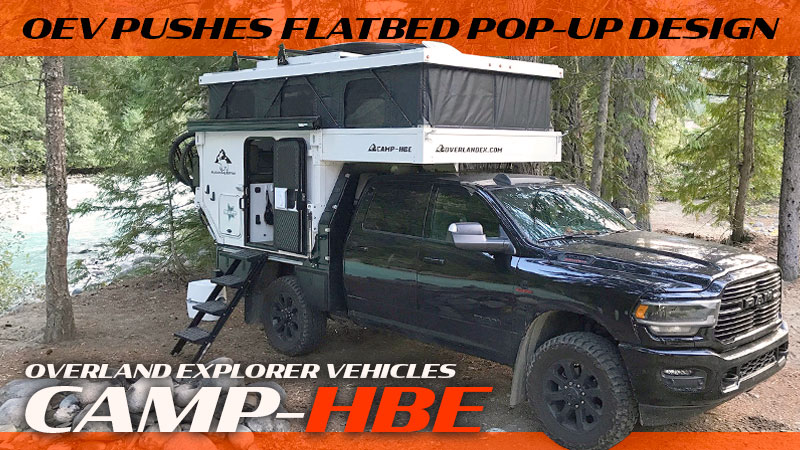 Editor's Note: The OEV Camp-HBE has been renamed the OEV Hudson Bay.
There are a lot of important ideas competing in the truck camper marketplace right now.  While some companies are staying with the time-tested and proven floor plans and construction approaches, others are charging full steam into advanced flatbed designs, strong and lightweight composites, and sophisticated applications of aluminum.
Prominently, in the charging-forward camp, Overland Explorer Vehicles (OEV) has developed a proprietary set of composite panels and aluminum extrusions to produce their core camper construction.  Further adding to their robust approach, all of their interior furniture and cabinetry are fabricated from powder-coated aluminum.  In turn, the aluminum interior components additionally strengthen the exterior composite and extruded aluminum shell.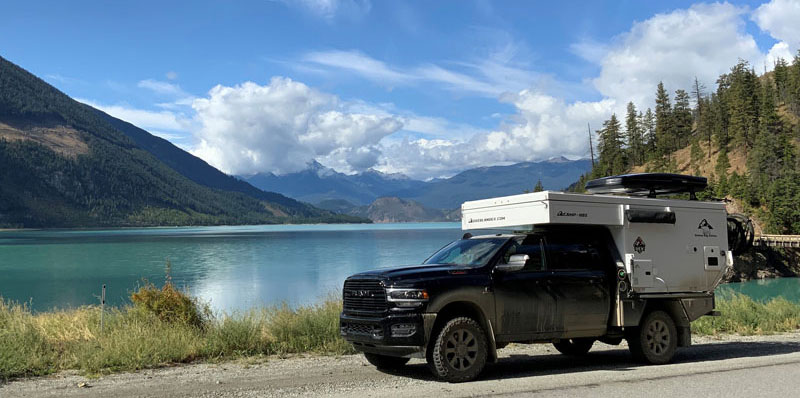 Above: The OEV Camp-HBE, all photos courtesy of Overland Explorer Vehicles
In mid-2021, we detailed the Overland Explorer Vehicles Camp-X and Camp-M and showcased OEV's composite-aluminum construction approach.
Where these two pop-up truck campers follow a more traditional slide-in design, the OEV Hudson Bay Editions (HBE) takes three important steps forward.  First, the HBE models are flatbed models. Two, they were designed to work with the company's Aluma Tray flatbed system.  And three, the HBE models employ side-door entry for a floor plan.
The sum total of OEV's approach to materials, construction, and floor plan makes for a unique offering in the truck camper space; one that's designed to be exceptionally lightweight, strong, well insulated, and built-to-last.  By turning to a flatbed side-door approach, OEV opens up their pop-up campers to couples who need more space and families that need additional sleeping arrangements.  Wait until you see the gurney.
For more information about the Overland Explorer Vehicles HBE 6.75-foot and 8-foot models, we talked to Arnold Baker, Managing Partner for OEV.
2022 OEV Camp-HBE 8' Specifications:
The 2022 OEV Camp-HBE 8' is a flatbed pop-up truck camper made for long bed trucks.  The interior floor length of the 2022 Camp-HBE is 7'9", the interior popped up height is 77", and the exterior width is 84 9/16″.  The 2022 OEV Camp-HBE 8' has 38-gallons of fresh water capacity, no grey tank, and an optional porta-potty.  It has space for up to three batteries and one 20-pound horizontal marine propane tank.
OEV is reporting the base weight of Camp-HBE 8' to be 1,720-pounds.  The base MSRP for the 2022 Camp-HBE 8' is $64,572 USD.  Click here for a Camp-HBE brochure.
2022 OEV Camp-HBE 6.75' Specifications:
The 2022 OEV Camp-HBE 6.75' is a flatbed pop-up truck camper made for short bed trucks.  The interior floor length of the 2022 Camp-HBE 6.75 is 78.5", the interior popped up height is 77", and the exterior width is 84 9/16″.  The 2022 OEV Camp-HBE 6.75' has 38-gallons of fresh water capacity, no grey tank, and an optional porta-potty.  It has space for up to three batteries and one 20-pound horizontal marine propane tank.
OEV is reporting the base weight of Camp-HBE 6.75' to be 1,650-pounds.  The base MSRP for the 2022 Camp-HBE 6.75' is $63,744 USD. Click here for a Camp-HBE brochure.
Above: OEV Camp-HBE with the OEV Aluma Tray and stairs
What's the story behind the name, Hudson Bay Edition (HBE)?
It's quite embarrassing.  We're horrible at picking names.  Anytime we have to come up with a new product name we're like, "Oh no, we need another name."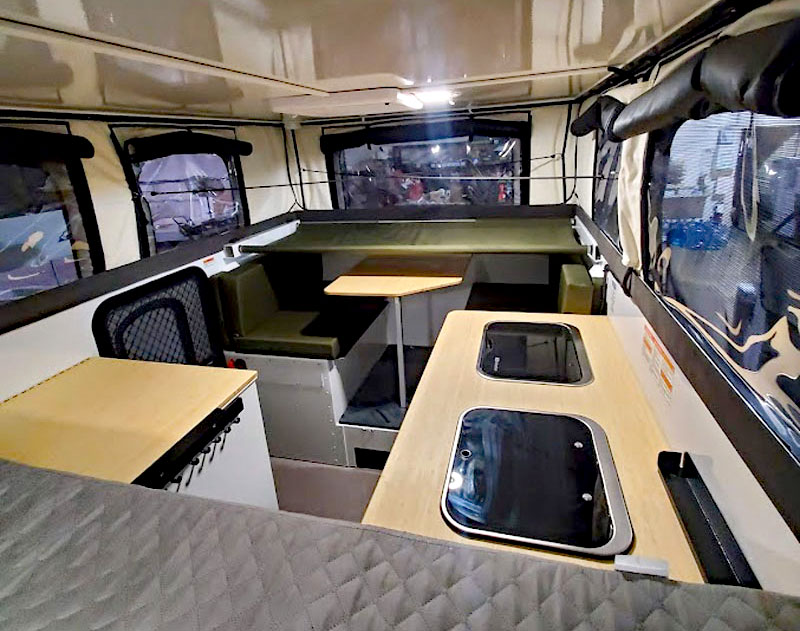 Above: The interior of the Camp-HBE with the new Plyboo interior and the gurney in place
That's funny.  It is quite hard to name a new product.
For this camper, we wanted to reference something in Canada to symbolize the level of insulation and cold weather conditions it can handle.  That's where the name, 'Hudson Bay Edition' comes from.  The Hudson Bay area is a well-known region where people go to see polar bears.  It's also associated with the Hudson Bay Trading Company going back to the fur trading days and their famous Hudson Bay Wool Blankets.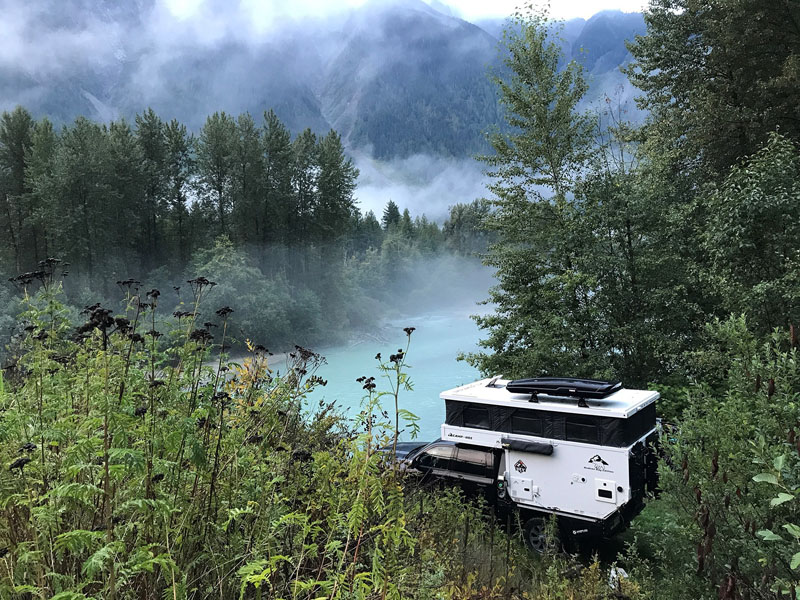 Given the insulation built into OEV campers, why do you describe them as only three-season?
We market our campers as three-season units, but Canada's winters are often a level beyond what you typically get in the United States.  We can see temperatures down to -15 degrees Celsius (5 degrees Fahrenheit) and lower.  Even with those extremes, some of our customers use our campers beyond three seasons or extend their season well into the winter months.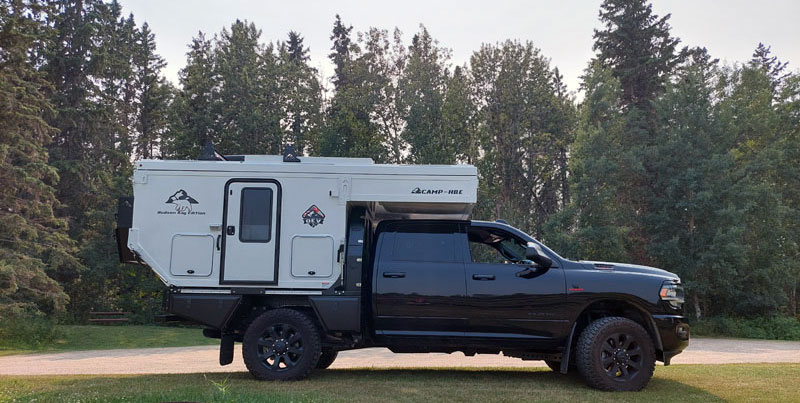 Those are some hearty truck campers.  Why did OEV decide to build a flatbed side-entry pop-up truck camper?
We were already offering the Camp-X and wanted something that would comfortably fit a family of four.  That not only means more space inside but also amenities like an optional toilet and inside shower.  That's where the Hudson Bay Edition (HBE) design came from.  For a couple, it's also fantastic.  The flatbed gives you a lot more storage.
The back of the camper experiences negative pressure.  Therefore, having the side entry maintains a cleaner entrance.  A side-entry also allows for even more floor plan options.  We actually played around with rear and side entries during the Camp-HBE development process.  Designing a camper is like playing Tetris.  Every aspect of the build is interrelated, including weight distribution and safety considerations that relate to the NFPA 1192 standard for recreational vehicles.
Towing is another important consideration in favor of a side entry.  Not many people in the overland market tow with a truck camper, but we do.  We bring trailers for dirt bikes and/or ATVs.  It's nice to have the ability to tow and have your home away from home on the back of your truck.  Due to the lightweight of the HBE, it is very doable.
Towing is obviously a huge part of the overall truck camper market.  Is the Camp-HBE constructed the same way as your Camp-X and Camp-M models?
Yes.  We use the same proprietary composite panel and extruded aluminum extrusion construction that makes OEV campers the strongest in the world.  As you know, we use three different composite panels.  For example, we use a 1.5-inch composite panel for the walls consisting of gelcoat fiberglass on both sides, honeycomb polypropylene, and a foam core chosen for its specific density and structural capabilities.
The floor is a 1.5-inch sheet of honeycomb polypropylene gelcoated on both sides.  The manual lift roof uses a 1.5-inch EPS foam core with fiberglass reinforced plastic on both sides.  We select the best composite panel for each application based on the required strength, durability, insulation, and weight.
Everything inside the camper is fabricated with different thicknesses of powder-coated aluminum including our cabinetry, dinette, galley, and storage compartments.  We use aluminum for our interior components because it adds to the already unbeatable strength of our campers.  Every material is chosen to perform a specific duty.
"Our campers are designed for off-road use and need to be able to flex and move."
Our campers are designed for off-road use and need to be able to flex and move.  That's why we use advanced adhesives with specific elongation characteristics when assembling our composite panels and aluminum extrusions.  The adhesives allow everything to flex and move when traveling.  That's why we use the materials we use and assemble our campers the way we do.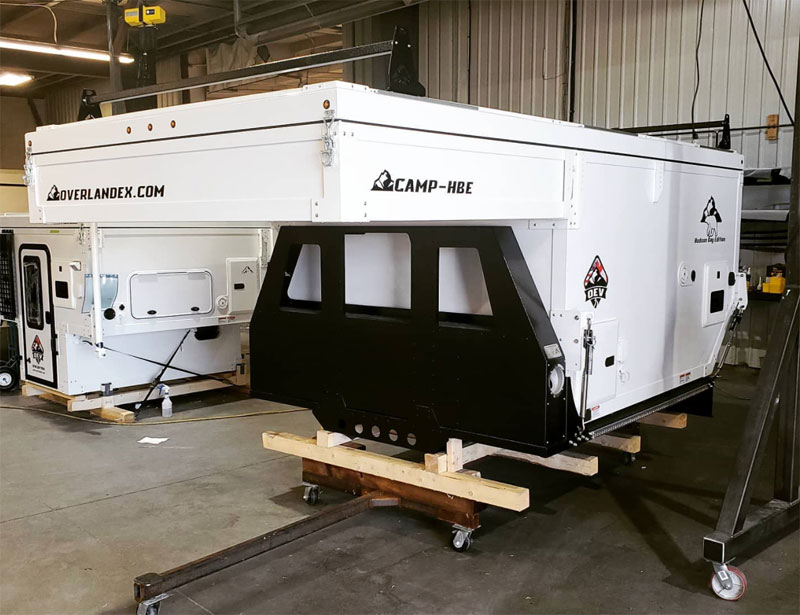 We do see some screws or rivets on your camper designs.  What part do these elements play in your overall construction?
We sometimes use screws inside of our campers to hold an element in place while an adhesive cures.  The screw is going into the foam so it's not there for long-term support.  We also use rivets on the aluminum corner caps, but that's mostly because we tend to over-engineer everything.  We really could get away with just using adhesives in those areas.  When the metals and composites meet, we only use adhesives.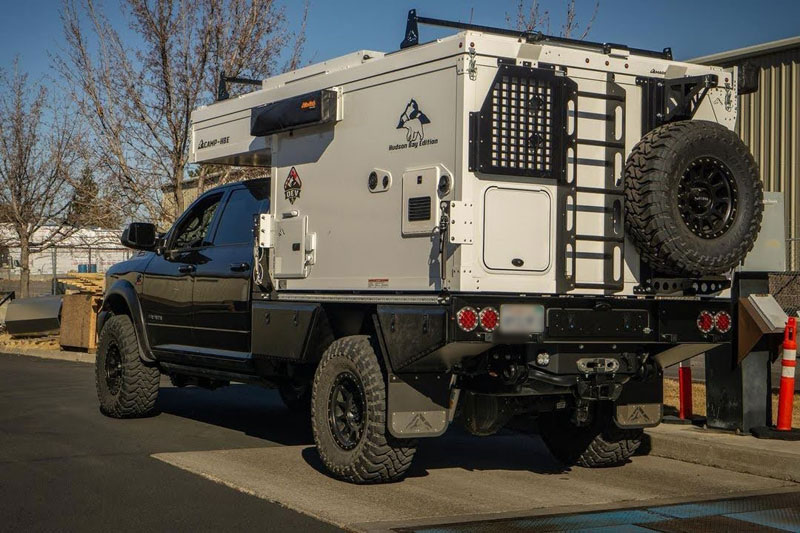 Above: The OEV Camp-HBE with the Aluma Tray, Molle rack, and spare tire carrier
Is the Camp-HBE designed to work in conjunction with OEV's Aluma Tray?
Yes. The Aluma Tray and Camp-HBE were designed to work together as a system.  The Aluma Tray is specifically designed for the HBE.
The Aluma Tray can be used with other camper brands, but prospective owners should consult with their camper manufacturers to ensure that their unit can be safely secured to the Aluma Tray and properly fit to take advantage of the Aluma Tray design and options.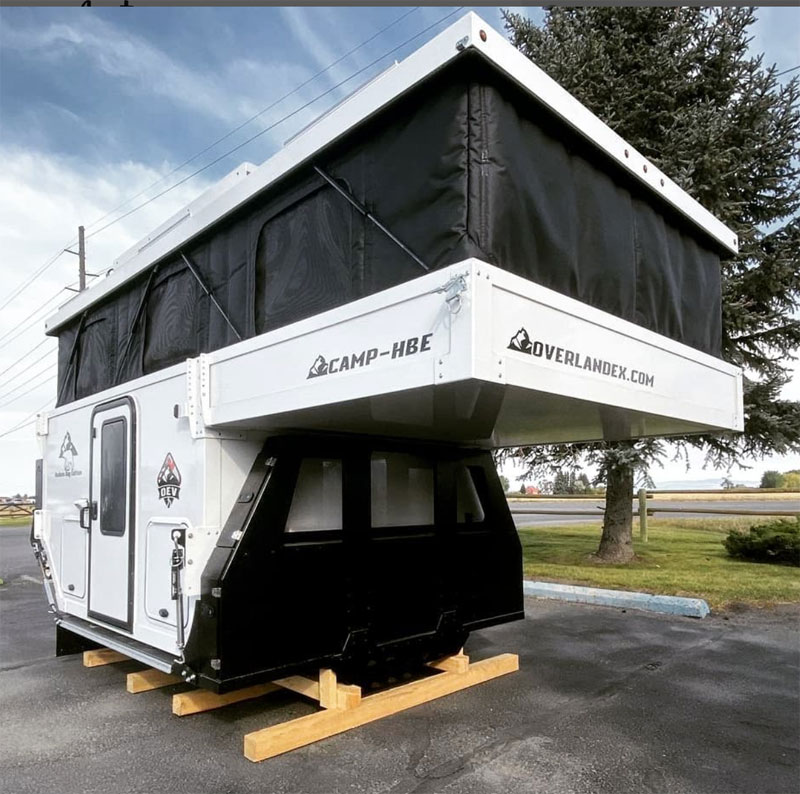 Can the Camp-HBE work with flatbeds from other manufacturers?
I can't answer that question because there are so many flatbed manufacturers.  If you go down that path with a Camp-HBE, you need to work with the flatbed manufacturer to check that the camper will fit dimensionally and that the structure will work for securement purposes.  It will likely be okay but do your due diligence.
Some flatbeds are very contractor-based.  They're designed for landscaping, farming, and construction and are not always a good match for the HBE.  The height of the headache rack could also be an issue. Our dealers will work with you if you're looking to match an HBE with a different flatbed, but the camper is designed to work as a system with our Aluma Tray.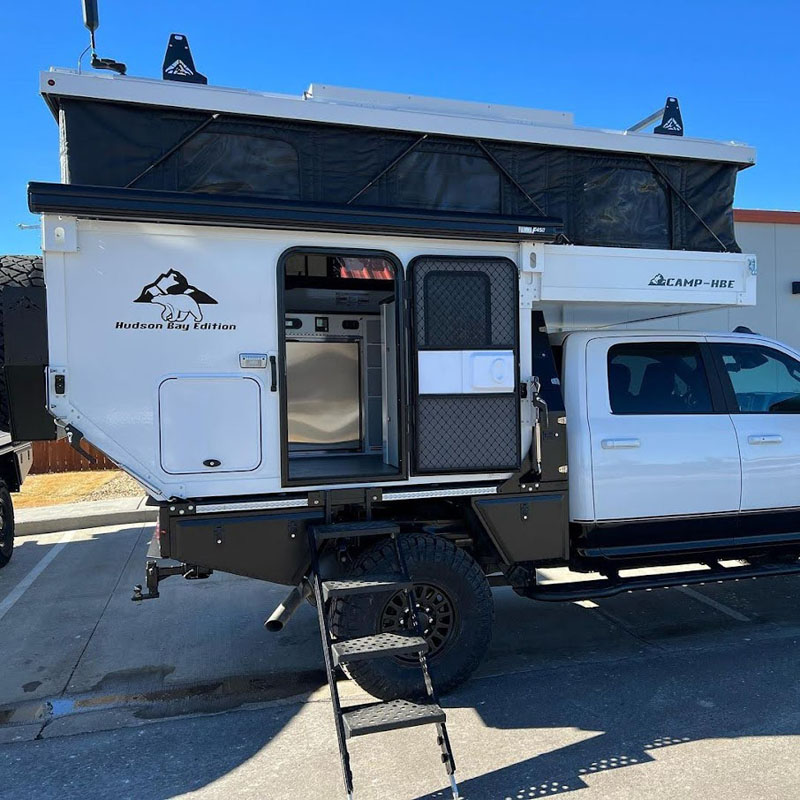 That sounds a bit like Apple products.  An Apple Mac will work with a Dell monitor, but it's designed to work as a system with an Apple monitor.  Does the Camp-HBE come standard with the entry step system shown in the photography?
The folding steps are an optional item that can be ordered as part of the Aluma Tray and not the Camp-HBE.  We manufacture the HBE, Aluma Tray, and the steps and it all works together as a system.  That's why the headache rack of the Aluma Tray contains a place to store the folding stairs.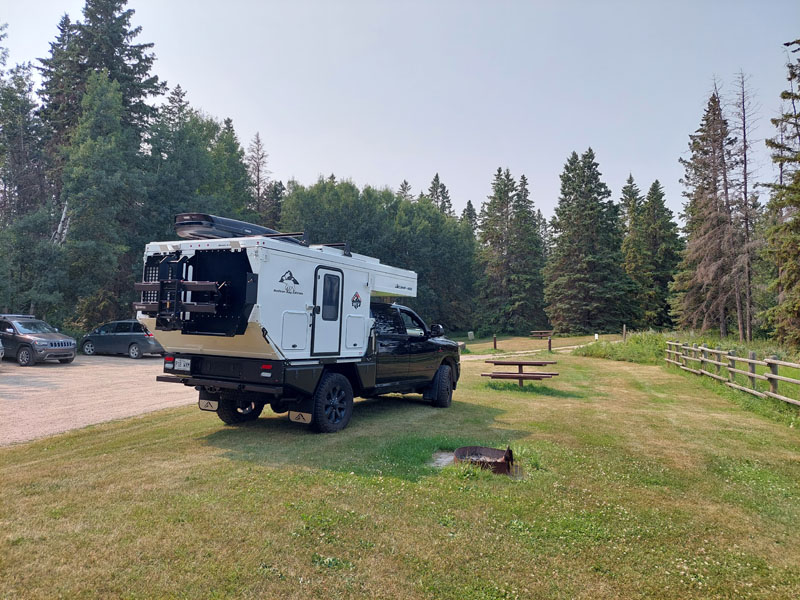 That is clever.  Can the Camp-HBE roof support the weight of canoes and kayaks?
Yes. It's designed for loads up to 250 pounds.  We don't recommend our customers walk on the roof for safety reasons, and suggest the removal of canoes and other items before the roof is raised.
There is an L-track on both sides of the Aluma Tray so you can position the folding steps to access the closed roof for the removal of any items stored there.
The Camp-HBE comes standard with 200-watts of solar.  Can customers add more panels?
You can add as many solar panels as you can fit, but be mindful of the added weight if you have the manual lift roof.  The added weight makes it harder to put the roof up and down.  It's something to be aware of.
We also have a solar port to add a portable panel to the camper.  We do offer additional solar panel kits through our dealers.  If you want more solar, they can add additional panels easily.
We use a solid framed panel rather than a stick-on style panel to eliminate issues with heat.  Solar panels need breathing room to work at peak efficiency.  Solar panels can heat up and create issues with the materials they are attached to.
The exterior features Rieco-Titan manual jacks.  The overland community often removes their jacks to prevent getting them caught while off-roading. Is that something you provide for?
Many of our customers remove the jacks and leave them at home.  It's not only about getting the jacks caught while off-roading, but also the added weight.  We have a dealer that sells and installs the D-Jacker system.  We have not tried the D-Jacker ourselves, but the system could be added by a dealer. Other customers turn the jacks upside down, or just leave them at home.
The D-Jacker is an impressive-looking system.  There are no windows on the lower hard wall portions of the Camp-HBE.  Are windows available as an option?
The only place where windows can be installed is behind the dinette cushions.  To accomplish this we must create a custom set of cushions to accommodate the window frame.  This can be added, but it is an expensive option.  We are considering offering this option for the 2023 model year, which is to be released October 2022.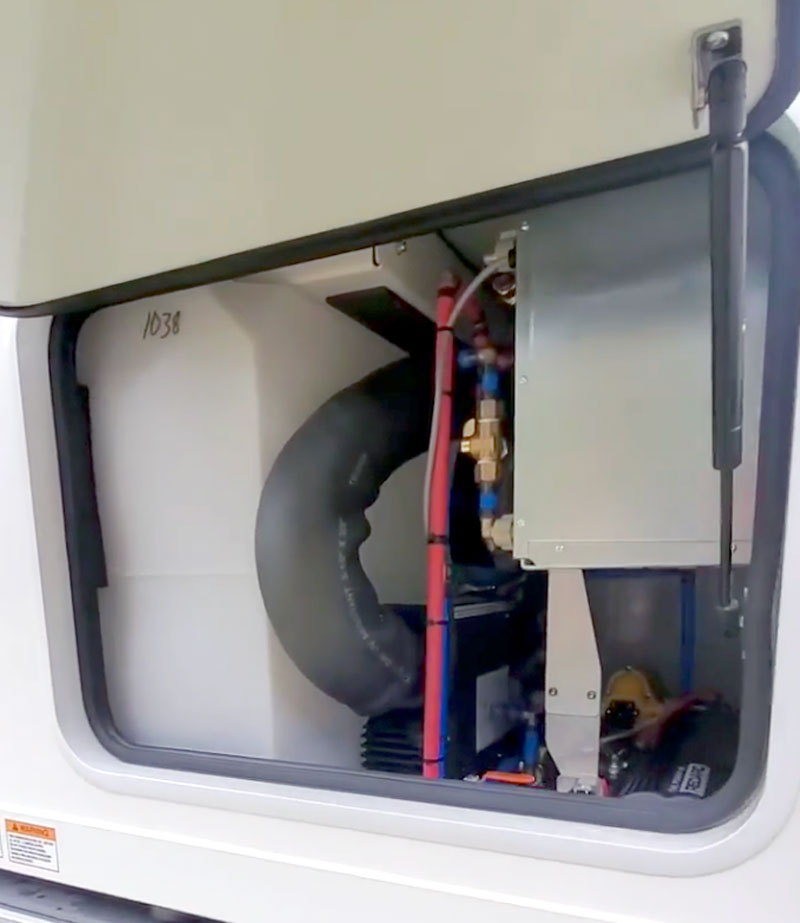 On the 8-foot Camp-HBE, what is the rear compartment on the driver's side?
It is used to access the components under the dinette seating area.  This includes the Redarc Manager 30, winterization valving, and other items that may require servicing from time to time.  The compartment also provides a bit of storage.  The 6.75-foot model does not get this door since it has the kick-out.  The same features are accessed under the dinette seat.  When designing our campers, we keep serviceability in mind.  There is nothing worse than not being able to easily gain access to perform maintenance or servicing.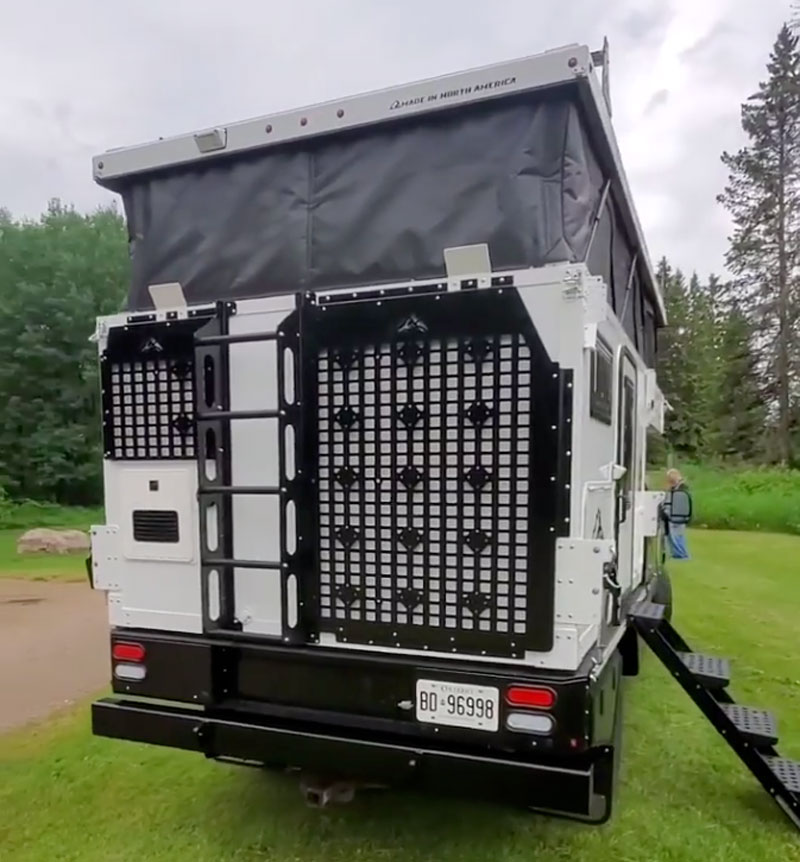 There are a lot of options available for the exterior of the Camp-HBE.  Are there specific exterior options that most customers order with their campers?
The Molle racks are the most popular options.  Molle racks are a military-design grid panel that can accept almost anything; shovels, axes, water cans, fuel cans, fabric bags for firewood or garbage, etc.
RotopaX has a locking device for fuel and water that attaches right to a Molle rack.  Traction boards like Maxtrax mount to Molle rack.  It's a universal dimension that people have adopted.  Many customers get Molle racks on both sides of their camper.  If they have 37-inch tires, they get the spare tire rack in place of the Molle option on the passenger's side.
Another popular exterior option is the mounting brackets for straight or 270-degree awnings incorporated into our corner brackets for structure.  The 270-degree hinge point is braced to take on that load.  Outside showers are also a popular option.
How tall is the entry door?
It's 42-inches.  That's tall as we can make it with this design.
How many roof latches are there on the outside?
There are four roof latches.  On a taller truck, I stand on my truck's door sill for the front latches.  On the rear, I step on the bumper or on the apron – it has a lip.  For the average person, it takes under 10 minutes to set up.  That includes releasing or securing the latches, setting the stairs, and deploying or storing an awning.  For just the roof, it can be done in 2-3 minutes after a little practice.
There are no latches on models offered with our auto-lift actuated roofs.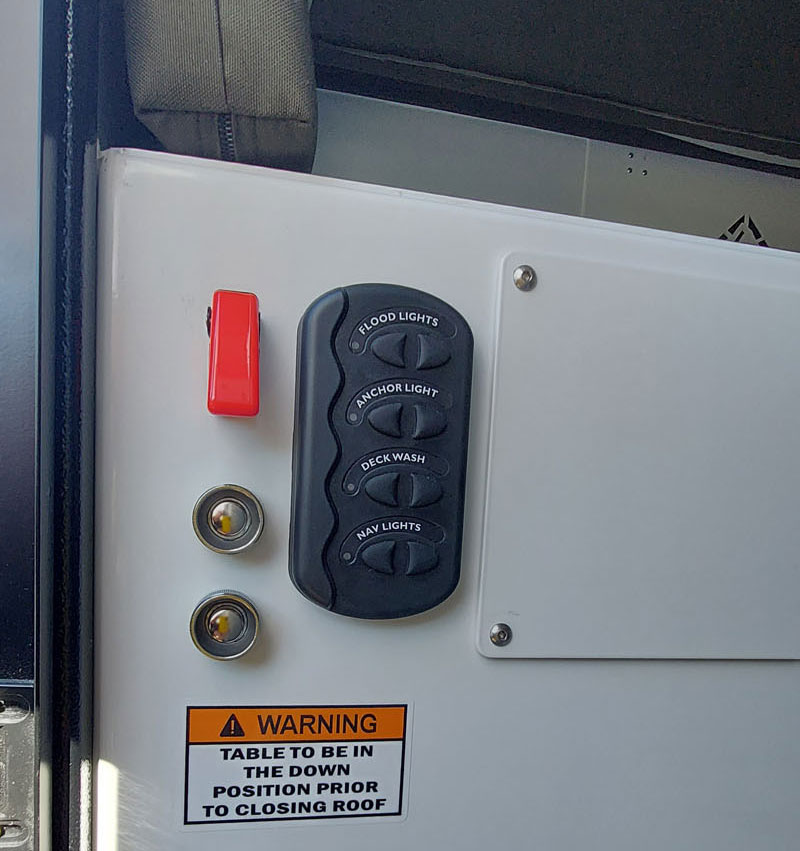 Tell us about the auto-lift actuator roof and how it works.
The auto-lift actuator roof option lifts and lowers the roof at the push of a button.  The actuators are calibrated and synced to work together maintaining the correct stop points in either direction.  Due to the design and functionality of the actuators, roof latches are not required to secure the roof in travel mode, unlike our manually lifted roof.
Roofs optioned with the auto lift are rated for a maximum load of 250-pounds.
The soft wall on other Camp OEV campers consisted of an outside coated nylon layer, insulation fill, and a fire-rated interior canvas.  Are you using the same soft wall on the HBE?
We are, but we've taken it a step further.  We're now using a coated interior canvas.  It costs more money, but it's easier to clean.  Most importantly, it still breathes.  You don't have to worry about condensation and/or mold.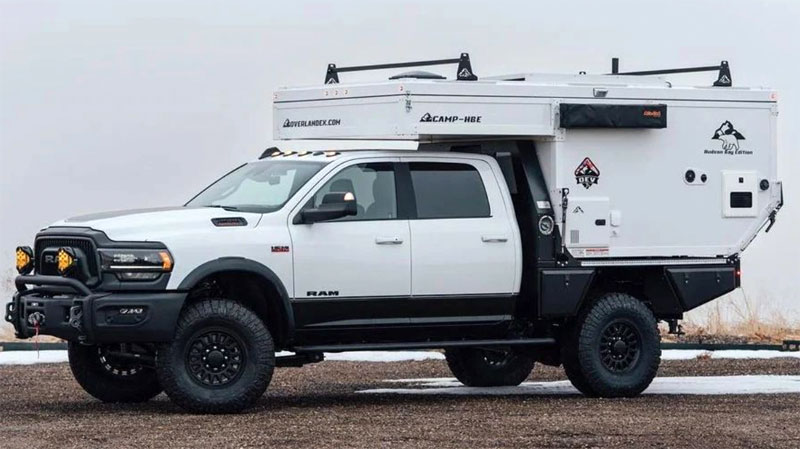 Above: OEV Camp-HBE on a Power Wagon
What is the soft wall insulation fill?
It's a material that expands to create insulating air pockets.  It's hydrophobic, so it doesn't absorb water.  When the material opens, it doesn't have a memory allowing it to condense and expand continuously.  We've actually added a fourth layer of material to our soft wall, but it's not something we're discussing yet. It might give a little extra R-value, but we haven't been able to fully test it.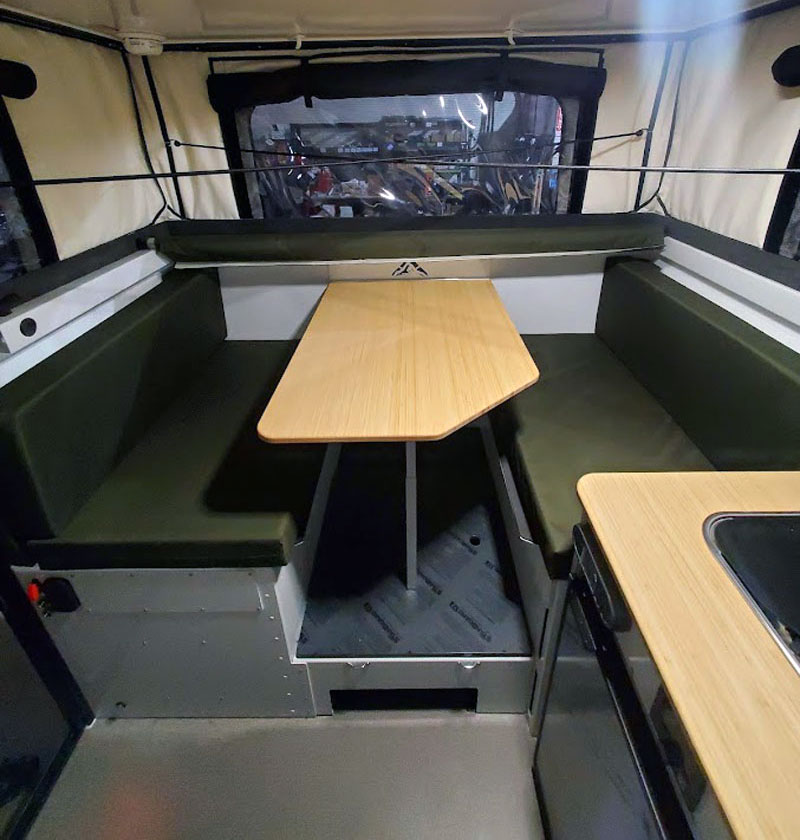 What table leg system are you using for the Camp-HBE?
The HBE uses a folding leg that folds under the table.  The table is removable and can be stored on top of the bed during travel or in the dinette bed mode.  There is a cleat on the wall that it mounts to when in use.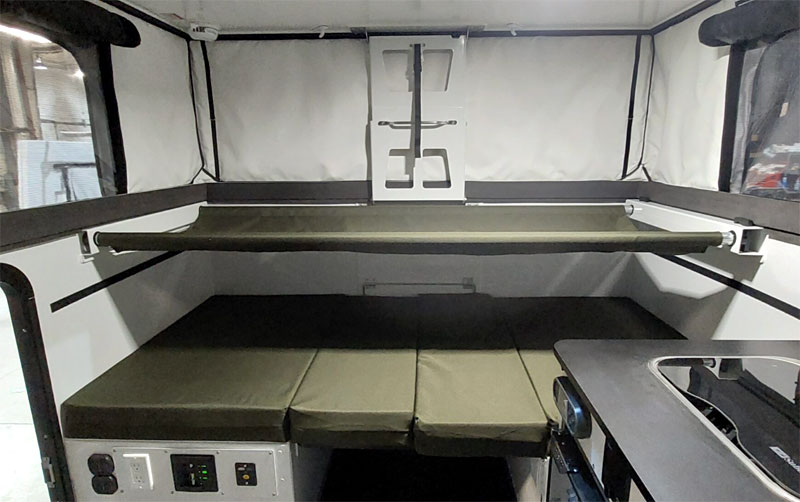 What size is bed does the dinette turn into?
The dinette turns into a 42-inch x 78-inch wide bed (pictured above) with the back cushions down.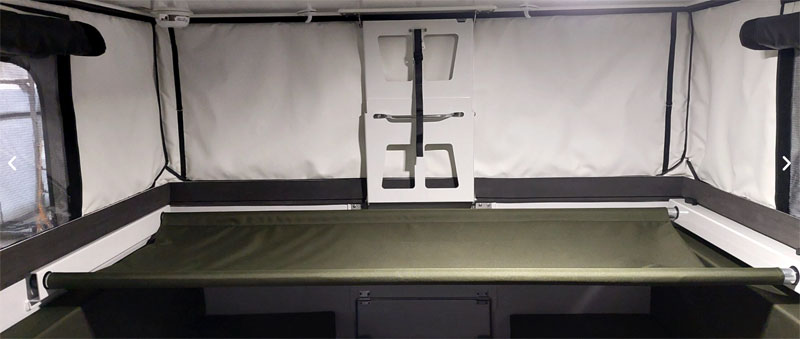 The stretcher-style bed over the dinette is unique. Where did that idea come from?
The gurney bed is lightweight, incredibly strong, stores easily, and is primarily intended for kids.

As you can see, adults can fit and sleep comfortably in the gurney bed, but we envisioned it mostly for kids, or even as a convenient place to put duffle bags and other items.  When it's not in use, it can be rolled back against the wall, or taken out and put on the front bed during the day.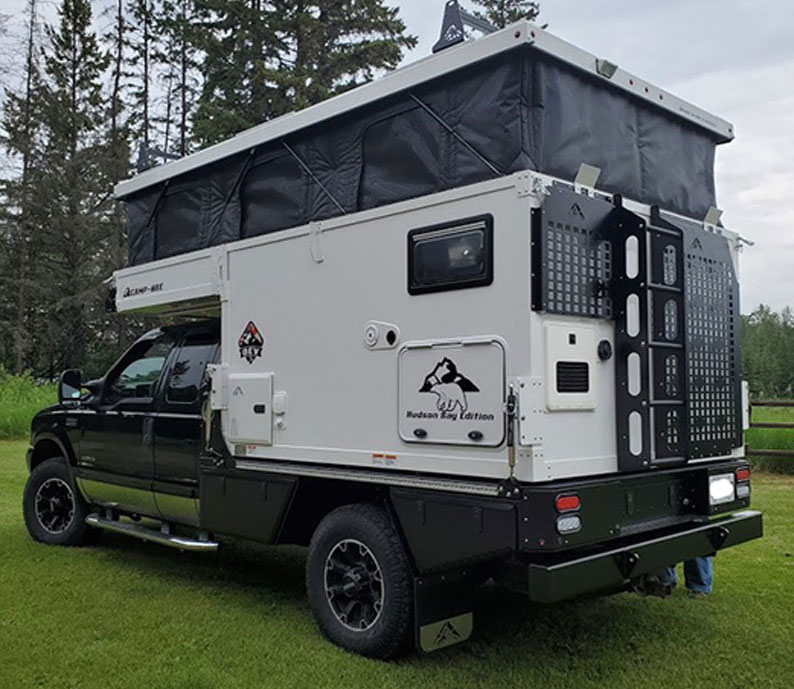 That's definitely the first gurney bed we've ever seen in a camper.  There are six windows in the HBE, but not a rear window for the dinette.  Is that an option?
There is if you go with the auto-lift actuator roof option.  With the manual lift, there are spring-loaded hinges on the front and rear that would block windows.  With the auto-lift actuator roof option, the hinges are not necessary to open the front and back for massive windows.  Once you experience the auto-lift option, you won't want to give it up.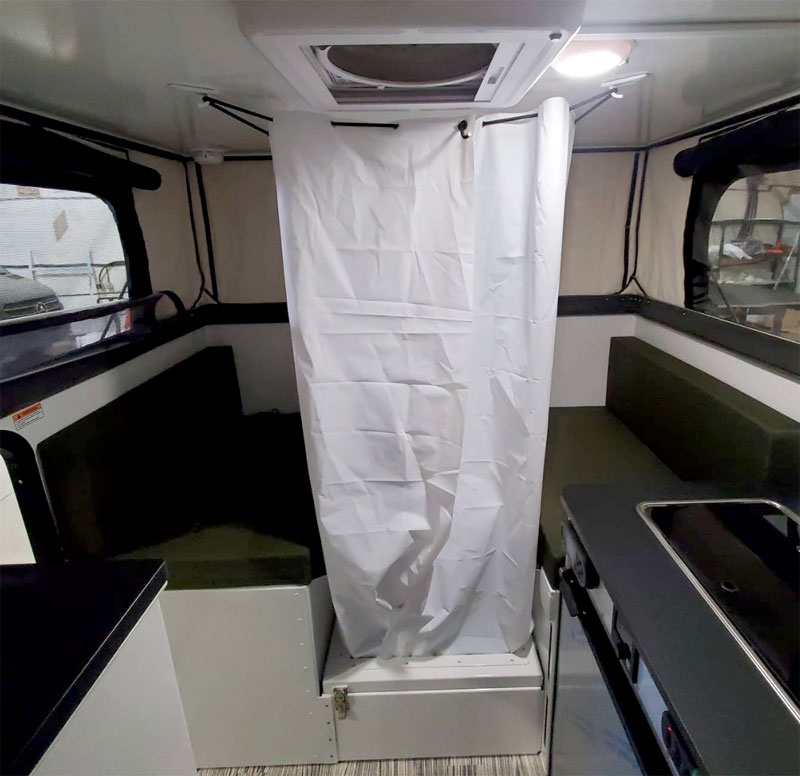 The rear window alone makes a huge difference.  Walk us through how the rear shower works.
You remove the dinette table, install the shower curtain, hook the shower curtains into the ceiling hooks, connect the Sagiva shower system (located to the left of the refrigerator), and shower.  The shower curtain is weighted at the bottom so it just hangs in the deep shower pan.
We include a 1-meter extension for the Sagiva shower system and are working on a way to attach the shower head to the ceiling.  The grey water from the shower exits out the rear of the camper to be collected in a bucket, bladder or another container or you can connect a hose to run it away from the camper.
It's much easier to shower outside, but it's good to have the option to shower inside on colder days or in places where an outside shower isn't possible.
How do you operate the Sagiva system while taking a shower?
The temperature level control is at the connection and the shower is activated on the handle.  The Sagiva is very quick to get to the right temperature and not waste water.  The shower head is similar to a spray nozzle, like on your kitchen sink.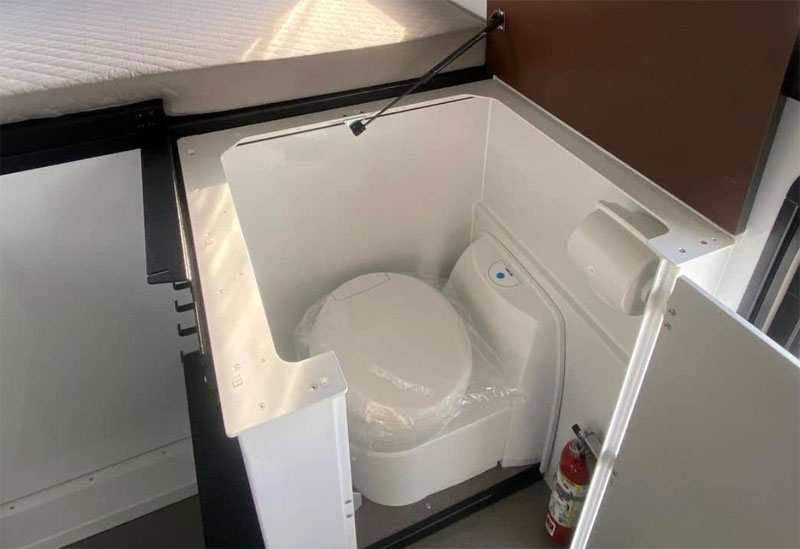 The shown toilet cabinet with a cassette toilet is optional. What comes standard in that space?
Customers can purchase a variety of different portable toilets to fit in the space.  The Wrappon Toilet is becoming increasingly popular as it does not need water.  Wrappon is built for emergencies including evacuations for hurricanes where people still need a place to use a bathroom.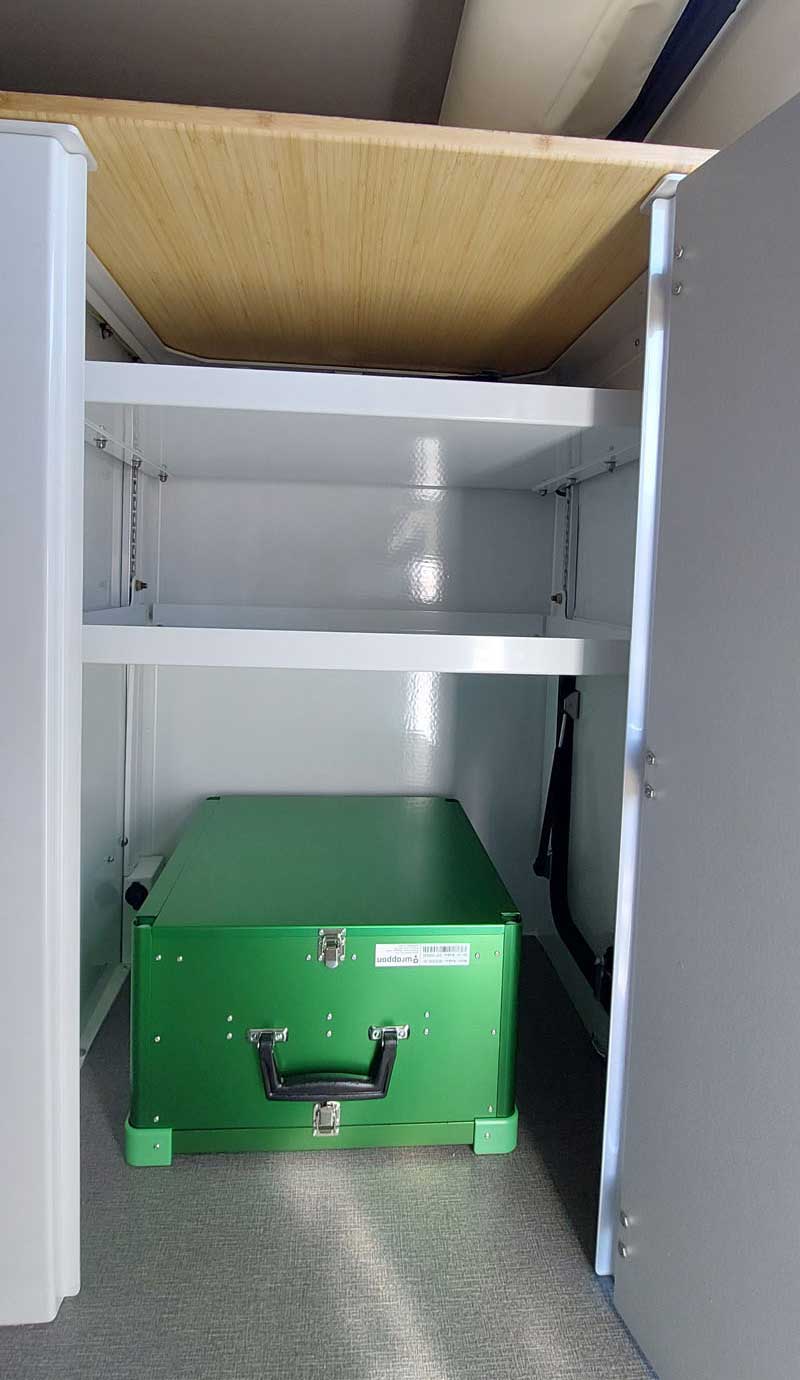 The Wrappon design (pictured above) is similar to a Diaper Genie that wraps diapers in plastic to seal odors.  The Wrappon system uses a package of a coagulant.  Number one or two, put in the coagulant, do your business, press a button and it hermetically seals the bag and solidifies.
The plastic and coagulant cost about $2 a flush.  The upside is that you save on water capacity and space over a cassette toilet system.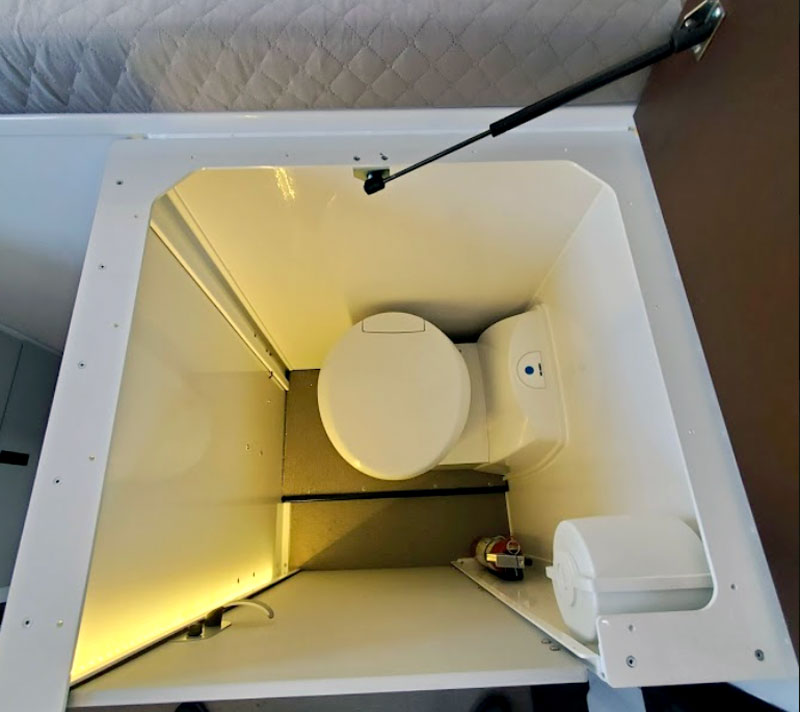 What is the make and model of the optional cassette toilet system?
It's a Thetford C-233 model, which gives you 4.7-gallons of black capacity.
Above: An OEV walk-around video of the Camp-HBE
In your walkaround video of the Camp-HBE, you explain that the height of the toilet closet would be lowered to allow for the pull-out king bed feature. Has that change been implemented?
We did lower the cabinet, but it is not advisable to option both the King bed extension and the cassette toilet.  They do not work together.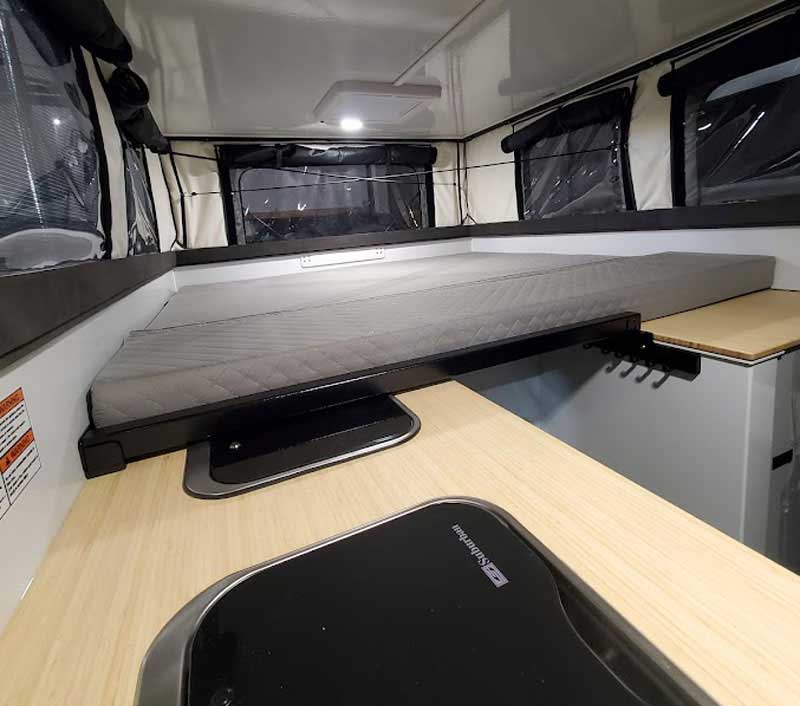 The HBE has a 38-gallon fresh water tank. Where is that tank located?
The fresh water tank is to the left of the galley.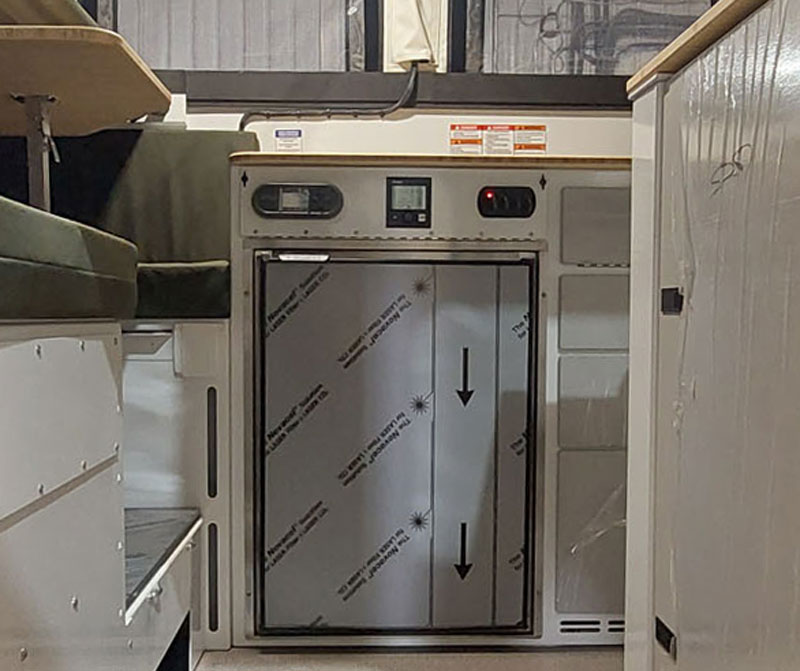 Above: The Nova Kool 12-volt refrigerators, still wrapped in plastic pre-delivery
OEV selected a 164L Nova Kool 12-volt refrigerator for the Camp-HBE.  Why did OEV select this make and model for the HBE?
Nova Kool 12-volt refrigerators are very efficient and don't use a lot of power.  If your refrigerator is running empty, the Nova Kool consumes about 5-amps per hour.  Once loaded with food and drinks it only needs about 3 to 3.5-amps per hour.  We have used Nova Kool for years in this and other applications. They are very reliable.
The HBE features a built-in two-burner range and a single basic sink.  Are both these features standard or optional?
Both are standard.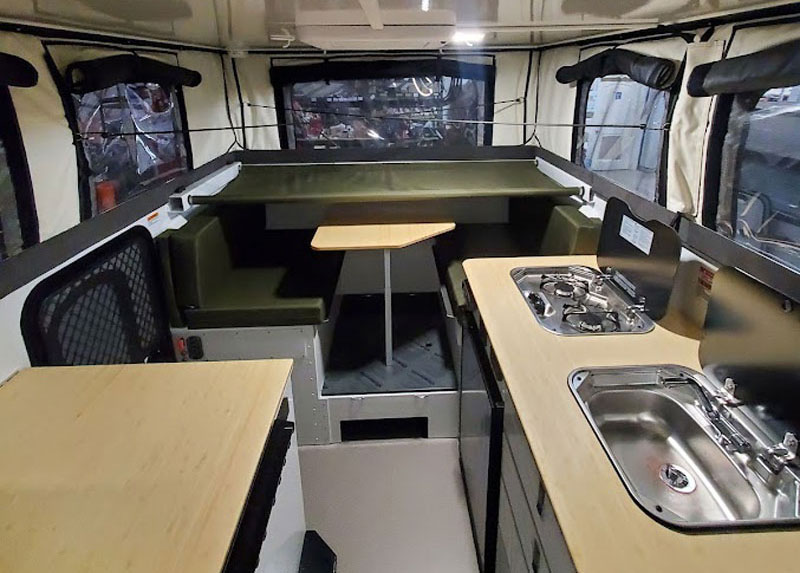 Why not go with a portable cooktop or induction unit?
We started that way and got a lot of pushback from our consumers.  We found people prefer built-in features for ease and convenience; anything that takes less effort or time at camp.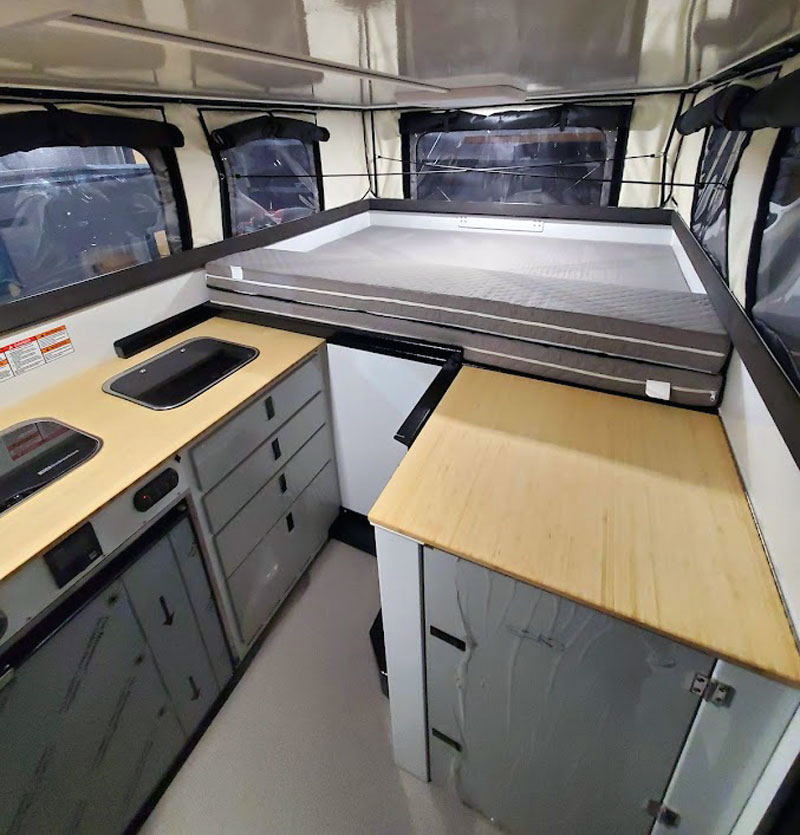 That sounds like a very interesting option.  The Camp-HBE cabover appears fairly straightforward.  Is there any storage or other features in this area?
We are working on some options that will attach to the underside of the roof for clothing and supplies. Some have asked why we did not implement underbed storage.  The short answer is that we wanted to keep the overall height and weight down.

Where are the outlets in the Camp-HBE; USB, 12-volt, and 110-volt?
If you are going with the inverter, under the dinette seat has 110-volt outlets.  We have 12-volt and USB outlets on the front of the galley.  There's also a 12-volt outlet inside the storage closet.  That outlet is required for the Wrappon toilet system.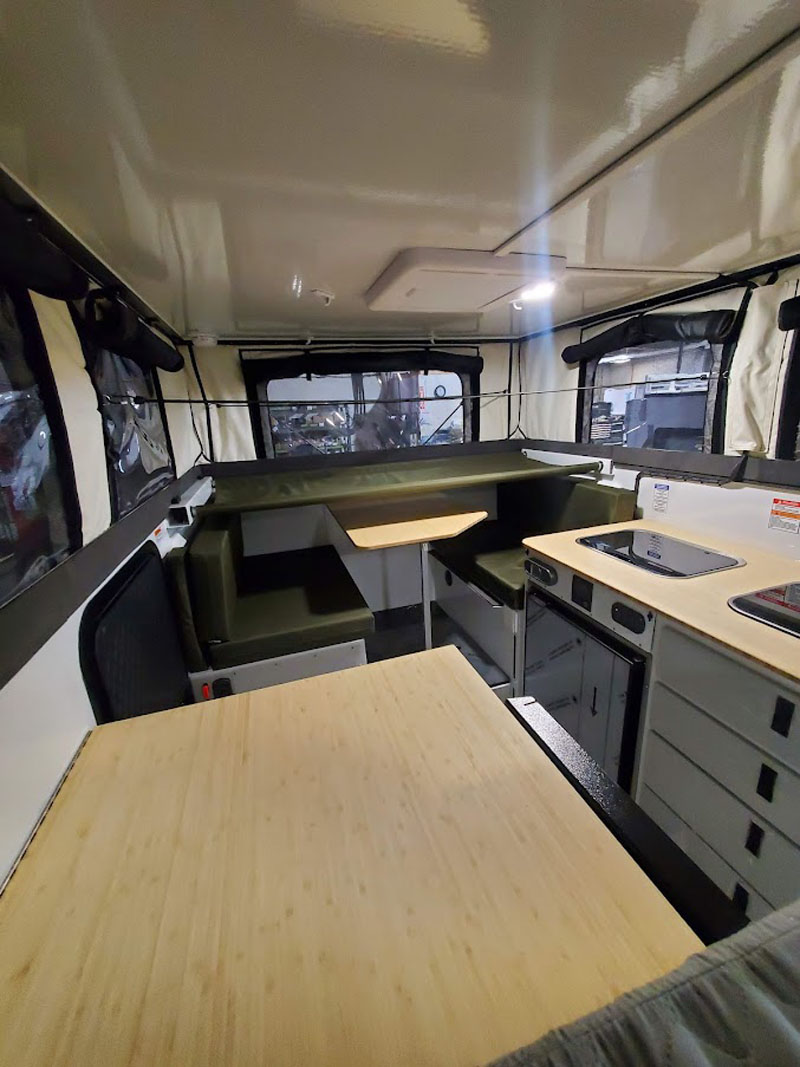 We've talked about storage opportunities, but are there any other open storage opportunities throughout the camper for clothing, food and gear?
If you don't opt for the cassette toilet, there's a storage closet with two adjustable shelves.  On the lower half, you can keep a Wrappon or porta-potty.  Underneath the dinette seats are additional storage areas.
In the galley, there are two full-length drawers that pull out full-length, plus access panels above and below the drawers.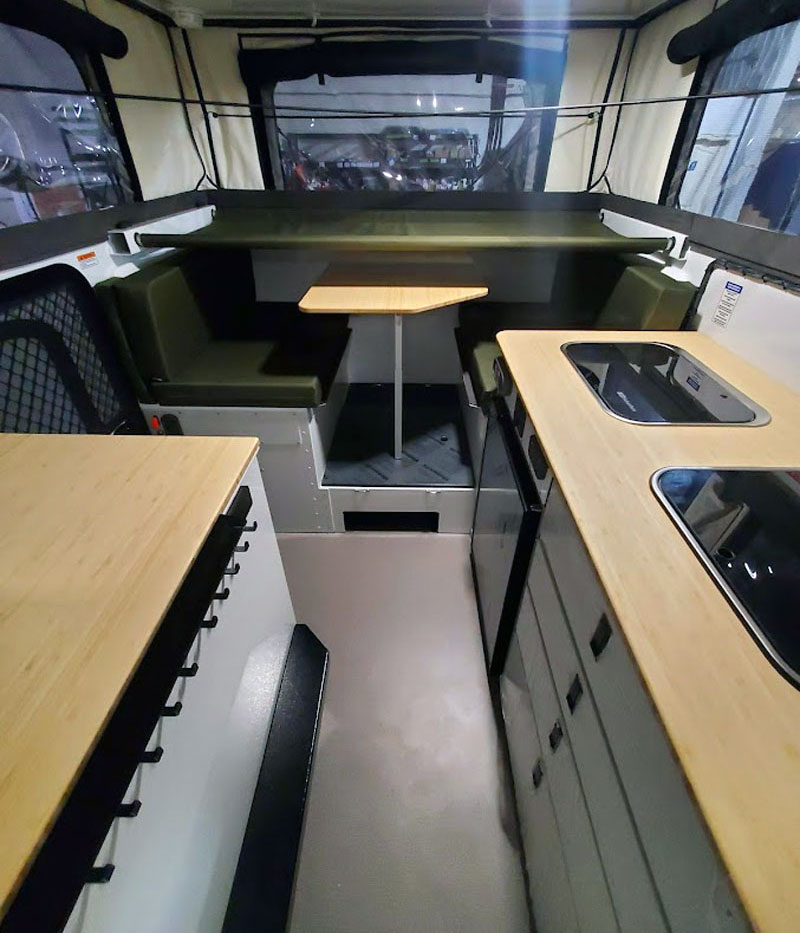 Are there any interior decor options for the Camp-HBE – different flooring, countertops, wall color, cushion fabrics, etc?
All of the materials we use are neutral colors and rated for high traffic.  We used to change interior fabrics annually, but now it's every couple of years.  We may offer two choices of fabric colors in the future, but that has not been determined as of yet.
One huge change we recently made was changing the galley countertop, dinette table, and toilet closet counter with a three-layer laminated bamboo called Plyboo.  It is very strong, durable, and food grade. You can use Plyboo for cutting boards and we actually supply each OEV camper now with a Plyboo cutting board.
The reason why we switched to Plyboo was actually a supply chain situation.  We had been looking at bamboo for two years but the supply chain issue was what prompted us to make the change.  Now that we have, we wish we had done it sooner.  It really warms up our campers and gives them a more earthy feel.
It's definitely a more inviting interior to our eyes.  Where are the batteries located?
Under the passenger's side dinette seat.
What size and number of batteries can fit in this location?
Up to three Group 31 batteries can fit in this location.  Many customers get three Group-31 100-amp hour lithium iron batteries.  Since the battery compartment isn't sealed and vented, you are required to have sealed AGM or lithium batteries.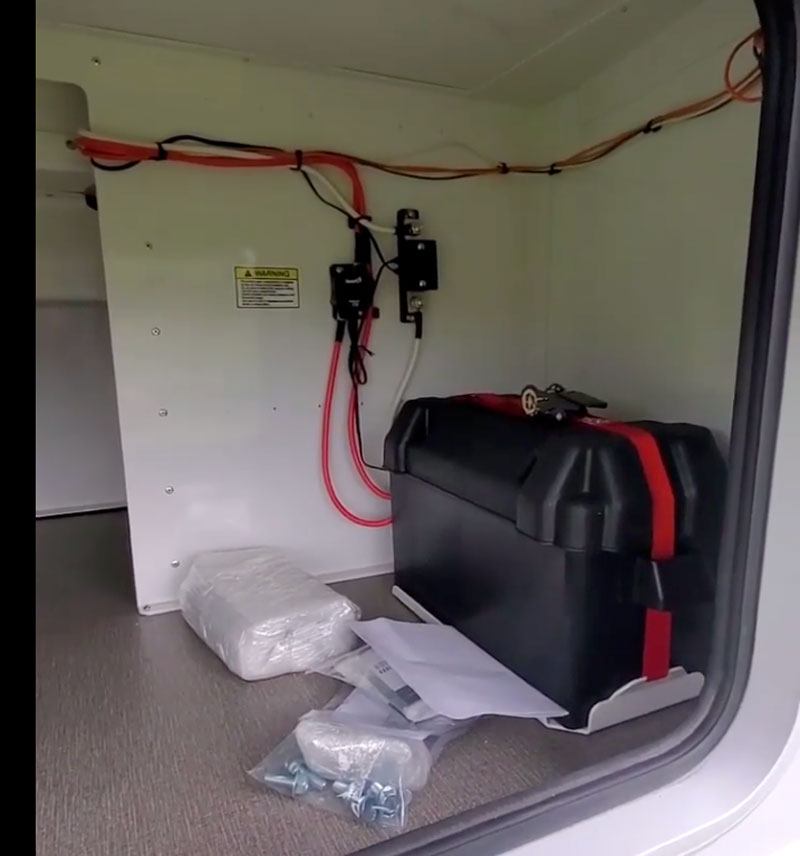 Why does the Camp-HBE not come standard with a battery?
None of our campers come with batteries.  With so many battery types, brands and models, everyone goes down their own rabbit hole.  Our dealers can work through the available batteries and help select what you need based on your power requirements.
Do you have a lithium battery brand that you recommend to customers?
We have used Relion RB100-LT (Low Temperature) lithium iron batteries.  They have built-in heaters.  There are so many choices.  As long as a lithium battery has the means to heat itself, you likely cannot make a bad choice.  Plus, most come with 10-year warranties.
The Camp-HBE comes standard with a Redarc Manager 30 battery management system. Are there any battery requirements for this system?
The Redarc Manager 30 works with lithium or AGM batteries of any capacity.  It's a converter that takes energy from your solar panels, truck alternator, and shore power and puts no more than 30-amps into your batteries at any given time.
Where is the propane compartment on the Camp-HBE?
Front driver's corner in the lower section under the galley drawers.  The HBE has one marine horizontal 20-pound tank.  We have considered using the more common 20-pound vertical tanks, but it would require a number of changes and compromises.
The Camp-HBE features a Truma VarioHeat furnace and Truma AquaGo water heater. Why did you select these two appliances for the HBE?
The two Truma systems are very compact and reliable.  The units are also very efficient; they do not use a lot of power or fuel.
Is there an air conditioning system available for the Camp-HBE?
It comes standard with a fan, and you can add a second. We are waiting for the industry to come up with a low draw air conditioner that makes sense.  We don't need 13,500 BTU units in our campers.  Dometic has a product that we are going to try out soon that's 4,000 or 6,000 BTUs.  However, even in Eco Mode, it is using 18-amps per hour, which is a lot.  At this point, we don't offer anything.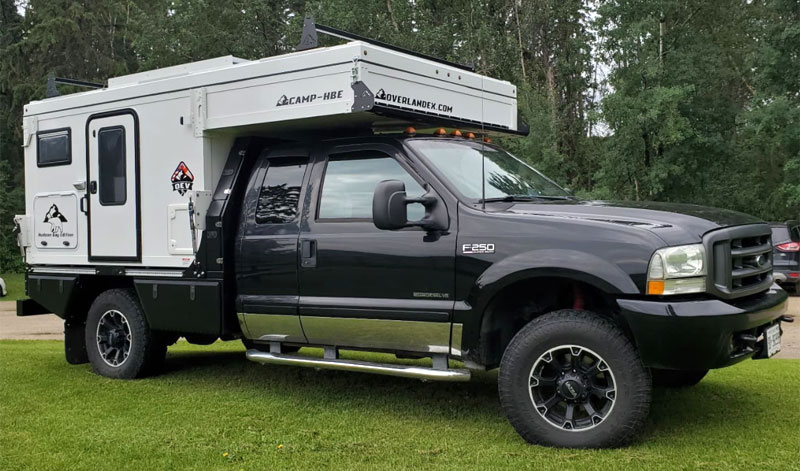 What does the 2022 OEV Camp-HBE weigh with standard build features?
The Camp-HBE 6.75' is 1,650 pounds.  The Camp-HBE 8' is 1,720-pounds.
We build more of the HBE 6.75' models.  Most people opt for a short bed truck.
Where is the center of gravity on the 2022 OEV Camp-HBE?
The center of gravity of the HBE is 38-inches.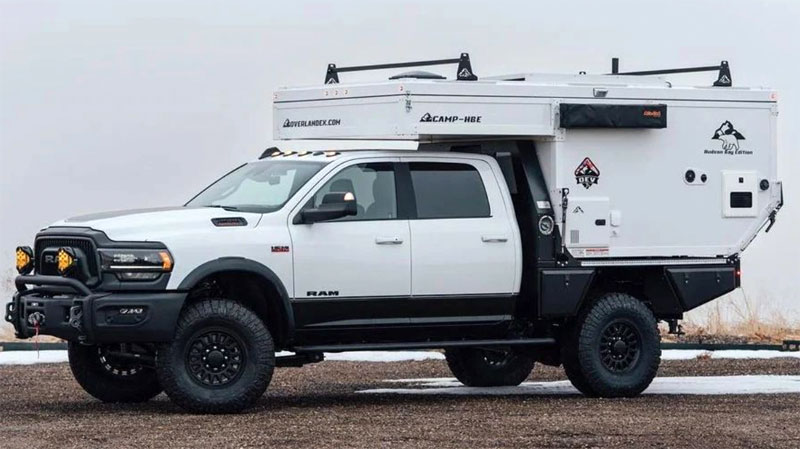 Above: OEV Camp-HBE 6.75′ on a Ram Power Wagon
What is the MSRP for the 2022 OEV Camp-HBE with standard build features?
The Camp-HBE 6.75' is $63,744.  The Camp-HBE 8' is $64,572.
Please check our website for the most recent pricing information.
What is the warranty for the 2022 OEV Camp-HBE?
The warranty is 5-years on our workmanship.  The soft wall has a warranty is 3-years.  All of the appliances have their own warranties.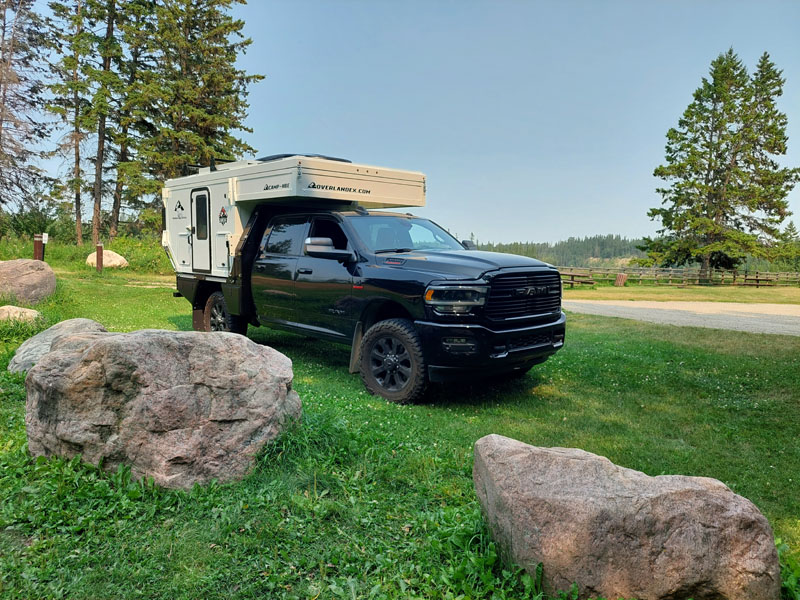 Are there any other new model announcements coming from OEV in 2022?
Yes.  We will be debuting a new camper, the OEV Camp-FX, at Overland Expo West in May.  It's a flatbed version of the Camp-X.  The design checks the boxes of what people have been asking for in a Camp-X.  It will have underbed and underseat storage along with a wet bath plus loads of exterior and interior storage.  The Camp-FX will be featured at the Expo West on an F-350 with our 8-foot Aluma Tray.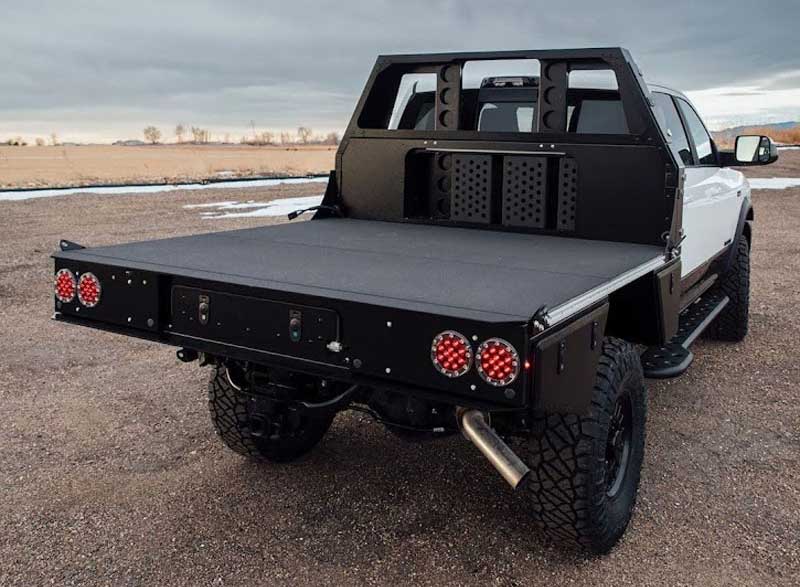 Above: The standard Aluma Tray; the Aluma Tray HD will be featured in TCM in the next few weeks
The Aluma Tray HD is starting to roll off our production lines as we speak.  The first six are in final assembly.  Where the standard Aluma Tray has a capacity of 3,000-pounds, the Aluma Tray HD has a capacity of 4,000-pounds and works with cab and chassis trucks.  We'll have a formal announcement in Truck Camper Magazine including full details later this spring.
We are working on something else, but cannot share anything at the moment.
For more information about the Aluma-Tray flatbed storage system, visit OEV's website at overlandex.com.  Click here to find out more and get a free HBE, Camp-X or Aluma-Tray brochure.