Overland Explorer Vehicles beefed up their best-selling Aluma-Tray flatbed storage system to produce the new Aluma-Tray HD.  With 66% more capacity, the Aluma-Tray HD offers even more flatbed storage value.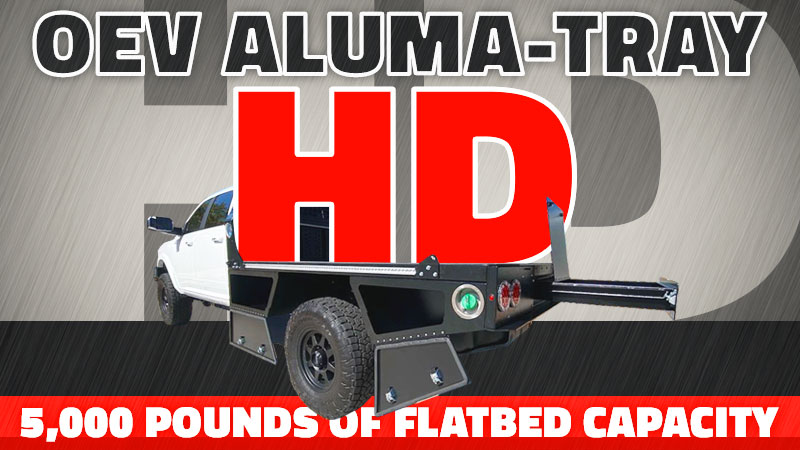 Overland Explorer Vehicles is best known for proprietary composite panels, signature aluminum extrusions, and their resulting innovative pop-up slide-ins and flatbed truck camper models.  The Red Deer, Alberta manufacturer's progressive Camp-X and Camp-HBE units are guaranteed head turners. Put one of these on your truck and get ready for the old, "Nice camper" opener at every pull-off and fuel station.
While OEV truck campers are impressive, they're actually not their most popular products. That designation belongs to the multi-purpose, all-aluminum Aluma-Tray flatbed storage system. With its sleek design and four boxes, the Aluma-Tray offers a dramatic improvement in exterior storage at a price that leaves custom storage bed solutions in the dust.
The catch to this tantalizing flatbed solution is capacity. The original Aluma-Tray is limited to 3,000 pounds. That's enough for OEV's composite pop-up models and covers most lightweight pop-ups, but leaves the great majority of the hard side market behind.
Less than seven months after debuting the Aluma-Tray in Truck Camper Magazine, OEV is upping the ante with the new Aluma-Tray HD, a beefed-up version with 5,000 pounds of payload capacity. That may not be enough for the largest multi-slide behemoths, but it's plenty for just about any pop-up truck camper on the planet, and perfect for the great majority of non-slide hard-side campers as well.
Of course, it's absolutely perfect for OEV's larger flatbed truck camper models. That brand synergy is the main idea behind the Aluma-Tray and Aluma-Tray HD, but these trays can work with campers other than OEV's offerings. The required homework to make such a pairing work is up to you, but the value and opportunity are there. For the money, the Aluma-Tray HD is one of the most impressive aluminum storage beds we've seen.
To get the full load on the Aluma-Tray HD, we talked to Arnold Baker, Managing Partner of Overland Explorer Vehicles.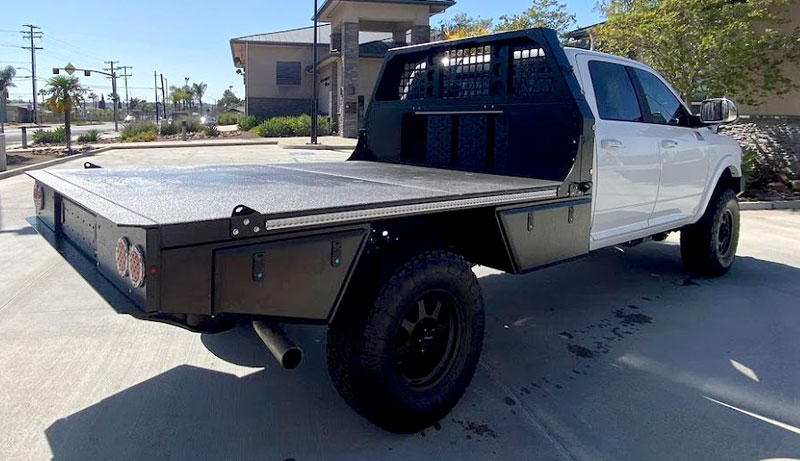 Why did you decide to make an HD version of the Aluma-Tray? Are you targeting specific – and presumably heavier – truck camper makes and models?
The Aluma-Tray HD was designed specifically for 60-inch cab-to-axle chassis cab trucks with 9-foot beds. It's not designed for pickup bed trucks, just commercial chassis cab trucks. We have identified commercial chassis cab trucks as ideal for truck campers because of the higher GVWR that they offer.
The original Aluma-Tray was designed for campers under 3,000-pounds loaded and wet. How much more capacity does the Aluma-Tray HD offer?
Our Aluma-Tray HD offers up to 5,000-pounds of capacity.
OEV specifies that the weight of a loaded truck camper should be distributed evenly on Aluma-Tray products. Why is this important?
It is important to load any tray evenly. By design, flatbeds are very rigid over the sill and at the front and rear. Carrying the weight on the strongest part of the tray makes sense. We simply point that out.
We design OEV truck campers to distribute the load as evenly as possible across the entire surface of a truck bed or flatbed.
Naturally, a lot of readers have campers from other brands. How do they know if the weight of their camper is distributed evenly enough for a flatbed tray?
Most truck campers have evenly distributed weight. If you are not familiar with the structure and weight distribution of your camper, I strongly suggest that you reach out to the manufacturer of your camper and ask for this information. Whether it's our tray or anyone else's, load distribution matters. Even for the campers built for truck beds, it is important. The manufacturers should be happy to talk to you because they want you to have a good experience.
Is the Aluma-Tray HD simply a beefed-up Aluma-Tray, or is it a different design?
It's simply beefed up. We use the same 6061 aluminum for the structure and laser-cut 5052 aluminum sheeting for the deck. We also utilize dimensionally larger sills and cross-members. Some of the extrusions are also a little thicker where required.
These changes allow us to offer a significantly increased payload without adding a lot more weight to the product. That's where we put our focus.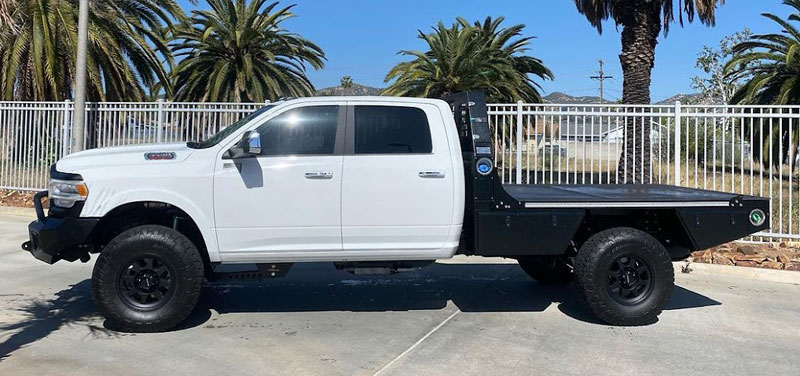 The Aluma-Tray HD is 9-feet in length for 60-inch cab and chassis trucks. Is it available in a more standard 8-foot length as well?
No. Keep in mind, that with the 9-foot flatbed, you have a headache rack and an optional above-the-tray storage box that can be added.
The headache rack and storage box address any potential gap between the truck cab and the front camper wall when using it with a shorter camper. Some customers also opt to store their spare tire in this area.
Does pushing the camper back create any concerns for the center of gravity?
Not for a shorter 6 to 7-foot camper with the front storage box or tire carrier. I would not recommend the front storage box or tire carrier with 8-foot or 9-foot campers as that would set the center of gravity too far back.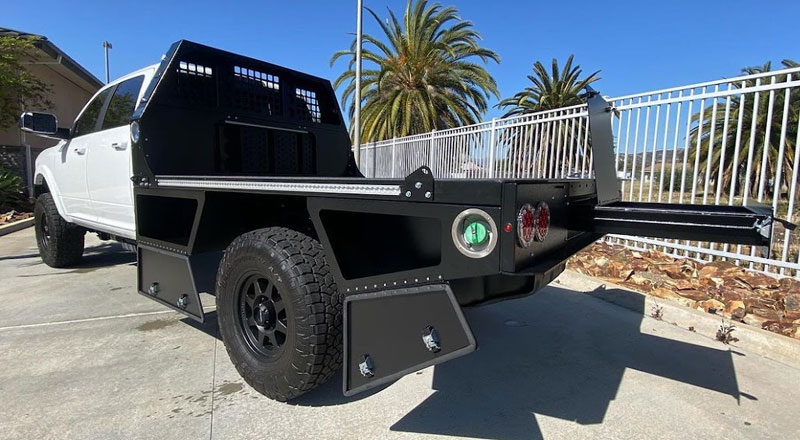 The original Aluma-Tray included the lower cabinets, rear light boxes, and a headache rack. Are these features also included with the Aluma-Tray HD?
Yes. All the same standard features of the Aluma-Tray are included with the Aluma-Tray HD.
What options are available for the Aluma-Tray HD?
Again, we're offering the same options for both Aluma-Tray products. You can get a front single fill bucket for gas or diesel trucks, a front dual fill bucket for diesel and DEF trucks, and folding 4-step aluminum steps and bracket. The folding steps are a very popular option.
In addition, we now offer the headache rack with covers on the front and back side, or with a MOLLE pattern. The MOLLE pattern is standard, but you can opt for a solid cover front and back, or just a MOLLE pattern on the camper-facing side.
At first blush, there doesn't seem to be enough space where the headache rack is located to use a MOLLE pattern. How is this a functional feature?
We had the same initial reaction to this idea. However, when you see it in person, the MOLLE pattern in this location is quite functional. From our own testing, the MOLLE pattern in this area can be used to store removed camper jacks, electrical cables, hoses and even collapsible folding chairs. The MOLLE pattern is also handy when the camper is removed from the truck because you can partially see through it with the rear view mirror.
With the solid cover, the rear view mirror is blocked, but the headache rack becomes a dry storage space that you can access. As of now, the MOLLE pattern and solid cover are available for the Aluma-Tray HD, but we will soon be offering both for our original Aluma-Tray as well.
Does the Aluma-Tray HD use the same truck fitment kits as the original Aluma-Tray?
Due to the different applications of chassis cab trucks, we are using different fitment kits with different mounting brackets. It's still fully isolated like the Aluma-Tray.
Do you have fitment kits for Ford, RAM and GM trucks at this time?
We do not have a fitment kit for GM trucks yet. The Ford and RAM fitment kits are available up to the current model year. As soon as a dealer local to us has a GM cab and chassis, we will get the measurements we need. If you have a GM truck, or an older cab and chassis, contact us and we can discuss it.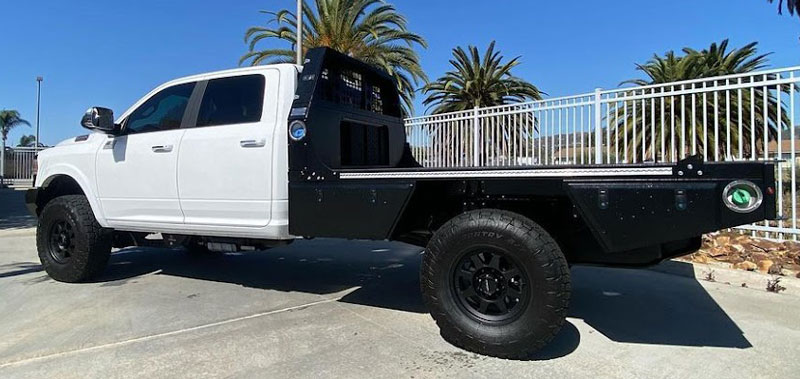 OEV reported the original Aluma-Tray at 685 pounds for the 6.75-foot version and 800 pounds for the 8-foot version. What does the new 9-foot Aluma-Tray HD weigh?
The 9-foot Aluma-Tray HD weighs 855 pounds. It's only 55 pounds more than the 8-foot Aluma-Tray because all we needed to do was beef up the aluminum cross members and sills. The subframe itself is also a little taller, but it's not a major change.
The OEV website states that the Aluma-Tray and Aluma-Tray HD is not back-up sensor compatible. What does this mean for a potential customer?
This statement is more applicable to the original Aluma-Tray because the commercial chassis-cab trucks do not have back-up sensors. The challenge arises from the statements made by Ford, RAM, and GM about liability if you alter the vehicle. If you use a non-factory bumper or change so much as the tire size, the manufacturers claim the sensors will no longer be within their factory location and tolerance. It's a potential liability issue.
What is the MSRP for the Aluma-Tray HD?
For the 2022 Aluma-Tray HD with a capacity of 5,000 pounds, the MSRP is $14,650 USD / $17,873 CAD.
For the original Aluma-Tray with a capacity of 3,000 pounds, the MSRP is $11,548 USD / $14,665 CAD.
The original Aluma-Tray has been reduced in cost because we have eliminated the rear drawer. We like to keep the center of gravity low on everything that we build. The drawer was shortened early in production to keep the tray as low as possible due to cross-member interference mostly on the Dodge pickup chassis.
By eliminating the drawer, the weight and cost dropped, and the tray can be closer to the chassis for a lower center of gravity and easier ingress/egress from the camper. In the future, we are looking into adding a pocket door on the rear of the Aluma-Tray. You can put whatever you want there and lock it up.
Due to the increased height of the Aluma-Tray HD, we kept the rear drawer and used a more robust bearing and slide system than what we could for the original Aluma-Tray.
Talk us through the ordering and installation process for an Aluma-Tray product.
Your readers can order Aluma-Tray products from any of our dealers and have them installed there. From the time you order until delivery, it's currently 6 to 8 weeks. The dealer will also need a couple of days for wiring and installation.
At the end of 2021, OEV was selling more Aluma-Trays than any other product. Has the Aluma-Tray's success continued into 2022?
Yes. The sales have flattened out a bit, but that's largely due to the inflation and fuel prices that have impacted everything. This year hasn't been a growth year for our Aluma-Tray line, but the numbers are still strong.
What do you believe makes the Aluma-Tray line superior to options from Ute, Norweld, RSI, and other flatbed manufacturers?
The Aluma-Tray's low deck height, center of gravity, and material quality are all as good or better than our competition. To our knowledge, our fully isolated mounting system is the only one on the market. Our trays utilize all factory mount locations and load on the truck frame as the vehicle manufacturer intended.
Like the trays from Australia, we have kept things as simple as possible. We don't offer anything elaborate or contoured underbed storage boxes. That's one way we keep the weight and cost down while keeping durability high. Our headache rack design is also class-leading. It keeps the fuel filler out of the lower cabinets and provides a good amount of secure storage for our step system as well as any longer gear. We're starting to see competitors copy our approach, but we're still ahead and continuing to improve our design.
Hard side camper owners also want aluminum storage beds, but their campers can range up to 6,000 pounds loaded and wet. Might we see an Aluma-Tray that offers even more capacity?
We haven't seen the demand for that. Plus, there are challenges for non-OEV camper owners to properly match the requirements of the Aluma-Tray and Aluma-Tray HD design and capacities. So far only a few customers have been willing to reach out to their camper manufacturers to confirm their product will work with an Aluma-Tray. Right now we're selling mainly to our own OEV customers, but we do also offer a solution for Four Wheel Camper owners.
Above: Aluma Tray HD with an OEV Camper
At this point, how many Aluma-Trays are being sold to non-OEV camper owners?
Probably less than 10-percent of current production. About 99-percent of our flatbed campers are sold with an Aluma-Tray. They are designed as a system.
Is there anything else you want people to know about the Aluma-Tray and Aluma-Tray HD products?
Both the Aluma-Tray and the Aluma-Tray HD are powder-coated at our facility. We then add Rhino-Liner to the bed surface to maximize durability. All of the exterior storage cabinets are locking and have D-seal weather stripping. The rear turn signal, brake, and back-up lights are all LED. We use aircraft L-tracking on both sides for anchor points and HF mud flap kits with rock guards to protect the rear cabinets. If needed, you can opt for a rear-mounted fuel tank bucket filler. With everything considered, I believe we build the best flatbed solution and value on the market.
For more information about the Aluma-Tray flatbed storage system, visit OEV's website at overlandex.com. Click here to find out more and get a free Aluma-Tray brochure.