Straight out of Elkhart with a fresh attitude comes an audacious truck camper company with a funny name and a remarkable story. Meet Skinny Guy; the all-new tent-top truck camper concept for any truck, any garage, and any trail.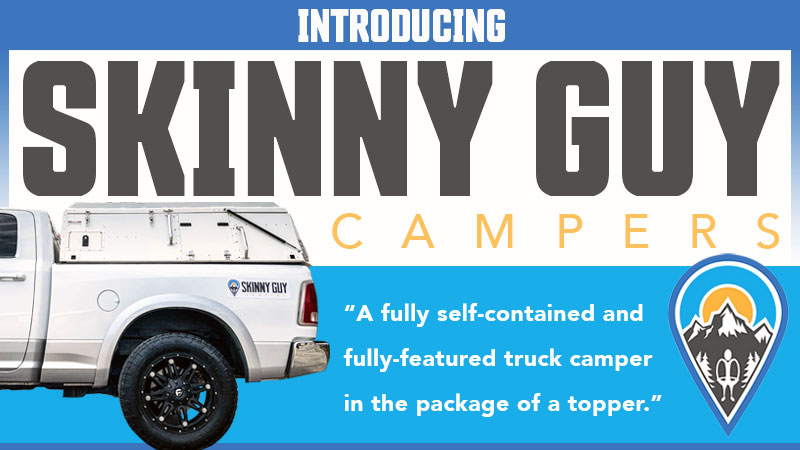 If anyone needed more evidence that the overland market was impacting the future of truck camper design, this daring debut will put that asunder. Self-described as, "Self-contained overland truck bed campers with heat, light, water, and power", Skinny Guy aims to break the mold of traditional truck camper design from the bed rails up; literally.
In fact, it took us several passes to begin to understand what the Skinny Guy concept was, and whether or not it was a true de-mountable truck camper. Only when we discovered their proprietary (and patent-pending) jack mounting system and tie-downs did we realize exactly what Skinny Guy is; an entirely new concept in production truck campers.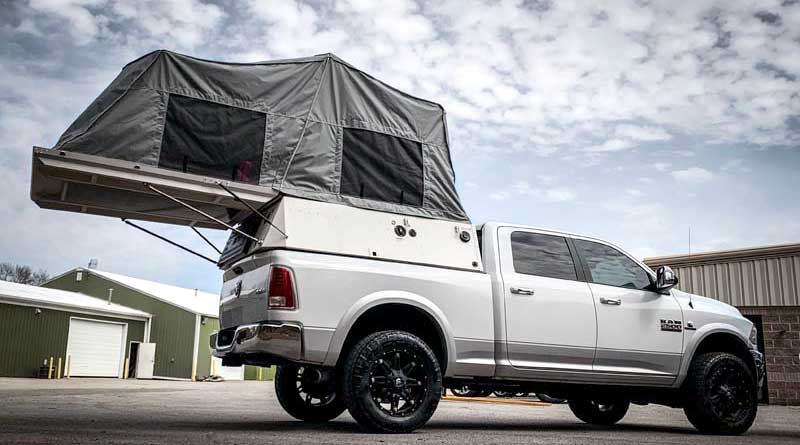 Above: Skinny Guy represents a new concept in production de-mountable truck campers
Even with this understanding, it's challenging to categorize Skinny Guy with the typical hard side or pop-up descriptions. It's clearly not a hard side, but it's also not exactly a pop-up either. Folks, there's no hard roof on a Skinny Guy camper.
If anything, we may be looking at the birth of production tent-top campers. The advantage of this approach is that tent-top campers can be dramatically more compact in the travel position. For example, the Skinny Guy camper stays truck cab height when closed up. To the untrained eye, it might be confused with a common truck topper. Without a cabover, the Skinny Guy makes even the most svelte traditional pop-up campers look bulky.
If your mind is full of doubt, we understand. Our first take on this concept was one of skepticism. But here's the thing; this design can go places no traditional pop-up camper could dream of. That's what pop-up camper guys like to say about hard-side campers. Now we have a truck camper (or tent-top camper) that out pop-ups the pop-ups.
There's more; a lot more. In fact, we spent two-and-a-half hours on the phone talking to the Founders to understand where this concept came from, how it was designed, how it was tested, how it was constructed, and where they're taking this company and camper moving forward.
Buckle up for one heck of a new company and story. It starts when the grandson of the Founders of Jayco, Jason Bontrager, talks with, Donovan Fredrickson, the then-owner of one of the largest truck camper dealerships in Montana. Sometimes things are meant to be.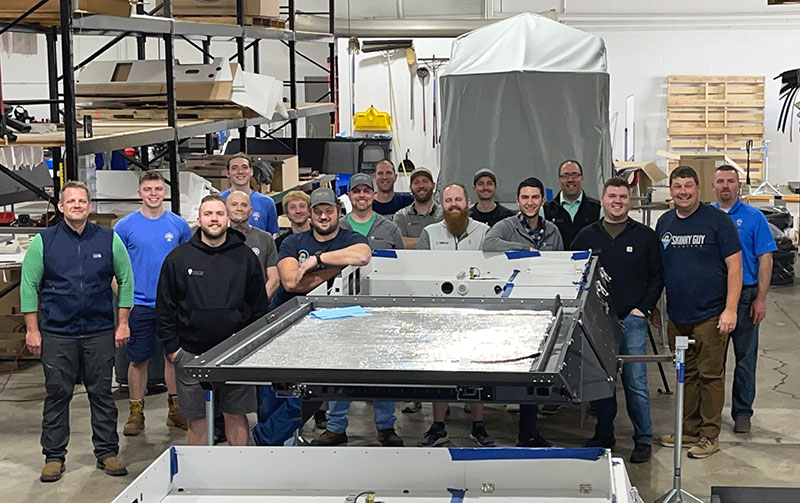 Above: The Skinny Guy production team
For a full measure of Skinny Guy Campers, we talked to Jason Bontrager, CEO and Founder, Donovan Fredrickson, Designer, and Justin Sturgill, Sales Manager for Skinny Guy Campers.  Click here to request more information about Skinny Guy Campers.
Jason, before we talk about Skinny Guy, tell us how you got involved with the RV industry, starting with your earliest memories of the family business.
Jason: My earliest memories of RVing are camping throughout the Great Lake states with pop-ups. I later got involved with Jayco as a teen doing everything from sweeping factory floors, working on the production lines, working in our parts warehouse fulfilling dealer parts orders, and working in the maintenance department doing everything from fabricating and welding steel racking, preparing land for new buildings, mowing lawns, painting buildings, all the way to shoveling the horse poop that our Amish workers' buggies left behind.
During my college years, I lived and studied for a semester in Tasmania, Australia. While there I had a Toyota Hilux and when my friends and I weren't studying, we would load up the Hilux with gear and head out to camp and hike all around Tasmania. That semester abroad was my first major concentrated time in the outdoors. I loved it so much that I almost didn't come back.
After college, I took a break from Indiana and moved to Colorado. I hiked, camped, and mountain biked a lot. Then I came to realize what great opportunities were available at Jayco for me and wanted to get back to my girlfriend, so I moved back home and started working at the family business.
I studied marketing in college and started at Jayco in marketing in 2003. After two years, I transitioned to product development and managed the camping trailer and toy hauler product lines. I did that for almost five years. Then I moved into operations management for two years and then transitioned into sales. In June 2016, my family decided to sell the business to Thor Industries. I decided to end my career at Jayco about six months later.
My family had a nice windfall from the sale of the company and I was looking for what was next for me. I still liked the idea of building outdoor products but had a non-compete which meant that I needed to wait to do anything in the RV space. To be frank, Skinny Guy Campers doesn't even fall under the non-compete terms, but I still wanted to wait it out. In the meantime, I learned the trade of private equity investing and invested in several businesses. I learned a lot about the world of finance, and how to invest and judge a company.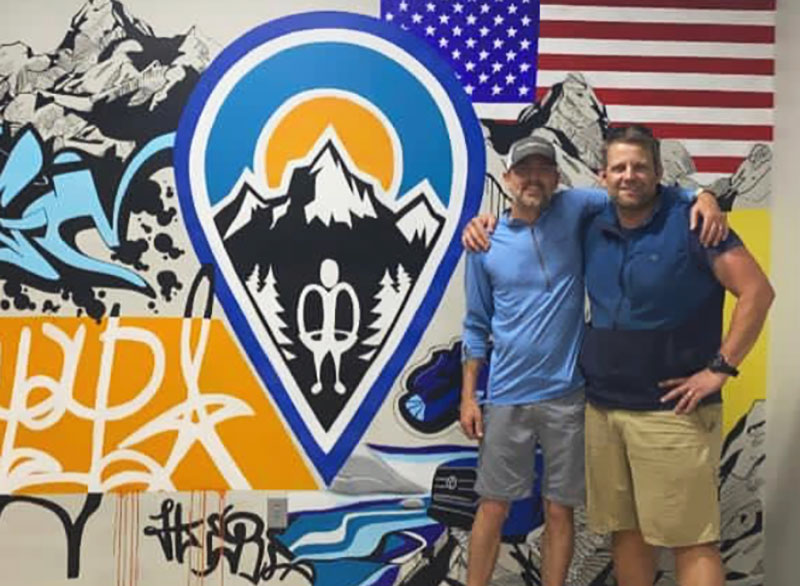 Above: Donovan and Jason of Skinny Guy Campers
Jayco made hard side and pop-up truck campers in the early 90s but canceled their truck camper lines to focus on towables. Where did your interest in truck campers begin?
Jason: I'm a big fan of trucks in general. I think a truck is such a capable vehicle and look at Skinny Guy Campers more as a truck accessory than an RV.
To that point, we explored becoming RVIA certified (Recreational Vehicle Industry Association), but they would have required us to change our entire design in ways that didn't make sense. We learned a lot going through that process but ultimately decided not to go forward with it. I think we're better off for it. So technically, Skinny Guy Campers are not RVs.
I had actually never had a truck camper before starting Skinny Guy Campers. I was more into loading up my Jeep Cherokee or Toyota Tundra and heading up into the mountains; tent camping along the way. My camping was typically a byproduct of going on a hike or on a mountain bike trip.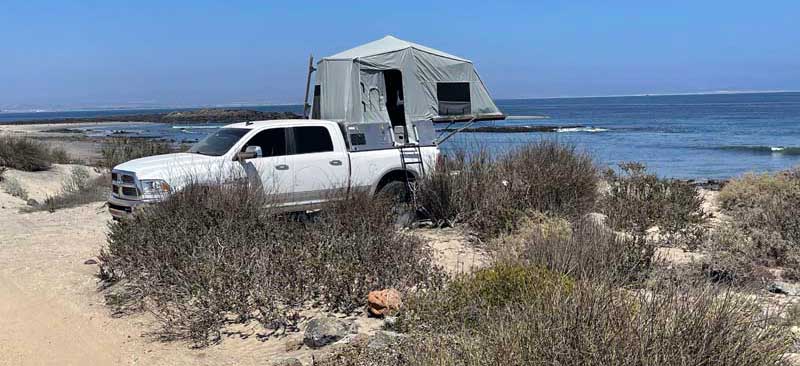 Where did the concept for Skinny Guy Campers, the company and product, originate?
Donovan: The genesis of Skinny Guy goes back well into my background in the RV business. Big Sky RV in Bozeman, Montana was owned by my father and me until we recently sold it. We carried multiple truck camper lines and I've personally owned multiple truck campers. I have always loved the versatility of a truck camper.
About twenty years ago, I had this idea that it would be awesome to have a camper with a cab-high profile with all the features of a conventional truck camper. At that time, however, I couldn't wrap my head around how to accomplish that. I vividly recall a moment in 1999, looking out my office window at my 1994 three-quarter ton 6.5 diesel Chevy desiring to have a camper that would sit at the height of my bed topper that would have all the amenities of an RV.
Years later, we picked up a travel trailer line at Big Sky RV that opened my eyes to the Australian approach to overland and off-road. They had a 180-degree flip-open roof system that made me realize that a camper doesn't need to have a hard roof. Because of that, I realized that a cab-height camper was possible.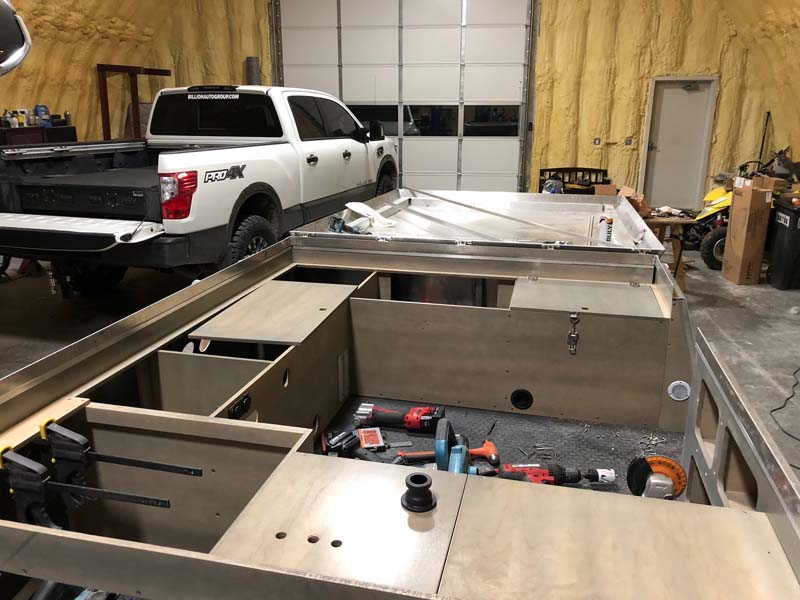 Above: The first prototype Skinny Guy taking shape in Donovan's garage
I sketched up a conceptual design, showed it to Jason and – with his encouragement – proceeded to build it.  To make it strong enough and tough enough, I created an exoskeleton design that started from the truck rails and up. That unprecedented approach allowed us to think outside the box and provided a better footprint.
All of this work was done at night and on the weekends because I was still a full-time business owner with the dealership. When the first prototype was completed, I was surprised at how well it functioned. When Jason saw it, he said, "This is phenomenal. Let's do this." That was 2019.
How did you proceed from the Skinny Guy prototype to a production-ready camper?
Donovan: To take the Skinny Guy Camper from a prototype to a production-ready version, Jason hired a part-time designer who worked in Autodesk Inventor. At this point, we had decided to move away from wood cabinets to an all-aluminum cabinet design that interconnected the exoskeleton to the internal ribs and bulkhead.
In order to communicate what we wanted to our new designer, I learned 3D modeling software. That allowed me to work in 3D and for our designer to create the files our vendors could use.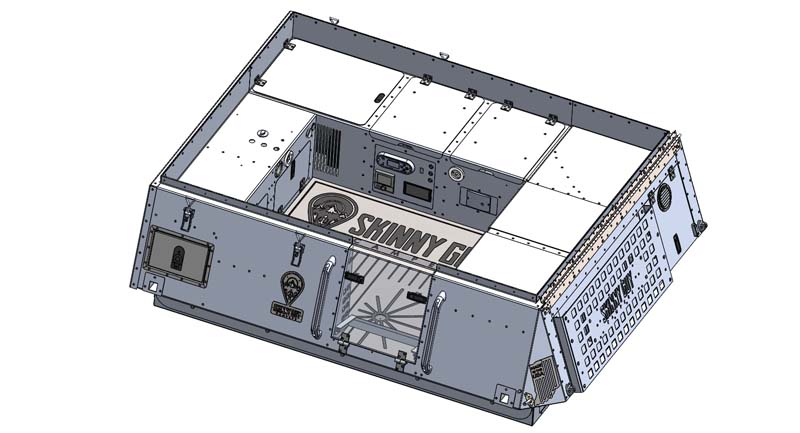 Above and below: The production Skinny Guy camper in Autodesk Inventor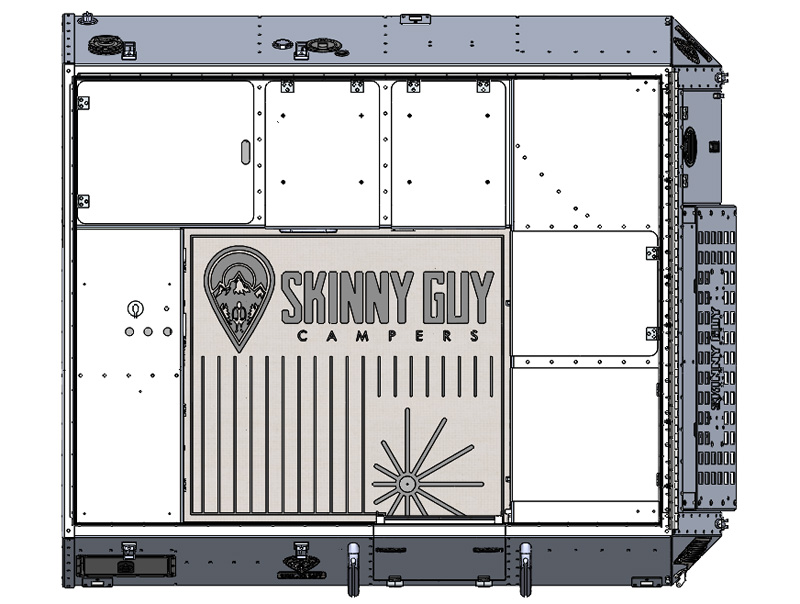 From there, we ordered our first set of laser-cut aluminum panels. For that first camper, the exterior was raw aluminum and the interior was powder-coated aluminum. We assembled the camper in Jason's garage and by March of 2020, we had a finished version two of a Skinny Guy camper. I then took the version two unit to Montana for testing and further development. The construction was completed, but we still had so many challenges to solve due to the fact that it was a new concept.
Jason: During my time at Jayco, we had a lot of inventors come in with cool ideas. It was hard to take them seriously because they typically had no designs. All development would have been on us to get their invention to be production capable.
It is two vastly different things to take an idea and build one product versus taking that idea and developing it into a product that can be built on a production line. With Skinny Guy Campers, I needed to be able to give my potential suppliers 3D models to make it easy for them to work with us. That's when we assembled our design team and begin creating a formal library of 3D models. Only when we had production-ready 3D CAD models, our suppliers could make production-ready parts for us. Even then, not everything fits, so you do it again, and do it again, and do it again until finally, everything fits.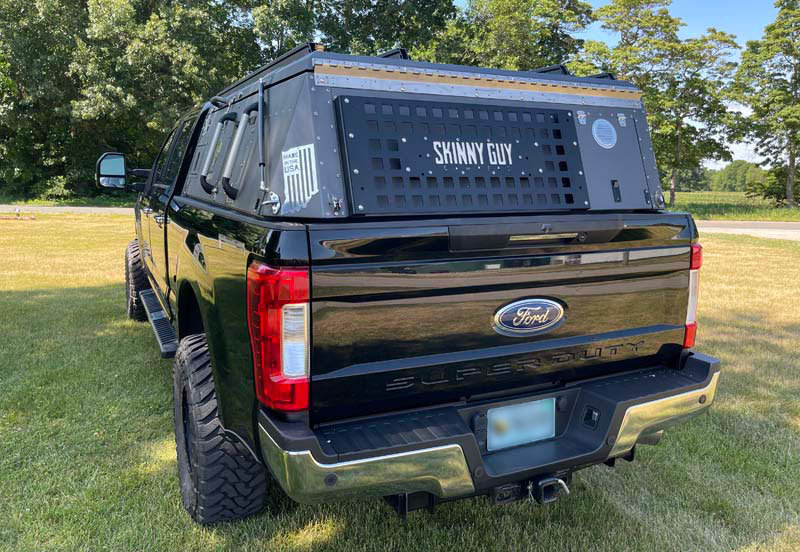 Above: A Skinny Guy closed-up in travel mode
Skinny Guy promotes the fact that all models will allow the truck tailgate to close. Why is that important to your concept?
Jason: We believe our Skinny Guy Campers are more of a truck accessory than a camper. Something that, once buttoned-up, allows the truck to be used and driven as if the camper isn't there. When you look at it from that perspective, the tailgate needs to be able to close.
We also designed the Skinny Guy camper around a TruckVault system (pictured below), which Donovan uses, and the DECKED system, which is what I use. These are secure in-bed storage systems with pull-out drawers.
A loaded Skinny Guy hovers over top of either of these two systems and allows the tailgate to close.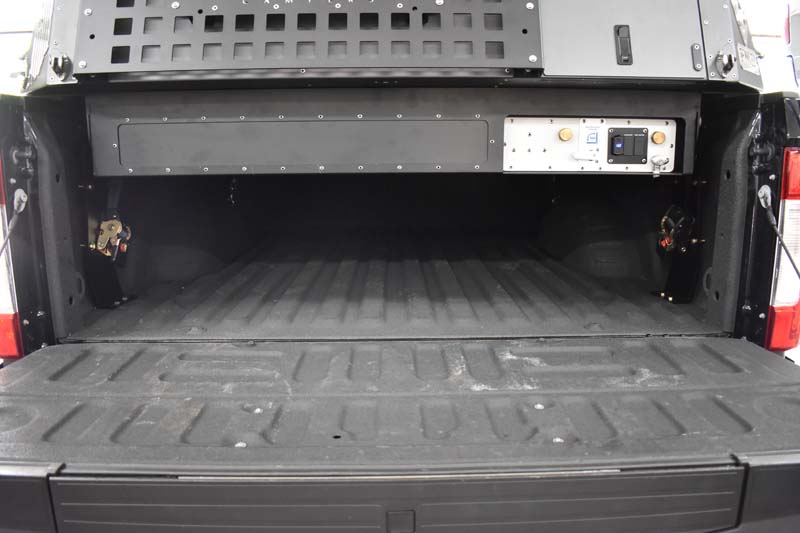 Above: The storage space available under a loaded Skinny Guy camper
Donovan: All modern trucks have cameras on the tailgate and various sensors on the back. A Skinny Guy does not interfere with those systems. And if you have a bike or e-bike on a hitch carrier, you won't have to remove that to use our camper. We want you to retain all the functionality of your truck. Most of the other traditional camper designs interfere with the cameras, sensors, and prevent access to the rear hitch. Finally, it's an aesthetic thing. I wanted our camper to look like a topper and not a humpback old man topper. You'll know it when you see one.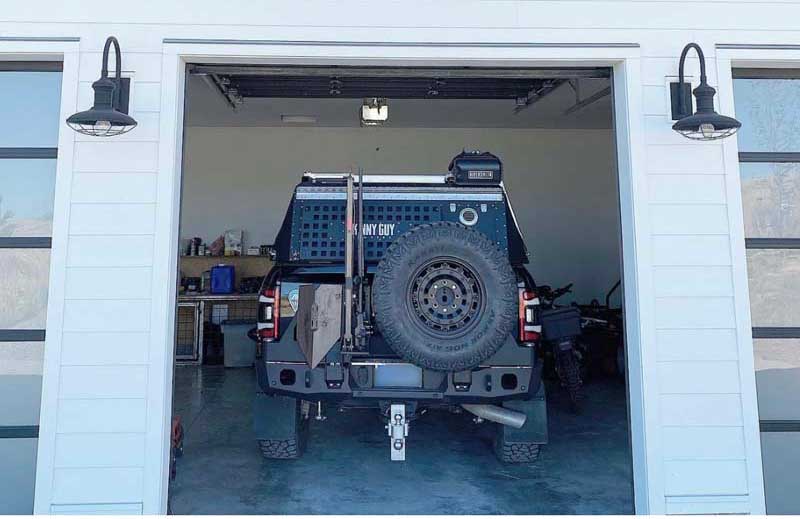 Above: Skinny Guy is designed to fit any truck and garage
Another important feature pointed out by Skinny Guy is the garage-ability of the design. Tell us what you mean by this, and why that was an important feature to showcase.
Donovan: I wanted a camper that a customer could leave on his daily driver. With a Skinny Guy, if the truck fits in a garage, so does the Skinny Guy camper. That's even more important in urban areas where you can't have an RV in the neighborhood. Even a truck camper is problematic to store at home in Southern California and similar urban areas. And if you need to drive downtown and park in a parking garage, a Skinny Guy camper won't be an issue.
Jason: For a college internship, I developed a garage-able camper with a buddy of mine. It was a hitch-mounted camper that tucked into the back of an SUV or truck. That idea of garage-ability has stuck with me for the last twenty years. This quality is a big reason why I was highly interested in the Skinny Guy concept.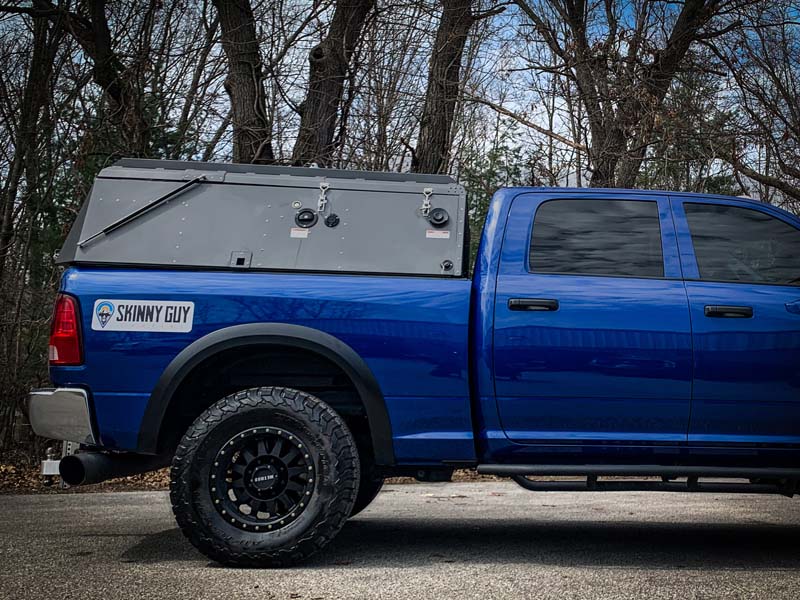 It's also fantastic to be able to keep your camper in a garage and out of the elements when not in use. What is the story behind the name Skinny Guy?
Jason: When you compare this product and how it's made against everything else that's on the RV market, it's skinny. Donovan is also a very skinny guy. So it's about the product that we built and how skinny it is, but it's also Donovan's nickname; Skinny Guy.
Donovan: Even though I'm such a skinny guy, my wife still thinks I'm not in very good shape, so my wife calls me, "Skinny Fat". And years ago I had a friend's stepmother who couldn't remember my name so she just called me "Skinny Guy". This went on for years and the nickname stuck. Even the farm we recently purchased is called "Skinny Guy Farms".
Jason and I are kids of the mid-90s Saturday Night Live with Adam Sandler, Jim Carrey, and Chris Farley. We especially love the movies of that era. We don't take ourselves too seriously.
Jason: We definitely have our fun. Skinny Guy Campers are highly-engineered machines. The aluminum shell will literally last forever. You may have to eventually replace the tent material and cushions, but the core product is built to last.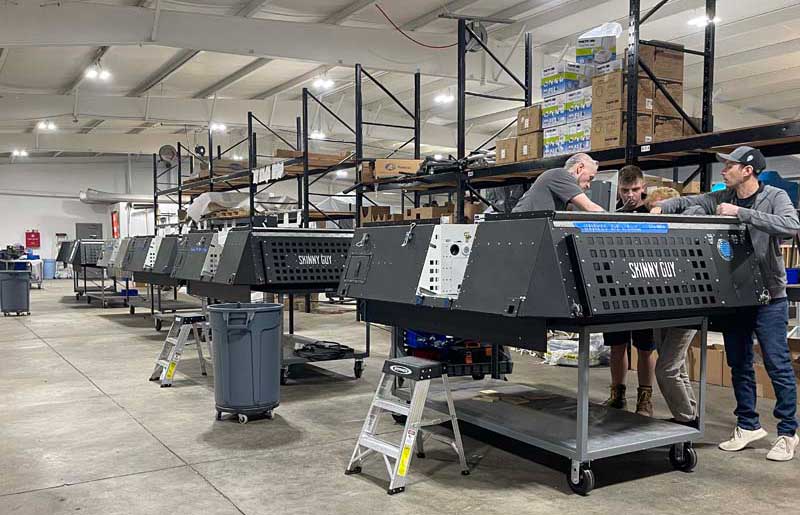 Above: The Skinny Guy factory and production line
Where did the Skinny Guy team come from?
Jason: I did not want to hire people who grew up in the RV industry. I wanted an automotive level of quality. Being a startup planning to build a new product, we had to convince our first hires to leave their current jobs and take a leap to come work for us.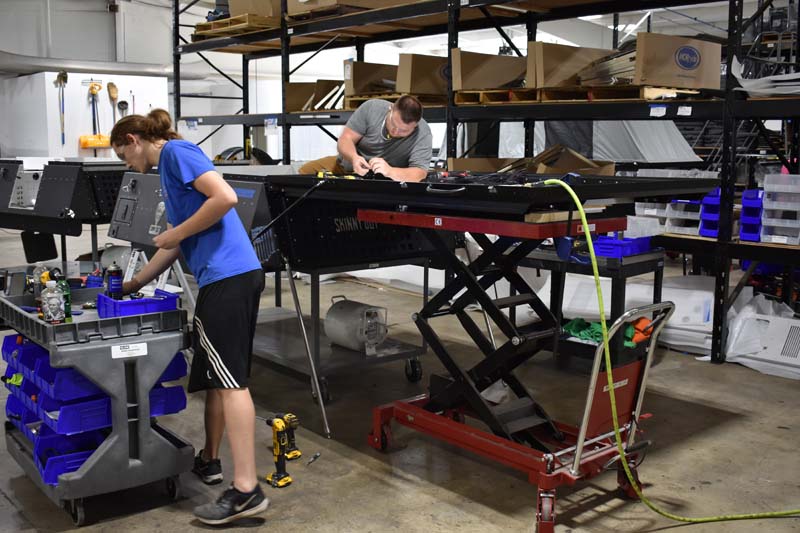 One of our first hires was a diesel mechanic by trade. He has an automotive mindset, a mechanical mind, and can solve problems on the fly. Our engineer is almost meticulous to a fault but works at a high level of precision. For our procurement manager, we needed someone who could find anything and quickly.
That's the level we are after for our team. It's been difficult to find the right people, but we have a good team that wants to be a part of what we're doing. As of now, we have about sixteen people from the front office to the production line.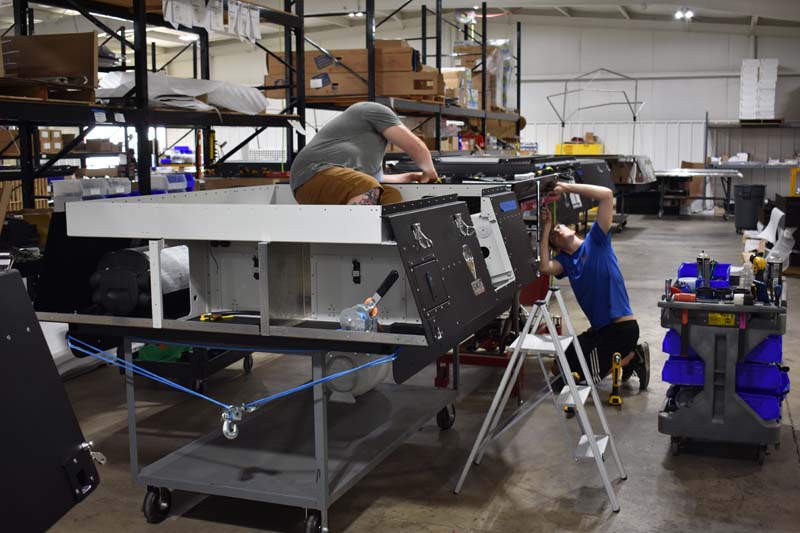 Do you see Skinny Guy aiming for the overland camper market, the traditional pop-up truck camper market, or trailblazing a new niche?
Donovan: I was originally building something for myself; a camper in a cab-height box that I can carry with my truck. Frankly, I wasn't thinking about a specific market.
The product certainly fits the overland market, but it's a brand new concept. It's so different that all twenty elements are encapsulated into a patent. It could have cross-over appeal in the RV market. We don't know what the potential for the Skinny Guy is yet or the markets that will embrace it.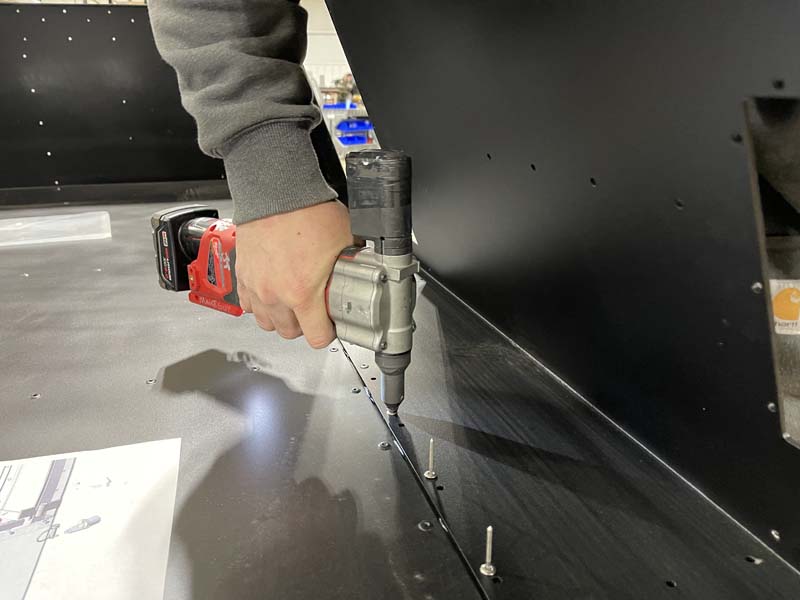 Is Skinny Guy currently building and shipping campers?
Jason: Yes. The Skinny Guy factory is in Bristol, Indiana about fifteen minutes from downtown Elkhart. We have two buildings and about 4,000 square feet under roof.  The Skinny Guy production line is running and producing units. Right now we're building Skinny Guy 6.5 models.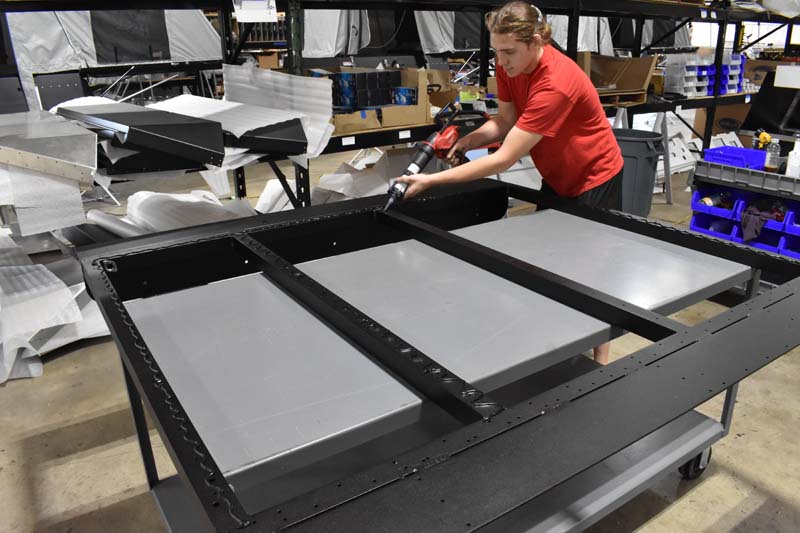 Normally truck campers are either sold direct or through dealers. You have a direct online ordering form on your website and about fifteen dealers across the United States. How does that work?
Donovan: I wanted to avoid the issues you see in the RV industry where prices range wildly between wholesale and retail and dealer to dealer. We are working with carefully selected distribution partners around the country. They're a mix of overland truck builders, overland camper dealers, and RV dealers.
We're trying a different approach to distribution. We price our products on our website and that's what the dealers sell our models for. That controls the price between wholesale and retail. There's a reserve for the dealer so there's profit built-in for them. No matter where you buy a Skinny Guy product, the price is the same – plus any shipping fees and options you might add.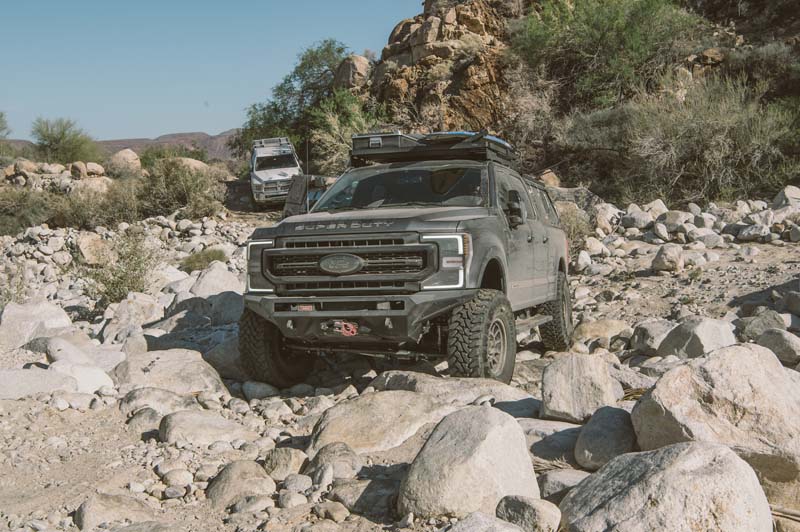 As of now, all of your dealers are in the United States. Are there plans to sell Skinny Guy campers in Canada and the rest of the world?
Jason: Yes. We have already been talking to Canadian dealers and we've had interested distribution partners around the globe for South America, Africa, Asia, and Australia.
Donovan: We are looking for dealers that understand the product. We want our dealer relationships to be mutually beneficial. In the long run, we could send out Skinny Guy camper kits to Australia for final assembly. There's a lot of export potential.
There are seven Skinny Guy models currently planned; 4.5, 5.0, 5.0GLR (Gladiator), 5.5, 6.0, 6.5, 8.0. Does Skinny Guy have a model for essentially every commercially available domestic pickup truck?
Donovan: Yes. We're still working on how to approach the Ford Maverick with its extremely small bed. And the new Chevy Silverado EV has interesting cab angles. What we're focused on is the Rivian R1T with its 1-million orders. That's where our 4.5 model comes from. That's the jumping-off point to get into the Hilux trucks that are popular in South America and Australia.
Jason: We haven't sorted out older versions of the Honda Ridgeline with the slanted beds. We also have some design challenges with the forthcoming CyberTruck, when that comes out.
When we normally talk with camper manufacturers about trucks, we're almost exclusively talking about mid-size and full-size trucks. You guys are talking about the very fringes of the truck market.
Jason: There's beauty in being the first mover. We have models for the entire mid-size and full-size truck market, but we are also going to give some love to the trucks that typically don't have anything available.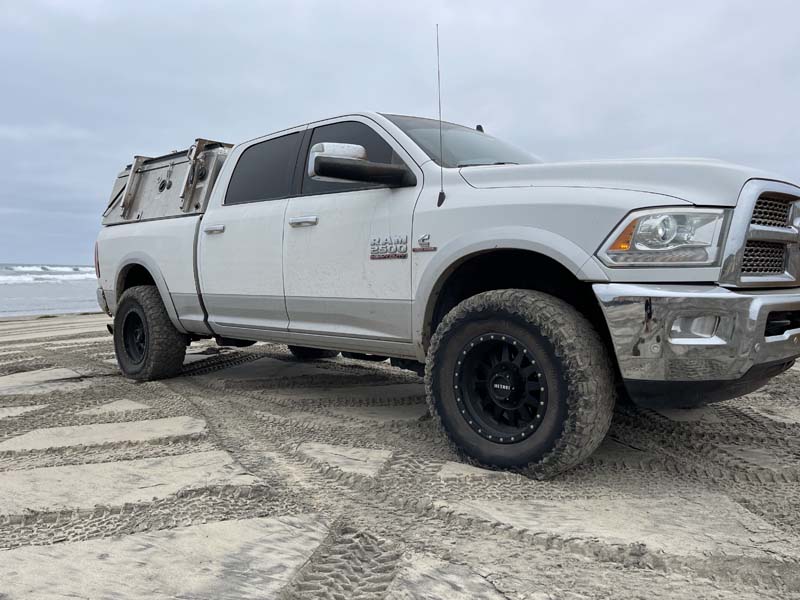 How many models have you built to date?
Justin: As of now, the Skinny Guy 6.5 is the only model in production. The 5.0 is very close to being ready for production.
Donovan: Our Jeep Gladiator model and the 5.5 for the full-size Tundra or Ford Raptor will follow. We want to launch all of these products in 2022. That's when we should be able to turn on the production faucet more aggressively.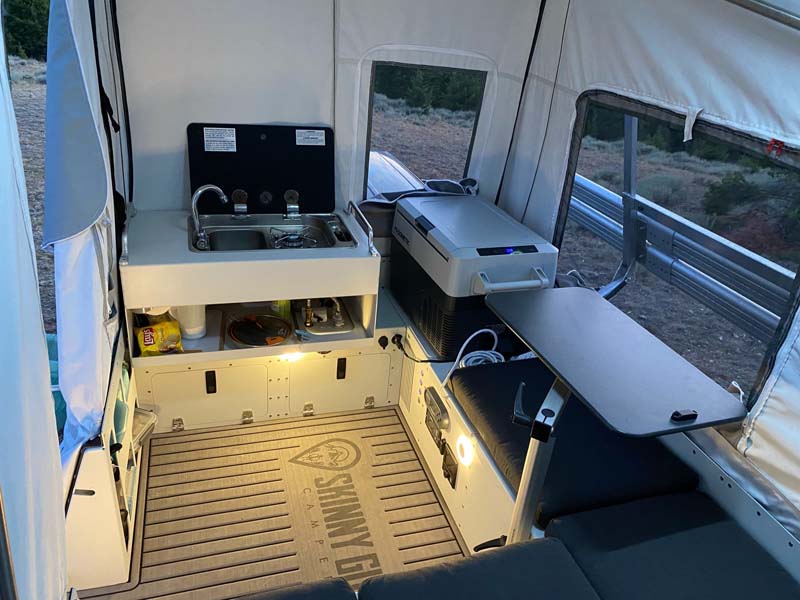 Above: A Skinny Guy interior with the Kit N' Kaboodle package
What will be gained and lost as you go from the 4.5 to the 8.0 model?
Jason: The shorter you go, the more storage you lose. The 6.5 model is the smallest camper that doesn't have an internal fold-out shelf. That shelf folds out over the top of the truck cab. That's where the cooktop and refrigerator store when in camp mode – if you have a trim level that includes those features.
Donovan: The smaller trucks have shallower beds; truck rails down. That means less space for the underbelly module with the holding tanks. But you don't lose the cooktop sink, refrigerator, dinette, double-bed, or the flushing toilet option. We are able to retain all the features of the 6.5 model in our smaller models.
Our 8-foot model adds a user-definable storage system. It slides from side-to-side to give access to storage underneath it and attaches to the front of the camper. We didn't completely redesign the camper to go to Model 8.0. We just added the storage box. It adds a ton of user-definable space.
Going back to the 4.5 and the 5.0, what Jason was describing does add an additional set-up step. You have to go in and put up the platform, cooktop, and refrigerator. And the bow-roof system is slightly more complicated in the smaller models. That's a trade-off with the smaller units, but owners will get accustomed to these steps quickly. We've made it easy.
Why did you do the four trim levels instead of a more typical option list?
Jason: We wanted to keep things as simple to manufacture as possible. We packaged options that went well together. That is what's easiest on our assembly line and best for production consistency and quality.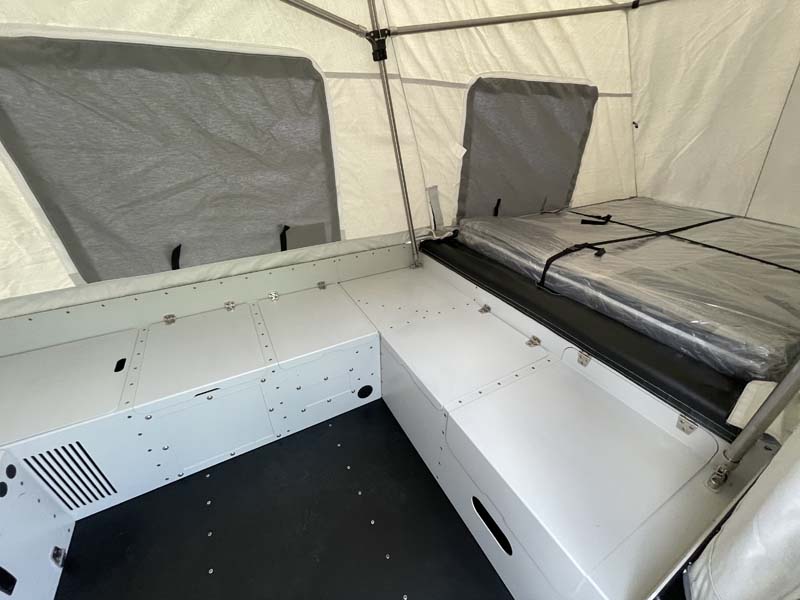 Above: The Bare Bones interior
Will you be adding or changing the trim levels?
Jason: We are always looking at ways to lower the price of the Bare Bones trim level or to add features that customers are asking for. Generally speaking, we'll continue to add innovative options if customers ask and if the options are built in enough, we'll add them as standard.
My office at Skinny Guy is a single-stall garage. It serves as a separate research and development area for future products. Eventually, I want our camper to be even lighter and priced lower. That would help get more people in the door with a Skinny Guy camper.
At some point, we will also come out with a docking trailer that will accept a Skinny Guy camper. That way someone could tow a Skinny Guy camper with their lightweight car, hybrid car or even an electric car. My goal is to be at 1,500 to 2,000-pounds with the trailer and camper.
It looks like you charge by the trim level, not the model. For example, the Bare Bones trim level is the same price no matter which model/size you order. Is that correct?
Donovan: Yes. We wanted that for simplicity. We priced them all the same. Frankly, we spend more money on the smaller ones than the larger ones.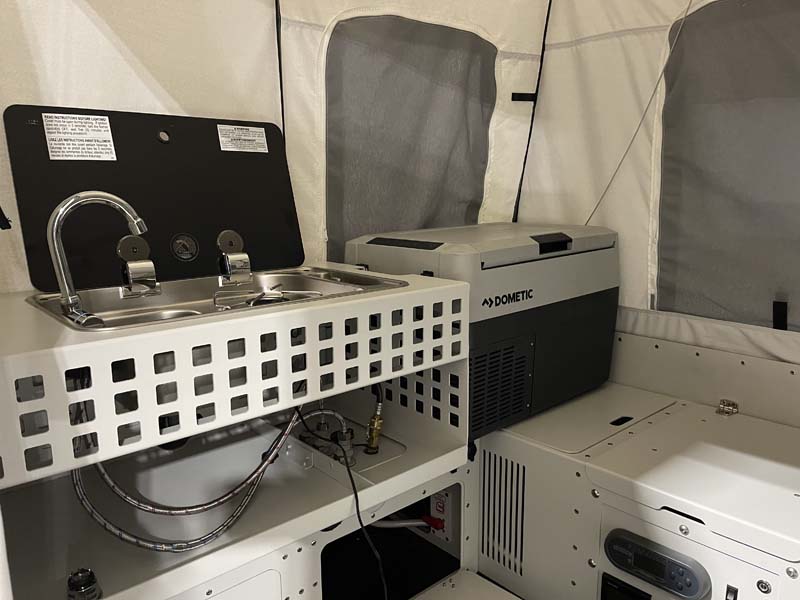 Above: The Kit 'N Kaboodle interior and features
The one option listed separately from the trim levels is a PrimaLoo. What is the PrimaLoo?
Jason: It's our optional flush toilet system. That option includes a black holding tank and macerator. There's a hose connection near the tailgate. At a dump station or a park toilet, you connect a hose, activate the macerator, and empty your black tank.
Donovan: It's cleaner than a typical RV gravity-based black tank system and allows for a 20-gallon black tank. One of my favorite features of the Skinny Guy design is that it allows for a flushing toilet. It's never been done on a camper this size.
Jason: You can also opt for a porta-potti. I personally prefer a porta-potti, but that's the beauty of the Skinny Camper, everyone is different, and everyone can build theirs how they like it.
How many Skinny Guy campers do you foresee building in 2022 and 2023?
Jason: This year we'll sell between 70 and 90 units. In 2023, we'll be between 100 and 200 units.
For more information on Skinny Guy Campers, visit their website at skinnyguycampers.com.  To request more information, click here for a free brochure.
Next: We get into the specifics about the Skinny Guy 6.5 including its unique mounting solution, a rain water catchment system, the underbelly module with holding tanks, and more. This Skinny Guy is fat with even more innovation.