Out of Uniontown, Ohio comes a molded fiberglass camper company targeting the high-end hard side half-ton truck camper market. Meet Grumpy Bear Campers and their all-new Koda fiberglass camper.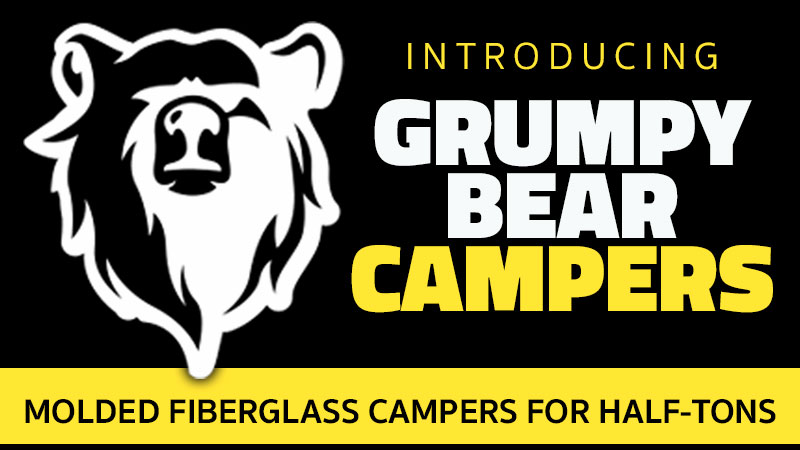 Last December, D&H RV President, Dave Hofert sent us a heads-up about a brand new manufacturer; Grumpy Bear Campers. I honestly thought he was punking me. Grumpy Bear? Okay, Hofert. Not falling for it. Then I clicked on the Grumpy Bear website and was immediately impressed with their Koda camper; molded fiberglass, CNC cut cabinetry, and a number of clever design choices. Evidently, this Grumpy Bear company was legit, and how.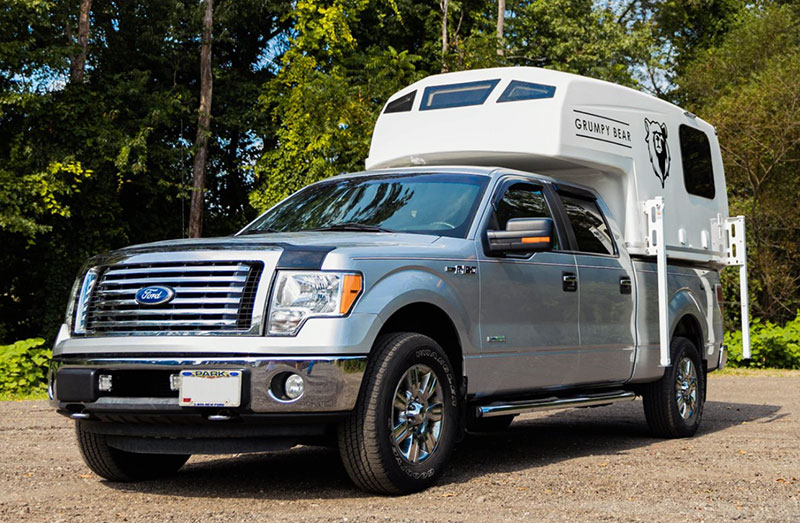 Above: The 2023 Grumpy Bear Koda, all images provided by Grumpy Bear Campers
The more I thought about Grumpy Bear's Koda camper, the more it made sense. Over the past decade, molded fiberglass truck campers have come to dominate the high end of the hard side non-slide market. Where one might see a couple molded fiberglass campers at a major truck camper rally fifteen years ago, today it's not unusual to find a dozen. And when you talk to the molded fiberglass camper owners, they're universally happy with the reliability, lower weight, and aerodynamics of the fiberglass shell.
Unfortunately, molded fiberglass campers have been beyond reach for half-ton truck owners; either too big and heavy or designed for the premium overland market (read: expensive). That left a potential opportunity for a company to debut a lighter and more affordable molded fiberglass camper for half-ton trucks. Enter Grumpy Bear Campers.
To learn more about Grumpy Bear Campers, we contacted Founders, William Zantopulos and Andrew Rohr.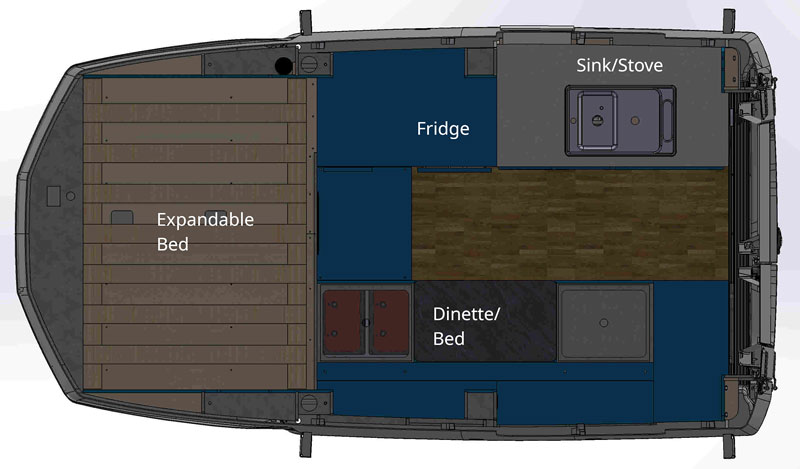 Above: The Grumpy Bear Koda floor plan
2023 Grumpy Bear Koda Specifications
The 2023 Grumpy Bear Koda is a hard side, non-slide truck camper made for short bed trucks.  The interior floor length of the 2023 Grumpy Bear Koda is 90 inches, the interior height is 6'2", and the center of gravity is 33.7 inches from the front wall.
The Grumpy Bear Koda has a 15 gallon fresh tank, an 8 gallon grey tank, an on-demand water heater, and no black tank. It can accommodate two Group 24 batteries and has one 20-pound propane tank.
Grumpy Bear Campers is reporting the base weight of the Grumpy Bear Koda at 1,650 pounds. The starting price of the 2023 Grumpy Bear Koda is $36,000.  Click here to get more information about Grumpy Bear Campers.
What led you to found Grumpy Bear Campers?
William: I worked at Little Guy Worldwide for five years and transitioned with the company to Liberty Outdoors. My experience with Little Guy and Liberty Outdoors established my involvement with the RV marketplace and my love for campers in general. With Little Guy Worldwide I was the Director of Business Development and transitioned to Assistant Director of Administration at Liberty Outdoors. I also worked at an executive level with the design, production, and warranty teams.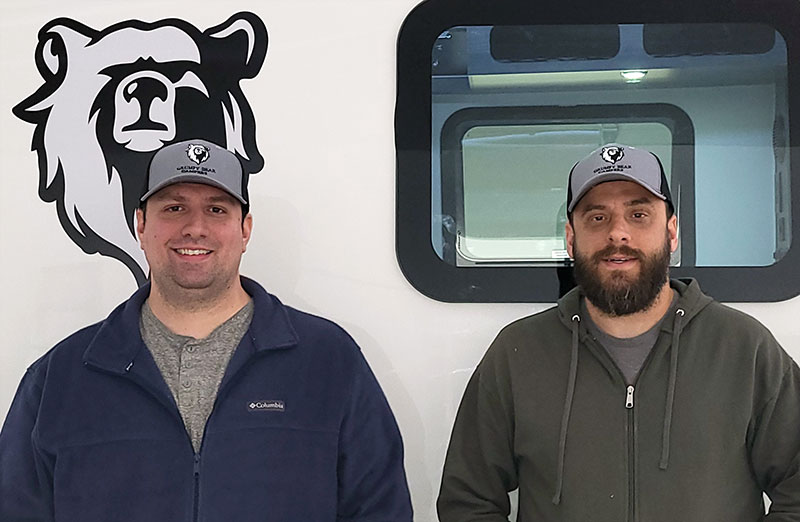 Above: Grumpy Bear Founders, William Zantopulos and Andrew Rohr
Andrew: I have a bachelor's degree in Mechanical Engineering and a master of Business Administration (MBA). I worked for 20 years in the composite industry primarily with fiberglass truck cap manufacturers including ten years at ARE and two years at Liberty Outdoors. At ARE, I was the VP of Custom Molding and, before that, Director of Engineering. At Liberty Outdoors I was the Director of Engineering and Quality Assurance and the Plant Manager for about a year.
From our beginning conversations, William and I wanted to produce a high-quality fiberglass truck camper. The fiberglass shells we use for Grumpy Bear campers are based on SpaceKaps by Fibrobec. The SpaceKap shells are of exceptional quality and have been proven with over twenty years of production.
During my career with ARE, Fibrobec was both a customer and a supplier and I have a good relationship with the Fiberbec leadership team. When William and I decided to launch Grumpy Bear, I reached out to the owner. That was the start of Grumpy Gear Campers.
Where is your manufacturing facility based?
William: Grumpy Bear Campers is located south of Akron, Ohio. Andrew has ties with the owners of a truck cap dealer and our facility is currently at one of their facilities. As demand for Grumpy Bear Campers grows, we will look to expand our manufacturing space. For now, we are focused on keeping production controlled because we do not want to lower our quality or disappoint customers with long delivery times.
Will you be selling factory-direct or through a dealer network?
William: We are selling Grumpy Bear Campers factory direct.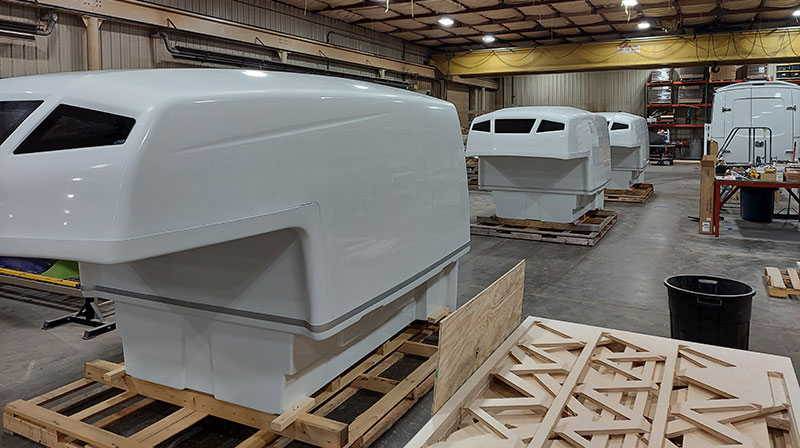 How many units are you aiming to manufacture at this time?
Andrew: We are currently building one per month. By the end of 2023, our goal is one per week. We are ramping up.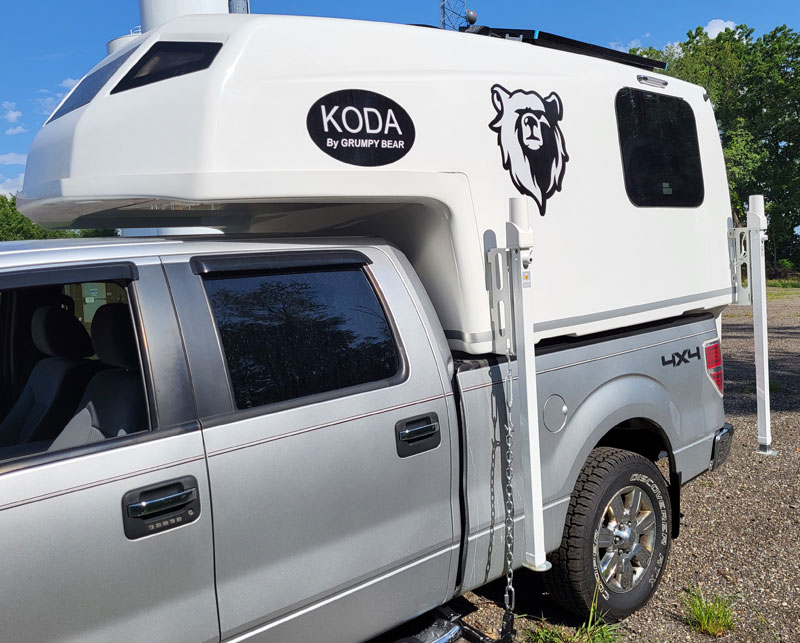 Where did the name Grumpy Bear Campers come from?
Andrew: During our time at Liberty Outdoors, William and I spent a lot of hours traveling between Uniontown, Ohio, and the Liberty Outdoors facility in Pennsylvania. One morning we left really early and another gentleman was in the front seat of the extended cab truck. As a tall guy, William was stuffed into the back and super quiet all day. I said, "You look like a grumpy bear!" The name stuck and we started calling him that. When we were thinking of names for our new camper company, we kept coming back to Grumpy Bear.
William: We worked with a local graphics company for the logo. We spent a number of hours showing them different designs we were interested in for the bear. The logo they later presented was perfect.
Where did the concept of the Grumpy Bear Koda come from?
Andrew: We wanted to build an affordable lightweight, fiberglass truck camper for half-ton trucks. At first, I wanted to make our own fiberglass shell, but the SpaceKap shells have been out in the world for decades, so we decided to use it to develop our product. That's where the Grumpy Bear Koda came from.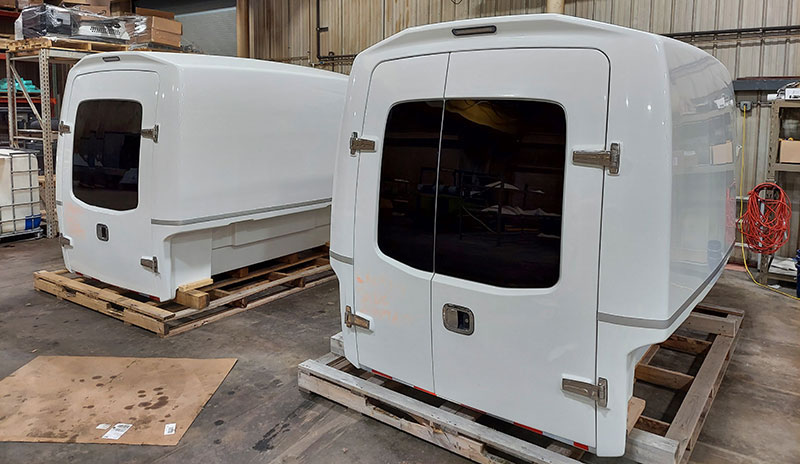 Do you structurally change the fiberglass shell during the build out?
Andrew: We order the SpaceKap shells with fiberglassed plywood ribs on the interior shell. These ribs are used to attach our plywood walls. Between these ribs is a combination of fiberglass and closed-cell foam insulation. The ceiling is treated with fiber wall insulation for sound dampening. We add additional insulation under the cabover bed area. We're also looking at adding a fiberglass interior headliner in the overcab, but that remains in development.
On the outside, we add brackets for the camper jacks, cut out the windows and vents, and install the windows and vents. The roof-mounted solar panels are screwed down into pressure-treated wood blocks. Then the washers under the solar panel feet are caulked and sealed. Once that's completed, we add the interior walls, cabinetry, electrical, and appliances. It's an extensive build out.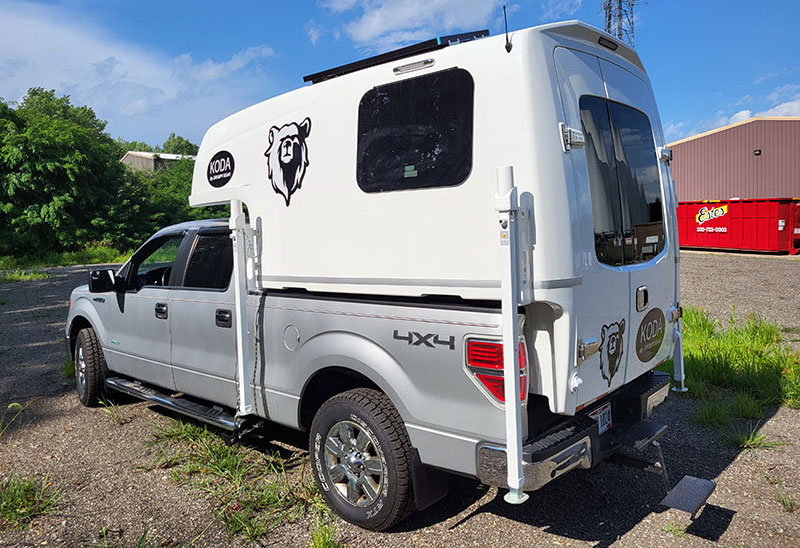 Why did you decide on glass windows rather than acrylic?
Andrew: We are using single-pane glass windows because they work best with the fiberglass shell.
Glass windows will give us the best seal and long-term performance given the shape and parameters of the fiberglass shell and the underlying plywood.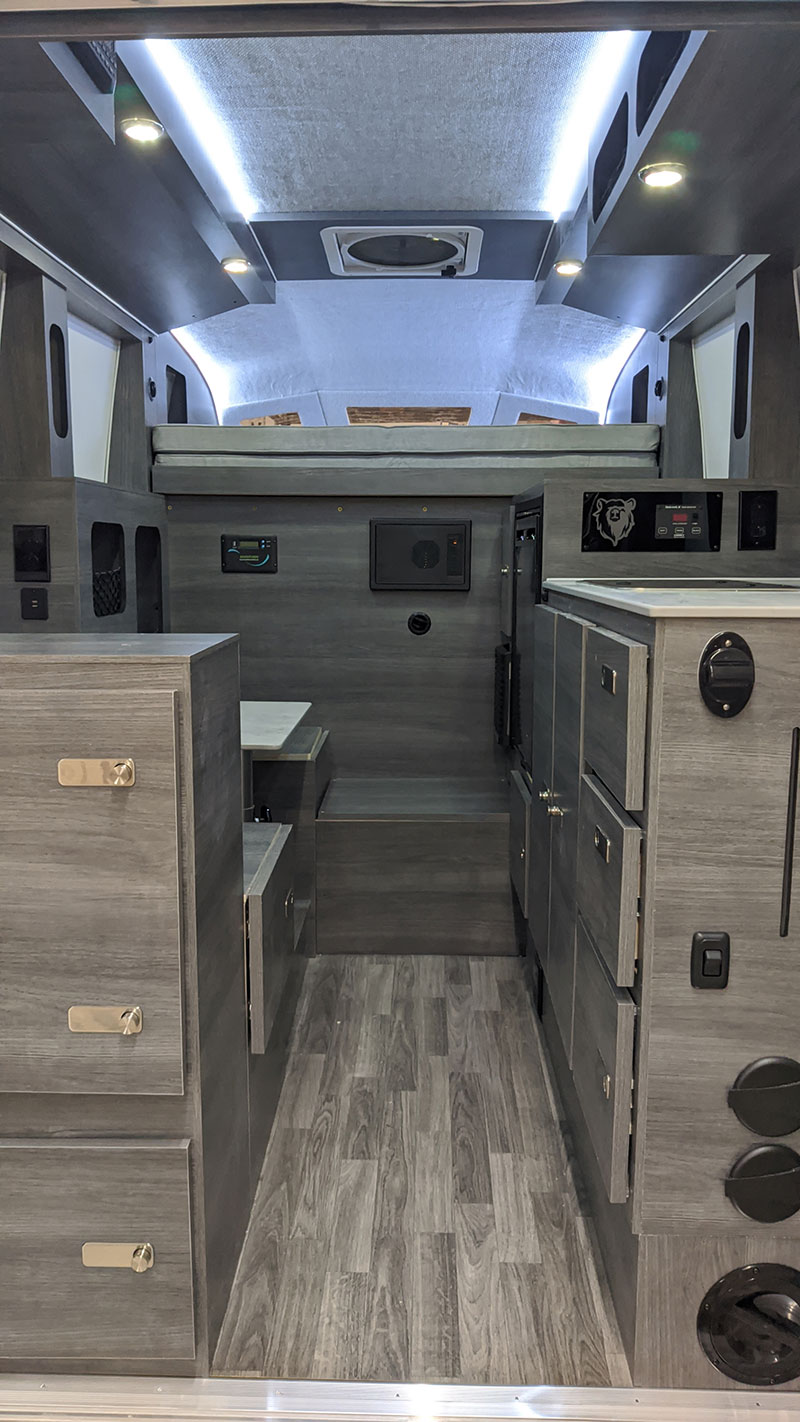 Are there any exterior storage compartments?
Andrew: Right inside the rear double doors there's a storage compartment. When you open the rear doors, the lower cabinet on the driver's side features a vinyl floor that extends forward under the dinette.
That's where Grumpy Bear owners can store their 30-amp power cord, grey water hose, and other exterior storage items. Even longer items like foldable chairs can fit in this area. It's a lot of storage.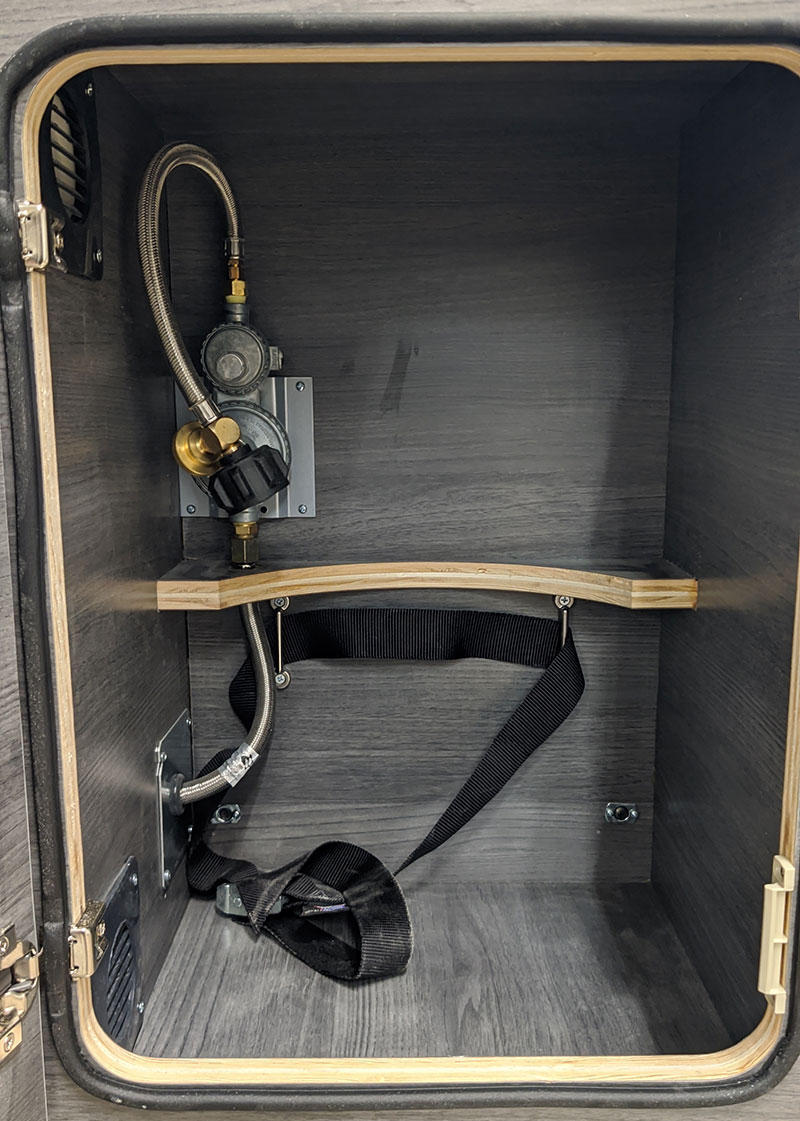 Above: The Grumpy Bear Koda propane compartment
In that same area is something we haven't seen before; an interior propane compartment. How are you making this a safe feature?
William: Andrew designed the propane compartment with two vents on the top and bottom of that cabinet that vent out the side of the camper. There are bulb seals on the propane door itself as well as a latch, so it is a completely sealed space. We made sure to get the right size seal and the door compresses it. Before our campers leave the factory, we do propane checks to make sure it's sealed. There's also an LP detector in the camper.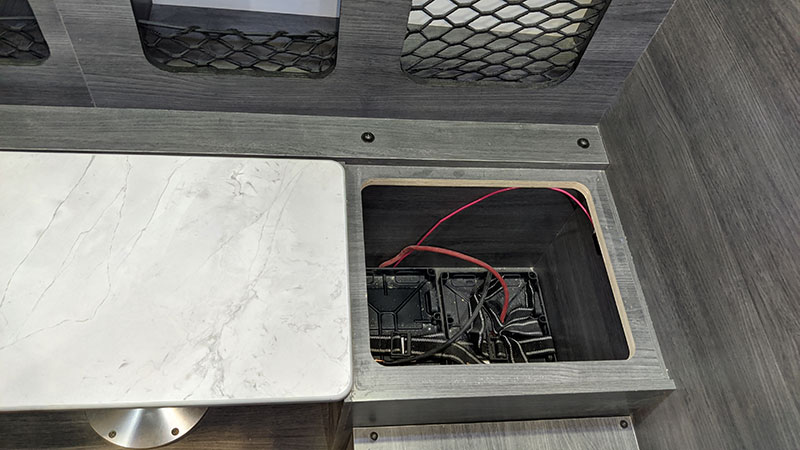 Above: The Grumpy Bear Koda battery compartment
Where is the battery compartment on the Koda?
William: The battery compartment is located under the front dinette seat area on the driver's side. It has the ability to hold two Group 24 lithium or AGM batteries. The compartment is not vented, so sealed batteries are required.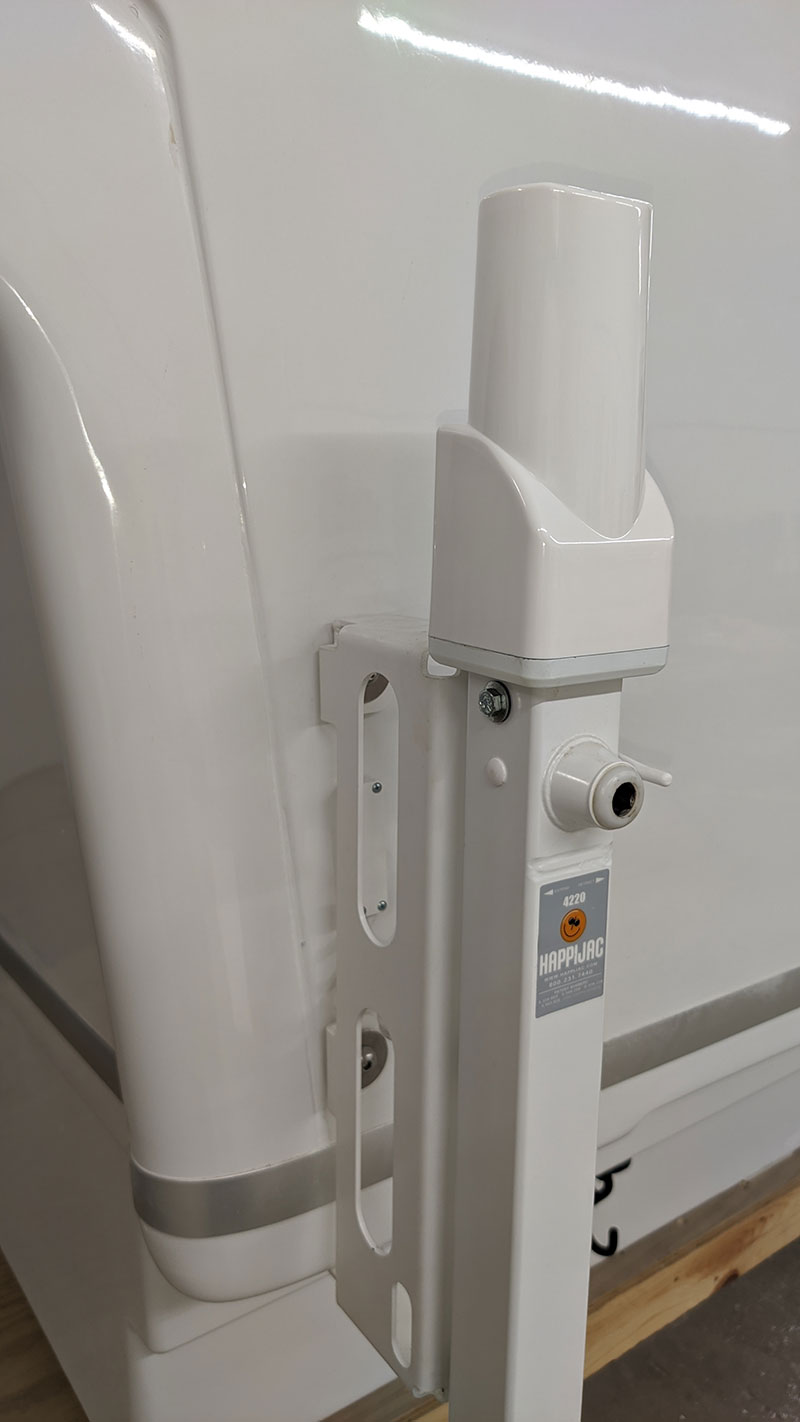 Do Grumpy Bear campers come standard with Happijac camper jacks?
William: Yes, the Koda comes standard with manual Happijac jacks. You can upgrade to Happijac electric jacks with a remote control.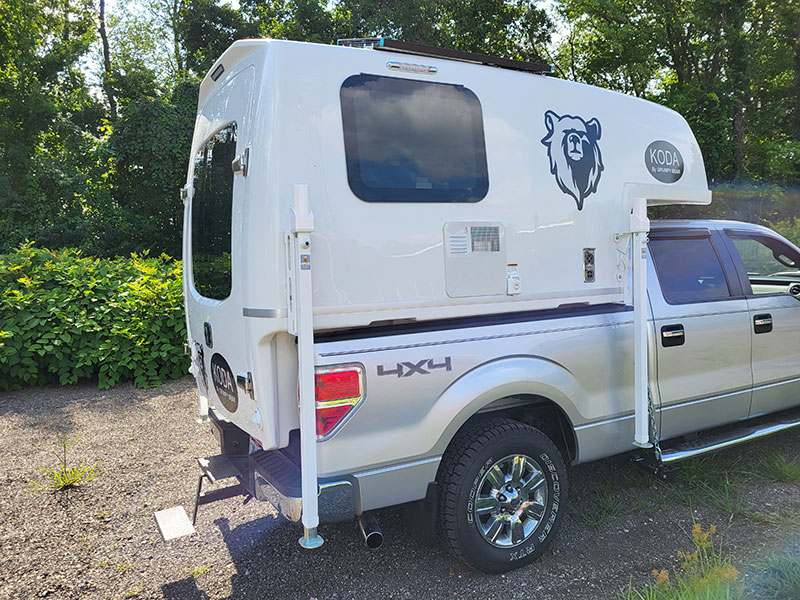 How do the corner jacks attach to the camper shell?
Andrew: We designed our own brackets and have them built for us. The brackets and camper jacks are attached through the fiberglass walls with 3-inch bolts. You can remove the jacks, but that's not how we intended the Koda design to be used.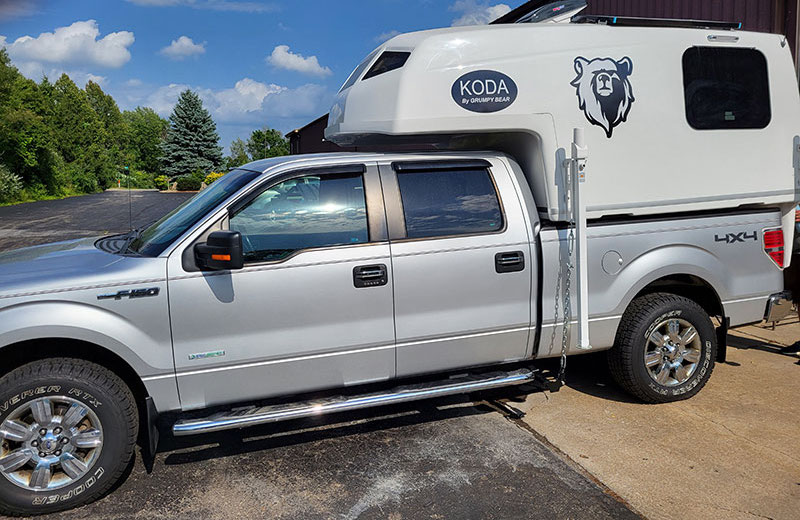 The jack brackets have tie-down points incorporated into them for frame-mount turnbuckles.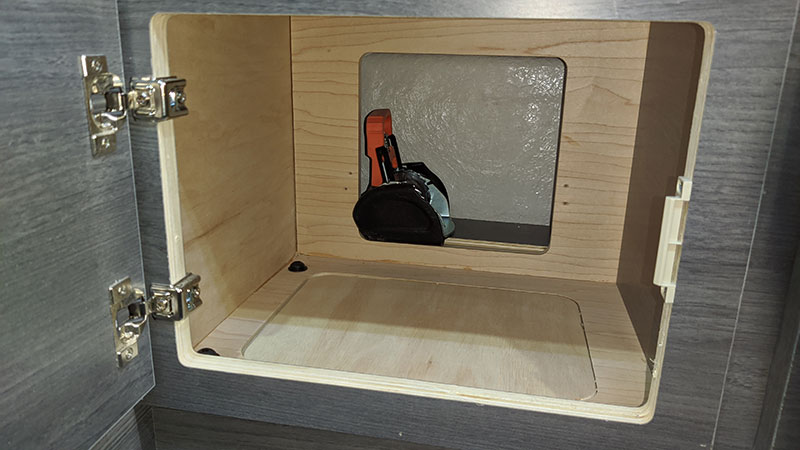 Above: Accessing the bracket straps from inside the Grumpy Bear Koda
In 2023, we also added bracket straps that will go to attachment points in the truck bed. Both systems come with our campers; tie-down points and straps. With turnbuckles or straps, the Koda loads and unloads like a normal truck camper.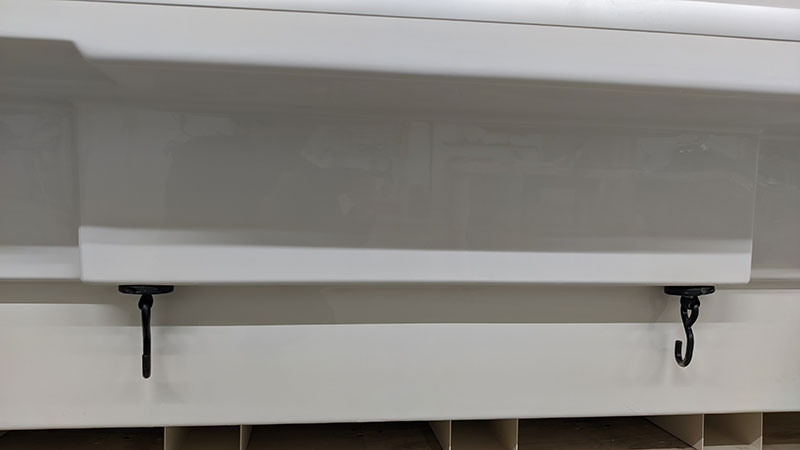 Can a Grumpy Bear Koda fit a dually truck?
Andrew: For now, we are recommending our Koda for single rear wheel trucks only; half tons, three-quarter tons, and one tons. Swing-out brackets should work, but we haven't tested the camper on a dual rear wheel truck.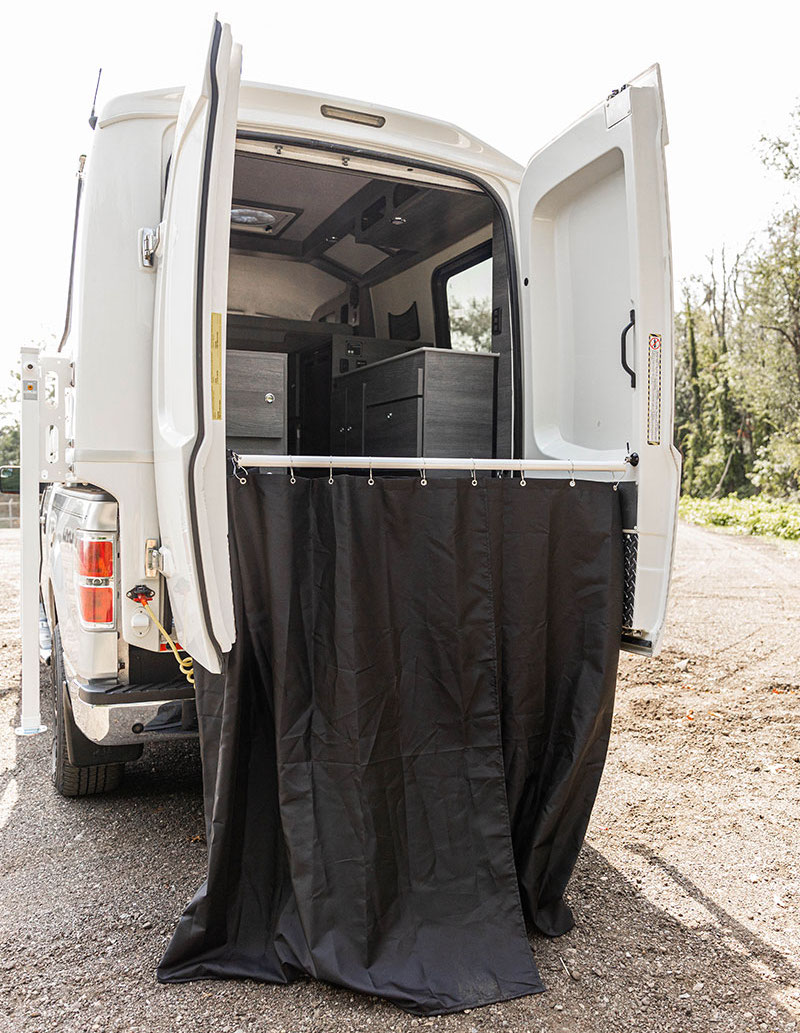 Above: The deployed outside shower curtain
In one of the photos, we see an outdoor curtain out the back doors. What's that about?
William: That's the shower rod and curtain. With the rear doors halfway open, the shower rod and curtain hook to mounting points on the rear doors and cabinetry. Once installed, you can use that area as a full shower. Inside there's a mixer valve and shower connection, similar to what you find on RV vans.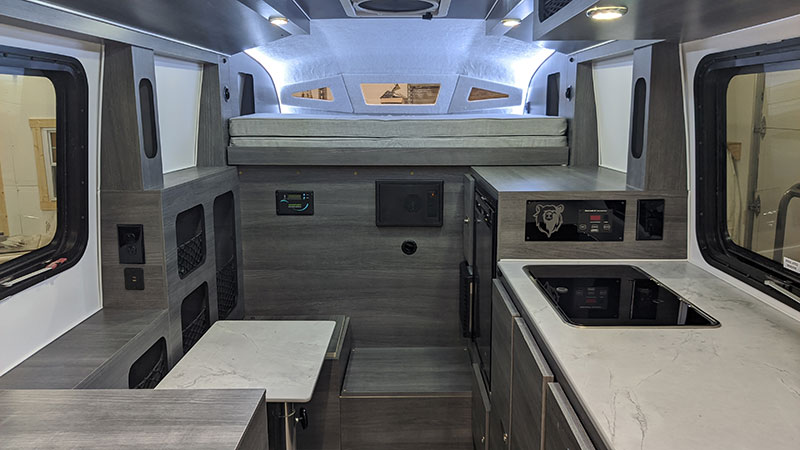 That's a neat solution. What is the interior height?
Andrew: It's just over 74.5-inches, or 6'2". Keep in mind that it's not a flat roof, so the height of the fiberglass shell changes. It's more shallow at the very rear and very front of the camper. The height of the cabover is about 24-inches.
What materials do you use to build out the cabinetry, countertops, tables, etc.?
William: The countertop and table are Thinscape by Wilsonart. It's a solid-core composite product.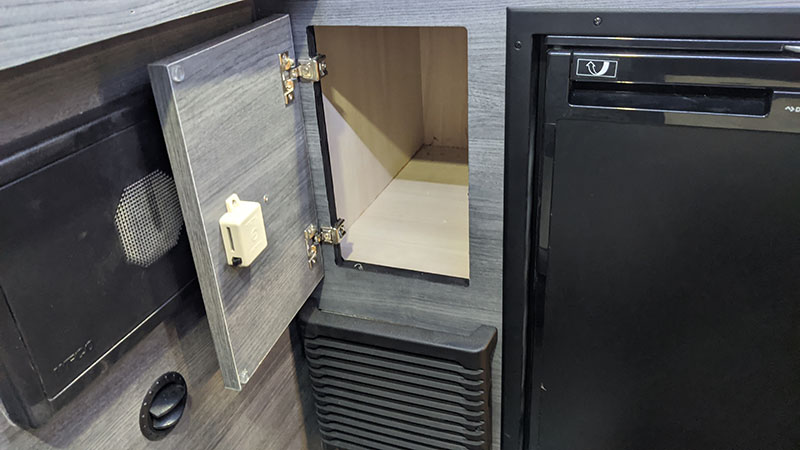 Andrew: The cabinets are a combination of cabinet-grade plywood laminated with Wilsonart and Azdel composite panels. On the inside of the cabinets is cabinet-grade plywood.
Why did you decide not to pursue a wood-free camper approach?
Andrew: We wanted our shell to be 100-percent fiberglass from a longevity standpoint. It will be around 50 years from now. Plywood gives us the best options for cabinets.
William: At Liberty Outdoors, we experienced water leakage on plywood cabinetry and learned that it takes a substantial amount of water for plywood cabinetry to be damaged. Unless there's a catastrophic leak, plywood cabinets will dry without watermarks. We decided to focus on the high-quality fiberglass shell and combine it with more traditional cabinet materials.
"We decided to focus on the high-quality fiberglass shell and combine it with more traditional cabinet materials."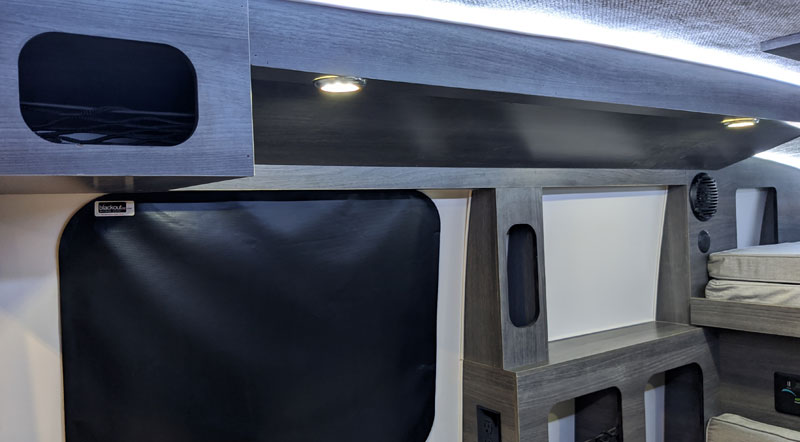 Is there any provision to shade or cover the rear doors for light control or privacy?
William: There are black-out shades that Velcro on the rear doors and all of the windows. The Velcro shades are used throughout the camper on all the windows, including the overcab.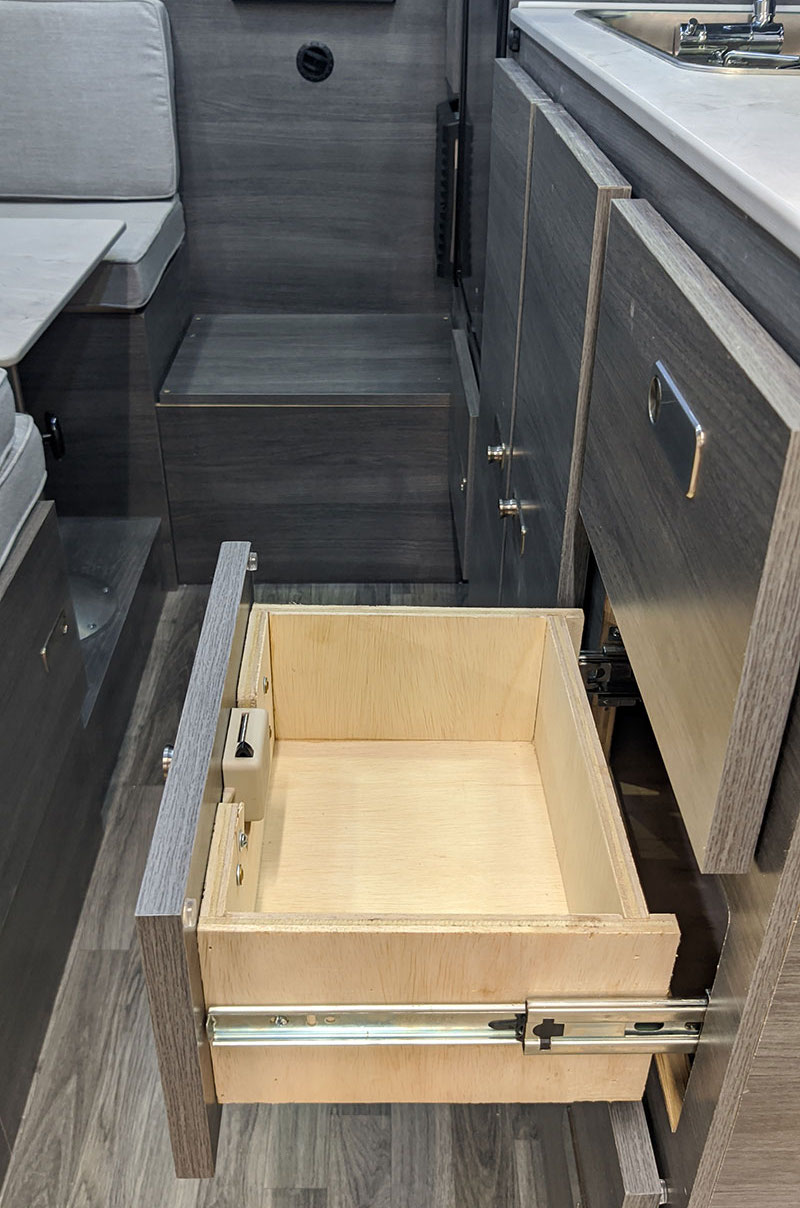 The cabinetry in the Grumpy Bear Koda is quite intricate. How was that all designed?
Andrew: I have experience in SolidWorks and with CNCs. Fibrobec gave us a CAD model of the shell. We designed the interior cabinetry in SolidWorks and CNC cut everything on our CNC machine. That approach allowed us to use every available space.
William: The design for this camper went through many revisions. It started two years ago. There have been multiple redesigns. A lot of design work had to be done to get everything into that space. We were able to use every inch for storage and appliances, but it took a long time to get things right.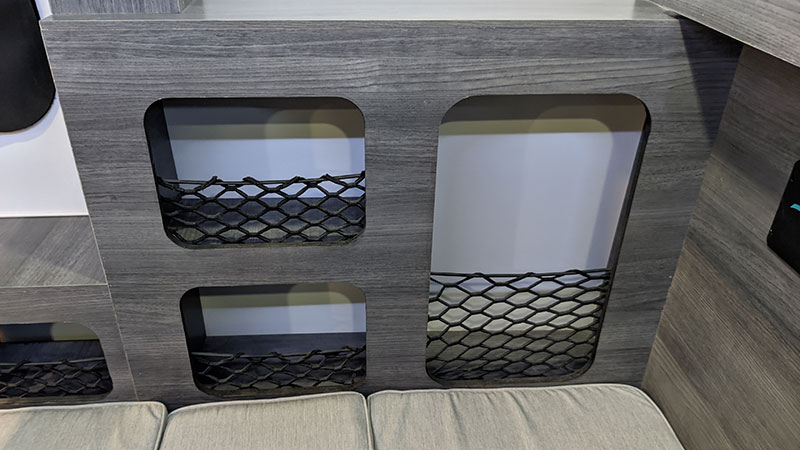 Why are you using netting for the storage cubbies rather than hard doors?
William: We use a combination of hard doors and netting in the camper. Netting gives us weight savings and allows us to maximize the usage of available space.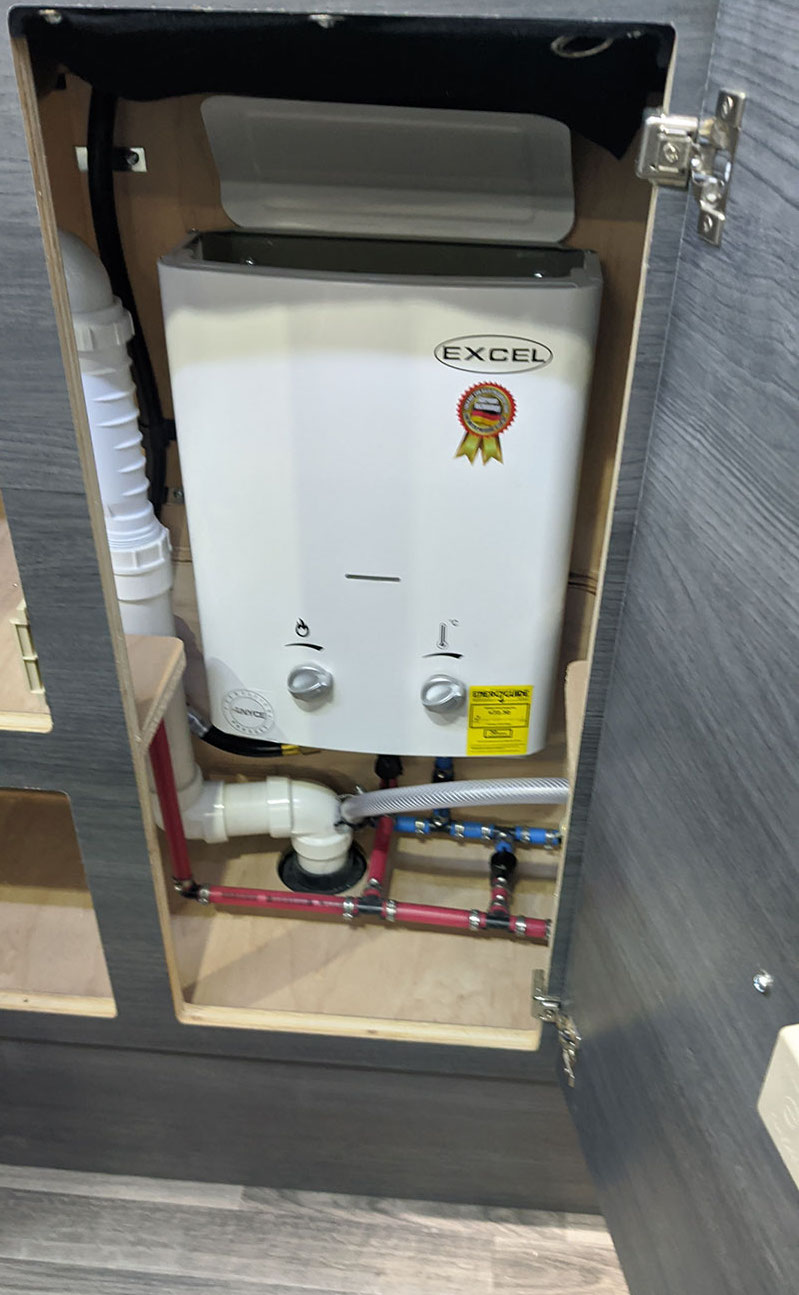 Above: The Excel tankless on-demand water heater
What water heater and furnace system are you using in the Grumpy Bear Koda?
Andrew: Our 2023 campers have an Excel tankless on-demand vent-free propane water heater. It uses a low oxygen sensor so that it does not put too much CO2 into the camper. The furnace we are using is a Suburban NT-20SEQ.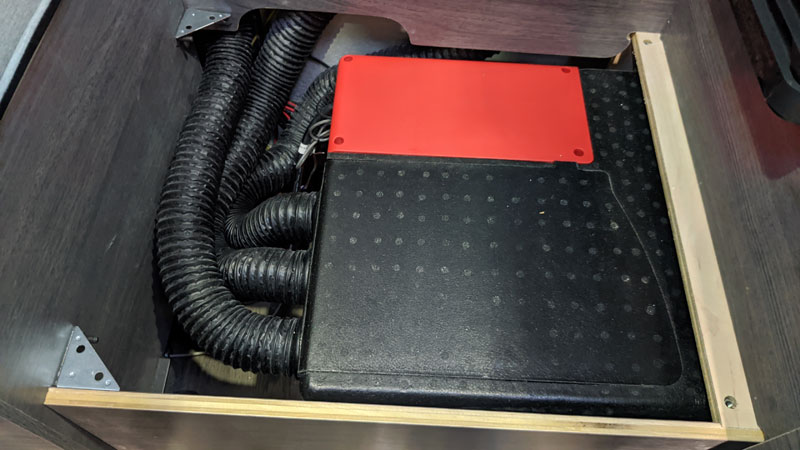 Above: The Elwell AIR8 interior mounted air conditioning system
We saw an 8,000 BTU under-cabinet air conditioner listed. Tell us about this feature.
William: It's an Elwell AIR8. The AIR8 is a compact interior-mounted unit that doesn't require side wall penetration, offers ducted air distribution, has a multi-functional wall thermostat, a quiet low fan function, and an auto cool mode.
Andrew: We started with a traditional air conditioner and didn't like the weight. We also didn't like the vent-at-your-face design of roof-mounted units, and they're all oversized for our camper. The AIR8 is mounted under the step-up to the cabover and we really liked how simple it is. There's a vent there and two in the overcab.
That's a make and model we haven't come across. Is the Elwell AIR8 110-volt or 12-volt?
Andrew: It's 110-volt and is recommended primarily for shore power or with a 3,000-watt portable generator.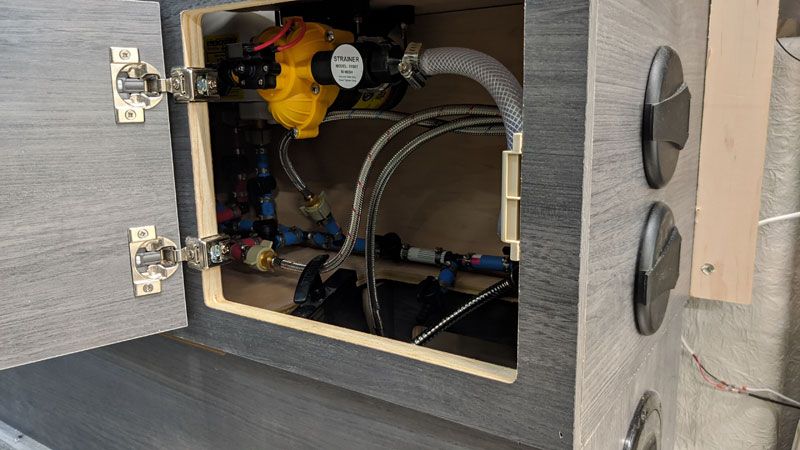 Where is the water pump located on the Koda?
Andrew: If you open a cabinet door in the kitchen, it's mounted under a shelf. The hardest part about accessing the water pump is taking the drawer out. It's very easy to access.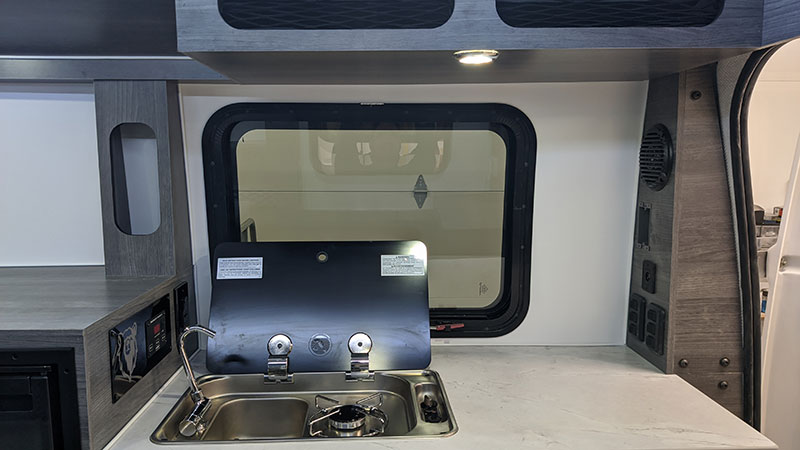 The dual sink and single propane cooktop are an efficient use of space. Why did you choose this particular unit rather than a separate sink and cooktop, or a dual burner cooktop?
William: There were a couple of reasons. First and foremost, we like the aesthetic of the combined sink and stove unit. We also needed something that would fit and not use up the available countertop space. In our 2023 campers, the sink is shifted to the left and closer to the refrigerator.
Tell us about the refrigerator.
William: It's a 2.8 cubic foot two-way Dometic 12-volt compressor model. We wanted to maximize the size of the refrigerator without overwhelming the interior layout. The refrigerator door swings open the right way so you don't need to walk around the refrigerator to open the door.
Two two-top face-to-face dinette is amazing. What size are the seats?
William: Big enough for William and I to sit. Both of us are 6'2" and we tested it as a dinette. It's easy and comfortable to sit and have meals there.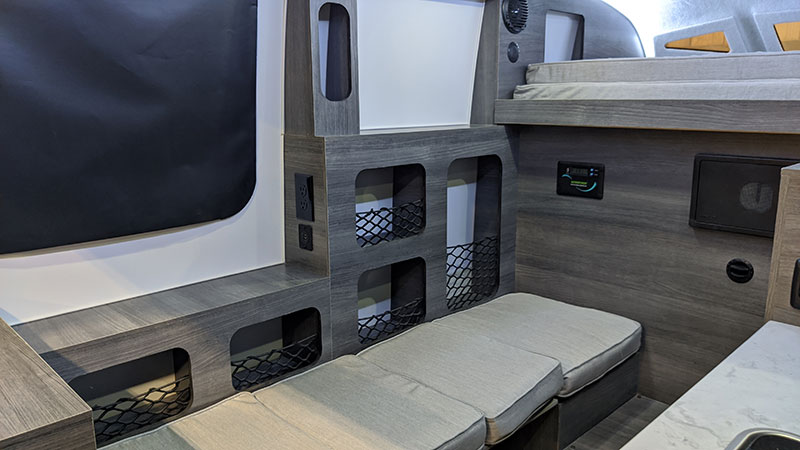 The dinette also converts into a 63-inch long, 19-inch wide bed. For kids or pets, it's a convenient bonus sleeping area.
Tell us about the single-post dinette table system.
William: It's a marine product called the Garelick EEz-In adjustable table base. It's a simple system to adjust and lock. And it's very stable.
Andrew: We also have a Lagun that we tested and may use in the new floor plan. The Garelick EEz-In feels like you're sitting at a normal kitchen table. The Lagun is more versatile, but it's not as stable.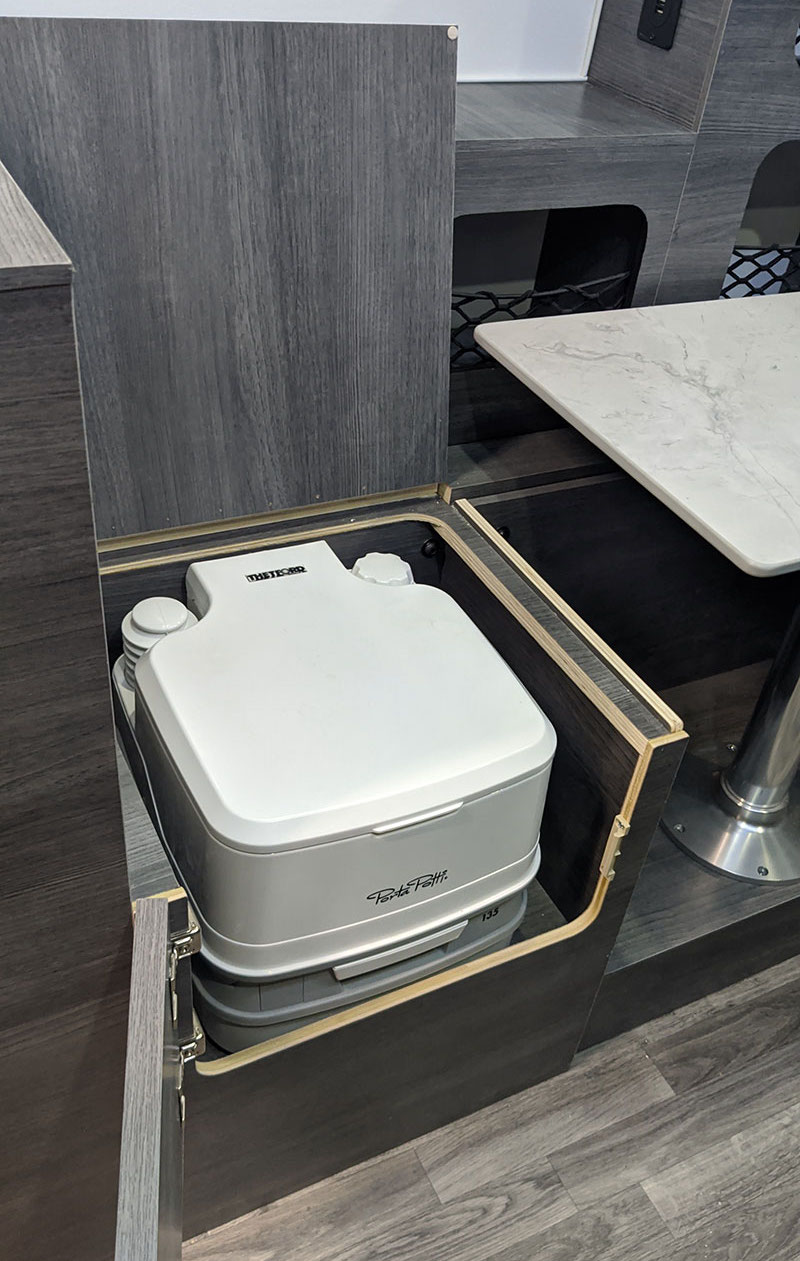 There is no bathroom in a Grumpy Gear Koda. Is there a toilet provision?
William: Yes, there is storage for a 2.6 gallon Porta Potti in the rear dinette seat.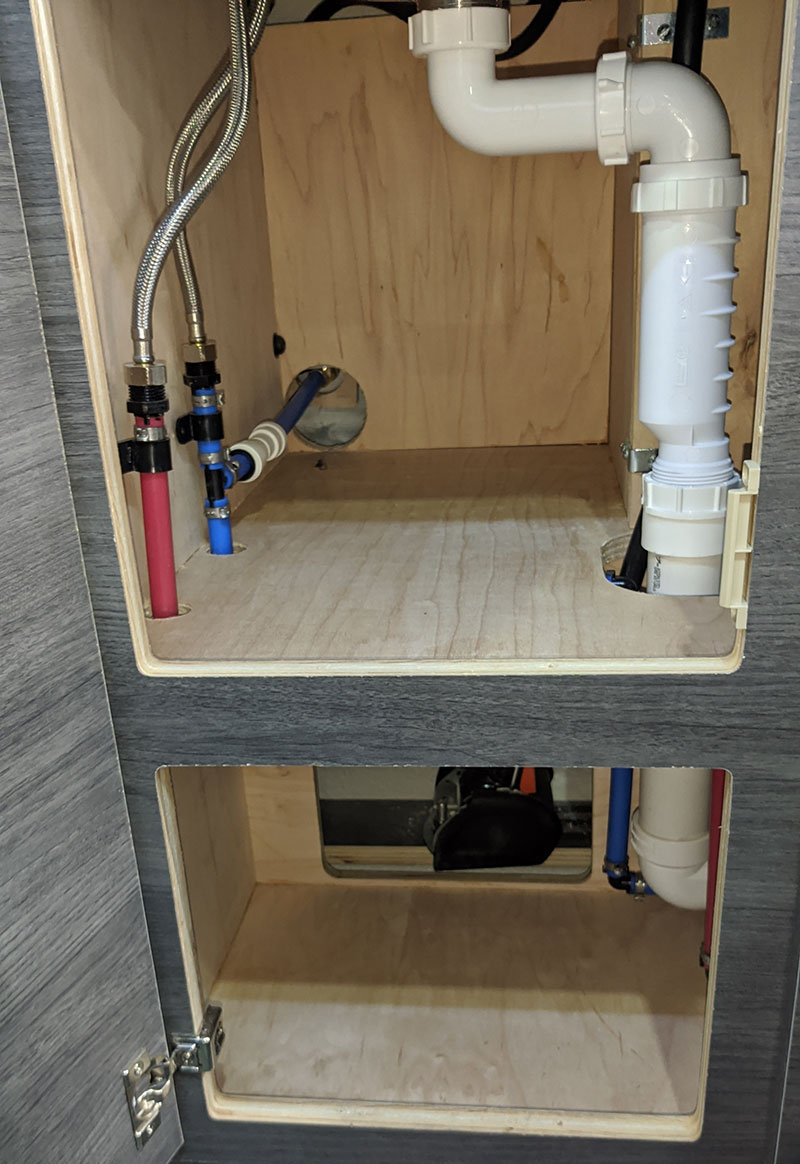 What size holding tanks are in the Koda?
William: The Koda has a 15 gallon fresh tank and an 8 gallon grey tank. The fresh tank supplies the kitchen sink and the outside shower. The primary use of the grey tank is also the kitchen sink. There is an adapter to connect the grey tank to a garden hose and have it drain as needed.
Where is the low water drain located?
Andrew: There's a low water drain inside. You can connect a hose to the low-point drain and run it outside. We've also got a set of valves to put in antifreeze for winterizing.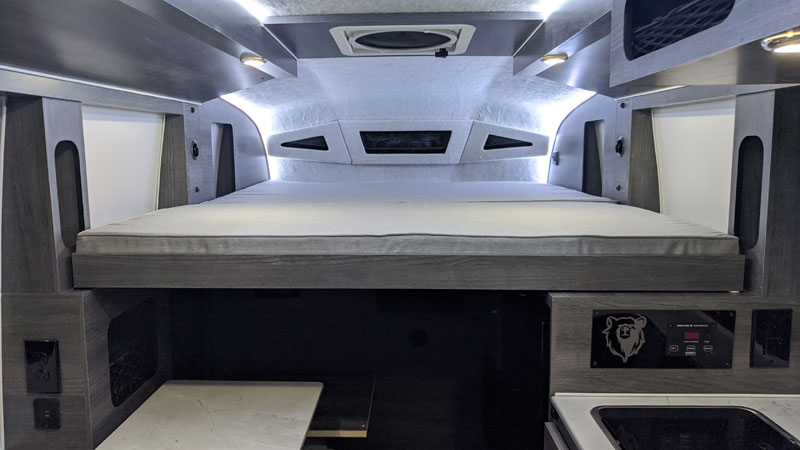 The cabover pulls out to a North-South bed. What size is the cabover bed?
William: The cabover bed pulls out to 74-inch by 58-inch bed. That's a tad smaller than an RV queen. The bed platform pulls out to the end of the refrigerator towards the back. Owners can climb on the dinette bench seat and into the bed. It's easy to climb.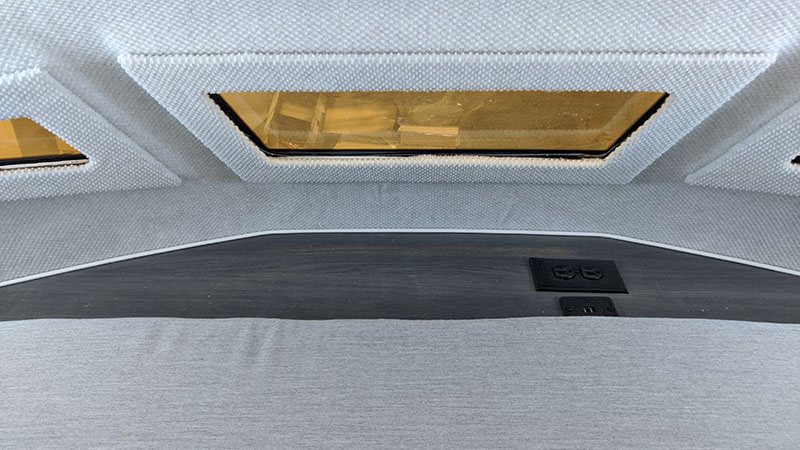 The cabover features upper cabinet storage, two large cubbies on each side, and vents for the air conditioner. In the headboard area is a 110-volt outlet as well as a 12-volt outlet.
How tall is the cabover?
William: The cabover is 24-inches high. You can lie down, but you can't sit up.

There are at least two layers of LED lighting in the Koda. Tell us about that.
William: The cabover features a full LED lighting system. There are two LED strip lights along the cabinets which create a bright ambient light. There are also puck lights that are located throughout the main space near the sink, refrigerator, and dinette seats. Those offer a warmer light color. There are two switches in the overcab that control both lights or you can switch them on by the doors. There is an accent light in the ceiling of the main space. It's a little brighter. Throughout the camper, we give you options on how much brightness you want.
On the exterior, we have two LED porch lights above each window. We also have two puddle lights on the bottom back corners of the camper. If you need to get out of the camper at night, the puddle lights will light the area without blinding anyone.
What options are available for the Grumpy Bear Koda?
William: There are only a few options including electric jacks with a remote, two 100-watt solar panels with solar controllers, and the air conditioner. That is it. Almost everything is standard on the Koda.
What solar controller are you using on the Koda?
William: We're using a Renogy Adventurer Li-30A PWM solar charge controller with lithium capability and a Renogy BT-1 Bluetooth module. The Bluetooth module pairs with the Renogy APP so you can monitor your solar and batteries on your phone.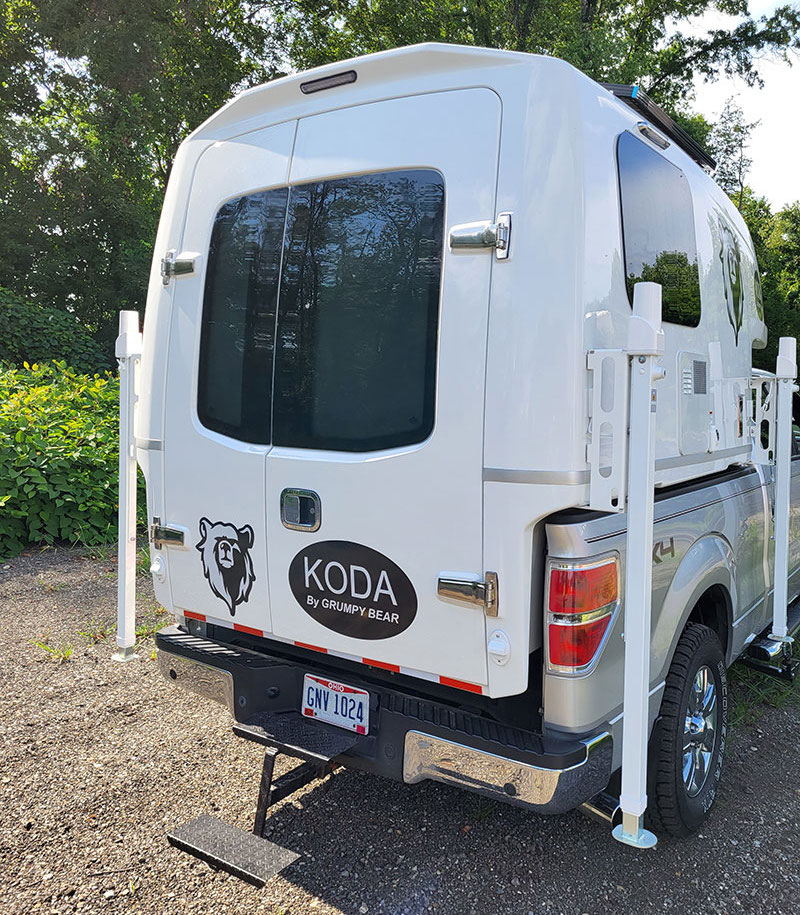 What does the 2023 Grumpy Bear Koda weigh with standard build features?
William: The base weight is 1,650 pounds. Fully loaded it would be about 1,830 pounds.
What is the MSRP for the 2023 Grumpy Bear Koda with standard build features?
William: The base price is $36,000. Fully loaded without any custom work would be approximately $42,000.
When you place your order, we require a $1,000 non-refundable deposit to put your build in our queue and start our customer communication process. Once your design choices are completed, we require a 30 percent non-refundable deposit to secure your parts and materials.
What's your lead time?
Our delivery lead time is currently three to six months. For customers who don't want to wait, we have one used and two new Koda models for sale on our website right now. We prefer customers pick up their campers at the factory, but we do have an RV freight option for shipping.
What is the warranty for Grumpy Bear Campers?
William: The Grumpy Bear Koda comes with a one-year warranty that includes the structure and appliances. We would prefer if you bring a Grumpy Bear back to us for any warranty work, however, we are willing to work with dealers to perform that work if you are unable to make it back to us.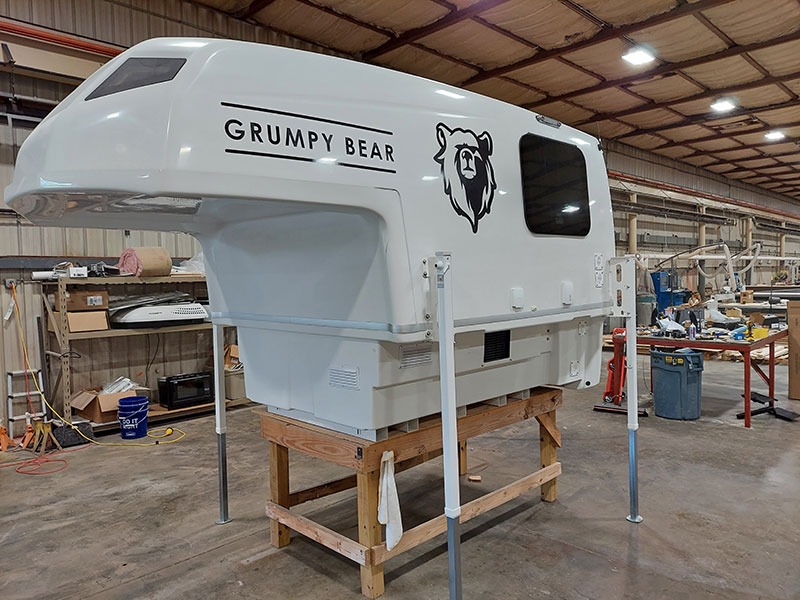 Can our readers see a Grumpy Bear Camper at your factory?
Andrew: Absolutely! We would need to coordinate the timing as we may not have a completed unit when you want to visit. Please call ahead. Of course, you can check our website for detailed photos.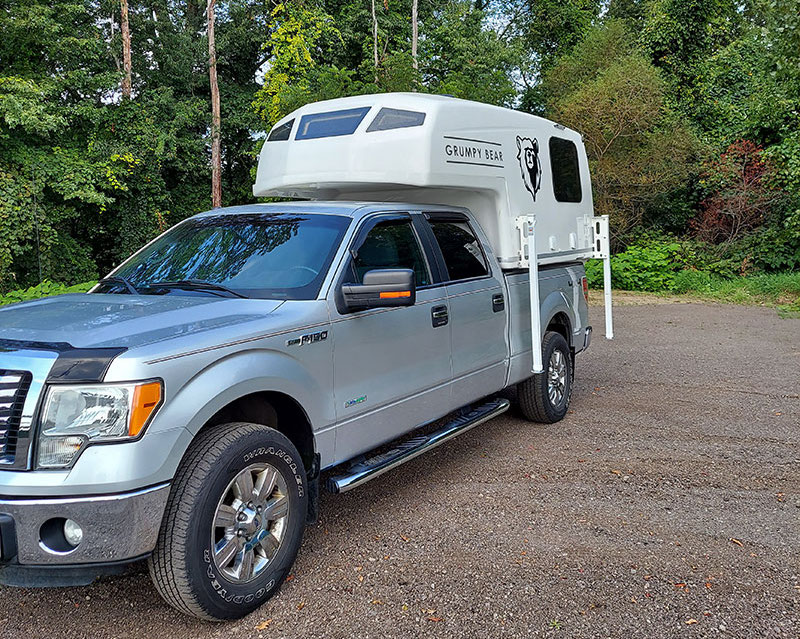 You mentioned another model in development. Will we see any additional Grumpy Bear models in 2023?
Andrew: We are working on a new floor plan that goes in a different direction. We are looking at removing the kitchen and water altogether. It will be a reduced cost and weight. That will have a 12-volt cooler and will have a space for a porta-potty. When that camper is completed, we'll announce it in Truck Camper Magazine.
For the Koda, we are switching to an on-demand water heater for our 2023 campers, so there will be no water heater opening on the outside. That will make winterization even easier. We have also increased our fresh tank to fifteen gallons from the original eight. We are also going to Garrett See Level tank monitors. The See Level system will contain the water pump switch, a battery level indicator, and fresh and grey tank levels. There will be no water heater switch because of the Excel on-demand water heater.
"We want to stay small, keep the quality high, and be connected to our customers."
Our focus is to remain a small company. We want to stay small, keep the quality high, and be connected to our customers. We do not want to grow too fast and lose control of quality and our customer relations. We can't wait for Truck Camper Magazine readers to see our Grumpy Bear Koda in person. If you've been searching for a high-quality, half-ton capable, molded fiberglass, affordable camper, you're going to love the Koda.
For more information on Grumpy Bear Campers, visit their website at grumpybearcampers.com. Click here to get a free Grumpy Bear brochure.