Torklift International reveals their new laser cutter and explains how this new $1M machine is improving their products.  Think laser beams can't make truck camping better?  Think again.

This past September we attended the annual RV Open House in Elkhart, Indiana.  This industry-only event is where RV manufacturers and gear companies showcase their new model year products to RV dealers, and take orders.
We attend the Elkhart Open House to report on what's new from the truck camper manufacturers and gear companies who present products.  Along the way we try to get the inside skinny on what's in development.  My usual, "So, should we be expecting anything exciting from you guys this year?" usually gets an industry bean spilled, or two.
In the RV supplier area of the Open House, Torklift International had a display with their True Frame-Mounted tie-downs, all-aluminum Talon tie-downs, FastGun turnbuckles, SuperHitch towing products, StableLoad suspension products, and accessories.  It was impressive to see Torklift's truck camper products all on display, but there was nothing new to report.
Naturally I asked Jordan Harvell, the lone Torklift representative on duty, my usual question.  "So, Jordan, should we be expecting anything interesting from Torklift International this year?"
"Yes." he answered, and smiled.  Oh man do I hate when they do that!  Dropping the casual approach, I pressed.  "Well?"
"There are definitely things in development for 2018," he replied.  "And we just got a new laser cutter."  Clearly Jordan was changing the subject, but the enthusiasm in his voice caused me to dig deeper.
"What's so exciting about a laser cutter?"
From there the beans started flowing, bean by bean.  Clearly the laser cutter was making a significant impact at Torklift International, and opening new doors for product innovation.
Jordan was deliberately short on details, so we arranged to talk to Jack Kay, President of Torklift International, Joel Crawford, Operations Manager, and Candice Boutilier, Senior Vice President of Marketing.
Above: A video showing the laser cutter in action
TCM: Before we talk about your new laser cutter, can you explain what a plasma cutter is and what Torklift International has used plasma cutters for?
Joel: A plasma cutter is a computer-controlled (CNC) router that cuts through steel and aluminum using air pressure with an electrical current.  Torklift International has had multiple plasma cutters and upgraded our plasma cutters many times over the years.  Plasma cutters are an older technology and require a lot of maintenance, but they're reliable work horses.
Jack: Before plasma cutters, our manufacturing required tooling.  Tooling design and development was very time intensive and costly.  Anytime we wanted to create a new product, the tooling would take months to make.  Then, if you needed to change the product design, you had to start over.  The time and cost made it very challenging to innovate.
Once we had a plasma cutter, we could change our product designs in minutes.  The move from manual product design to plasma product development really opened the opportunities for innovation at Torklift International.
TCM: Can you give us an example of what products the plasma cutter impacted for Torklift International?
Jack: With a plasma cutter, adapting our truck camper tie-down and SuperHitch designs to the model year changes for Ford, Ram, and Chevy could literally be done in hours versus months or even years.  The plasma cutter technology also allowed for the development of a long list of new products.  We are talking about an enormous leap in our ability to innovate.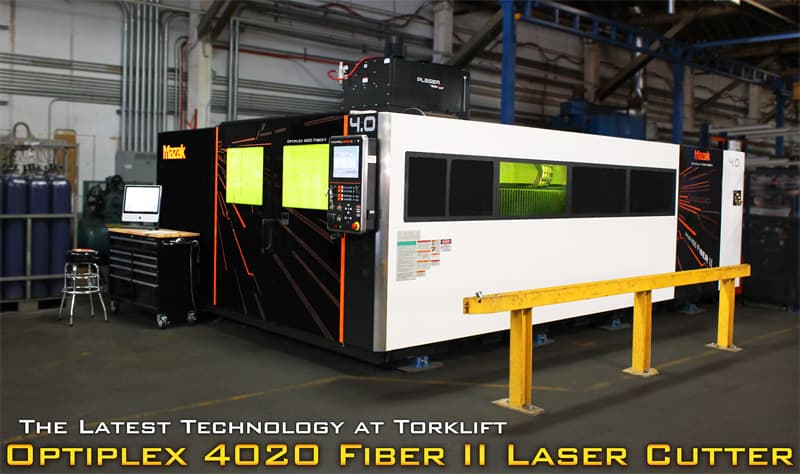 TCM: What is a laser cutter, and what advantages does it have over a plasma cutter?
Joel: A laser cutter is similar to a plasma cutter, but uses a computer-controlled laser to cut metals.  Laser cutters run off one head rather than the two torches of a plasma cutter.  As a result, the laser cutter produces a much higher quality cut with significantly closer tolerances.
The laser cutter is also about twice as fast as a plasma cutter and gives us the ability to cut additional metals including brass and copper.  These capabilities are opening up different product paths and future growth opportunities for Torklift International.
Candice: The laser cutter gets us to our production goals faster.  This year Torklift International has grown 25-percent and we're expecting to continue that growth rate.  To meet this demand, we needed to increase our capacity.  The laser cutter allows us to increase production while improving our product quality.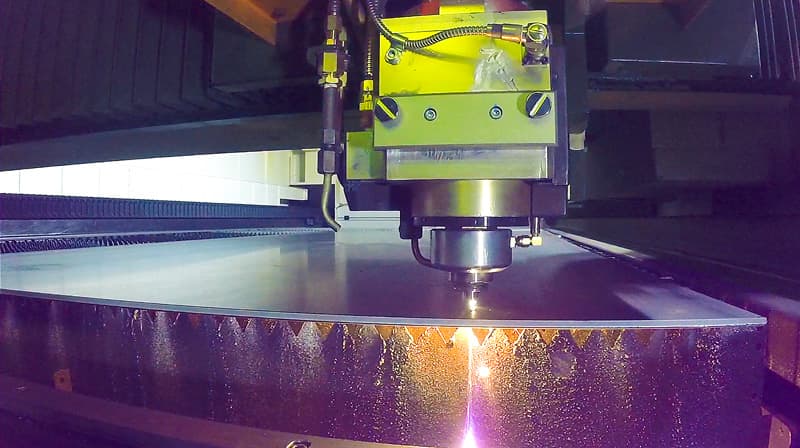 Above: Sharper and cleaner edges can be cut with a laser cutter
TCM: If we had the same shape piece on both the plasma cutter and the laser cutter, what differences would we notice?
Joel: You'd see sharper and cleaner edges on the laser cut piece.  A lot of our products are aluminum and stainless steel, so we are able to get a closer fitment with the laser cutter.
Candice: Torklift International customers have high quality expectations.  We were able to meet these expectations with plasma cutters, but there was a lot of finishing processes and inspection to ensure the quality was perfect.  The laser cutter creates perfect cuts 100-percent of the time directly from the cutting table.
Jack: The precision of the cut a plasma or laser cutter creates is called a kerf.  The kerf of a plasma cutter is about the size of a pencil lead.  The kerf of a laser cutter is about the size of a thread.  The laser cutter produces an aircraft grade cut.  The leap forward in tolerances is remarkable.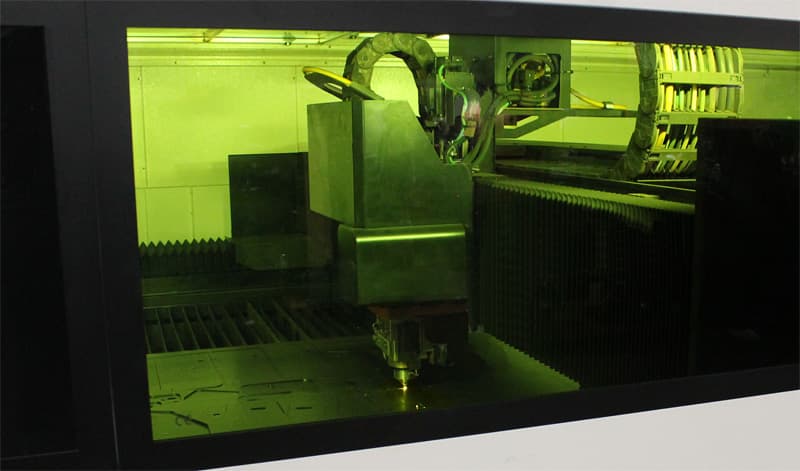 TCM: Having visited Torklift International several times, we know there were team members who were responsible for finishing pieces being produced by the plasma cutters.  Have these positions been eliminated?
Jack: Torklift International is constantly growing and those team members have been moved to different areas.  We have actually increased our employees by 15-percent this year.
Candice: We recently started an in-house welding course.  We are hiring and teaching welders.
Jack: We are all about team and growth.  Every individual needs to be growing.  We are building people not parts.  We have programs to help that along and we are proud of our culture.
We have a waiting list of people eligible to be trained on the laser cutter.  Several employees have already been flown east for training.  They are also able to get training remotely through online training and training here at the factory.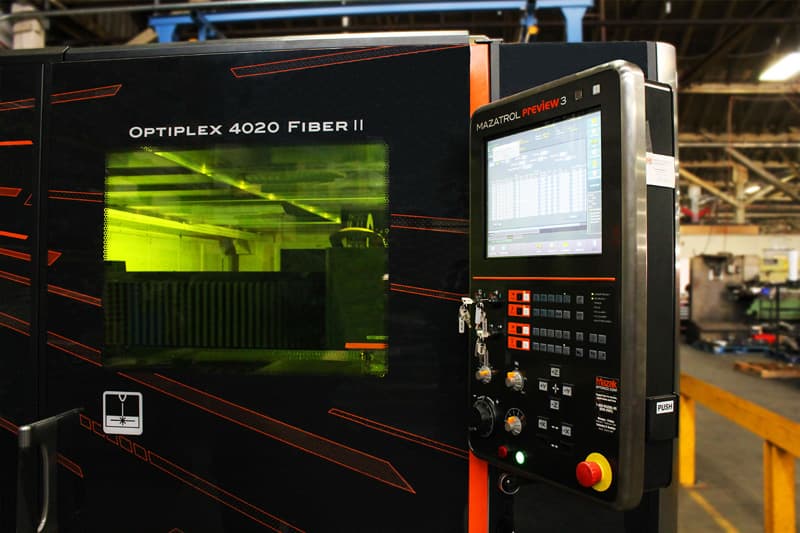 Above: Optiplex 4020 Fiber II laser cutter at Torklift International
TCM: What truck camper products are you manufacturing with the new laser cutter?
Jack: The Torklift International Stow and Go truck camper step, Torklift FastGun turnbuckle components, Torklift True Frame-Mounted Tie-Downs and Talon Tie-Downs, and our SuperHitch towing series.
All of our OEM bumpers are also cut on the laser cutter including the Lance Ultra Deck Plus, Palomino Landing Pad, Palomino Dura-Track, Northstar Bumper, and Northwood Fox Landing.
Joel: Every Torklift International product that's related to truck campers is now cut on the laser cutter.
TCM: Are you looking to replace your plasma cutters with laser cutters, or are you adding laser cutters along side of plasma cutters?
Jack: The plasma cutters will be replaced with laser cutters.
TCM: Are the laser cutters cost effective in terms of initial capital expenditure, and operation costs?
Jack: The laser cutter was a million dollar investment for Torklift International.  With our growth expectations, it is a necessary investment.
Joel: If you compare the operation costs of a plasma cutter versus a laser cutter, it's apples to oranges.  The laser cutter is $3 an hour to operate.  The plasma is $9 an hour.  Furthermore, the laser cutter consumables are less, and the cut is a much higher quality.  The laser cutter is going to pay for itself.
TCM: Earlier you mentioned some of the new capabilities of the laser cutter.  Are these new capabilities creating new product possibilities for Torklift International?
Joel: With the laser cutter, we have an endless list of where we can go.  We haven't hammered out all of those details, but we know what's on the horizon.
Jack: We are now coming into the full understanding of the laser cutter and its capabilities.  And yes, we will have new products to announce in 2018.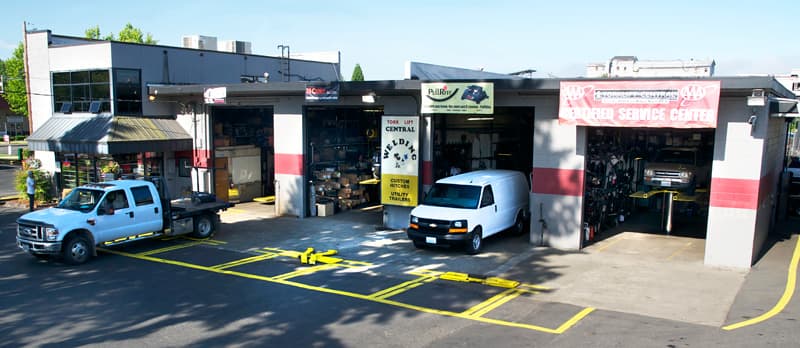 Above: Torklift's Retail Production Development Center
TCM: That's great news!   We asked that question because Torklift International has announced just four new truck camper products in TCM over the past three years.  That's after announcing six new products in 2013 and five in 2014.  Why has there been a slow down in new truck camper product introductions?
Jack: During the past few years Torklift International has experienced significant growth and our focus has been on being able to take advantage of that growth.  We have stretched production to three shifts, meaning we are running just shy of 24-hours a day.
As a manufacturer, you have to go where the demand is.  It has been challenging to keep up, which is one of the reasons we got the laser cutter.  We have a long list of new products that are on the board for research and development in 2018.  You're going to be seeing more new Torklift International products moving forward.
In the past couple of years we made a large investment in a Retail Production Development Center.  We call it the RPDC for short.  The RPDC is located in our original service shop in Kent, Washington, the very location where my father started Torklift in 1976.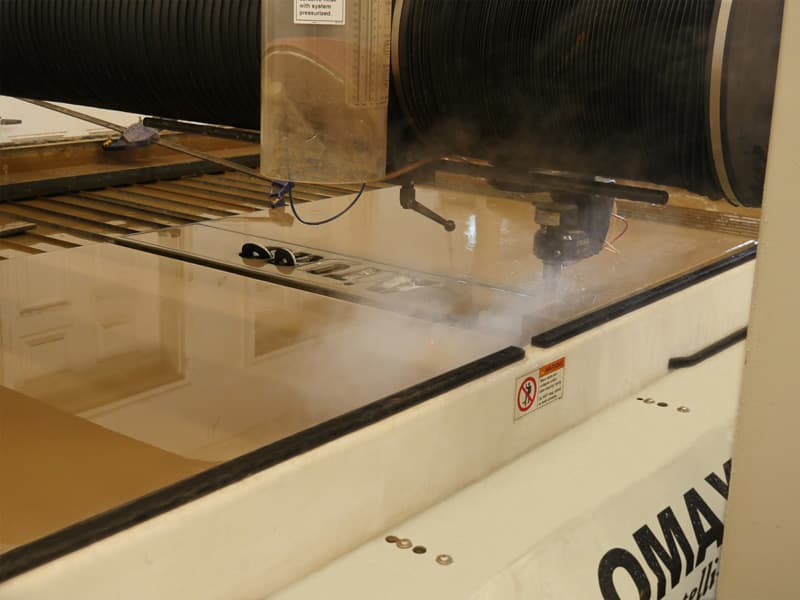 Above: The five-axis water jet system in the RPDC
We gutted the entire building, reformatted it, and moved the engineering team there from the factory in Sumner, Washington.  To add to the R&D capabilities of the RPDC, we invested a half-million dollars into a five-axis water jet system.  The water jet allows for extremely accurate three-dimensional cutting at angles from 0 to 90-degrees.
We have an engineering team with a river of ideas flowing through the RPDC every day. This river of ideas comes directly from retail customers who visit the RPDC looking for custom fabrication work to service a need the industry has yet to develop.  We are getting a net in that river and pulling the ideas out.  Having a long list of things to develop is an understatement.  You will definitely see new truck camper products in 2018.  It is a major focus for us.
For more information on Torklift products, please visit Torklift's website at www.torklift.com.  To get a free Torklift brochure, click here.