After thirty-four years of building one-off units, Phoenix Campers announces a major shift to seven proven models and a defined menu of options. One hundred percent custom is out. Here's what made the cut, and why.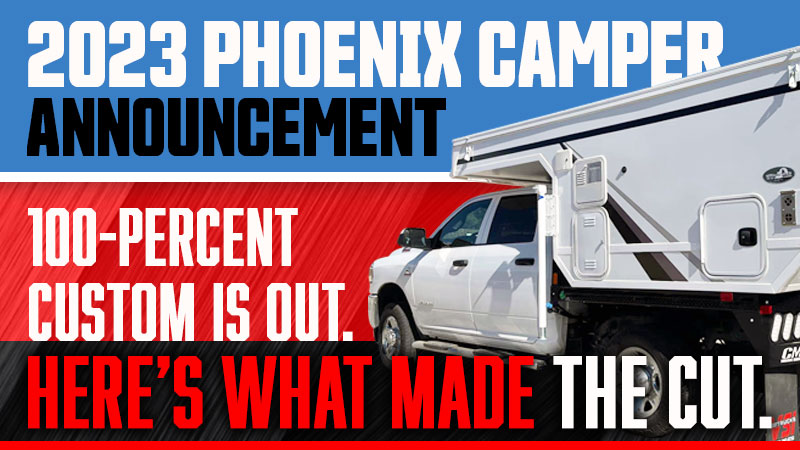 Over the past fifteen-plus years, we have published some absolutely wild custom Phoenix Campers over the years. Who could forget the Zebra, Bronco Bronco, Flatbed Unimog, Geo-Den Flip, Pop-Up with a Slide-Out, Statement Camper, and on, and on? Honestly, every time we thought we knew what Phoenix Campers was capable of, Robby, Cari and the Phoenix Camper team would up the ante. What fun!
Behind the scenes at Phoenix Campers, all that custom work was indeed fun, but not without considerable challenges. For example, customers would sometimes request unproven components that didn't always perform in the field. In other instances, the scope of a custom project would escalate in complexity pushing the delivery date back along with the rest of their production schedule. In short, 100-percent custom may be fun, but it's also a challenging way to run a manufacturing business.
This is just one reason why, thirty-four years after launching Phoenix Campers, Robby and Cari Rowe are making a very important announcement about their company. In fact, the change is so significant to Phoenix Campers that we wanted to give the Rowes a front-page opportunity to explain exactly what they're doing, and not doing, from here on out. It's that big.
And the news is not limited to their big decision. Robby and Cari Rowe have distilled their years of experience down to just seven models and a carefully defined list of options. If Phoenix Campers were a band, this would be their seven top singles from their greatest hits collection. What would two truck camper industry veterans come up with if they had to choose just seven models? If that doesn't pique your curiosity, check your pulse.
Here's Robby and Cari Rowe, Co-Owners of Phoenix Campers, to announce the big change, and reveal the models and options that made the cut.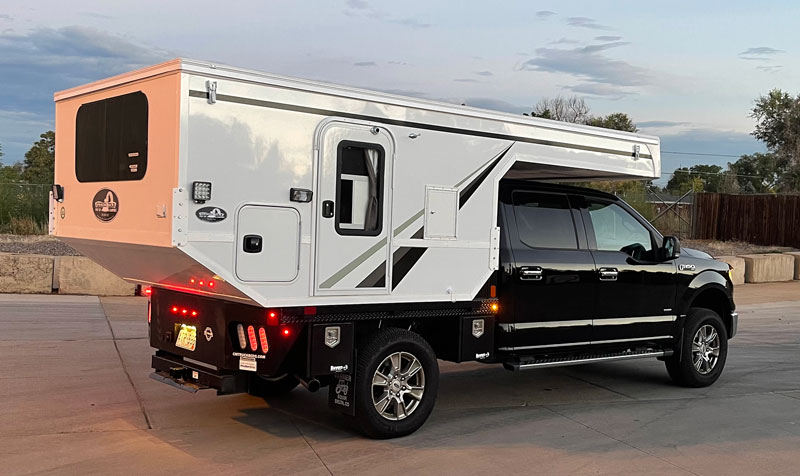 Above: A Phoenix L2 Flatbed
Phoenix Campers earned its reputation on building elaborate one-of-a-kind custom truck campers. For 2023, Phoenix is shifting away from this 100-percent custom approach and limiting the choices to seven specific models and a defined list of options. Why are you getting away from being a 100-percent custom shop?
Robby: We started with 100-percent custom campers when we started Phoenix Campers in 1988. I was twenty-one years old. After seeing my mom and dad found Four Wheel Campers in our driveway, and learning how to build from my dad through the years, I had all the skills to make a customer's unique vision into a successful reality.
Thirty-four years later, the day-to-day operation of building 100-percent custom campers is largely dependent on me. I still enjoy that responsibility, but it's impossible to operate a business like that forever.
So there are two main reasons why we have made the decision to move away from 100-percent custom and focus on seven models. First, someday we want to pass the Phoenix Camper torch to a new team. Standardization is a key part of that process.
Second, we have carefully studied what our customers have ordered for the past thirty-four years and identified the floor plans, features, and options that are the most successful. The seven models we are offering now represent the sum total of our experience building campers; the most time-tested designs, proven features, and dependable options. By limiting the choices, we're confident that the Phoenix Camper you choose – floor plan to systems – will be a success.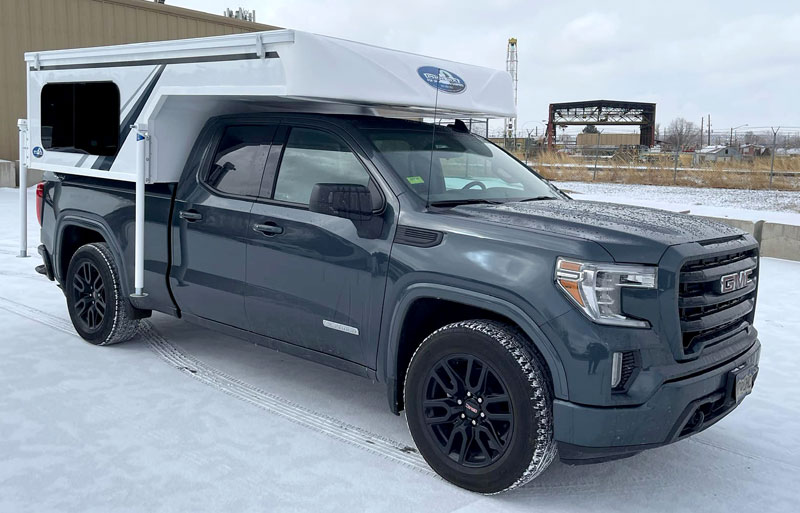 Above: A Phoenix L2 Slide-In
For the record, is Phoenix Campers done with 100-percent custom builds?
Robby: Yes. No chassis mounts. No cutting vehicles. No funky shapes. That's done.
The straw that really broke the camel's back were new products that I had never heard of or seen before that people wanted in their campers. It was scary because I didn't know the product or how it would perform. The manufacturers of these new components weren't even sure if they could work in a camper situation.
As a manufacturer, we need to be able to depend on the performance of every aspect of our product. I want to provide a camper that I can trust every component over time. The models that we offer today are the culmination of the best campers we've built over the past three-plus decades. We know how all of the components work, both individually and as a system. We will continue to make incremental updates to our campers, but there's tremendous peace of mind knowing every aspect of the camper is rock solid and reliable.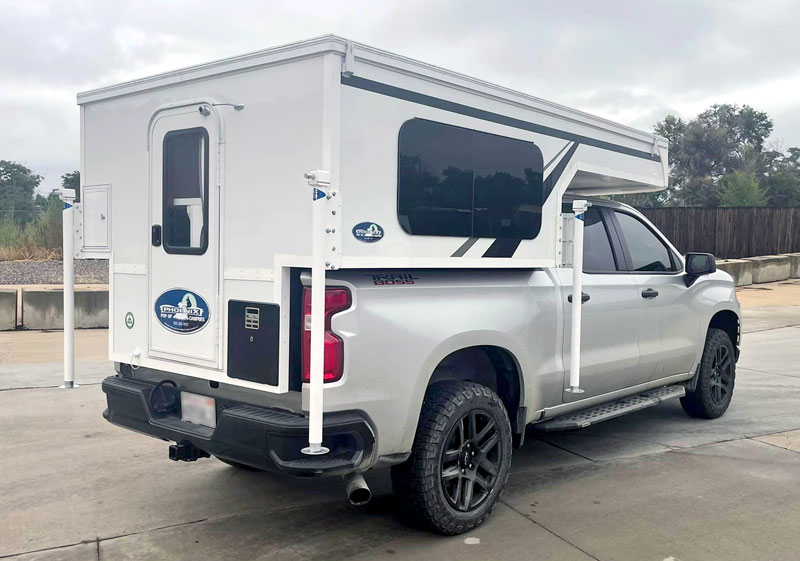 Above: Phoenix Campers are built to fit your truck
That all makes perfect sense. Now that you're getting away from the 100-percent custom builds, what do you believe makes Phoenix Campers unique in the truck camper marketplace?
Robby: Our small family-owned business approach to customer service. We are dedicated to our customers' satisfaction with our product and therefore try to be more attentive and personable.
And even though we are no longer building chassis-mount and one-off campers, Phoenix Campers still offers a huge variety of choices and customization. For example, instead of building one-size-fits-all units, we size your camper to fit nicely to your truck. Nobody else I know of offers that capability, or our extensive feature and options list.
Ab0ve: All Phoenix Camper frames are double-welded aluminum
Our build double-welded aluminum cage is also unique. Once completed, it looks a like a shark cage. The aluminum frame travels throughout the entire structure; floor to ceiling. Double-welding means the inside and outside of every joint are welded.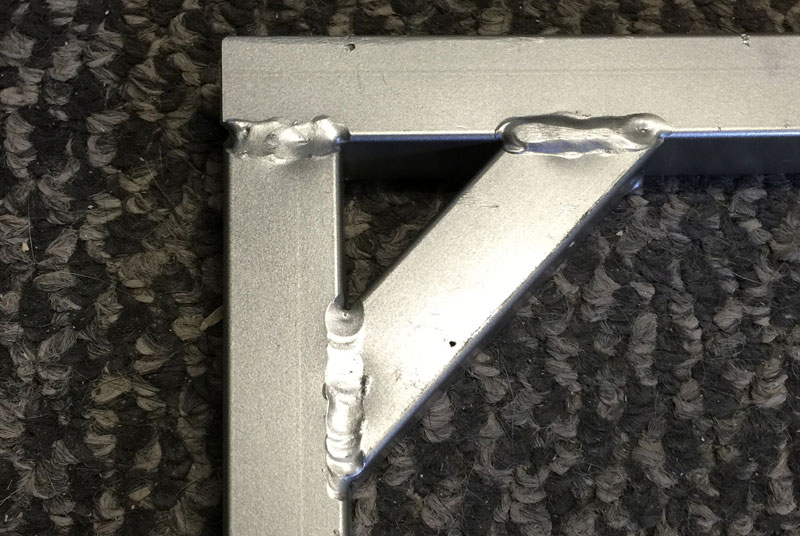 Above: Phoenix Camper frames feature corner gussets
We also add angled gussets to the four corners of the four main walls. The gussets further solidify the walls to alleviate lateral racking and un-do joint stress during off-road and rigorous use. Our double-welded aluminum frame is important for long-term durability and helps keep the weight down.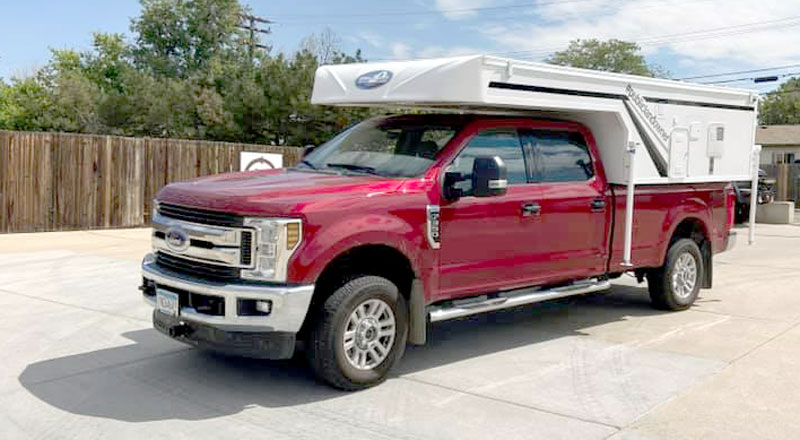 Another proprietary Phoenix Camper feature is our aerodynamic front nose cap (pictured above and below).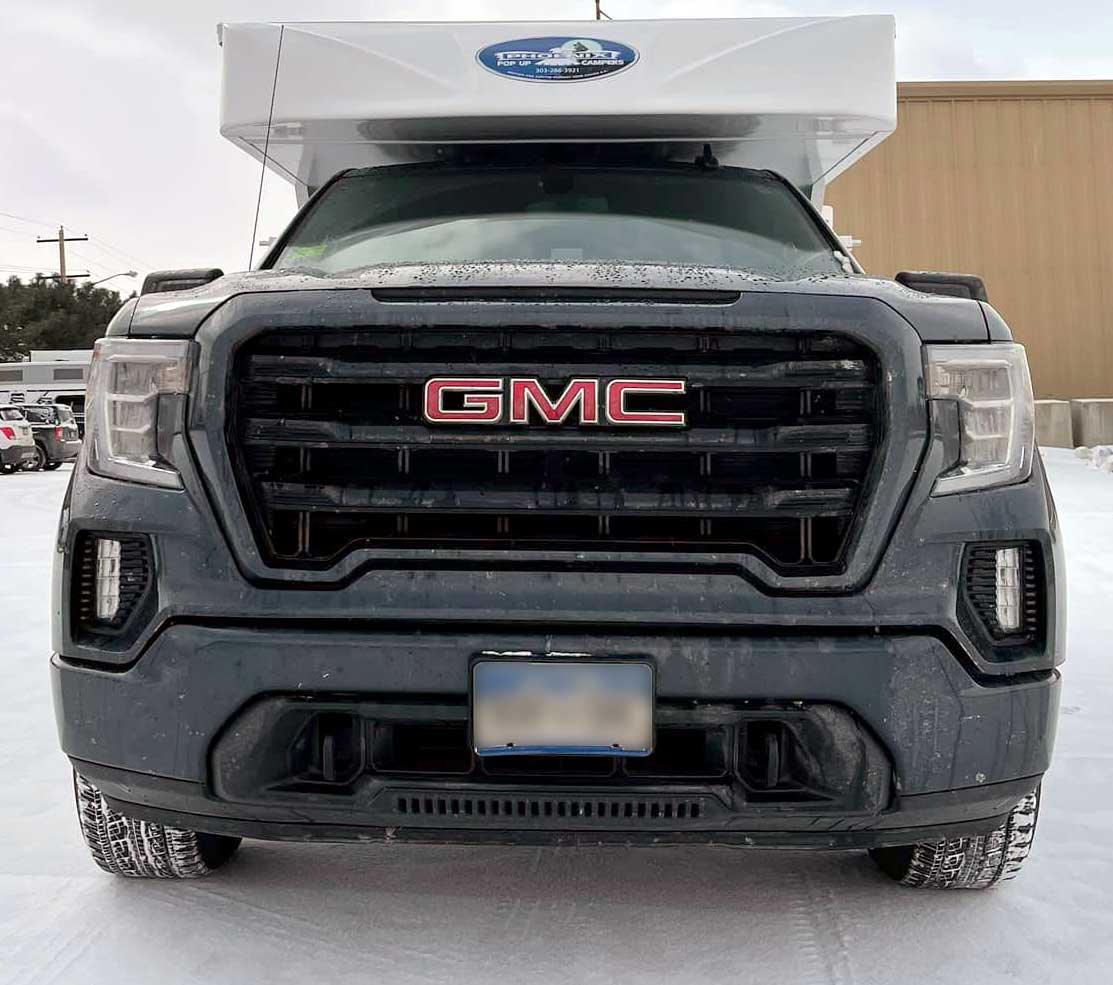 Not only does it improve the aerodynamics of our campers compared to a flat wall nose, but it also improves the long-term durability of the camper structure. You'll also avoid more bugs, and the finished look is better.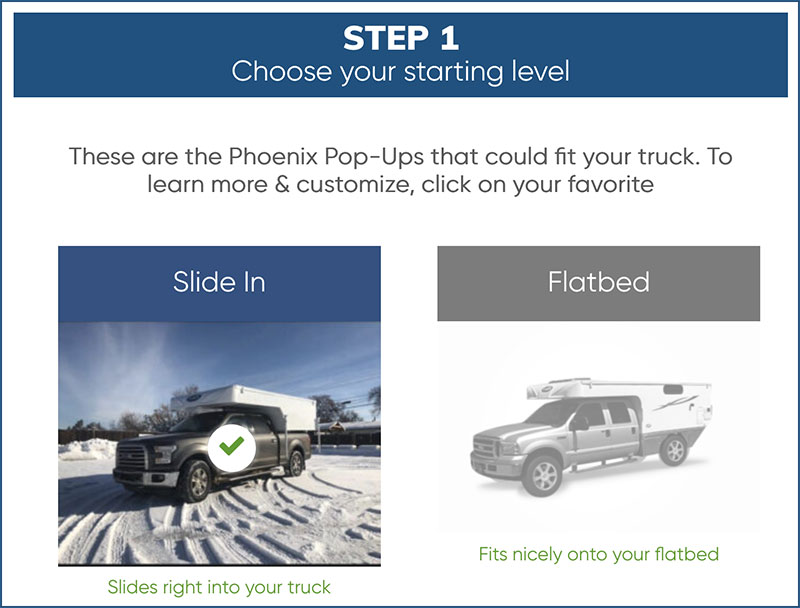 Does offering seven models change the ordering process, delivery time, or pricing?
Robby: The ordering process is now much easier for the customer, and order details are shared with the shop seamlessly. With the updated build-your-own system on our website, it's a straightforward process to order what you want. The build-your-own system also clearly presents the floor plan and price.
When we built custom units, people often didn't know where to start. Every customer had to become a camper designer. Now we have set models that we know people will love, and we offer more than enough options to make each camper personalized to a customer's needs and wants. It's a world better.
Cari: One of the hardest parts of custom builds was never knowing exactly how long they would take. By eliminating custom projects and the associated research and development, rebuilds, and last-minute customer changes, I can now more accurately estimate for a customer when their camper will be ready to deliver. Being more production-focused also helps us keep our prices reasonable.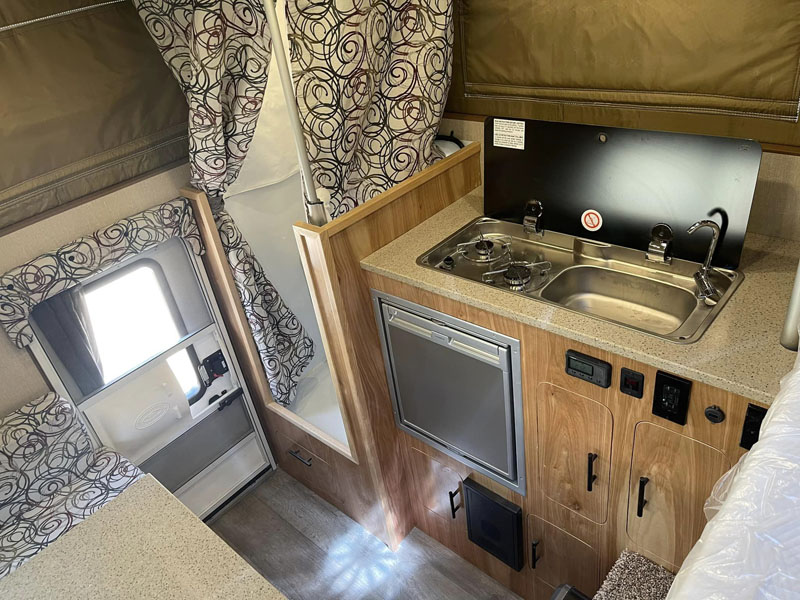 Above: The interior of Phoenix L2 Slide-In
How did you settle on the seven specific models?
Robby: Even though we offered 100-percent custom campers, it was amazing how many times we ended up building essentially the same designs. The models we selected are the best of the best. By offering these seven models, we are steering you into something you will love. They just work.
Cari: Nine out of ten times, people who wanted a flatbed model wanted a side entrance and rear dinette. For the slide-in campers, about 80-percent of the time customers ordered a side dinette so that they didn't have to crawl over the lower cabin bed to get in and out of the cabover bed. We have hundreds of examples like this that have steered us to the models we are offering.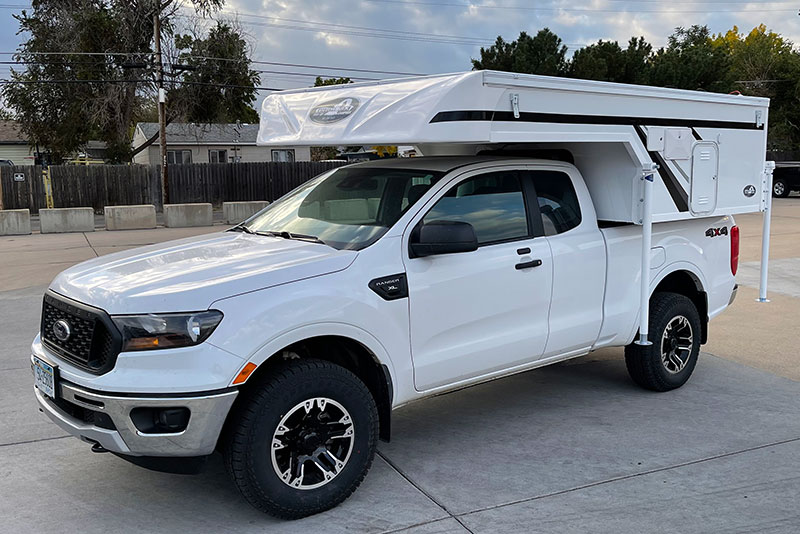 Above: Phoenix Campers can be built for Ford Rangers, Toyota Tacomas and other mid-size trucks
Once a customer chooses either a slide-in or flatbed, they need choose between five size and length combinations; Mid-Size 5.5', Mid-Size 6', Full-Size 5.5', Full-Size 6.5' and Full-Size 8'. Is this decision purely based on the customer's truck, or desired truck?
Robby: Size and length are where we're still fairly custom. For example, right now in our shop, we are building an L1 for a first-generation 2005 Toyota Tundra. That Tundra has a 17-inch bed height whereas the current generation has a 23-inch bed height. Where other manufacturers would build to the latest model, we don't want to give the customer a 5-inch gap above the truck cab. That would look wrong, and be a huge waste of potential space and storage. We offer a nice fit on the customer's truck. If you want your camper to be a little longer than the bed or shorter to close the tailgate, we can also do that.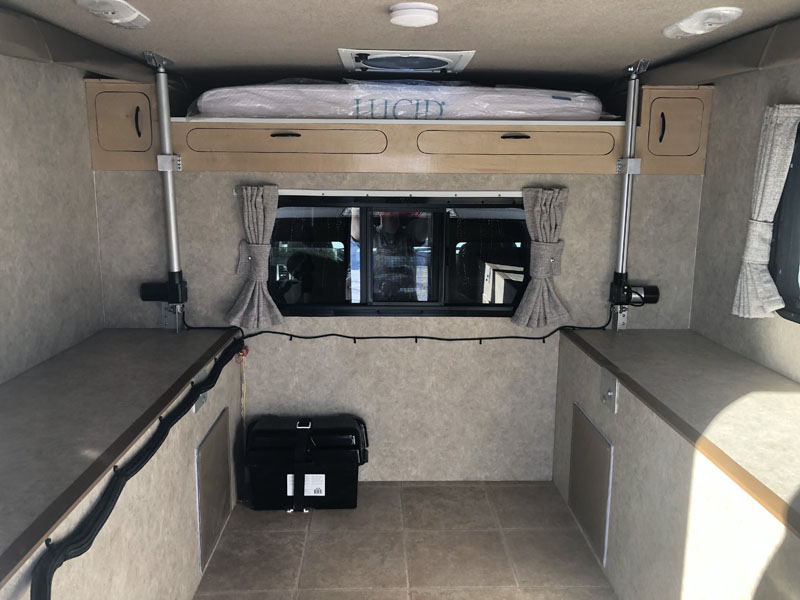 Above: You can start with a Base Model and add options
After selecting either a Slide-In or Flatbed camper, customers choose their model; Base, Level 1 (L1), and Level 2 (L2). What's included with the Base?
Robby: The Base model comes with a mattress, underbed storage with gas-lifters, push-button electric roof lift, front and side windows with curtains, an entry and screen door, a 100Ah lithium battery, camper jacks, and a Fantastic Vent. It's a really nice base to build on.
I often call it a Shell-Plus, but it's also a foundation on which you can option up the camper to exactly what you want. Not everyone wants everything that comes with an L1 or L2. For those customers, we recommend starting with the Base and then adding options. Starting with the Base is a popular way to order a Phoenix Camper.
Cari: You can order a Base and add a propane system and water heater. Or you can add a fresh and grey water system and a sink. You could just add a cassette toilet. The neat thing is that you can option what you want, and nothing else.
Some people prefer the Base as is. We've had customers who go to craft shows and use the space as a place to sleep and store their merchandise. We've had traveling sales people use it in a similar way. They just want a bed and storage. Others may be tent campers who only want a basic camper and nothing else. It's a safe place to sleep up and off the ground.
Robby: Or they have big dogs. Or they want to keep it simple with a camp stove and a portable heater. Often people already own camping gear and want to continue using it. If you want a custom camper, you can buy a Base model and finish it yourself, the way you want.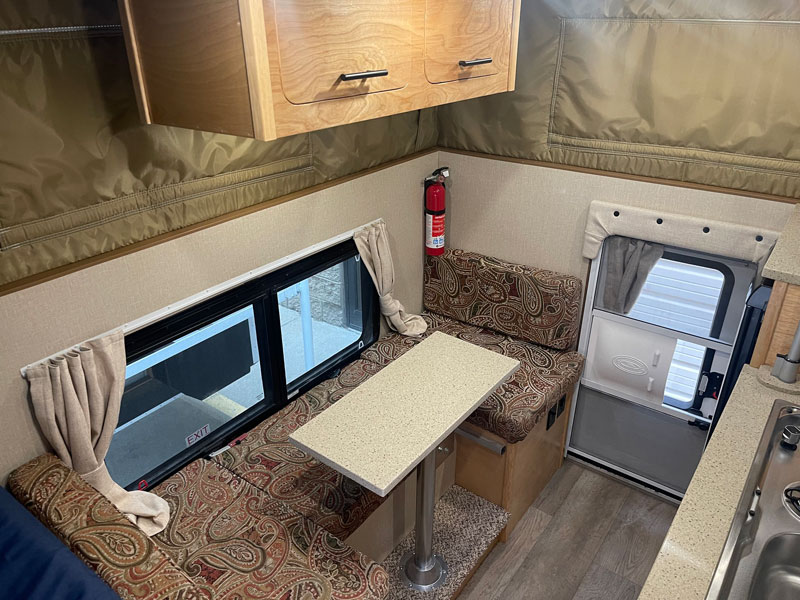 Above: A Phoenix Camper L1 with dinette, stove, sink, and refrigerator/freezer
The step up to Level 1 (L1) takes the unit to a fully-featured truck camper. Level 2 (L2) adds a bathroom. Are these two levels the result of how customers ordered campers over the past thirty-four years; base, fully-featured, or fully-featured with a bathroom?
Cari: That's correct. Essentially, the L1 is a fully featured truck camper with an electric roof lift, full cabinetry, dinette, solid surface countertops, queen-size cabover with lift-up storage, propane furnace, 2.3 cubic foot 12-volt refrigerator, sink and stove combination, full electrical system, 100Ah lithium battery, outlets and more. The L2 features everything from the L1 and adds a toilet, shower, and water heater.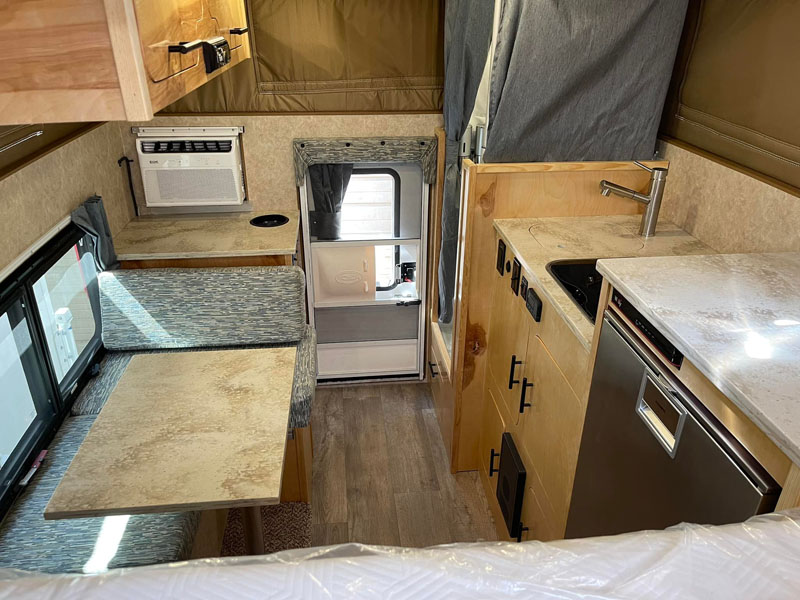 Above: The interior of a Phoenix Level 2 camper with a built-in bathroom
Looking at your recent builds, it appears that the Level 2 – with the built-in bathroom – is the most popular. Is that accurate?
Robby: Yes. I'd say two-thirds of our customers order for the L2 because they want the bathroom. I've had so many people sit in an L2 and say that it's perfect and it has everything they need. I can give you an almost exact quote that I hear from customers all the time.
They'll say, "Wow, I can't believe an entire shower and toilet fits on my short bed truck. It's got a sink, water heater, furnace heater, it can sleep three to four adults, and it feels pretty roomy."
Is the L2 with the bathroom available in all sizes and floor lengths?
Robby: Yes. If you want a 5-foot model and also want to close the tailgate, it's challenging, but we can do it. I would recommend a 6-foot camper to get a comfy L2 with a bathroom. You can put the 6-foot camper on a 5.5-foot truck bed with a little overhang.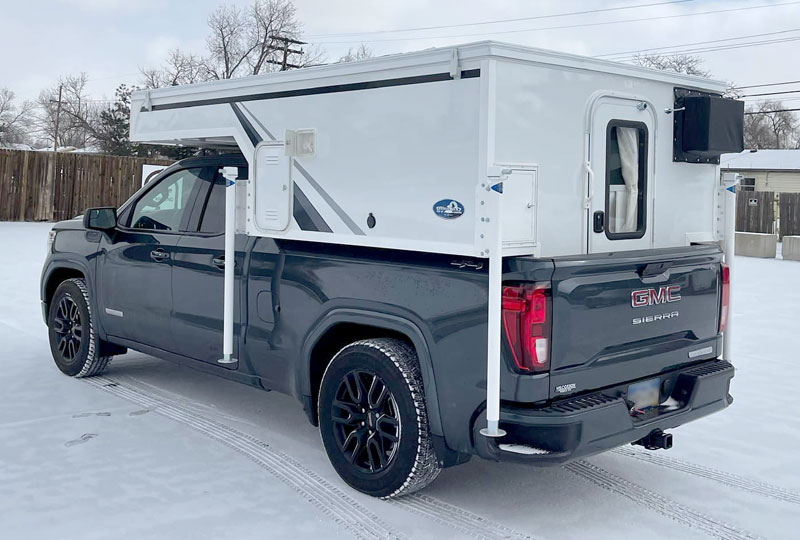 How many customers want to shut the tailgate?
Cari: I would say about 40-percent. I caution customers that choosing the closing the tailgate option means limiting the entry door to 50-inches, maximum. That's a lot of bending to get in and out of your camper. I've talked a number of people out of keeping the tailgate on for this reason.
Robby: However, if you have a truck with a folding tailgate that doubles as steps, that's a killer set up. We built a camper for a customer in Mexico with a Ford Raptor. Then he went and bought a new GMC Denali with the step tailgate and ordered a new Phoenix to accommodate that feature. That's another example of the truck fitment we can do.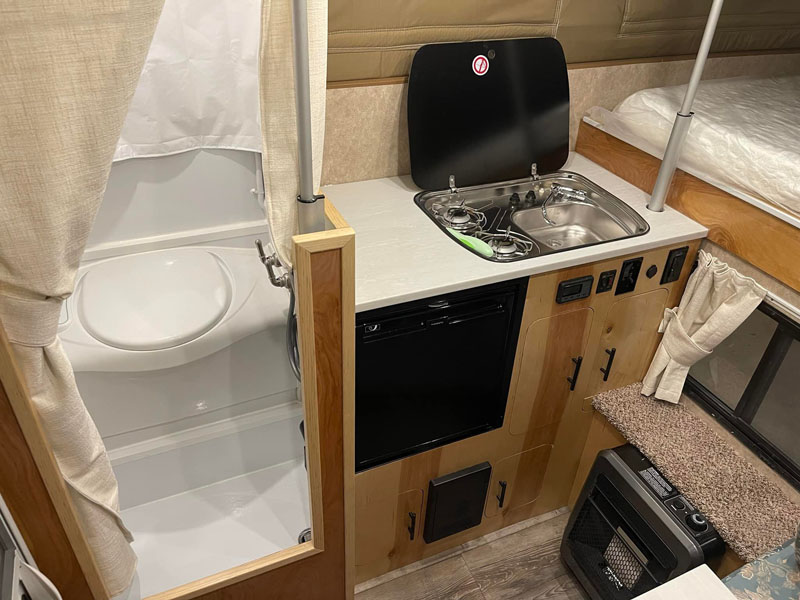 What's included with the L2 bathroom?
Robby: The L2 bathroom includes an elevated fiberglass-covered floor and a grey water holding tank underneath. It's a sit-down shower, so you pull the soft curtain and use the wand to shower up. Water goes into the grey tank underneath. For a toilet, the L2 includes a cassette toilet facing the aisle. We also install a light in the bathroom.
What toilet options do you offer or recommend?
Robby: We offer a cassette toilet. Or you can order your camper without the cassette toilet and use the bathroom with your own porta-potty or portable toilet system of your choosing. For customers that want a toilet, I recommend either a cassette toilet or a porta-potty.
Cari: We have customers who install their own composting toilet or Wrappon toilets, aftermarket. If you delete the cassette toilet, you still get the interior shower and we delete the cost of the cassette toilet. If you want a shower and no toilet, we can do that too.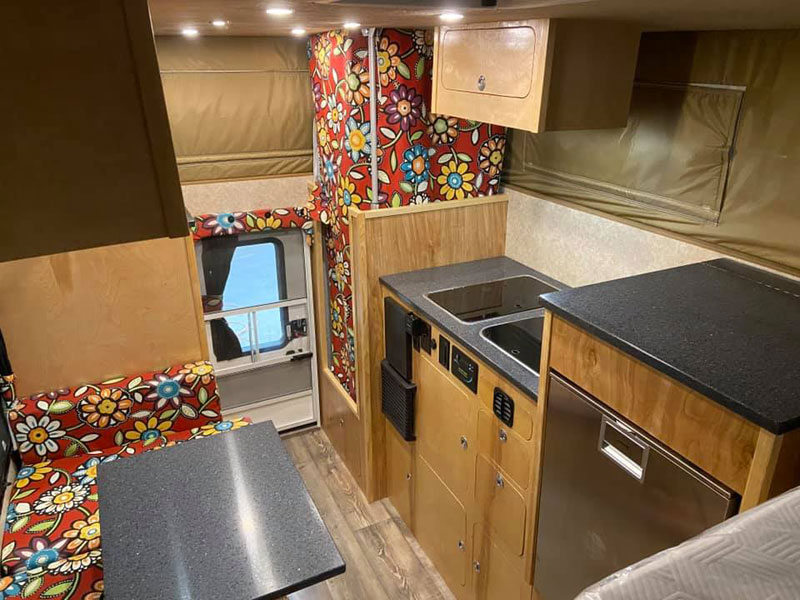 Above: A Level 2 camper with a bathroom.  Customers can choose their fabric and countertop material
How did you choose the make and model of the standard components in the Base, L1 and L2?
Robby: A lot of thought and time went into selecting the components. We considered availability, features, and value, but mostly focused on reliability and performance. The components we're offering are all time-tested and proven. They also work the best in terms of fitting into our campers and working together as a system.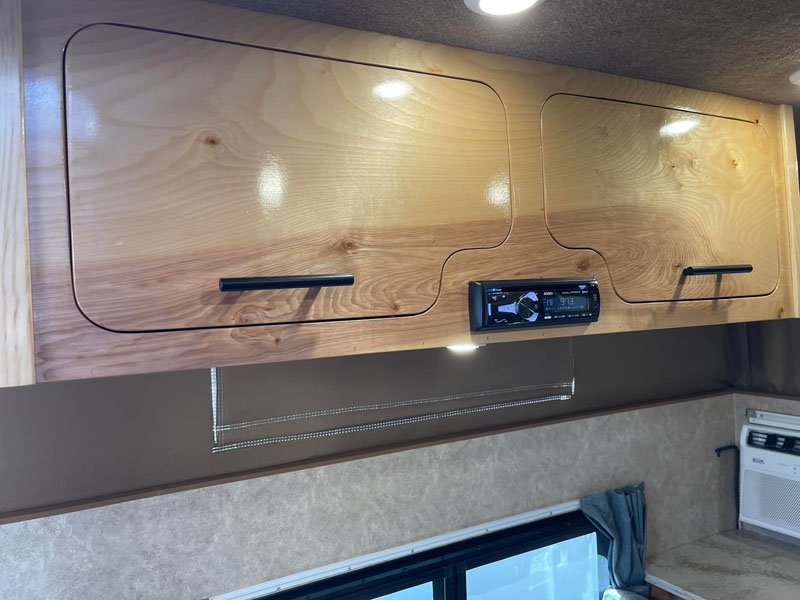 Phoenix Campers has always allowed customers to choose their own cabinet colors, countertops, and interior fabrics. Is that continuing for 2023?
Cari: Yes. Customers can select from a range of fabrics and countertops. The cabinetry stain is an upgrade option. The flooring, walls, and interior pop-up materials are standard on all Phoenix Campers.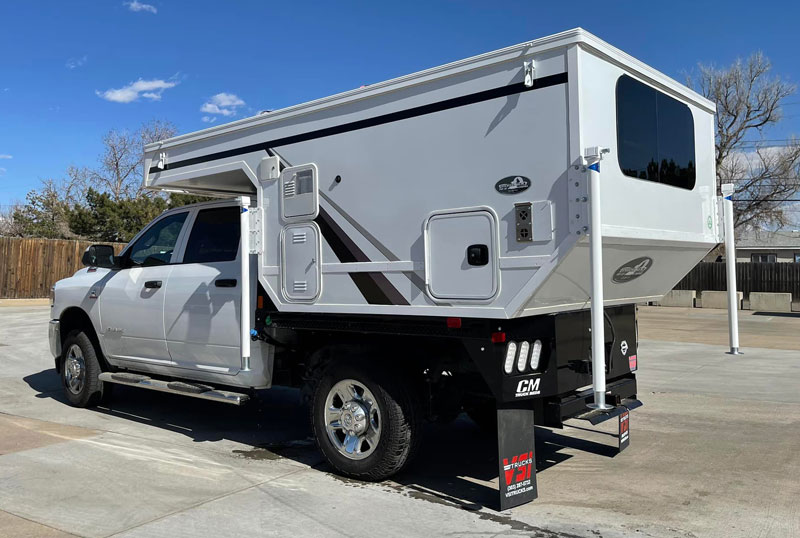 Have you made any changes for 2023?
Cari: Yes. We are now including a 100Ah lithium battery as standard for 2023. We have also completely eliminated wood from our exterior structure. Our cabinetry and underbed storage remain wood, but our structure is now 100-percent aluminum and composites.
Robby: We're using aluminum, Azdel and a fiberboard composite material from SpaceAge Synthetics called Thermi-Lite Board. There's no wood in the structural body of our camper at all. 99-percent of that decision was to prevent any opportunity for water intrusion.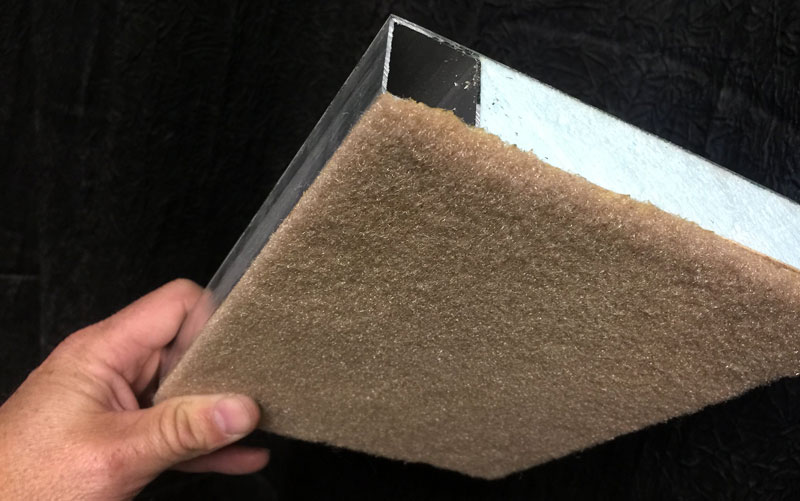 Above: The automotive carpet headliner in Phoenix Campers
Another change for 2023 is going with an automotive carpet headliner for our ceilings. It adds a bit of climate and sound insulation and helps with condensation mitigation. To the ceiling, we've also added small round LED light pucks with an extra switch by the entry door. When you activate the switch, the main lighting of the camper comes on.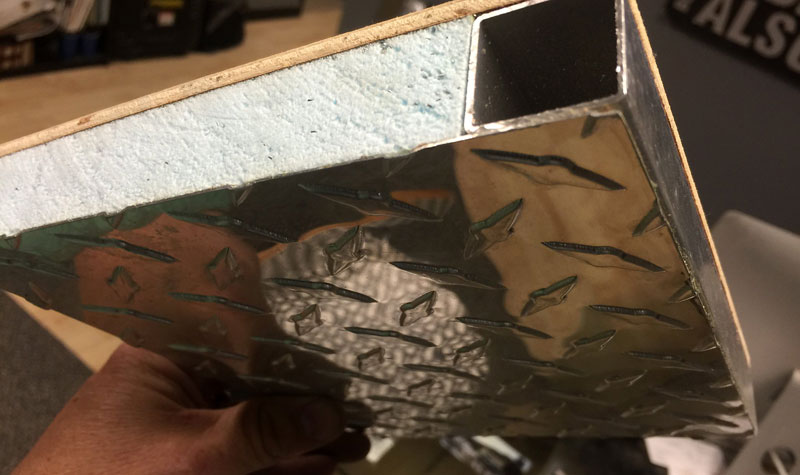 Above: Demonstrating the aluminum diamond plate, aluminum framing, Azdel, and insulation in a Phoenix Camper
Cari: For 2023 we've added an aluminum diamond plate to the underside of the unit. The diamond plate wraps up the sides to give the camper a nicer finish when unloaded.
Now that you've moved on from 100-percent custom, where do you see Phoenix Campers going in the next five years? Where are you taking the company?
Robby: Long term our goal is to continue to streamline production, boost our unit numbers, and have our team take on more management responsibilities. That would give us more time to travel and enjoy the truck camping lifestyle we love. Even though we're getting away from 100-percent custom builds, our customers will continue to come first. That will never change at Phoenix Campers.
Click here to explore Phoenix's updated Build Your Own System.
Click here to request information from Phoenix Campers.