Ford Motor Company announces the 2022 Ford Maverick, a full-hybrid compact pickup truck that achieves an estimated 40-MPG city. With a 4.5-foot bed and 1,500-pounds payload, is this a truck camper candidate?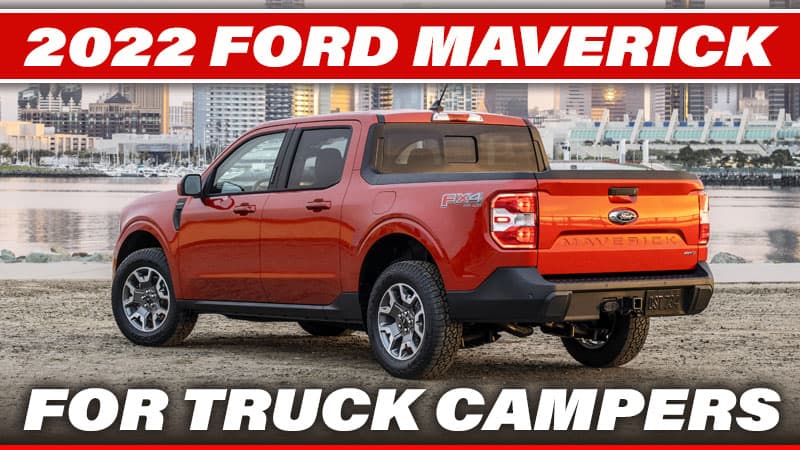 The 4.5-foot bed and maximum 1,500-pound payload will have many truck camper manufacturers writing off the 2022 Ford Maverick seconds after reading this sentence.  That's simply not enough bed space or weight capacity for the overwhelming majority of truck campers.
However, the $19,995 entry price point, estimated 40-MPG city, and 500-mile range of this truck make it a very compelling offer for the general truck-loving public.  If I take off my truck camper glasses, it's not hard to see that this truck will likely be a hit for Ford Motor Company.  With that success comes an opportunity.
If the above video doesn't play, click here to watch it on YouTube.
FLEXBED System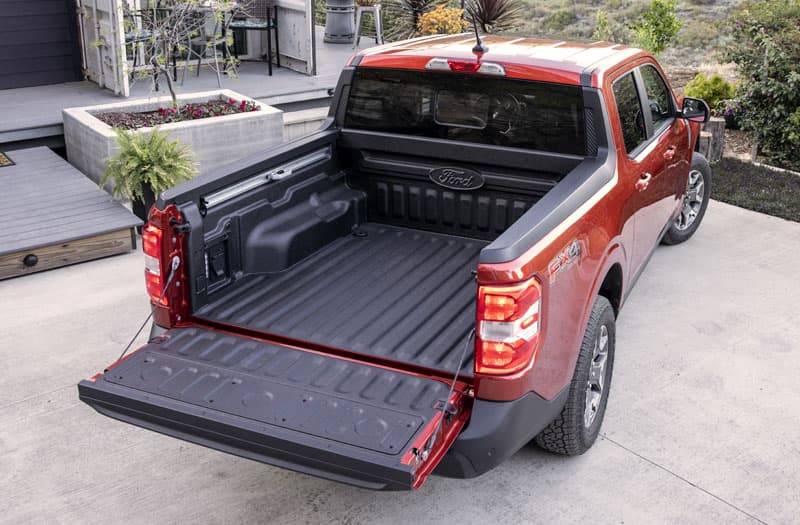 As is becoming the trend, the pickup bed on the 2022 Maverick is teeming with features and technology.  The standard FLEXBED system offers a multi-position tailgate, twelve built-in anchor points, and pre-wire for 12-volt, 20-amp outlets.  If that's not enough, an optional 110-volt, 400-watt outlet is available in the bed.  Another optional 110-volt, 400-watt outlet is available in the truck's cabin.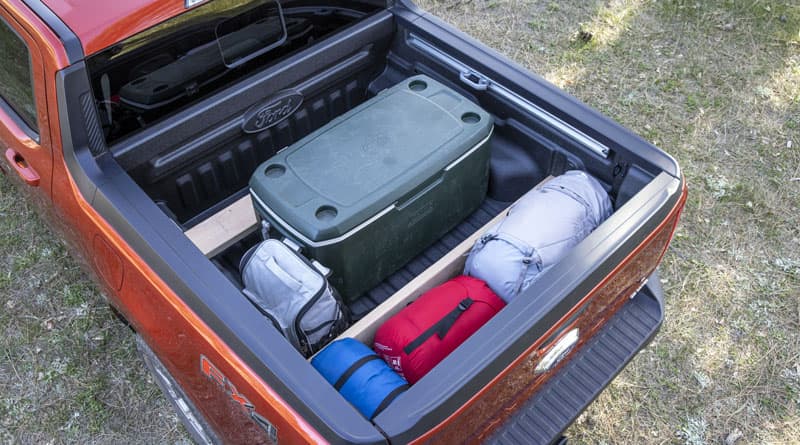 The concept behind the FLEXBED system is to offer more convenient storage options that are easier to access and utilize.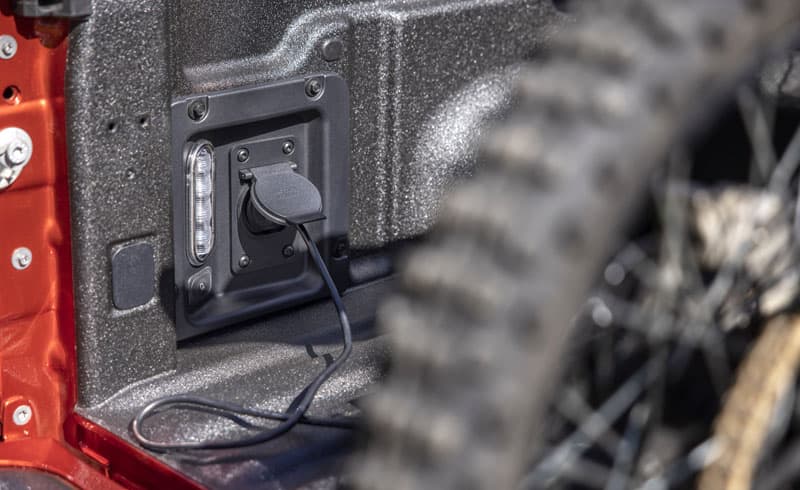 With slots stamped into the bed's sides, Maverick owners can insert 2×4 and 2x6s to create segmented storage.  The FLEXBED system also includes two tie-down points, four D-rings, and built-in threaded holes.
Trims and Options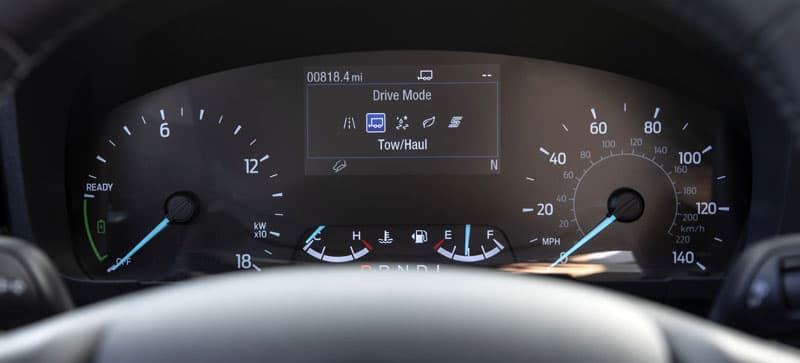 The 2022 Ford Maverick will be available as an XL, XLT, or Lariat.  The FX4 package will add all-wheel drive, underbody protection, and additional off-road tuned drive modes to the XLT and Lariat trims.
Unfortunately, the sheer weight of those trims and options will quickly drain the scant 1,500-pound payload.  That's why many dealer stock Ford F-150s have payloads around 1,500-pounds.  If you're thinking of matching the 2022 Maverick with a camper, your best bet is a base XL.  You'll likely need every bit of that 1,500-pound allowance.
Two Hybrid Powertrains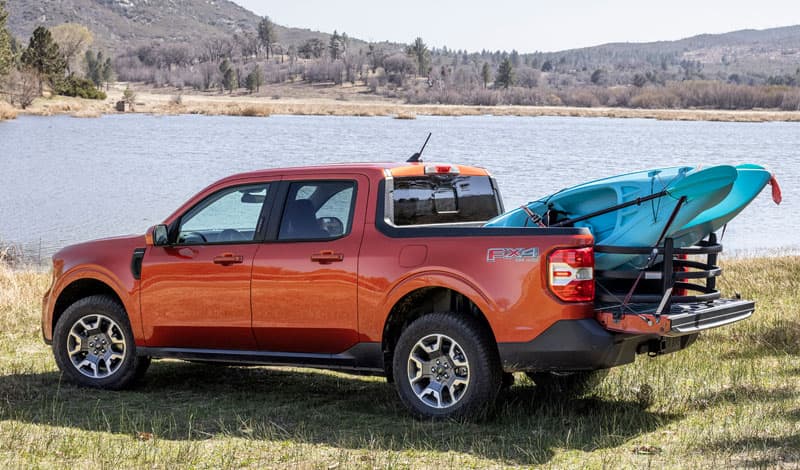 The standard engine for the 2022 Ford Maverick is a 2.5-liter Atkinson-cycle four-cylinder hybrid.  With the electric motors, the standard powertrain produces 191-horsepower, 155 lb. ft torque, and 2,000-pound towing capacity.  An optional 2.0-liter EcoBoost gas engine is also available offering 4,000-pounds of towing.  Additional data on the two powertrain options will be released by Ford at a later date.
Onboard Tech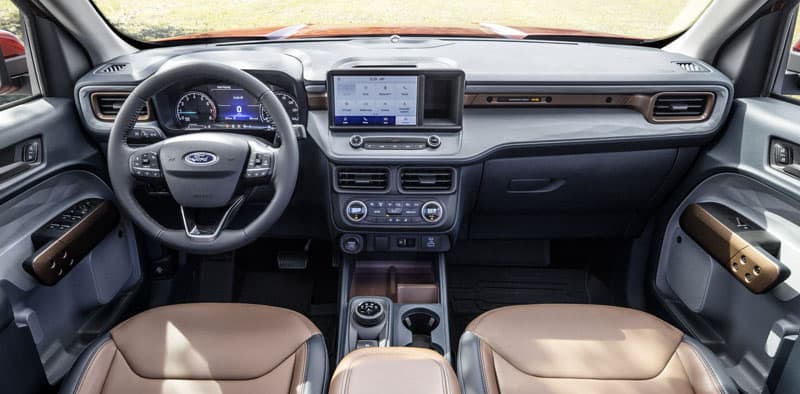 Above: Interior of the Ford Maverick Lariat
Like everything else, trucks are quickly turning into computers (if not robots) and the 2022 Maverick is no exception.  The standard Ford Co-Pilot360 system offers pre-collision assist, automatic emergency braking and automatic high-beam headlamps.  Optional driver-assist technology includes adaptive cruise control with stop and go and blind spot information system with cross-traffic alert.  It doesn't drive itself, but it wants to.
The cabin features a standard 8-inch touchscreen with Apple CarPlay and Android Auto for our smartphone overlords.  The Maverick also offers WIFI for up to 10 devices and integration with the FordPass app to find your truck, check your fuel level, lock and unlock your doors, and start your truck – all from your phone.  Just don't leave the app open and let little Johnny play with your phone.
Ford Maverick For Truck Campers?
Let there be no doubt that this truck has truck camper industry leaders talking this morning.  The design, price point, and overall specifications prime the Maverick for marketplace success.
If the truck camper universe wants to sell campers to those future customers, they will need to design products specifically for the bed dimensions and payload capacities of this compact pickup.  In a world where materials, parts, production slots, and production team members are in high demand, that's a very high bar.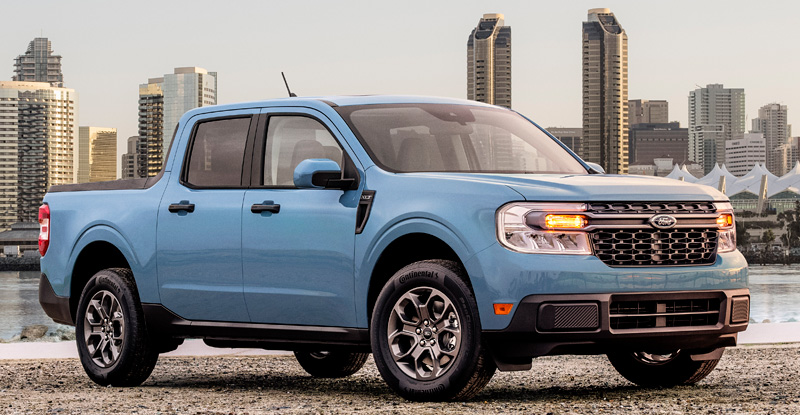 Above: Ford Maverick XLT
It's also another sign of what's coming.  With the possible exception of the Ford Lightning, nearly every truck announcement of late has included dimensional and payload challenges for truck campers.  As you read this, the idea of a truck is being reinvented from the wheels up.  ICE (internal combustion engines) are becoming hybrid or electric.  Truck beds are becoming Swiss Army Knives of form, function, and technology.  And the customers themselves are bringing new ideas of what they want and need in a pickup truck.
In the teaser I asked, "With a 4.5-foot bed and 1,500-pounds payload, is this a truck camper candidate?"
After reviewing the 2022 Ford Maverick announcement and data, I think the question may be backwards.
Let's try again.
"Which truck camper manufacturer will successfully build a camper for a 4.5-foot bed and 1,500-pound capacity of the Ford Maverick?"
The opportunity is too big.  It will happen.