Lance Campers redesigns their entire truck camper line-up for the all-new 2017 Ford Super Duty trucks and launches the Keyed-Alike system, new cabover steps, and cabover handles.

Automotive companies are notoriously secretive about new products in development.  It's not unusual for the news to break about a new car or truck only when it debuts at a national car show or staged media event.
We were invited by GM to attend such an event in 2012.  When the proverbial curtain was lifted (in this case a pair of pyrotechnics-infused boxes) the automotive journalists went berserk talking photos of the new Silverado and GMC and posting them online.
When GM allowed us to engage the new trucks, we passed by throngs of reporters peering into the engine compartment and cab interior to take a careful look at the bed.  Measuring tape in hand, we measured the height of the rails and examined the tailgate area.  Fortunately, there was no sign of conflict with the current truck camper design; good news for the truck camper industry and community.
Things don't always go this well.  When Ford announced the all-new 2017 Ford Super Duty trucks in 2015, they didn't mention the changes made to the mouth of the truck bed and rear bumper.  When the new Fords started shipping in late-2016, a number of truck camper manufacturers discovered their campers were not fully compatible without modification, or a riser kit.
Lance Campers received their first 2017 Ford Super Duty trucks last October.  It didn't take them long to realize that the new trucks were not fit compatible with their existing truck camper line.  This news immediately put Lance Camper design projects on the back burner as they worked to redesign every truck camper to fit the new Ford trucks.
Along the way Lance Campers made improvements, and added a handful of new features for 2018.  We are especially excited about the new cabover steps and handles to help make cabover entry and exit easier, more comfortable, and safe.
We wrote about the importance of exactly this type of truck camper mobility last year and got an incredible reader response.  Kudos to Lance for making these important changes.  Together with the new Key-Alike system, Lance has two important updates that we hope the rest of the industry takes note of.
To learn more about the 2018 Lance Camper redesigns and announcements, we talked to Gary Conley, National Sales Manager for Lance Campers.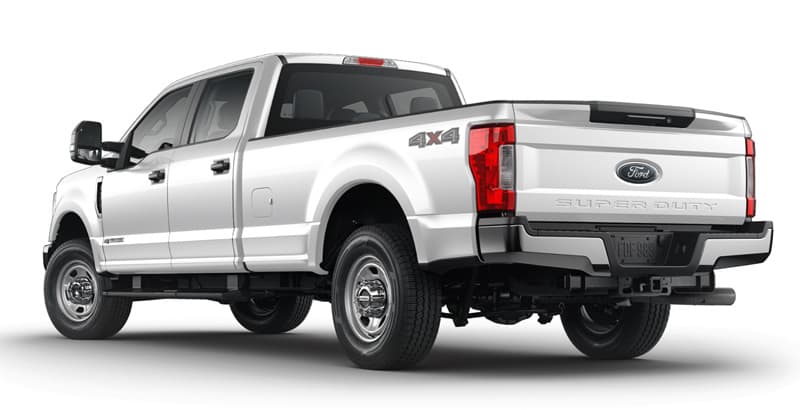 Above: The "smile" at the end of the Ford truck beds, photo courtesy of Ford Motor Corporation
TCM: Lance Campers had to change the design of its truck campers to accommodate the new 2017 Ford Super Duty trucks.  Tell us about the extent of the changes that were needed.
Gary: We were the first company to get a 2017 Ford truck last October.  The new Ford bed rails increased in height and the bumpers changed to where there is now a "smile" at the end of the bed.  These changes forced us to redesign every Lance truck camper from the ground up.
Before we made the changes, our truck campers were not properly sitting on the 2017 Ford Super Duty truck bed rails, were impacting the rear taillights, and the generator tailpipe sometimes impacted the taillights.  All of these fit issues needed to be addressed.  In making the needed changes, we had to redo the tanks and undercarriage design of the campers.
TCM: Why not just tell Ford customers to get a riser kit?
Gary: When customers spend $50,000 on a truck camper, they want it done right.  They don't want two sheets of plywood and a 2×4 in the front.  With the plywood fix, the camper can also shift in the bed.  We want to avoid that from happening.  We are about quality, style, and fit.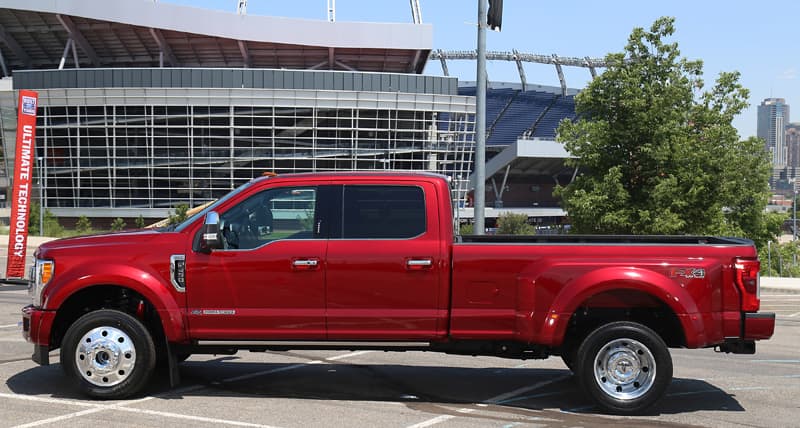 Above: 2017 Ford F350 dually, photo courtesy of Ford Motor Corporation
TCM: Will these changes for Ford compromise Lance's fit for Ram or GM trucks?
Gary: No, because we raised the wing up over the rail of the truck.  The wing wall coming down covers up the additional gap in height for the Ram, Chevy, GMC, or Ford.
TCM: How long did it take to complete all the necessary changes?
Gary: Once we started to attack it, every three weeks we redesigned another Lance truck camper model.  We had to do that for all nine of our truck camper models.
We also saw that the existing tie-down systems were not going to work on the new 2017 Ford Super Duty trucks.  To address this, we got together with Torklift International.  They flew in their engineers and we got them a shop so they could design the tie-downs for the new Fords.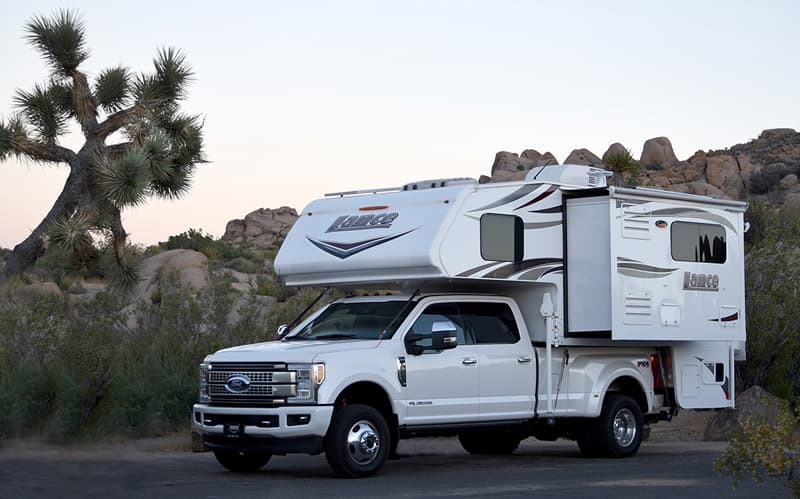 Above: A 2017 Ford F350 and 2018 Lance 1172, photo courtesy of Lance Campers
TCM: Did the redesign impact the weight and center of gravity of the 2018 Lance truck campers?
Gary: The weight addition was negligible.  That said, each model was unique in what needed to be done to fit the new Fords.  Some needed their floors lengthened.  Obviously a longer floor length will affect a camper's center of gravity.
TCM: What about folks who go out and buy a 2017 Ford Super Duty and have an older Lance?
Gary: If you have a 2016 or older Lance Camper and a 2017 Ford Super Duty, you will likely need a riser kit.  We know what the 2017 Ford Super Duty fit issues will be for an older Lance.  Our dealers will help you get the best fit.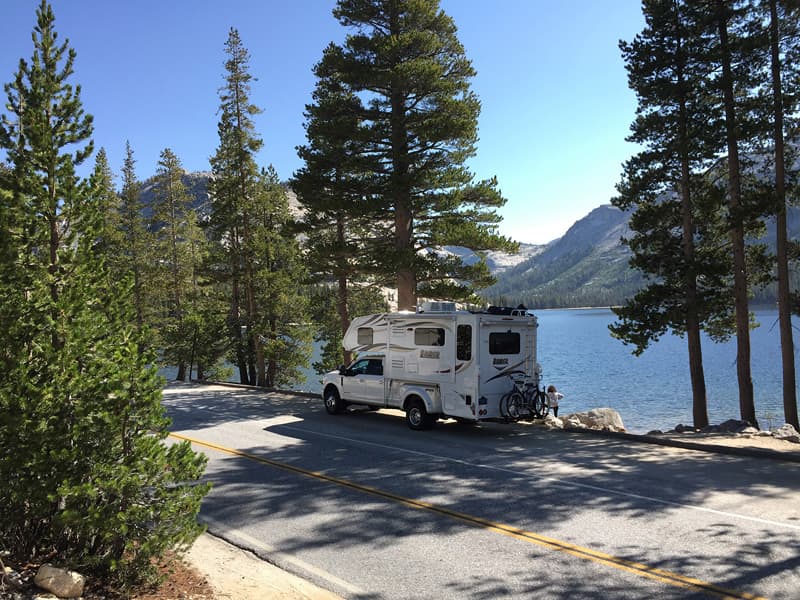 Above: Lance 1172 on a 2017 Ford truck, photo courtesy of Lance Campers
TCM: The last new Lance Camper announcement was the Lance 650 in late-2015.  When will we see a new Lance truck camper debut?
Gary: We have three new campers that we've been working on.  These are three very different floor plans, each with a viable place in the market.  We are looking to announce at least one of these new models in 2018.
TCM: What's going on with the Lance triple-slide that was mentioned in the 2017 Lance update with Truck Camper Magazine?
Gary: We are still looking into a triple-slide.  We could just make the 1172 kitchen a slide.  That would be easy, but it only gains 12-inches of interior floor space.  We have to carefully look at the benefit of the additional floor space versus disadvantages of having the plumbing, propane, and the electrical moving with the slide.
We have also talked to suppliers about the ways the triple-slide should be designed and built.  You can put a good floor plan on paper, but when you get into application and use, everything needs to work right.  That's what we're working on.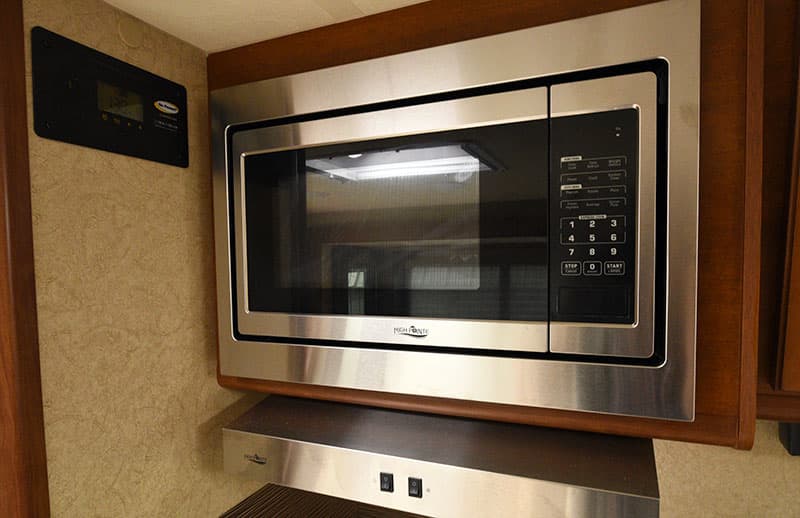 TCM: In the press release for Lance's 2018 updates, Lance announced a new flat-bottom microwave.  What's a flat-bottom microwave?
Gary: Instead of a turntable in the microwave, there's a fan that evenly distributes the heat and avoids hot spots.  Without a turntable, a flat-bottom microwave is also easier to clean.  The trim vent is more residential.  It's no longer a plastic dust-catching item.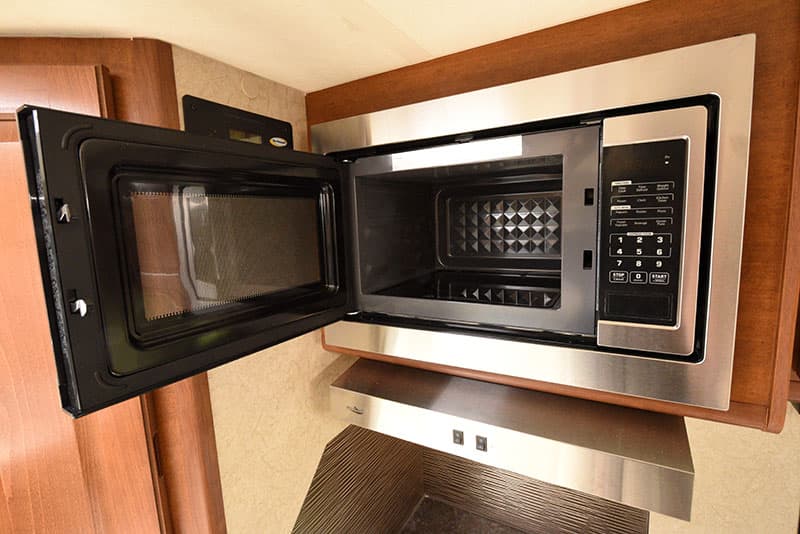 Electronics change all the time.  We recently updated our stereo systems to connect to Bluetooth and be more intuitive.  We are constantly looking at individual components and will always have upgrades.  Some, like the new microwave, are minimal.
Above: The Keyed-Alike lock system on one of the outside compartment doors
TCM: Tell us about the new Keyed-Alike lock system.
Gary: For 2018, we have changed the exterior compartment door locks to the same unique key that opens your entry door.  With our new Keyed-Alike system, no longer can anyone with a 751 key unlock your compartment doors.  The Keyed-Alike compartment door lock is also much stronger than a standard 751 lock.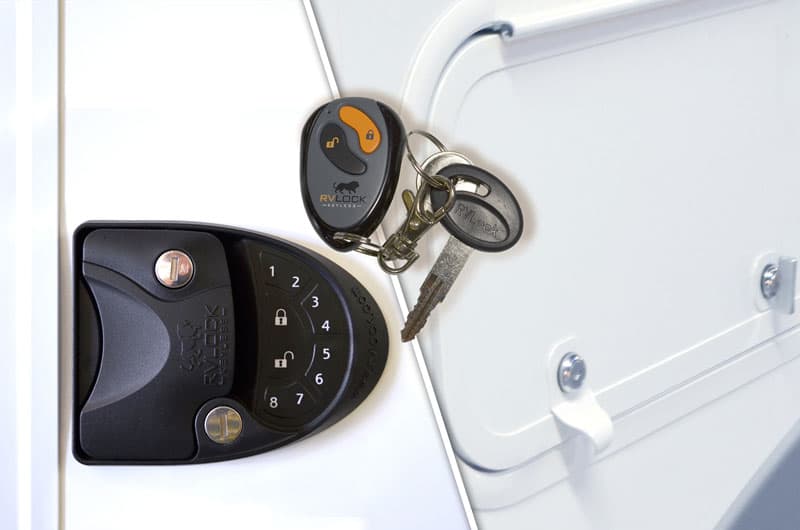 Above: The main door lock has keyless entry as well as having a key fob, photo courtesy of Lance Campers
We have keyless entry on all of our campers.  The key fob can lock the camper from the truck, which can be convenient if someone needs to run back to get something.
Above: The step-up to the cabover in the Lance 995
TCM: Last year we published an article on the importance of improving mobility for truck campers.  Specifically, making it easier, more comfortable, and safer to get in and out of the camper, and cabover bedroom area.  For 2018, Lance has integrated steps and handles for aiding entry and exit into the cabover.  Tell us about this change.
Gary: We are finding that some consumers enjoy the truck camper lifestyle but, because of the ability to get into bed, they are moving into other RV types.  To address this need, we have added cabover steps and handles across the board on all Lance Camper models.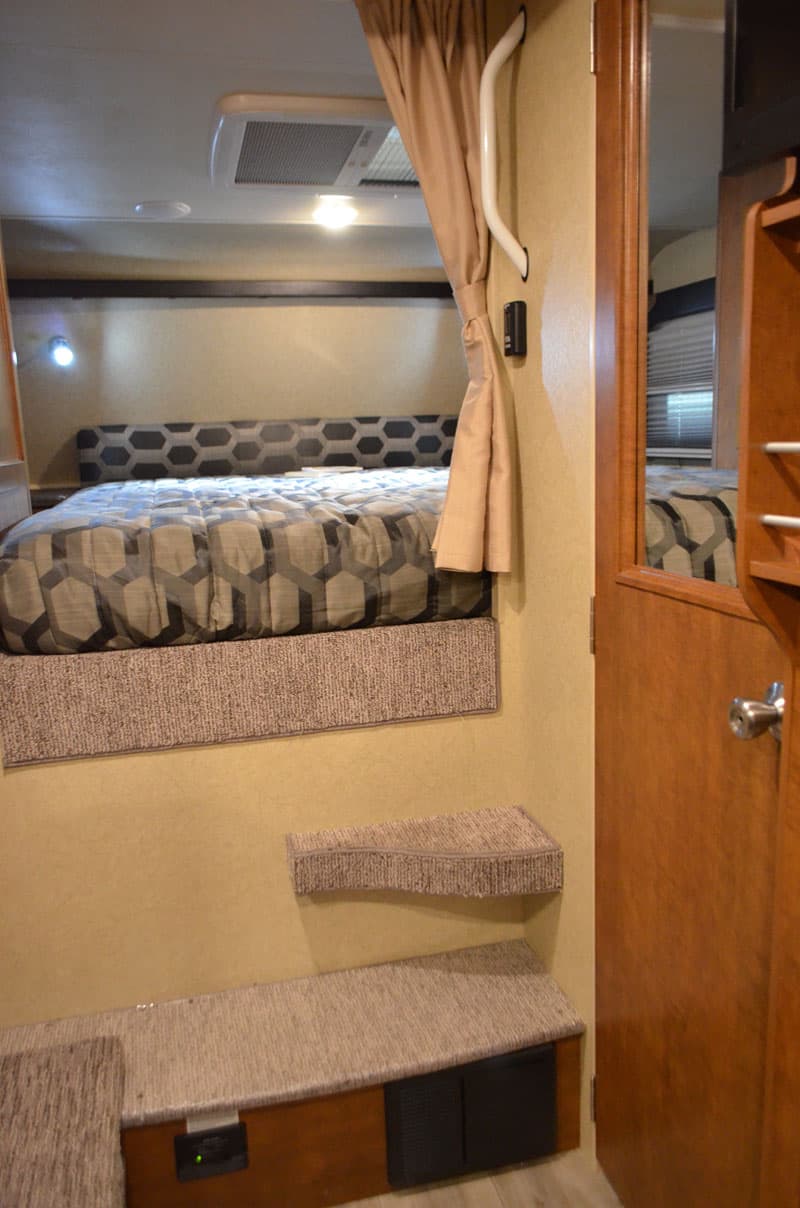 Above: Lance 975 cabover step and handle, photo courtesy of Lance Campers
We re-blocked the front walls to make the new steps possible.  We wanted to make sure the step and handles were natural to get in and out of bed.  It's critical.  In some cases we have needed eliminated the pass-through window to incorporate the step.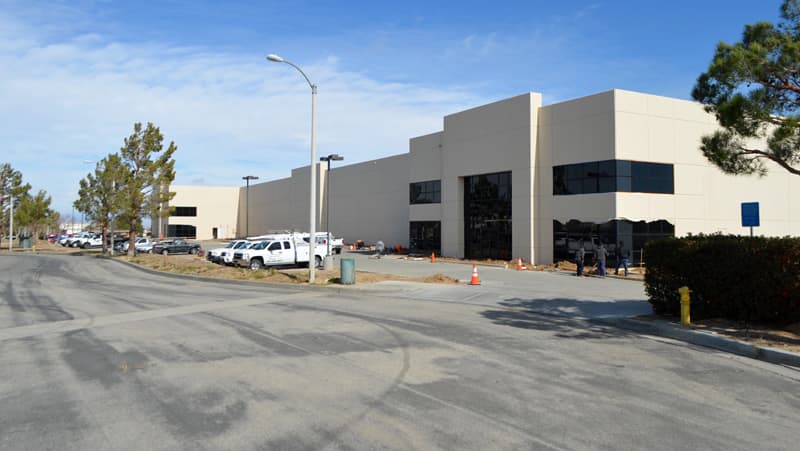 Above: The new 61,000 square-foot building at Lance, photo courtesy of Lance Campers
TCM: In January of this year, Lance announced a 61,000 square-foot expansion.  How has the expansion progressed since the announcement?
Gary: We're anticipating that the equipment will be placed in the next two weeks including new laminating equipment, loading machines, CNC machines, and roll coaters.  Once lamination is running in the new building, we could have up to three lamination lines.
With the new equipment we will be able to phase in smoother and flatter walls.  Overall, the expansion is going to give us the ability to produce more campers and at a higher quality.
In addition to the new building and equipment, we are looking at upgrades to the materials we're currently using.  The new materials are stronger and lighter and have similar characteristics to Azdel and Lite Ply.  We're always looking into state-of-the-art materials.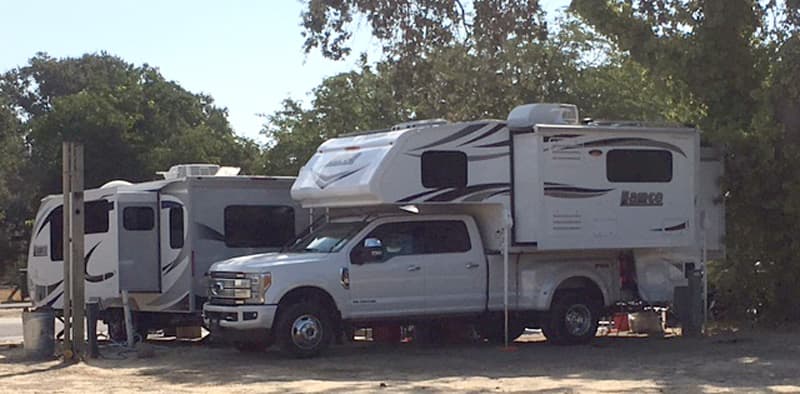 Above: Camping Labor day weekend with Lance 1172 and Lance trailer, photo courtesy of Gary Conley
TCM: We look forward to seeing those changes when they debut.  Is there anything else you want our readers to know about Lance truck campers going into 2018?
Gary: When we're ready, we'll be bringing the cake to the party.  We built this company on truck campers, and we're not going to lose focus on what founded this company.  We have a reputation of high quality, being light weight, and being innovative.  That's ongoing.  As of now, we're out with dealer and customer truck camper orders until April.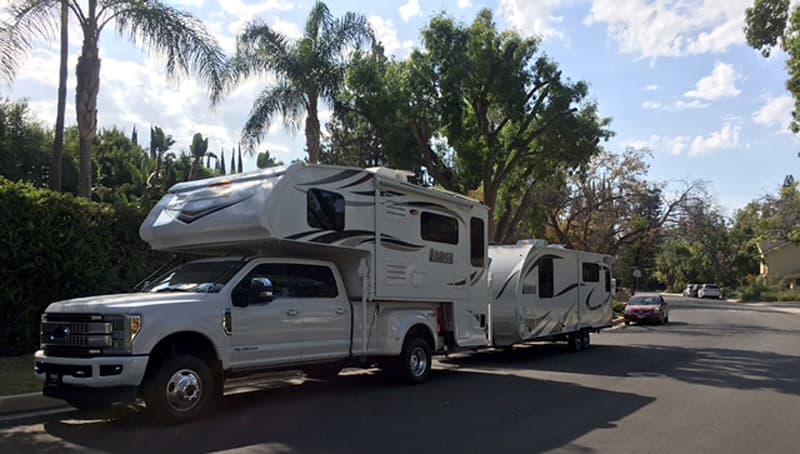 Above: Camping Labor day weekend with Lance 1172 and Lance trailer, photo courtesy of Gary Conley
On a personal note, I just went camping over Labor Day in an 1172.  I towed a Lance trailer for my in-laws.  It was awesome!
The engineering staff, sales team, and marketing team have all camped in Lance products.  Jack Cole, President of Lance Campers, says, "To understand and develop a product, you have to use the product".  My dad owned a 1978 Lance that he bought from Jack's dad.  I've been around Lance Campers ever since.
For more information on 2018 Lance Campers, visit the Lance website at lancecamper.com.  Click here to request a free Lance brochure.