For its 2017 line, Lance Camper debuts three new interiors, updates the floors, dinette tables, and counters, makes stainless steel appliances standard, and more.  Then they drop a major tease about a new floor plan.  Hint: It's a 3.

Lance Campers has debuted six new truck camper models over the past five years; the 1172 in 2012, the 1052 and 995 in 2014, and the 975, 1062, and 650 in 2015.
As each of the new camper announcement articles revealed, the new models were built upon the advancements and lessons of the previous model generations.  In addition, model year updates allowed for further refinements and upgrades as new and better materials, appliances, and features become cost effective.
For their official 2017 model year update, Lance is not discontinuing any of their nine truck camper models, or announcing any new truck camper models.  After the aggressive new model debut schedule of the past five years, they are focusing on the aforementioned refinements and upgrades while bringing a few new model features to the production line.  This news will not make anyone's socks roll up and down, but it's a snapshot of a company with a successful line-up, and strong sales.
If that was the whole story, there would be no reason for this announcement article.  What follows is our interview with Gary Conley, National Sales Manager, and Randy Hunter, Product Development, and Bob Rogers, Director of Marketing for Lance Campers.  We ask these industry leaders why they made these changes, and why they haven't made others.  We also get them on the record – just barely – about an exciting new Lance Camper debut for next Spring.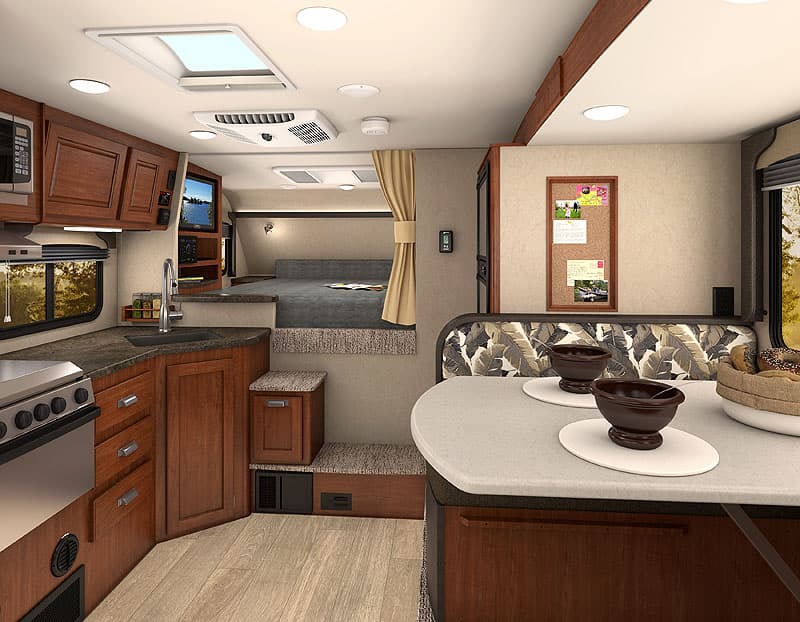 Above: The interior of the 2017 Lance 995, note the grey/brown color scheme.   All photos and computer renderings provided by Lance Camper.
TCM: Most of the 2017 Lance model year updates are interior decor changes.  The overall change is to three new grey-brown color schemes, and matching grey-brown interior materials.  Why is Lance changing to a grey-brown color palette and look?
Gary: The trends and colors we chose are popular within the home industry, which typically influence the RV industry.  Grey, black, and brown are the trending colors of choice in interior design.  We are following the modern trends of what home designers are using.

Above: The decors for 2017; Passage, Roadster, and Midnight
TCM: Are any 2016 interior decors being held over for 2017?
Gary: No, all of the 2016 interior decors have been replaced with three new 2017 decors; Passage (grey), Roadster (brown leatherette), and Midnight (brown).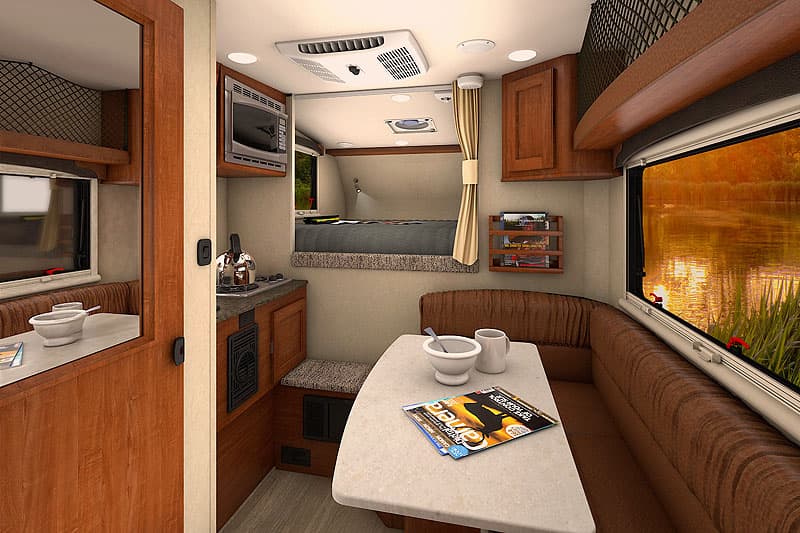 Above: The new Roadster interior decor in the Lance 650
Bob: A lot of thought when into the new interiors.  The trend this year is for contrasting fabrics and color combinations.  They're not too light or too dark.  To balance and coordinate the new decors, we also have new flooring, tables, and countertop colors.
Gary: These colors are predominant in the new truck interiors from GM, Ford, and Ram.  In the new trucks you'll also see a lot of two-tone decors.  The pictures of the new Lance interiors really don't do them justice.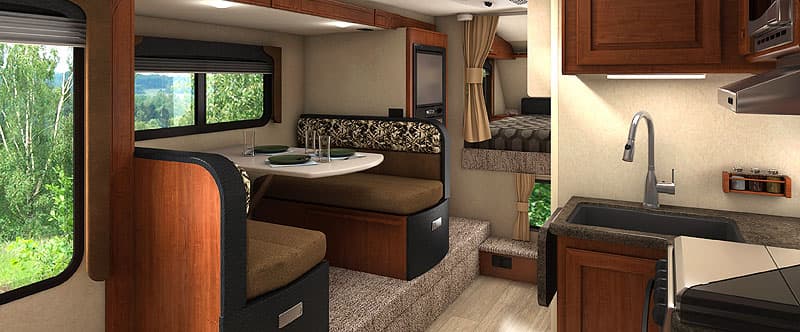 Above: The new Midnight decor in the dinette of the Lance 1172
Randy: Our interior designer elected to go with the automotive industry styling with colors of dark brown or dark grey vinyl with contrasting cream colored stitching.  It's really striking when you see it in person.
TCM: Did you keep the reversible cushion feature for 2017?
Gary: Yes, reversible cushions are still a standard feature on all Lance products.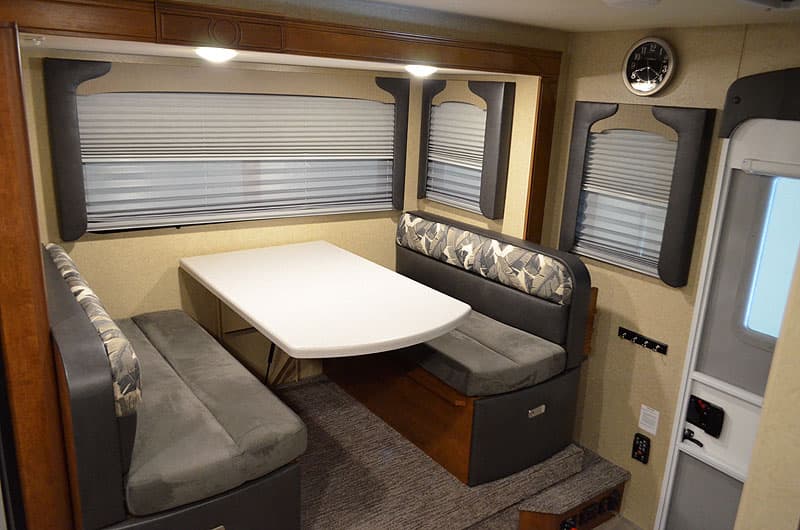 Above: Reversible radius face dinette cushions are standard with each decor, Passage decor pictured above
TCM: Lance is debuting new detailed radius face dinette cushions for 2017.  What are detailed face dinette cushions?
Gary: Our new detailed radius face cushions are held in place with a cap on the back rest of the dinette.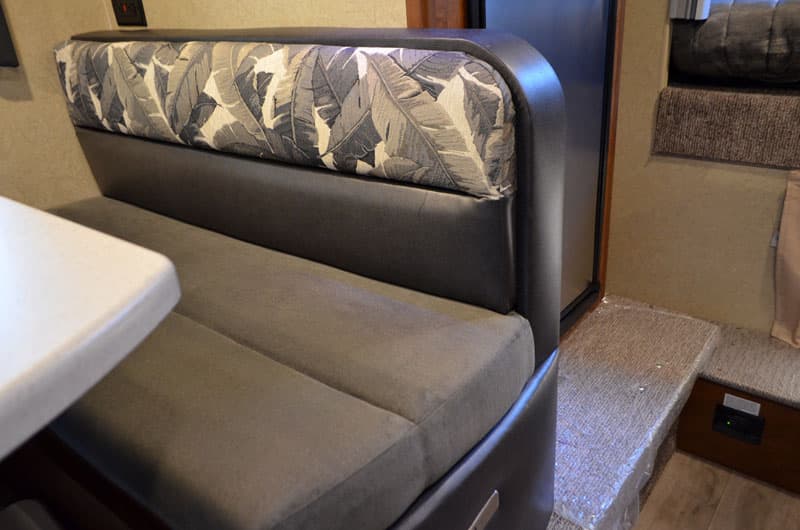 Above: Radius face cushions have a cap on the back rest to keep them from moving
The cushions are cut and detailed to fit the dinette and cap.  As a result, they don't move in or out when you sit like normal seat cushions.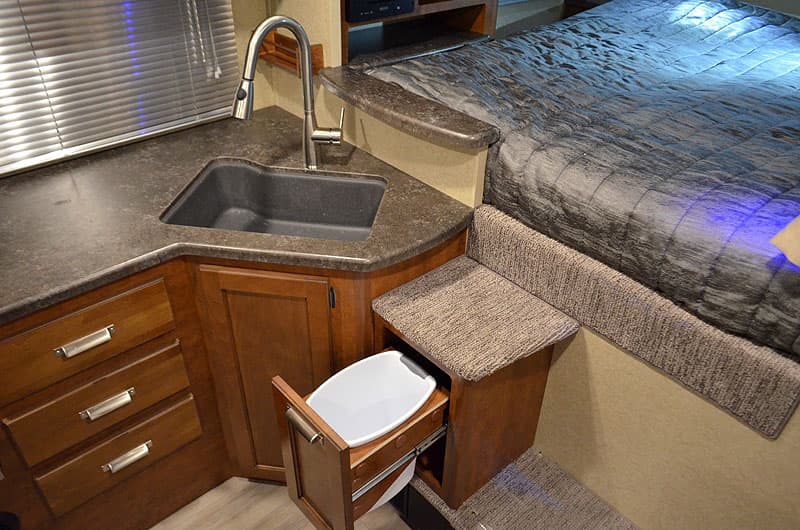 Above: Molded MDF countertops are standard in 2017 Lance Campers, also note the trash can compartment in this Lance 995
TCM: Tell us about the new molded MDF (medium density fiberboard) counter tops, and why you changed from the molded fiberglass counter tops Lance has been using for the past few years.
Randy: We worked with a supplier of molded MDF material and designed new countertops for all of our 2017 truck campers.  They have a more residential-style solid surface look than the previous fiberglass countertops.  They also weigh significantly less.  Just with the Lance 995, we have saved 32 pounds in weight because of these new countertops.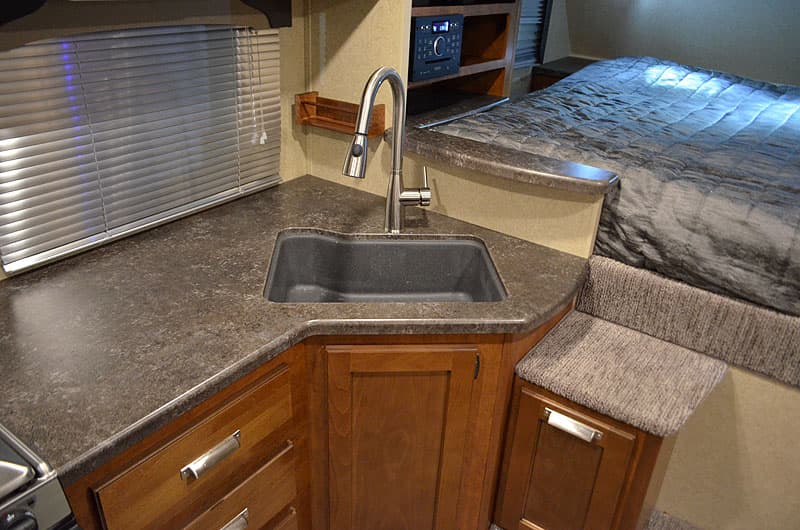 Above: Lance 995 new faucet and sinks with MDF countertops
Gary: The new molded MDF countertops allowed us to put in a larger sinks.  When we were using molded fiberglass countertops, we were restricted to the sink size we originally designed the molds with.
With the more versatile MDF countertop material and development process, it's easier to design different size countertops and use different size sinks.  Fiberglass molds are also much more expensive, which also stifled our options.  And weight reduction was a big factor in considering the new material.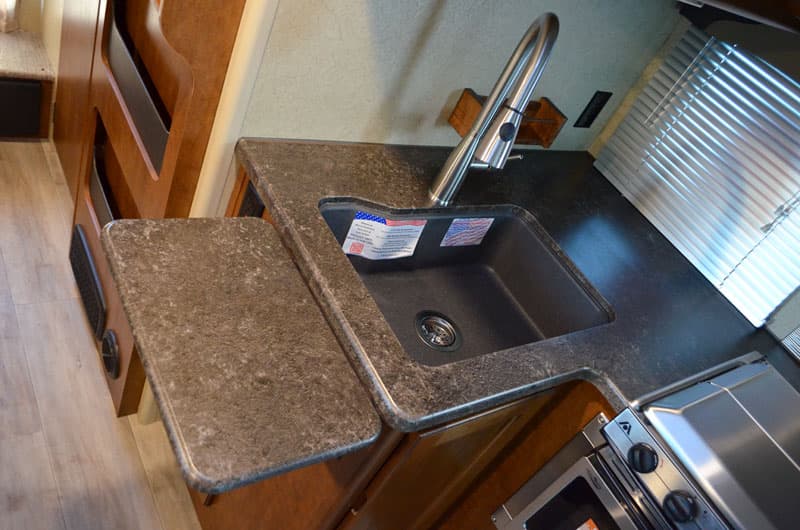 Above: MDF countertops in a 2017 Lance 1172
TCM: How have you tested the durability and water seal if this new counter top material?
Gary: It's a totally encapsulated material.  Where the stove sets, it's sealed.  Around the sink, it's sealed.  The new countertop also needs less structural support than the fiberglass countertops did, saving even more weight.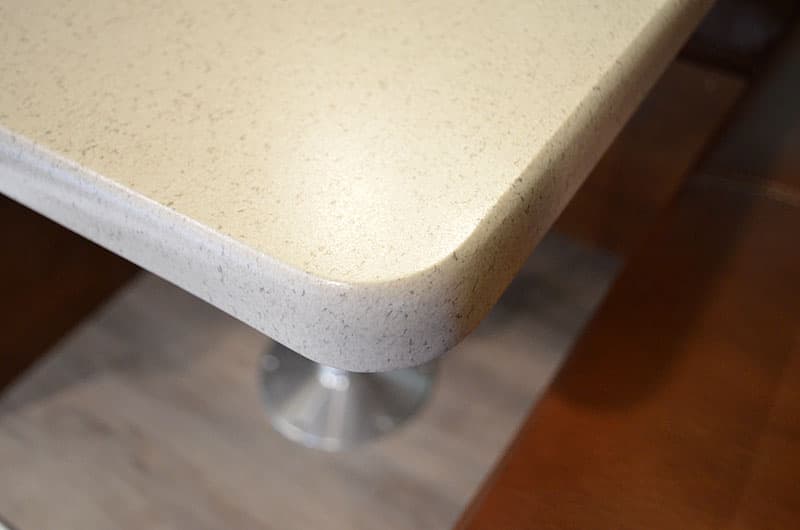 Above: The dinette tables are also MDF material
Randy: The new material is at least as robust as what it's replacing.  Fiberglass would chip or ding worse than the MDF material.
TCM: Are you using the MDF countertops in the dry baths as well?
Gary: Yes, if a camper features a dry bath – like our 975 and 1172 – they also have the new MDF countertops.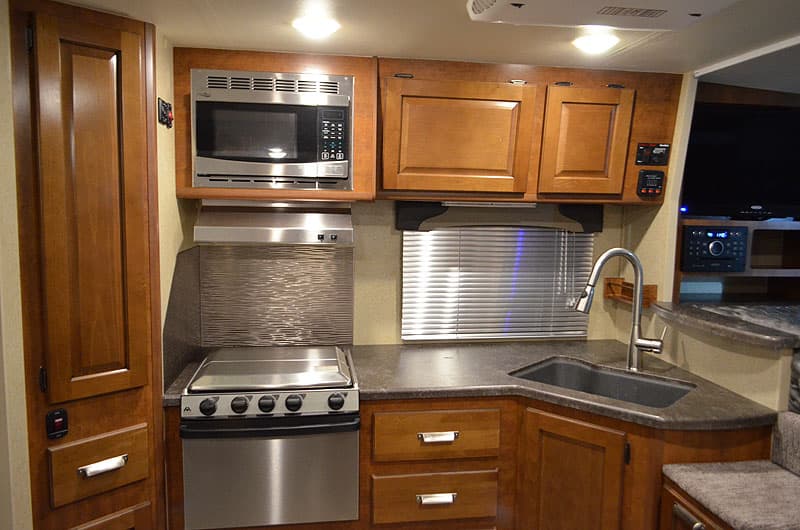 Above: Stainless steel appliances are standard for 2017
TCM: For 2017, Lance is going with stainless steel appliances.  Is this standard across the board or an option?
Gary: Stainless steel appliances are standard for 2017.  We have a brushed stainless steel stove, oven, range hood, and refrigerator front.  Stainless is more expensive than painted appliances, but stainless lightens up the interior of the unit.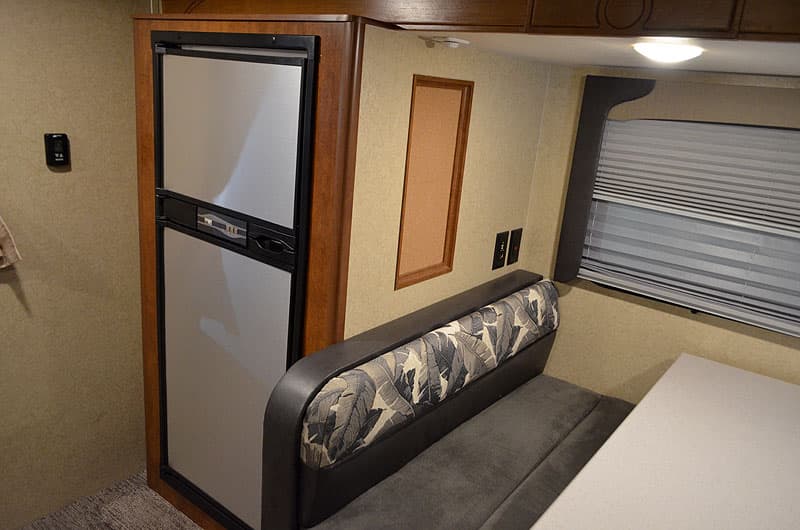 Above: Brushed stainless steel on the front panels of the refrigerators
TCM: In the 2017 announcement notes sent to TCM, it said the Norcold refrigerators in some Lance models would not be receiving the stainless steel fronts.  Why is that?
Gary: That only affects the Norcold refrigerator in the 855S.  That refrigerator does not allow for the front to be changed to stainless, so it has a Euro-grey look.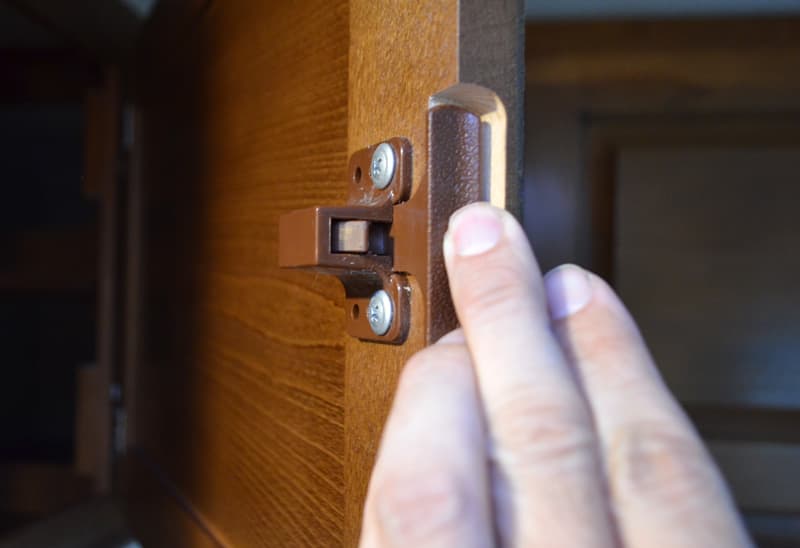 Above: The Amerock latch features a positive catch so things don't fly out when you're driving down the road
TCM: For decades, Lance has used the same type of cabinet door catches and hardware.  Tell us about the new cabinet hardware for 2017.
Gary: Over the years we've probably used six different latches that all look and feel the same, but they're not the same.  For 2017, we are changing back to the original American-made latch manufacturer we started with, Amerock.  The operation of the Amerock is better.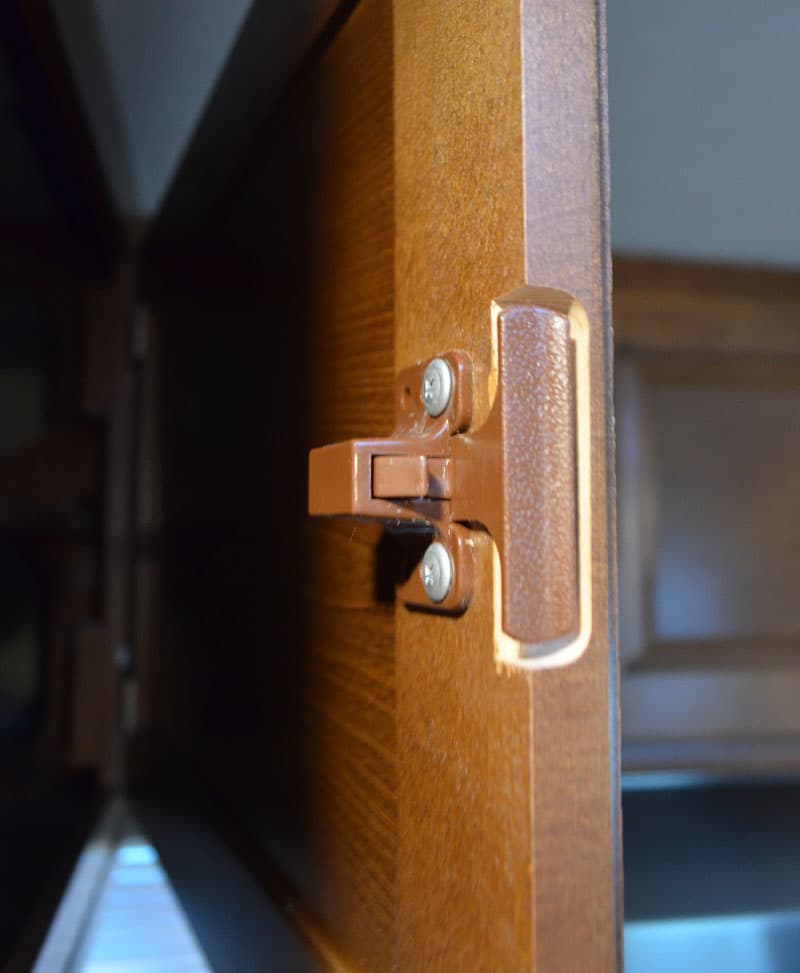 TCM: Can folks with existing Lance Campers change to the Amerock latches?
Gary: Yes.  If someone doesn't like the latches in their Lance Camper, they can upgrade to the Amerock latch.  The main benefit is the Amerock features a positive catch so things don't fly out when you're driving down the road.  They also have less play than the previous latches.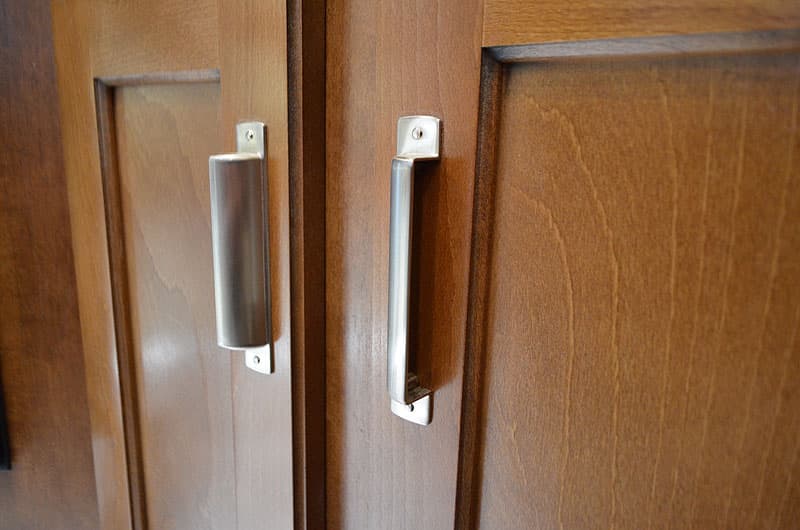 Above: Interior hardware upgrades on the cabinet door pulls
Bob: Also, the interior hardware on the cabinet door pulls and slide-out drawers in the dinette have been upgraded.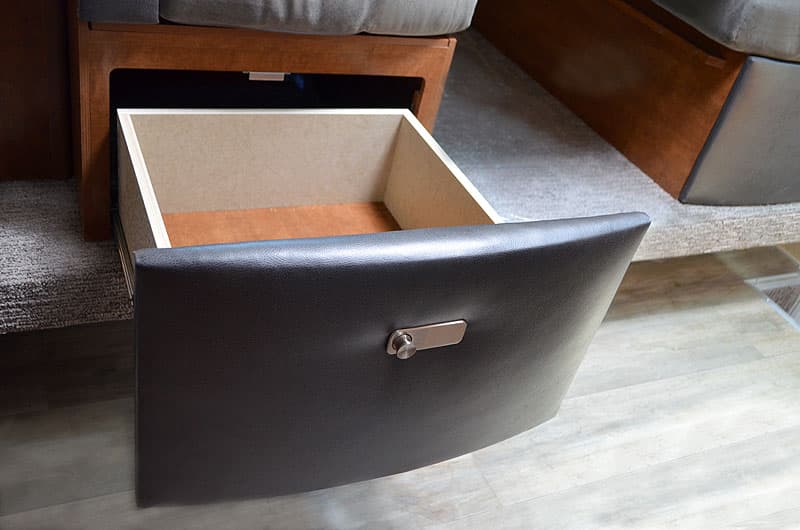 Above: Drawers under the slide-out dinettes have new hardware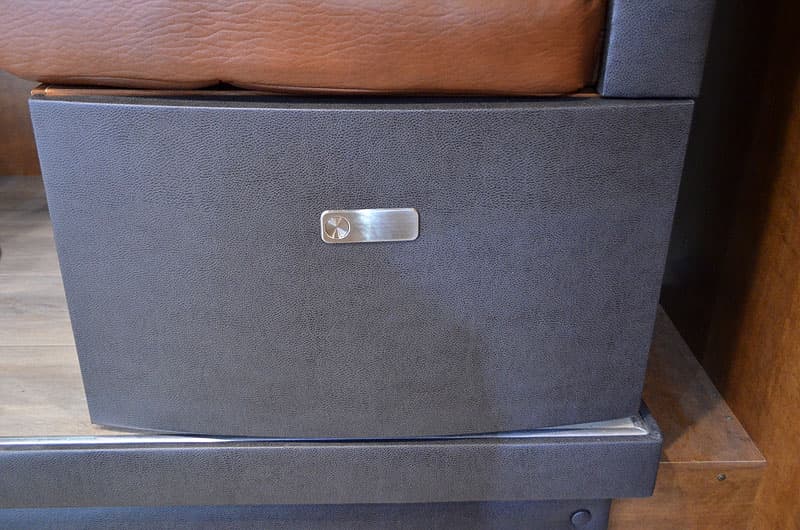 Above: The dinette drawer closed and hardware in the driving position
It is a substantial enhancement from last year to this year.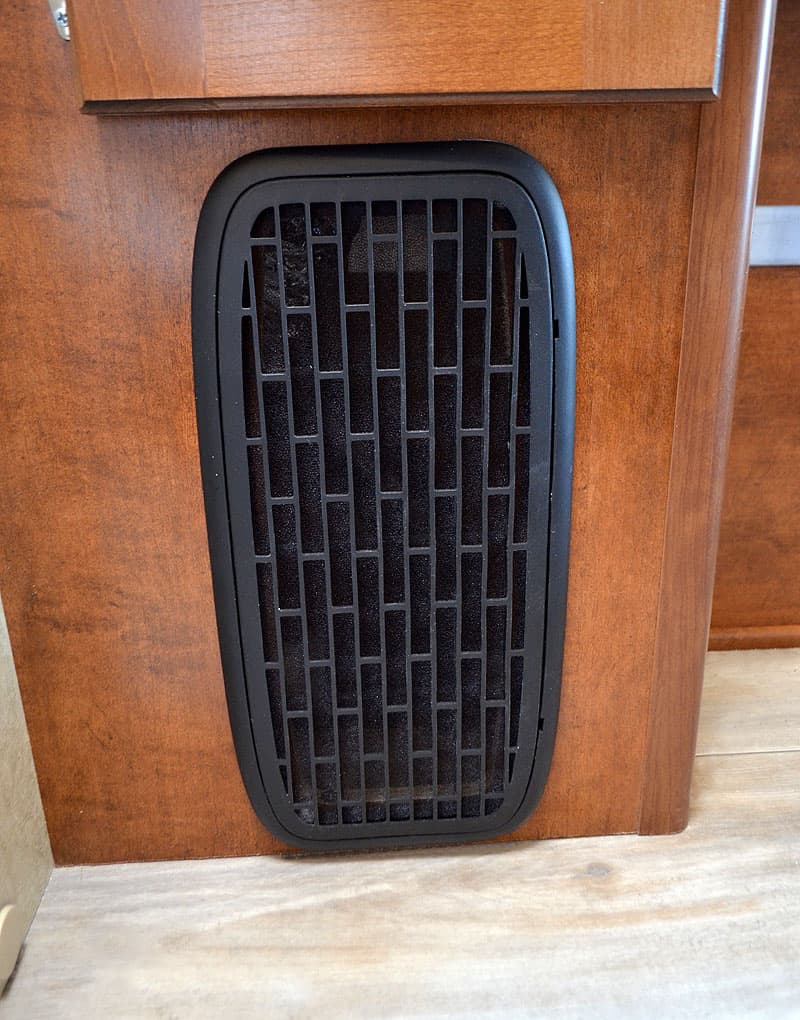 Above: Air returns are now a plastic radius design
TCM: Are there any other interior decor changes for 2017?
Randy: We changed the air returns and plumbing access panel from an industrial metal design to a more visually pleasing plastic radius resign.  It's much more subtle aesthetically.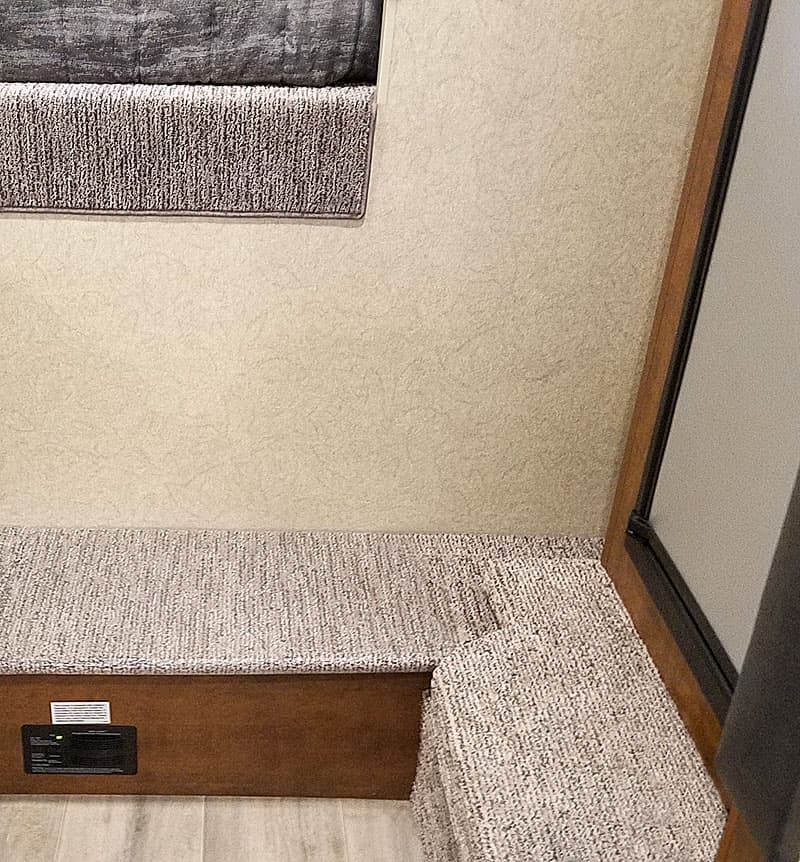 Above: New sand colored carpet for 2017
Gary: The campers feel more open with the new decors compared to what we've had in the past.  The sand color carpet is more durable and the valences are french stitched so they're cleaner and they are not going to hold as much dust.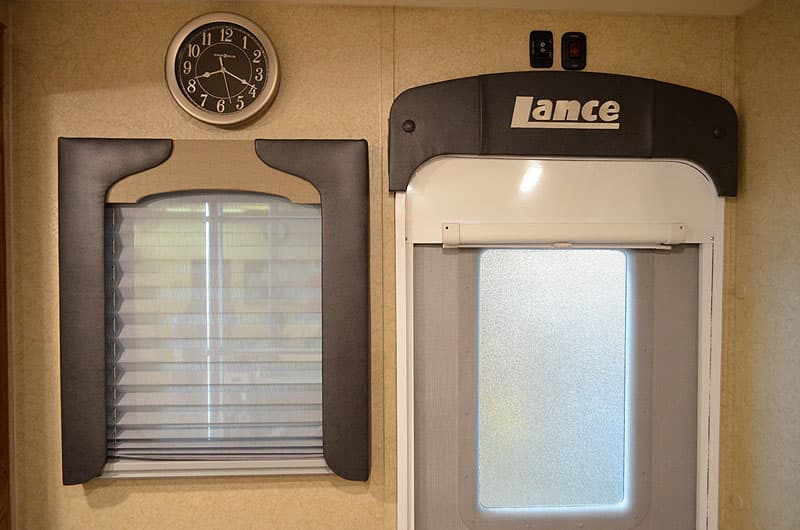 Above: New french stitched valances
A lot of these changes we've made will improve the look, overall use, and longevity of the product.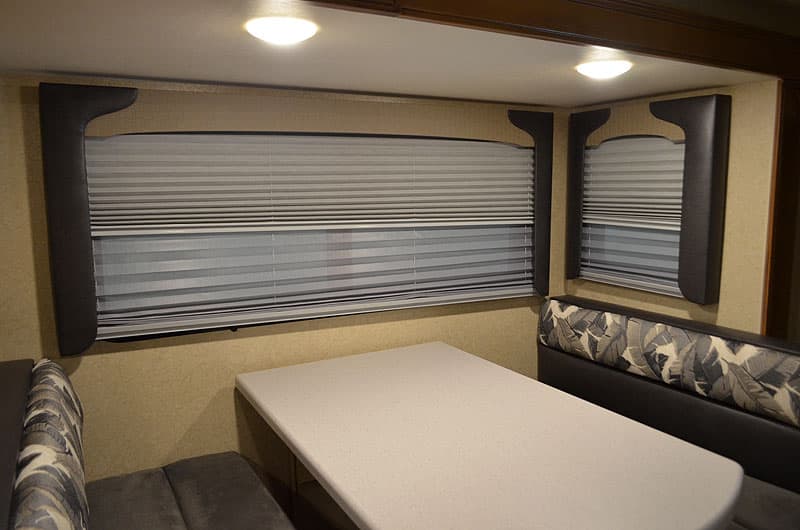 Above: Day-night shades and new french stitched valences in the Lance Camper dinettes
Currently our air return from grills and plumbing access is an industrial metal design.  BNB has a radius design.  This grill is more subtle and it is for aesthetics.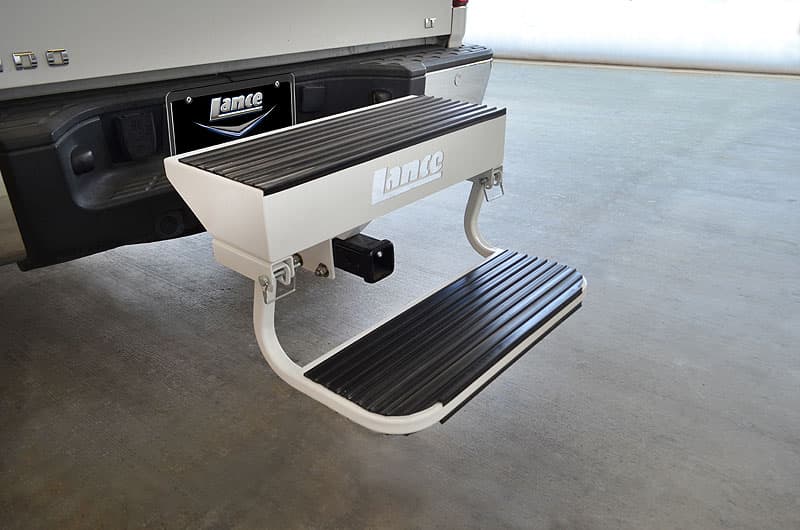 Above: The new Lance ultraSTEP plus for the 650, 865, and 850
TCM: Tell us about the new Lance ultraSTEP plus.
Gary: That is all-new for 2017 and we are currently in the patent process.  The ultraSTEP plus bolts into a hitch extension making camper entry and exit more comfortable on campers without an attached bumper.
The ultraSTEP plus has been in the works for a long time, and will debut on the 650, 865, and 850.  The need for scissor steps are eliminated with the ultraSTEP plus, and it is more user friendly, safe, and comfortable.
TCM: Can folks with older 650, 865, and 850 models order the ultraSTEP plus from Lance dealers?
Gary: Yes.  People with older Lances can go to their dealer and get it.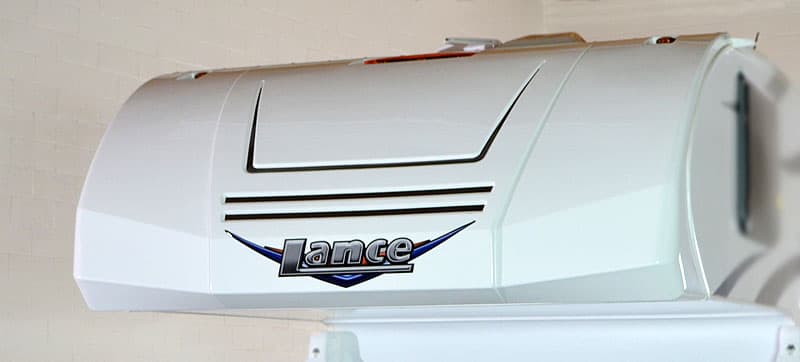 Above: TPO front nose caps on the 650, 825, and 865
TCM: Lance debuted the TPO front nose caps for the majority of the truck camper line in 2012.  Four years later, you're now debuting TPO nose caps for the 825 and 865.  Why did you decide to make a TPO nose cap for these models now?
Randy: When we designed the front nose cap for the 650, we kept in mind adaptability for the 825 and 865.  Now that the 650 front nose cap has been a success, we incorporated the new nose cap design for 2017 on the 825 and 865.

Above: Computer renderings of the front TPO nose caps on the 650, 825, and 865
Gary: Logistically, it's better to make a significant model update like this for the model year change.  That's why it's being announced now.
TCM: Another update for the 825, 865, and the 650 is the change to a ball screw jack (versus the Acme jack).  What's the story there?
Gary: We did a very low volume on the Atwood Acme jacks for those models, so the Atwood ball screw jacks are now standard.
The ball screw jacks are frictionless.  An Acme screw can wear out because of metal-on-metal friction inherent in their design.  Ball screw jacks have ball bearings that spin freely.  The 825, 865, and the 650 now come standard with the ball screw and can be upgraded to electric jacks.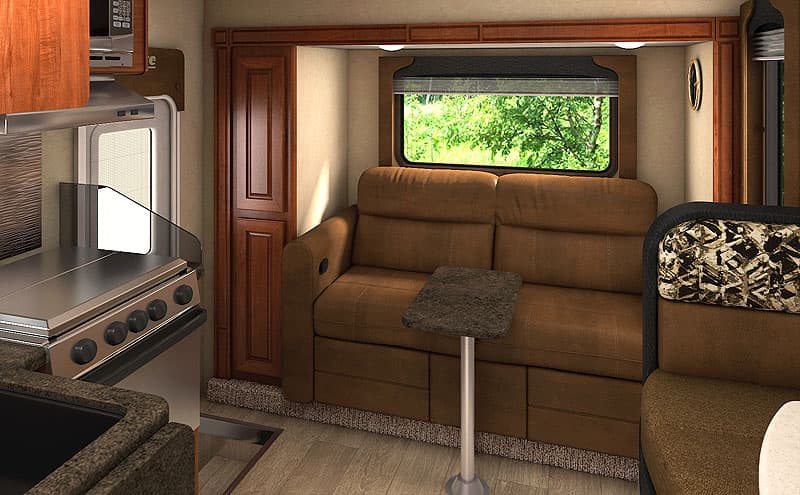 Above: New kick-out sofa in the Lance 1172
TCM: Tell us about the new kick-out sofa in the 1172.  What's the difference?
Randy: Primarily it's just a styling change.  The new sofa looks more residential and high-end looking.  It's a vinyl look with the French-style stitching.
Gary: The dimensions are same.  It's also more comfortable.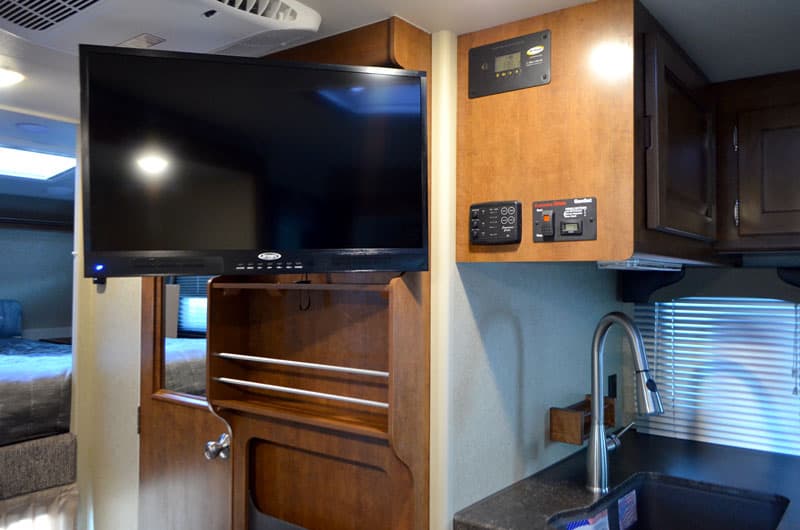 Above: There is a new entertainment center and 28″ television in the Lance 1172
TCM: The 1172 has a new entertainment center cabinet.  What's different in the new entertainment cabinet?
Randy: When we developed the 975, we integrated a magazine rack into the entertainment cabinet.  The 1172 now shares that same design.  We also went from a 24-inch LED television to a 28-inch LED television.
TCM: Is the new 28-inch television now optional on Lance units with televisions?
Gary: Yes, the 28-inch screen is optional.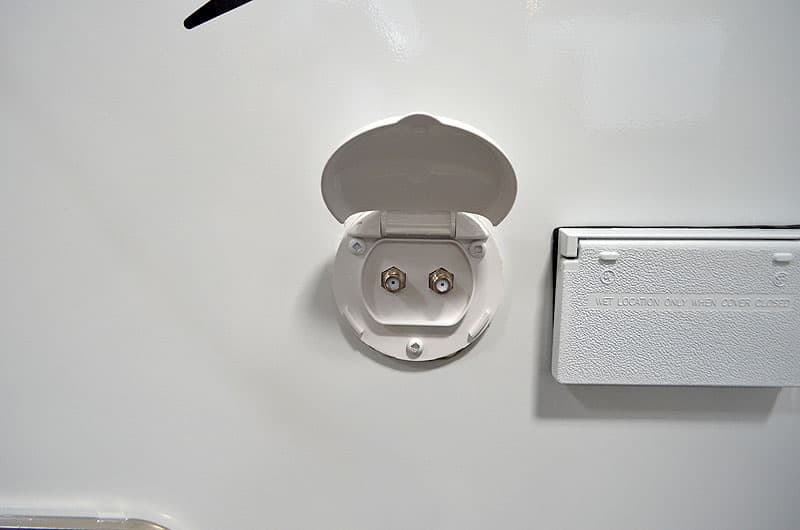 Above: New park cable and satellite cable hatch
TCM: For 2017, Lance has designed a new park cable and satellite cable hatch.  Why was the cable hatch something that needed to be changed?
Gary: The new park cable and satellite cable hatch feeds through an enclosed and sealed exterior access door.  It's a better solution to keep moisture out and holds the cable in place better.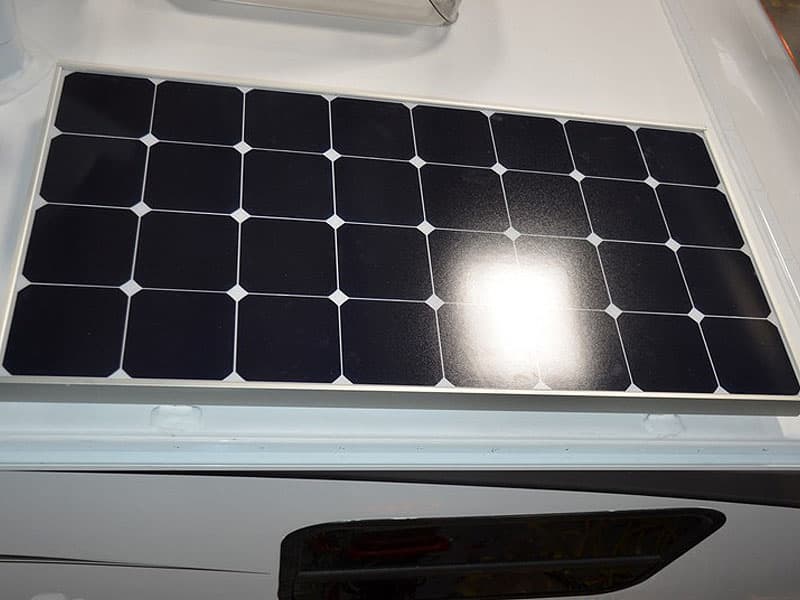 Above: Solar panels are now optional on the Lance 650
TCM: The Lance 650 now offers a solar panel option.  With the 650 only being a half walk-on roof, where is the solar panel mounted?
Gary: The 650 is a full walk-on roof, but you can't have chairs up there and watch NASCAR with five of your tailgating buddies.  If it's just one person cleaning the solar panel or checking the roof seals, that's fine.
The solar panel is mounted on the passenger's side cabover nose area.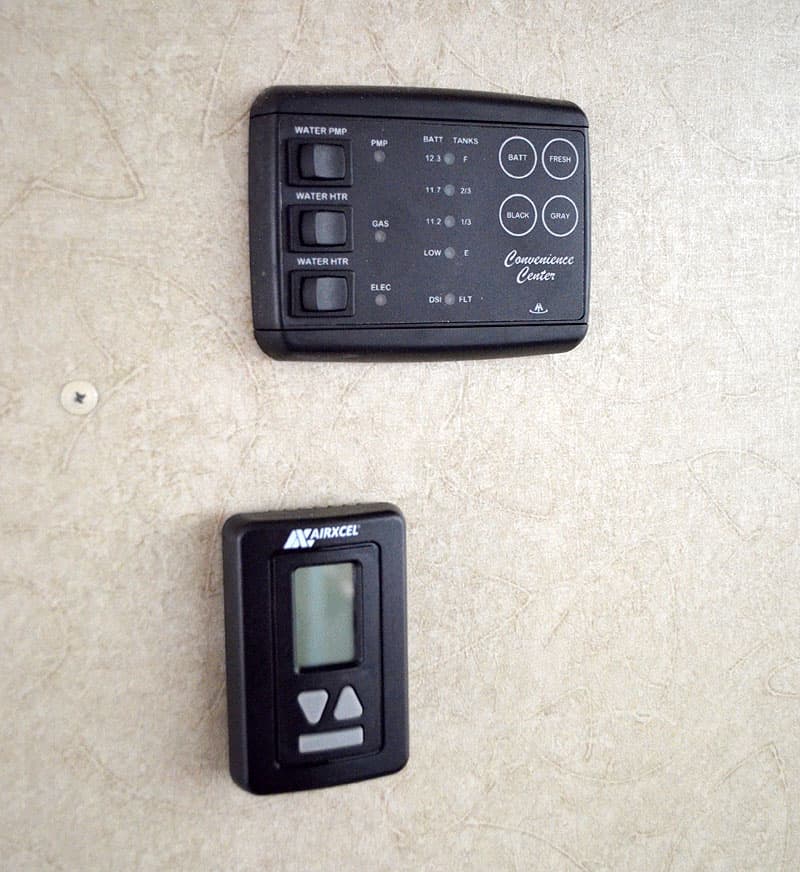 Above: New monitors are made by American Technology and match Lance's light switches
TCM: For 2017, Lance is debuting a new monitor panel design.  Is this purely aesthetic, or does this new monitor panel offer an advantage over the previous panel?
Randy: It's a styling change.  Our light switch vendor, American Technology, developed a new monitor panel, so we upgraded the panel to match our light switches.  It's an improved look, but the functionality is the same.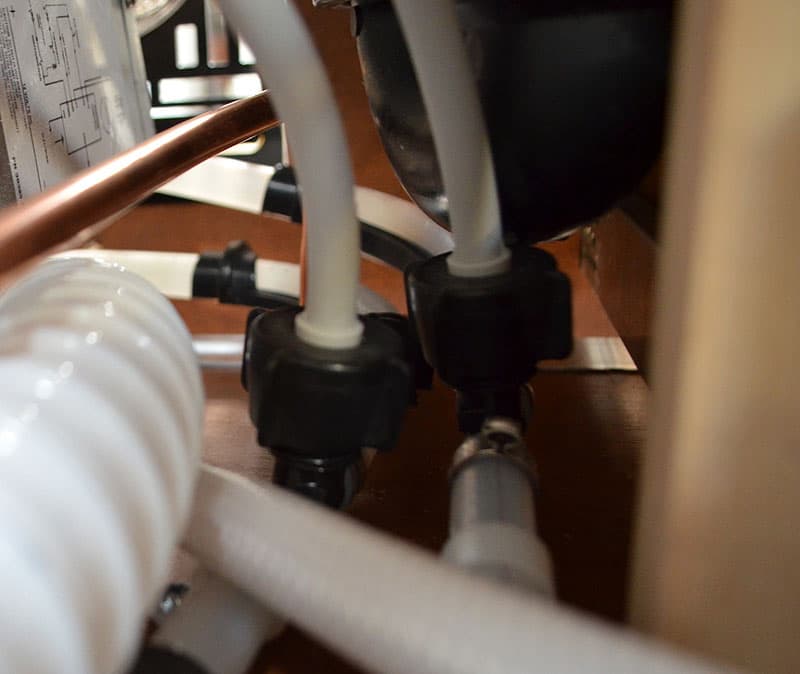 Above: New residential hot and cold plumbing application with a special P-line
TCM: Tell us about the new residential hot and cold plumbing application in the galley.
Gary: We put a riser application off the main distribution line that has a special P-line.  That reduces the chance of leaks and gives the system a better connection on both ends.  It's still part of the PEX system, but it's an upgrade within that system.  We are making this standard across the board for all Lance Campers.
TCM: Is there anything else going on with Lance's truck campers for 2017?
Bob: We hired a new Quality Control Manager, Rick Poitras.  He is responsible for improving product quality on our production line.  Our customers fill out surveys after they purchase one of our campers.  Everyone on the management team at Lance reads those surveys; Gary, Randy, and myself included.  Rick is here to help us with anything that needs to be addressed.  I am very excited about the changes he is implementing.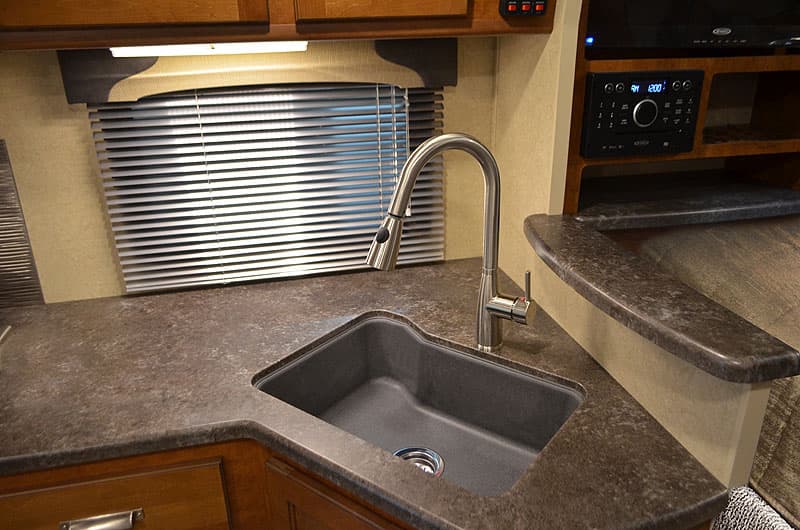 Above: Faucets and sinks have been changed in the kitchens of 2017 Lance Campers
Gary: We have changed the kitchen faucets and sinks for 2017.  The new faucet and sink combination is larger and deeper.  The new kitchen sink is a residential farm sink in style.  People are going to appreciate it when they see it.
We have six 2017 Ford F350 models arriving this week from the first shipment to California.  We will be working with Torklift International and Hellwig Products to conduct measurements and fittings for the suspension and tie-down systems.
We will also be testing the new trucks and studying their increased payload capacities.  From that we will be looking at opportunities for our campers based on these higher capacities.
Oh, and we are working on a new model for a March or April release.  It might have a 3 on it.
For more information on Lance Campers, visit the Lance website at lancecamper.com.  Click here to request a free Lance brochure.