For its 2017 line, Lance Camper debuts three new interiors, updates the floors, dinette tables, and counters, makes stainless steel appliances standard, and more.  Then they drop a major tease about a new floor plan.  Hint: It's a 3.

Lance Campers has debuted six new truck camper models over the past five years; the 1172 in 2012, the 1052 and 995 in 2014, and the 975, 1062, and 650 in 2015.
As each of the new camper announcement articles revealed, the new models were built upon the advancements and lessons of the previous model generations.  In addition, model year updates allowed for further refinements and upgrades as new and better materials, appliances, and features become cost effective.
For their official 2017 model year update, Lance is not discontinuing any of their nine truck camper models, or announcing any new truck camper models.  After the aggressive new model debut schedule of the past five years, they are focusing on the aforementioned refinements and upgrades while bringing a few new model features to the production line.  This news will not make anyone's socks roll up and down, but it's a snapshot of a company with a successful line-up, and strong sales.
If that was the whole story, there would be no reason for this announcement article.  What follows is our interview with Gary Conley, National Sales Manager, and Randy Hunter, Product Development, and Bob Rogers, Director of Marketing for Lance Campers.  We ask these industry leaders why they made these changes, and why they haven't made others.  We also get them on the record – just barely – about an exciting new Lance Camper debut for next Spring.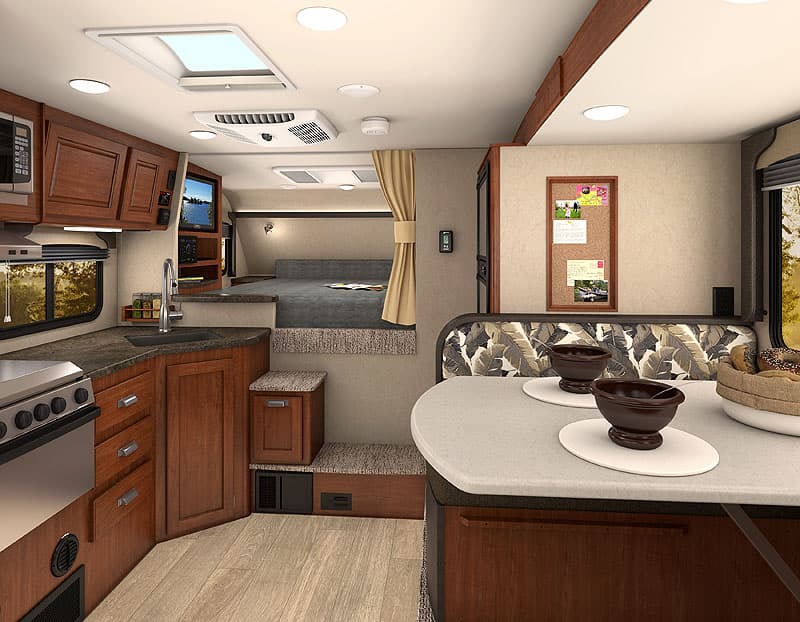 Above: The interior of the 2017 Lance 995, note the grey/brown color scheme.   All photos and computer renderings provided by Lance Camper.
TCM: Most of the 2017 Lance model year updates are interior decor changes.  The overall change is to three new grey-brown color schemes, and matching grey-brown interior materials.  Why is Lance changing to a grey-brown color palette and look?
Gary: The trends and colors we chose are popular within the home industry, which typically influence the RV industry.  Grey, black, and brown are the trending colors of choice in interior design.  We are following the modern trends of what home designers are using.

Above: The decors for 2017; Passage, Roadster, and Midnight
TCM: Are any 2016 interior decors being held over for 2017?
Gary: No, all of the 2016 interior decors have been replaced with three new 2017 decors; Passage (grey), Roadster (brown leatherette), and Midnight (brown).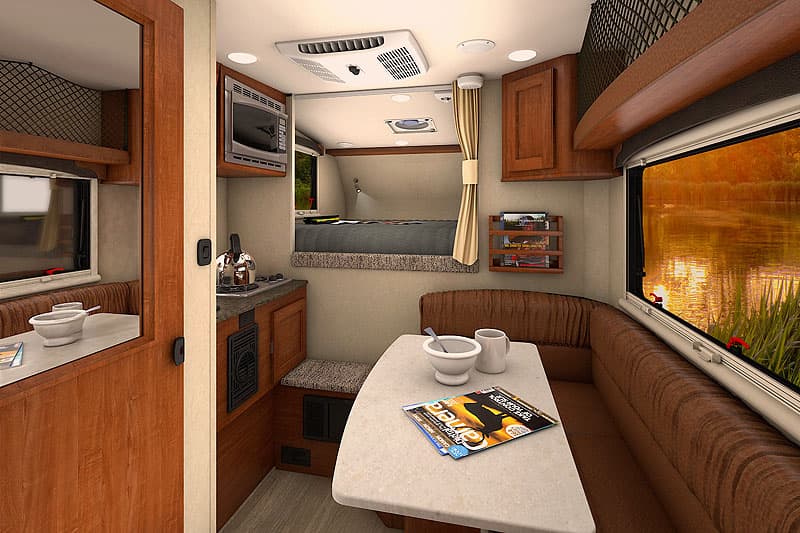 Above: The new Roadster interior decor in the Lance 650
Bob: A lot of thought when into the new interiors.  The trend this year is for contrasting fabrics and color combinations.  They're not too light or too dark.  To balance and coordinate the new decors, we also have new flooring, tables, and countertop colors.
Gary: These colors are predominant in the new truck interiors from GM, Ford, and Ram.  In the new trucks you'll also see a lot of two-tone decors.  The pictures of the new Lance interiors really don't do them justice.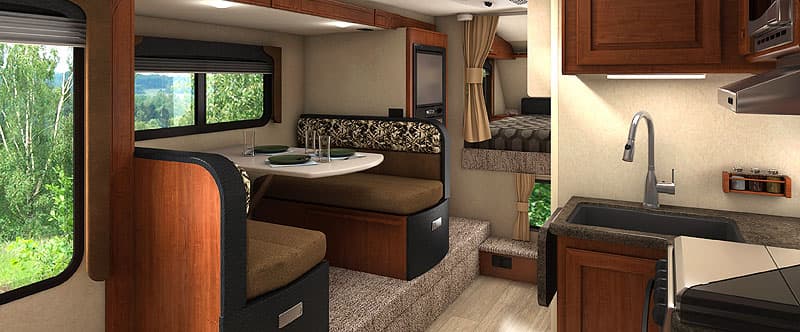 Above: The new Midnight decor in the dinette of the Lance 1172
Randy: Our interior designer elected to go with the automotive industry styling with colors of dark brown or dark grey vinyl with contrasting cream colored stitching.  It's really striking when you see it in person.