713 Truck Camper Magazine readers passionately responded to our Special Report on Mobility and Truck Camper Design.  Here are the mobility poll results, and reader comments.

To accompany our article, Special Report: Mobility and Truck Camper Design, we designed a poll to test the level of interest and concern readers had on this topic.
What follows are the poll results, followed by the open-ended responses readers submitted.  As indicated for the poll, only written responses with names have been published.  If you wrote a comment and forgot to include your name, click here.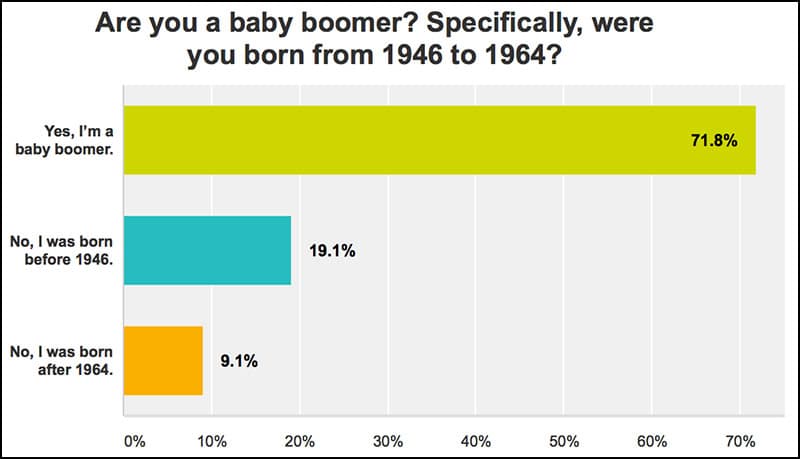 This chart affirms that 71.8 percent of Truck Camper Magazine readers are baby boomers between the ages of 52 and 70.  It also shows that 19.1 percent of our readers are over the age of 71.  Only 9.1 percent of our readers are under the age of 51.  This information is in-line with our annual reader survey demographics from the past 9 years.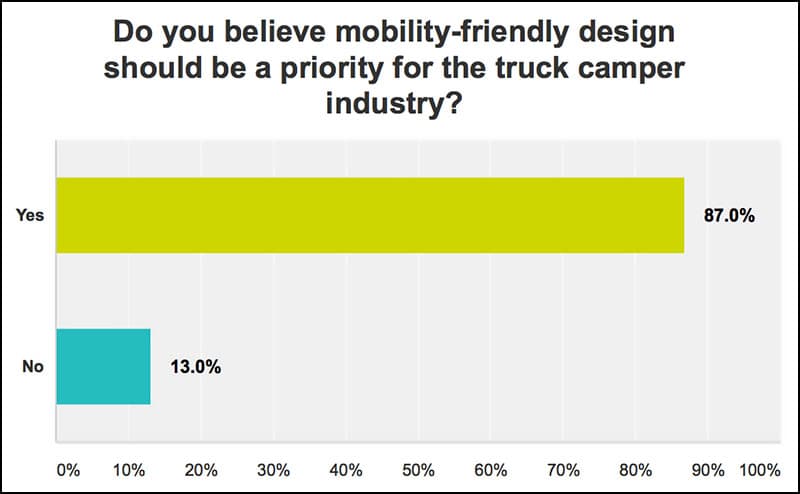 When we designed the mobility poll, the first goal was to either prove or disprove that the topic of mobility and truck camper design is important.  From the overwhelmingly positive response to this initial question, there can be no doubt that mobility is indeed an important topic for truck camper design.
On balance, folks with mobility challenges were probably more inclined to participate in this poll.  Even if the results are skewed, it's likely that over 70-percent of the truck camper buying public is focused on mobility for their pre-purchase research.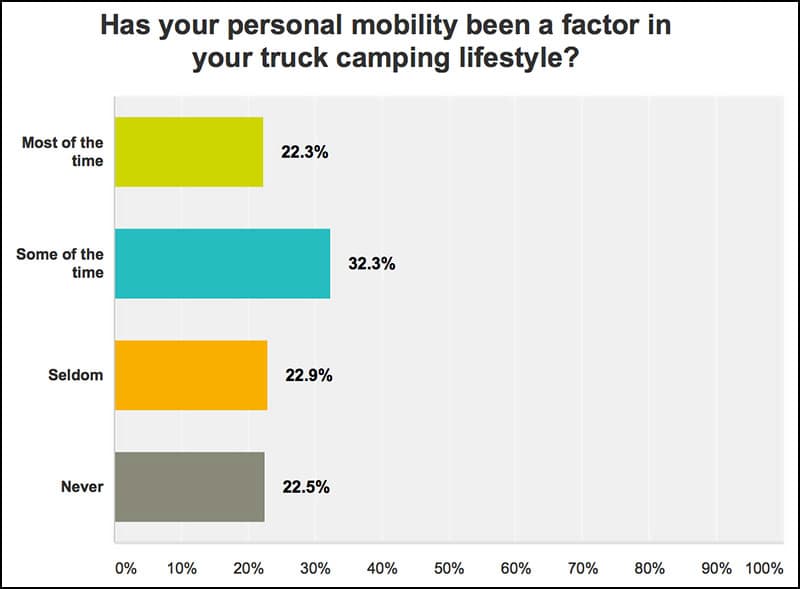 This chart gives me hope.  It shows that, while mobility is affecting 22.3 percent of the respondents most of the time, 77.7 percent state that mobility is affecting them some of the time, seldom, or never.
For the majority of readers, there's time to make some mobility-friendly adjustments before mobility issues become a threat to their truck camping lifestyle.  This is also an enormous opportunity for the truck camper industry.  Meet these needs, and these folks will respond with their wallets.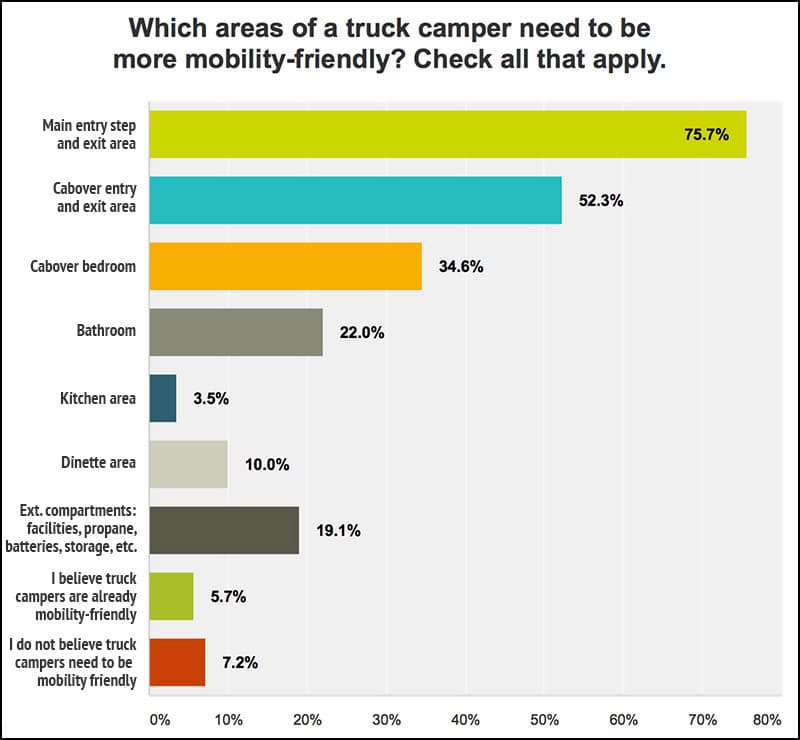 No surprises here.  The main entry step and exit area, and cabover entry and exit area are the leading areas needing mobility improvements.  If there is a clue for the truck camper industry in this chart, it's that every facet of truck camper design should be considered for mobility.
It must noted that 5.7 percent of respondents stated that they believe truck campers are already mobility friendly and 7.2 percent stated that they don't believe truck campers need to be mobility friendly.  Some of these sentiments can be found in the reader responses that follow the charts.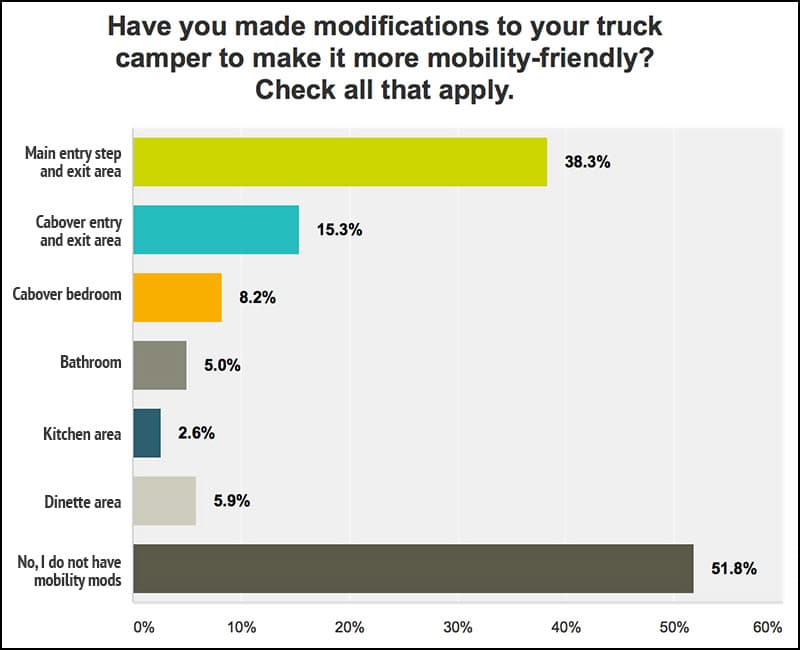 The majority of poll participants have not made mobility mods to their truck campers, but the ones who have focused on the main entry step and exit area, and cabover entry and exit area.  This just continues to confirm the thesis that mobility and truck camper design are important, and it's the main entry and cabover areas that need the most attention.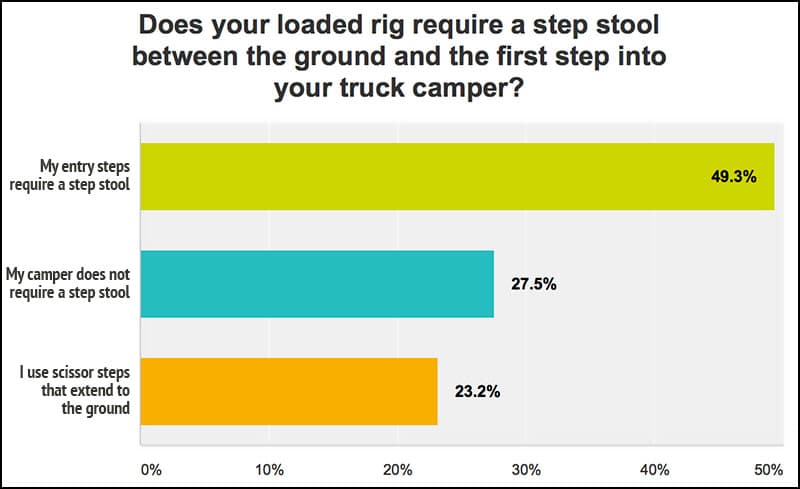 What this chart shows is that step stools can be found under almost 50 percent of truck camper main entry steps.  That includes truck campers with scissor steps that reach the ground.  That's a stunning statistic.
Reader Responses to Mobility and Truck Camper Design:
"I plan to be a truck camper owner within the next ten years, downsizing from a small motorhome.  I am torn between a truck camper and a camper van because of mobility issues.  I'm very glad you are addressing mobility needs of my aging generation!  Thank you." – Cindy McCaleb
"My husband and I are around 70 years old.  We are on our 5th truck camper.  We started out with two small daughters and now continue the lifestyle.  We are looking to buy a new camper this winter and will definitely be looking at mobility issues.  This is one of the most important reports you have provided to your readers.  Thank you!" – Linda Clark
"I find it very hard to make the cabover bed.  There has to be a way to make the bed up without looking like a fish out of water." – Jerry Oakley
"My biggest concern as a full-timer is that filled propane tanks are very heavy for me." – James Ostholthoff
"I have been RVing since 1978 and currently own a fifth wheel.  As a retired ER nurse, I know the long term impact of falls.  I have been considering downsizing to a truck camper (enjoy your articles), but the entry/exit makes me hesitant to switch over to this style of RVing.  Bullseye on your article!" – C. Ruth Ehrhardt
"I think customers should have the option to order campers with mobility modifications." – Wanda Myers
"There is nothing more uncomfortable than 90-degree church pew seating for a dinette." – Gary J. Seckel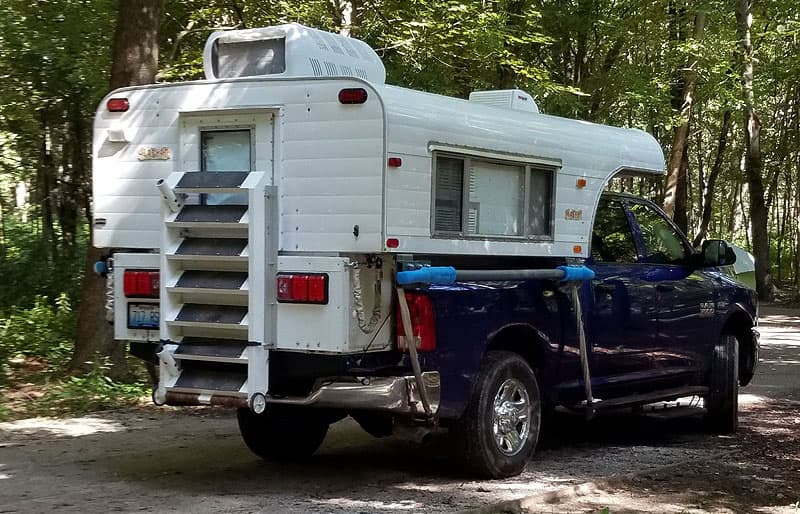 "When we first started looking at truck campers our main concern was the entry way.  Our 2014 Ram 3500 is 36-inches from the ground to the truck bed, which is much too high for entering our 1976 legendary Alaskan cabover.
Here is a picture as we are ready to travel and another when we are set up.  The steps and porch are lowered and raised using a winch system.  In the down position it is secured using turnbuckles and chains.  The steps are 2 x 6 inch pine boards.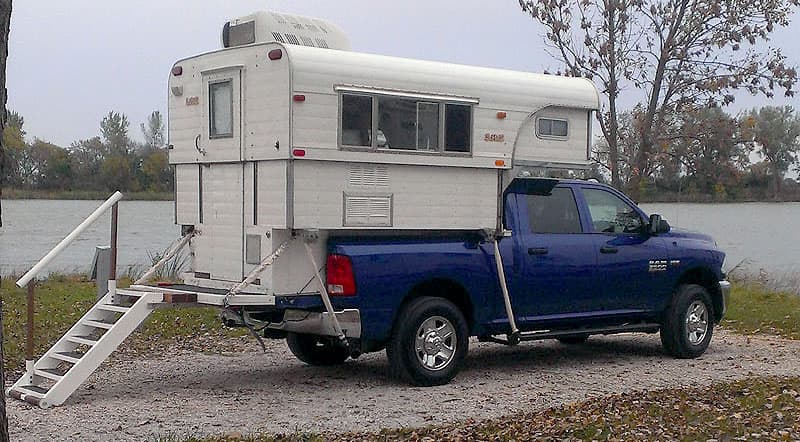 The removable handrail system consists of 2 x 2 inch poplar and 2-inch PVC pipe notched and pinned to fit the uprights.  They are stored inside the camper when traveling.
We have been able to travel with comfort and ease using these steps without fear of falling. They seem to always draw the attention of fellow campers." – David and Fran Carlin
"Mobility is the number one reason we traded our 2005 Lance 915 for an 1172.  With my disability, we need the side entrance.  It is much safer with the side entrance.  Actually, we picked up our new 1172 on October 12th.  Thank you for the opportunity to respond." – Cinda and Gary Whistler
"We own an Eagle Cap 1160, and the cabover entry is great.  The inside mobility is good.  The entry door steps are okay when it's off the truck, but very high when it's on the truck.  The steps are extra steep, and a little longer swing-out rail design could make a considerable difference to the entry door.
Also, keep the door entrance wide for various reasons.  When loading or unloading items, you can enter or exit straight and not squeeze through sideways.  It would give you a better (more secure) feel going in or out of the camper." – Doug Caruolo
"My camper sits inside my truck box which allows for the tailgate to be used as a deck for entry.  I use a two-step dry wallers ladder that is to the side of the tailgate.  I can use the box of the truck to assist when entering.
Inside, I use a small step stool to assist me in climbing into the sleeping area.  I have had both knees replaced, with some issues remaining, and found that this helps with very little effort.  My dog, who travels with me, uses a dog ramp to get up and down onto the tailgate deck, so I don't have to pick her up." – H. Rutherford
"Regarding item number 2, I do not feel the truck camper industry needs to make this a priority, but I do feel it should be an option for truck campers going forward.
Manufactures could offer a "Mobility Accommodation Package".  With one manufacturer carrying this option to cater to the boomers, other manufactures will certainly follow.
Add-on examples would be grab bars in the bath and cabover areas.  There could be different step options for the cabover sleeping area and rear entry, and different rear entry grab bars.  Also, there could be large print for instruction items and quick disconnect ends for utility feeds (water, sewer, electric) may also help." – Ben Hansen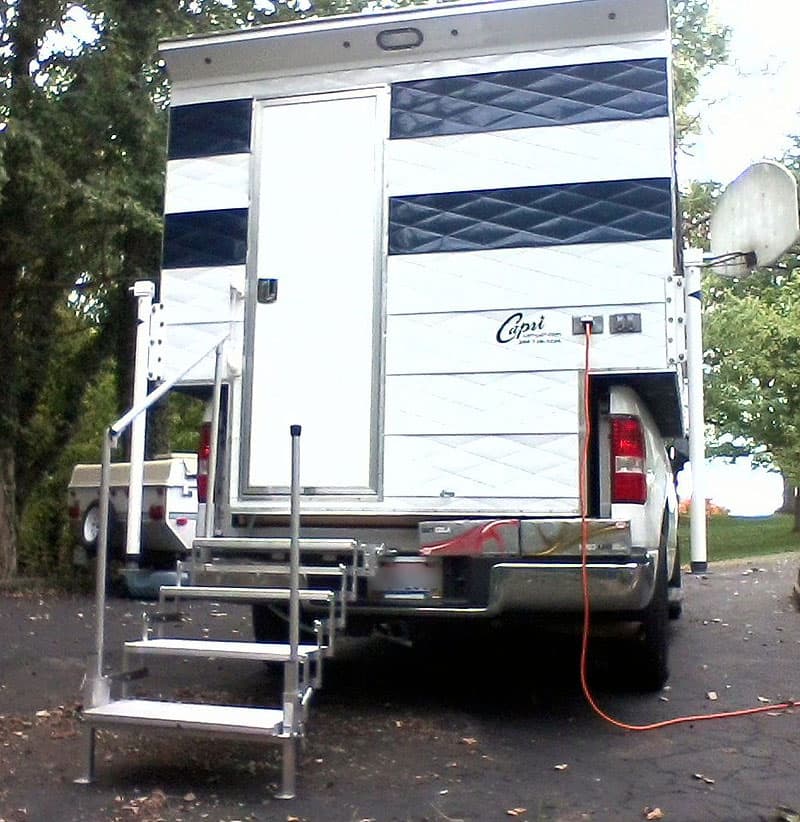 "We couldn't camp without these steps from rv-co.com.  They are made to fit your unit height and are adjustable for wherever you park the truck." – Pat Mitchell
"I have already left the fold.  I totaled my Toyota Tundra last February and broke my back.  The doctor said I had osteoporosis which weakened my bones.  Rather than buy another truck, I bought a Sprinter van for the reasons given in this report.  My 2011 Northstar 650SC pop-up is for sale." – Gene Lueg Dubach
"I don't believe truck campers were meant to be mobility friendly.  There are other RVs that have mobility as part of their design.
I have always believed truck campers were designed for the more adventurous to be able to go where other RVs cannot go.  Part of that lifestyle is to go out and physically do things the less mobile cannot do.
Purchasing a truck camper to just camp at RV parks kind of defeats the purpose of having a truck camper.  The ability is to go where other RVs can't go was a big part of my decision to purchase a truck camper.
I fully understood that there are more steps to get into the camper and into the cabover bed, but I gladly take the few inconveniences for the ability to enjoy this lifestyle.  If mobility friendly or accessibility is important, other RV types might be more suited." – Jim Hignite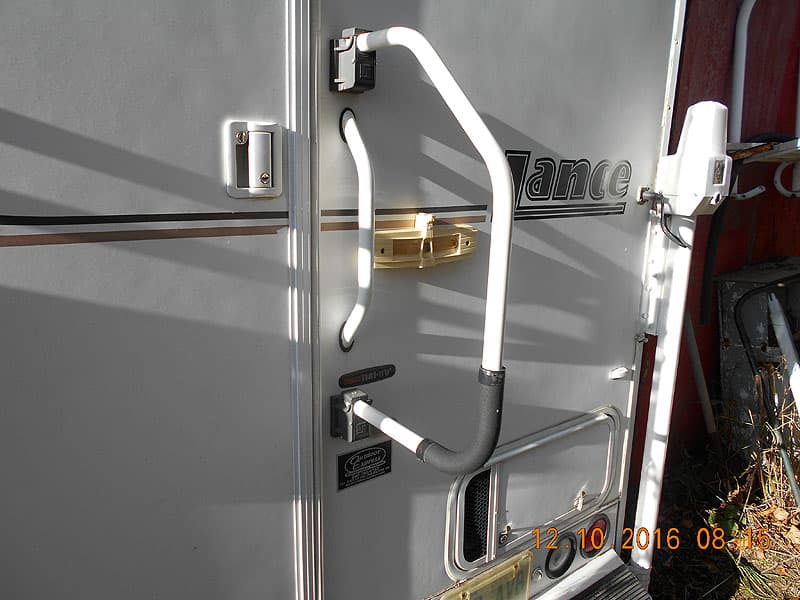 "My mobility mods include a second grab handle, and a stool that doubles as a tool box made by Gracious Living Industries.  I purchased it at Walmart." – Alain Larose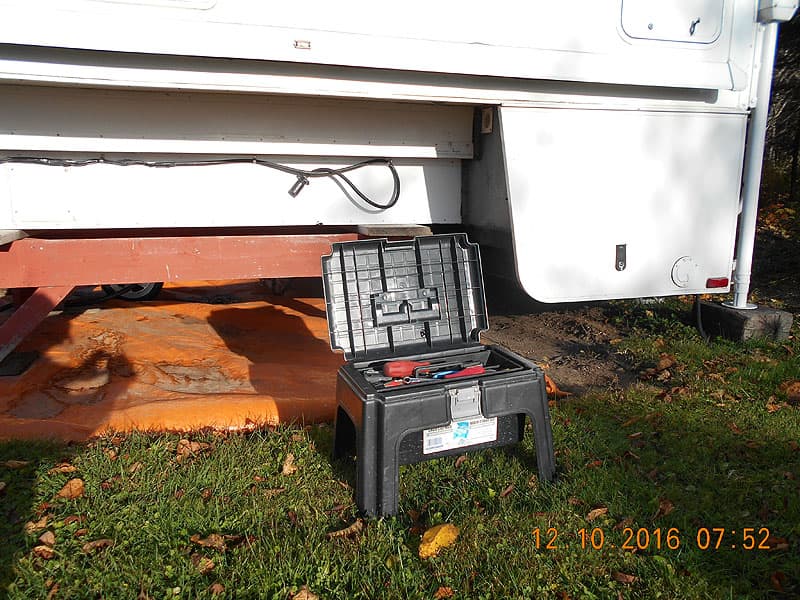 "I think a posturepedic type of mattress should be offered and a grab handle outside the entrance should be standard equipment on all camper units." – Howard Burke
"We just purchased a new Northern Lite 10.2 EX CD.  As a 70 year old, the entry step, access to the cabover, and the bathroom design were a major part of our decision to wait almost nine months for a camper that we would be comfortable with for the next five to ten years.
We talked with the owner of Northern Lite to see if we could get additional solar panels and additional 12-volt plugs for running our CPAP machines.  Both were available as factory options, but not on any official option list.  We also added two Group 31 AGM lifeline batteries rated for 125 amp deep cycle to avoid a generator.  We chose to stay with the maneuverability of truck campers.
This is our third truck camper.  We also had a class B conversion van.  It took us almost two years of research to finally decide to go back to the tremendous efficiency and maneuverability of truck campers.  We found a quality manufacturer that had a great rear entry system and would work with us on minor enhancements that would allow this older baby boomer couple to continue their life long love of traveling." – Mark Harrison
"My wife and I have already discussed what our next RV will be when the mobility issue forces us out of the truck camper." – J. L. Bales
"I have made my own steps for entrance that fit into the receiver hitch." – Ken Wright
"We looked for a camper with what we thought had the easiest entry steps.  Standard residential step rise is about 7-inches.  We found some campers with entry steps as high as 14-inches.  We didn't look any further if the steps were much over seven inches." – Bruce Moses
"Truck campers can't be all things to all people.  There are inherent limitations as to what a truck camper will be able to do.  Half the fun of having a camper is to make improvements and modifications that suit our individual needs.  If these mods aren't possible, folks with special needs have many other options such as travel trailers, motorhomes, motels, tent camping, etc.
Where there is sufficient demand for realistic accommodations, I would expect that the truck camper manufacturers and gear companies will try to meet the demand.  I'm looking forward to seeing modifications that people send in.  I learn a lot from what people are doing with their campers." – Tom Fitch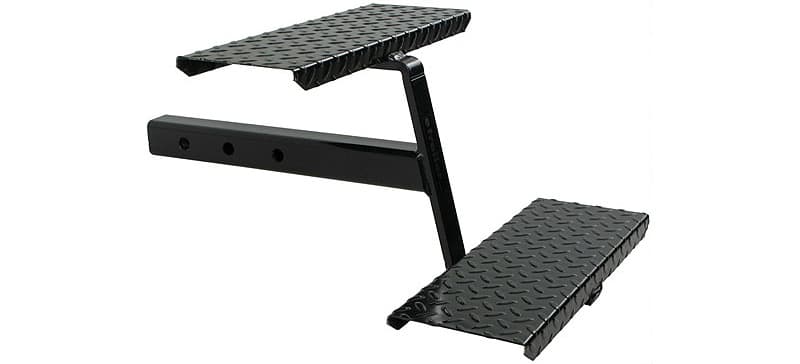 "I have trailer hitch steps that I modified to position a foot toward the driver side's for better door enter/exit." – Blake Shipman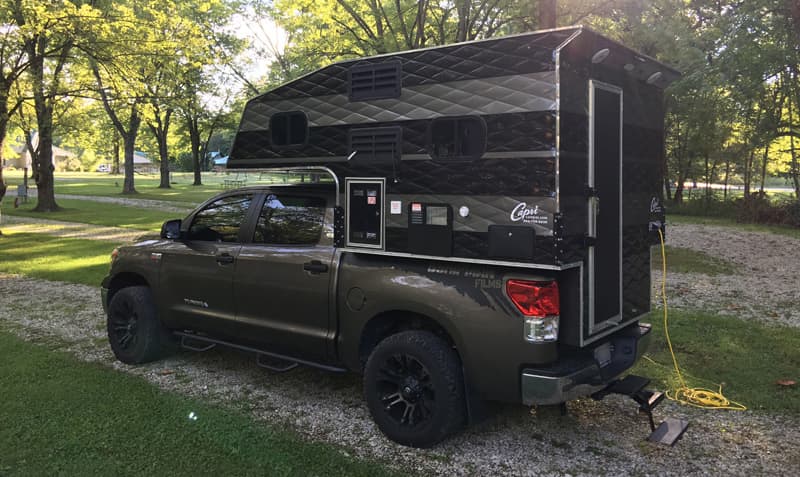 "I am seriously looking for an RV where I don't have to climb up into the bed or the bathroom.  I hope I find it before I fall and break something." – Stan Johnson
"I'm 78 and my wife is 65.  We don't use a step stool, and there is no assist for getting in and out of the cabover. – Frank and Polly Foley
"My wife wanted to buy a truck camper, but after trying to enter several models at one RV show, she settled for a Class C.  She was afraid to falling while getting in and out of the camper." – Douglas Vey
"Without our scissors steps, we would probably need a three-step stool to get into our 2005 Travel Lite mounted on a Ford F350.  I slipped and fell on the slide-out step and two-step stool we on our old Coachman after a rain.  I am a lot more careful now, and appreciate the wide steps Torklift scissor steps have." – Ann Gemberling
"While not specifically mobility-related, I believe there is a need for enhanced technology to aid in loading a camper, particularly for individuals who cannot look over their shoulder while in the truck cab, or who cannot get under the camper to attach the power connector." –  John Terescik
"There needs to be more comfortable seating; not just straight back bench seats. Typically two people would use a truck camper, so why not include two recliner chairs at the dinette and have a collapsible table?" – Rita Eshman
"As far as steps into the camper, I think Snowriver had the best idea.  They had an aluminum step that slid into the basement area and had a door to keep weather and critters out of the basement.  Too bad the 2007 recession put them out of business.  Some other manufacturer should look into their design and the system." – Robert R.
"We just purchased an Adventurer 86FB and found the entry to the cabover bed was too high.  I designed and built a step to decrease this distance by 10-inches.  It's fine now." – Bill Londry
"We have a 2002 Northern Lite Ten-2000 mounted on a four-wheel drive 2002 Ford F350.  It's a fair stretch to the exterior entry handle when climbing the scissor stairs, especially when carrying a load.  I'd extend the vertical drop of the handle for easier access.
There is also a lip of about 3-inches to step over when entering the wet bath.  It doesn't need to be there, or it could be greatly reduced.  There also is a step with a non-secured top for getting into the north-south bed.  The step could be larger and more secure, which is more important when exiting the bed than entering." – Harv Keene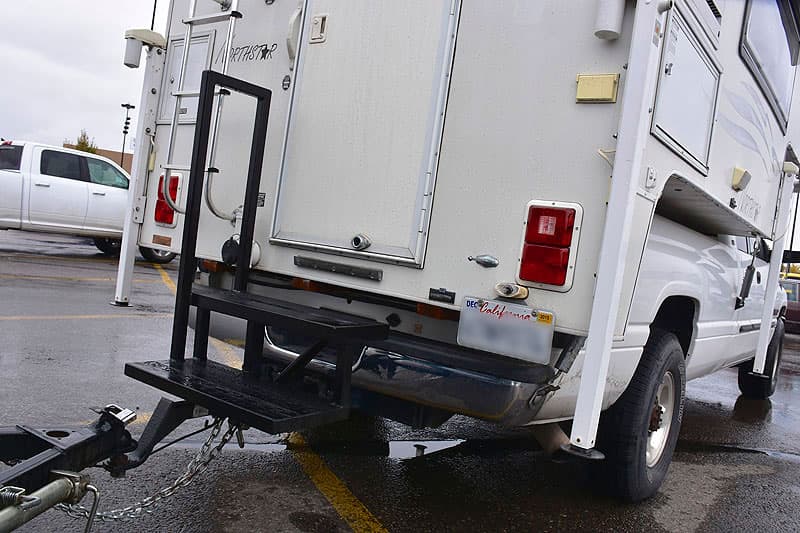 "My first steps were on my 2002 Dodge 2500 with a Northstar 8.6 Arrow camper.  The base for the steps was a 2.5 Reese receiver.  I put a 2.5 extension and welded the steps and handrail to the extension.  Then, I put the receiver hitch in the back of the extension to tow my 6×10 enclosed trailer that weighs about 3000 pounds loaded. This worked excellent.
I have since sold that camper and purchased a 2016 Northern Lite 9.6 and a 2006 Dodge 3500.  The Northern Lite bumper, entry stairs, and hand rail work great.  I use an aluminum step for the first step and carry it in the camper when I am traveling.  The hitch extension with the steps that I had on my previous camper is for sale.  Thanks." – Bernie Neale
"I have owned and enjoyed five truck campers over the years.  Recently I gave up my truck camper in favor of a mini motorhome, a Thor Compass, due to increasing problems getting into and out of truck camper.
I was afraid my wife or I would eventually have a misstep.  Additionally, taking three Maltese dogs in an out was a pain since I have a bad shoulder.
I loved my truck camper and hated to give it up.  When I see one on the road, I smile.  Life is full of changes and our motorhome is one of those.  I have enjoyed and will continue to enjoy your wonderful and informative magazine." – Tom Cabic
"I think that the wet baths need just a tad more room so that you do not drive your elbows into the walls.  Other than that, I find everything else is sufficient." – DuWayne Hermann
"I would like to see a better grab handle-railing for the entry steps, and a fold-down step for the cabover area.  At present, we are okay without either one, but the day is coming when we will need them to continue our truck camping." – Audrey Ruccio
"I put a step stool in the camper to help with cabover entry and exit." – Judi Sutherland
"We have advocated a sleeper sofa design in a slide-out for years, with the cabover used for storage.  There would be tremendous acceptance of this idea by folks who can not handle the climb in or out of the cabover.  It would also help to solve the truck camper's greatest disadvantage, the need for more storage space." – Dennis Darr
"I would like a second step into the cabover or a pull-out landing.  Our 1995 Shadow Cruiser is lower in the cabover than newer models.  Thank you." – Sam Tardo
"I am a widow who travels alone.  I have scissor steps that reach to the ground on my Outfitter Apex camper.  I have no issues with mobility, but the removal and storage of the steps is awkward and unwieldy." – Jen Fangsrud
"I am 74.  Turning to view the camper and truck for loading is becoming a problem.  Help in this regard would be appreciated." – Ron Thompson
"A more convenient way to store the folded steps would be good.  We pull a boat so I built a extended bumper so the steps could fold off center." – Jay Knight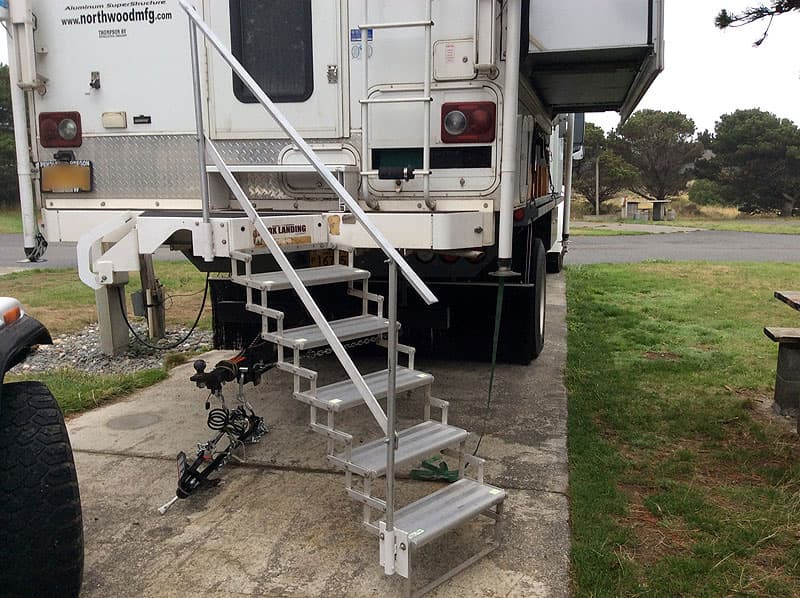 "We have a different type of truck for our camper, so resolving the mobility issue for my wife's 84 year old mother was a bit of a challenge.  Torklift's stairs combined with the Arctic Fox rear step by Torklift worked great.  Just added a railing that can be removed easily and stashed in our storage area." – Jon Schnebly
"Easy entry/exit is not just a convenience issue, it's a big safety issue too.  Dangerous falls are common when entering and exiting multiple high steps." – Ralph Pilkington
"The deck and fold down-step on the Adventurer is what sold us on our truck camper. It allowed a sturdy platform for my wife to enter and exit the camper.  That being said, we still need a step stool for her to be able to to get to the first step.  I also had to make a new dinette table so that one part of it didn't stick out into the aisle.  The new table allows for more aisle room." – Don Hard
"We changed from a Northstar 650 to a Northstar Laredo because of problems getting up and down into cabover bed." – Ted and Joan Berger, 75 plus and still camping
"I would also like the roof lifting mechanisms examined.  We have a Four Wheel Camper, which we absolutely love, but even with 40-pound struts on the roof, I can barely lift the roof up.  As a woman with long term back issues, this is not acceptable to me.  It limits using the truck camper on my own without my husband around to lift the roof." – Nancy Raimondi
"Amen!  I agree with you 100-percent.  Thanks for making this a priority with the manufacturers and raising the issue.  I don't have any problems now, but I'm concerned with my future truck camping capabilities.  Thanks again!" – Mike Cianci
"The sales people added, at my request, a grab rail to use as you climb into the cabover bed.  I also added a step stool.  This was essential to my decision to purchase a truck camper.
Truck camping allows older folks to park at overlooks and park closer to things than a fifth wheel, trailer, or Class A.  That also was a major deciding factor in our purchase.
The Lance 1172 has an extra grab rail at the entrance that helps with entry.  I wish the unit had a built-in step system to get into the bed area for older/shorter people.  If you forget to remove the assist stool, it can damage the slide-out.  I give myself five to seven years and then I will have to consider an alternate manner of camping travel." – Don and Lynn Fox
"We have a Lance 1191.  The 30-pound propane tanks are difficult to remove; the rear propane tank is almost impossible.  I wish the fuse box was higher!" – Pattie Cimaglia
"Great subject.  We're glad Truck Camper Magazine is addressing this important issue.  Hopefully the industry will take it to heart." – Cliff and Susie Kellogg
"I often look at the delivery trucks that have that loading platform that goes up to the truck and down to the ground.  I'm always looking for one that may fit my truck camper for me and my dog to enter and exit a camper." – Denise Barber
"Specific to numbers 4 and 6, we should be using a step stool, but do not like the instability issue on un-even ground.  I'm looking into upgrading the rear landing area with a better stair system for our 2012 Northern Lite.  That's really the only a problem when the ground is not level, and we use blocks to level the rig." – Keith and Nancy Rivers
"We love our pop-up camper and realize with sadness that a day may come when we can no longer climb into the cabover bunk.  Thankfully, we are both tall, which helps. We do put a step stool on the landing." – Carol Wegner
"I pull a large enclosed trailer with motorcycles, and it's always a problem with the trailer attached to get into the camper.  My answers refer to how it would be without a trailer attached." – Bill Strickland and Hazel Green
"We pull a horse trailer much of the time.  The Fox Landing is making my choice of a new camper interesting.  While the entry is probably the best available for us, there are other things with the camper that are of concern.  Choices, choices." – Pete and Linda Clark
"We are adding grab bars to assist with getting in and out of the cabover after I fell and broke my collar bone." – Laurel Wilson
"I have added an additional grab bar on the exterior entrance, a grab bar for accessing the cabover, and a step to the trailer receiver to ease access.  I added additional roof struts to help raise the roof.  Due to arthritis, I struggle with opening compartments and the tie-downs." – Bill Peters
"A hand hold overhead assist in the sleeping area to help with sitting up in bed and then sliding to the exit point at the foot of the bed is needed.  The hand hold should be soft with no sharp/hard edges (maybe a rope handle) to avoid head injury." – Jim Goodrich
"I don't think we need to go more mobility-friendly.  We can move around just fine in our camper.  We even have hot water, a stand up shower, can cook our meals on a gas stove, wash the dishes in the sink, watch cable TV or a DVD on the flat screen TV, turn on the air conditioning if it gets too hot, and have a furnace if we're too cold.  If we have to change because of our limited physical abilities, well then we may just go to a hotel.  We might even use the elevator." – Tom R.
"I really like our scissor steps for easy setup and entry/exit access.  It would be nice if there was some adjustment to deal with terrain. Our previous campers did not have scissor steps and were more difficult and uncomfortable to enter and exit." – Dave Miller
"Since we changed to a thicker mattress, and then added an eggshell topper, we now have to use a step stool to get into bed.  I will soon be making a double step ladder similar to one shown in a previous mod section." – Dewey Lackey
"We bought our 2012 Adventure 86FB because of the rear entry step and extended rear bumper landing." – Mike Pascucci
"Getting into and out of the cabover bedroom, two or three times a night, is horrible and worth the cost of redesign." – Tom Bulger
"I welded a step to the receiver!" – Joe Glynn
"I have a 2004 Arctic Fox 1150 wet bath.  To exit the camper, the first riser is 12-inches and the tread is 9.5-inches.  The second riser is 12-inches and the tread is 6.5-inches.  This is hairy for any age.  Newer Arctic Foxes offer the Fox Landing.  Torklift also offers scissor steps.  All truck camper manufactures need to acknowledge the basic need to have reasonable options for entry to the truck camper." – Bob Gutschow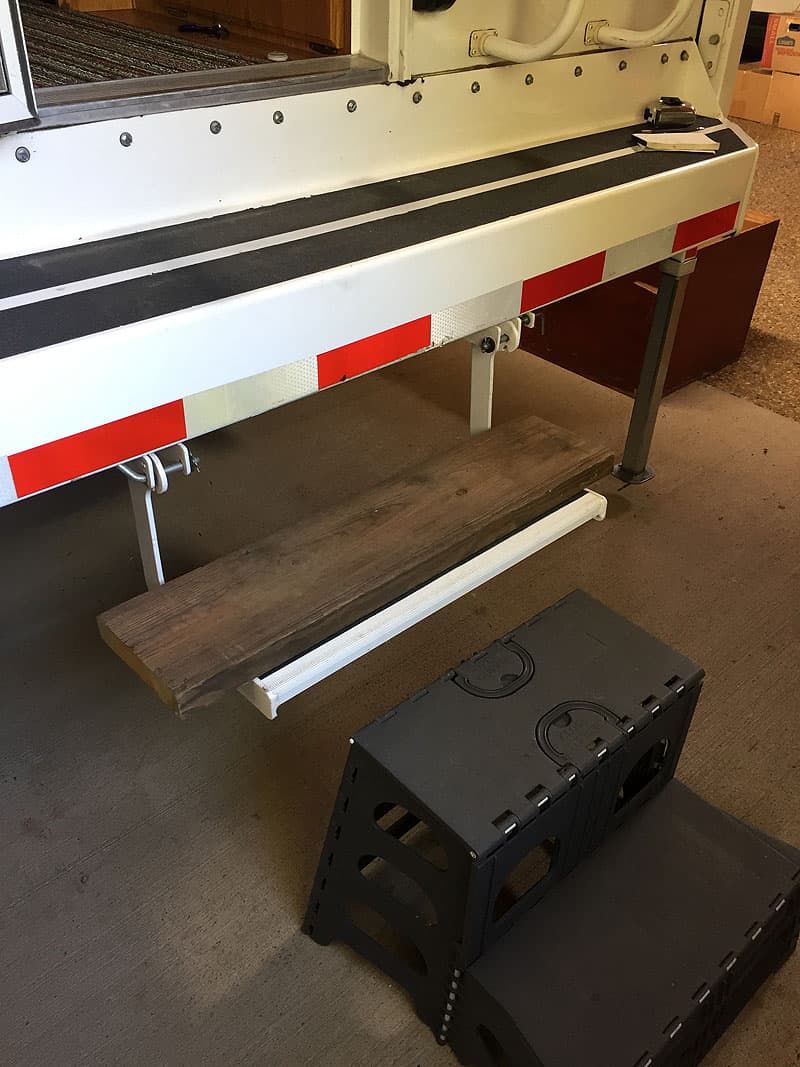 "I use a folding two-step unit from Camping World to easily reach the outside fold-down step on my Northstar 850SC when loaded on the truck.  That step is almost 15-inches below the bumper, so a 2×6 placed on the step surprisingly makes that large step easier to manage.  Both the board and folding step easily fit on the floor inside the door for travel.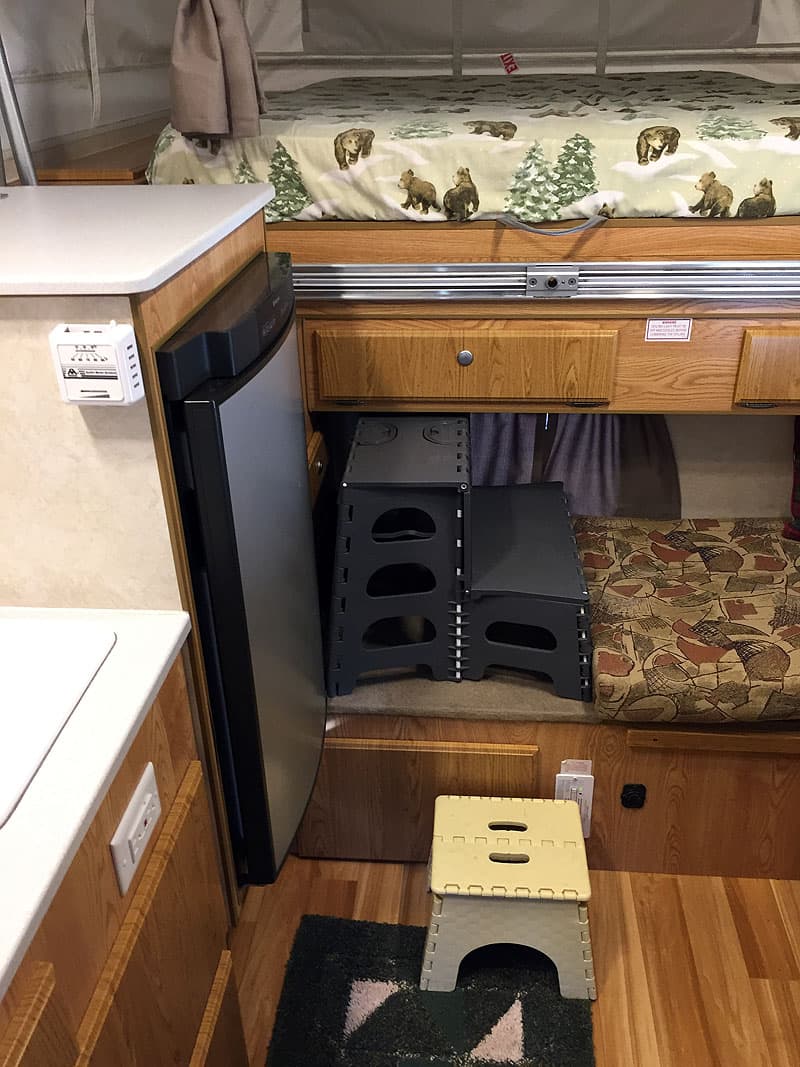 To reach the cabover bed, I have a second two-step unit that fits perfectly on the platform that extends from the dining cushion area.  A one-step folding unit from Camping World makes an easy step up from the floor." – Dave Thalman
"Do not place light switches, electrical outlets, water heater controls, or drawer knobs in cabover step-up area.  Lower the entry door latch or make standard the door handle extension that I have seen in your magazine and ordered from Amazon.  What a great idea!  My short wife loves it." – Bill Hansen
"The distance from the bumper to the entry door on our 2008 Palomino Winter Creek 115RS is too much for us to easily enter.  To solve this, we created a mid-step by adding four pieces of 2×8 to the underside of the factory step, which we leave secured in the up position.  We do not feel scissor steps are stable enough.
We use a three-step stool to get up to the bumper height.  It is a Werner aluminum stool which had a cross bar at the top.  We removed the crossbar without any loss of stability in the stool since it is well gusseted.  It also fits neatly between the factory step supports which hold it firmly in place." – Bill and Sue Billyard
"I have modified the cabinet latches.  The type we had were too hard for my wife to pull open.  I installed normal roller catches to ease opening and we put baby safety catches through the handles when we travel.  It's easy to use and the secure latches are an improvement." – Doug Baker
"We had a Four Wheel Hawk for years and loved it.   Age and new knees have moved us into a Roadtrek Class B.  We can't get as far off-road, but we are traveling more than ever!" – Steve Fishler
"What a great article!  It's very timely for my wife and I.  I am 69 and my wife is 59.  We have a 2015 truck and 2008 camper and are just now starting to look at small, 22 to 25-foot non-slide motorhomes.  We are thinking that we may need to go this direction in the future, maybe 5 years from now.
You are spot on with this article.  Thank you so much for your awesome and extremely informative Truck Camper Magazine!  Please keep up the amazing work both of you do.  We so much appreciate it!" – Jim
"I have a 2008 Okanagan 126TKS which is a well engineered camper.  It's very user friendly." – Leonard Eagle, Jr.
"Great topic.  Mobility becomes more important as life goes on.  Entry into the bathroom needs to be considered.  Is a foot or more high climb over or step up really necessary?  Why not trim this down?  It would save a little weight.  Let's also encourage manufacturers to use sliding bathroom doors.  They are much more practical." – Janet Manis
"I would like to see wider entry doors." – Pete Mather
"Absolutely!  Ease of mobility into and within the truck camper was the #1 consideration when we purchased our 2017 truck camper, and we're mobile!  For the investment we were making, we wanted to be able to grow with our camper.  That included consistent height, outside only steps and a platform for cab entry, short height entry into the cabover, and consistent floor height within the camper itself for bathroom entry/exit." – Mary Price
"I have hesitated buying a truck camper for these very reasons.  Getting in and out of the bed and the camper are issues.  You mention comfort and safety.  You might stress strength as well as a separate issue even though it might be considered under the comfort heading.  Ease of access might be another way of saying that." – Preston Smith MD
"I do not yet require mobility changes to campers but, as I am now in my early 50s, it is something that I will likely consider when I replace my current truck camper.  But that will be many more years from now." – Rick Guffey
"We have an 2008 Okanagan 85SL.  We love it, but the bathroom needs to be squared off (for me to sit).  We exit the camper (mounted on truck) going down six scissor steps.  With bad knees, this can be daunting." – Tom Slack
"Entry and exit has always been unfriendly in campers.  Our 2014 Northern Lite 10-2 CD SE is a lot better, but the bottom step is still 18-inches from ground.  We found a step platform that is about 8 to 9-inches, and this helps some.  I love my camper, but this could be the reason for ending our truck camper days." – Jim Furubotten, Aberdeen, Washington
"I have a milk crate to hold loose items.   It is also used as an additional step as needed." – Terry Bennett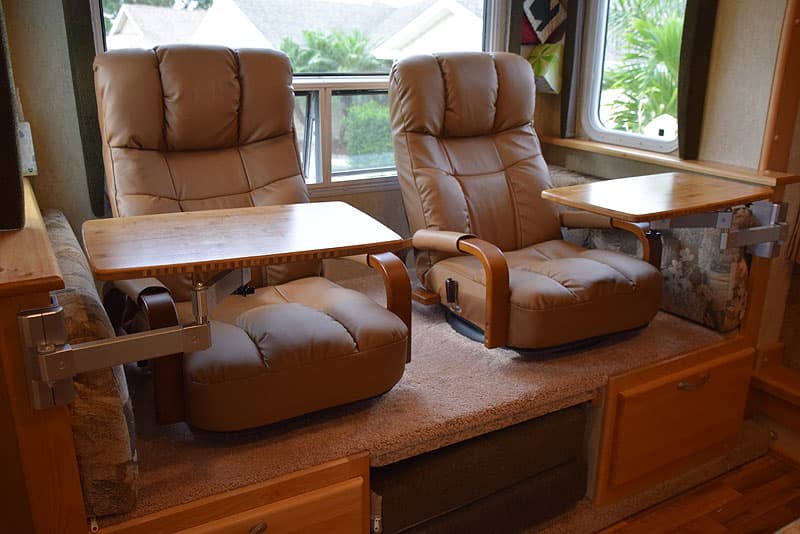 "I have modified the bathroom with a better easier entry/usable shower door.  I modified the kitchen with multiple drawer/cabinet shelves for easier accessibility.  I have modified the dinette for comfort by removing the traditional bench seats with two Lazy Boy style recliners." – Charlie Coushaine