713 Truck Camper Magazine readers passionately responded to our Special Report on Mobility and Truck Camper Design.  Here are the mobility poll results, and reader comments.

To accompany our article, Special Report: Mobility and Truck Camper Design, we designed a poll to test the level of interest and concern readers had on this topic.
What follows are the poll results, followed by the open-ended responses readers submitted.  As indicated for the poll, only written responses with names have been published.  If you wrote a comment and forgot to include your name, click here.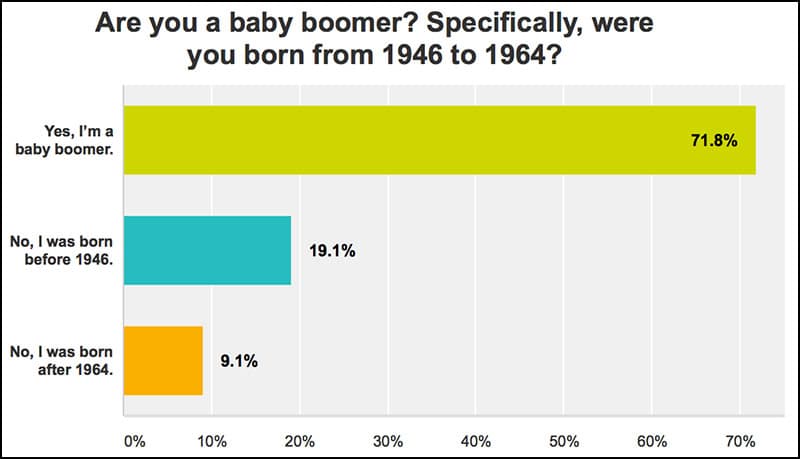 This chart affirms that 71.8 percent of Truck Camper Magazine readers are baby boomers between the ages of 52 and 70.  It also shows that 19.1 percent of our readers are over the age of 71.  Only 9.1 percent of our readers are under the age of 51.  This information is in-line with our annual reader survey demographics from the past 9 years.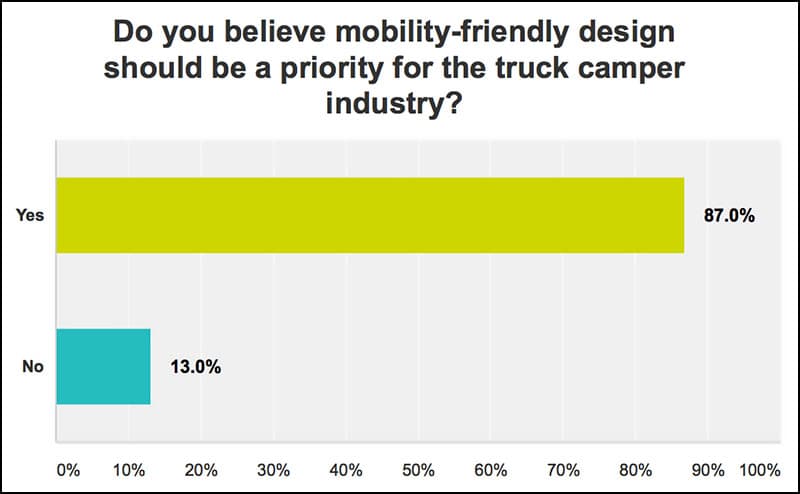 When we designed the mobility poll, the first goal was to either prove or disprove that the topic of mobility and truck camper design is important.  From the overwhelmingly positive response to this initial question, there can be no doubt that mobility is indeed an important topic for truck camper design.
On balance, folks with mobility challenges were probably more inclined to participate in this poll.  Even if the results are skewed, it's likely that over 70-percent of the truck camper buying public is focused on mobility for their pre-purchase research.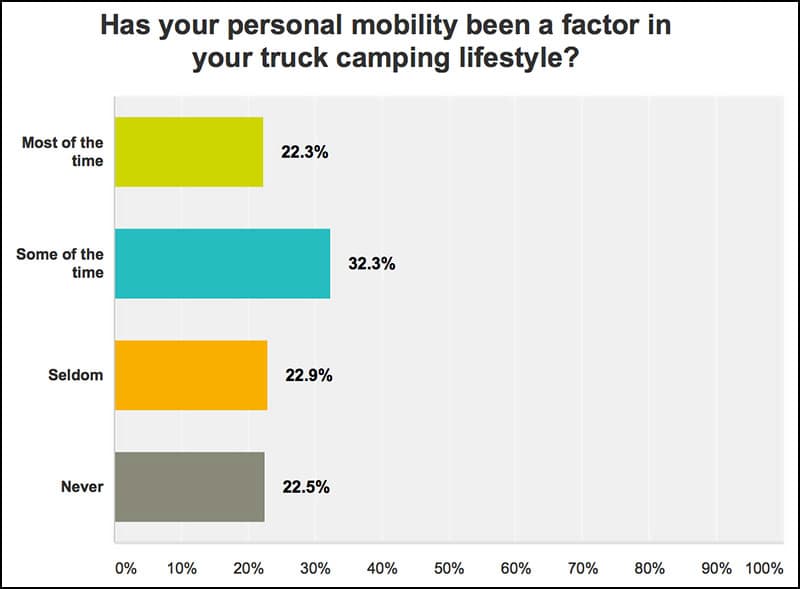 This chart gives me hope.  It shows that, while mobility is affecting 22.3 percent of the respondents most of the time, 77.7 percent state that mobility is affecting them some of the time, seldom, or never.
For the majority of readers, there's time to make some mobility-friendly adjustments before mobility issues become a threat to their truck camping lifestyle.  This is also an enormous opportunity for the truck camper industry.  Meet these needs, and these folks will respond with their wallets.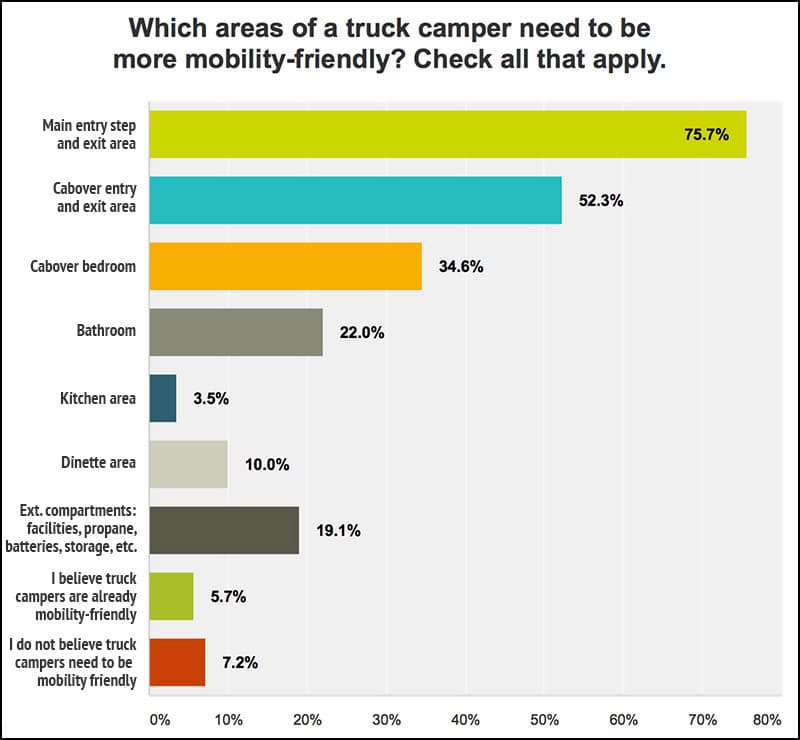 No surprises here.  The main entry step and exit area, and cabover entry and exit area are the leading areas needing mobility improvements.  If there is a clue for the truck camper industry in this chart, it's that every facet of truck camper design should be considered for mobility.
It must noted that 5.7 percent of respondents stated that they believe truck campers are already mobility friendly and 7.2 percent stated that they don't believe truck campers need to be mobility friendly.  Some of these sentiments can be found in the reader responses that follow the charts.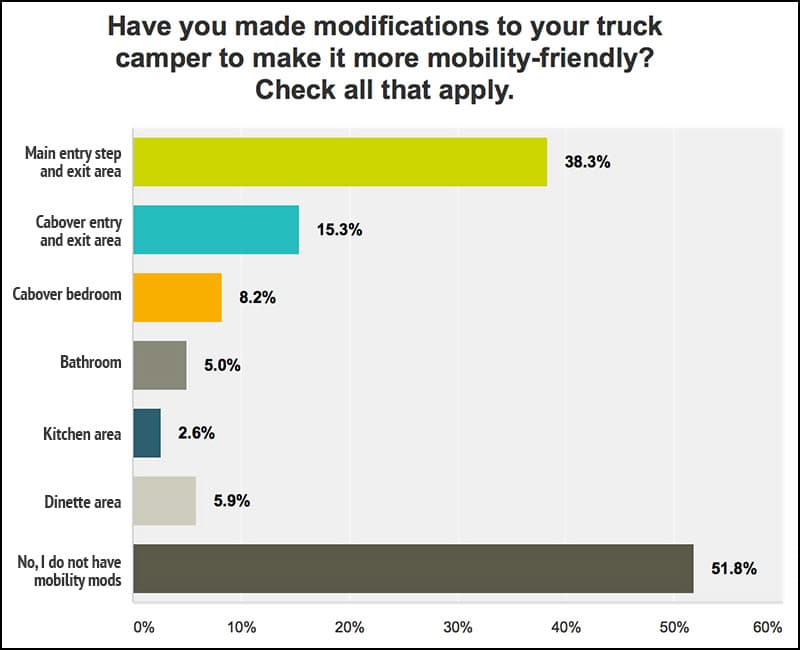 The majority of poll participants have not made mobility mods to their truck campers, but the ones who have focused on the main entry step and exit area, and cabover entry and exit area.  This just continues to confirm the thesis that mobility and truck camper design are important, and it's the main entry and cabover areas that need the most attention.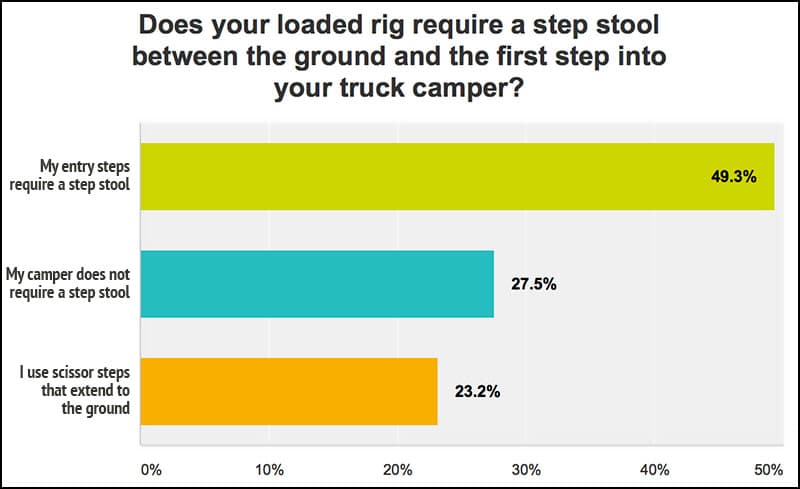 What this chart shows is that step stools can be found under almost 50 percent of truck camper main entry steps.  That includes truck campers with scissor steps that reach the ground.  That's a stunning statistic.
Reader Responses to Mobility and Truck Camper Design: