Truck Camper Magazine reports from Detroit, Michigan on the all new 2014 Chevy Silverado 1500 and 2014 GMC Sierra 1500.  GM says the weather is about to change.

A few weeks ago, General Motors invited us to Detroit, Michigan to attend the world-wide debut of the all-new 2014 Chevrolet Silverado and GMC Sierra 1500 series trucks.  The event took place at 9:30am on December 13th and was attended by approximately 200 major media reporters and national automotive journalists.
This was our first time attending a truck debut, or any significant automotive industry event for that matter.  We are thrilled that GM recognizes the truck camper marketplace as an important opportunity for their new 1500 series trucks and chose Truck Camper Magazine as their media to reach that market.  In the future, we hope to attend more GM truck events, and would welcome invitations from the other truck manufacturers.
Pre-Reveal Party: TCM at GM HQ
The evening before the big reveal, General Motors invited the attending automotive media to a holiday party at 300 Renaissance Center, aka GM HQ.  At the party, Angela and I met many automotive magazine, web, and newspaper journalists, very few of whom knew what a truck camper was.  When we showed the journalists the incredible calendar winning photographs from our readers on our iPhone, it often sparked immediate interest about what truck campers are, and what they can do.  Who knows, maybe we'll see a few truck camper stories appear in their magazines in the future.
Michigan Motion Picture Studios: And… Action!
Early the following morning we boarded a bus at our hotel and were taken to Michigan Motion Picture Studios for the main event.  From the outside, the building was an imposing windowless multi-story concrete form with few obvious entrances.  The bus drove around the back of the building and into a covered throughway that split the enormous building in two.  There the bus pulled up to a white tent with a red carpet.  We had arrived.
Once inside, the mood changed.  Black curtains channeled us past GM marketing and public relations team members who greeted us.  It was good to see two familiar faces from our "Faces of GM" video shoot last September, Tony Truelove, Chevrolet Silverado and Colorado Marketing Manager, and Otie McKinley, Chevrolet Communications.  These two, and several others at GM, are helping to champion truck campers as an important market within their ranks.
We took a seat in the raised seating area and took in the scene around us.  Two garage sized boxes were teasing us on stage, one featuring an urban style background set, the other faux red rocks.  The room was buzzing with journalists working on laptops, smart phones, and cameras of every description.  We took a few photographs and waited for the event to begin.
Promptly at 9:30am, Mark Reuss, President of General Motors North America, stood up to present the 2014 trucks.  He made a rousing speech, but we were too excited to see what was in the boxes behind him to notice.  Come on GM, let's see those new trucks.
2014 GM 1500 Series Trucks: Unbox with a Bang
Finally, Mark stated, "Our competitors may think they have smooth sailing ahead, but let me tell you, the weather is about to change…"  That moment the lights went dark, the dramatic music swelled, and lighting flashed across the stage.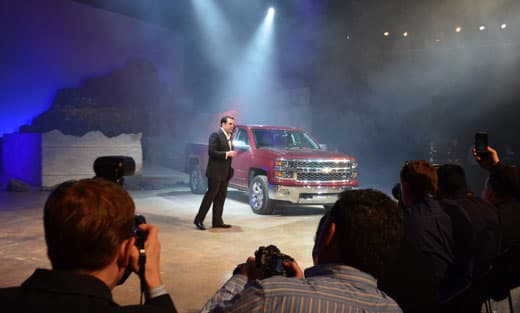 With sudden bang of thunderous pyrotechnics, the 2014 Silverado 1500 broke free of its box, driving out to greet the world to a round of applause.
The 2014 GMC Sierra 1500 followed a few moments later with laser beams and a spark spouting torch "burning" open the front of its box, releasing the truck to more applause.
It was great theatre and made me wish the truck camper manufacturers could have this much fun with their model introductions.  Besides, there's nothing like the smell of gun powder in the morning to bring back those childhood cap gun memories.  Let's go truck camper industry, make your new camper reveals an event!
Silverado vs. Sierra: No Longer Identical Twins
When we toured the GM Flint Truck Assembly Plant last year, we asked Bob Hooks, Joint Activities Director for Local 598 of the UAW, what the real differences were between the Silverado and Sierra trucks we saw rolling down the same assembly line.  His answer, in a nutshell; not much.  The two trucks were nearly identical twins.
Fresh out of their boxes, it was clear that the 2014 Chevy Silverado and GMC Sierra 1500 series would still maintain a strong family resemblance (most of the 2014 sheet metal is the same), but gain their own distinct grilles, lights, hoods, wheels, and trim.  The effect of these changes gives the two truck brands very different aesthetic presentations designed to appeal to different buyers.