Truck Camper Magazine reports from Detroit, Michigan on the all new 2014 Chevy Silverado 1500 and 2014 GMC Sierra 1500.  GM says the weather is about to change.

A few weeks ago, General Motors invited us to Detroit, Michigan to attend the world-wide debut of the all-new 2014 Chevrolet Silverado and GMC Sierra 1500 series trucks.  The event took place at 9:30am on December 13th and was attended by approximately 200 major media reporters and national automotive journalists.
This was our first time attending a truck debut, or any significant automotive industry event for that matter.  We are thrilled that GM recognizes the truck camper marketplace as an important opportunity for their new 1500 series trucks and chose Truck Camper Magazine as their media to reach that market.  In the future, we hope to attend more GM truck events, and would welcome invitations from the other truck manufacturers.
Pre-Reveal Party: TCM at GM HQ
The evening before the big reveal, General Motors invited the attending automotive media to a holiday party at 300 Renaissance Center, aka GM HQ.  At the party, Angela and I met many automotive magazine, web, and newspaper journalists, very few of whom knew what a truck camper was.  When we showed the journalists the incredible calendar winning photographs from our readers on our iPhone, it often sparked immediate interest about what truck campers are, and what they can do.  Who knows, maybe we'll see a few truck camper stories appear in their magazines in the future.
Michigan Motion Picture Studios: And… Action!
Early the following morning we boarded a bus at our hotel and were taken to Michigan Motion Picture Studios for the main event.  From the outside, the building was an imposing windowless multi-story concrete form with few obvious entrances.  The bus drove around the back of the building and into a covered throughway that split the enormous building in two.  There the bus pulled up to a white tent with a red carpet.  We had arrived.
Once inside, the mood changed.  Black curtains channeled us past GM marketing and public relations team members who greeted us.  It was good to see two familiar faces from our "Faces of GM" video shoot last September, Tony Truelove, Chevrolet Silverado and Colorado Marketing Manager, and Otie McKinley, Chevrolet Communications.  These two, and several others at GM, are helping to champion truck campers as an important market within their ranks.
We took a seat in the raised seating area and took in the scene around us.  Two garage sized boxes were teasing us on stage, one featuring an urban style background set, the other faux red rocks.  The room was buzzing with journalists working on laptops, smart phones, and cameras of every description.  We took a few photographs and waited for the event to begin.
Promptly at 9:30am, Mark Reuss, President of General Motors North America, stood up to present the 2014 trucks.  He made a rousing speech, but we were too excited to see what was in the boxes behind him to notice.  Come on GM, let's see those new trucks.
2014 GM 1500 Series Trucks: Unbox with a Bang
Finally, Mark stated, "Our competitors may think they have smooth sailing ahead, but let me tell you, the weather is about to change…"  That moment the lights went dark, the dramatic music swelled, and lighting flashed across the stage.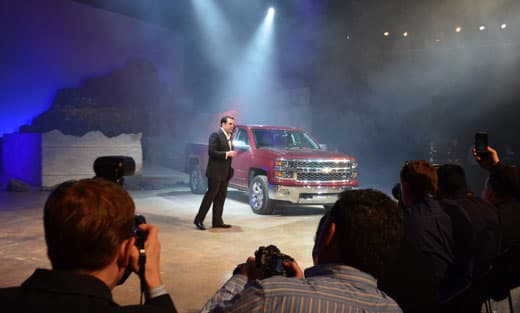 With sudden bang of thunderous pyrotechnics, the 2014 Silverado 1500 broke free of its box, driving out to greet the world to a round of applause.
The 2014 GMC Sierra 1500 followed a few moments later with laser beams and a spark spouting torch "burning" open the front of its box, releasing the truck to more applause.
It was great theatre and made me wish the truck camper manufacturers could have this much fun with their model introductions.  Besides, there's nothing like the smell of gun powder in the morning to bring back those childhood cap gun memories.  Let's go truck camper industry, make your new camper reveals an event!
Silverado vs. Sierra: No Longer Identical Twins
When we toured the GM Flint Truck Assembly Plant last year, we asked Bob Hooks, Joint Activities Director for Local 598 of the UAW, what the real differences were between the Silverado and Sierra trucks we saw rolling down the same assembly line.  His answer, in a nutshell; not much.  The two trucks were nearly identical twins.
Fresh out of their boxes, it was clear that the 2014 Chevy Silverado and GMC Sierra 1500 series would still maintain a strong family resemblance (most of the 2014 sheet metal is the same), but gain their own distinct grilles, lights, hoods, wheels, and trim.  The effect of these changes gives the two truck brands very different aesthetic presentations designed to appeal to different buyers.
2014 Chevy Silverado 1500
2014 GMC Sierra 1500
GVWR, Payload, and Bed Measurements: Not Yet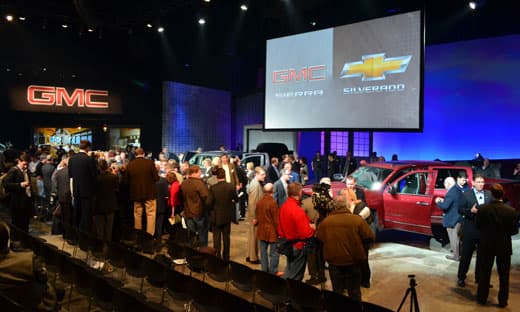 Above: Inside Michigan Motion Picture Studios, the location of the GM Reveal
As the publishers of Truck Camper Magazine, our primary mission on this trip was to gather information about the GVWR, payload, and bed measurements.  Unfortunately, GM did not announce the new GVWR and payload numbers, nor did they have truck bed measurements and specifications.  We have been promised the truck bed measurements and specifications in the coming days, but will have to wait for the payload numbers until January.  Next time we're bringing our measuring tape.
Evidently, GM already allowed some outside companies with businesses dependent on truck beds to gather measurements.  Given how important these measurements are for truck campers, we hope to be on the bed measurement list in the future as well.
The good news is that we were assured by GM team members that the GVWR and payload numbers would be higher than the previous models, and that the overall dimensions of the truck bed, including the space between the wheel wheels and height of the cab, have had minimal changes.  Of course their idea of minimal changes and ours may very.  We should know soon enough.
Three New Gas Engines: Good Bye Vortex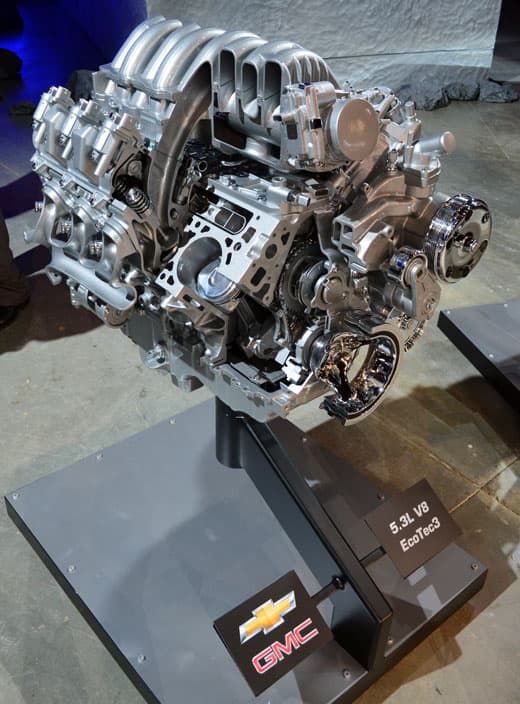 GM has introduced three all-new EcoTec3 truck engines; a 4.3L V-6, 5.3L V-8, and a 6.2: V-8.  All three engines feature direct injection, cylinder deactivation, and continuously variable valve timing, a trio of technology aimed at improving fuel economy while increasing power and torque.
When less power is needed, cylinder deactivation deactivates the lifters and closes four valves on the V8 engines, or two on the V6 engines, giving the trucks the fuel efficiency of a four cylinder engine.  According to GM, the deactivation and reactivation of the cylinders takes less than twenty milliseconds and is "virtually imperceptible".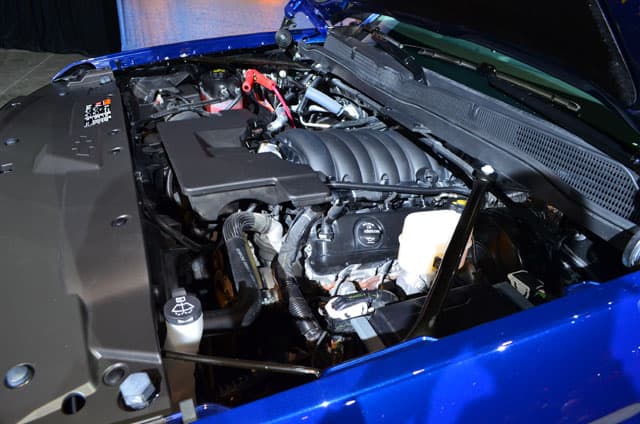 The idea of having the power and torque of a V-8 when we haul our truck camper up a mountain road, and the efficiency of a four cylinder engine when we're just driving around town, is fantastic.  These new engines should operate in four cylinder mode when our truck campers are unloaded making the new 1500 series trucks a more plausible and sensible choice as a daily driver.  That's the kind of versatility that truck camping is all about.  More than any other 2014 feature, this is one item we wish we had on our 2013 Silverado 3500.
We were a little disappointed that GM didn't announce a new hybrid, or a diesel, or a diesel hybrid for that matter, but we are pleased that they are pushing forward on both power and efficiency.  As truck camper owners, we need both.
Aerodynamics: Like A Fist to the Wind
There's something romantic about an American truck manufacturer obsessively sculpting a new truck body out of computer electrons and modeling clay in the endless pursuit of a lower drag coefficient, and a higher beauty.
When Tom Peters, Director of Full Size Trucks, presented the 2014 Silverado 1500 during a break out session, there was no doubt that he had crunched a few billion calculations and pulled more than his fair share of clay to get to the new 1500 series truck bodies.  As he spoke, he kept putting his hands on the truck, tracing its curves, and presenting angles and lines like a proud artist at a gallery opening.
The main point of Tom's presentation was the detail in which GM's design team had examined every facet of wind tunnel turbulence and computer simulation data.  For example, the new 1500 series trucks feature inlaid doors that fit flush inside the recesses of the truck body reducing drag and lowering wind noise in the cab.
Tom also talked about how they tightened seams and surface transitions, raked and flattened the windshield, utilized lighter wheels and low-rolling resistance tires, and made changes down to the millimeter to make even the slightest improvement in aerodynamic performance.  As a result of their efforts, the 2014 Silverado and Sierra 1500 series have 5% less drag than their 2013 counterparts.
Listening to Tom, I kept thinking about how many opportunities there must be for truck camper manufacturers and their parts suppliers to adopt the aerodynamic technologies and strategies, not to mention the progressive attitude, that Tom was explaining.  Hey Kinro, Dometic, and Hehr, how about flush inset RV windows?
Safety Features: Boring, Butt Important (Yes, that butt)
After walking unscathed away from a fairly bad car accident in 2008, I pay particular attention to safety features.  It's a boring topic, until it saves your butt.
For 2014, the Silverado and Sierra 1500 series have been given a number of safety feature upgrades and options including forward collision alert, lane departure warning, safety alert seat, trailer sway control, hill start assist, Stabilitrack, anti-lock brakes, and traction control.  When asked if you want these safety features, please answer, "Butt, of course!"
Interior Design: Better Materials, More Tech, Higher Refinement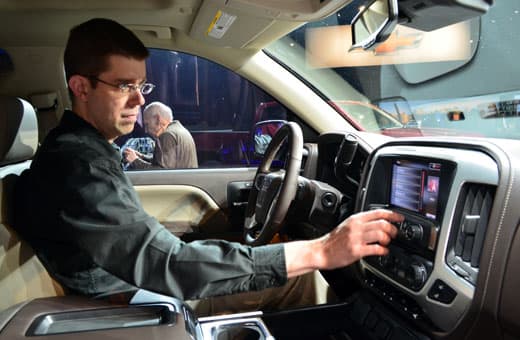 GM has been under the competitive gun to improve their truck interiors as Ford and Dodge have made great strides in this key area.  To answer, GM needed to up the ante.
Front, center, and high up and the dash for ease of visibility is GM's new star attraction; the MyLink (on Silverado) and IntelliLink (on Sierra) infotainment system, an eight inch color touch screen for audio system, navigation, rear view camera, and apps including Pandora internet radio.
Angela and I both gave the new system a go and enjoyed its familiar touch screen simplicity, but hope that owners learn their way around the system in their driveway, not on the road.  One feature that might help with this concern is the included natural voice recognition, but we didn't try it out.  Wouldn't it be nice to say to our trucks, "Load the camper?"  Make it so, GM.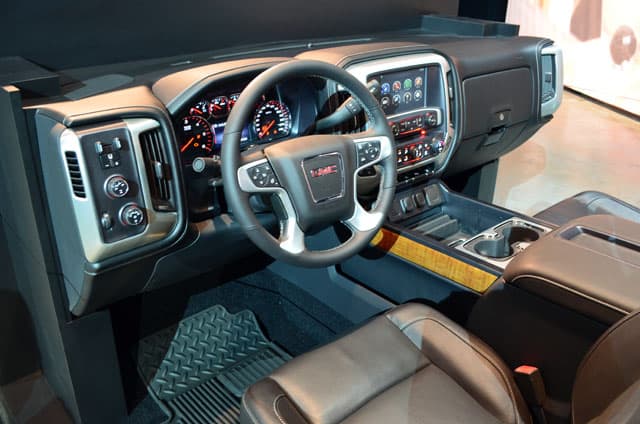 Looking around the dash, center console, and doors you can literally see hundreds of new ideas brought to fruition including clever storage solutions, luxurious use of materials, and more forward thinking technology.  We especially appreciated the new high wear and durable seat fabrics, not to mention the option of having heated fabric seats, a pickup truck industry first according to GM.  Techies will love having three USB ports, 12-volt and 110-volt on tap, iPhone and iPod integration, Bluetooth, and a SD card slot for music (we love that last feature).
All dash controls have been organized by category and function and clustered by importance into what GM calls pods.  Within these pods, controls have been enlarged with easy to read displays and labels, suitable for operation with gloves.  Chris Hilts, Interior Design Manager, explained that everything on the dash was put through a reach curve analysis to make sure everything the driver needs is within the shortest and most comfortable reach possible.
Overall, the materials, ergonomics, technology, and style of the 2014 Chevy Silverado 1500 and GMC Sierra 1500 are definitely a step in the right direction.  The only caveat we voiced to GM was how putting the rear view camera in the tailgate wasn't exactly going to work for truck campers.  When we finally brow beat GM into building a Camper Special, that feature will be "high" on the list.
New Bed Length Options: Crew Cabs Get 6.6 Foot Beds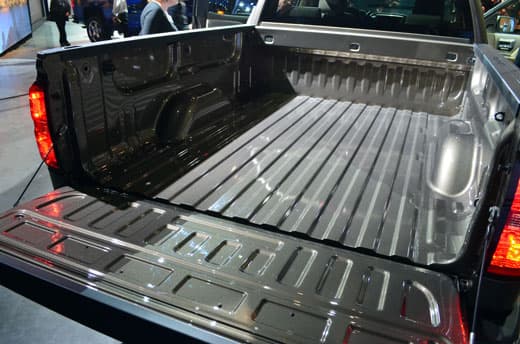 During his initial presentation, Mark Reuss enthusiastically explained how truck sales have been strong in 2012, especially crew cab short bed trucks suitable both for nine to five work duty and after five family time and vacations.  We bet a few of our readers would agree with that.
As a direct result, GM is making the 6.6 foot standard box available for crew cab truck configurations on the 2014 Silverado and Sierra 1500 line.  Previously, GM's crew cab 1500 series trucks were only available with 5.8 foot beds.
This is a sticky issue for the truck camper marketplace as the length of short bed truck beds continues to be a moving target.  Most three-quarter ton and one ton short bed trucks have the 6.6 (or 6.5) foot bed length.  For example, our 2013 Chevy Silverado 3500 has a 6.6 foot bed.  Because of this, it's far more likely that a truck camper manufacturer will build for the 6.5/6.6 foot bed length.  Generally speaking, we would advise anyone buying a short bed truck for a truck camper to go for the 6.5/6.6 foot bed length.  You will certainly have more camper options.
The only possible exception could be a very lightweight pop-up truck camper designed to accommodate half-ton trucks and their shorter bed lengths.  If you're in doubt, check with your truck camper dealer or manufacturer about which bed length is more appropriate for the camper you want.
Extended Cab Doors: Just Slip Out the Back, Jack
Some truck camper owners have had issues with their rear-hinged Chevy and GMC extended cab doors opening into their camper jacks and/or campers.  One owner told me he had to be very careful when opening his extended cab doors as he once dented a door on his jacks.  That's no fun.
For 2014, the extended cab doors are now forward-hinged making this problem a thing of the past, at least for the half-tons.  The rear crew cab doors are also larger for 2014.
Truck Bed Features: LED Lights, Tie-Downs, and Return of the Radius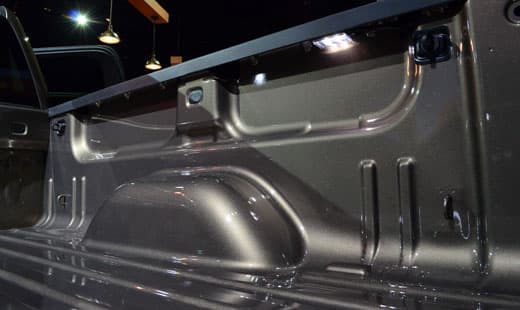 It's never a good idea to load or unload a truck camper at night, but the new LED rail lamps will make such unadvisable activities easier.  The LED rail lights are positioned under the top lip of the bed rails and light the bed of the truck.  GM intended this feature to aid with tonneau covers, but we immediately saw them as supplemental loading and unloading lights.  Some may also find these lights helpful in the day time to add contrast to darkly painted or lined truck beds.
On the inside truck rail walls, four tie-down hooks capable of 500 pounds each are now standard across both brands.  These are not commonly used for truck campers, but could be an interesting feature for the light weight pop-up camper manufacturers to explore.
We were disappointed to see the infamous radius corners in the tailgate area again for 2014.  Carl Hillenbrand, Product Manager, explained that the radius gives the bed more structural rigidity.  We explained how that radius can interfere with truck campers and he was very interested in our feedback.  In practice, the radius doesn't affect all truck camper applications, and can be solved with a short platform riser.  That said, we hope not to see the dreaded radius on GM's 2014 Heavy Duty trucks next year.
But Wait, There's More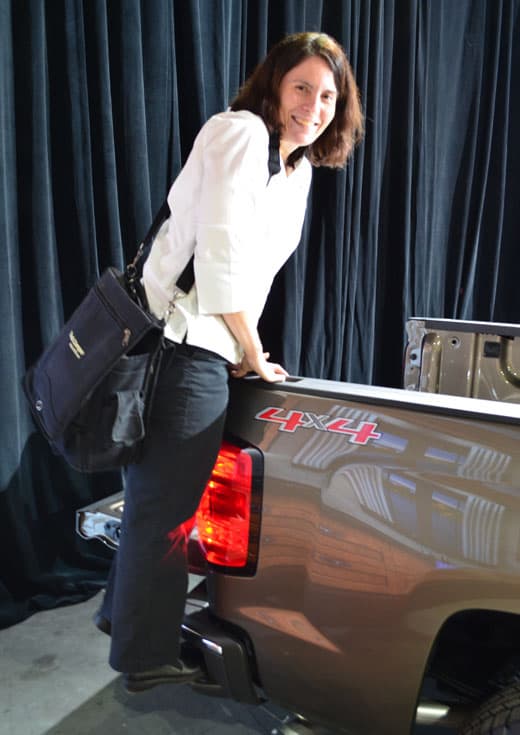 Also new for 2014 is a corner step bumper designed to make accessing the truck bed easier with the tailgate up or down.  For truck campers that end at the tailgate, which includes a lot of half-ton truck campers, it's possible that the corner step will help with access to a pop-up roof, or a ladder.
GM was very excited to show us how the new tailgate lowers slowly and gently on its own.  Since we store our tailgate in our garage, we were more interested in what the tail gate weighs for payload calculations.  The GM representatives assured us that the tailgate would likely be lighter, but didn't have a weight for us.  Next time, in addition to bringing a measuring tape, we need to bring a scale!
Off-road enthusiasts may be disappointed that GM didn't announce a Dodge Power Wagon or Ford Raptor rival, but they didn't leave us stranded on the pavement either.  The Z71 package continues for 2014 with Rancho monotube shock absorbers, front tow hooks, transfer skid plate, 18 or 20 inch all-terrain tires, automatic locking rear differential, and hill decent control.  The hill decent control is especially interesting as it utilizes the truck's anti-lock breaking system for steep grades to ease the decent.  That's a feature we could have used many times with our truck camper.
Finally, electric power steering and four wheel disc brakes are now standard.  Okay, one more detail; the fully-boxed ladder frame of the 2014 Silverado and Sierra 1500 series trucks now uses more high strength steel and hydroformed components.  Oh, and the truck bed is made from roll form steel.
Can We Drive It?
Are the new GM 1500 series trucks the "best engineered trucks ever, hood to hitch" as Mark Reuss put it?  We will need to actually drive one before we could make such a bold statement, but there's no doubt GM pulled no punches with the 2014 trucks.
Thank you again to GM for inviting Truck Camper Magazine to Detroit for the big reveal.  We're looking forward to seeing the 2014 Heavy Duty trucks next year.  How about that Camper Special?