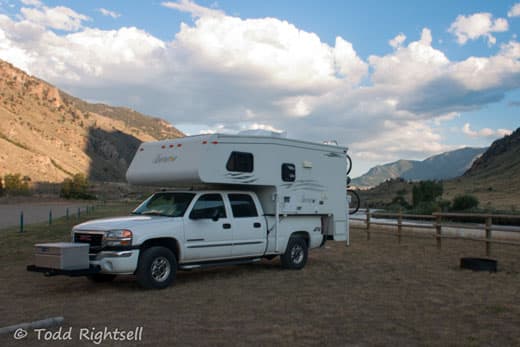 1. Make reservations.
I rarely make campground reservations myself but, over the past several years, Yellowstone has gotten very crowded.  Every year it seems like it is harder and harder to get a campsite.
Of the twelve campgrounds, five take reservations and the remainder are first come, first served.  Up until a few summers ago, I never had a problem, even at the smallest campgrounds, but the last three to four years campsites have been very difficult to come by.
If you are flexible and have the time to wait around, you can usually get something for a couple days out if you talk to Xanterra reservations, or stop by the campground itself and talk to one of their agents.  If you are on a tight schedule, make your campground reservations in advance.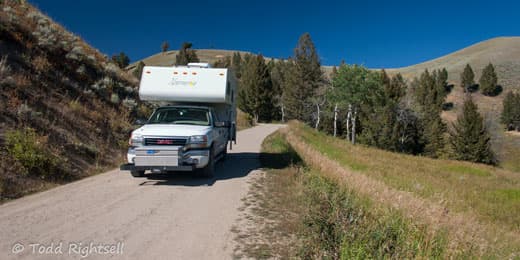 2. Don't grow roots.
If you have never been to Yellowstone National Park before, you simply can't imagine how large the landscape is.  You don't want to spend all your time driving.  After all, you probably drove a really long way just to get here.  Do yourself a favor and don't spend all your time in one campground while you are here.
Ideally, you should make reservations (see above) for two to three nights in three or four different areas of the park.  That way you'll do much less driving and get to see a whole lot more.  Fortunately, the campgrounds which take reservations are spread out fairly well so this is pretty easy to do.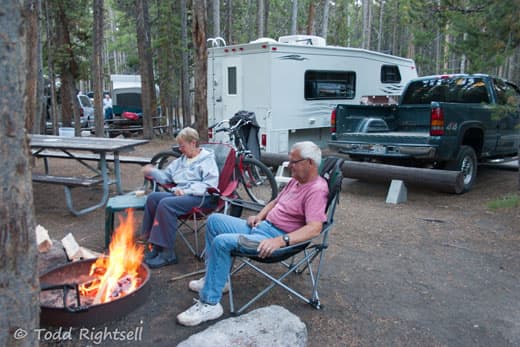 3. Know thy neighbor.
If you don't, you will by the end of your stay!  The campgrounds in Yellowstone are not known for their privacy, so don't expect any.  But who cares?  Most of us are only in our campsites for a couple of hours in the evening bragging about what we saw/did all day.  Swapping tales is one of the best ways I know for finding new things to do in any locale.  So say hello to the folks in the next site and you may learn about something really great.
This nice couple stayed next to me for a couple of nights in Canyon Campground.  Since they had a Northstar too, we had a quite lot to talk about.  That's one of the greatest things about truck camping, the people!
TOP YELLOWSTONE HIKES
Yellowstone has literally hundreds of miles of trails and some of the best scenery in the lower 48 states.  Hiking here is a real treat.  Just remember that you are not necessarily at the top of the food chain.  It can be dangerous, but so can driving your truck camper.  And, just like driving your truck camper, a little bit of common sense and caution goes a long way toward mitigating those risks.
Hundreds of thousands of people hike here every summer, and there are very few dangerous wildlife encounters.  Don't let the stories dissuade you from a life changing experience on the trails of Yellowstone.  Plus, if you do decide to venture out, you'll leave 99% of the crowds behind after walking just a few hundred yards.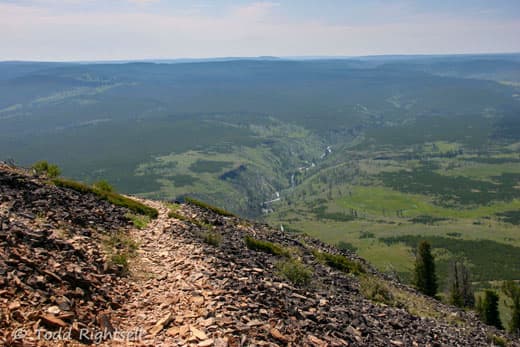 1. Bunsen Peak
Of all the hikes I have done in Yellowstone, this one ranks as my second favorite.  Bunsen Peak, at 8,564 feet, soars above Swan Lake Flats just south of Mammoth, and affords sweeping views of both Swan Lake Flats and the town of Mammoth.
The trailhead is about five miles south of Mammoth on the park road just after you cross the Golden Gate Bridge (yes, there's a Golden Gate Bridge in Yellowstone).  From the trailhead, the trail climbs steeply up several switchbacks to the summit some 1,300 feet above where you started.