Truck Camper Magazine reviews a Northstar Liberty, a hard side, non-slide, wet bath short bed truck camper.  Does this 7-foot long, 7-foot wide, 7-year old model still have what it takes to compete?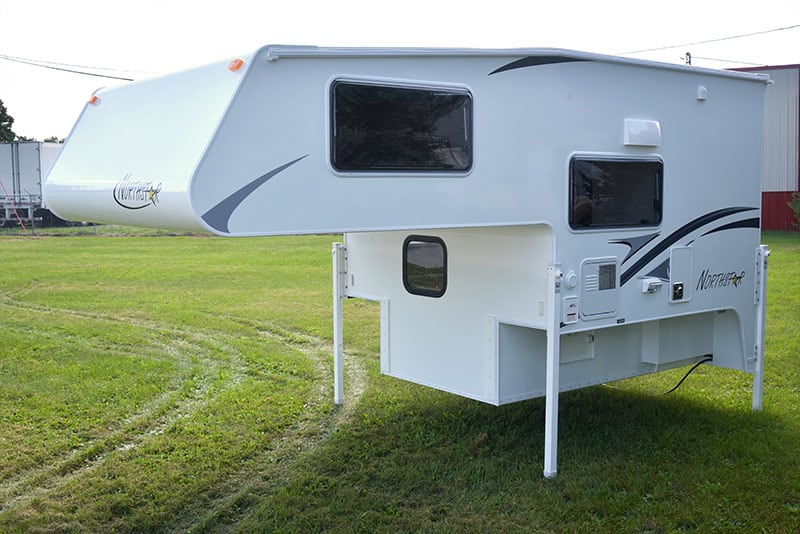 Northstar Campers debuted the Liberty in January of 2012.  To develop the new model, Rex Willett, President of Northstar Campers, collaborated with a number of industry veterans including Bill Durkee, designer of the celebrated Six-Pac D650, and Bill Penney, Founder and Owner of Truck Camper Warehouse.
Prior to the design phase, some very specific design criteria were determined.  Northstar dealers and customers had repeatedly requested a hard side, short bed, half-ton possible, fully self-contained truck camper that did not extend past the rear bumper.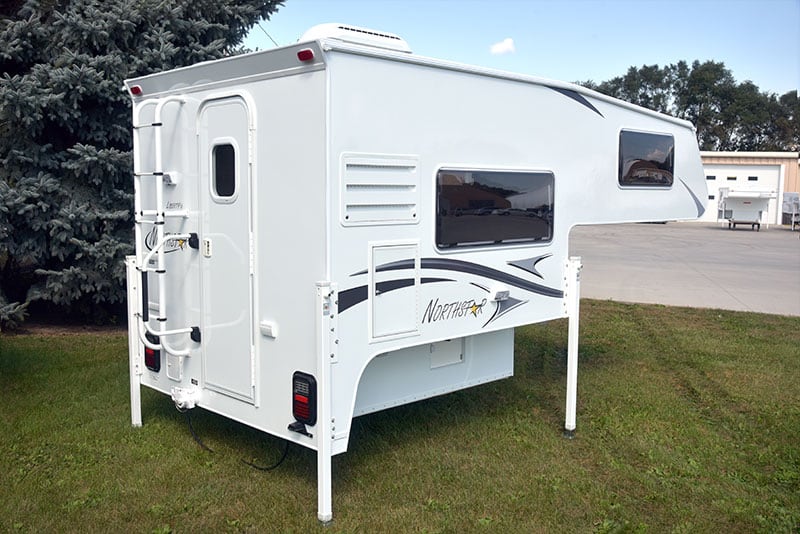 Explaining the bumper-length design goal, Rex stated, "People who tow don't want their camper to go past the rear bumper.  The Liberty doesn't extend past the rear bumper so the owners won't need a stinger to tow."  He later suggested that the Liberty would be best matched with a three-quarter ton truck for optimum towing capability.
Despite its relatively short 7-foot floor-length, the Liberty was a fully-featured, fully self-contained hard side Northstar camper.  The floor plan features a wet bath with a cassette toilet, complete kitchen, a dinette with an optional upper dinette bunk, and a north-south cabover.
Over the years, the Northstar Liberty has been refined with a myriad of model year updates and running changes.  While the overall floor plan and exterior profile have remained the same, Northstar has integrated larger and improved windows, a Lagun adjustable table leg system, and a long list of appliance and material upgrades.
All of this adds up to a well-thought-out unit by a family-owned Iowa manufacturer that's been building campers for nearly six decades.  That doesn't mean the Liberty is perfect, nor does it mean it's the right camper for everyone.  To find out how the Liberty stacks up seven years after its introduction, let's dig in.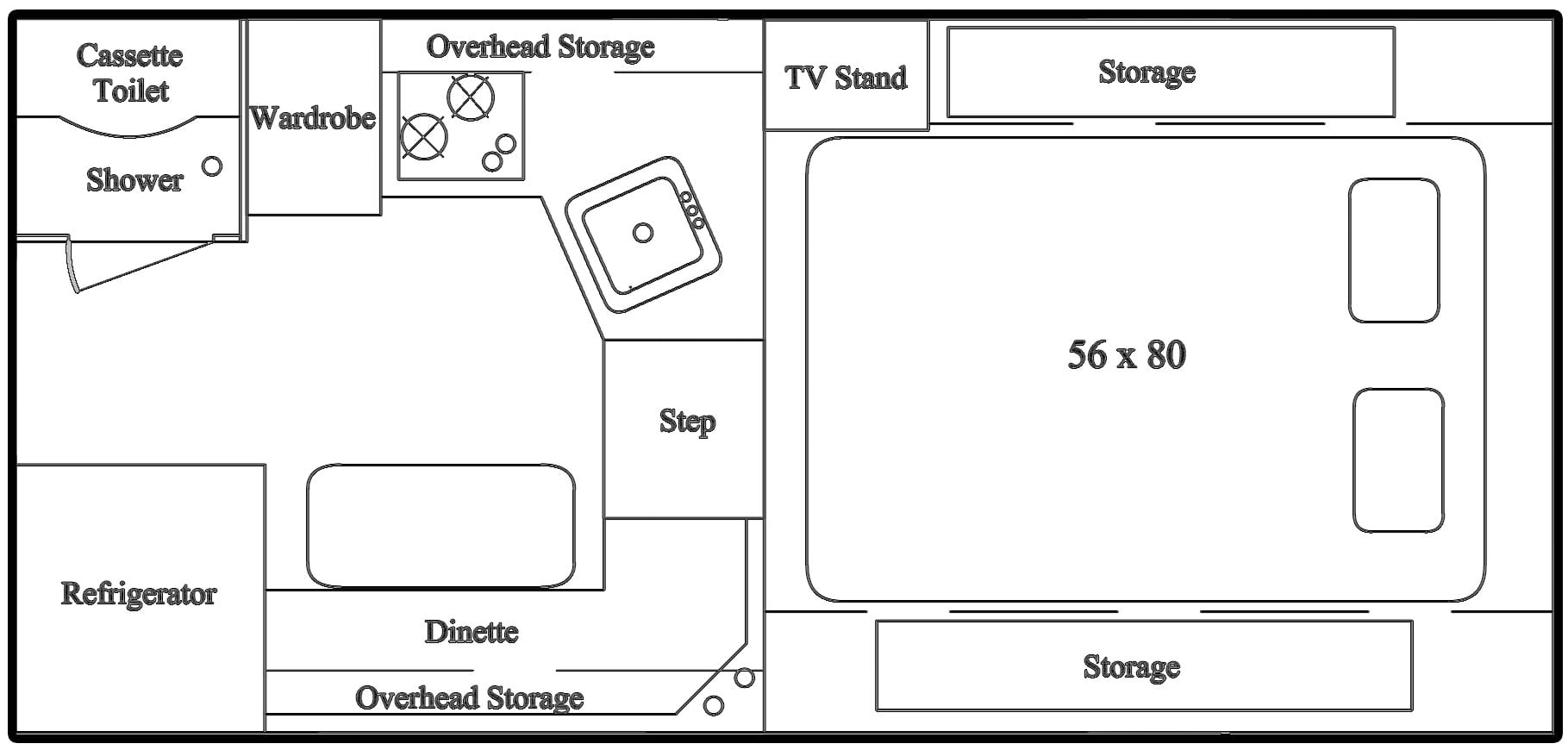 Floor Plan Evaluation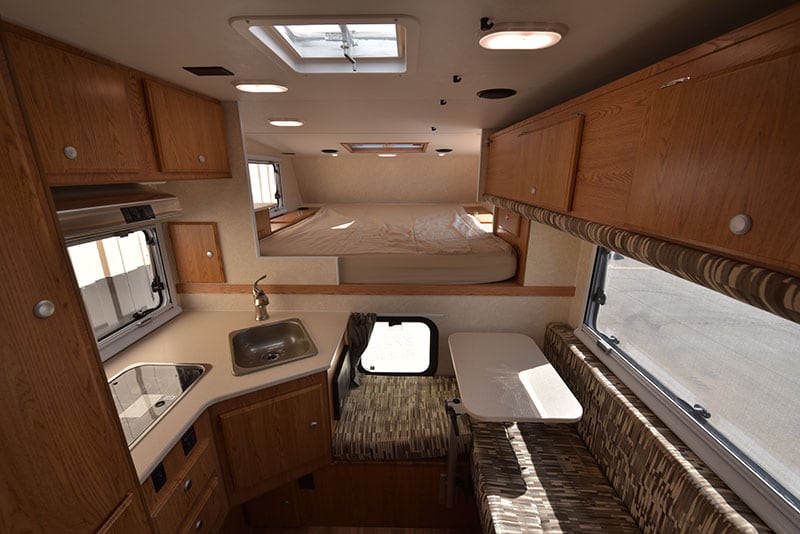 It sounds funny to call a 7-foot wide non-slide truck camper bright and open but look at the above photograph.  The light and neutral color palette, large windows, and LED lighting make this camper feel – well – bright and open.
Folks who are accustomed to slide-out designs probably won't share this opinion, but this camper isn't for those folks anyway.  For a short bed non-slide, this is spacious living that can go places the slide-out models would probably destroy themselves to reach.  Being smaller and lighter has benefits.
The narrow but spacious feel is a design sleight-of-hand carried over from Northstar's pop-up line.  In reality, the Liberty is a full-foot narrower than the majority of hard-side truck campers on the market, but it doesn't feel like it.  More importantly, the narrow width is a big part of how Northstar keeps the weight down.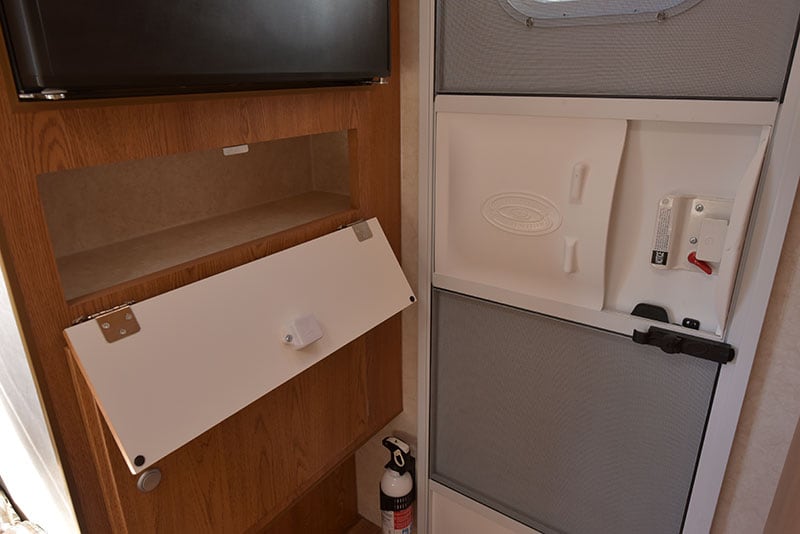 When we borrowed our first Northstar Camper back in 2009, it was like an Easter Egg hunt finding all the storage opportunities throughout the unit.
Suffice it to say if there's an opportunity for storage somewhere in a Northstar truck camper, they are going to find a way to give you the best possible access to that space – no matter the size of the space or the location.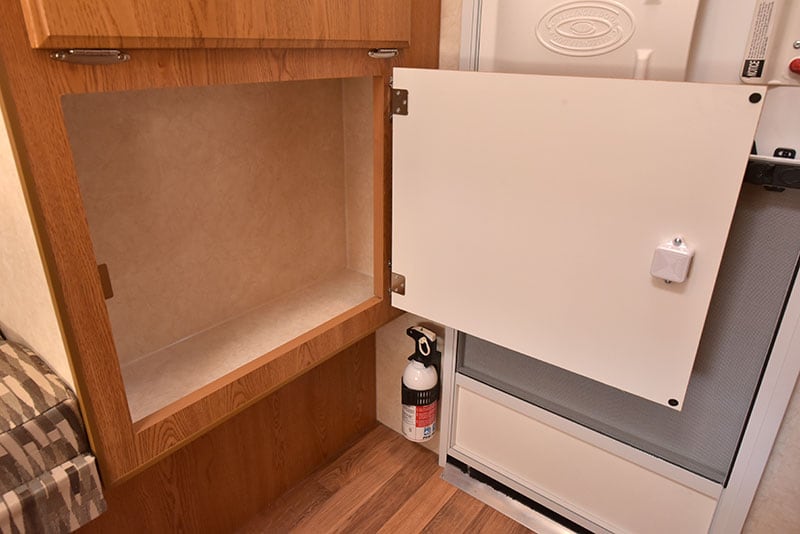 This is why the two shallow compartments immediately inside the rear door are so signature Northstar.  Yes, it will take some time to figure out the perfect purpose for these two cabinets, but Northstar knows you're up to the task.
If this were our camper, we would probably keep our keys, wallet, and flashlights in the top compartment.  We find having an established home for these items in a camper is essential.
The height of the lower cabinet is more challenging – and interesting.  It would be awesome to be able to hang shoes in here.  I can see the mod-makers among us capturing that vertical space in any number of creative ways.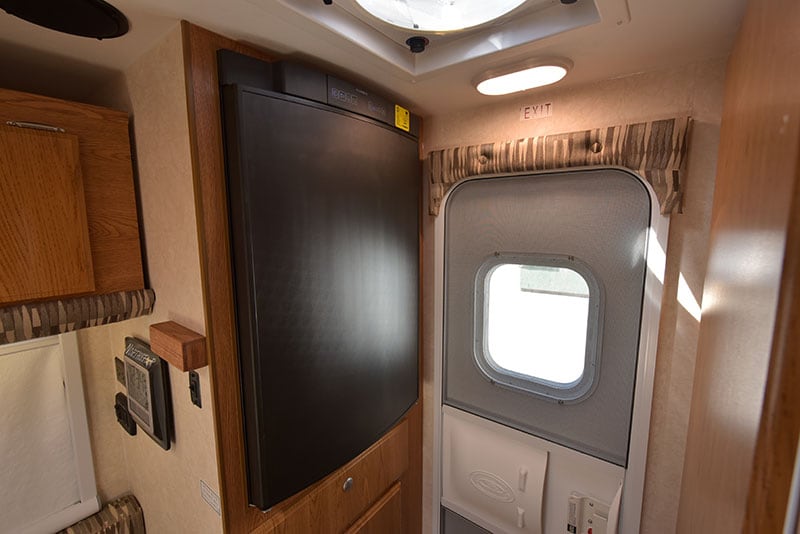 Believe it or not, the size and location of the refrigerator in a short bed truck camper all but determines the rest of the floor plan.  Of all the Liberty design decisions, few were scrutinized as much as the size and location of this 3.7 cubic-foot 3-way Dometic refrigerator.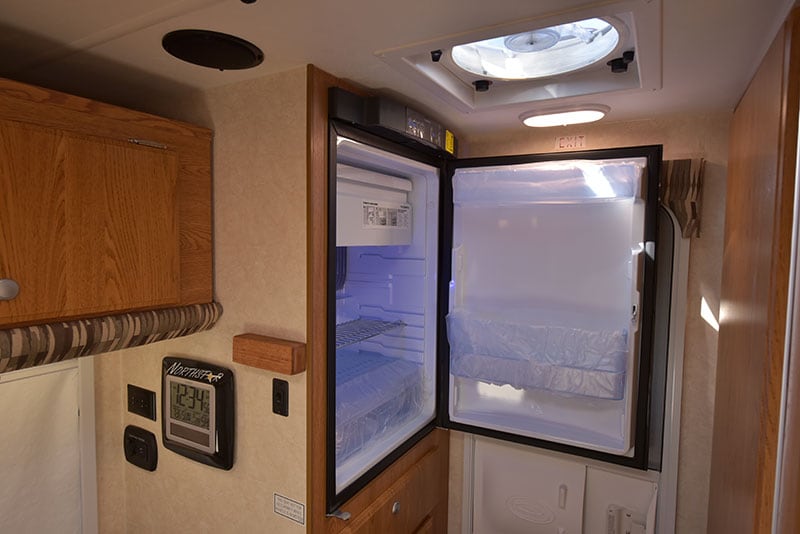 Recently we have discovered that every square foot of refrigeration space holds enough refrigerated food for about one day of camping.  Put another way, our 6 cubic-foot refrigerator holds enough food for about six days of camping.
Using this logic, the 3.7 cubic foot refrigerator in the Liberty would last us about four days.  Now keep in mind we rotate in canned beverages as needed, use collapsible containers and shy away from club-size ketchup bottles.  Maximize your cold storage.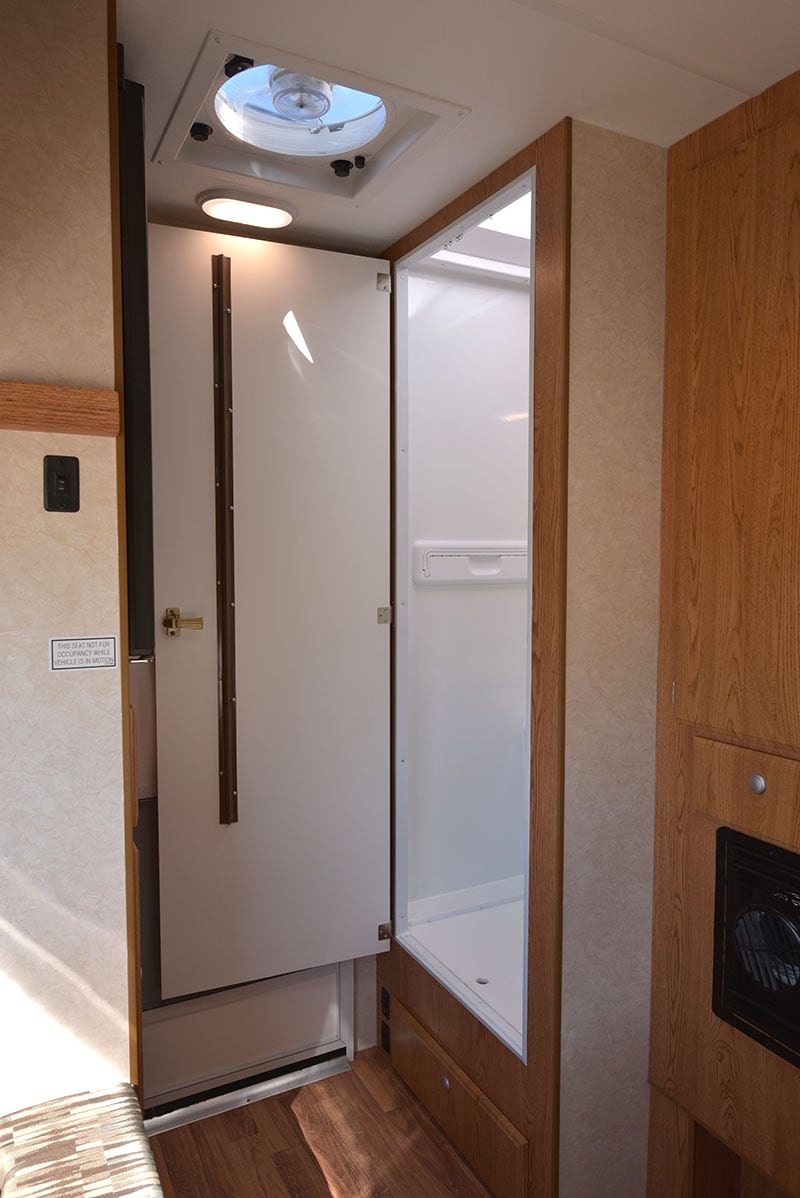 Directly across from the refrigerator on the driver's side is the rear wet bath.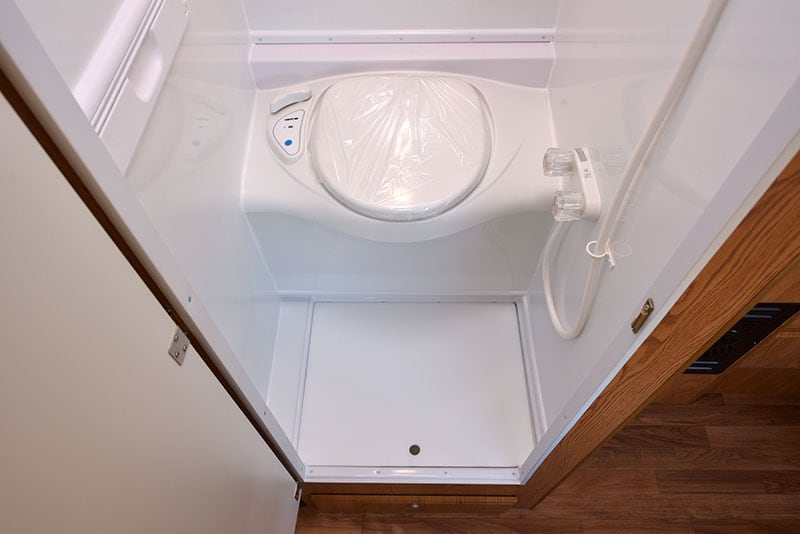 There's quite a step up to enter the bathroom, but I expect most folks would adapt to this quickly.  Then again, I always recommend standing in the shower and sitting on the toilet before buying a camper.  Comfort during bathroom activities is important, but it's amazing how often it gets overlooked pre-purchase.  If you don't fit the pot, don't drive it off the lot.
Also, note that the Northstar Liberty wet bath does not feature a sink.  Owners can use the kitchen sink to brush their teeth and wash their hands.  This design choice is a practical space and weight concession for a camper this size.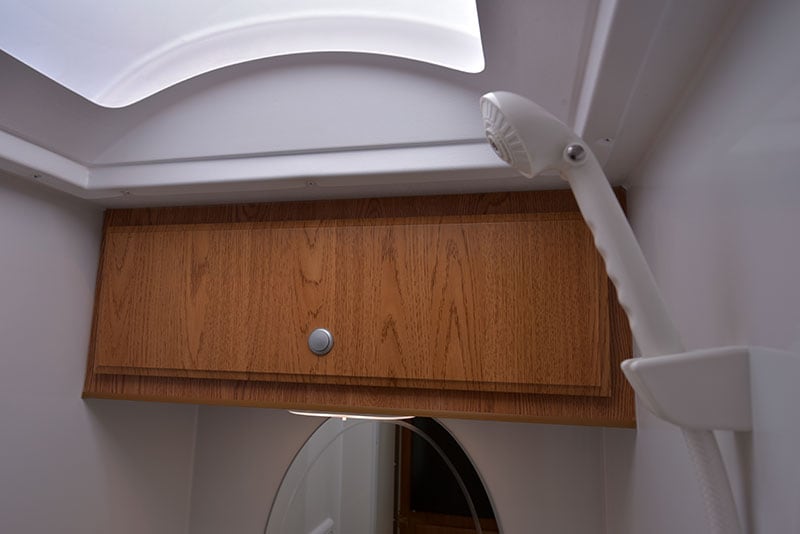 The top of the Liberty's wet bath features a large skylight, upper cabinet, shower head, LED light and mirror.  The skylight is a big help in making the bathroom tall enough for my 6'3" frame.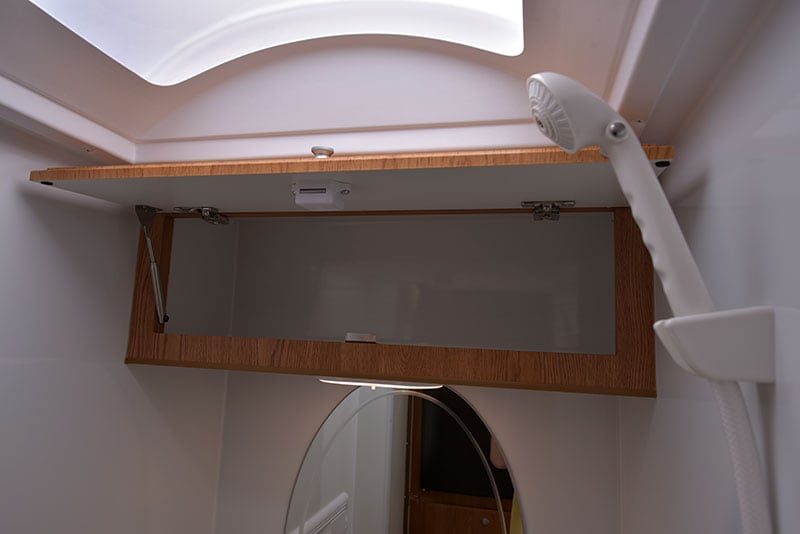 The upper cabinet is fantastic for toiletries and dry towels, or you could keep toilet paper and cassette toilet treatment in here.  Having this space could also allow someone to dress in the bathroom without coming out of the bathroom.  Whatever it's used for, this is a very welcome (and relatively rare) wet bath storage opportunity.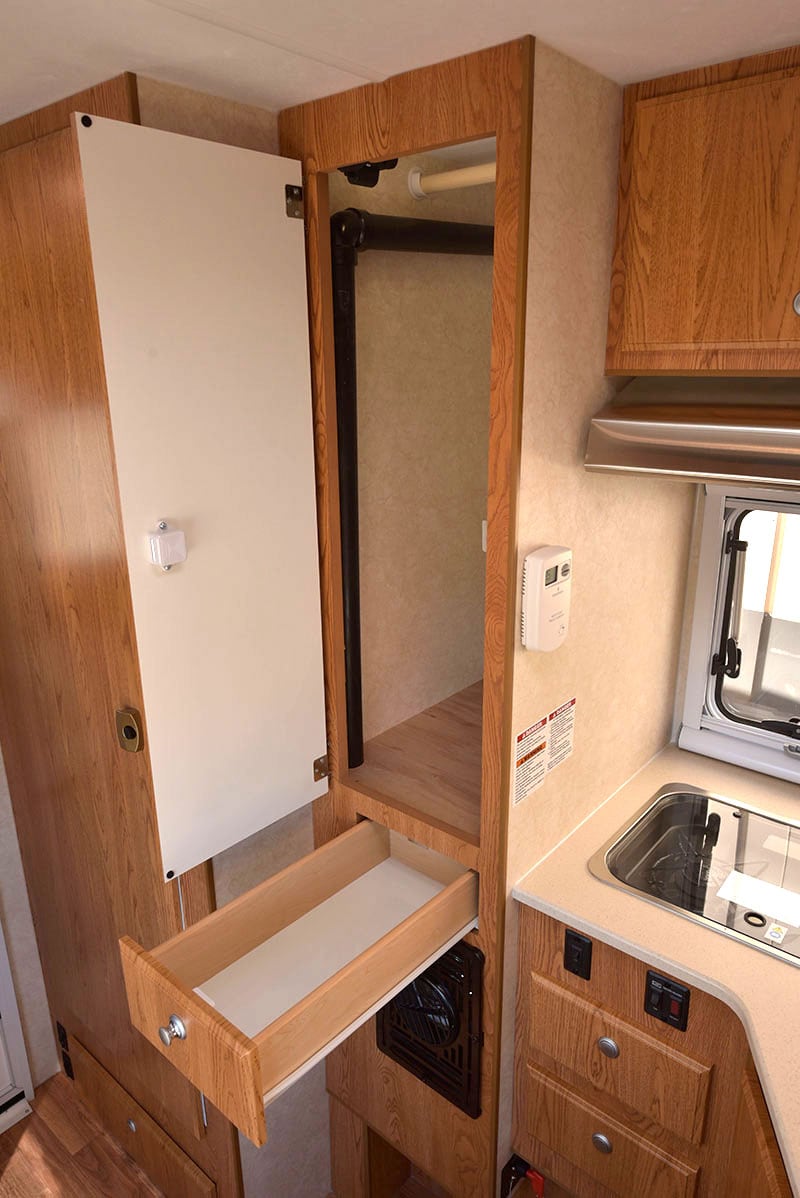 On the other side of the wet bath's wall is a tall closet and pull-out drawer.  This is the only hanging closet space in the Liberty and will likely be used for coats and hanging shirts.
Since this camper is really designed for two – and maybe a pet and/or kiddo – this should be plenty of hanging storage.  If you require tux, tails, and evening gowns on the road – keep looking.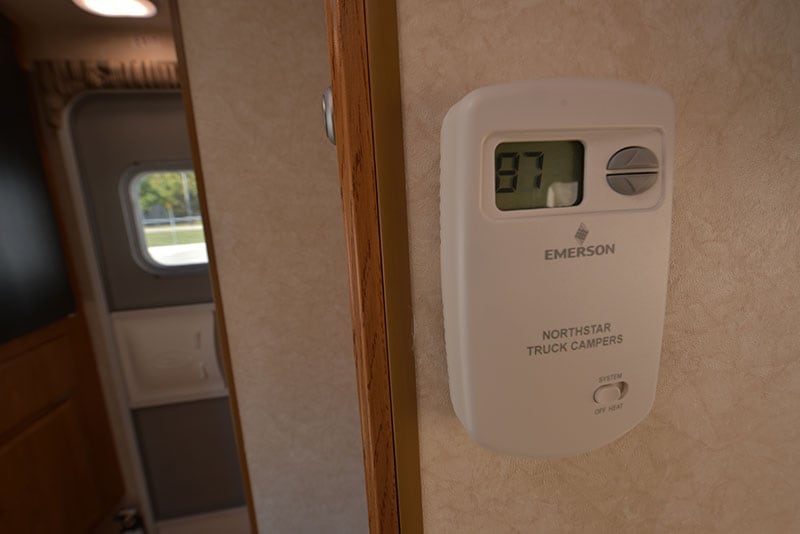 The Liberty features a Northstar-branded Emerson digital thermostat.  Digital thermostats allow more precise control over the internal temperature than analog thermostats.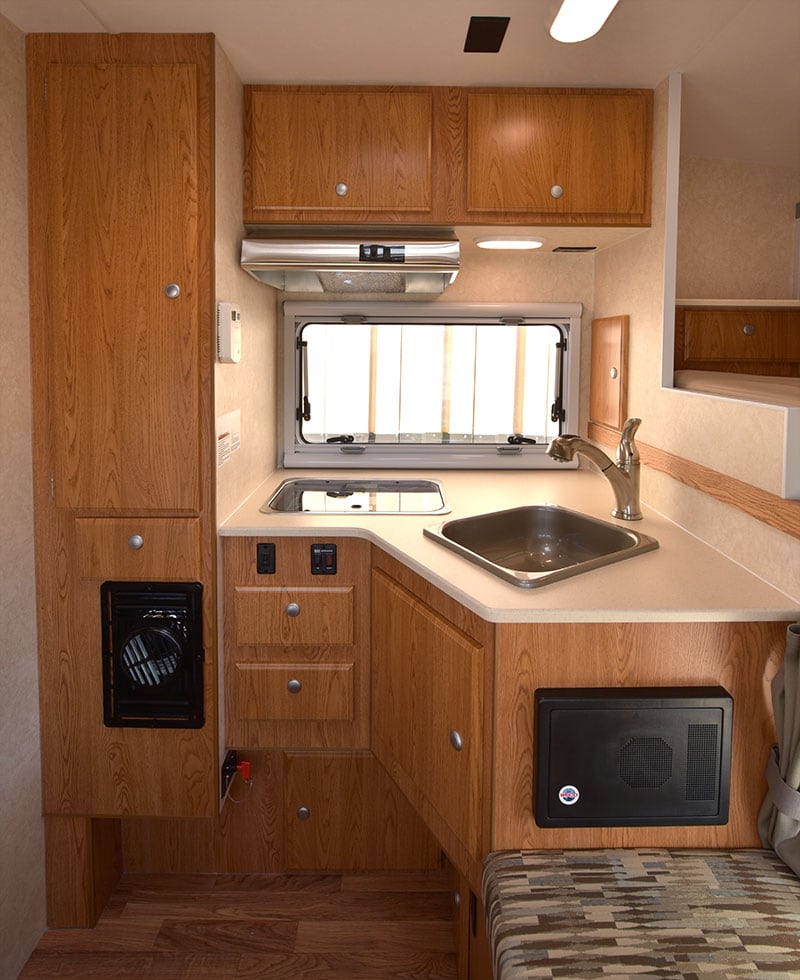 For a 7-foot short-bed truck camper, the kitchen offers an impressive amount of counter space and storage.  The single-bowl sink and flush-mount cooktop are appropriately sized to maximize countertop meal prep and dishwashing space.  The large window that fills nearly the entire kitchen's width is a particularly nice touch.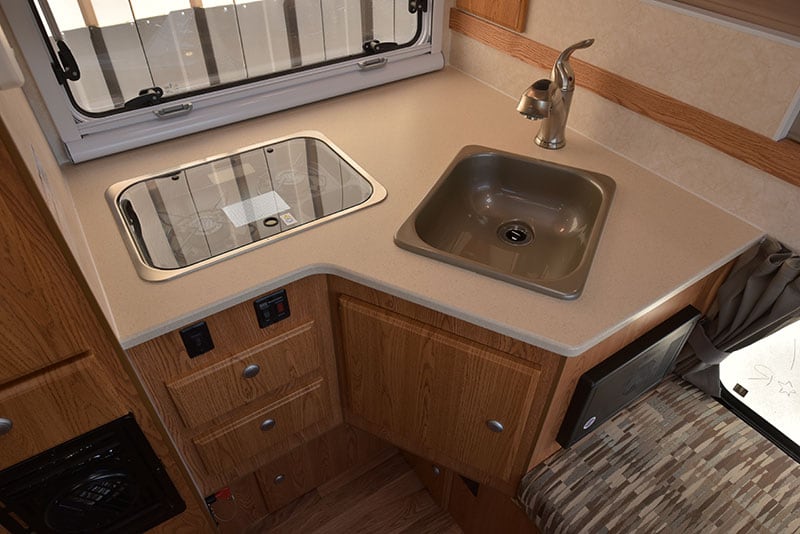 Looking back through my reviews, I often comment that the kitchen countertop is enough for meal prep or dishwashing, but not both at the same time.  That's also the case here.  Pick one of these activities and you'll have the space needed.  Northstar could have opted for a larger sink and/or flush-mount cooktop, but the size and positioning of these items are well balanced.
I also appreciate the movable pull-out faucet.  We recently auditioned a camper with a non-moving kitchen faucet and it made dishwashing a lot more challenging than necessary.  Features like pull-out faucets often go unnoticed, until they're not there.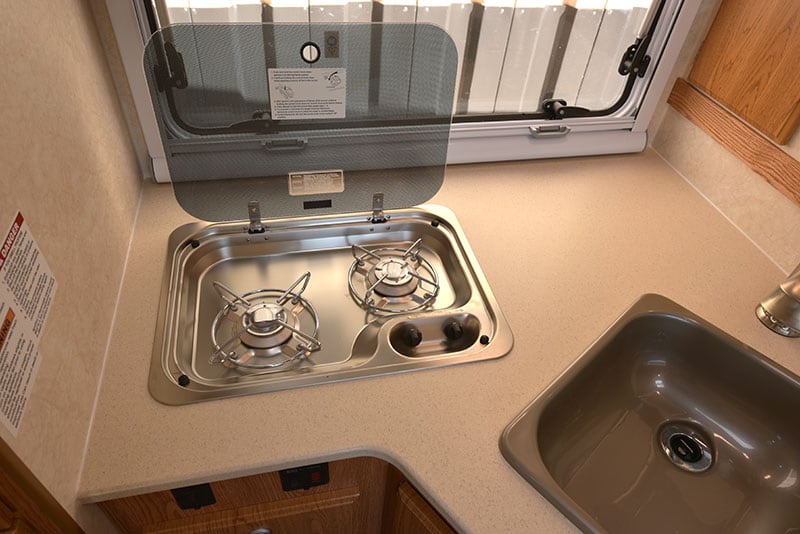 Some folks might lament only having two cooktop burners, and/or the absence of an oven.  Northstar could have worked those features in, but then those same folks may have complained about the subsequently missing storage and countertop space.
Truck camper design is all about finding the right trade-offs for every camper model.  In my book, Northstar designed this kitchen just right.  Smart choices abound.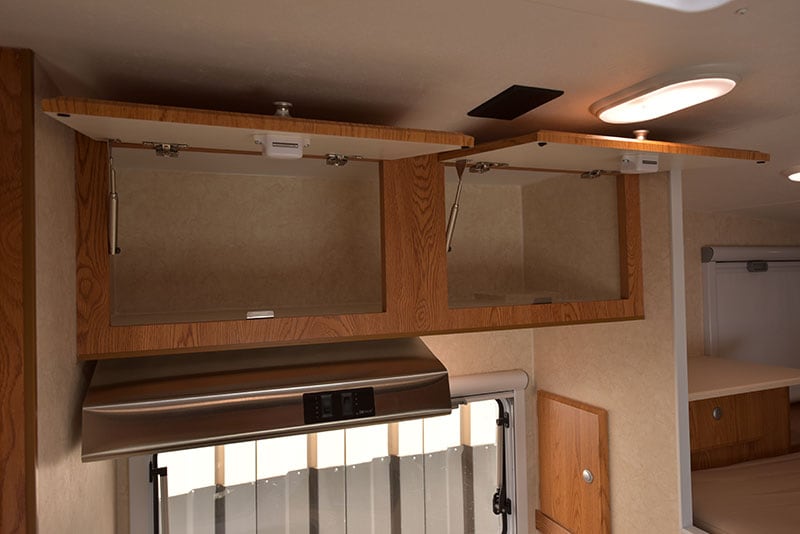 The two large upper kitchen cabinets will likely fill with dry foods, cups, and dishes.  The pull-up cabinet doors feature stainless gas struts to hold them in the open position – hands-free.  The gas struts and push-latches also ensure these cabinets won't spill their contents on an off-road trail.
For those who can't live without a microwave, a microwave is an available option for this location.  It may even be possible to install a small convection microwave for the opportunity to bake.  No propane oven?  No problem.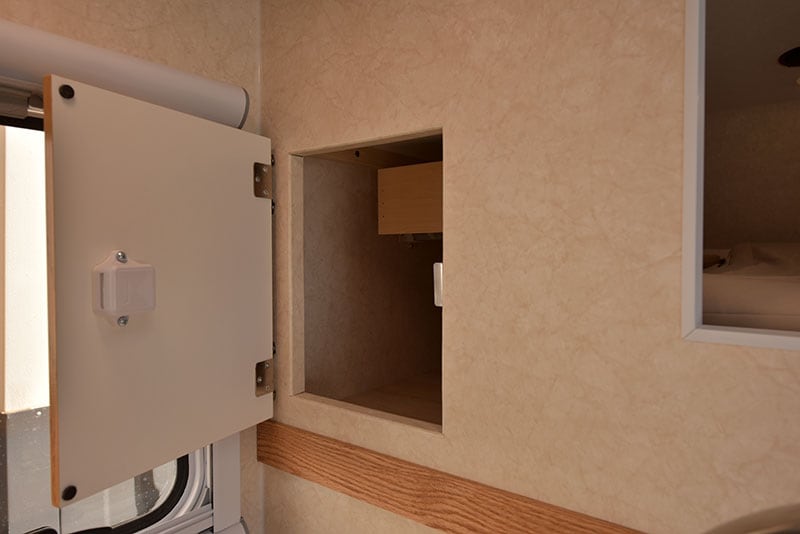 Have we mentioned that Northstar loves creative storage opportunities?  Look at this tucked kitchen-area nook.  In the photo showing the upper cabinetry above, it's the cabinet door in the bottom right corner.
I stared at this nook for a few seconds and thought, "Clean kitchen towels!"  See, how hard was that?  We would put our clean kitchen towels in this space.  And maybe the cat when he's being difficult.  Just kidding.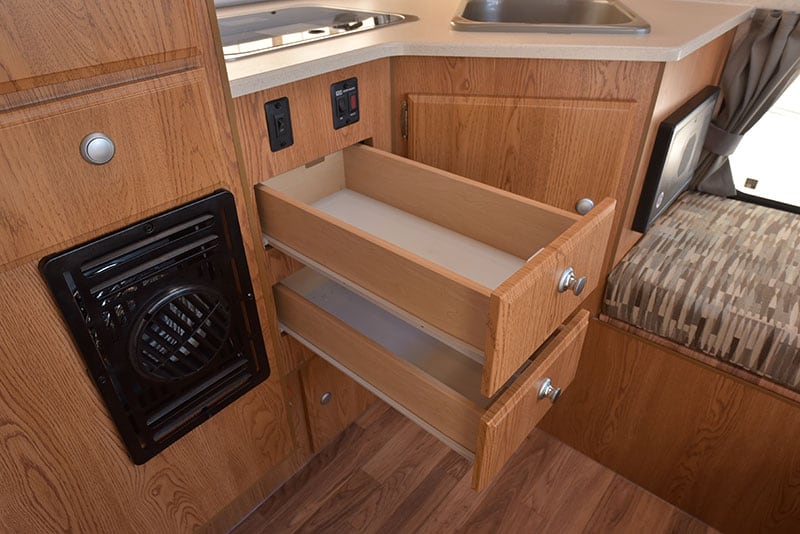 Two pull-out drawers under the kitchen counter?  Let's see… silverware in the top drawer, utensils, and other kitchen tools in the bottom drawer.  Again this is the kind of feature you take for granted – until it's not there.  While the owners of this unit won't think about it, they will enjoy using these perfectly placed drawers multiple times a day.
While we're looking at these drawers, note that Northstar is not using stainless steel ball-bearing drawer guides.  These older-style metal guides work well and are lighter than stainless steel ball-bearing drawer guides.  It all adds up.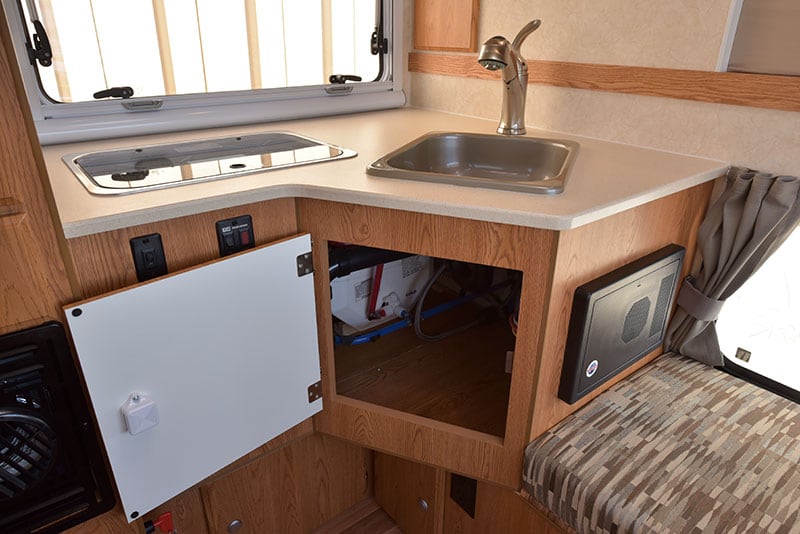 The under sink cabinet has enough space available for a small trash container.  We find having a designated trash bin under the sink to be a real convenience, not to mention a great way to not have a trash bag in the main living area.
We use a 12-pack beer box with a plastic grocery bag for a trash container/bag.  About once or twice a year the beer box gets a bit ragged.  When this happens, I take one for the team and buy more beer.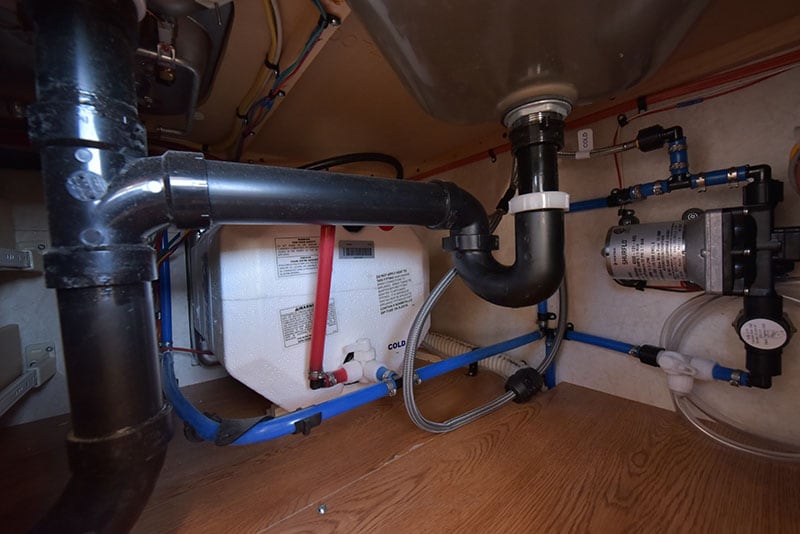 Pushing the Nikon 14-24mm wide-angle under the sink area revealed some beautifully finished and secured plumbing and electrical work.
The PEX lines are color-coded for quick identification; red for hot, blue for cold.  Having the water heater and pump under the kitchen sink means you won't wait for long for the hot water to arrive.  It's also not too far from the wet bath shower.
Water pump access will be a little awkward on the far wall, but not nearly as challenging as we've seen on some units.  Overall, this is exactly what you hope to find when you look at plumbing and electrical installations.  Well done Northstar production team!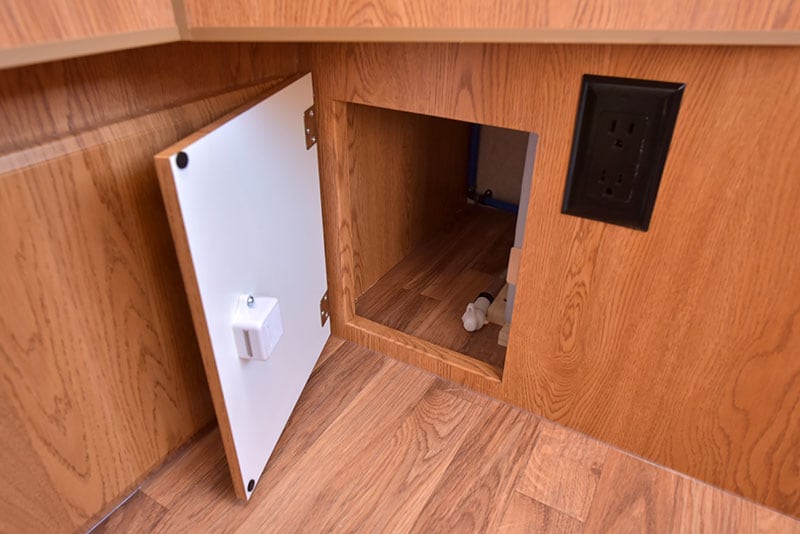 Northstar campers do not feature tank monitors.  Instead, they give you direct visual access to the translucent fresh tank.
The pictured door is at your feet in the kitchen area.  The white box peeking out on the right side is the fresh tank.  A quick glance here would show you exactly how much fresh water you have left.  No false tank monitor readings here.
And yes, you can store items in this location.  I wouldn't store canned beans or anything else that might impact the fresh water's drain line, but boxed dry foods would work well.
While we're down here, let's open up the bed access doors.  Northstar campers are non-basement models which allows them to offer cabinet door access to the truck's bed.  When loaded on a truck, these compartments offer a tremendous amount of truck bed storage.
This is, by far, our favorite feature of non-basement camper models.  That and a lower center of gravity and weight compared to basement models.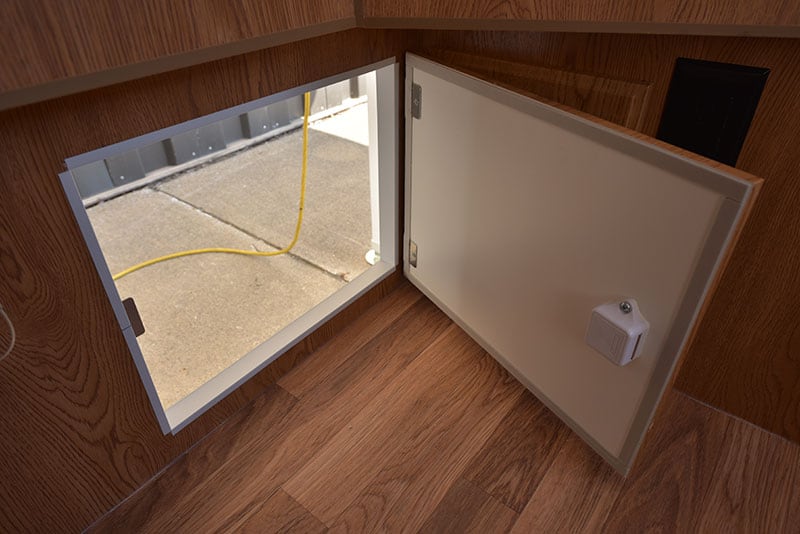 In previous non-basement campers with bed access doors, we have stored water jugs, shoes, and even a laundry bag.  Another benefit of these doors is airflow.  By adding some bug screen material, you can leave these doors open without fear of weather or thieves.  Dog owners, take notice.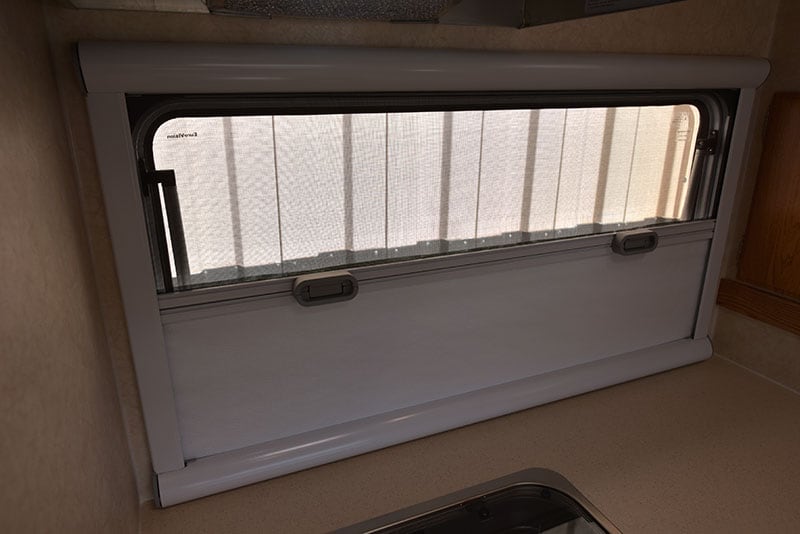 Above: The Euro-Vision windows allow for partial screens
Before we move onto the dinette, let's take another look at the window in the kitchen area.  Northstar was a pioneer in the use of acrylic thermal-pane windows in truck campers.  For over 20-years Northstar installed Dometic Seitz windows throughout its pop-up and hard side truck camper line.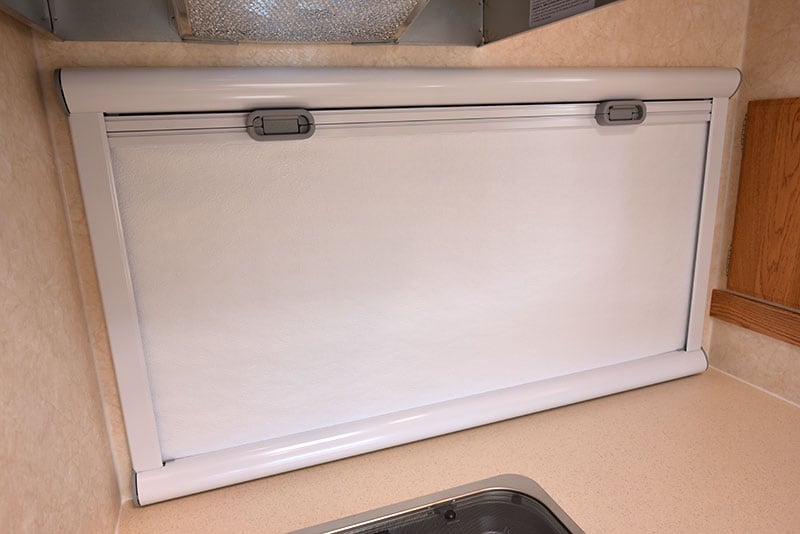 Above: The black-out shade completely blocks light from entering or exiting the unit.
This is why it was big news when they changed their windows to Euro-Vision.  As Rex explained to us, Euro-Visions are made in the same factory as Heki skylights and offer an even higher quality build than the Seitz windows they replace.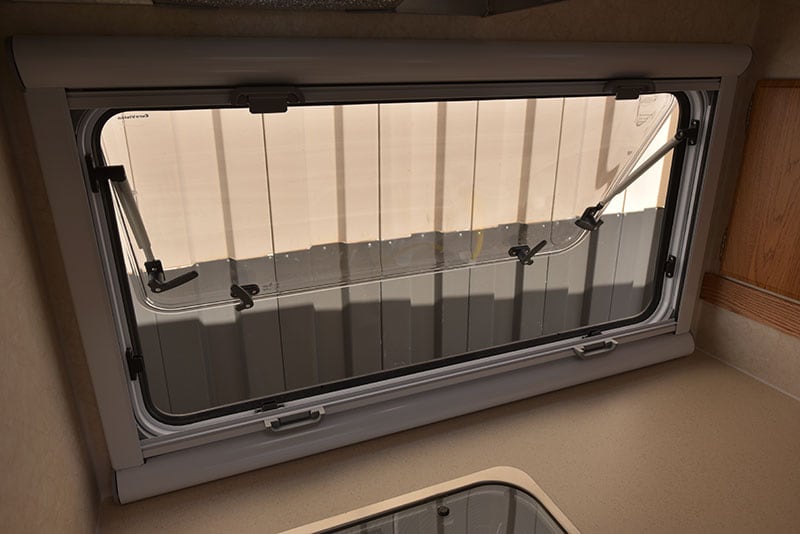 Above: Euro-Vision windows open and hold in position for excellent ventilation
While we haven't yet camped in a Northstar unit with Euro-Vision windows, the new windows handled well and were larger than the outgoing Seitz windows.  They also have tighter bug screens and the white frames present a more modern exterior aesthetic.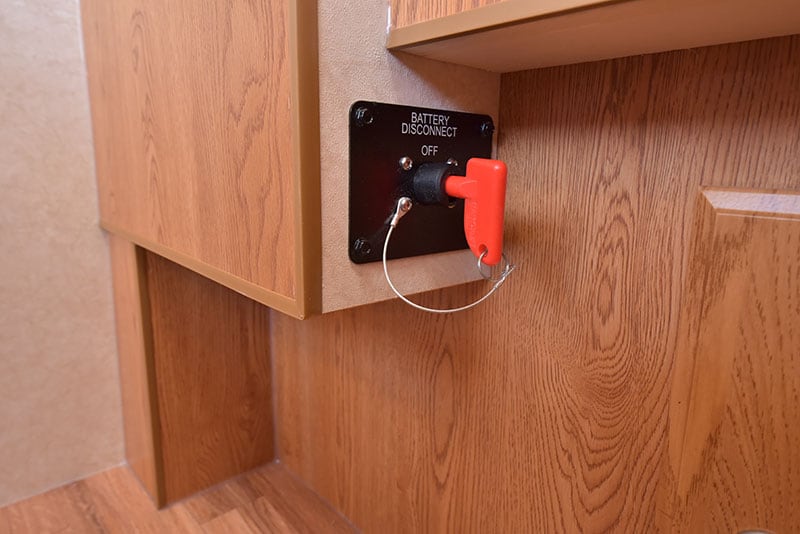 Northstar campers used to offer a battery disconnect via the removal of an in-line fuse.  Now they have a formal battery disconnect for a better visual and easier access.  While the in-line fuse worked, we like this change.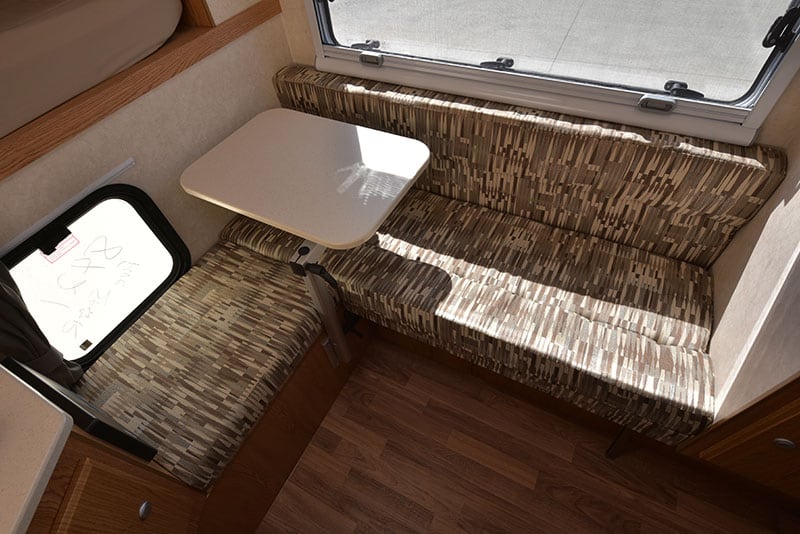 The Lagun table system is another place where Northstar has led the RV industry.  The Lagun table system swivels 360-degrees on two points, locks tightly into position by hand, and supports up to 50-pounds.  For small campers and tight spaces, it really opens up the possibilities.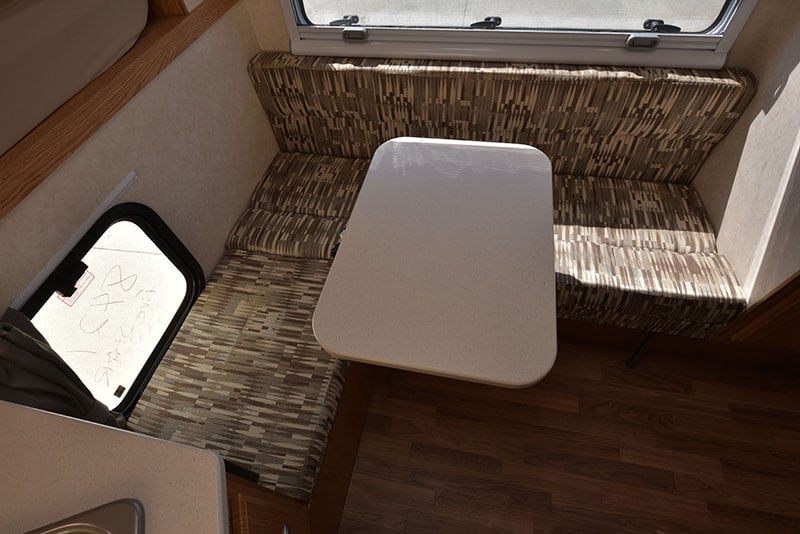 Shown here in the Liberty's dinette, the Lagun table system can be moved into multiple positions including a dinette table for two (shown above).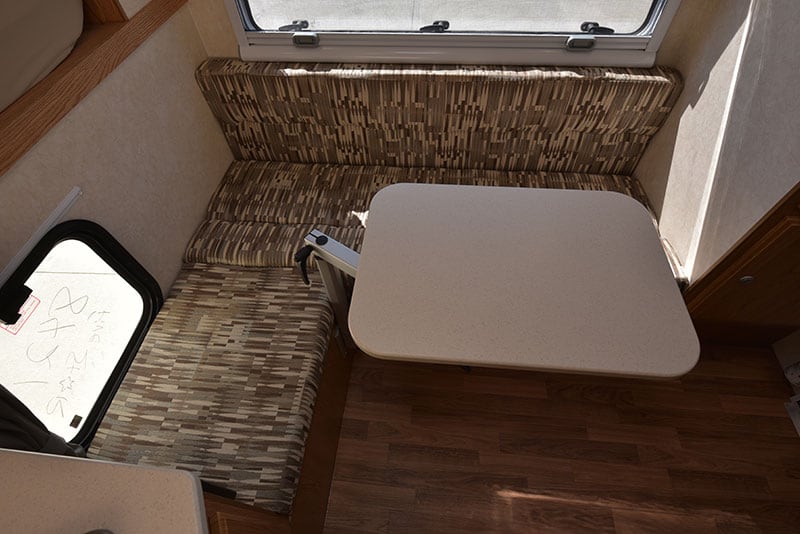 We have experienced the Lagun table system in several different Northstar models, as well as campers from other brands.  It's an incredibly versatile system for people who need a relatively small table for a meal, holding a book, or light laptop work.
It's not ideal for folks who need a lot of table space or require a table to be level and solid for extended periods of seated table time.  You know, for folks who work on laptops for 8-hours a day in a truck camper.  Who does that?  Nobody in their right mind.
Another benefit of the Lagun table system is how easy it is to remove.  With a few quick hand turns, the leg lifts up and out of its aluminum extrusion.  Here you see the Liberty's dinette with the Lagun table removed.  Look at that huge Euro-Vision dinette window!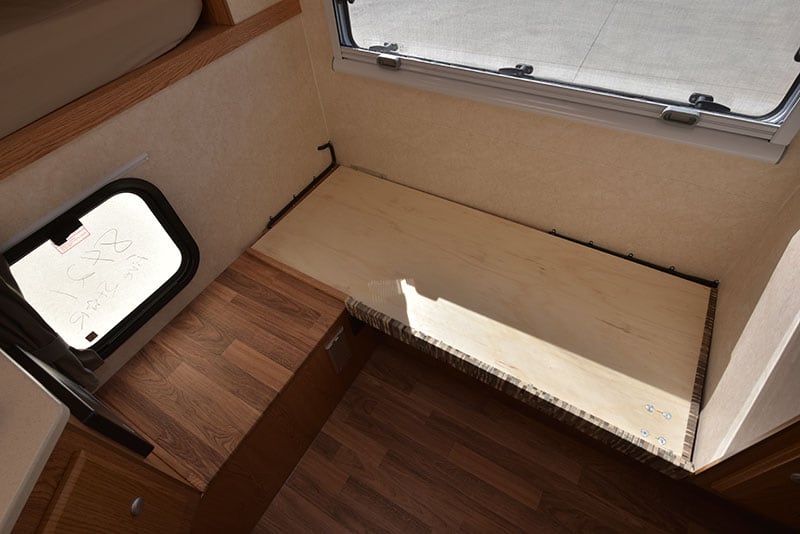 With the cushions removed, the dinette quickly becomes a 56-inch long by 35-inch wide bed.  First, pull out the dinette bed platform.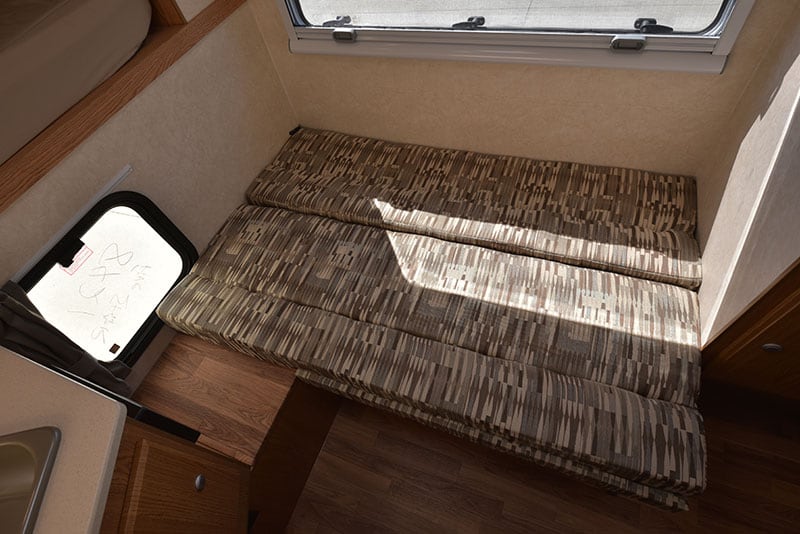 Next, extend the support leg underneath.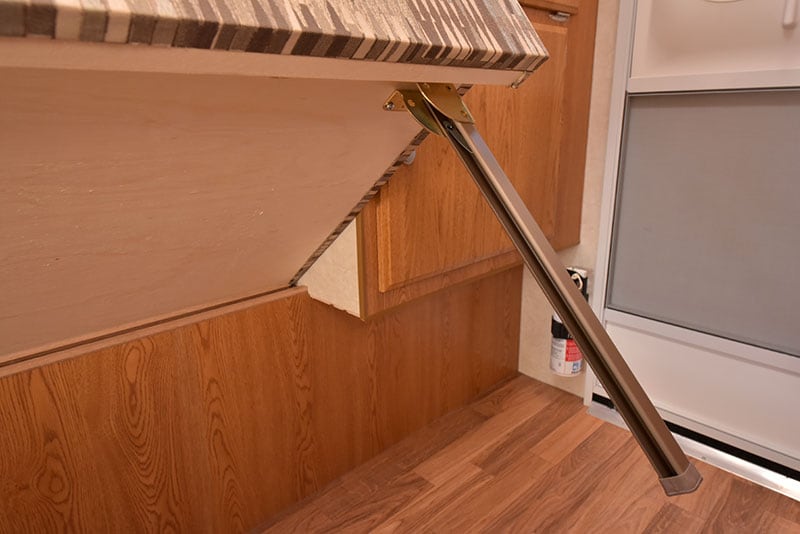 Finally, replace the dinette cushions to make the bed.  This is an easy process that makes it into a remarkably large dinette for a camper this size.  But what if you have more guests?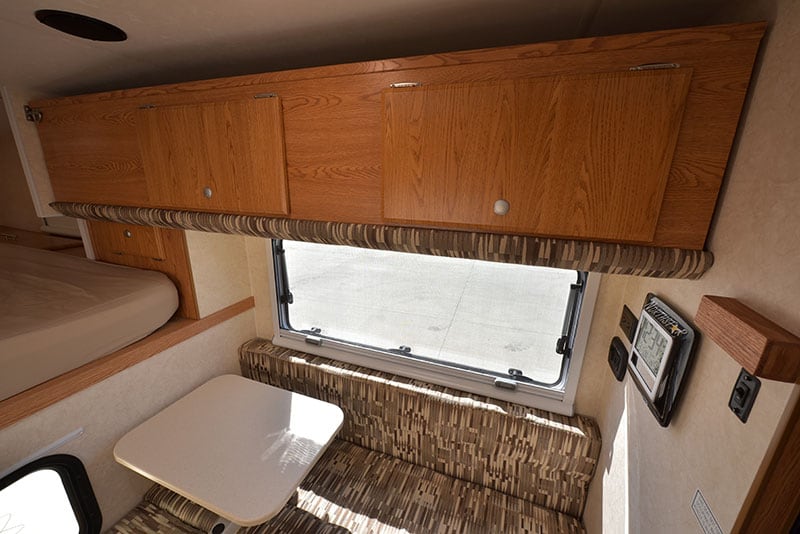 Well, the optional two-door cabinet above the dinette is good for more than just holding your latest LP record finds.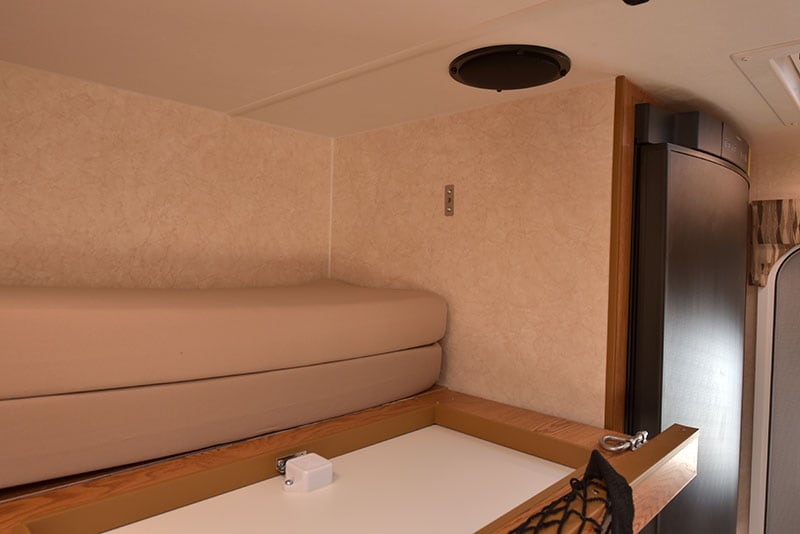 To deploy this bunk, unlatch and flip down the upper dinette bunk.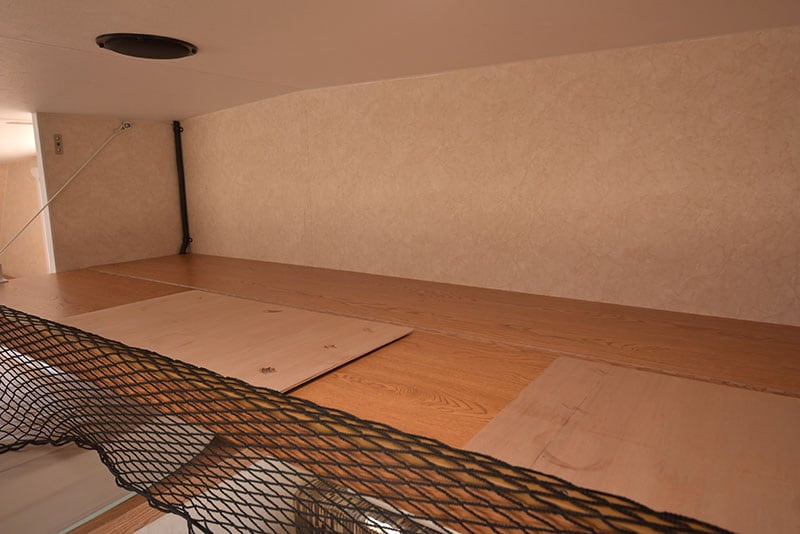 Then pull the two cabinet opening covers into position…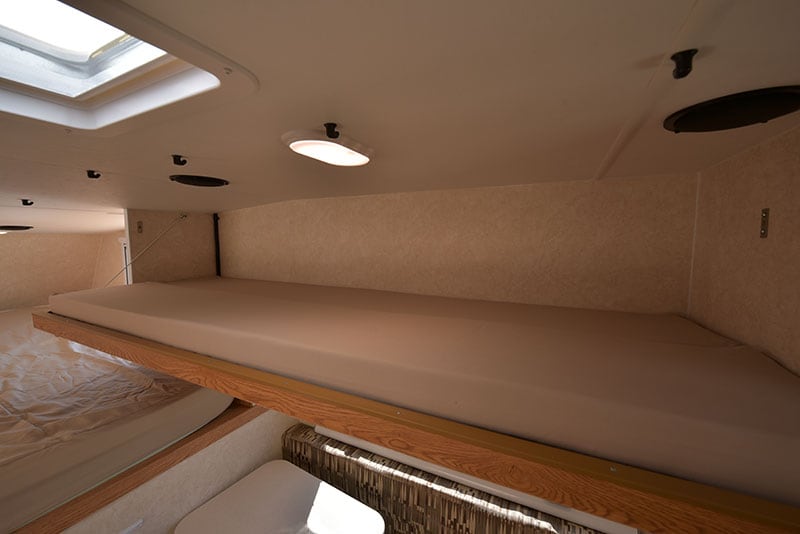 and place the bed foam to make a bed.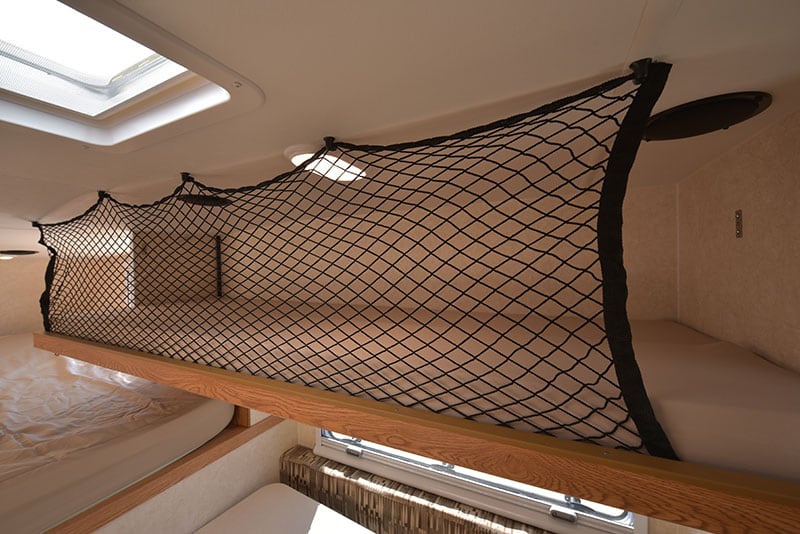 The size and weight capacity (300-pounds) of the upper dinette bunk is best suited to children.  Northstar includes a safety net to make sure Pugsley doesn't roll off onto Uncle Fester.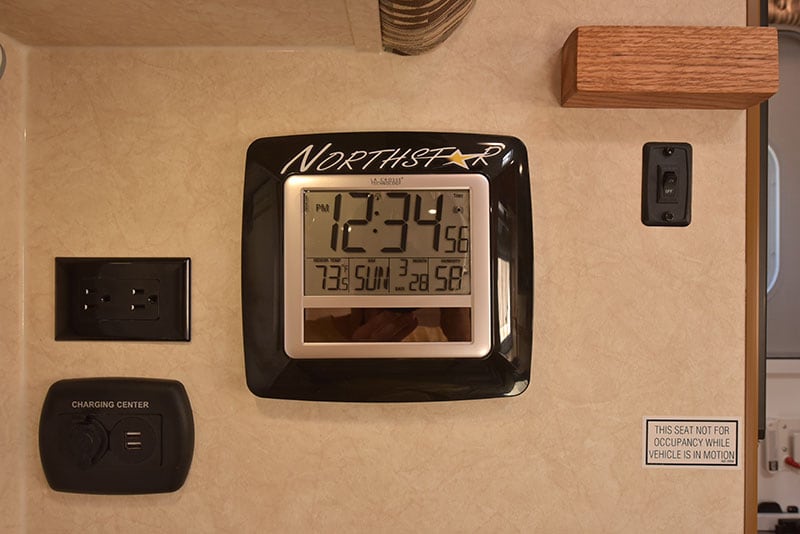 On the rear wall behind the dinette area is a full complement of power outlets; 110-volt, 12-volt, and USB.  Like many fellow truck campers, we would use these outlets all of the time to charge phones, tablets, cameras, etc.
The Northstar clock with a solar strip is another nice touch.  Digital clocks don't require much power, but having the clock be solar-powered makes a lot of sense.  It's also right next to the large dinette window for charging.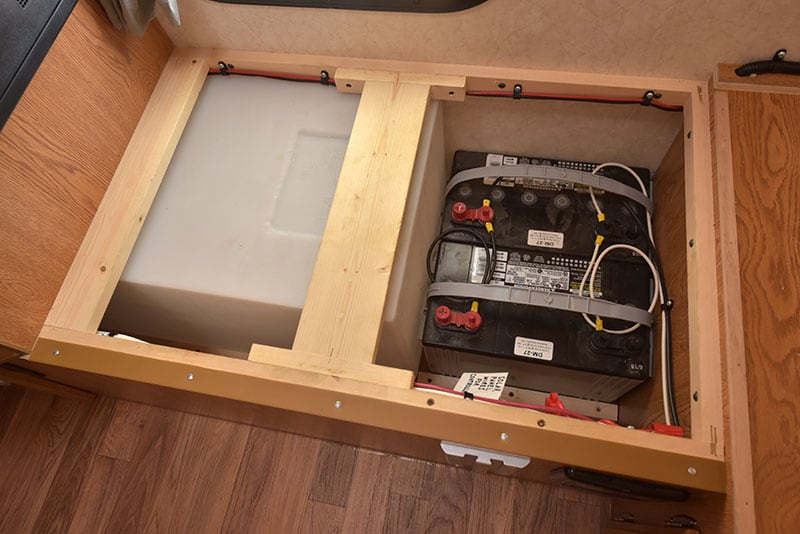 Under the step up to the cabover, you can see even more of the aforementioned 20-gallon fresh tank, and the Liberty's two Group 27 batteries.
While we like having the fresh tank and batteries all the way forward for the center of gravity, there's something unnerving about how exposed these batteries are.  People will be regularly handling open drinks in the dinette above, not to mention that batteries themselves are not clearly labeled as sealed AGMs.  For safety, I would like to see these batteries better protected and possibly ventilated.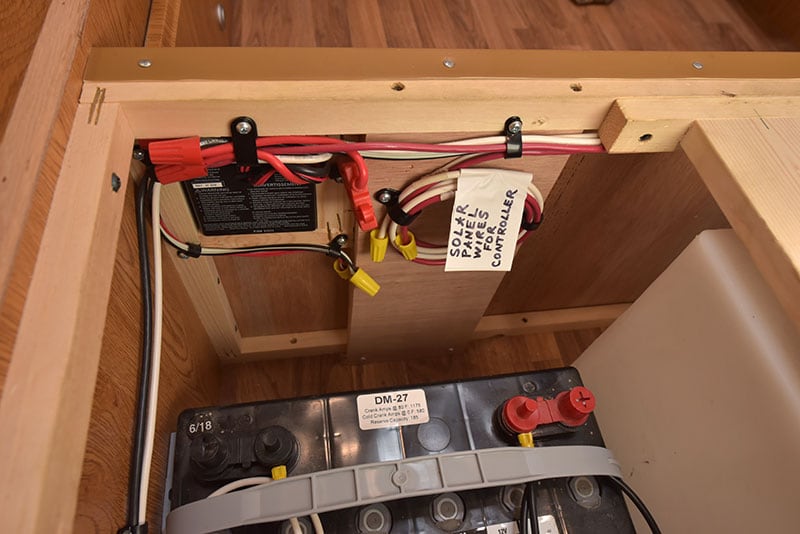 The Liberty under review was pre-wired for solar.  How do I know?  The impeccably well-labeled and coiled, "Solar Panel Wires For Controller" wires next to the batteries gave it away.  If only every camper had this quality of labeling and care put into it.  A lot of projects we have done on our project camper would have been so much easier.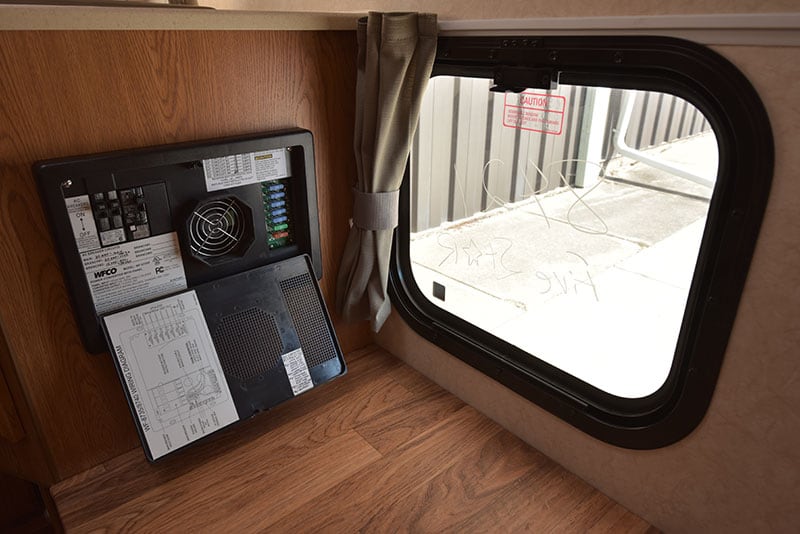 With the cabover step reinstalled, we come to two more important features; the power converter, breaker and fuse box, and the removable pass-through window.  The location of the converter/breaker/fuse box is excellent for those, "Always check the fuse box first" moments.
The removable pass-through window is a real bonus.  In a marketplace where most truck camper manufacturers have eliminated the pass-through window, Northstar has not only kept it but has kept it removable.
If you have pets, the ability for them to move from the camper to the truck and back again can be a huge benefit.  Northstar even offers a boot that helps your poodle cross through and keeps the passage fairly well sealed from the elements.  Our cat, Harley, loved this set-up on a Northstar rig we borrowed.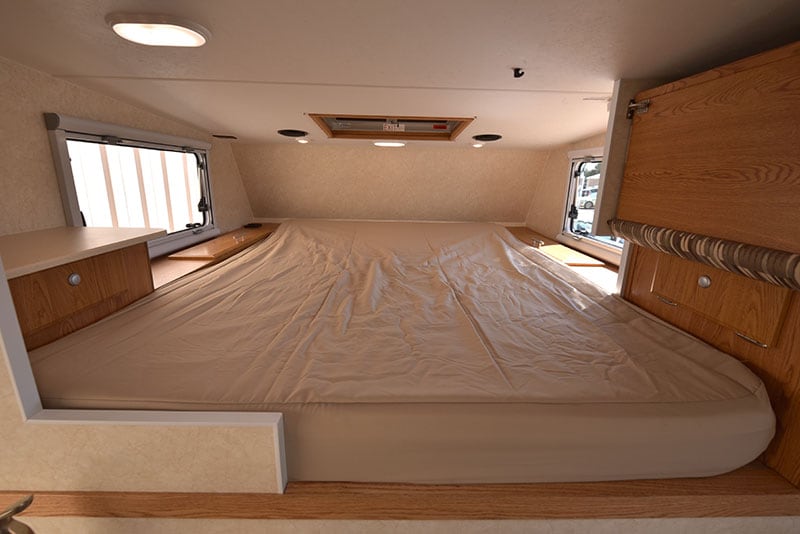 The Northstar Liberty features a north-south cabover with two large Euro-Vision windows and an overhead escape hatch.
This is a fairly simple cabover; two hampers, no front nose cabinets, and no tall storage to speak of.  This keeps the weight down and helps the cabover feel open, but it also means there's not a lot of clothing storage on tap.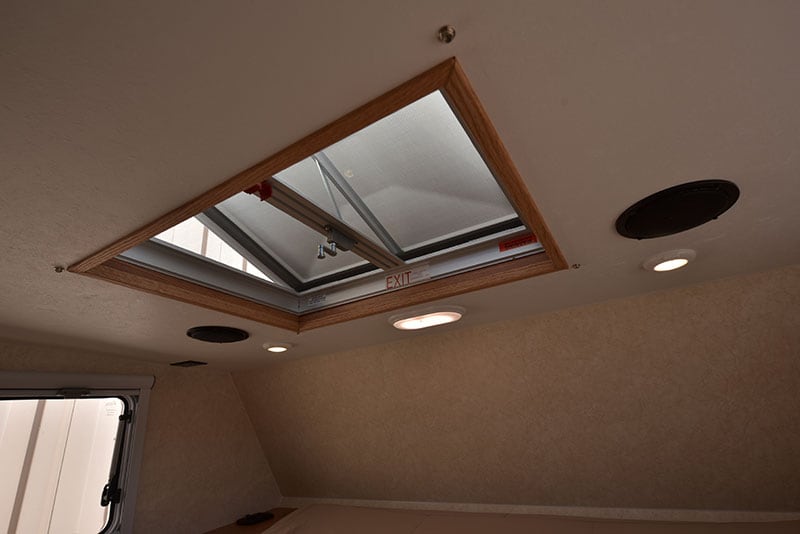 For long-time truck campers, this escape hatch will be immediately familiar.  With a central crank and integrated bug screen, it's extremely convenient to get a little air in the middle of the night or close it up if it's getting cold.
We have camped with Heki skylights, Fantastic Fans and even large automotive-style front windows in the cabover.  In our opinion, nothing beats an old-school crank-up escape hatch for ease of use, roof access, and airflow.  We have one in our project camper and wouldn't trade it for any of the above.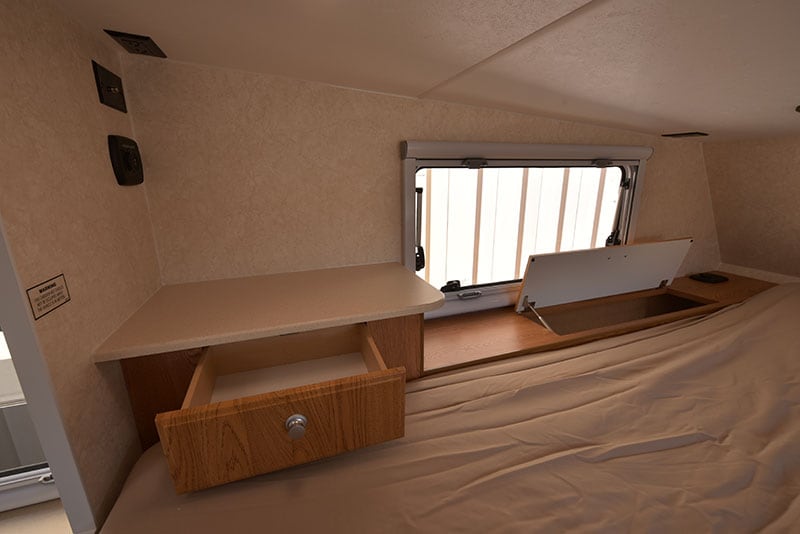 The driver's side has a small nightstand and drawer.
Whenever I'm in a truck camper's cabover, I ask myself the same question; where are folks supposed to put their socks, underpants, T-shirts, jeans, shorts, sweatshirts, and sleepwear?
In the Liberty, I could see the socks and underpants stowed into the drawer or hamper, but I'm not sure where the larger clothing items should go; maybe in the upper dinette storage cabinetry.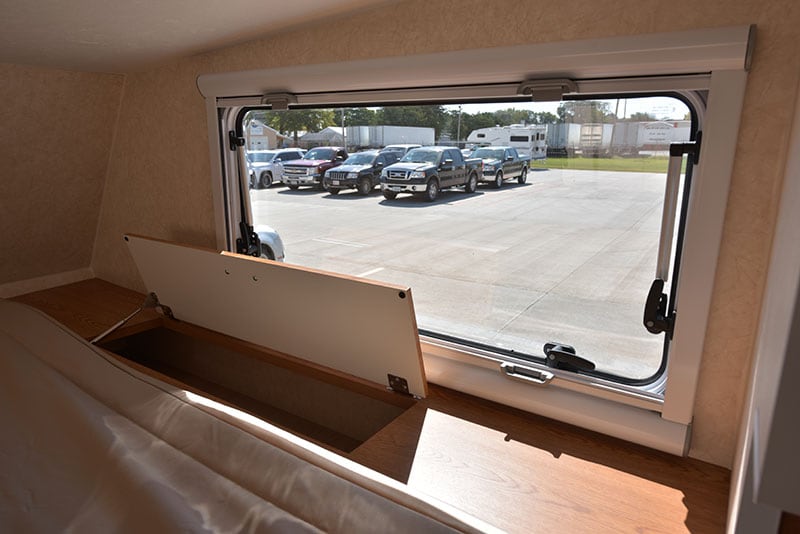 The hamper storage access on both sides is a bit limiting.  There's a long compartment with a single cabinet door in the middle.  Why not add a second door to make accessing this valuable hamper space easier?
We have seen manufacturers accomplish this with one very long hamper door.  This is a real pain because you can't put anything on the hamper's surface and just open one side or the other. As mod entries have shown us, the ideal for long hampers is either multiple doors or one long door that's cut to allow one side or the other to open.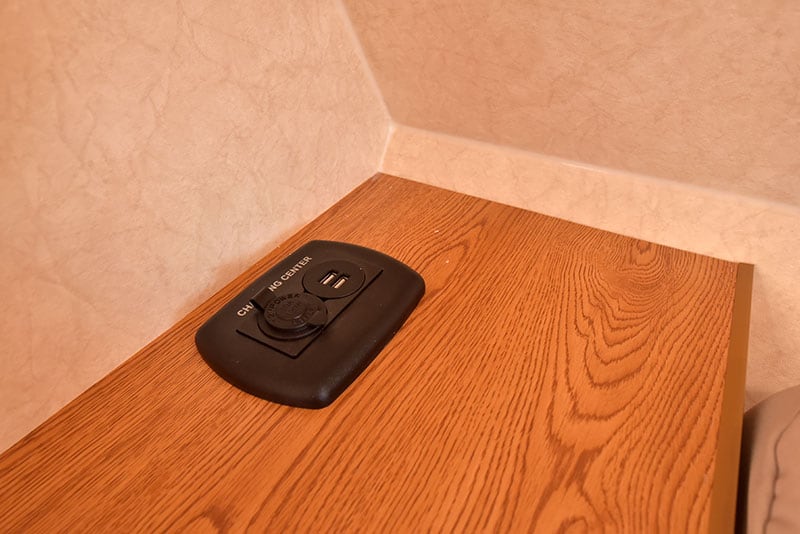 Northstar has really taken to heart the fast-evolving power needs of its customers.  There are multiple 12-volt and USB outlets in the cabover, as well as 110-volt connections for CPAP machines.
In addition to this outlet set, there is a 110-volt outlet and a 12-volt/USB charging center on the forward-facing wall (where a television would mount) on the driver's side.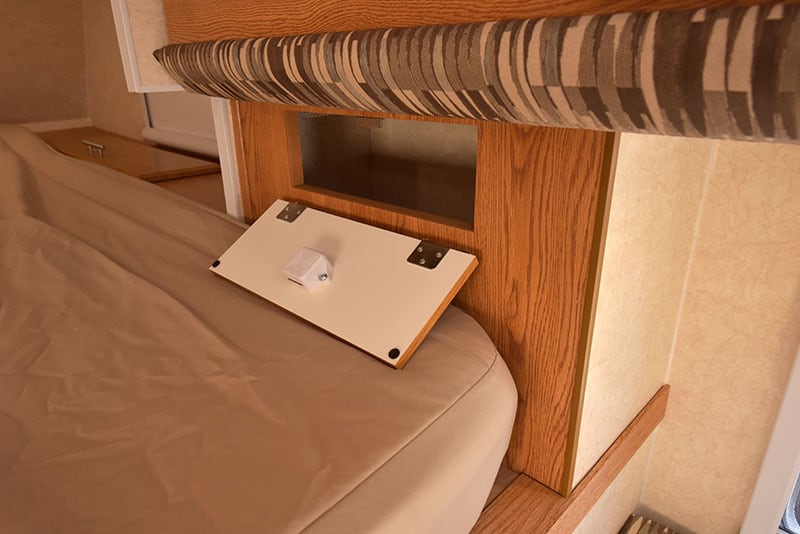 Here's another clever storage nook you'll have to figure out.  Socks?  Books?  It would be fun to find out what Northstar owners use these storage nooks for.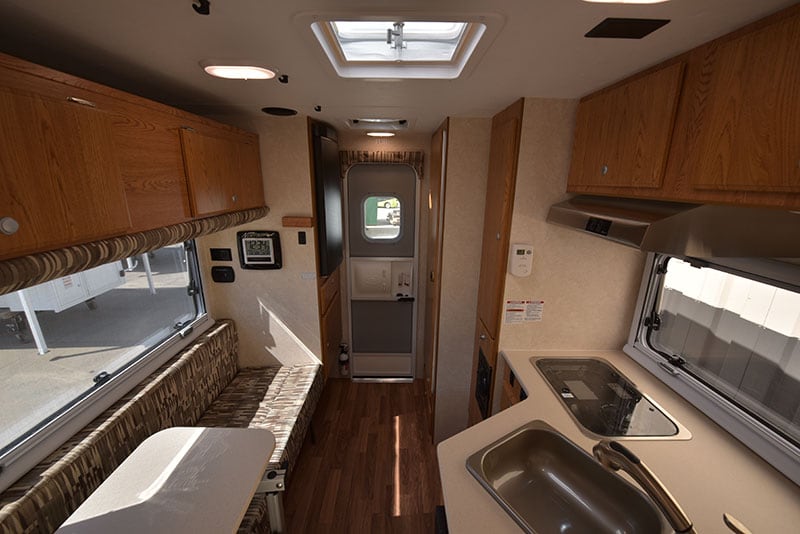 From the cabover bedroom, the Liberty retains its open and spacious feel.  Honestly, there's not much to nit-pick in this camper's interior.  That makes sense with a floor plan that's been adapted and refined for decades.  Now let's break out the specifications and capacities and see how the Liberty's stats measure up.
Northstar Liberty Specifications
| | |
| --- | --- |
| Specifications | |
| Dry Weight | 1,775 pounds |
| Wet Weight* | 2,560 pounds |
| Floor Length | 7'0″ |
| Overall Length | 14'5″ |
| Width | 7'0″ |
| Interior Height | 6'4″ |
| Exterior Height | 8'0″ with optional air conditioner |
| Center of Gravity | 24″ front to rear |
| Truck Type | Short or Super Short Bed |
Northstar weighs each and every truck camper as it leaves the factory. We have seen this practice in person many times over the years.  Their scale is literally inside the door right before the campers leave the building.
The Northstar Liberty is somewhat unusual in that the floor-length and width are identical; 7-feet.  It's unlikely that you'll be aware that you're essentially standing in a 7-foot by 7-foot box when you're in the unit, but you are.
The 7-foot floor length was dictated by the design requirement of not extending past the rear bumper.  This greatly improves towing performance by eliminating the need for a hitch extension.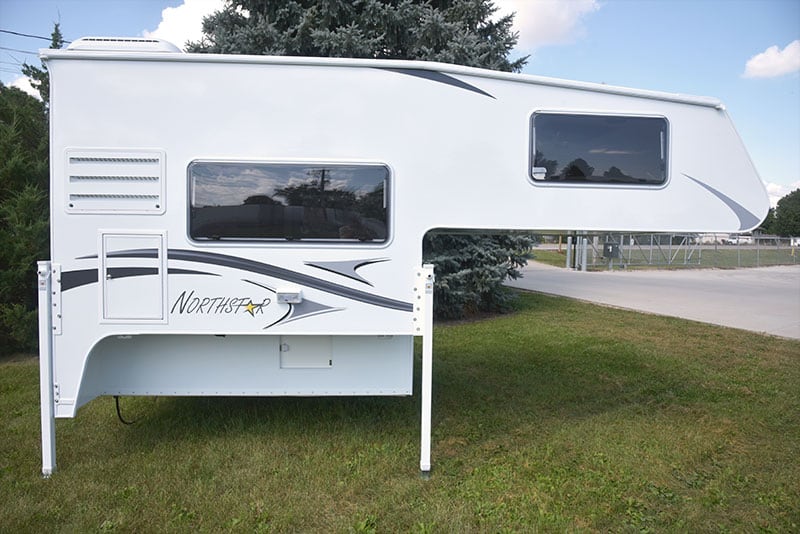 The majority of Northstar pop-up models and two additional Northstar hard-side models are also 7-feet wide.  At 7-feet, factory truck mirrors can easily see around the unit.  Center of gravity and other handling characteristics are also improved.
The three 7-foot wide Northstar models all feature 6'4" interior heights.  While this is about 5-inches lower than Northstar's larger hard-side models, it's actually a very comfortable interior height in the main living area.
The lower interior height might be an issue for some in the cabover because taller folks may not be able to sit up in bed in the Liberty.  This is not helped by the Liberty's forward-sloping cabover, but that slope improves aerodynamics (and fuel economy).  Trade-offs!
The 24-inch center of gravity should be compatible with any short bed truck.
Capacities of the Northstar Liberty
Capacities
Fresh
20 gallons
Grey
13 gallons
Black
5 gallon cassette
4 gallon fresh
Water Heater
4 gallon auto ignition
Propane Tanks
1x 20 pounds Standard, Space for Two
Batteries
Space for One Battery
The Northstar Liberty hard-side has nearly identical fresh, grey, and black tank (cassette toilet) capacities to the Northstar 650SC pop-up model we reviewed in 2017.
These are impressive tank capacities for a 7-foot pop-up truck camper.  In fact, offering a fully-featured and fully-self contained pop-up truck camper in the price and weight category of the 650SC is impressive all by itself.  If you're even considering a pop-up camper, the Northstar 650SC is a knockout.
Those same tank capacities are somewhat less impressive in the hard-side Liberty.  Even Northstar's TC800 and 850SC pop-up models offer 30-gallons of fresh; 10-gallons more.  Most of Northstar's larger hard sides almost double the Liberty's fresh capacity to 39-gallons.
This limitation is not an issue for weekend campers who don't insist on daily showers or leaving the water on when they wash dishes.  With simple water conservation techniques, the Liberty's 20-gallon fresh tank should last a long weekend.  For long-distance or longer-term truck campers, 20-gallons of fresh could be a limiting factor.
More water would be more weight.  From that perspective, what would we have Northstar do?  They probably hit the target by selecting a 20-gallon tank, but owners will need to monitor their fresh tank carefully, and make plans to source water more frequently.
Looking at the holding tank balance, we are challenged to drain a 20-gallon fresh tank into a 13-gallon grey tank.  One possible solution would be something like a Camco Rhino Heavy Duty 21-gallon portable tank.
With the 21-gallon Camco, Liberty owners could connect the Camco to the Liberty's dump connection and not worry about overfilling the tank.  As long as you dumped the Camco before you broke camp, you'd have a great solution.  Since Northstar owners are already dumping their cassettes, dumping the Camco is no big deal.
Here's an idea for Northstar; Why not eliminate the Liberty's grey tank altogether and integrate a robust mount for the Camco (or similar portable tank) on the rear of the unit?  Northstar owners are already sold on the versatility of cassette toilet systems.  Why not give them that same portable versatility with their grey water tanks?
Speaking of Thetford cassette toilet systems, cassette toilet systems are – by far – the most versatile toilet system for truck campers.  With a cassette toilet system, you are not restricted to RV dump stations.  When RV dump stations are closed or otherwise unavailable, a cassette toilet system remains viable.  Want to take your camper to a ski lodge?  You should strongly consider a cassette toilet.
The disadvantages of cassette toilets are the limited capacity and the requirement of removing the cassette and dumping it into a residential toilet.  The 5-gallon cassette in the Liberty will weigh about 41-pounds when full.  Dumping a full cassette isn't hard (we have done it many times) but the tanks can be awkward to handle.
Our best recommendation for anyone who hasn't owned a cassette toilet system is to ask your local Northstar dealer to let you fill a cassette with fresh water, and dump it in their dealership's toilet.  That way you can experience the weight and handling of a full cassette, and what it's like to dump it.  Don't forget to push the green button to release the vacuum.  Whoosh!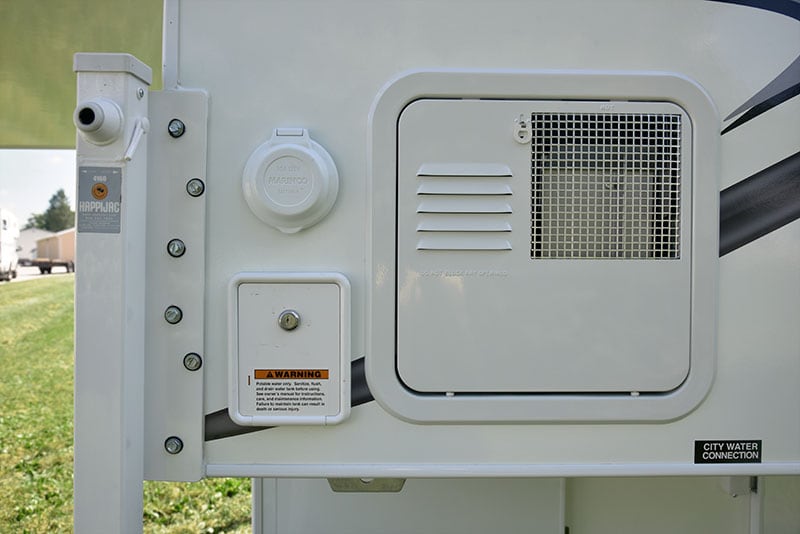 Northstar installs 4-gallon water heaters in all Northstar models offered with water heaters.  This is in contrast with the industry-standard 6-gallon water heaters.  Having showered in literally dozens of campers over the years, we believe 4-gallons is plenty of hot water capacity.  Long showers are off the menu in an off-grid camper anyway, so why bother with a larger and heavier water heater?
The Liberty ships and is weighed at the factory with one 20-pound propane tank.  The design can fit two.  It's hard to fault Northstar for not including both tanks as it demonstrates an easy way customers can save weight.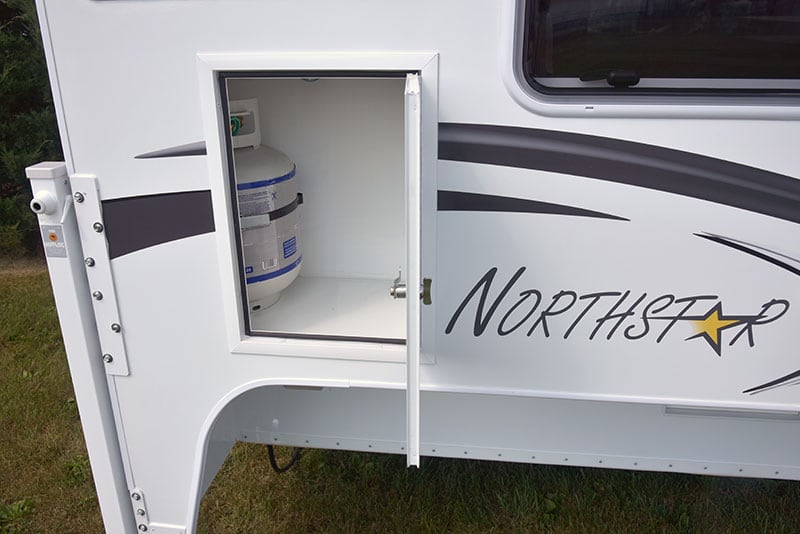 Not everyone wants or needs a second 20-pound propane tank in a camper this size.  If you want the second propane tank, simply add its cost and weight to your truck matching calculations.
The Liberty has space for one Group 27 battery.  With all-LED lighting, the option for a solar panel system, and the generally reliable performance of modern batteries, one battery may be all most folks need.
If you're planning to go cold weather camping, or need to charge a lot of battery-powered equipment with inverters, you will likely need a second battery.  One way to do this is with a Torklift HiddenPower Under Vehicle Battery mount. As the name implies, this product puts a boxed battery under your truck.  Another solution could be something like the Goal Zero Yeti Lithium portable power station that we employ. We love ours.
Wet Weight Calculation for the Liberty
Using the standardized Truck Camper Magazine wet weight calculation, let's run the numbers on the Northstar Liberty.
Base Dry Weight – special factory order only
Northstar Liberty: dry weight, 1,775 pounds + 20 gallons fresh, 166.8 pounds + 4 gallon full hot water heater, 33.4 pounds + 20 pound full propane tank, 20 pounds + 1 x battery, 65 pounds + stuff, 500 pounds = 2,560.2 pounds
Optioned Weight – Reviewed Unit
The unit under review did not have a lot of factory options.  All we found was the fold-down overhead bunk with restraint net (38-pounds) and pre-wire stereo with 4-speakers and antenna (2-pounds).
Taking the base dry weight of 1,775-pounds and adding the 40-pound option weight we get a dry-with-options weight of 1,815-pounds for the review unit.  With this number, let's run the wet weight calculation again.
Northstar Liberty: dry weight, 1,815 pounds + 20 gallons fresh, 166.8 pounds + 4 gallon full hot water heater, 33.4 pounds + 20 pound full propane tank, 20 pounds + 1 x battery, 65 pounds + stuff, 500 pounds = 2,600.2 pounds
Truck Recommendations
At 2,600-pounds loaded and wet, the Northstar Liberty is an excellent match for a three-quarter ton truck.  Yes, it is theoretically possible to match the Liberty to a very carefully spec'd half-ton, but a three-quarter ton will make for a much safer and better handling truck and camper combination.
This is even more true for folks who want a more optioned Liberty.  Starting with the 40-pounds of options in the review unit, adding the optional microwave (21-pounds), roof air conditioner (89-pounds), 22-inch 12-volt digital TV with locking arm (20-pounds), MIDI Heki skylight (18-pounds), and electric jacks (37-pounds) – brings you to 225 pounds of installed options.  Now we have a 2,785.2-pound camper; loaded and wet.
On top of that, the Northstar Liberty was designed for towing.  That's why the unit was built to a 7-foot floor length that doesn't extend past the rear bumper.  If you have your eye on a Northstar Liberty and are planning to tow, you absolutely need a three-quarter ton truck – or better.
Lucky for you, we have two carefully thought-out articles that accurately explain how to match a truck and camper, and tow with a camper.  If you're planning a Northstar Liberty rig, and/or want to tow with a truck camper rig please read, "How to Match A Truck and Camper" and, "How to Tow With a Truck Camper Rig".  The information these articles provide is essential.
Wood Frame. Hung Wall. Non-Basement.
Before we get to the verdict, I want to cover the design and build philosophy that's behind everything Northstar builds.  This philosophy is literally the key to the entire Northstar product line and company.
In short, Northstar strictly employs wood framing and hung wall construction.  More importantly, they do not believe in aluminum framing, laminated walls, basements, or slide-outs.
As Rex has explained to us many times, compared to aluminum, wood framing is superior for insulation, it is easier to repair, and does not sweat.  By not laminating Northstar avoids the possibility of de-lamination.  That's a tough logic to dispute.
Another advantage of wood frame and hung wall construction is the ability to fasten the frame, walls, and cabinetry in ways that would be impossible with laminated components.  From a structural strength perspective, Northstar believes this is a huge advantage over their laminated competition.
On the flip side, wood is prone to rot.  That means Northstar owners need to stay on top of their roof, side and underbody seals.  Of course that's true of every truck camper.  We constantly inspect and repair the seals on our project camper.  It's an essential part of maintaining a truck camper of any build quality and description.  Water is the enemy of every RV.
The Verdict
The reason why the Liberty sailed through the Floor Plan Evaluation relatively unscathed is because it's based on campers dating back to the early 1980s.  While the dimensions have been adjusted to hit the 7-foot floor length goal, almost every facet of this camper has been part of a refinement process that spans thousands of Northstar builds.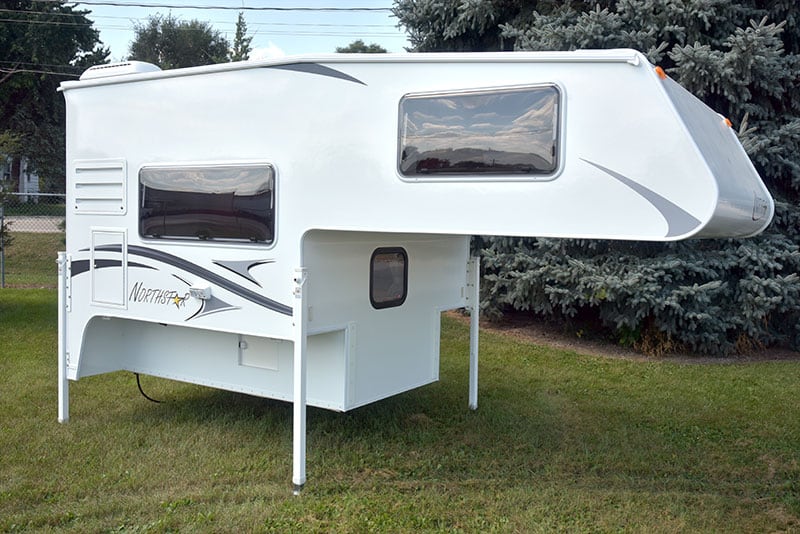 That doesn't mean everything is perfect.  The batteries under the dinette should be better protected and ventilated.  The hampers in the cabover need additional doors, or split doors, to give better access to the available storage.  And I am not the biggest fan of not having a sink in the bathroom, but that won't bother everyone.
After all is said and done, the defining factor for the Northstar Liberty is the tank capacities.  Specifically, with 20-gallons fresh, 13-gallons grey, and a 5-gallon cassette (with its own 4-gallon fresh reserve), the Liberty tank capacities will limit the number of days one can remain fully self-contained and off-grid.
If you're a weekend camper who goes out for three to four days tops, you'll do well with the Liberty's tank capacities.  In fact, the Liberty is particularly ideal if that's your truck camping lifestyle.
If you're thinking about truck camping off-grid for longer periods of time, plan on accessing fresh water, dump stations, and residential toilets every three to four days.  That's exactly what we did when we borrowed Northstar Campers.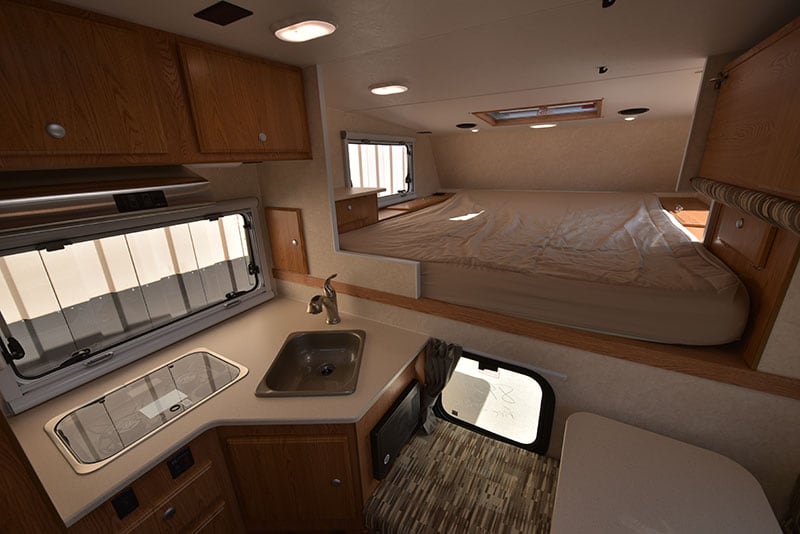 Now seven years after the Liberty first debuted, it's obvious why this model remains an exceptional seller for Northstar.  As we studied the layout and execution, we could literally see the decades of product refinement, not to mention the collected wisdom of thousands of Northstar customers, dealers, and industry veterans.
If you're looking for an extremely smart and highly practical truck camper to match to a three-quarter ton truck, put the Northstar Liberty high on your list.  If you are looking for a camper with superior winter camping capabilities, put this camper even higher on that list.  Looking to tow without a hitch extension?  Need the versatility of a cassette toilet?  You may be looking at your next truck camper.
Northstar Liberty Pros
7-foot floor length stops at rear bumper for extension-free towing
Well thought out and refined floor plan in a 7-foot width
Excellent fit and finish including cabinetry, plumbing, and electrical
Optional upper dinette bunk allows for sleeping up to five
Well placed 110-volt, 12-volt, and USB outlets in the dinette and cabover
Large and insulated Euro-Vision windows maximize natural light
Northstar Liberty Cons
Designed for half-tons, but better suited for three-quarter tons
Two Group 27 batteries under the dinette need better protection
North-south cabover hampers need larger access doors
Cabover height is low for sitting up – but offers better aerodynamics
Absence of tank monitors will take some getting used to
Wet bath lacks a sink
Model Information
Northstar Liberty
MSRP: $24,115
Warranty: Two-year structural warranty.  Individual appliances have their own warranties.
R.C. Willett Company, Inc.
Phone: 319-233-3461

Request A Northstar Liberty Brochure
Web: northstarcampers.com
Quality, Customer Service, and Long-Term Reliability
Truck Camper Magazine inspects all reviewed truck campers for design, material, and quality issues and reports what we find.  However, since Truck Camper Magazine reviews only brand new truck campers, our reviews do not address long-term quality, customer service, or reliability.
To learn about a brand's long-term quality, customer service, and reliability, Truck Camper Magazine recommends talking directly with truck camper owners at truck camper rallies and online via truck camper forums and truck camper owners groups.
Please be sure to balance your gathered feedback across multiple sources including direct correspondence with the truck camper manufacturers and your closest truck camper dealers.
If you are new to truck campers, start in the Newbie Corner.