Truck Camper Magazine reviews a 2017 Northstar 650SC, a self-contained, wet bath, north-south cabover, pop-up truck camper for short bed and super short bed half-ton trucks.  Can a seven-foot, self-contained pop-up design really work?  Let's find out.

The Northstar 650SC was debuted in Truck Camper Magazine on May 13, 2014.  Directly inspired by the hard side Northstar Liberty, the 650SC featured an impressive list of design innovations making it one of the most functional pop-up truck campers on the planet.
More importantly, the 650SC's versatility was fit into a remarkably compact seven foot floor plan.  As Rex Willett, President of Northstar Campers, explained for the debut, "That's never been done before in this industry."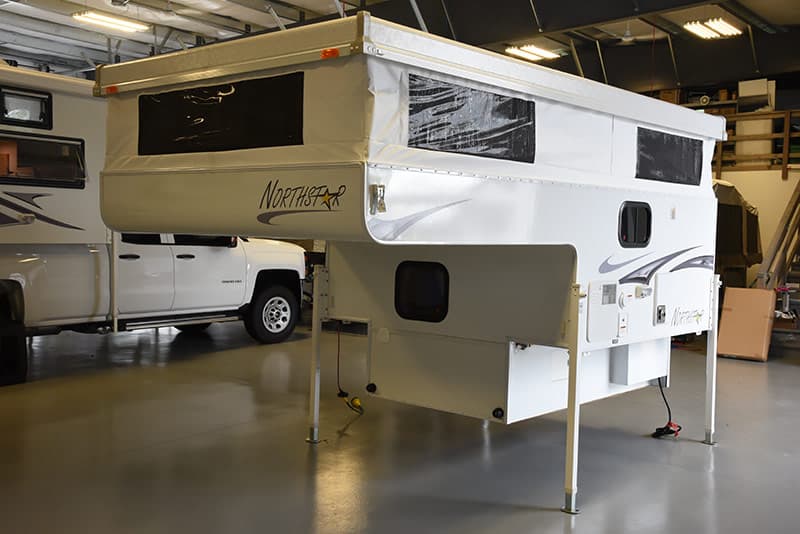 Most of the design innovations of the 650SC are subtle, but make meaningful improvements to the day-to-day use of the 650SC.  For example, the side walls of the 650SC were raised just enough to allow the owner to access and use the bathroom with the top down.  Anyone who has pulled over to quickly use their camper bathroom knows that's no minor benefit.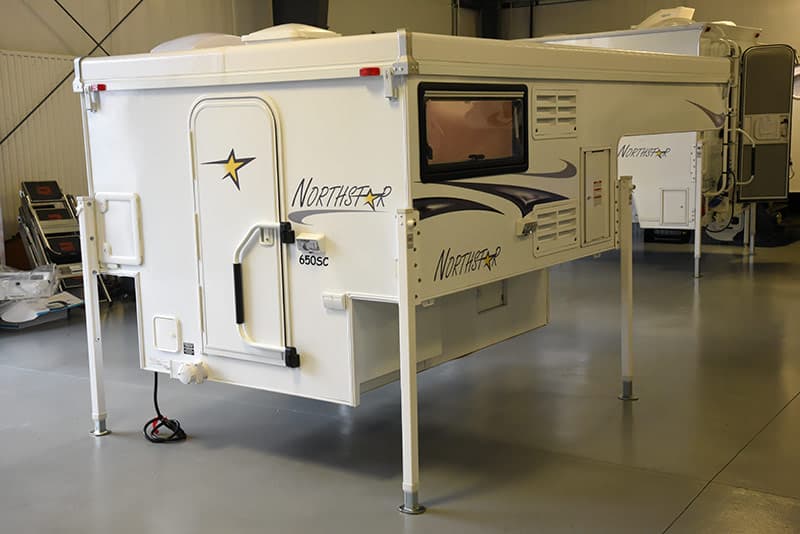 Above: The Northstar 650SC has a bathroom that's usable with the pop-top down
The taller side walls also create 6-inches of height between the cabover mattress and the lowered ceiling.  This allows the owner to leave their pillows and bedding in place while traveling.  The taller side walls also allow for 6'5" of headroom in the shower.
Perhaps none of these elements will light one's hair on fire on a dealer lot or RV show, but they certainly offer real world benefits that will be appreciated in the field.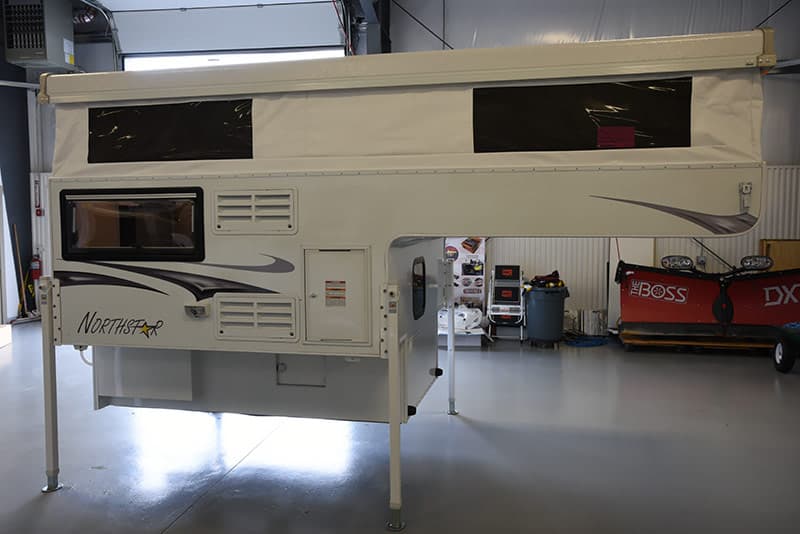 Per the advice of Bill Penney of Truck Camper Warehouse, Northstar made most of the options on the 650SC standard.  The only available options are features not everyone wants or needs; an air conditioner, entry step system, television antenna, awning, and a roof rack.  The rest, as they say, is baked in.
Speaking of air conditioners, the 650SC comes framed and pre-wired for both a roof top or rear window air conditioner, both of which run on a portable Honda EU2000i (or equivalent).  The rear window air conditioner leaves the roof open for kayaks or other gear.
Having the option for a rear window air conditioner to accommodate customers with kayaks really shows the thinking that went into this functionality-first design.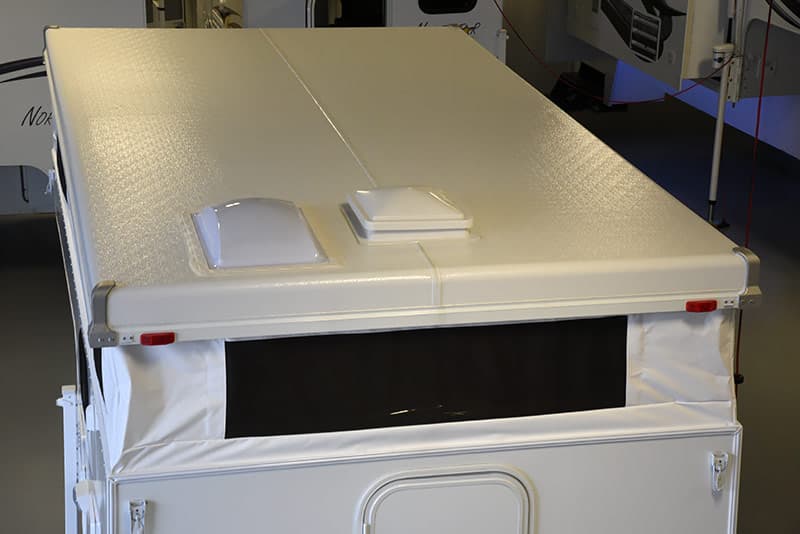 Above: By having an option for a window air conditioner, the 650SC roof has plenty of room for kayaks, solar panels, and other gear
Versatile design and features are obviously appreciated, but they need to be implemented just right to achieve the function, convenience, and comfort they are intended to offer.  Put another way, there's no denying that the Northstar 650SC is a veritable Swiss Army Knife, but how does it stack up in reality?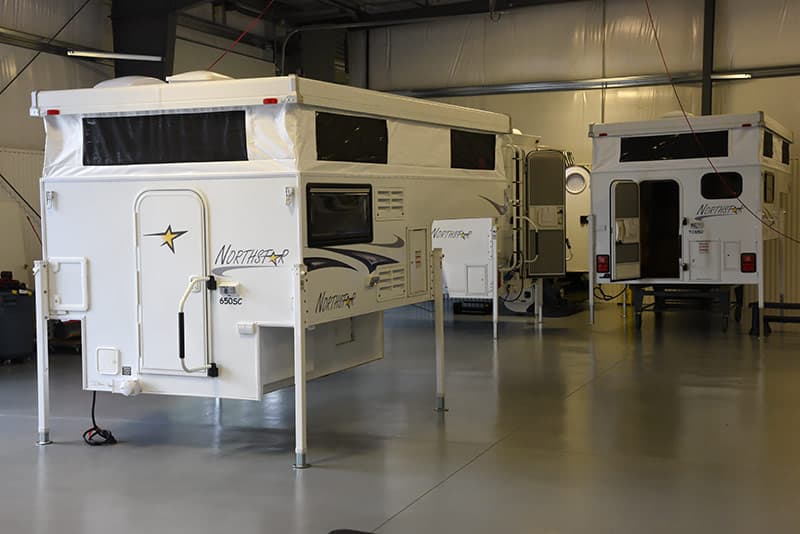 For this review we checked out a 2017 Northstar 650SC at Truck Camper Warehouse in West Chesterfield, New Hampshire.  As with all of our reviews, the camper was selected at our discretion and the manufacturer was not given forewarning.  Let's get to work.
Northstar 650SC: Traditional or Modern Pop-Up?
In 2016, TCM introduced the idea that there are actually two types of pop-up truck campers; traditional pop-up truck campers, and modern pop-up truck campers.  Traditional pop-up truck campers typically have a very basic feature set; simple dinette, modest kitchenette, propane heat, and an east-west cabover bed.
Traditional pop-ups are perfect for tent campers who want to get off the ground and desire a little more comfort – but that's it.  Don't need no stinkin' bathroom?  You want a traditional pop-up.
Modern pop-up truck campers start with everything a traditional pop-up camper has and add a separate bathroom, built-in cassette or RV flush toilet, and RV-style features comparable to a typical hard side truck camper.
Some modern pop-up truck campers even have north-south cabovers, inside showers, and sizable holding tanks.  These are not your father's pop-up campers.  If you want an inside shower and toilet, you want a modern pop-up camper.
Featuring everything traditional truck campers have and adding a separate bathroom, cassette toilet system, inside shower, north-south cabover, 20-gallon fresh tank, 13-gallon grey tank, and a ton of RV-style storage and amenities, the 2017 Northstar 650SC is definitely a modern pop-up truck camper.
The completely self-contained feature set is particularly impressive when you remember that the 650SC has a seven-foot floor length and is only seven feet wide.  That's a lot of function, seven feet square.
Floor Plan Evaluation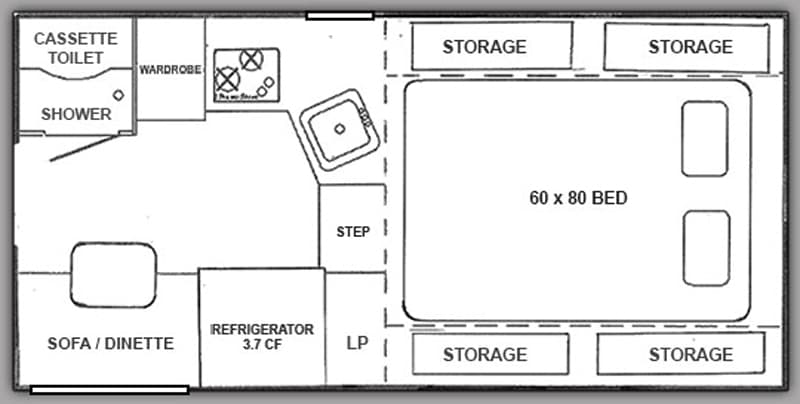 The actual floor length inside the 650SC is 6'8", but it sure looks and feels spacious when you open the rear entry door.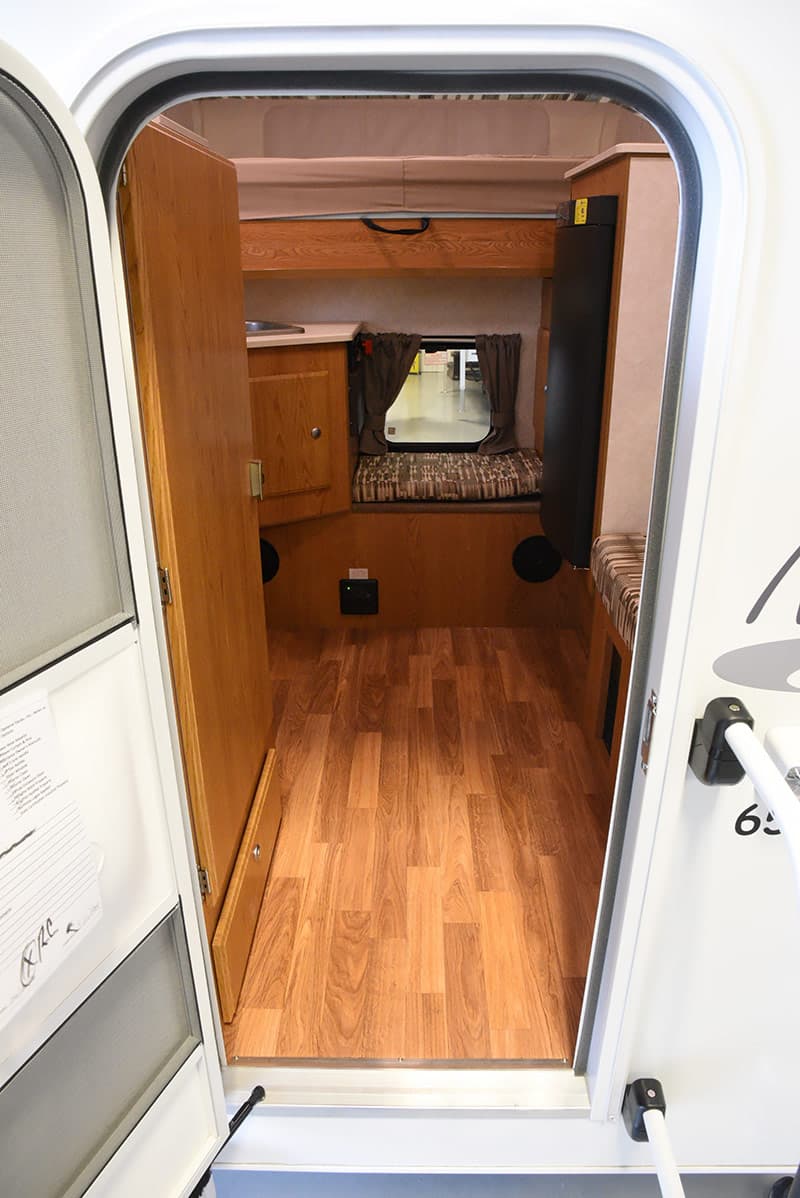 Just be sure to duck as the door height is 53-inches.  Having a short door (as opposed to a folding full-height door) allows Northstar to improve the strength of the of the camper structure, and include a screen door.  Once you get used to the door height, it's a no brainer.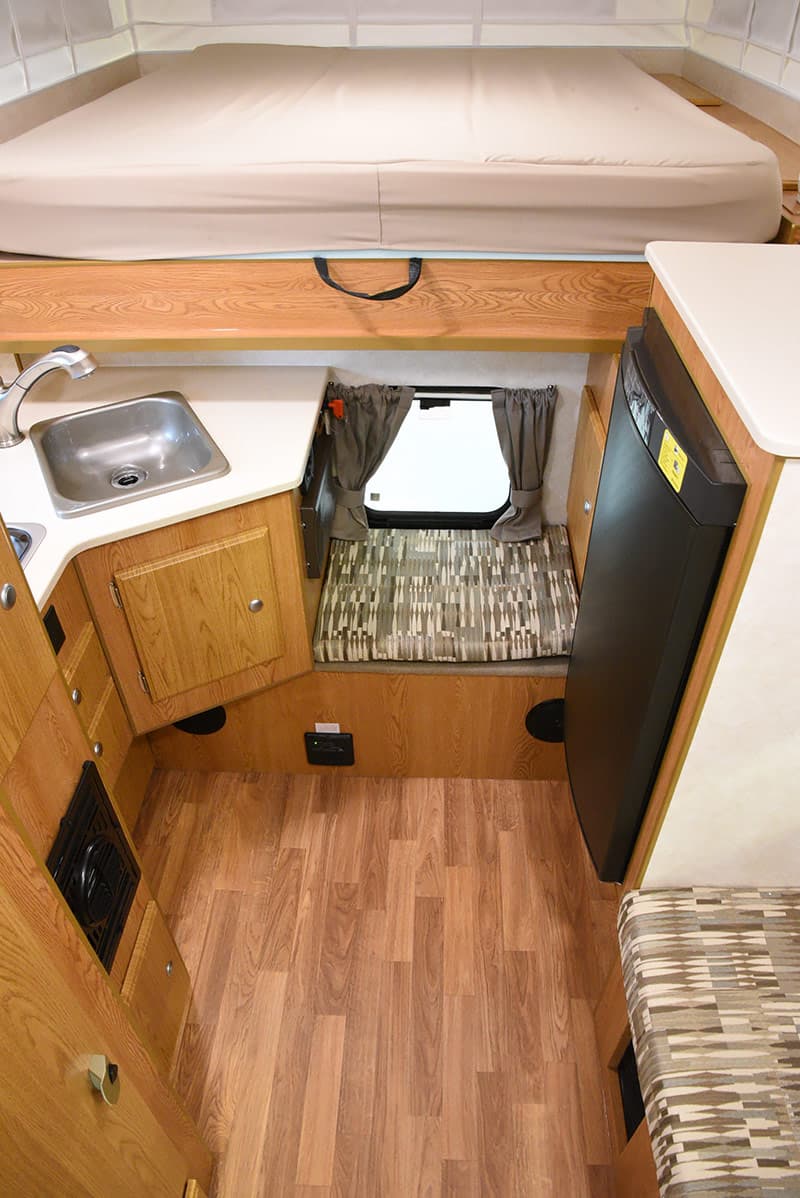 Standing immediately inside the entry door, the wet bath is on the driver's side, the dinette is on the passenger's side, the kitchen is on the driver's side (counter, cooktop, and sink) and passenger's side (refrigerator), and the north-south cabover bedroom area is straight ahead.  It's a logical layout that instantly makes sense.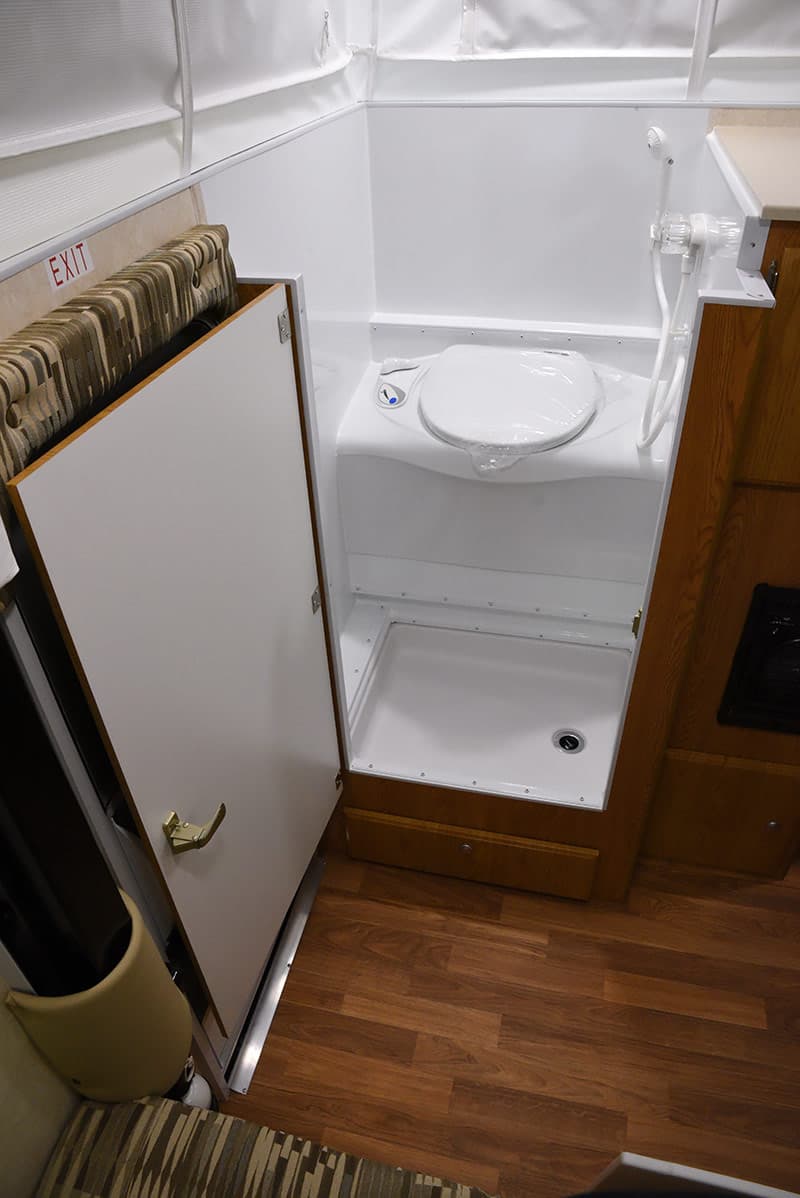 The wet bath in the 650SC starts with a half-height hard wall and hard door.  For privacy and containing shower water, the upper half of the wet bath is completed with a shower curtain.  It's a very clever pop-up wet bath design that fits a lot of bathroom function into an impressively small space.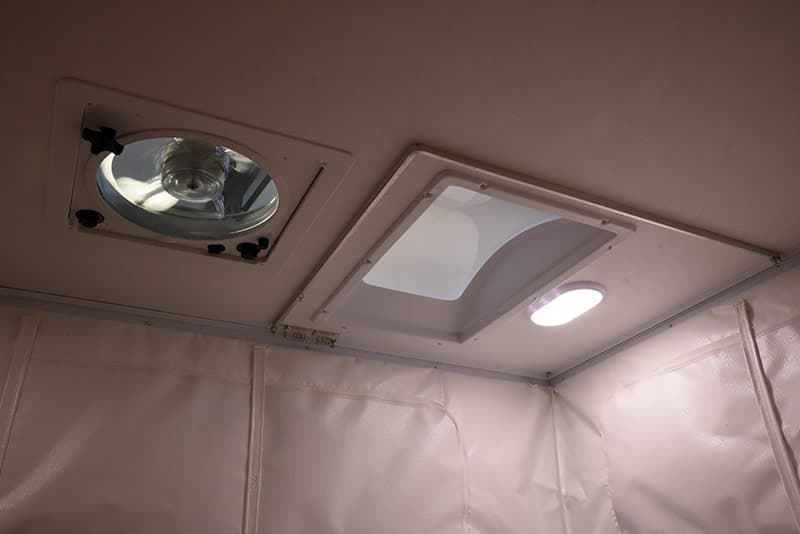 Above: The shower curtain was not installed in the review unit, but threads onto the square ceiling track seen in the photograph above.
This is about as compact and efficient a wet bath as you'll ever see.  It's obviously not the largest wet bath or the most private, but it gets the job done in a remarkably minimal amount of space.  There's even a skylight for taller folks, an LED light, and a nearby Fantastic Fan.
If you want a fully self-contained contained pop-up in the back of a half-ton pickup truck, including a stand up shower for goodness sake, this is how it's done.  If you want more, you're going to need a bigger camper, and probably more truck.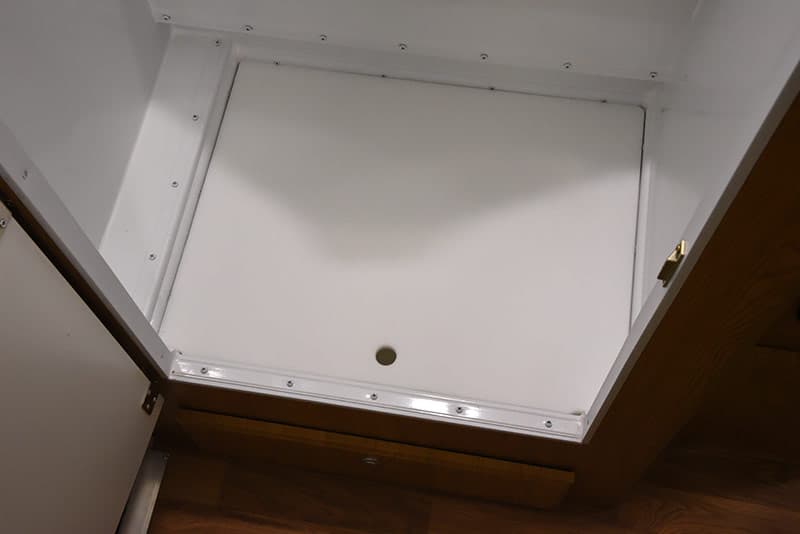 Dometic cassette toilet designs are known for leaving one's feet dangling when you sit down to conduct business.  To help meet your feet, Northstar has built a sturdy platform insert that fits neatly into the shower pan and raises the floor a few inches.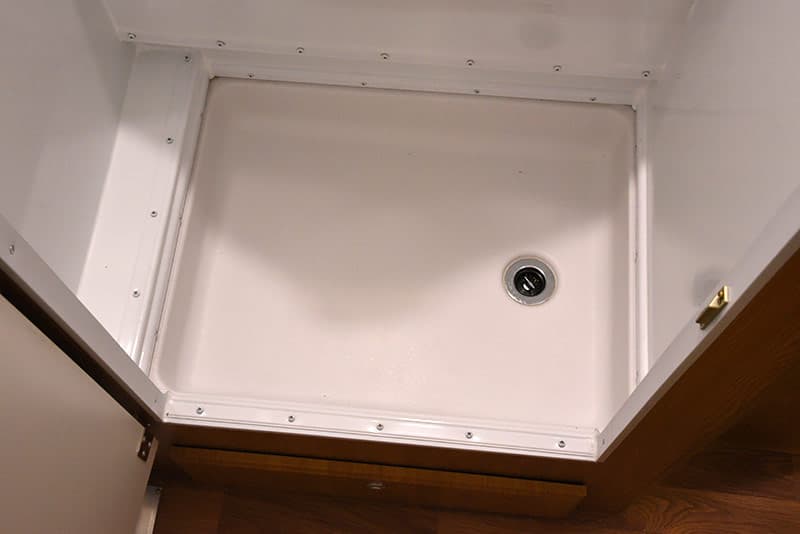 For showering, this platform can be easily lifted away exposing the shower drain.  Ideally, this somewhat heavy platform wouldn't be necessary, but it's great that Northstar provides a solution.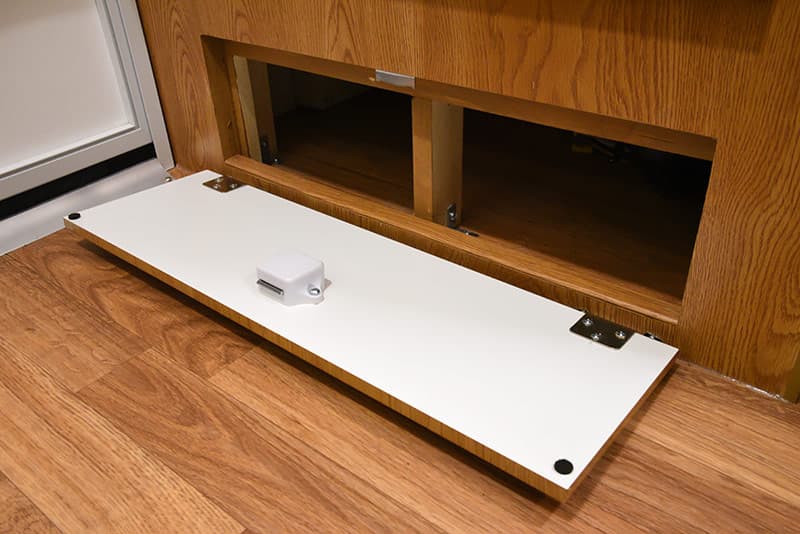 Northstar is well known for building clever storage opportunities throughout their campers.  One example in the 650SC is the pull-down cabinet under the wet bath.  With its proximity to the entry door, and its shape and size, we would probably use this space for our shoes.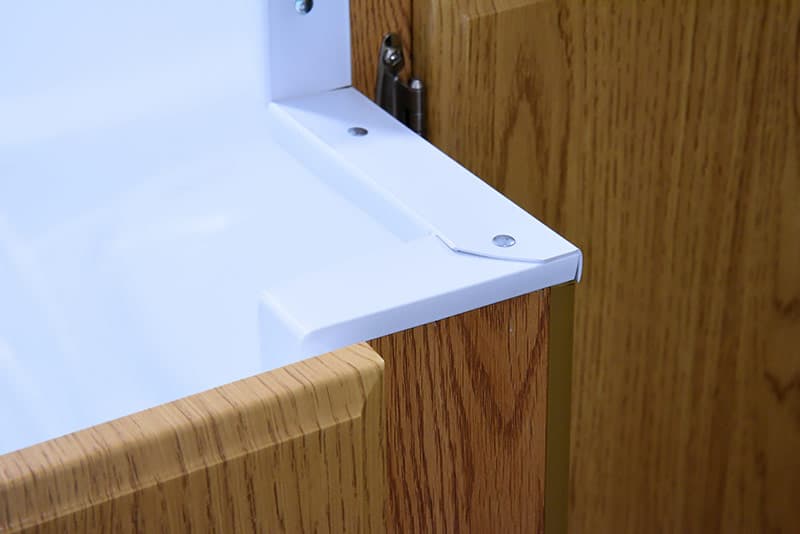 When taking pictures of truck camper interiors, I often have to contort myself into admittedly ridiculous positions to get enough distance for the shot.  In one such moment, I backed right into the relatively sharp metal corner of the 650SC's wet bath hard wall.  Clearly most folks would not be as contorted or otherwise distracted as I am during a photo shoot, but it's a good idea to rid campers of open sharp corners.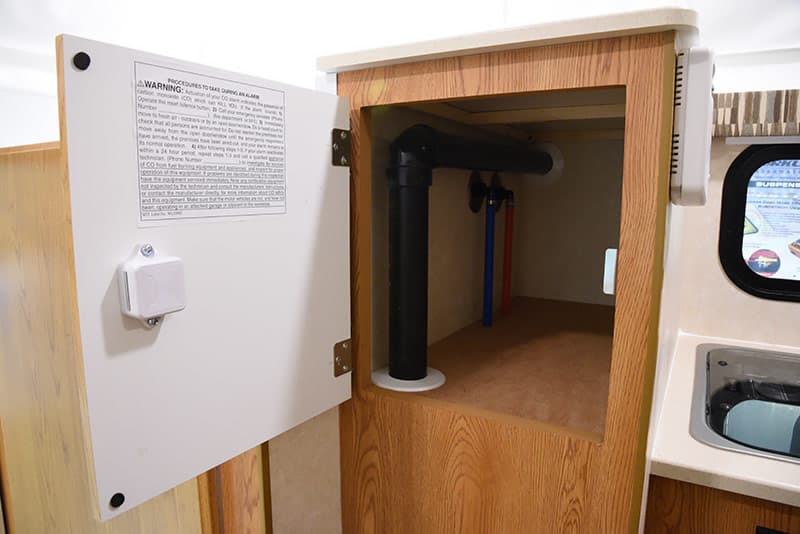 Adjacent to the wet bath is a small countertop, upper cabinet, propane heater vent, and a lower cabinet.  The countertop may be small, but it's convenient to the kitchen and will be very useful for food preparation and dish washing/drying.
Inside the upper cabinet is access to the back side of the shower plumbing.  The space is tight, but gives quick hands-on to the PEX lines for any potential maintenance.  Even better, the cabinet offers a nice storage nook.  There are never enough nooks.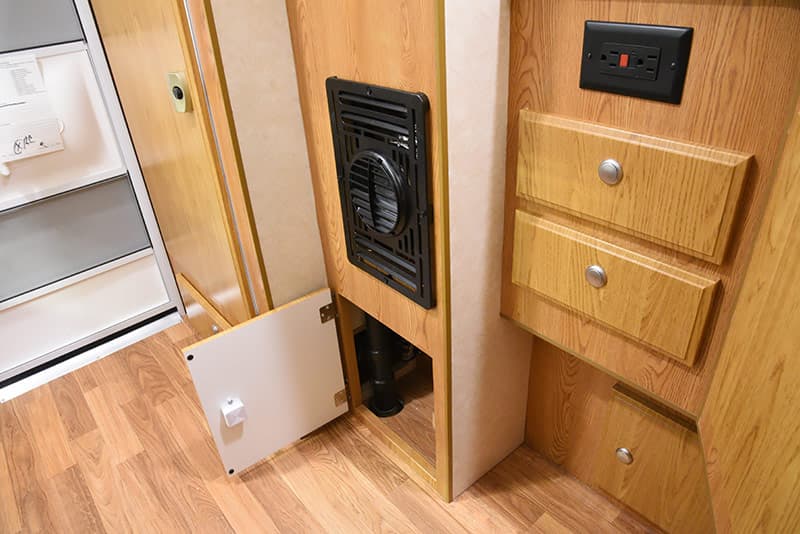 Northstar Campers do not offer ducted heat, and yet they are the warmest truck campers we have ever camped in.  Some of this is attributable to their wood-framed hung wall approach to construction.  As Rex Willett, President of Northstar Campers likes to say, "Which bleacher seat would you rather sit on during an outdoor winter football game, wood or aluminum?"
Another reason is the effectiveness of a centrally located propane heating system for pop-up and non-slide hard side units.  We have camped in pop-up truck campers in below freezing temperatures and have nearly boiled our eyes out with the propane heating system.  If you're of the mindset that pop-up truck campers are cold, think again.  You could cook yourself like a Thanksgiving turkey in the 650SC.
While you carve that fowl idea into your cerebral cortex, allow me to turn your attention to the storage nook under the heater (pictured above).  Again we gain access to the shower plumbing, and more storage.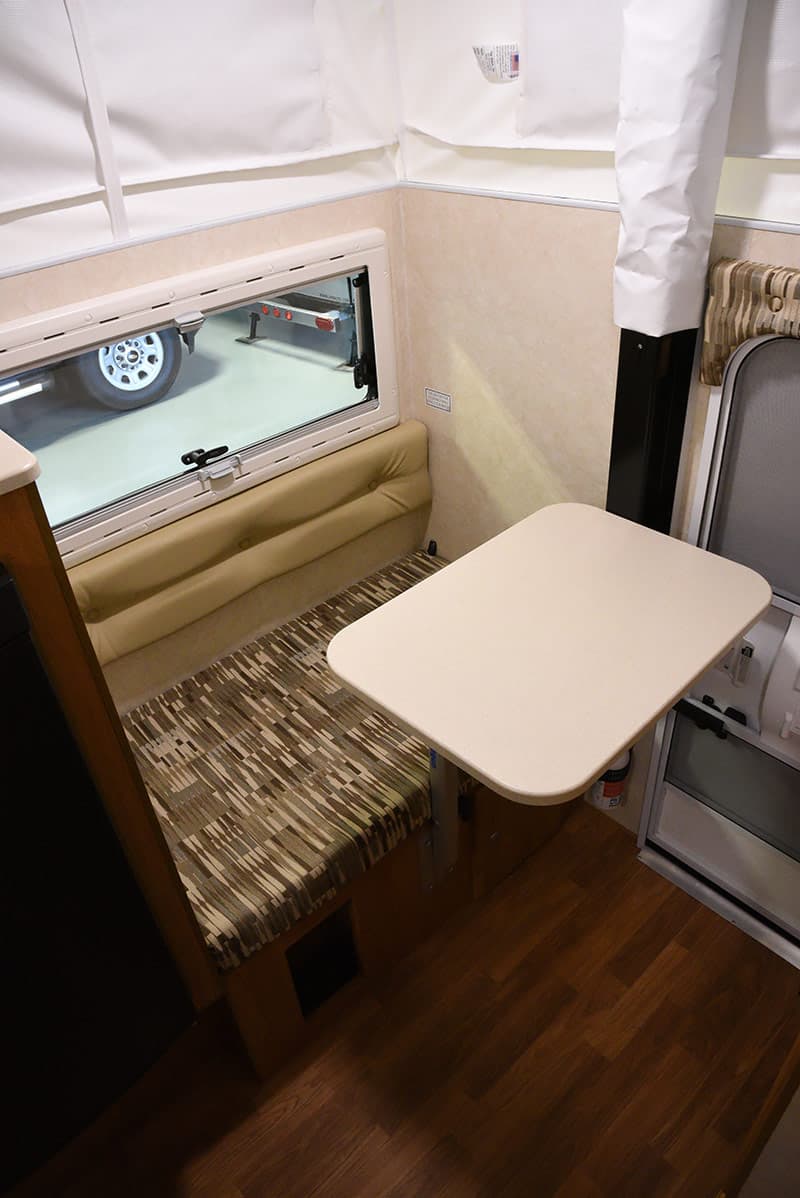 On the passenger's side directly across from the wet bath is an equally compact and clever dinette/sofa solution.  With a large window running the full length of the dinette seat, there's a sofa-style bench and a position-adjustable Lagun table.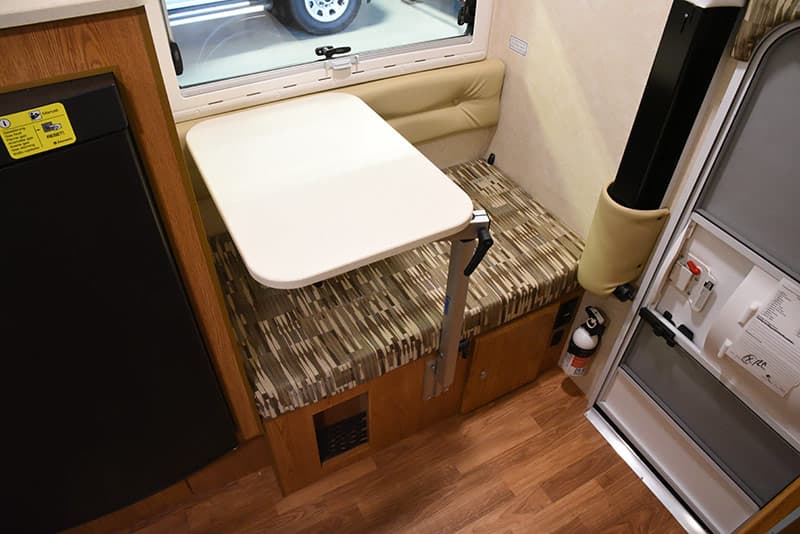 I detailed the workings of the Lagun table last May for the 2016 Northstar Vista review.  In short, it's a very versatile swing-away table leg system with multiple tightening locks.  The tightening locks are so effective that the table becomes about as sturdy as a floor post table.  It's really solid.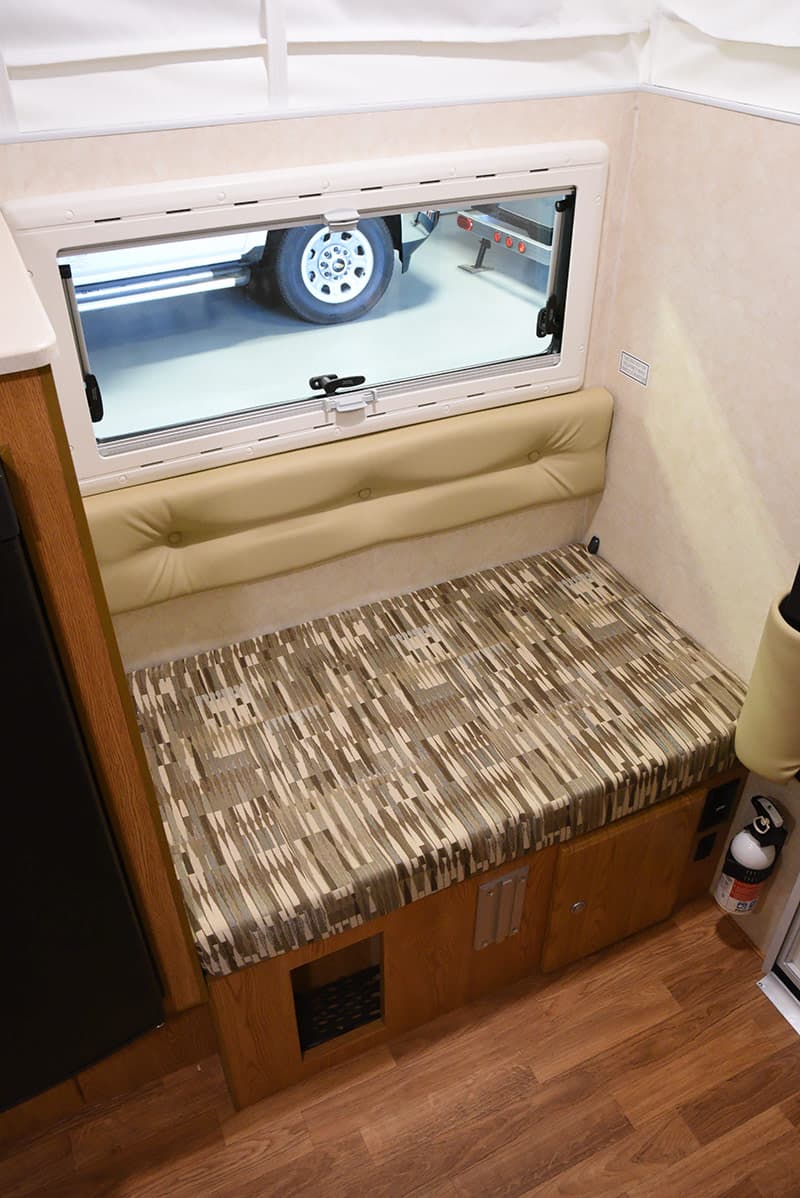 Remove the Lagun and you have a small sofa seat.  While this sofa isn't going to be mistaken for a reclining La-Z-Boy, it's a nice place to sit with the top up or down.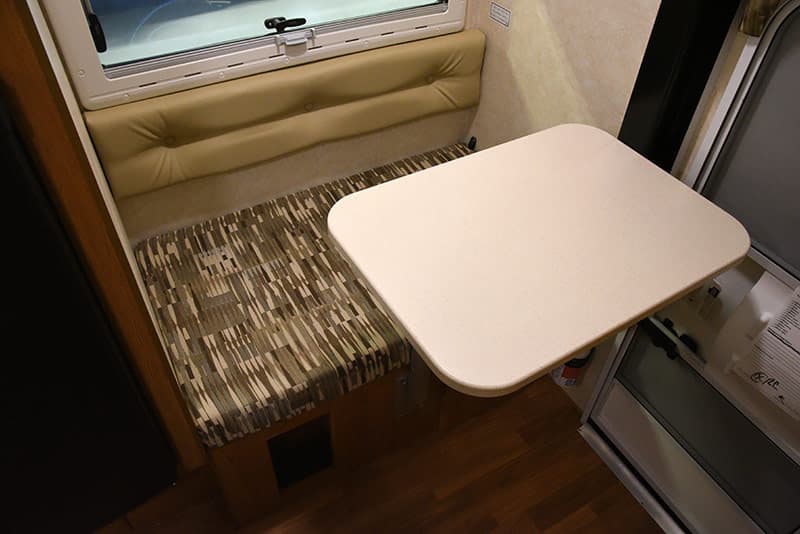 For one person, the 650SC dinette is perfection.  One can sit, lock the table into a comfortable position, and eat, study maps, or work on a laptop.  I was very impressed with this set-up and can see many folks wondering why they need anything more.
Unless they need seating and table space for two.  Yes, two friendly folks could share the dinette seat and table for meals, but it would be tight.  Sharing a map would also be doable, but forget two laptops like one finds at TCM Mobile HQ.
Of course the 650SC is a seven-foot self-contained pop-up truck camper for crying out loud.  In that context, this dinette is a home run.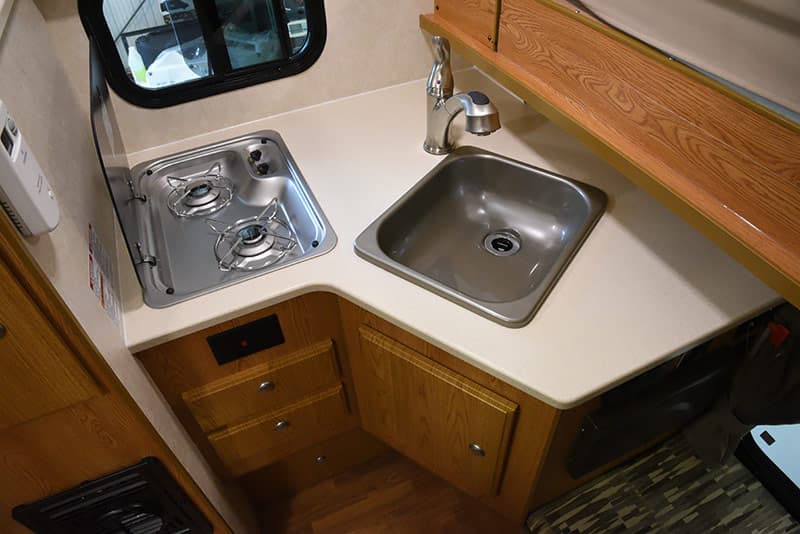 The driver's side kitchen is very compact and highly functional.  The counter top features a flush mount two-burner propane cooktop and a single basin sink with a high quality residential-style faucet.
When I look at a camper kitchen, I am particularly interested in the balance between the size of the appliances and the amount of useful countertop provided.  Sometimes the cooktop and sink take up nearly all of the potential countertop space leaving no room for food preparation or dish washing.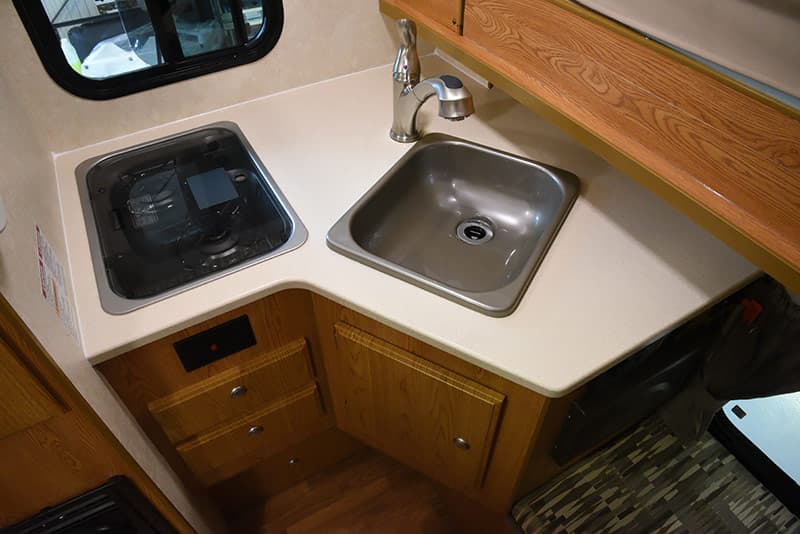 Fortunately, Northstar struck an excellent appliance-countertop balance in the 650SC.  The two burner cooktop is right sized for a short bed pop-up, as is the single basin sink.  There isn't a lot of countertop space, but there's enough – especially if you put the cooktop cover down (as shown above) for washing dishes or cold food prep.  Well done, Northstar.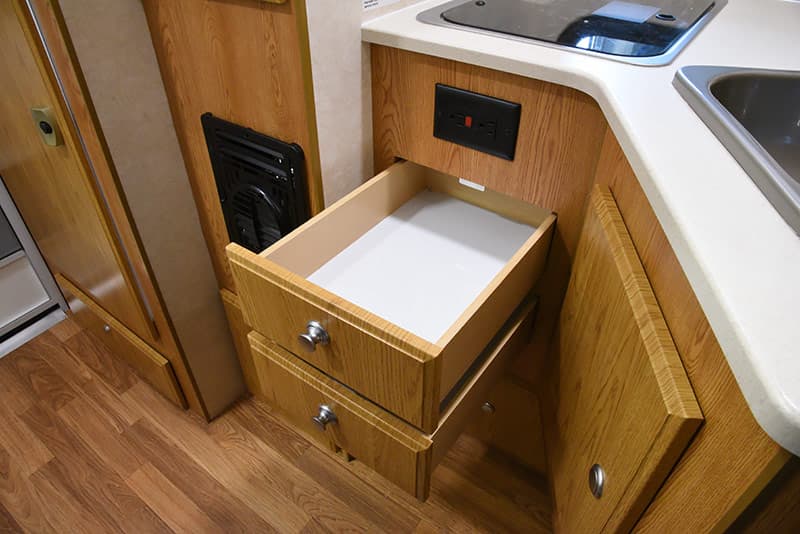 Just below the cooktop are two pull-out drawers.  I've said it many times, but I just love when the right storage opportunity is in the right place.  These drawers are a natural for silverware, utensils, and other cooking tools.  Love it.
The black 110-volt outlet immediately above the drawers is also appreciated for coffee makers, crock pots, or just charging a device when plugged into shore power or running a generator.  Owners will need to be cautious that this outlet doesn't get accidentally splashed by what's cooking above.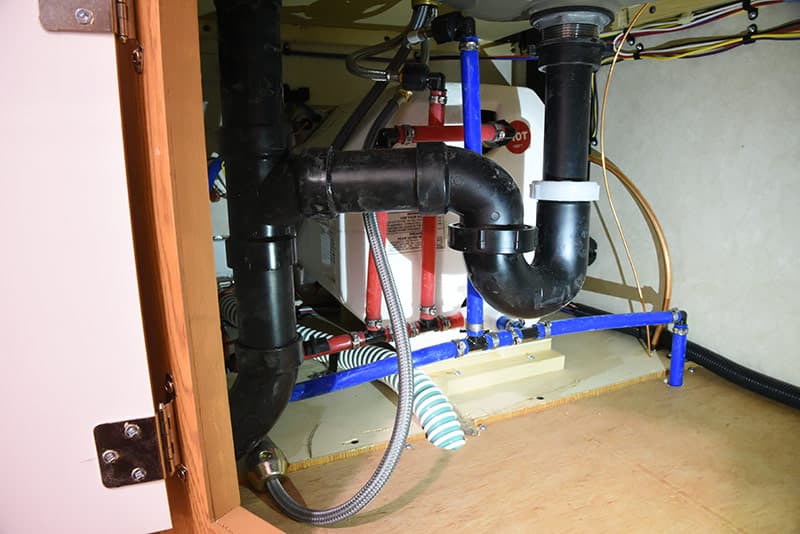 A quick peak under the kitchen counter reveals a neat presentation of plumbing and wiring.  You can see the hot water heater in the background and the red and blue color PEX clearly indicating the hot and cold lines.  This is neat work, and will be deeply appreciated should this unit require maintenance in the future.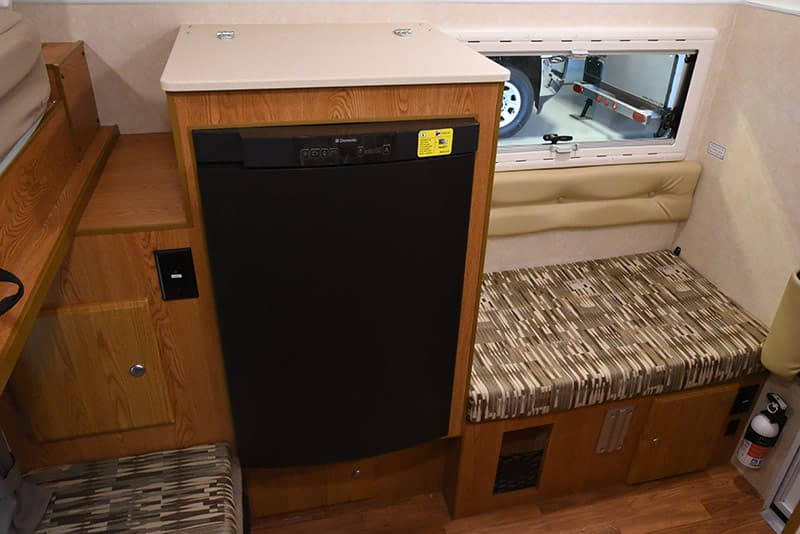 Across from the kitchen on the passenger's side is a standard Dometic 3.7 cubic-foot 3-way (AC, DC, and propane) refrigerator.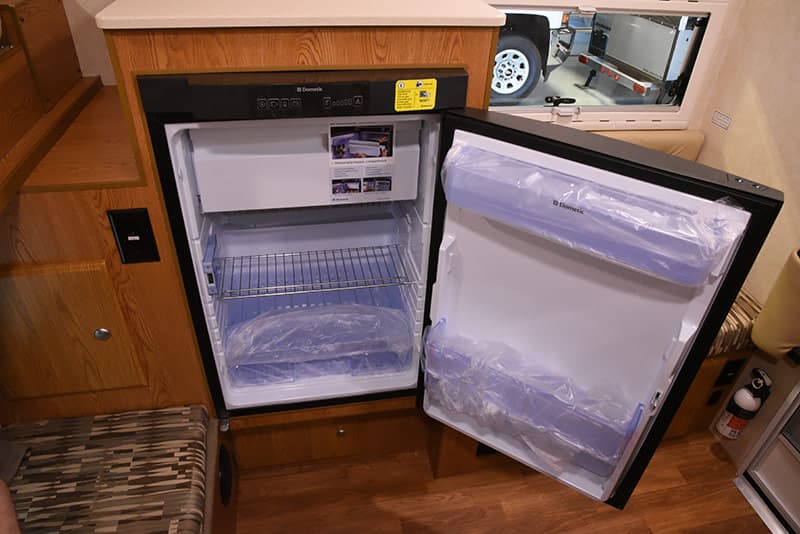 Once again, Northstar has opted for a high quality and right-sized appliance for the 650SC.  The 3.7 cubic feet of available cold storage – with planning – could last upwards of a week, especially if you properly rotate your beer.
Here's how proper beer rotation works: Place a minimum of three beer bottles or cans into the refrigerator all in a row.  Once cold, pull one beer from the end of the row and immediately place a not-cold beer into the refrigerator on the opposite end.  Never neglect to replace a beer unless you have run out, which is a beer camping no-no.  This is serious beer camping wisdom folks, learned from years of beer camping trial and error.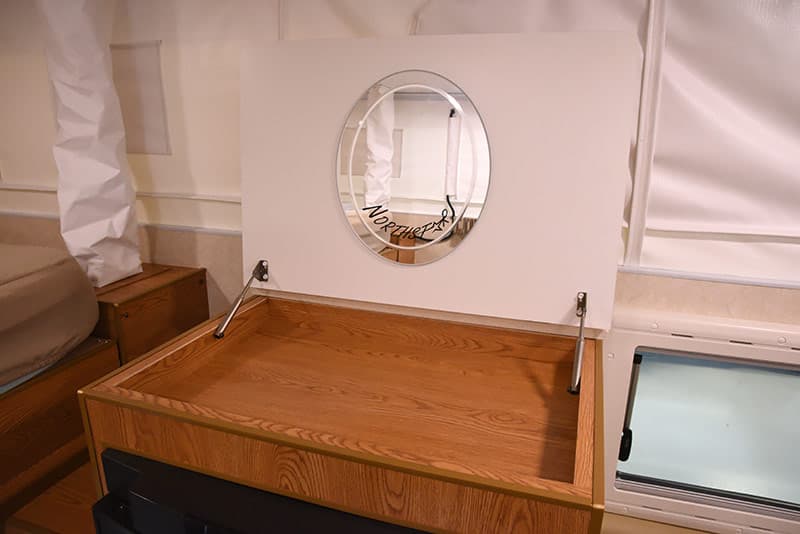 Above the refrigerator is a lift up vanity and mirror.  This space could be used for a variety of items, but seems particularly well suited to toiletries.  After all, there's no mirror in the bathroom for combing your hair.
I love having a mirror in this location, but might opt for a bigger one.  Being tall, I had to scrunch down to admire my pretty self.  A taller and wider mirror would definitely help.  "Mirror, mirror in the Northstar, who's the prettiest Truck Camper Magazine Publisher of them all?"  Yep, it's me.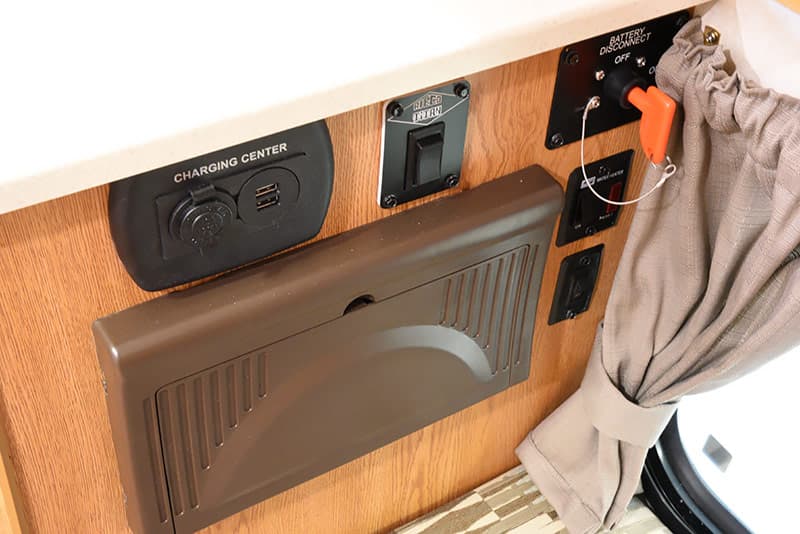 Just above the step-up to the cabover is a plethora of functions; 12-volt and USB charging center, Rieco-Titan electric roof lift rocker switch, battery disconnect, fuse panel, Suburban hot water heater switch, and water pump switch.
The presentation of these functions is clean and neat making each item easy to distinguish and access.  Having a mid-ship 12-volt and USB charging center is especially nice.  This is where folks will charge their phones and tablets.  Like with the outlet under the cooktop, 650SC owners will need to be careful about water spilling into this area.
We are happy to see a formal battery disconnect switch in the 650SC and appreciate the ability to remove the red key preventing one from accidentally hitting the disconnect with their foot while entering or exiting the cabover.
The potential downside to this disconnect location is how it requires the owner to climb into the unit for activation or deactivation.  This seems extremely trivial when most pop-up truck campers in the field require the owner to not only enter the unit, but mechanically lift the roof.  We are getting so spoiled!
As for putting up the electric roof, Rieco-Titan offers an optional key fob remote control (part number 16124, MSRP: $180.25) that activates, lifts, and lowers the roof.  The key-fob remote is not offered by Northstar Campers, but is available through Northstar dealers.  In a day-to-day camping situation, you could use the key fob remote control to lift and lower the roof without needing to climb into the camper.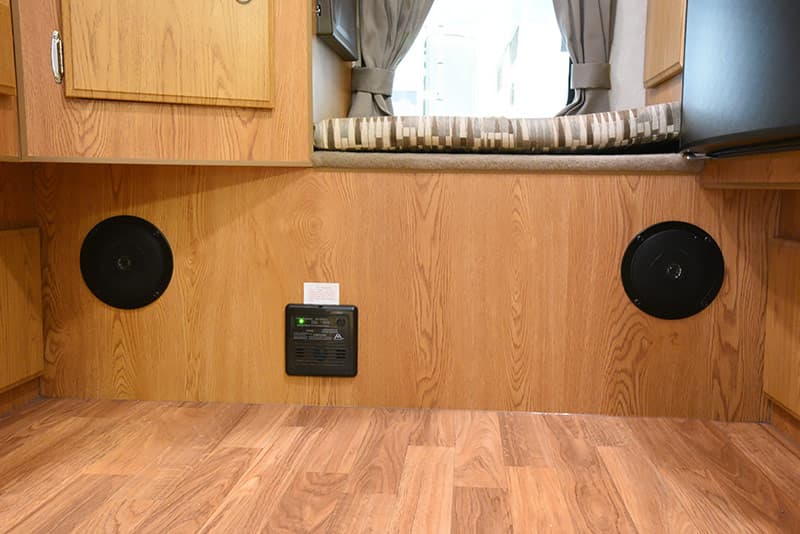 Under the step for the cabover are the stereo speakers and a dual LP and carbon monoxide detector.  The detector is perfectly placed.  However, as an avid audiophile (nerd alert!), this speaker location is not exactly ideal.  Considering the limited square footage and wall space available, it's a good compromise.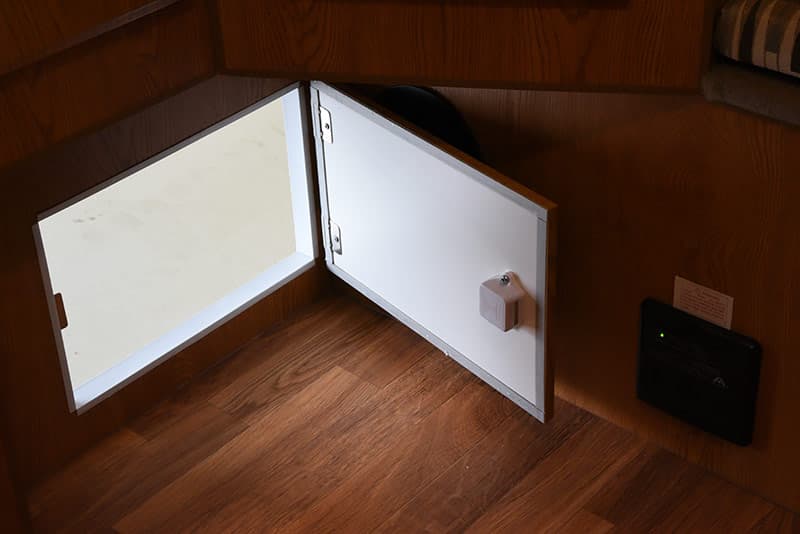 Old school truck campers smile ear-to-ear when they see wheel well access.  Only possible on non-basement designs, wheel well access offers huge storage opportunities inside both sides of the truck bed.
On previous rigs we have used this space for water jugs and shoes, but be careful.  We once heard about a couple who used their wheel well space for dirty laundry and ended up littering the highway with their unmentionables.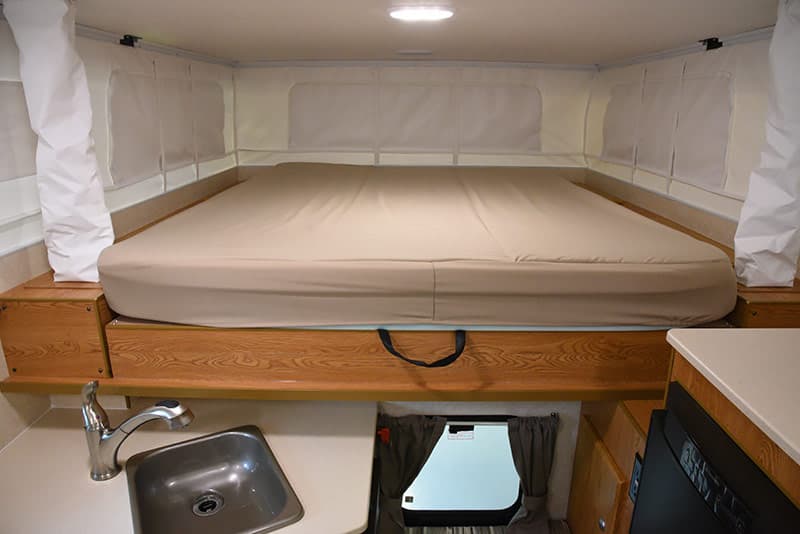 The 650SC north-south cabover features a 60 by 80-inch queen bed and is wide-open with no cabinetry obstructing the three large cabover windows.  At first blush you might think, "Where does Northstar expect me to put my shirts, jeans, socks and underpants?  Nudity isn't my bag, Northstar!"
Well, it turns out that the 650SC features more storage than most hard side models.  Where is this storage you ask?  Hidden on both sides and under the covers – of course!  In fact, you could pack enough clothing in the 650SC cabover to keep you decent from now until next Christmas.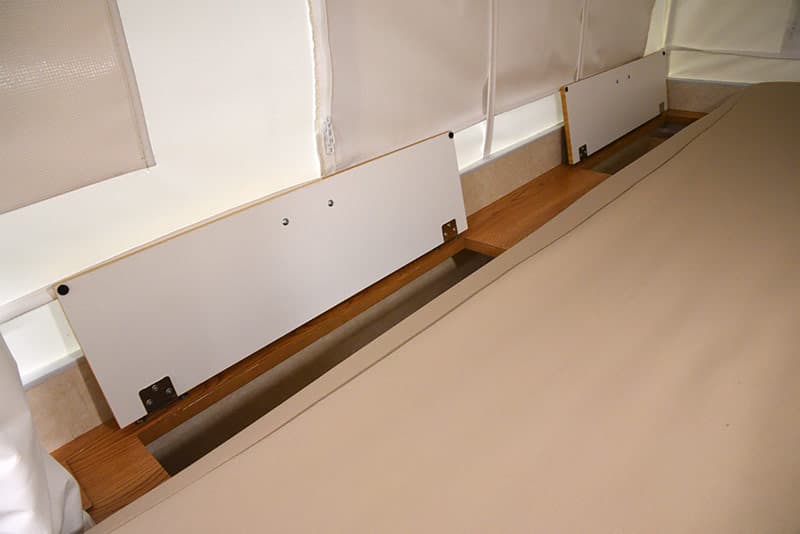 On both sides of the queen-size bed are two huge hampers.  And when I say huge hampers, I mean hampers that run the full length of the cabover.  But that's not the half of the storage on tap.
The bed lifts up revealing storage that runs nearly the full length and width of the bed.  Two gas struts make lifting and lowering the bed easy.  Every time I see this kind of storage in a pop-up, I always wonder why the hard side truck camper companies haven't all adopted this design.
After spending some time in the 650SC and studying all of its features, the overall impression is of a fully self-contained camper that offers everything most pop-up folks need and want in an incredibly compact package.
The features per foot in the 650SC are remarkable.  Even better, everything feels right-sized, comfortable, and fully functional, especially when you consider that the 650SC is (a) a pop-up truck camper and (b) a seven foot floor plan designed for short bed and super short bed trucks.
Specifications
Specifications
Dry Weight
1,610 pounds
Wet Weight*
2,395 pounds
Floor Length
6'8″
Overall Length
13'6″
Width
7'0″
Interior Height
6'5″ top up
5'1″ down
Exterior Height
5'8″ down
Center of Gravity
22″ front to rear
Truck Type
Full-Size Short or Ultra Short Bed
Having been to the Northstar factory multiple times over the past decade, we can confirm that they not only have a calibrated scale at the end of their production line, but they also weigh every camper before it leaves the factory.
Northstar reports the dry weight of the 650SC at 1,610 pounds.  This represents a unit without a single option.
Usually I have to explain that it's very unlikely that you'll ever find a base weight unit at a dealer, but the unit under review is essentially a base dry weight camper.  The only options on the review unit were pre-wire for stereo with two speakers and antenna, pre-wire for electric jacks, and LED accent lights under the outs.  That's it.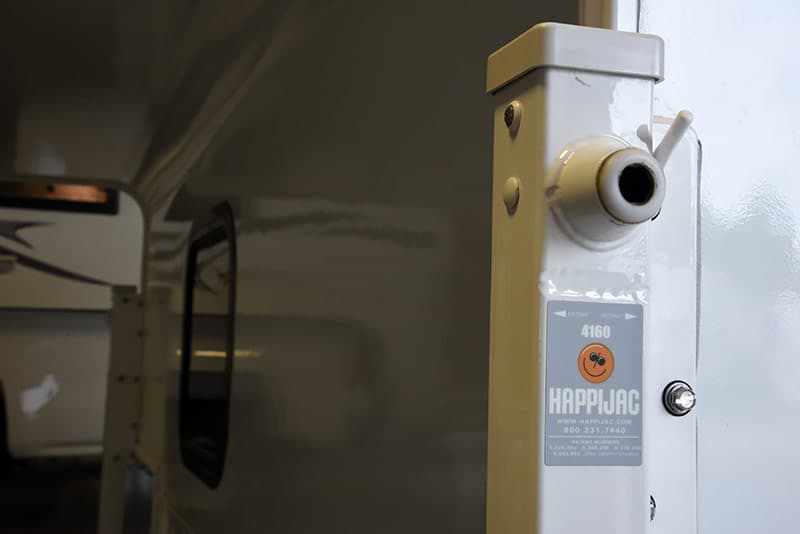 Above: The camper that we reviewed had manual Happijac 4160 jacks, but each 650SC is pre-wired for electric jacks
That stated, most 650SC units will be dealer ordered with what the dealer considers popular options.  Depending on the dealer, that could include an air conditioner, rear storage bumper, Sub-Zero insulated tent and foil-faced walls, awnings, roof rack, rear wall latter, solar panel, a MIDI Heki skylight, and possibly more.
These options could conservatively add 200 pounds of option weight.  If you want a base dry weight 650SC (or any truck camper for that matter), plan on special ordering it from the factory.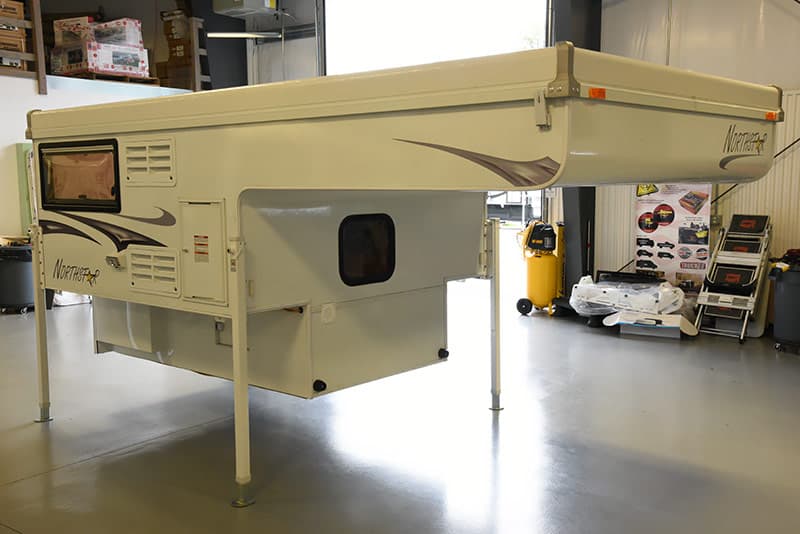 The actual floor length of the 650SC is 6'8".  That makes the 650SC Northstar's shortest pop-up truck camper to feature a bathroom.
As logic would dictate, the next shortest Northstar pop-up with a bathroom is the 850SC at 8'6".  If you're shopping for a fully self-contained short bed truck camper with a bathroom, the 650SC will be on a very short list.  If you want to match a camper to a super short bed, that list just got very short indeed.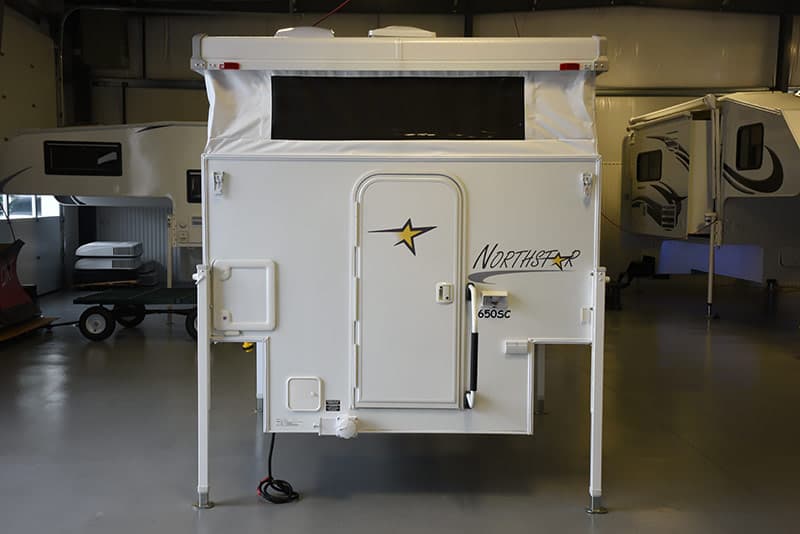 Like many of Northstar's pop-up and hard side models, the 650SC is 7-feet wide.  Building to a 7-foot width helps to bring down the overall weight, improve rear truck mirror visibility for loading and driving, and allows Northstar to ship units in standard shipping containers.  Made in the USA, exported to the world.
Standing at 6'3", the 6'5" height of the top-up 650SC is awesome.  I was able to walk around comfortably, and not even think about the ceiling height.  I did have to think about the 53-inch entry door, but that's something you should get used to quickly.
Northstar reports the center of gravity of the 650SC at 22-inches from the front wall.  Unfortunately, this center of gravity was not marked on the review unit.  As a magazine, we encourage Northstar to mark center of gravity on every unit.
With a base dry weight of 1,610, 6'8" floor length, and 22-inch center of gravity, the 650SC should be a good candidate for a properly specified short bed half-ton.  Add in 200 pounds of options, and the match could get more challenging, but is still possible for the right half-ton.  We'll get more into this during the truck recommendations.
Capacities
| | |
| --- | --- |
| Capacities | |
| Fresh | 20 gallons |
| Grey | 13 gallons |
| Black | 4 gallon cassette |
| Water Heater | 4 gallon auto ignition |
| Propane Tanks | 20 pounds |
| Batteries | One Battery |
Here's where the Northstar 650SC really shines.  With a 20 gallon of fresh tank, 4 gallon water heater, 13 gallon grey tank, and 4 gallon Thetford cassette toilet system, the 650SC is a fully self-contained pop-up machine.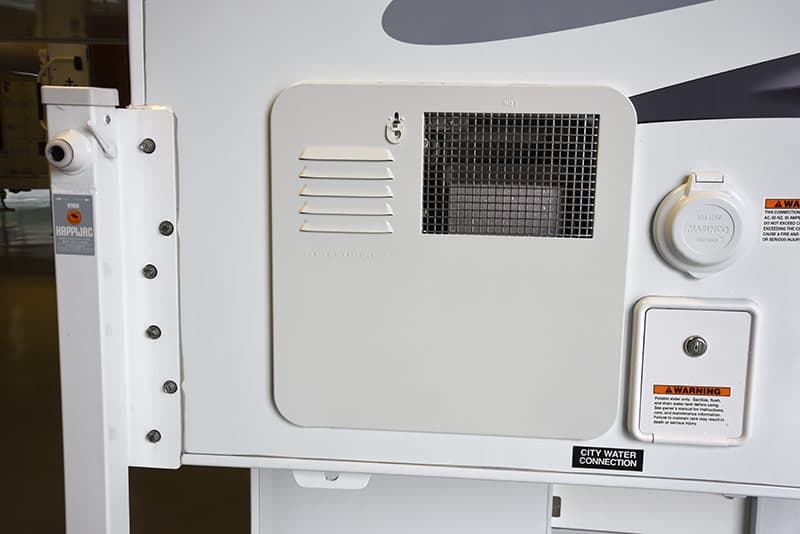 Above: The Northstar 650SC comes with a 4 gallon auto ignition water heater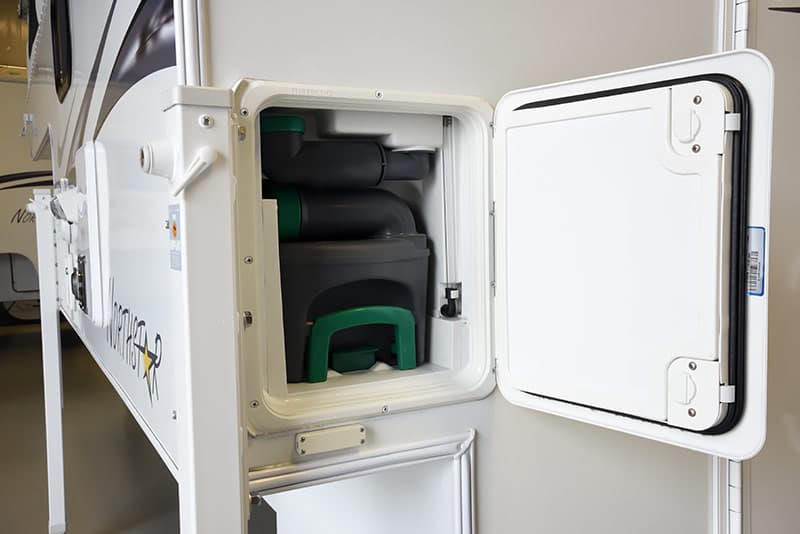 We have borrowed Northstar truck campers with cassette toilets on multiple occasions for extended periods of time.
As a couple, the limiting factor was always the 4 gallon cassette.  We found ourselves emptying the cassette every two to three days.  Most of the time we were able to find a toilet for the job, but we also dumped the cassette at dump stations.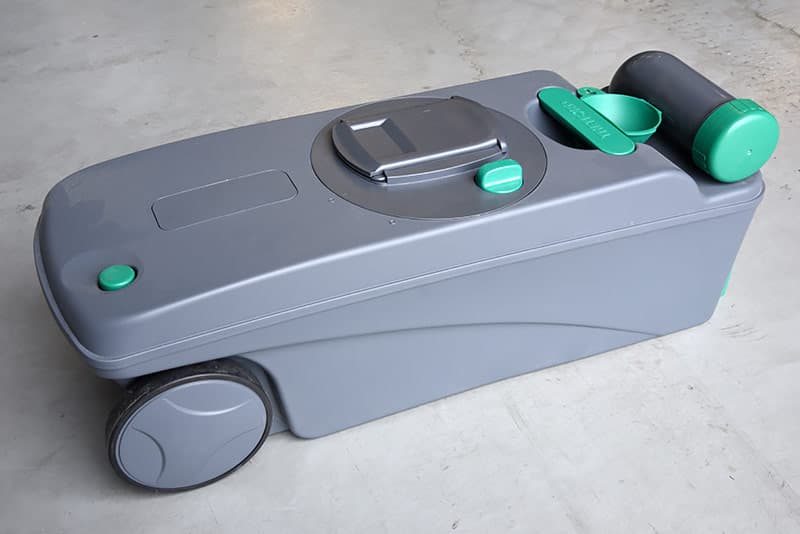 If you plan on camping alone, you can probably stretch the 4-gallon cassette capacity to four to six days.  If you're going camping with your kids or grandkids, you might need to dump the tank every day or so.
The convenience of being able to dump the cassette in any residential toilet is fantastic.  Compared to traditional RV black tanks that require a dump station, you literally have millions of dump opportunities available.  Even better, residential toilets are usually free and open year round.  What's not to love?
Well, not everyone will like moving and dumping a 33 pound container of human waste every few days.  We have met folks who think nothing of it, and tell us it's the only toilet system they would ever consider.  Others find the weight too much to comfortably handle, or are turned off by the concept.
My advice is to go to your local Northstar dealer, fill a cassette with clean water, and dump it in their toilet.  After that experience, you'll have a much better idea if a cassette toilet system is right for you.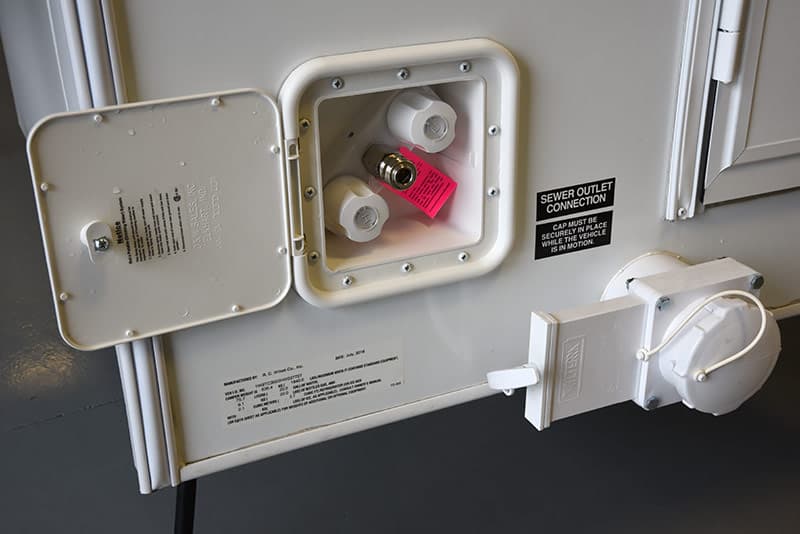 Above: The Northstar 650SC comes standard with an exterior shower
The 650SC features one Group 27 battery in a sealed and ventilated battery box.  With all-LED lighting, the single battery is more than adequate.
The catch would be if you plan to dry camp in cold weather and aggressively run your furnace.  If that's your plan, you're probably going to need a second battery solution like Torklift International's Hidden Power, and/or a portable generator like the Honda EU2000i.
If we were purchasing the 650SC, I would also explore the potential for a higher capacity sealed AGM battery and at least a 100-watt solar panel.  We would be very hard pressed not to install solar on any truck camper we plan on spending time in.  Together with the LED lighting and a good battery system, solar is essential.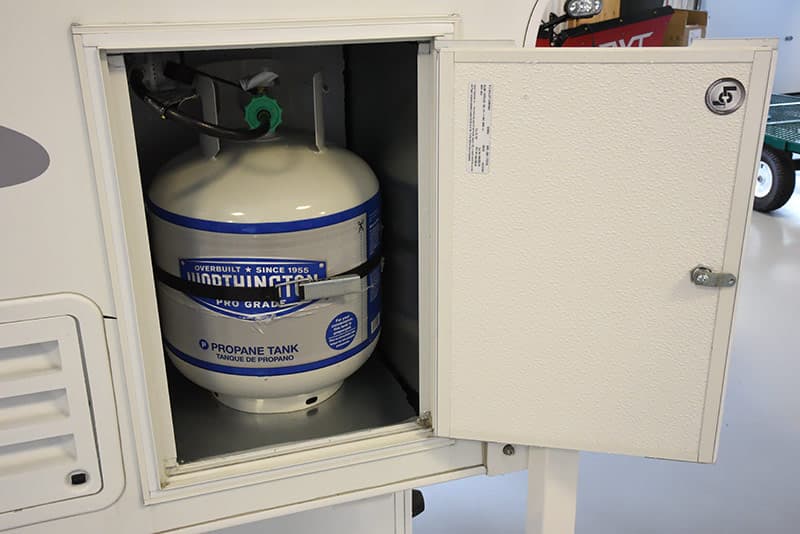 One of the design objectives for the 650SC was to utilize a vertical 20-pound propane tank.  These ubiquitous propane tanks are the standard for barbecue grills and can be found at box stores, gas stations, and grocery stores practically anywhere.
With any other size tank you're forced to find a propane filling station that's open, properly staffed, and has a functioning propane tank.  All three of these situations have struck us at one time or another, and it's a major pain in the gas.
While we purchased high quality propane tanks for our camper and prefer to have them filled, the convenience of a propane exchange network is undeniable.  Camping time is precious.
The single tank on the 650SC will need to be carefully monitored as to not run out at 3:00am in the middle of nowhere.  This should become a zen thing as you just kinda know where you are with propane given your standard use.  Like your fuel tank, when in doubt, or before boondocking, fill up the propane.  Of course I say that as someone who has frozen his ga-zoongas off many times changing over propane tanks in the middle of the night.
Wet Weight Calculation
Using the standardized Truck Camper Magazine wet weight calculation, let's run the weight on the 2017 Northstar 650SC.
Base Dry Weight – special factory order only
Northstar 650SC: dry weight, 1,610 pounds + 20 gallons fresh, 166.8 pounds + 4 gallon full water heater, 33.6 pounds + 20 pound full propane tank, 20 pounds + battery, 65 pounds + stuff, 500 pounds = 2,395.4 pounds
Fully Optioned Unit
To give you an estimate of what the 650SC would weigh if it were optioned out, we conservatively estimated the weight of the more popular options and added that weight (200 pounds) to the base dry weight for this calculation.
The options we estimated in include an air conditioner, rear storage bumper, Sub-Zero insulated tent and foil-faced walls, awnings, roof rack, rear wall ladder, solar panel, a MIDI Heki skylight.  With an additional 200 pounds of option weight, let's run the numbers again.
Northstar 650SC: dry weight, 1,810 pounds + 20 gallons fresh, 166.8 pounds + 4 gallon full water heater, 33.6 pounds + 20 pound full propane tank, 20 pounds + battery, 65 pounds + stuff, 500 pounds = 2,595.4 pounds
Truck Recommendations
Nobody goes camping in an empty camper.  We bring gear, food, clothing, pets, and other cargo to make our truck camping experience enjoyable.  That said, you can only bring so much stuff in a seven foot pop-up truck camper like the 650SC.
For accuracy and fairness, we are going to adjust the 500 pounds of stuff weight in the above calculations to a more reasonable 250 pounds.  That puts the base wet weight at 2,145.4 pounds and the fully-optioned wet weight at 2,345.4 pounds.
Now comes the half-ton payload match reality check.
Over the years we have opened hundreds of half-ton truck doors to see the available payload.  On dealer lots, the most we typically see is 1,800 pounds.  In fact, the great majority of half-ton trucks you'll see on dealer lots don't break 1,500 pounds of payload.  Yes, this even goes for the aluminum Ford F150.
When you look at the truck brochures and websites, you can clearly see that these half-ton trucks can be configured for upwards of 3,000 pounds of payload, so what gives?  Well, the dealerships order the trucks that most consumers want.  They're full of features and options that maximize luxury and fuel economy, but compromise payload.
If you are determined to match the 650SC to a half-ton truck, the way forward is actually quite simple.  Go to your local truck dealer and ask them to spec-out a half-ton truck with the payload you need.  For the 650SC, you need 2,145.4 pounds for a base unit, or 2,345.4 pounds for a loaded unit.  To be safe, aim for 2,400 pounds (or better), and special order your truck.
We have special ordered two trucks specifically for payload and can firmly recommend this approach to anyone considering a truck purchase.  The best part is you also get the exact truck you want, in the color you want, with the features you want, and the payload you need.
If you think you might want to upgrade campers in the future, or decide somewhere down the line to tow a trailer or a boat, seriously consider getting an even bigger truck.  By choosing a three-quarter ton or one-ton truck, you'll have many more future options and possibly save yourself thousands of dollars.  Go big now.  Save big later.
The Verdict
The Northstar 650SC is really about one thing; putting as much capability, capacity, and comfort as possible into a half-ton short bed compatible pop-up truck camper.  For that mission, the 650SC is an unmitigated success.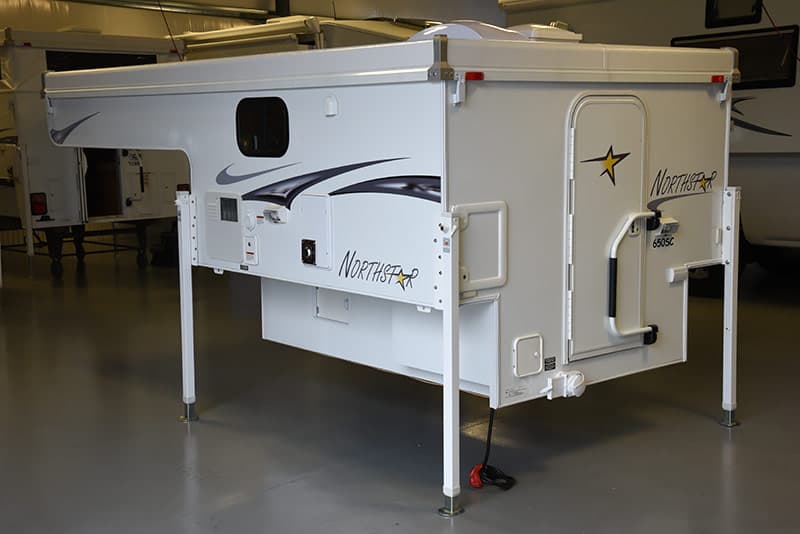 The Thetford cassette toilet system is the one 650SC feature that requires the most pre-purchase understanding.  I recommend asking your Northstar dealer to walk you though the cassette toilet system and show you how it works.  As you'll see, the versatility of the cassette toilet system is truly unmatched, but make sure you're comfortable with the cassette weight, and use.
Other considerations that need to be auditioned in person are the door height and dinette seating and table.  During the photo shoot for this review, I quickly adapted to the door height, which is considerable since the door is 53-inches high, and I'm 75-inches tall.  As they say, "Duck!"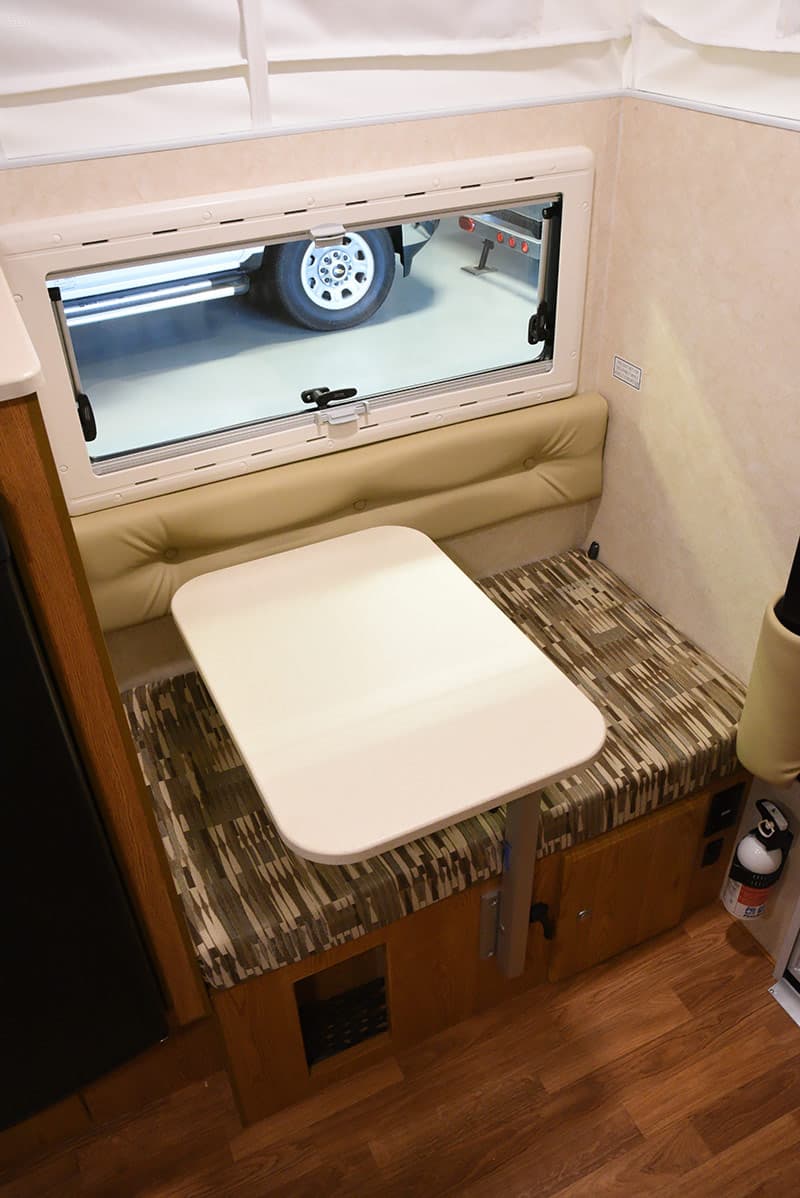 The sofa-style dinette seat and Lagun table leg system will likely take more time to adapt.  Once you get the feel for the Lagun, the system starts to become intuitive, but I admittedly wrestled with it during my first encounter.
Again, have a Northstar dealer walk you through the Lagun, and try it out for yourself.  Electrons on your computer screen can't give you these experiences.  You've got to get out there and try it.
One critical facet of the 650SC I haven't mentioned is quality.  That's because I could find nothing but stellar quality and quality control throughout the 650SC, nose to tail.  In fact, in ten years of publishing TCM I can count on one hand the number of folks who have contacted us with a Northstar issue.  All of those were quickly resolved by connecting the customer to the right dealer or Northstar contact.
The secret behind Northstar's stellar quality is simple; Northstar has been building wood frame hung wall truck campers (and only truck campers) for over 50 years.  More importantly, the production team that we met at Northstar in 2008 was still there in 2010, 2015, and is still on the production line today.
This family owned company is dialed-in upon dialed-in.  If you want to see how a high quality wood frame hung wall truck camper is built, do yourself a favor and stop by Northstar Campers in Iowa (but always call ahead).
If you're in the market for a fully self-contained short bed pop-up truck camper, the Northstar 650SC should be very high on your list.  There are very few other short bed pop-up truck campers that can compete the 650SC, and none that can match its features-per-foot, overall value, and dealer-network availability.
Rex explained the 650SC it best when he said,  "It's a nimble travel partner that has it all, especially if you want to stay compact."  Based on our experience with the Northstar 650SC, we have to agree.
Pros
Fully self-contained 7-foot pop-up truck camper
Wet bath toilet is accessible and usable with top down
North-south cabover features a 60×80 queen-size bed
Excellent interior storage quality and quantity
Rieco-Titan electric lift makes raising and lowering roof easy
Comes well featured as standard; see review unit
Cons
Short door takes getting used to, but adds structural strength
Metal wet bath corner is somewhat sharp facing interior
Dinette seating and table is narrow for two, but perfect for one
Battery disconnect would be more convenient at entry door
Single battery and propane tank require awareness
Thetford cassette toilet requires careful evaluation
Model Information
2017 Northstar 650SC
MSRP: $21,100
Warranty: Two-year structural warranty.  Individual appliances have their own warranties.
R.C. Willett Company, Inc.
Phone: 319-233-3461
Request A Northstar 650SC Brochure
Web: www.northstarcampers.com
Quality, Customer Service, and Long-Term Reliability
Truck Camper Magazine inspects all reviewed truck campers for design, material, and quality issues and reports what we find.  However, since Truck Camper Magazine reviews only brand new truck campers, our reviews do not address long-term quality, customer service, or reliability.
To learn about a brand's long-term quality, customer service, and reliability, Truck Camper Magazine recommends talking directly with truck camper owners at truck camper rallies and online via truck camper forums and truck camper owners groups.
Please be sure to balance your gathered feedback across multiple sources including direct correspondence with the truck camper manufacturers and your closest truck camper dealers.  Click here if you are new to truck campers.