Truck Camper Magazine reviews a 2016 Northstar Vista, a hard side cabover-less truck camper targeting half-ton trucks.  Can you cut the cabover and still have a full-blooded Northstar?

Read the Northstar's response to the Vista Review.
Northstar Campers debuted the Northstar Vista in Truck Camper Magazine on November 17th, 2015.  As Rex Willett, President of Northstar campers explained, the Vista was Northstar's first cabover-less hard side truck camper in several decades, a real back to the future moment for the 56 year old, family-owned Cedar Falls, Iowa manufacturer.
"Sometimes a cabover-less camper is all people want, or all they need," stated Rex.  "They don't need the extra room, not to mention weight and wind resistance, of a cabover.  What they do want is comfort and amenities.  So the concept of the Vista came from Northstar's history, and from customer requests for a lighter and more simple truck camper solution."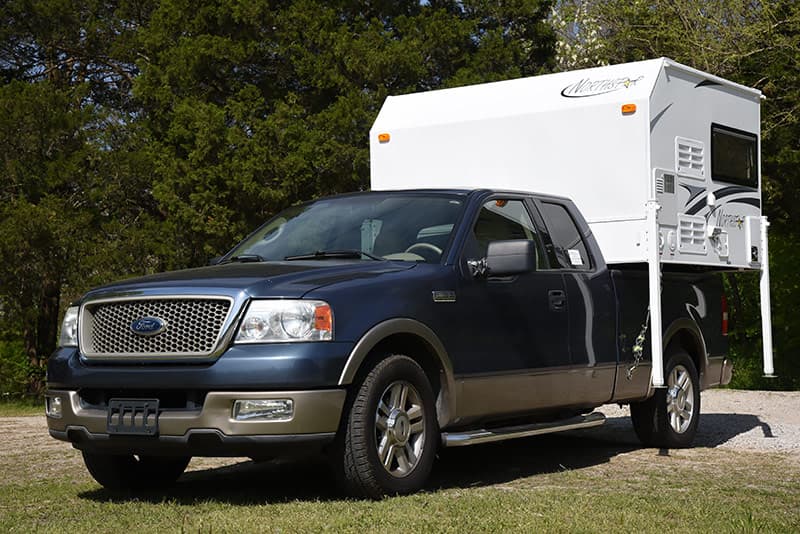 Rex went on to describe how the Vista was based on the popular Northstar TC650, a floor plan that Northstar has refined for decades.  When we asked if the Vista was also built like other Northstar Campers, Rex answered, "Exactly the same way.  The Vista features our proven wood frame and hung wall construction."  Rex later talked about the Vista's full walk-on roof, four-season insulation, thermal pane insulated windows, and deep option list.
The message Rex was conveying was clear.  The Vista was developed as nothing less than fully-realized Northstar hard side truck camper, just without the cabover.  No corners were cut to lower the weight or price.  Even the interior fabrics, cabinetry, countertop, flooring and other materials were the same as other Northstar Campers.  If customers wanted a simpler and lighter hard side Northstar, the Vista was it.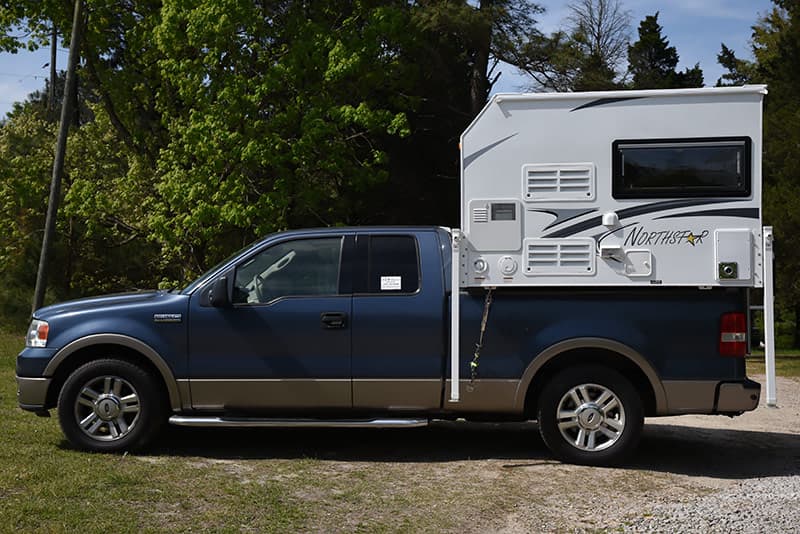 Last month we had our first opportunity to see a Northstar Vista in person at A&M Services in Kittrell, North Carolina.  The A&M team loaded a 2016 Northstar Vista on a truck for us to explore, photograph, and review.
As we approached the Vista, we thought back to Rex's interview.  Would the lighter, simpler, and cabover-less Vista truly feel and function like a full-blooded Northstar?  Was that possible?  It was time to find out.
Floor Plan Evaluation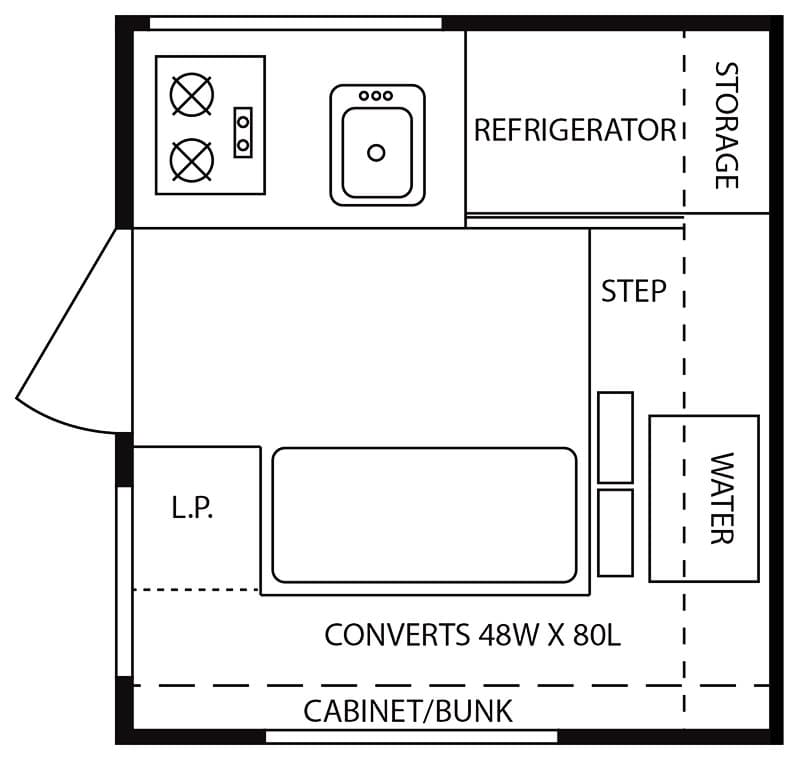 As someone who strongly believes the truck camper industry needs to aggressively court and spark younger buyers with affordable half-ton compatible products, I have been an outspoken proponent of cabover-less truck camper designs.  Naturally, I was delighted when Northstar announced Vista.
Within a step or two of walking into the Vista, you're basically there.  As a short bed camper without a separate bathroom or cabover, there are not a lot of walking around options.  Standing in the center of the unit, you are either in the driver's side kitchen or the passenger's side dinette/bedroom area depending on which side of the camper you face.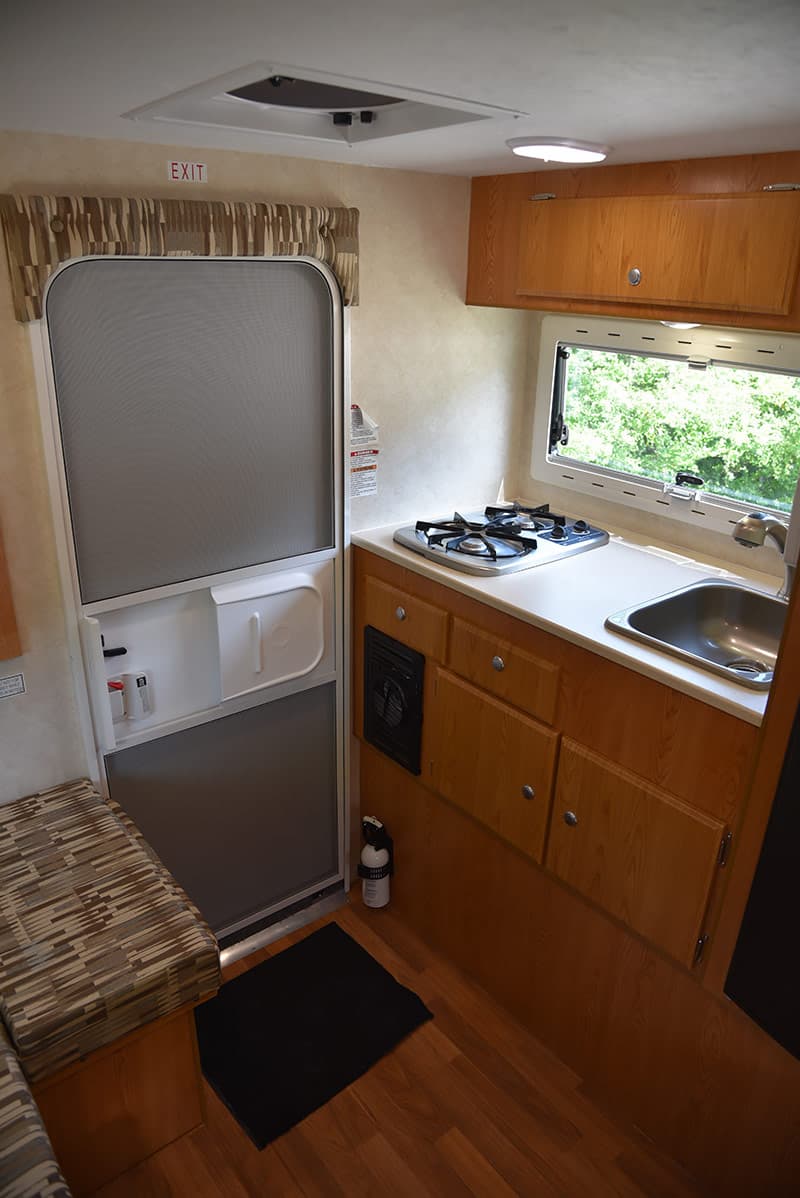 That's not to say that the Northstar Vista interior feels closed in.  On the contrary, without a bathroom taking up living space, the Vista feels quite open and spacious, especially for one person.  And while there's nowhere to really walk to, there is plenty of up-and-about standing room.  Like a kid in a tree fort, I was content and comfortable hanging out in the Vista within minutes.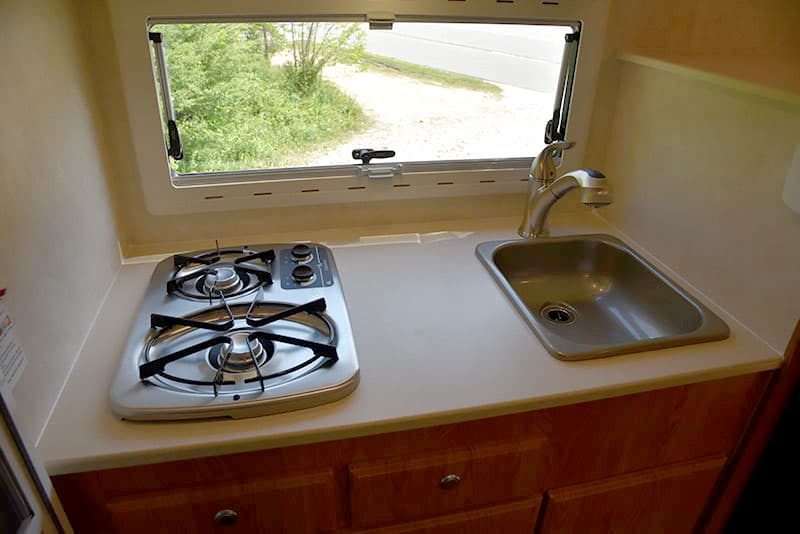 The driver's side kitchen is especially impressive with a large window, two-burner cooktop, single bowl sink, and extendable kitchen faucet.  The window and under cabinet LED-light make the kitchen bright and friendly.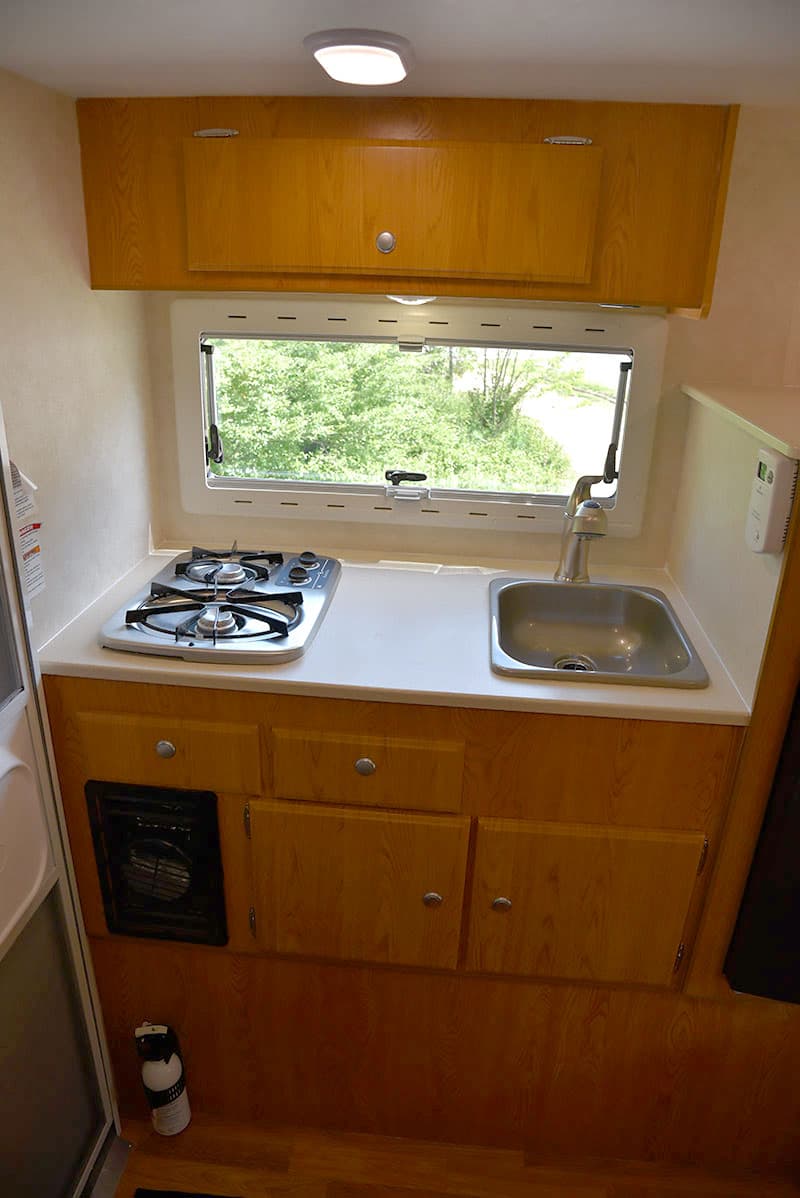 The kitchen counter top is essentially divided into thirds; cook top, counter space, and sink.  The sizes of the two-burner cook top and sink strike a good balance between function and use of counter space.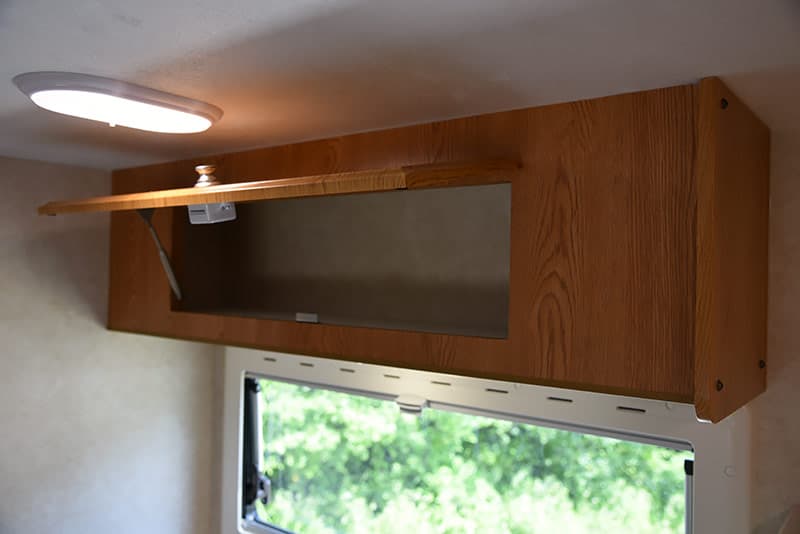 Storage in the kitchen area is nothing less than outstanding in a unit this size.  The upper kitchen cabinetry is ideal for cups, dishes, and dry food.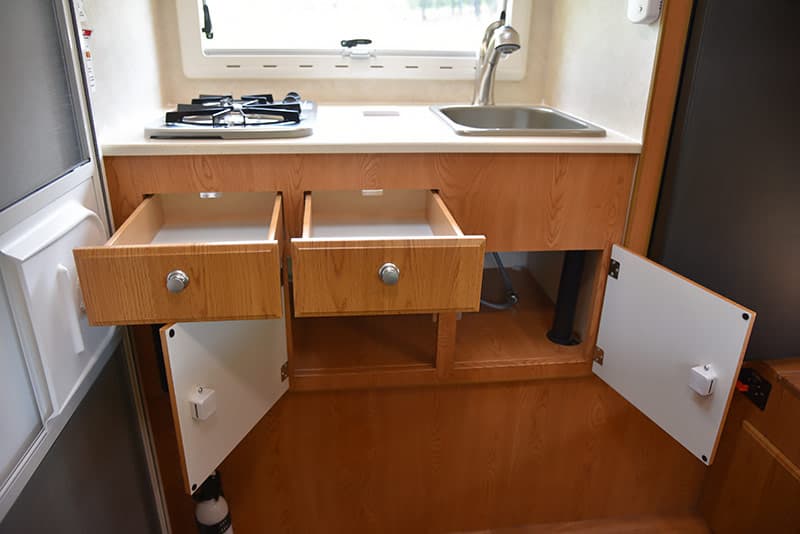 The two lower kitchen drawers are perfect for flatware and utensils.  Under the drawers is a large double-door cabinet area for more dry food and perhaps a carefully considered trash container.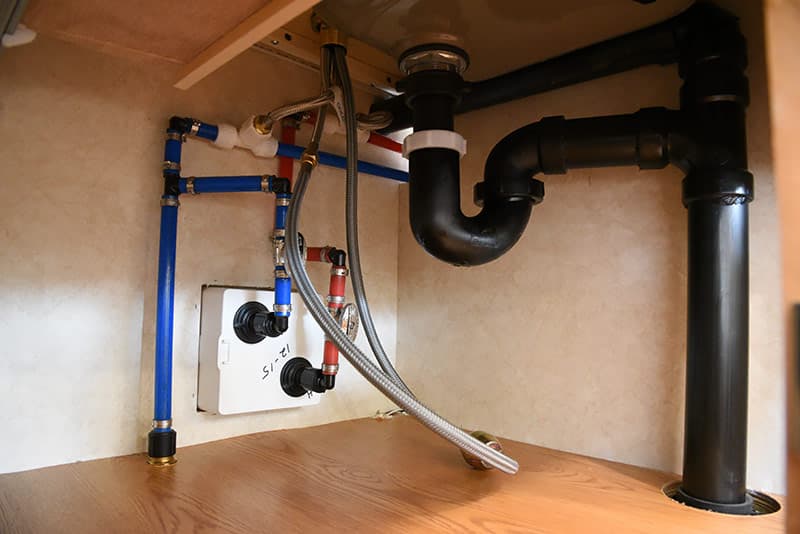 Inside every cabinet we found neat, tidy, and secure plumbing and wiring, and excellent access to items for service down the road.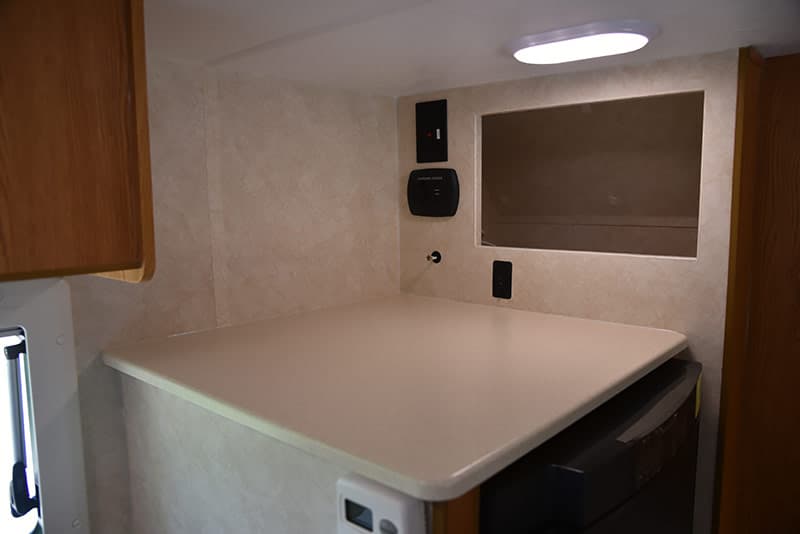 Just to the right of the kitchen is the standard Dometic 3.7 cubic foot three-way refrigerator and, on top of the refrigerator, more counter top space.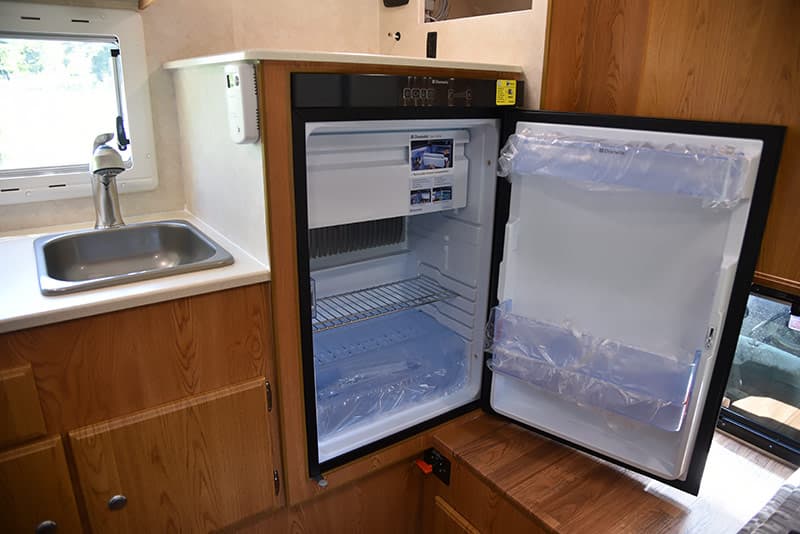 The 3.7 cubic foot refrigerator seems just right for the cabover-less Vista and the additional counter space is fantastic for food preparation.  Many larger truck campers don't have this much kitchen counter space.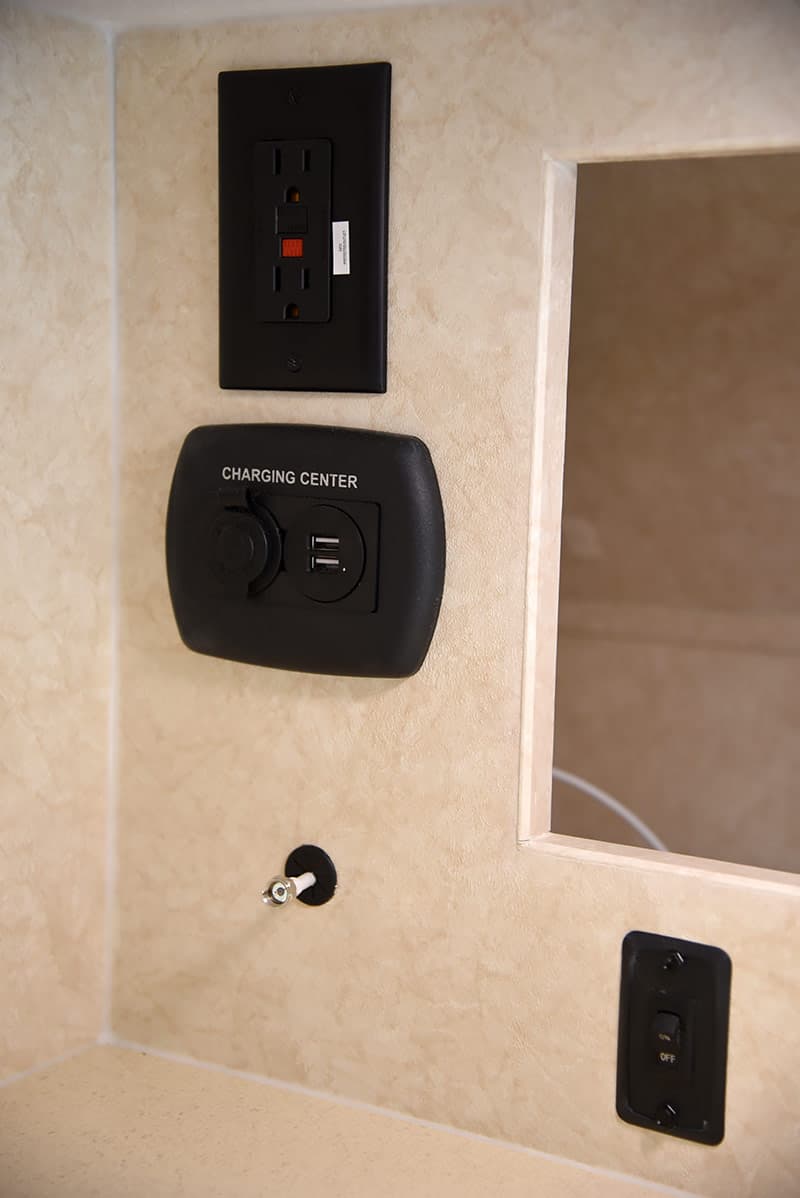 On the upper driver's side front wall of the Vista is a 110-volt outlet, 12-volt outlet and USB charging center, coax connection, and a cubby-style storage nook.  This is where an optional 22-inch 12-volt flat panel HDTV and arm can be mounted.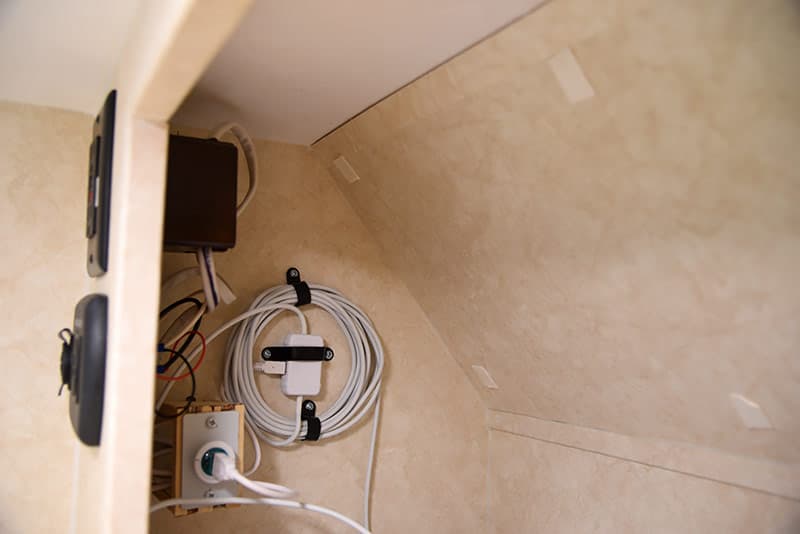 Inside the storage nook was a Winegard FlatWave HDTV antenna that had fallen from its original installation.  Minor repairs like this are routine after campers are shipped hundreds of miles to dealer lots, but a more robust antenna mount may be required.
On the other hand, we have experienced mixed results with Winegard FlatWave HDTV antennas in the field and would opt for a more reliable King Jack antenna.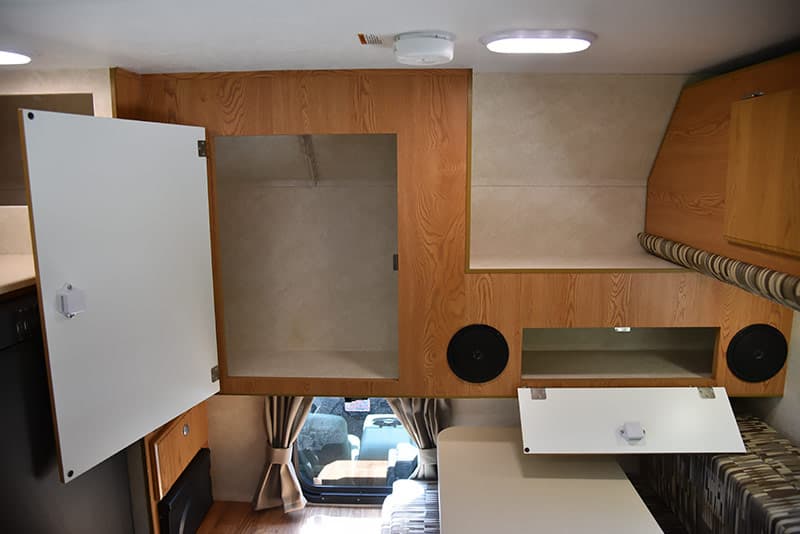 The center front wall of the Vista offers a wide half-closet with hanger rack, a removable pass-through window, a battery disconnect switch, and a floor cabinet with storage and access to the 20-gallon fresh tank and drains.
Just to the left of the pass-through window is where the fuse panel, hot water heater switch, water pump switch, and hot water heater access panel are located.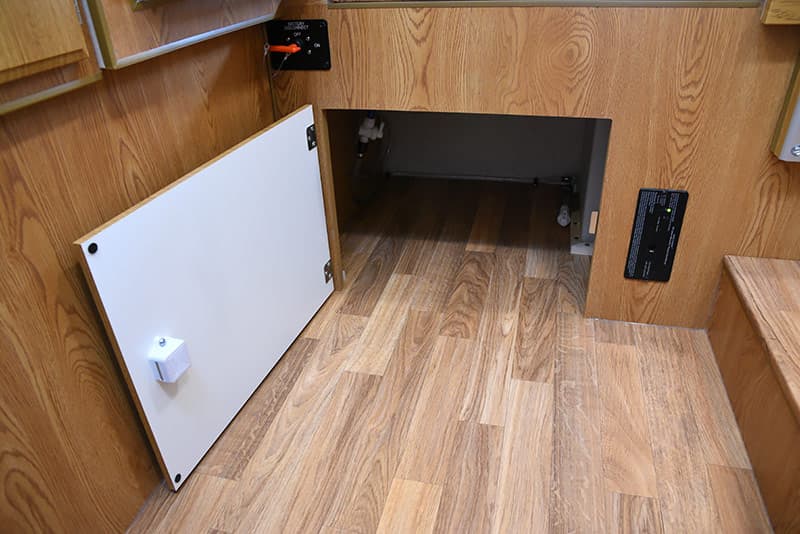 What else is inside this forward floor cabinet?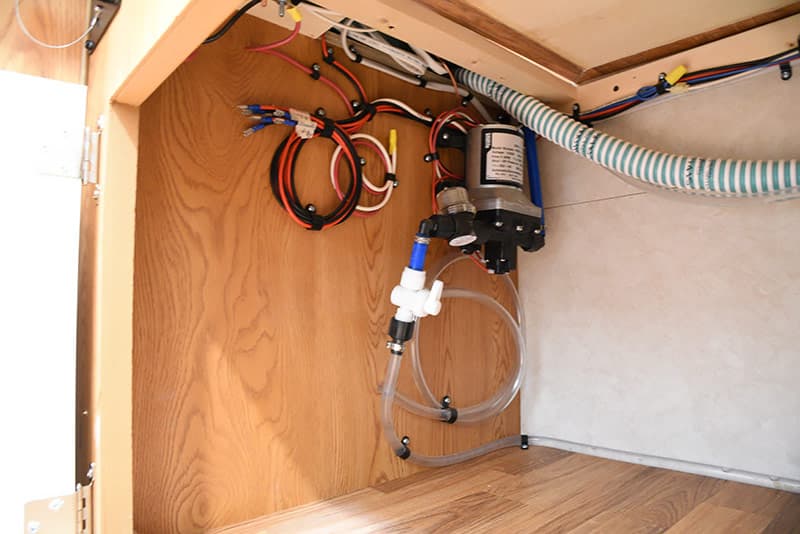 Easy access to the water pump!  For anyone who has ever needed to access their water pump for service (including us) this is absolutely beautiful.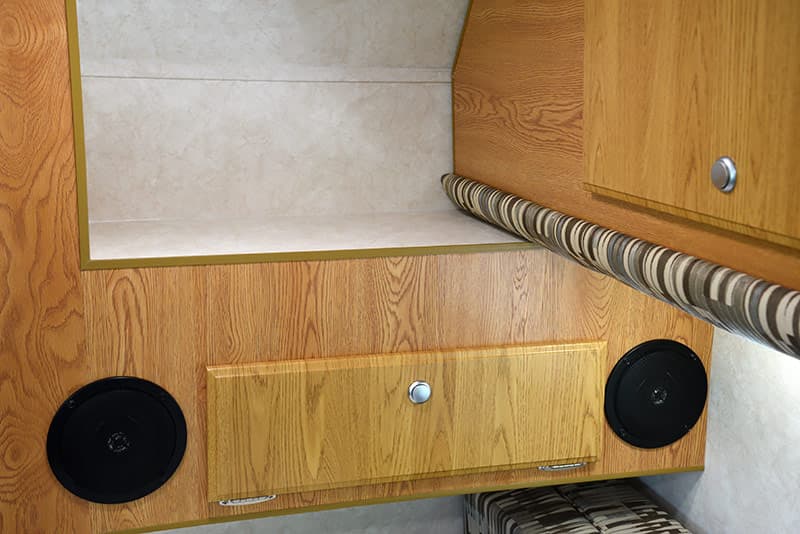 The passenger's side front wall of the Vista features the notch where the optional drop down upper bunk rests, the optional stereo speakers are installed, and a storage cabinet.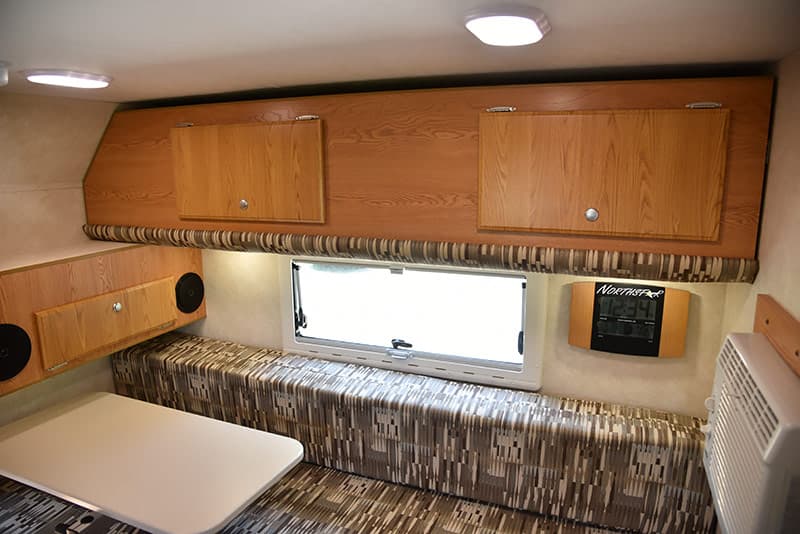 In its closed position, the optional drop down upper bunk offers a considerable amount of storage via two cabinet doors.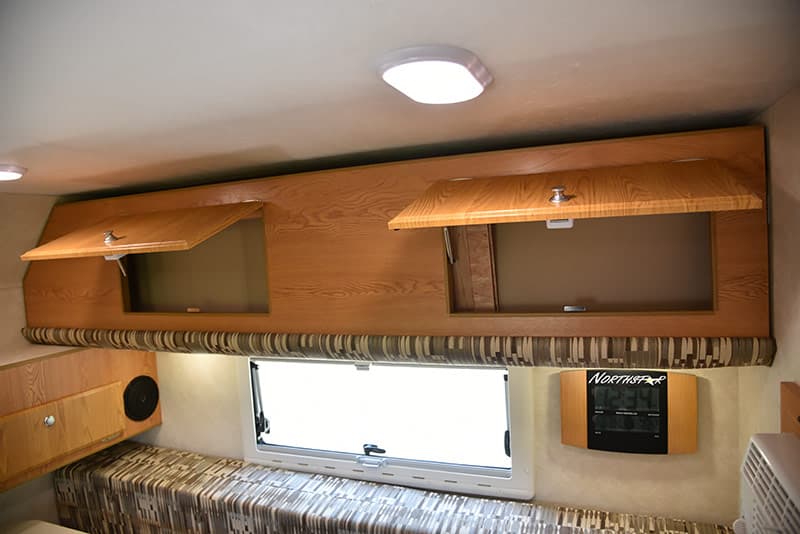 Unfortunately, the upper bunk storage is somewhat compromised by the cushions and support boards needed to make the bunk into a proper bed.
Given the size of the Vista, it's likely that the unit will mostly be purchased by individuals and couples who will use the lower dinette as a bed.  As such, the upper bunk will probably be utilized as storage with the upper bunk cushions and support boards left at home.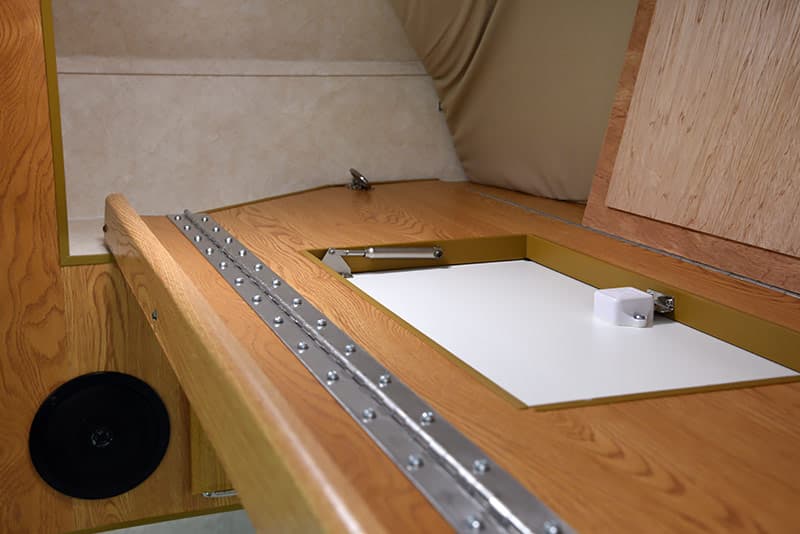 Making the upper bunk into a bed reveals one of the most intricate camper elements we've seen in some time.  First, you release the upper bunk by opening the cabinet doors and reaching inside the bunk to pull the latches at the front and rear wall.
Then you lower the bunk into the aforementioned front wall notch and a rear wall support.  Following that, a second fold via a piano-style hinge creates the final width of the bunk bed.  Once this is completed, the support boards are placed over the cabinet door spaces and the bunk cushions are brought into position.
Reaching the bunk latches inside the cabinet to release and reattach the bunk takes a bit of getting used to, but is then relatively easy.  Placing the support boards takes a second, but the bunk mattress cushions took some coaxing to lie flat.  If you intend to routinely use the upper bunk as a bed, I suggest going through this process prior to purchase.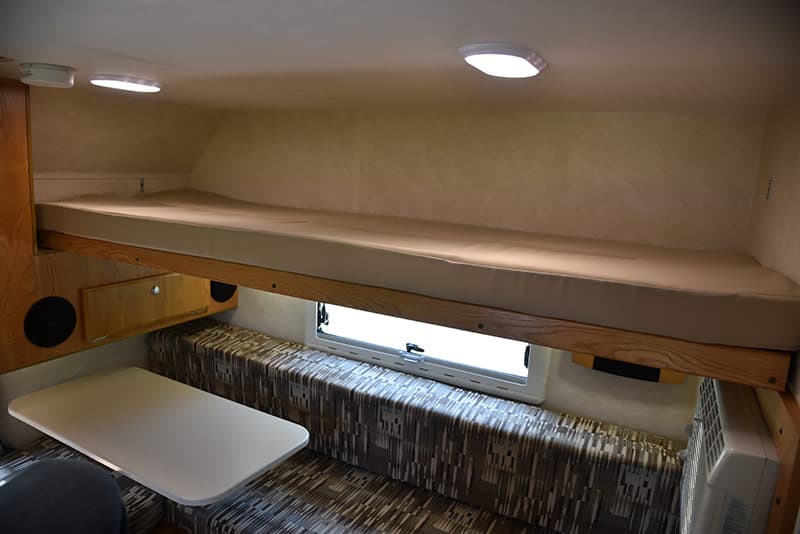 I was impressed with the intricacy and clever thinking that went into the upper bunk and would be happy to have its versatility on hand.  That said, we would use this space for storage, leave the support boards and cushions at home, and sleep in the lower dinette.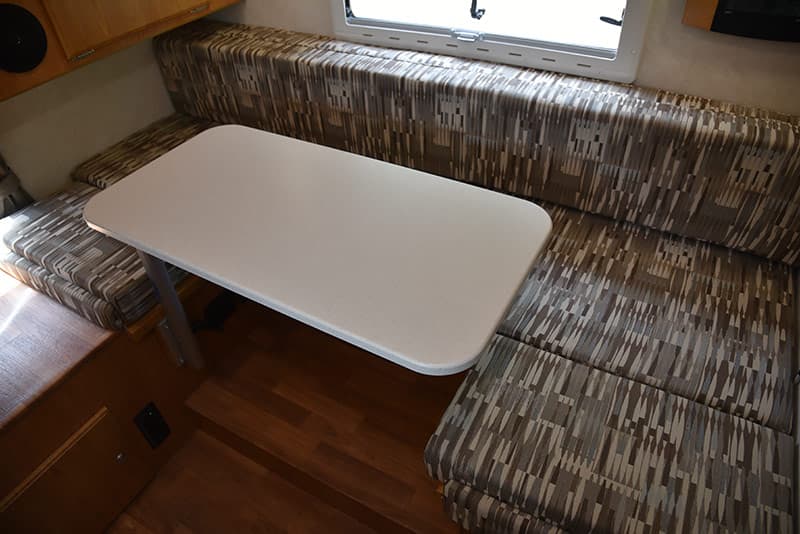 Speaking of the lower dinette, that was another interesting first-time process.  Having been left to my own devices (always a dangerous proposition) I initially failed to see how the lower dinette bed was assembled.  After talking to myself for a considerable length of time, I figured out that the Lagun table leg must be removed from its mount allowing the table top to be placed as the center bed support.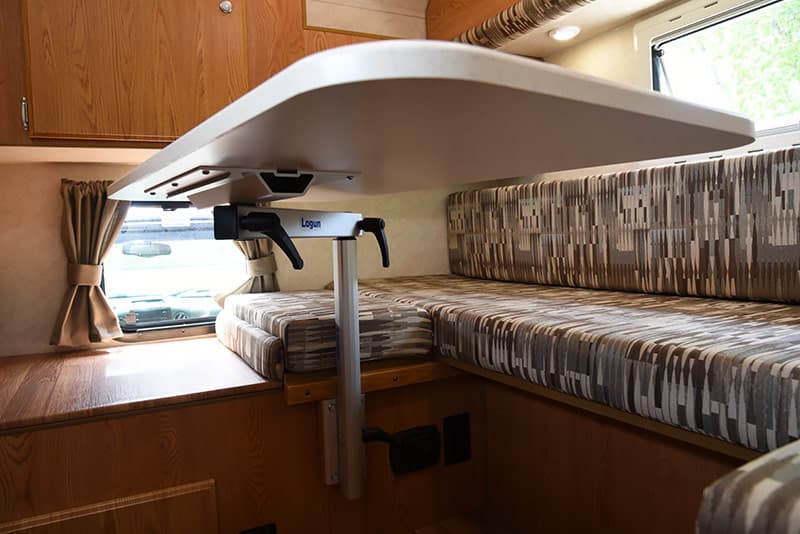 By typical RV table leg standards, the aluminum extruded Lagun table leg is a modern work of art and a real pleasure to use once you understand its unique loosening and tightening mechanisms.  Hint: gently pull the handles and turn – righty-tighty and lefty-loosey!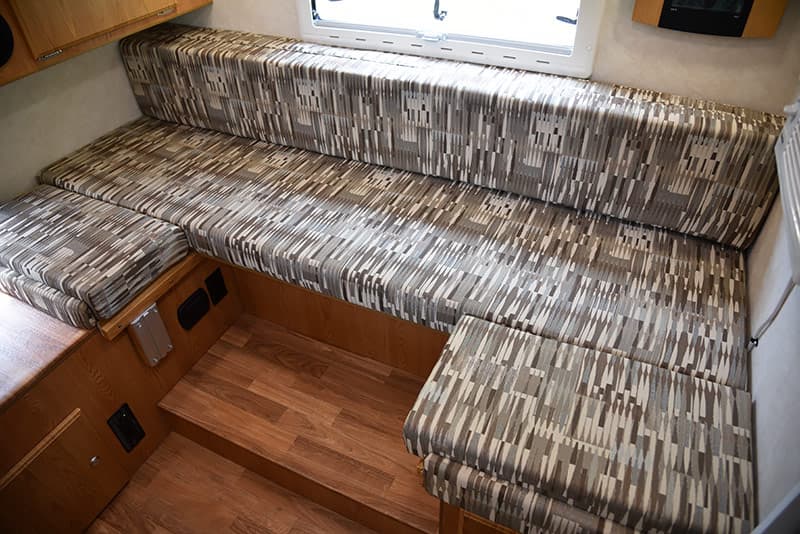 Once I had the table arm removed and the arm removed from the leg, the table sat perfectly between the dinette seats making a bed platform.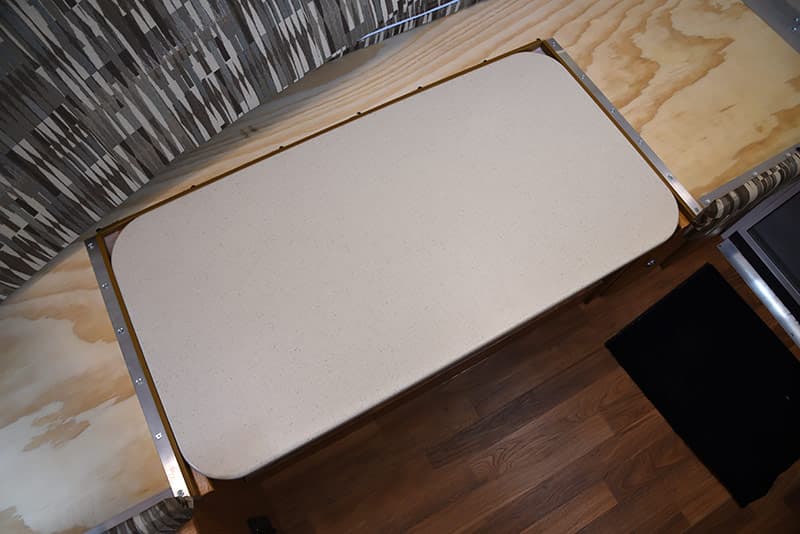 The cushions then fit neatly forming a 48-inch wide by 80-inch long bed.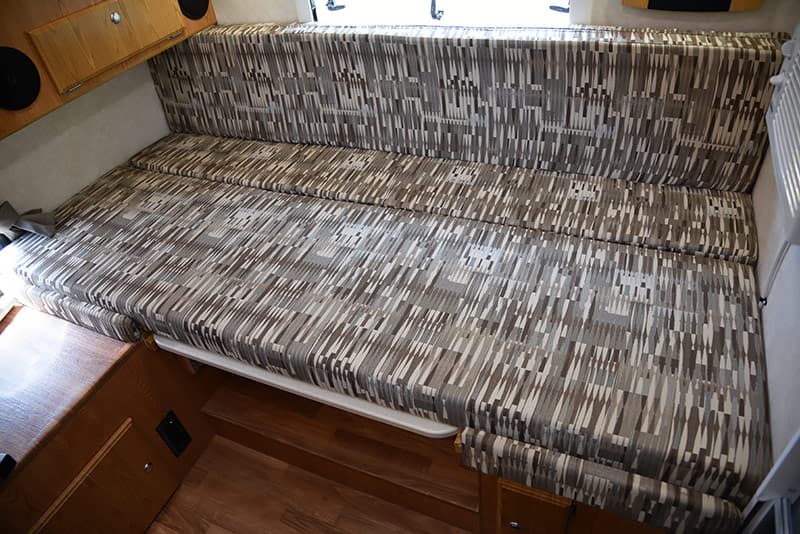 How hard was that?  Honestly, talking to myself took most of the time.  If I had to do it again, I would skip the self-conversation, remove the Lagun leg, and make the bed in under a minute.
Reassembled as a U-shape dinette, the lower seating was firm, but comfortable, and the Lagun table steady enough when tightened down into position.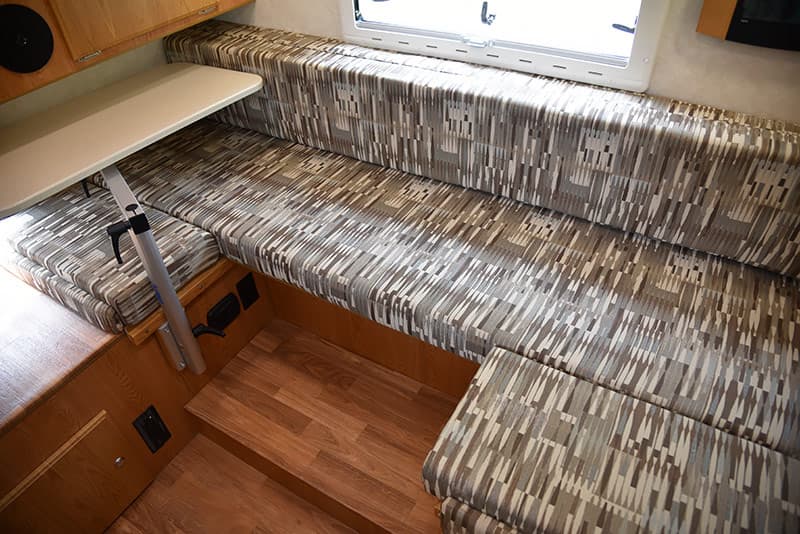 The real benefit of the Lagun table leg is its ability to be quickly and firmly re-positioned out of the way when not in use.
As heavy laptop users who work in their rig, we prefer face-to-face dinettes with larger tables and steadier table support, but the Lagun is a much better solution for a small unit like the Vista.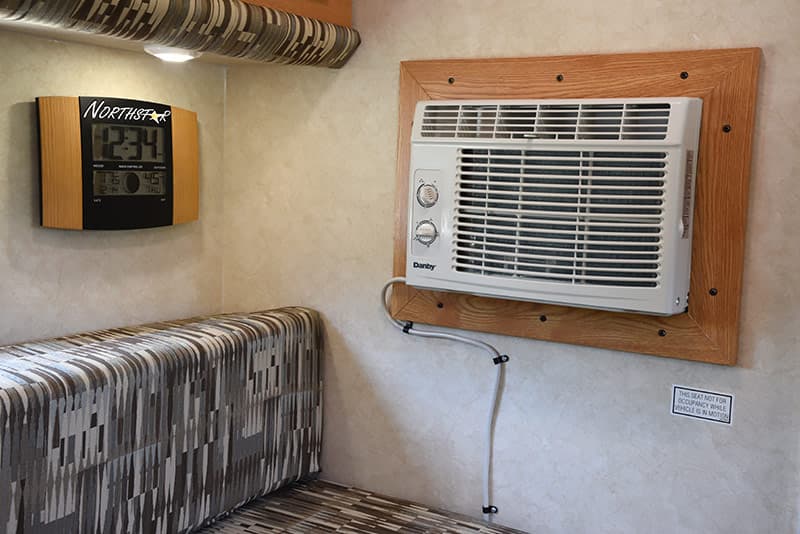 On passenger's side rear wall is where the optional Danby 5000 BTU air conditioner is installed.  This air conditioner will run on a Honda EU2000i portable generator and offers ample cooling capacity for the Vista.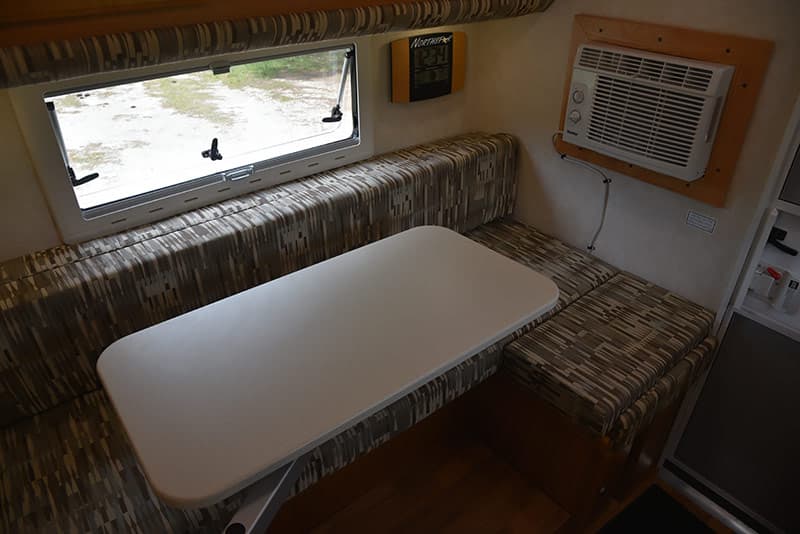 When seated in the rear dinette, the air conditioner would be at your back, an uncomfortable and – if on – noisy annoyance.  Ideally, Northstar would include cushions that would fit under the optional air conditioner and under the forward front wall for back support and comfort when sitting face-to-face in the dinette.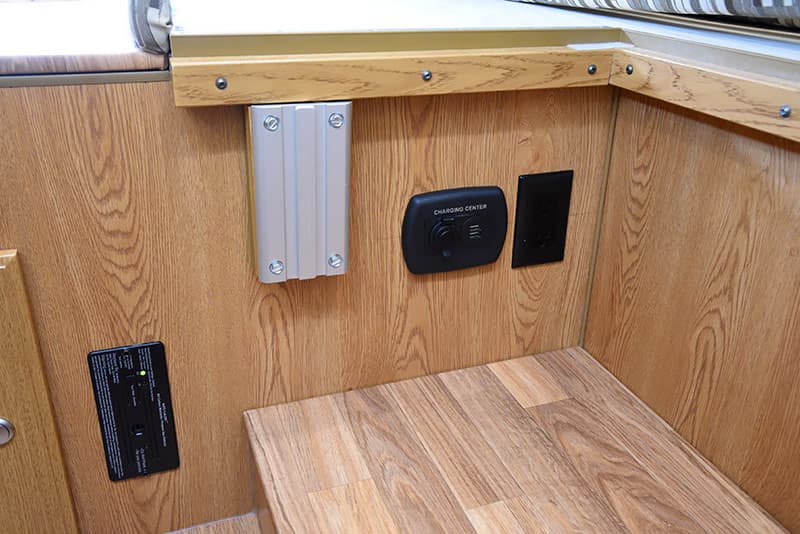 Under the dinette is a 110-volt outlet and a 12-volt and USB charging center.  Having these outlets in the dinette is a fantastic convenience for charging laptops, phones, cameras, and other equipment.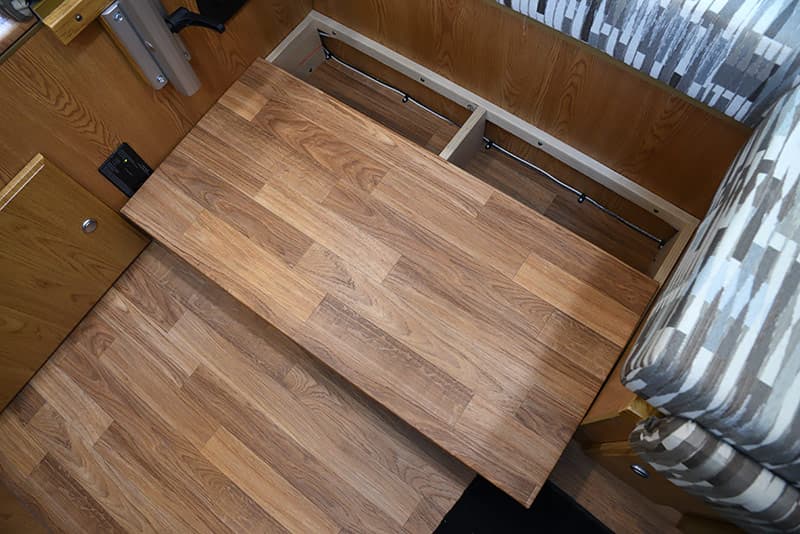 The floor under the dinette lifts up to reveal yet another creative storage nook.  The Vista might have more storage opportunities per square foot than any other truck camper.  I'm not sure I found them all.  Some of these storage nooks are not obvious and could double as secret storage locations for valuables.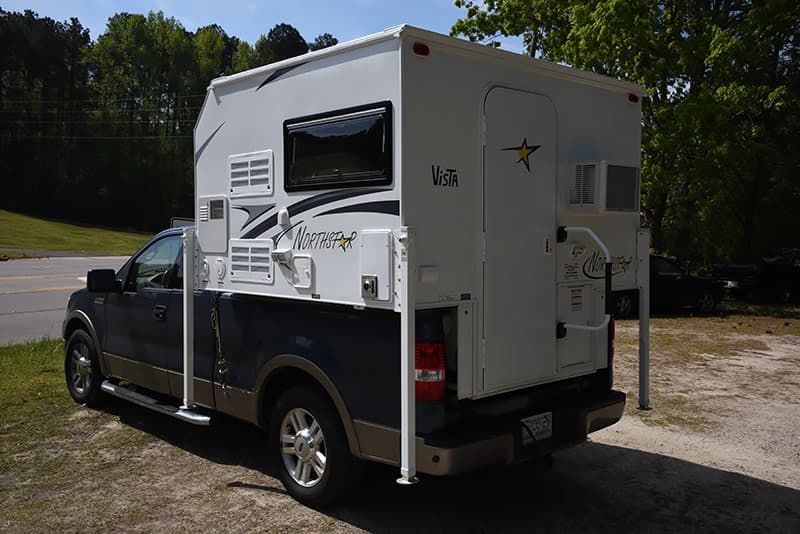 With the removable pass-through window, I would like to have a window at the bottom of the rear door to be able to see through the unit to the traffic behind us.
I would also like an upper window to bring in more light and be able to see who's knocking on my camper door (with the optional air conditioner, there are no rear windows on the Vista).  Of course these door windows would add cost, weight, and seals that need to be maintained.
Specifications
| | |
| --- | --- |
| Specifications | |
| Dry Weight | 1,260 pounds |
| Wet Weight* | 2,110 pounds |
| Floor Length | 6'8″ |
| Overall Length | 6'8″ |
| Width | 7'0″ |
| Interior Height | 6'0″ |
| Exterior Height | N/A |
| Center of Gravity | 23″ front to rear |
| Truck Type | Short Bed |
Northstar reports the base dry weight of the Vista at 1,260 pounds.  As with all base weights, this represents a unit without options and is very unlikely to represent a unit found on a dealer lot.  To get a Vista at this weight, you would need to special order a unit through a Northstar dealer.  As the 70s Burger King commercial sang, "Hold the pickles, hold the lettuce, and have it your way!"
From our interview with Rex, a more standard dealer build for the Vista will include the four gallon auto-ignition hot water heater, exterior shower, 7.5 gallon grey tank, glass top two-burner cooktop, rear window air conditioner, stereo system, electric jacks, and a Heki skylight.  That's about 200 pounds of options putting the Vista closer to 1,460 pounds dry.  We'll come back to this for the truck recommendations.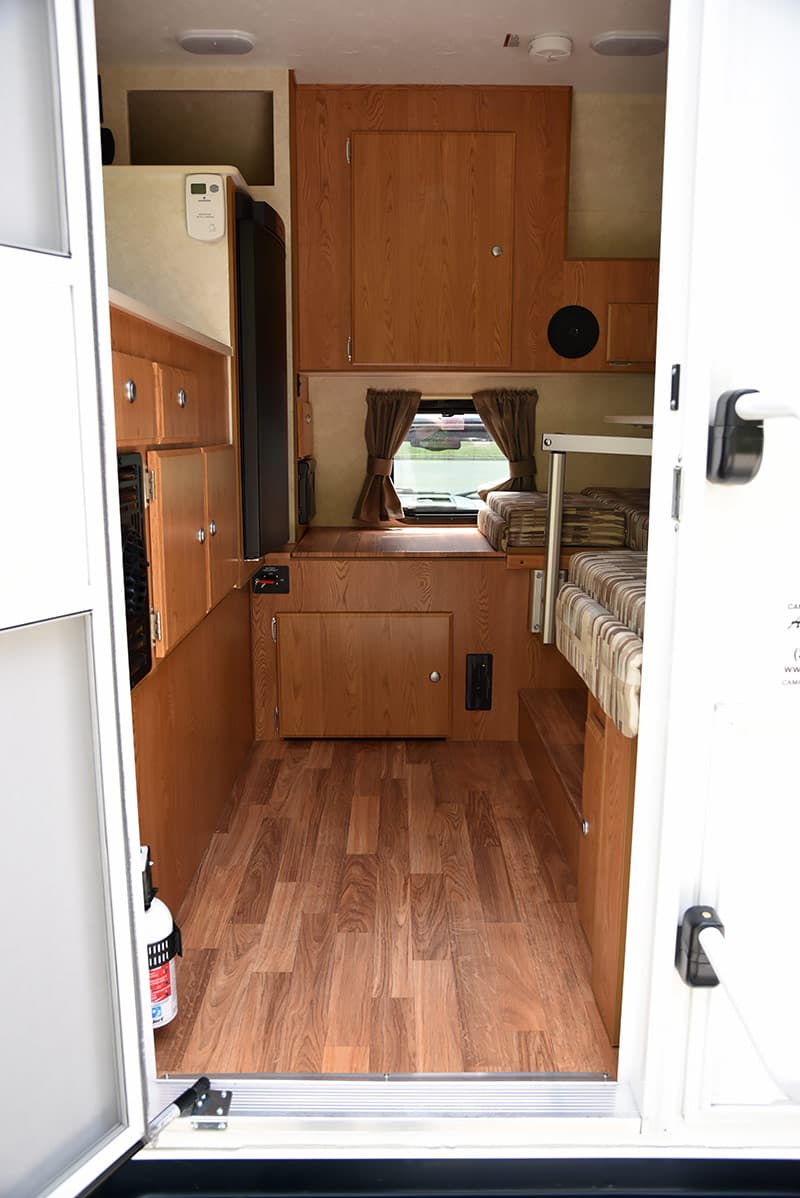 The floor length of the Vista is 80 inches.  The width of the unit is 84 inches.  That's right, the Vista is wider than it is long, a very rare occurrence in the truck camper universe.  At 84-inches wide, the Vista is the same width as the Northstar Liberty, 8.5 Adventurer, and Laredo SC and only 6-inches narrower than the 9.5 Igloo U.  As far as width is concerned, the Vista is almost full-size.
At 6'1", the interior height of the Vista is lower than the 6'4" to 6'9" interior height of Northstar's larger units.  Although I stand at 6'3", I was not uncomfortable standing in the Vista.  Maybe I need to stand up straighter, but I never bumped my head or found the ceiling height too low.  Whatever the case may be, be aware that the interior height is lower than larger units, but you'll have to audition that for yourself to see if it bothers you.  I was fine.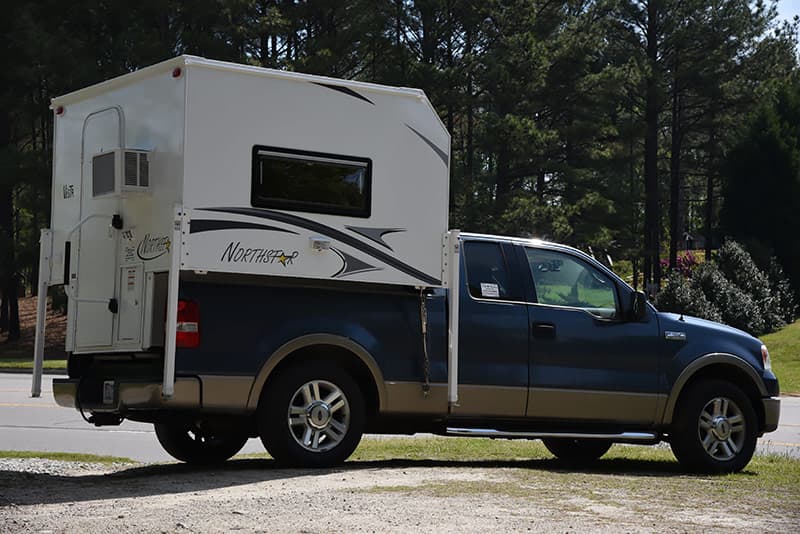 Northstar reported the center of gravity at 23-inches from the front wall.  What we didn't see was a center of gravity sticker.  As a magazine, we encourage Northstar Campers to mark the center of gravity on all units.
Capacities
| | |
| --- | --- |
| Capacities | |
| Fresh | 20 gallons |
| Grey | Optional 4 gallons |
| Black | N/A |
| Water Heater | 4 gallon auto ignition |
| Propane Tanks | 20 pounds |
| Batteries | Two Batteries |
Unless you plan on using the outside shower everyday, or wash your dishes and brush your teeth while letting the water continuously run, the standard 20-gallon fresh tank should last a long time.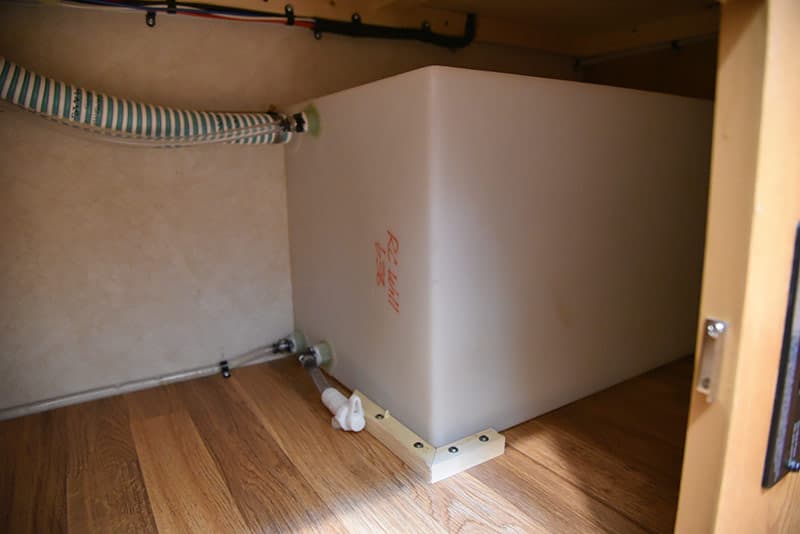 Above: The 20-gallon fresh water tank is located in the forward floor cabinet
Without an interior shower or flush toilet, there's just no other drain on the fresh water system.  Even if you do use the outside shower everyday, that 20-gallons of fresh, plus the 4-gallons of water in the hot water heater, should still last two to three days, or more.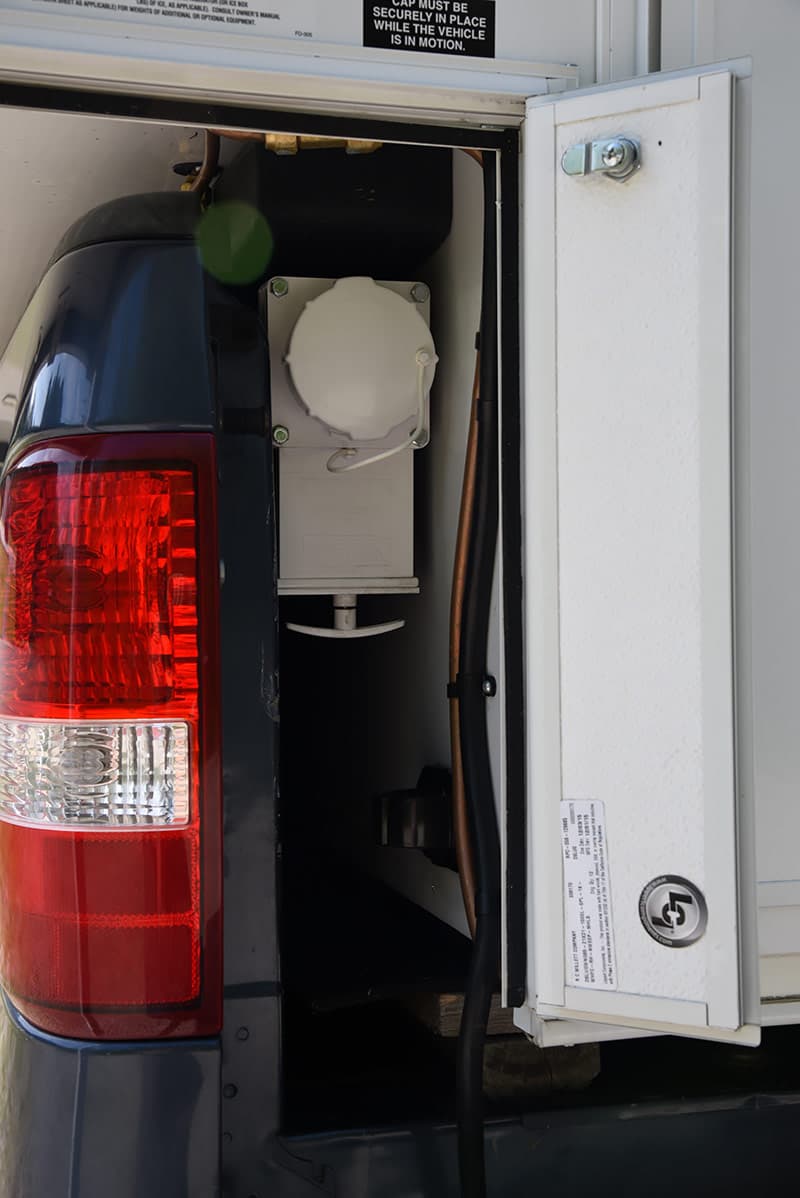 Above: An optional 7.5 gallon grey tank is available on the Vista
Which brings us to the standard grey tank, or lack there of.  Without the optional 7.5 gallon grey tank, the grey water from the sink will come right out of the camper and, if so placed, into a bucket or container for disposal.
At 7.5 gallons, the optional grey tanks seems like a fantastic convenience, especially since it's only retaining sink water.  Unfortunately, that grey tank is externally mounted and not insulated.  Keep this in mind if you plan to go winter camping.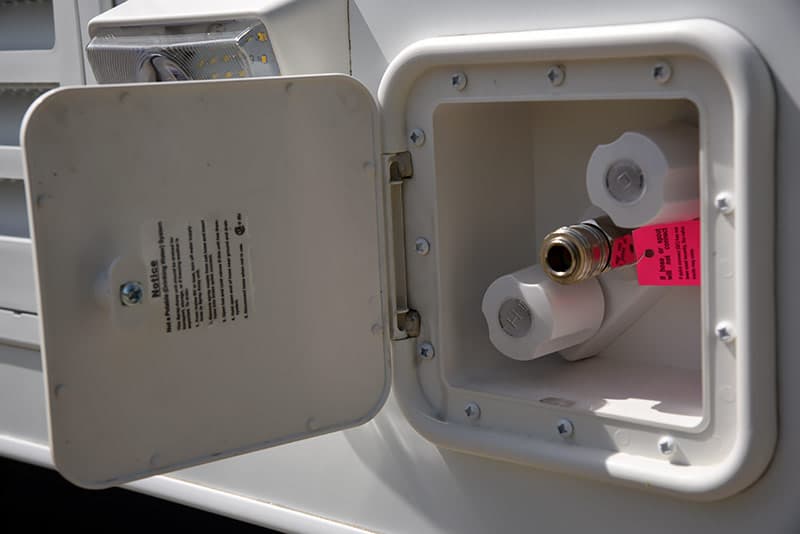 Above: The exterior shower on the Vista
The optional 4 gallon auto ignition hot water heater is more than enough unless you intend to take extended outside showers.  That's between you and nature to think about.  And everyone wonders how bear therapists put their cubs through college.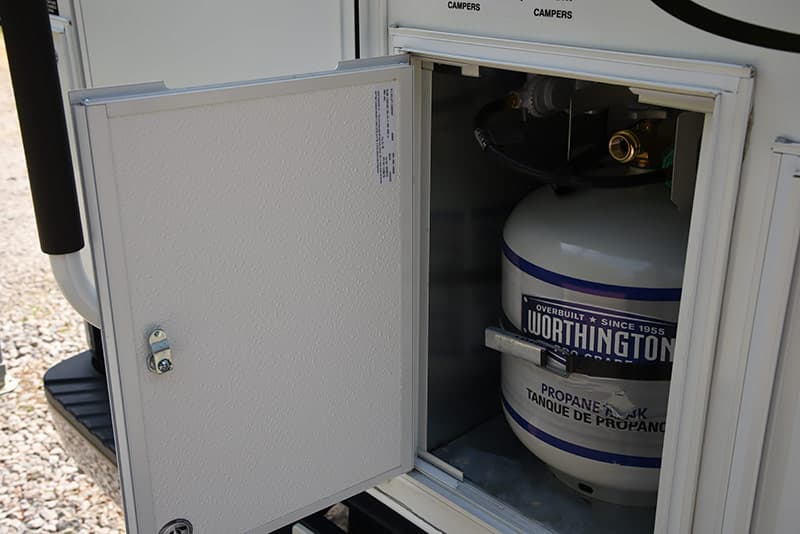 The rest of the capacities are right in line with a small camper including one 20-pound vertical propane tank and space for two Group 27 batteries.
As it has been said many times, the 20-pound propane tanks are exchangeable from sea to shining sea at your favorite hardware box store, Wally World, or gas station.  With only one propane tank, you will need to be careful to monitor its level to avoid running out.  Or just regularly fill or exchange the single tank before it runs dry.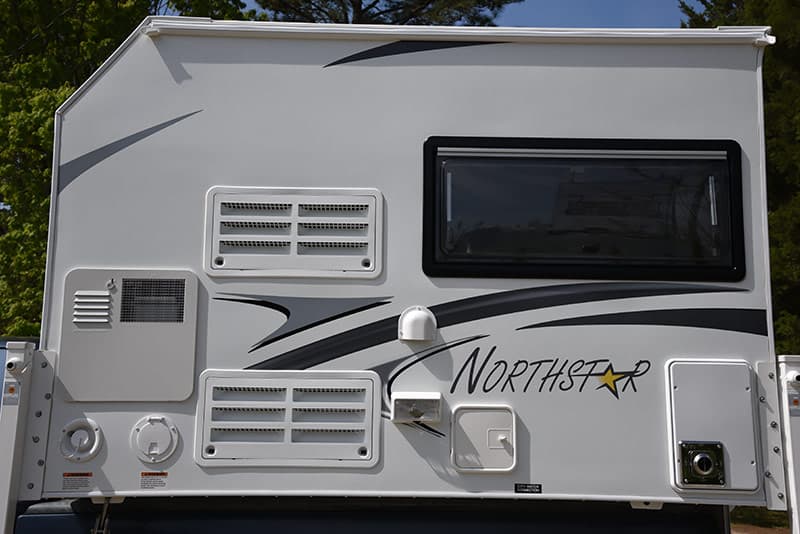 All-LED lighting and two batteries in a camper this size is enough portable power for everyone but the Traveling ARC Welding Society.  Add the optional 150-watt Zamp solar panel system and you could practically put a weld or two on the daily menu.  Unless you heavily use an inverter, or camp off-grid in sub-ridiculously cold weather for days on end, it's hard to imagine needing more battery power for the Vista.
Wet Weight Calculation
Using the standardized Truck Camper Magazine wet weight calculation, let's run the numbers on the Northstar Vista.
Base Dry Weight – special factory order only
Northstar Vista: dry weight, 1,260 pounds + 20 gallons fresh, 166.8 pounds + 4 gallon full hot water heater, 33.4 pounds + 20 pound full propane tank, 20 pounds + 2x battery, 130 pounds + stuff, 500 pounds = 2,110.2 pounds
Standard Build Options – most dealer orders
Most dealers will order the Vista with 200 pounds of options including the four gallon auto-ignition hot water heater, exterior shower, 7.5 gallon grey tank, glass top two-burner cooktop, rear window air conditioner, stereo system, electric jacks, and a Heki skylight.  This puts the dry weight of the standard build Northstar Vista at 1,460 pounds.
Northstar Vista: dry weight, 1,460 pounds + 20 gallons fresh, 166.8 pounds + 4 gallon full hot water heater, 33.4 pounds + 20 pound full propane tank, 20 pounds + 2x battery, 130 pounds + stuff, 500 pounds = 2,310.2 pounds
Truck Recommendations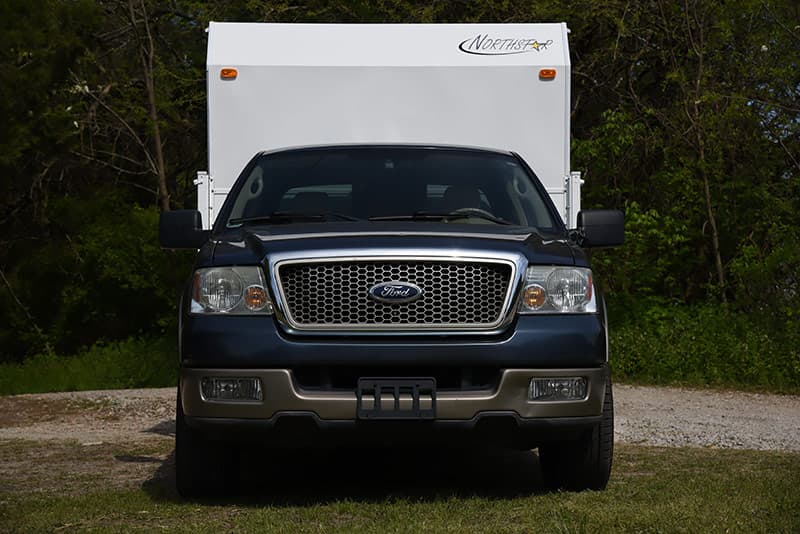 The above wet weight calculations include 500 pounds of stuff weight, an important part of Truck Camper Magazine's standard wet weight calculation designed to represent your cargo: gear, food, clothing, etc.  Even with the impressive amount of storage found on the Vista, it's unlikely that this amount of cargo will be required for the Vista.
For a more realistic and yet still conservative wet weight estimate, we are going to limit the stuff weight to 250 pounds for the truck recommendations.  This puts the base wet weight of the Vista at 1,860.2, and the standard build wet weight at 2,060.2 pounds.
Even at 1,860.2 pounds, the weight of the Vista is on the high side for your typical everyday half-ton truck.  In other words, don't expect every Tom, Dick, and Harry half-ton to have the required payload capacity for the Vista.  Having visited dozens of truck lots and inspected hundreds of half-tons in the wild, most F150s (including the newer aluminum-bodied F150) and 1500 series trucks on dealer lots have around 1,800 pounds of payload, or less.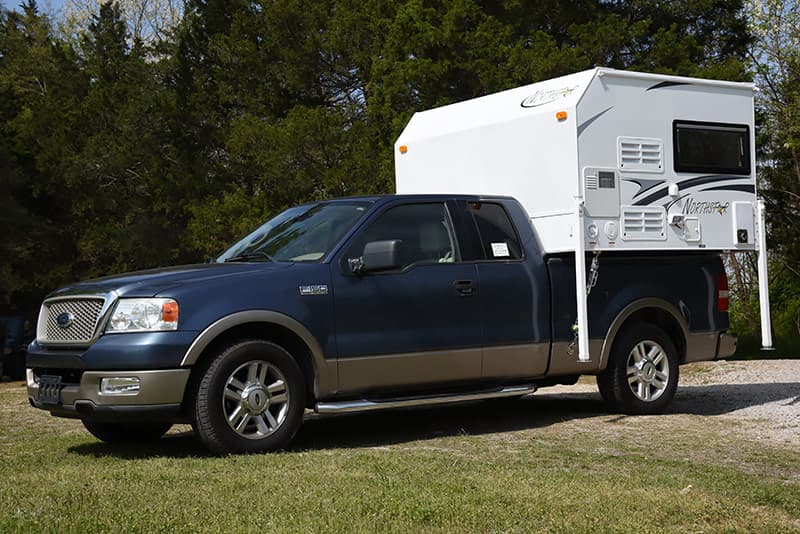 While the industry dials my cell number to rant about the above reality, there is good news.  Finding a half-ton with even 2,060 pounds or more payload capacity in 2016 is as easy as saying, "Hello new truck dealer!  I need a truck with 2,060 pounds of payload."
Within five minutes they'll have offered you a water, or coffee, or perhaps a cold soda and helped you to find the truck parameters you require to meet that payload number.  By the time you finish off their donuts, they'll have tracked down a truck or helped you special order one.  That's what coffee and donuts are for.
We always recommend special ordering a truck to maximize payload, get exactly what you want, and avoid paying for stuff you don't need.  Even better, order a three-quarter or one-ton truck so you can tow a boat or upgrade to a Northstar 8.5 Arrow U when the urge hits.
The Verdict
The Vista is not shooting for the high-end truck camper market, but it's not aiming for the entry-level either.  In having aimed high with the Vista's build, standard features, and options list, Northstar has created a truly unique product; a cabover-less camper built to the same level as their popular cabover models.
For those who are attracted to the light weight and simplicity of a cabover-less truck camper design, but still want the robust build and appointments of a modern truck camper, the Vista is nothing less than a home run.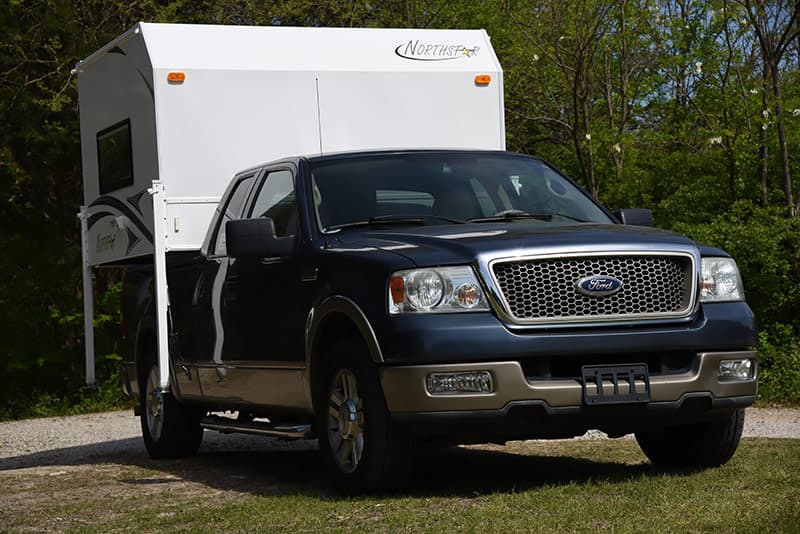 Of course being a cabover-less camper means there are some compromises within the very concept of the unit.  If you can't live without a cabover bedroom, or a separate bathroom, no amount of build quality, standard features, or options is going to sway you to the Vista.  That's why Northstar builds eight hard side and three pop-up models that have these features.
All too often, the first generation of a new camper feels like prototype.  Not with the Vista.  From the quantity and quality of its interior storage, to the highly versatile and functional kitchen and dinette/bed, the Vista looks and feels like a time-tested and refined truck camper.
At the onset of this review, we wondered if the Vista could truly be a full-blooded hard side Northstar Camper.  Having seen the Vista in person, and having lived in Northstar Campers for one year on two separate occasions, the answer is yes.  For us, we would prefer the space, storage, and capabilities of a cabover and separate bath, but in no way did the Vista feel like a watered down Northstar model.  The Vista is, in every way, a full-blooded hard side.  Well done, Northstar.
Pros
Half-ton compatible if carefully matched
Very functional kitchen with ample two-level countertop space
Seemingly endless interior storage locations – some nicely hidden
Smartly located 110-volt outlets and 12-volt/USB charging ports
Very clever and versatile dinette bed and upper bunk designs
Excellent water, propane, and battery capacities for a small camper
Cons
Optional 7.5 gallon exterior grey tank is not insulated
HDTV antenna needs a more secure installation
Converting the upper bunk and the Lagun table takes some practice
Upper bunk cushions and support boards take up a lot of storage space
Dinette seat backs need cushions
Solid entry door does not permit through-camper visibility
Model Information
2016 Northstar Vista
MSRP: $12,595
Warranty: Two-year structural warranty.  Individual appliances have their own warranties.
R.C. Willett Company, Inc.
3040 Leversee Road
Cedar Falls, IA 50613
Phone: 319-233-3461
Request A Northstar Vista Brochure
Web: northstarcampers.com
Quality, Customer Service, and Long-Term Reliability
Truck Camper Magazine inspects all reviewed truck campers for design, material, and quality issues and reports what we find.  However, since Truck Camper Magazine reviews only brand new truck campers, our reviews do not address long-term quality, customer service, or reliability.
To learn about a brand's long-term quality, customer service, and reliability, Truck Camper Magazine recommends talking directly with truck camper owners at truck camper rallies and online via truck camper forums and truck camper owners groups.
Please be sure to balance your gathered feedback across multiple sources including direct correspondence with the truck camper manufacturers and your closest truck camper dealers.  Please read the Newbie Corner if you are new to truck campers.