Northstar takes their most popular floor plan, trims the cabover, and launches the half-ton ready 2016 Northstar Vista.  Introducing the lightest and most affordable Northstar hard side.

Who hasn't looked at a big house, or a big automobile, or a big RV an thought, "Wow, that's amazing!  All the room, and the features, and the luxury.  I want that!"
Hopefully, before you sign any paperwork, you come to your senses and think, "That's way more than I need.  It's also more to pay for, maintain, clean, and insure.  Maybe I should look at something more practical."  At this point you rediscover what you need, and take a hard look at what you want.
For many truck camper customers, all they need and want is a warm and comfortable place to eat, sleep, and store their gear.  They want all the versatility a truck camper can promise, with a minimum of hassle, weight, and cost.  Sleeping on the ground in a tent is no longer appealing, if it ever was, and they're not interested in a pop-up style camper.  For this customer, the cabover-less 2016 Northstar Vista will be nothing less than a revelation.
Having worked a number of RV shows over the years, I can easily picture the Vista, matched and mounted to a 2015 Ford F150, instantly capturing the attention of many show attendees.  They would see everything they need, in a simple and efficient form.
In that moment, any possible concerns about matching, payload, and weight would evaporate as they sat in the Vista and imagined being on the road to adventure.  When they added up the total truck and camper cost, their wallet might leap from their pocket, relieved that they don't have to sign a big note, or buy a one-ton truck, to chase their dreams.
As a magazine, we are very excited about the emerging trend towards cabover-less campers and believe they will entice more younger customers, single customers, and overland customers to the truck camper marketplace.  And who knows, it may just entice a few Class B buyers to say, "Hasta la vista, baby!" and buy a truck camper.
To find our more about the 2016 Northstar Vista, we talked to Rex Willett, President of Northstar Campers.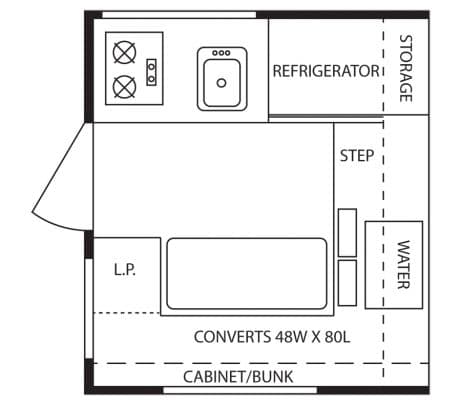 2016 Northstar Vista Specifications:
The 2016 Northstar Vista is a hard side camper made for short bed trucks.  The interior floor length of the 2016 Northstar Vista is 6'8" and the interior height is 6'0″.  The 2016 Northstar Vista has a 20 gallon fresh tank, optional 4 gallon water heater, and an optional 7.5 gallon grey tank.  It can accommodate two batteries and has one twenty-pound exchangeable propane tank.  The base weight of the 2016 Northstar Vista is 1,260 pounds.  The base MSRP for the Northstar Vista is $12,595.

Above: The 2016 Northstar Vista on a 2015 Ford F150 – All photography was supplied by Northstar Campers.  Click to enlarge the photos throughout this article.
TCM: What led you to build a cabover-less truck camper?
Rex: In the mid-1960s, when Northstar was named Texson, my dad sold hundreds of cabover-less campers.  I have a photograph of one here that I'll send in for the article.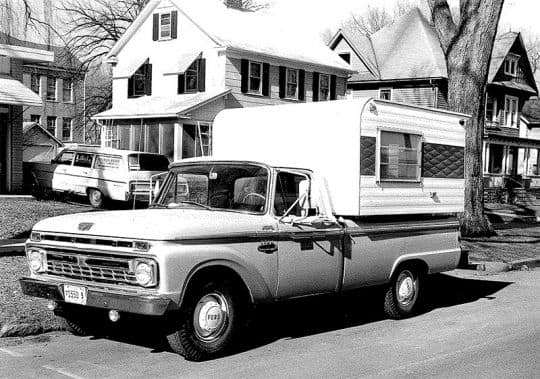 Above: A picture of a mid-1960 Texson – click to enlarge
Sometimes a cabover-less camper is all people want, or all they need.  They don't need the extra room, not to mention weight and wind resistance, of a cabover.  What they do want is comfort and amenities.  So the concept of the Vista came from Northstar's history, and from customer requests for a lighter and more simple truck camper solution.
I am not approaching the Vista as just an inexpensive sleeper.  The Vista essentially starts with our most popular floor plan, the Northstar TC650, and eliminates the cabover.  Right out of the gate, the 2016 Northstar Vista benefits from decades of refinement.