Truck Camper Magazine talks to Rex Willett, Vice President of Northstar Campers, about the new 2012 Northstar Liberty.  Ford F-150 Eco-Boost, meet camper.
Imagine if thousands of truck camper consumers got together and designed the ultimate truck camper.  This radical approach to product design is called crowd sourcing and it has led to consumer products that are specifically tailored to public demand.
The first truly crowd sourced truck camper design has yet to be built, but there are signs that a more consumer driven design approach is taking root within the truck camper industry.  To support this trend, we sponsored the first annual Ultimate Truck Camper Survey this past December.  In truck camper design labs across the United States and Canada, this unprecedented survey is currently being studied, dissected, and analyzed to steer truck camper design decisions in the near future.  The crowd has spoken.
Speaking of truck camper labs, Northstar has been diligently working on a new truck camper design for over a year.  The Northstar Liberty was developed in direct response to years of consumer and dealer feedback.  The consumer and dealer requirements were simple; short bed, half-ton compatible, self contained, and nothing past the rear bumper.  That's what the crowd wanted.  That's what Northstar delivered.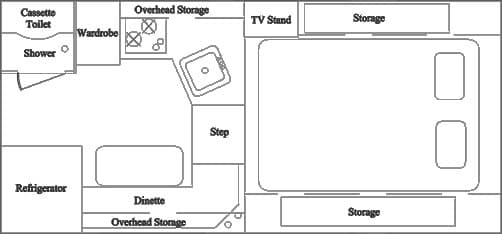 2012 Northstar Liberty Specifications:
The 2012 Northstar Liberty is a hard-side, non-slide, wet bath truck camper that is made for short bed trucks.  The interior floor length of the 2012 Northstar Liberty is 7'0″ and the interior height is 6'4″.  Northstar is reporting the dry weight of the Northstar Liberty at 1,750 pounds with standard features.  The tanks in the 2012 Northstar Liberty are 20 gallons fresh, 13 gallons gray, and a 5 gallon cassette toilet with 4 gallons of fresh water.  The camper accommodates one battery and two twenty-pound propane tanks.  The MSRP for the 2012 Northstar Liberty is $19,770.
Above: The 2012 Northstar Liberty on a 2012 Ford Eco-Boost.

TCM: Tell us about the Liberty.  It's a very unique camper in Northstar's line-up.
Rex: The vision for this camper was to sleep at least a dozen people comfortably, feature a dry bath complete with shower and lounge, and a four door refrigerator.  Just kidding.  You can only put so much air in a balloon.  As with any new camper, it all starts with an ambitious wish list.  In reality, we wanted to build a hard side truck camper that was fully self contained and suitable for half-ton short bed trucks with sufficient payload.
The Liberty is designed for two people.  It would also work will for two people with a small child and/or a pet.  Our hard side market is looking for campers that they can take long distance and use for extended boondocking.  Our customers want to get to the places they have never seen in our country.
To accommodate the needs of our customers in a short bed half-ton compatible camper was a challenge.  The Liberty features a cassette toilet, shower, and enough storage for two people on an extended trip.  Most importantly, the Liberty does not extend past the back of the truck.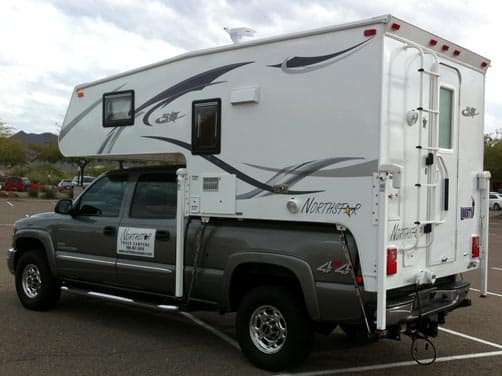 Above: The Northstar Liberty goes on a short bed truck and does not extended past the rear bumper.
TCM: Why was not extending past the rear of the truck an important criteria for the Liberty?
Rex: People who tow horses don't want their camper to go past the rear bumper.  The Liberty doesn't extend past the rear bumper so the owners won't need a stinger to tow.
I think the camper happened out of customer need.  That's what drives everything.  The customers told us that they wanted a camper that doesn't extend past the rear bumper, is self contained, and has a lot of interior room and storage.  That's where the Liberty began.
Above: Kitchen, dinette, and bathroom of the Northstar Liberty
I did seek out some knowledgeable people in the industry for pointers and guidance.  I talked in length with RV industry veteran Bill Durkee.  Bill is a wonderfully close friend of mine and a very experienced truck camper person both personally and professionally.  It's not just my viewpoint that's important, so I get perspectives from people I trust.
Bill Penney was also a big part of the Liberty.  He was instrumental keeping me on track.  He'd say, "No you don't need that" or "don't forget this" or "that's fine" or "I can live with that".  I'd call back with measurements or ideas.  We get abstract viewpoints and let them percolate for two to three days.  In the meantime we talk to guys on our production line and look at the code books.  That's how the birth of the Liberty came about.
Above: Interior details of the Northstar Liberty

TCM: Tell us about the process of designing this camper.
Rex: Northstar's goal is for our campers to be four things; durable, warm, functional, and practical.  First and foremost those things have to be in every camper we build.
I think the Liberty model started off as a small basement model where we were walking around above the wheel wells of the truck.  At first, we were going to put a big grey and fresh water tank inside the floor.
Rory and I talked and studied some of the basement model campers that we like in the market place.  We didn't want to increase overall height and the center of gravity.  Taller height is taller center of gravity, which increases wind weight.  So we wound up eliminating the basement.
We also decided that it was essential that the front pop-out window lined up with the truck window so a pet or pets can go back and forth between the camper and the truck.  Many truck camper owners have pets, so this was important to us.
Another goal in designing this camper was staying low profile.  The Liberty needed to be compatible to the Ford F-150 and other similar half ton trucks.
We were thinking of putting the refrigerator in the overcab, but that too, would increase the overall height.  In Northstar truck campers, we have innerspring mattresses that are 6.5 inches thick.  I don't want foam that's only four inches thick because I want people to sleep comfortably.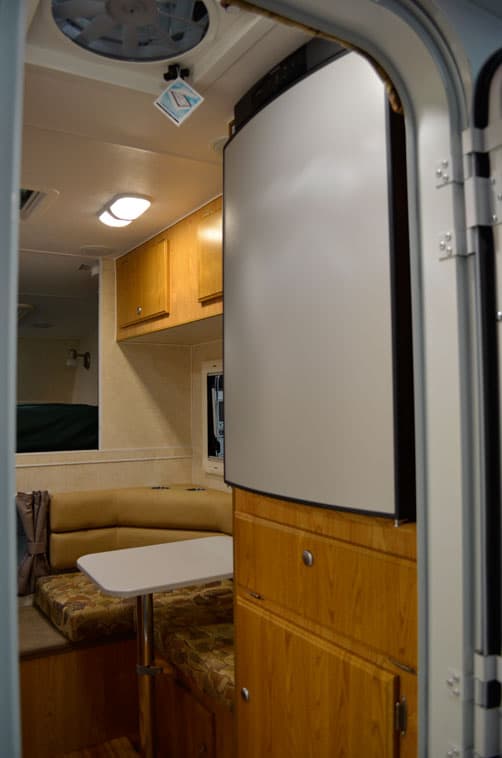 If you put a refrigerator in the overcab, the door has to swing over the mattress.  Well, once your bedding is on, it would be difficult unless we put the refrigerator higher and that would make the camper higher, which would make the center of gravity go up.  Mounted on a truck, the Liberty would have looked like a monkey on a football with the overall height.
As we built it, the center of gravity on the Liberty is only twenty-four inches from the front of the floor.
When planning this camper, Bill Penney, owner of Truck Camper Warehouse, told me that we had to take our 8.5 models and shorten them up.  He said that would make the perfect little camper.  That percolated with me for a few days and, a few chicken scratches and measurements later, Bill's camper idea made great sense.  Instead of creating everything fresh, we were able to shorten our 8.5 Arrow that we've been building for thirty years.  We've got it down.
There's a lot to be said for using a design we know inside and out.  For example, if a customer calls and says, "My back left camper jack doesn't work.  Can you help me?"  We know to say, "Take the drawer off near the furnace and look back at the rear wall.  You'll see the jack controller there.  Pull the cover off and you'll find the fuse for the rear left jack is blown.  Replace it and you're good to go."
Our familiarity with our products helps us service our customers better.  It also helps us to build better campers.  We don't want to introduce a new camper every year because we would quickly lose our familiarity with the product and the skill of servicing the customer.  This is the kind of thinking that goes into everything we do at Northstar.
TCM: What trucks did you have in mind for the Liberty?
Rex: I think the Liberties will go over quite well with the Ford Eco-Boost.  It has a strong payload on it.  The three-quarter tons will be nice for horse people or towing.
When our dealers put together truck camper packages they look at each individual truck.  They make sure they have air bags, correct tires, and watch what equipment is going into each camper to keep the overall weight down.  The biggest thing that needs to be stated is that it doesn't matter what half ton truck you own; with a truck camper, you're overloaded.  Do the math.
We have to methodically work with the customer.  All of our dealers are skilled.  Northstar dealers are wonderful and we make sure that they have the same philosophy that we do.  We are not going to hoodwink anyone.  Anyway, our buying customer won't be hoodwinked.
TCM: Were any Northstar models discontinued when you debuted the Liberty?
Rex: The short bed Freedom has been eliminated.  We want to keep the long bed Freedom for someone who wants a lightweight camper and needs room for more than two people.  The Freedom has a dinette bed in the lower part for sleeping, and has the capability to go on half ton trucks, payload permitting.
TCM: How is the Liberty a better camper than the Freedom short bed it replaces?
Rex: The center of gravity, floor length, weight, ride control, and the ability to tow without an overhang makes the Liberty better than the Freedom for short bed trucks.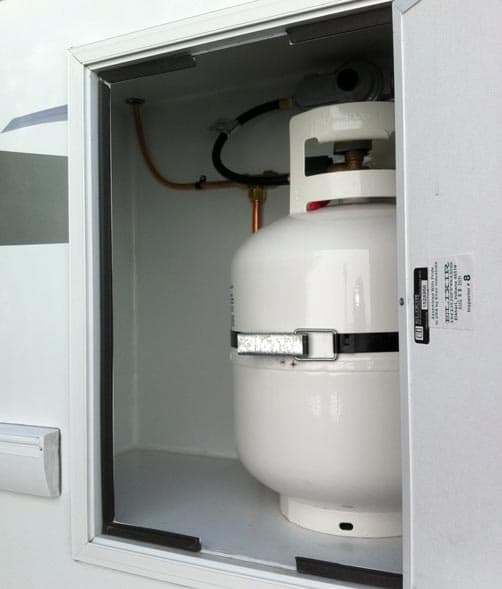 Above: The Northstar Liberty has the capacity for dual propane tanks
TCM: At Louisville, you said you were thinking of some changes to the Liberty.  Have you made any changes?
Rex: The Liberty that we showed in Louisville had room for a single twenty pound propane tank.  The revised Liberty models have room for a second twenty pound tank.  To reduce weight, the Liberty features a single regulator hose so you'll need to switch over the tanks manually.  We always have to be conscious of overall weight and cost.  The Liberty offers a great bang for the buck, has great versatility, and comes in at the right weight.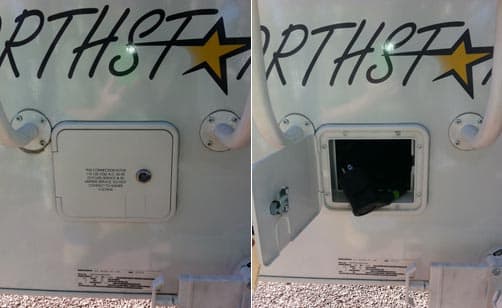 Above: After revisions, the Liberty's power cord fits in an outside compartment.
TCM: Are there any new materials, components, or options in the Liberty that haven't been in Northstar Campers before?
Rex: We have R16 insulation in the ceiling, and all rest of the camper body is R5, including our floors.  That's a pretty good insulation factor, and it makes the camper quiet.  We've also been offering an insulation pack for the past six to eight months.  It costs a couple hundred bucks, and almost everyone wants it.  Our insulated windows are standard in the Liberty, which makes for a warm, comfortable camper.
Above: The optional Northstar insulation pack on the production line

TCM: What's in this optional insulation pack?
Rex: There are actually two materials used in the insulation pack, Celotex and Astrofoil.  Celotex is a much better extruded foam insulation than our standard foam insulation.  For our insulation pack, we substitute the Celotex for the standard foam.  Then we add Astrofoil to the roof before we deck it.  Astrofoil is a foil edged bubble wrap insulation that reflects heat or cold.  Of course the roof has Celotex as well.
We build our campers out of wood.  I just want to say that they're warm.  You can't stop aluminum from transferring cold or stop aluminum from sweating.  Plus, with wood you can fix it locally if there's an issue.  With a laminated wall or aluminum framing, you're in big trouble if you need a repair, even if you're right at the factory.
TCM: What is the dry weight and MSRP of the Liberty?
Rex: With standard equipment, the Liberty is 1,750 pounds.  In the near future, we will  have new materials for all of our countertops, tables, and all interior doors.  The material itself is 50% lighter than what we have now, so I think I can get the Liberty to the 1,600 pound range.  We weigh every camper before they leave the factory and will report the change in weight with the new material to Truck Camper Magazine.
I don't think customers will put a lot of options on the Liberty.  On our website we list options and accessories with their weights, so start with the base weight and add the accessory and options weight you want.  For example, an antenna is nine pounds and outside shower is eight pounds.  Some of that weight is the required wiring and plumbing and other materials necessary for those options.
The MSRP for the 2012 Northstar Liberty is $19,770.  I wanted the whole enchilada to be under $20,000.
TCM: Anything close to a 150 pound weight reduction from the new material would be very impressive.  Are there Northstar Liberty models at Northstar dealers now?
Rex: Right now there are Liberties at Five Star in Denver, at Truck Camper Warehouse in New Hampshire, S.C.A.T.T. Recreation in Sacramento, as well as our dealer in Edmonton.  In late February they'll be in Wisconsin.  Lots of our dealers have them on order.  I don't think we've been this busy at this time any time in our history.
TCM: Will there be a revised Liberty at the Springfield RV Show in February?
Rex: Yes, there will be a Liberty, American Hero, and an Igloo with the new flat roof.  The flat roof makes the camper interior appear larger.  We're going to have at least eight campers in the Springfield show.  All of the campers will be really fresh.  I'm excited about that!
The Liberty will be going to the Denver, Colorado RV shows in January and March.  It will also be at the RV Show in Edmonton.  Northstar will be in some of the major RV shows, but you're not going to see us in every little nook and cranny show.  We'll make sure all the RV shows Northstar is attending are listed in Truck Camper Magazine's RV Shows & Rallies page.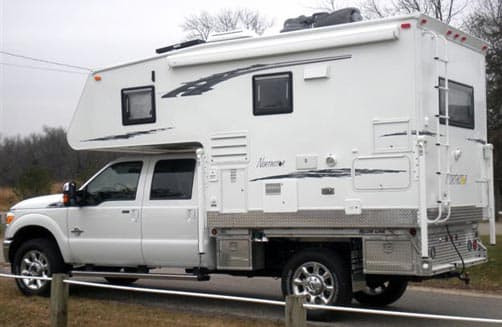 Above: The Northstar American Hero
TCM: How are things going with your latest camper, the American Hero?
Rex: People like it.  We have built enough to where we feel we have the model completely tweaked out.  It has excellent storage and placement of equipment.  We have some American Hero campers being built on the line right now.
We can also build flat bed pop-up truck campers.  I noticed in your 2012 TCM Ultimate Camper Survey that some people are interested in flat bed pop-up campers.  While I'm not yet ready to put flat bed pop-up campers on our website, if people are interested in them, call me and we'll make it happen.
TCM: What should we be looking forward to from Northstar in 2012?
Rex: I'll have a couple small, little things at the Springfield, Massachusetts RV Show that we are thinking about incorporating across the line.  They are ideas from our customers.  Right now I'd rather not say what they are, but they make sense and are quite practical.  You'll have to come out and see.
The new doors, countertops, and table material is made just forty miles from us by the company that does Winnebago's doors, countertops, and table materials.  Since we are located in Iowa, we can take full advantage of what this company has to offer.  They have a new factory and the sky is the limit for making new items for us to try.
TCM: Is there anything else that you'd like to add to your interview about the Liberty?
Rex: The biggest challenge we face in the next year will be the interiors of our bathrooms.  We're working on some exciting changes now.
We're very excited about the new Liberty.  We're still making some small tweaks and changes, but that's true of the rest of our camper line as well.  We always make small changes and tweaks to improve our products.  Northstar will keep doing what we're doing, and doing it well.