Truck Camper Magazine talks to Rex Willett, Vice President of Northstar Campers, about the new 2012 Northstar Liberty.  Ford F-150 Eco-Boost, meet camper.
Imagine if thousands of truck camper consumers got together and designed the ultimate truck camper.  This radical approach to product design is called crowd sourcing and it has led to consumer products that are specifically tailored to public demand.
The first truly crowd sourced truck camper design has yet to be built, but there are signs that a more consumer driven design approach is taking root within the truck camper industry.  To support this trend, we sponsored the first annual Ultimate Truck Camper Survey this past December.  In truck camper design labs across the United States and Canada, this unprecedented survey is currently being studied, dissected, and analyzed to steer truck camper design decisions in the near future.  The crowd has spoken.
Speaking of truck camper labs, Northstar has been diligently working on a new truck camper design for over a year.  The Northstar Liberty was developed in direct response to years of consumer and dealer feedback.  The consumer and dealer requirements were simple; short bed, half-ton compatible, self contained, and nothing past the rear bumper.  That's what the crowd wanted.  That's what Northstar delivered.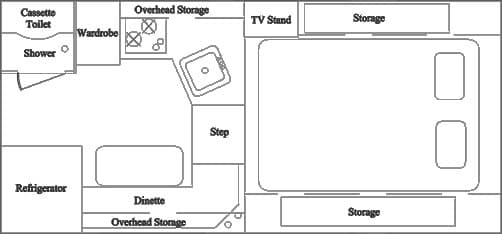 2012 Northstar Liberty Specifications:
The 2012 Northstar Liberty is a hard-side, non-slide, wet bath truck camper that is made for short bed trucks.  The interior floor length of the 2012 Northstar Liberty is 7'0″ and the interior height is 6'4″.  Northstar is reporting the dry weight of the Northstar Liberty at 1,750 pounds with standard features.  The tanks in the 2012 Northstar Liberty are 20 gallons fresh, 13 gallons gray, and a 5 gallon cassette toilet with 4 gallons of fresh water.  The camper accommodates one battery and two twenty-pound propane tanks.  The MSRP for the 2012 Northstar Liberty is $19,770.
Above: The 2012 Northstar Liberty on a 2012 Ford Eco-Boost.

TCM: Tell us about the Liberty.  It's a very unique camper in Northstar's line-up.
Rex: The vision for this camper was to sleep at least a dozen people comfortably, feature a dry bath complete with shower and lounge, and a four door refrigerator.  Just kidding.  You can only put so much air in a balloon.  As with any new camper, it all starts with an ambitious wish list.  In reality, we wanted to build a hard side truck camper that was fully self contained and suitable for half-ton short bed trucks with sufficient payload.
The Liberty is designed for two people.  It would also work will for two people with a small child and/or a pet.  Our hard side market is looking for campers that they can take long distance and use for extended boondocking.  Our customers want to get to the places they have never seen in our country.
To accommodate the needs of our customers in a short bed half-ton compatible camper was a challenge.  The Liberty features a cassette toilet, shower, and enough storage for two people on an extended trip.  Most importantly, the Liberty does not extend past the back of the truck.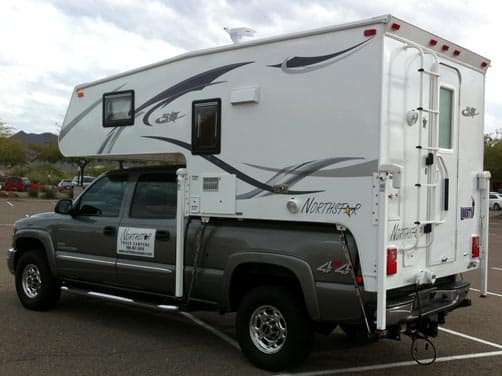 Above: The Northstar Liberty goes on a short bed truck and does not extended past the rear bumper.
TCM: Why was not extending past the rear of the truck an important criteria for the Liberty?
Rex: People who tow horses don't want their camper to go past the rear bumper.  The Liberty doesn't extend past the rear bumper so the owners won't need a stinger to tow.
I think the camper happened out of customer need.  That's what drives everything.  The customers told us that they wanted a camper that doesn't extend past the rear bumper, is self contained, and has a lot of interior room and storage.  That's where the Liberty began.
Above: Kitchen, dinette, and bathroom of the Northstar Liberty
I did seek out some knowledgeable people in the industry for pointers and guidance.  I talked in length with RV industry veteran Bill Durkee.  Bill is a wonderfully close friend of mine and a very experienced truck camper person both personally and professionally.  It's not just my viewpoint that's important, so I get perspectives from people I trust.