Truck Camper Magazine asks Rex Willett, President of Northstar Campers, about Thetford cassette toilets, the advantages of cassette toilet systems, and their proper maintenance.

Are cassette toilets what came after 8-track toilets and before CD toilets?  Well, not exactly.  Manufactured by Thetford Corporation, a cassette toilet is a built-in RV toilet system with a removable 5.1 or 4.5 gallon portable black tank.
The versatility of a cassette toilet truly gives the saying, "Camp Anywhere, Go Anywhere" a whole new meaning.  For example, the primary advantage of a cassette toilet is that it can be dumped into any residential toilet.  You can also use a RV dump station with a cassette toilet, but you don't need one.  If you don't want to wait in line at a dump station, or worry about a dump station being closed in the winter, a Thetford cassette toilet is a great option.
Northstar Campers is the only manufacturer that installs Thetford cassette toilets as standard equipment on all of their hard-side and most of their pop-up campers.  Many other pop-up camper manufacturers install Thetford cassette toilets as either standard or optional equipment including Alaskan Campers, Hallmark RV, Four Wheel Campers, Coyote RV, and Palomino RV.
Getting A Cassette Toilet Ready for Camping

When inserting a cassette toilet tank into the cassette holding tank compartment, make sure that the automatic pressure release vent knob is lined up with the track on the inside of the compartment.  Also check that the slide cover is on the cassette.  With everything lined up, push the cassette in until the safety catch snaps into place.  Now your cassette tank is in position for use.

The next step is to fill your cassette toilet's five-gallon reservoir with water.  There is a permanent spout that swings out in the upper part cassette compartment for filling the reservoir.  This water will be used to flush your toilet.
To check the level of the fresh water in the cassette toilet's reservoir, look at the clear tube in the right corner of the outside compartment.  Once your cassette tank is in place and your reservoir is filled, you are ready to go camping.
By having a separate cassette toilet reservoir, you do not need to use any of your fresh water to flush your toilet.  According to Rex, a typical RV toilet uses about a half-gallon of fresh water to flush.  He explained that using fresh water out of a cassette toilet's own reservoir instead of a typical fresh water tank you can save your fresh water for more important things like taking a shower or washing dishes.
During our conversation about the reservoir, Rex also mentioned that you can put lake water or campground water in the reservoir tank.  You are just going to use it to flush your toilet, so it does not need to be up to drinking water standards.
Cassette Tank Chemicals

Rex suggests using an entire pouch of holding tank deodorizer when using your cassette toilet.  Using a whole pouch should eliminate any odor and allow you to use residential toilet paper, if you prefer.  Thetford recommends putting the dump tank deodorizer directly into the cassette holding tank and not through the toilet bowl.
Dumping A Cassette Toilet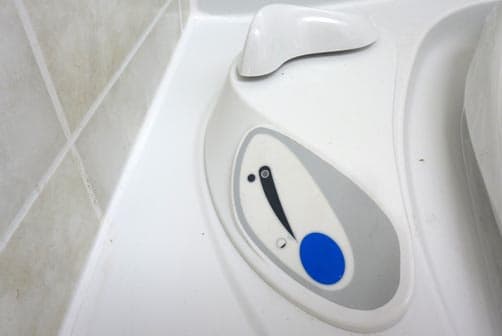 Located in the bathroom of a cassette toilet equipped camper, there is a waste tank level indicator with a warning light to alert you to when the cassette needs to be emptied.
To remove the cassette toilet tank from the cassette holding tank compartment, release the safety catch and pull on the green handle.  Once you move the cassette holding tank to the ground, you can use it's wheels and handle to roll the tank anywhere you need to go, just like a rolling suitcase.

Once you've brought the cassette holding tank to a residential toilet, put your foot behind the tank to steady it.  Then take the cap off, pull the rotating emptying spout out, hold the cassette tank by the upper handle, and turn the entire tank toward the toilet.
With the cassette tank in position, push in the breather valve button and let the tank drain out.  The breather valve makes it so the waste tank can be emptied quicker and easier.
Residential toilets will auto flush when they get full, so you do not need to continually flush the toilet as your cassette is draining.  Draining a full cassette takes about one to two minutes.