Introducing the Torklift PowerArmor DH locking battery box, HiddenPower under bed auxiliary mount, and the Fortress GasLock.

You can always count on Torklift International to find, research, and solve problems we experience as truck camper owners and users.  While many folks think Torklift International is simply in the tie-down, turnbuckle, and towing business, they see themselves as a product solution company with a focus on the truck camper marketplace.
For evidence of this focus, look at a few of their product debuts from the past two years; the Torklift Quick Disconnect StableLoad to help solve sway, the Torklift WobbL Stoppr to stabilize dismounted campers, and the Torklift Glowsteps and GlowGuide to offer a better scissor step, and make camper entry and exit safer.
Now Torklift International is debuting three more product solutions for truck camper owners; the Power Armor DH locking battery box, Hidden Power under bed auxiliary mount, and the Fortress GasLock.  To learn more about these all-new products, we talked to Jack Kay, Principal at Torklift International, Jay Taylor, General Manager for Torklift International, Candice Boutillier, Marketing Director for Torklift International, and Randy Fisher, Torklift International's new National Sales Manager.
PowerArmor DH Locking Battery Box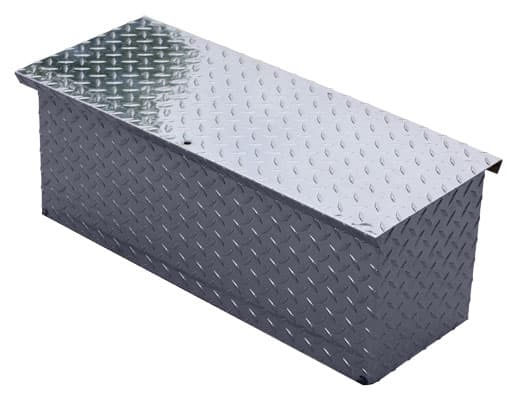 Above: The PowerArmor DH Locking Battery Box
TCM: Let's start with the PowerArmor DH Locking Battery Box.  Tell us about the PowerArmor DH and how it fits into the truck camper marketplace.
Jack: A lot of truck campers use trailer hitches to tow cargo and other types of trailers behind their truck camper.  These trailers often have exposed batteries on the tongue that are susceptible to theft.  The PowerArmor DH is a high quality aluminum locked battery box designed to hold and protect two Group 24 or Group 27 batteries.
Jay: Because the way it mounts up, it could even be mounted on a truck camper.  It's lockable with a slide top, so you can use it for outside storage, and/or batteries.  By using it with batteries, you will have extra battery power for your truck camper.  Plus, it looks good and compliments the outside of your rig.
TCM: What does the DH in the product name stand for?
Jack: DH stands for Darrel Hagglund, the Torklift employee who came up with the idea for the PowerArmor DH.  Darrel had the idea after talking with people he knew who had their batteries stolen off their trailer.
When the bad guys come and take the batteries, they take cutters and cut everything off.  It's expensive to replace batteries, as they sometimes run $125-150, but you also have to repair the cables on the trailer, which can be very expensive.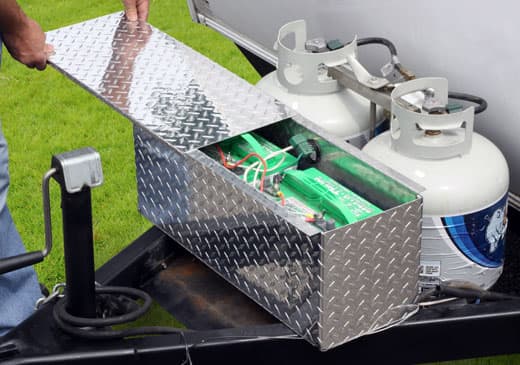 Above: The PowerArmor DH in use with space for two Group 24 or Group 27 batteries
TCM: How does the user connect the batteries in their PowerArmor DH to the truck camper?
Jack: There is an access hole in the back of the PowerArmor DH and the electrical wires pass through the side walls of the box.  It can then be wired into your 12 volt electrical circuit.  Anyone who can install a car stereo can install batteries and the PowerArmor DH.  It's not super technical, so most do-it-yourself folks can do it.
TCM: Can the consumer replace the lock with their own, or is the design only for the included lock?
Jack: We supply a specific lock similar to the Torklift FastGun lock and Torklift GlowGuide lock.