Introducing the Torklift PowerArmor DH locking battery box, HiddenPower under bed auxiliary mount, and the Fortress GasLock.

You can always count on Torklift International to find, research, and solve problems we experience as truck camper owners and users.  While many folks think Torklift International is simply in the tie-down, turnbuckle, and towing business, they see themselves as a product solution company with a focus on the truck camper marketplace.
For evidence of this focus, look at a few of their product debuts from the past two years; the Torklift Quick Disconnect StableLoad to help solve sway, the Torklift WobbL Stoppr to stabilize dismounted campers, and the Torklift Glowsteps and GlowGuide to offer a better scissor step, and make camper entry and exit safer.
Now Torklift International is debuting three more product solutions for truck camper owners; the Power Armor DH locking battery box, Hidden Power under bed auxiliary mount, and the Fortress GasLock.  To learn more about these all-new products, we talked to Jack Kay, Principal at Torklift International, Jay Taylor, General Manager for Torklift International, Candice Boutillier, Marketing Director for Torklift International, and Randy Fisher, Torklift International's new National Sales Manager.
PowerArmor DH Locking Battery Box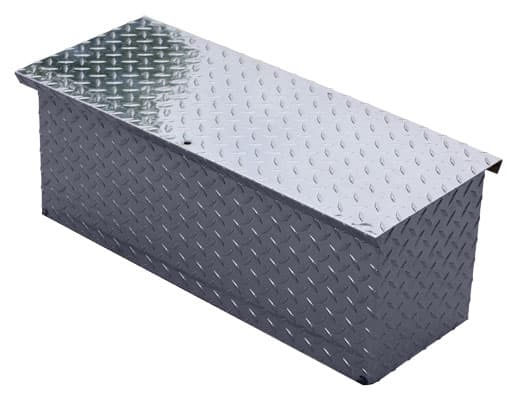 Above: The PowerArmor DH Locking Battery Box
TCM: Let's start with the PowerArmor DH Locking Battery Box.  Tell us about the PowerArmor DH and how it fits into the truck camper marketplace.
Jack: A lot of truck campers use trailer hitches to tow cargo and other types of trailers behind their truck camper.  These trailers often have exposed batteries on the tongue that are susceptible to theft.  The PowerArmor DH is a high quality aluminum locked battery box designed to hold and protect two Group 24 or Group 27 batteries.
Jay: Because the way it mounts up, it could even be mounted on a truck camper.  It's lockable with a slide top, so you can use it for outside storage, and/or batteries.  By using it with batteries, you will have extra battery power for your truck camper.  Plus, it looks good and compliments the outside of your rig.
TCM: What does the DH in the product name stand for?
Jack: DH stands for Darrel Hagglund, the Torklift employee who came up with the idea for the PowerArmor DH.  Darrel had the idea after talking with people he knew who had their batteries stolen off their trailer.
When the bad guys come and take the batteries, they take cutters and cut everything off.  It's expensive to replace batteries, as they sometimes run $125-150, but you also have to repair the cables on the trailer, which can be very expensive.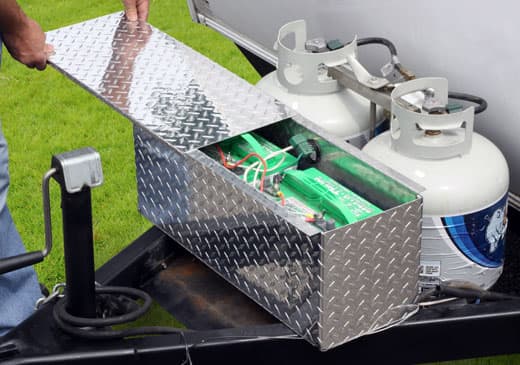 Above: The PowerArmor DH in use with space for two Group 24 or Group 27 batteries
TCM: How does the user connect the batteries in their PowerArmor DH to the truck camper?
Jack: There is an access hole in the back of the PowerArmor DH and the electrical wires pass through the side walls of the box.  It can then be wired into your 12 volt electrical circuit.  Anyone who can install a car stereo can install batteries and the PowerArmor DH.  It's not super technical, so most do-it-yourself folks can do it.
TCM: Can the consumer replace the lock with their own, or is the design only for the included lock?
Jack: We supply a specific lock similar to the Torklift FastGun lock and Torklift GlowGuide lock.
TCM: What does the PowerArmor DH weigh?
Jack: The box is about four and a half pounds empty.  The weight of the PowerArmor DH with batteries would depend on what size and type batteries you choose.  Most batteries in this category are somewhere around 55 pounds each.
TCM: Is the PowerArmor DH design ventilated for the batteries?
Jack: The PowerArmor DH is ventilated by the wire pass through and slight gaps in the top and bottom of the box.  The box is not sealed or water tight as that would not be appropriate for this product.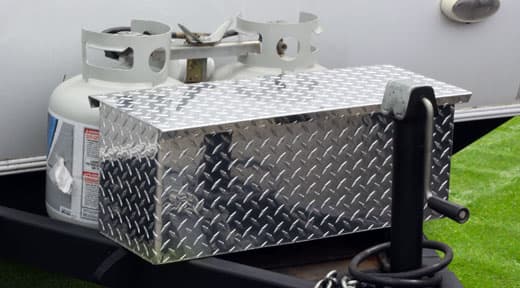 Above: The PowerArmor DH in use
TCM: How should an owner of a PowerArmor DH maintain the product?
Jack: The PowerArmor DH is aluminum, so it's not going to rust.  You may need to maintain your batteries if they happen to leak.
Jay: It's the same situation as underneath the hood of your truck.  Due to condensation in the air, batteries can collect build-up.  If this occurs, cleaning the PowerArmor DH  would be as simple as using baking soda and water.
TCM: Is the PowerArmor DH made in the USA at Torklift International?
Jay: Of course.  The PowerArmor DH is 100% made in America by Americans.
TCM: Does the PowerArmor DH come with Torklift International's lifetime warranty?
Jay: There is a lifetime warranty just like everything else on the Torklift product line.
Jack: We guarantee that it will be free from defects, and have a high level of workmanship.  There are no moving parts, so it's a pretty simple product.
HiddenPower Underbed Auxiliary Mount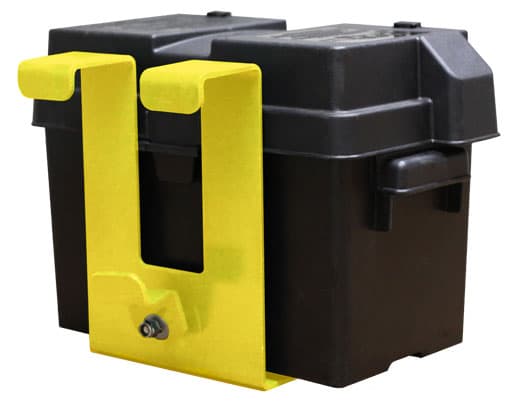 Above: The HiddenPower Underbed Auxiliary Mount
TCM: Let's move to the HiddenPower Underbed Auxiliary Mount.  Of all three products you're debuting, this product has captured our attention the most.  Tell us about the concept of the HiddenPower Underbed Auxiliary Mount and how it works.
Jay: The response has already been tremendous for the HiddenPower.  It's really generating a stir.
Randy: The best trips are often the spontaneous ones.  I've been dry camping for years, but sometimes we forget to charge or properly maintain our batteries.  All of a sudden the lights go dim and we can't run the furnace.  I don't want to start up a loud diesel truck or generator.  A lot of times solar panels are not effective, at least not here in the northwest where there is not a lot of sun.
The Torklift International HiddenPower allows you to have extra battery power in your camper.  I really like the concept because it allows me to keep my batteries charged and healthy for those spontaneous trips.  Now I don't have to worry about my batteries.
Jack: Back in the day, there was a lot of room for auxiliary battery mounts under the hood of trucks.  At that time there were different products for mounting batteries under the hood.  As technology advanced, truck manufacturers have put more and more equipment under the hood and have eliminated the possibility of adding under the hood batteries.  The Torklift International HiddenPower is the first product that we're aware of that allows an RV battery to be put back on the truck.
TCM: Randy explained that the HiddenPower helps to maintain your batteries.  How does that work?
Jack: The battery in the HiddenPower is tied into you truck's electrical system.  That connection keeps the battery charged and healthy.
TCM: That makes a lot of sense.  We have actually had to purchase a battery minder to keep our batteries from discharging over the winter as our camper sits.  That works well, but it's a pain to remove the batteries from the camper, put them in our garage, and remember to rotate the battery minder every few days.  The HiddenPower seems like an excellent alternative solution.
Is it safe to have a battery mounted under your truck?  For example, can a battery in that location be affected by water, snow, road salt, road debris, hurricane force winds, and off-roading?  Many truck camper trucks face all of the above.
Jack: Where the HiddenPower is located under the truck, it sits up in the frame area.  It's not any lower than any other major components under the truck.  Your truck's fuel tank is lower than the HiddenPower.  The HiddenPower is up and protected, so it is not a problem from that standpoint.
As far as interference from wind, water, snow, and road debris, it's in a dry area.  It is not going to have high wind exposure.  It's next to the truck frame.  Moisture and road salt is about the same as if the battery was sitting on the tongue of a trailer.  Actually, it's less exposed because of protection from the truck body.
Jay: The battery is protected from the elements in a plastic case.
TCM: What about accessing the battery for routine maintenance and checks?
Jack: A lot of people have a lead acid battery that requires maintenance to clean the terminals and add water.  The HiddenPower uses a single bolt clamp mechanism.  Just loosen the bolt and pull the HiddenPower away from the frame.  We also include a male and female quick disconnect plug for when you drop it down from the truck.  It takes a couple of minutes to loosen it up and take the battery out.
TCM: Is the HiddenPower compatible with all trucks?
Jack: We have the long bed Ford F-250 and F-350 series completed.  We are under development for Dodge Ram trucks and then we'll work on Chevrolet and GMC trucks.  The GM trucks will be more challenging because of their different frame.  We'll work on Toyota and other less common trucks last.
TCM: Where does the HiddenPower install on the Ford F-250 and F-350 trucks?
Jack: It gets installed on the passenger's side of the F-250 and F-350.  The Ford Super Duty has the HiddenPower low and forward.  Look at the picture, it's almost parallel to the end of the cab.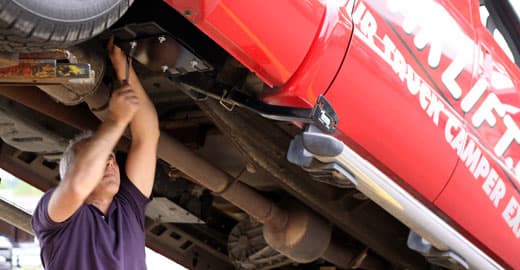 Above: The HiddenPower being installed
TCM: Is the HiddenPower something most folks can properly install?
Jack: Absolutely.  It has a no drill application.  Again, if you can install a car stereo, you can handle the electrical with this product.  In an event that you were going to separate the truck and camper, we make a quick disconnect wire harness connection to umbilical between the truck and the camper.
TCM: What size batteries can the HiddenPower Underbed Auxiliary Mount accommodate?
Jack: Group 24 or 27 batteries, just like the PowerArmor DH locking battery box.
TCM: Could someone have more than one HiddenPower mounted on their truck, or is there only room for one?
Jack: Space under a truck is very limited, so most truck owners will be limited to one HiddenPower.
TCM: What is the HiddenPower made from?
Jack: The mount is made from a high impact powder coated A36 steel.  It's a strong structural material, and easy to work with.  We use it with a lot of product like our hitches and camper tie-downs.
HiddenPower also comes with two part numbers so a customer can chose which size battery, Group 24 or Group 27 battery box they want with their kit.
TCM: And is the HiddenPower also made in the USA at Torklift International with the Torklift International lifetime warranty?
Jack: It is absolutely made in the USA and has our lifetime warranty.
TCM: Is there any maintenance necessary for the HiddenPower?
Jack: In a salt water situation like beach camping, it should be thoroughly rinsed off once you are off the beach just like you should be doing for the entire underside of your vehicle to prevent corrosion.  From time to time, anybody who has a vehicle with powder coated accessories should be checking for issues and touching up the powder coat when necessary.
Fortress GasLock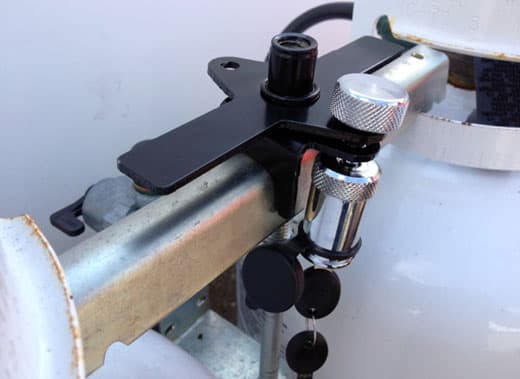 Above: The Fortress GasLock in use
TCM: The Fortress GasLock product surprised us.  We have never heard of someone having their propane stolen from a truck camper rig, but it's certainly possible.  Was this product developed with the truck camper market in mind?
Randy: The idea for this product idea came from a Torklift dealer who told us that propane tanks are often the target of theft.  We have even heard that propane tanks are stolen for use in meth labs.  Currently there is no propane lock on the market.
The Fortress GasLock will work with truck campers.  All truck campers have a non-lockable propane door.  The Fortress GasLock will help you protect your propane tanks.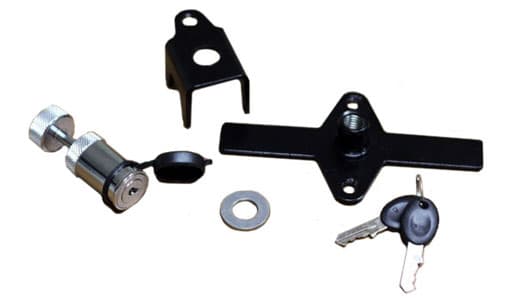 Above: The components of Fortress GasLock
TCM: The Fortress GasLock looks fairly simple to install.  Tell us how the consumer installs and uses the Fortress GasLock.
Randy: The collar is threaded and comes in half inch or three-eighths inch size.  You take off the one that comes with it and unscrew it.  Then put the bracket over the connector rod, put ours on, and lock it in.  You can do it one minute.
TCM: Propane compartments on RVs don't lock so emergency workers can quickly access the propane for safety and fire prevention.  With the Fortress GasLock, is the access to the propane compromised for these very rare but critical situations?
Jack: It is our understanding that the access to the valves is what first responders are concerned with.  That's why the tanks can be locked into position, but they still have unrestricted access to the valves with the Fortress GasLock installed.
TCM: Is the Fortress GasLock made in the USA by Torklift International?
Jay: One hundred percent.  And the response has been great on the Fortress GasLock.  It's just another security measure.  Propane tanks and accessories are very costly.
Jack: When thieves take things like batteries or propane tanks they don't take time to unscrew anything.  They are in a hurry, so they will cut the hoses to the RV.  They will clip the hoses, take the regulators, grab the tanks, and run.  The result is an expensive repair including running new hoses, new regulators, and new tanks.
Randy Fisher, National Sales Manager
TCM: Welcome to the truck camper community Randy.  Tell us about how you came to work for Torklift International.
Randy: I have been around RVs since I was seven or eight years old.  My grandfather had a truck camper and I remember when we camped in his backyard with my cousins.  That was cool.
In 1993 I moved from Indiana to Washington for my first job in the RV business.  I worked at a dealership in sales, consignments, financing, sweeping the floor, and whatever else needed to get done.  After spending many years at the dealer level, I took several years away from the RV business working for Comcast in management.
Then I came back to my senses and got back into the RV business.  Torklift International's employment ad caught my eye and compelled me to apply.  It seemed like a good fit.  I have a dealer's perspective and corporate training.  With Torklift International, I basically saw a great American company that has so much potential for growth.  I wanted to be a part of it.
My main responsibility is to help increase sales.  I have been here four weeks and I'm getting to know the Torklift culture, processes, and products.  My number one focus right now is to learn all that I can learn.
TCM: We know that Torklift International is a big believer in cross-training.  Tell us about your training so far at Torklift.  Have they had you installing Torklift turnbuckles and tie-downs yet?
Randy: I think I did that my second day there.  I've been under a truck, installed tie-downs and a SuperHitch.  You've got to do it to explain it.  That's the best way to learn.  I've learned that everything is custom for each truck and there are no drills used for the installation.
Final Questions
TCM: Any more new products or product updates coming down the pike for 2013?
Jay: We strive for new products and develop three to five new products a year.  There are one or two products that will possibly be coming out in 2012.  Our R&D testing drives what goes first.  Truck Camper Magazine will be among the first to know.
Our move to get everyone under one roof is in October.  We are going to get through the rest of the season and build up inventory so we have no problem with supply when we move.
TCM: Is there anything we didn't ask you that you would like to include in your interview?
Candice: We had one of our sponsors pull the name of the 2012 Torklift International Treasure Hunt at the end of August and we announced it in TCM.  Congratulations Mike Pascucci.
Jack: We have had another fantastic year.  And like Jay mentioned, our primary focus is to complete the final segments of our move into the new facility.