The Summer of Love.  Woodstock.  Apollo 11.  A lot happened in 1969, but what was going on with truck campers half a century ago?  Can you dig these rigs, man?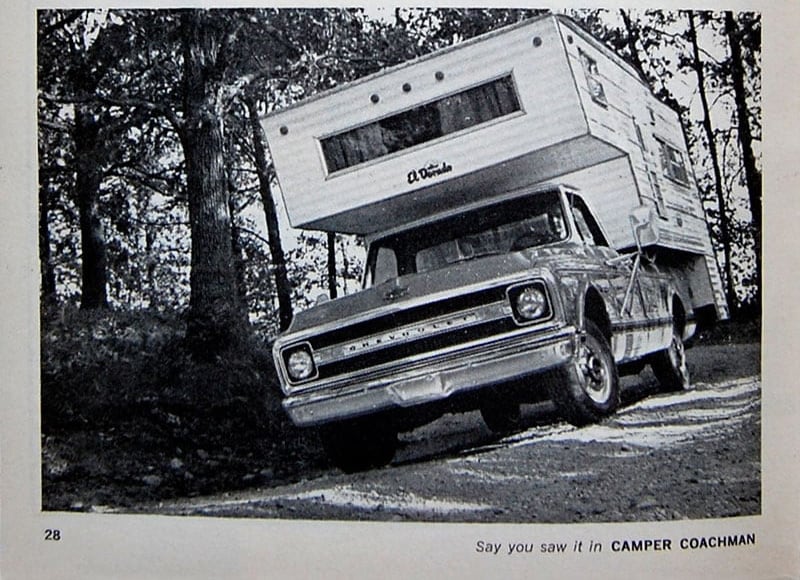 It would be easy to assume that truck campers were quite primitive in 1969. After all, they couldn't possibly resemble the modern truck campers of today – right?  In many ways, this assumption would be correct.  In other ways, you may be in for a surprise.
We have traveled back in time and brought back a dozen incredible print ads showcasing the truck camper market in 1969.  Ripped from the fabled pages of Camper Coachman (the original "truck camper magazine") these print ads reveal how far we've come – or have we?
1. Kaiser Jeep Corporation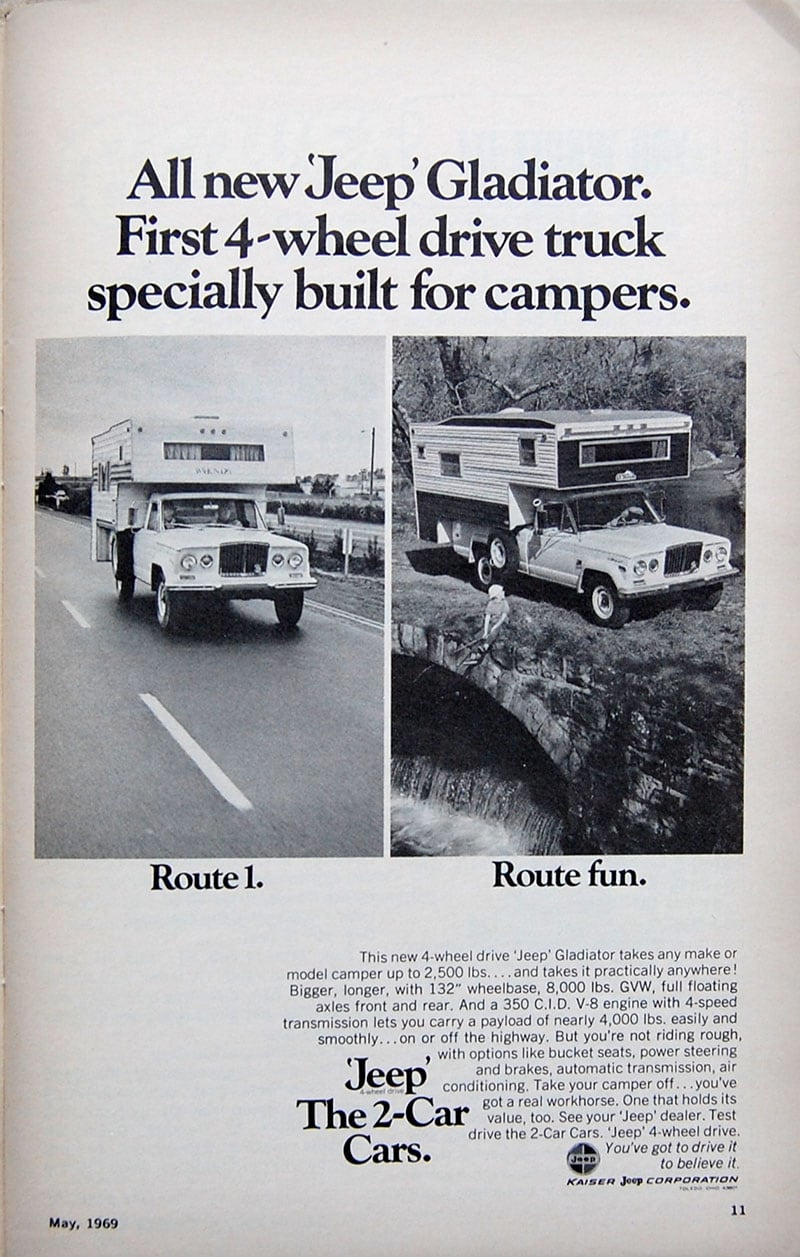 A Jeep truck specially built for a truck camper?  Groovy!  In the ad Jeep even states that the Gladiator is ready for any truck camper up to 2,500 pounds.  Imagine a truck manufacturer today not only running a print ad showing campers with their trucks, but listing the available payload!
The other interesting aspect of this ad is how in tune it is with the truck camping lifestyle.  It touts the Gladiator's four-wheel drive capabilities and the resulting ability to go, practically anywhere.
In an interesting twist, 50-years later Jeep is once-again announcing the all-new Jeep Gladiator.  Only this time it's not specially built for campers.  Oh, and the payload now maxes out at 1,600-pounds.  That's progress!
2. Ford Motor Company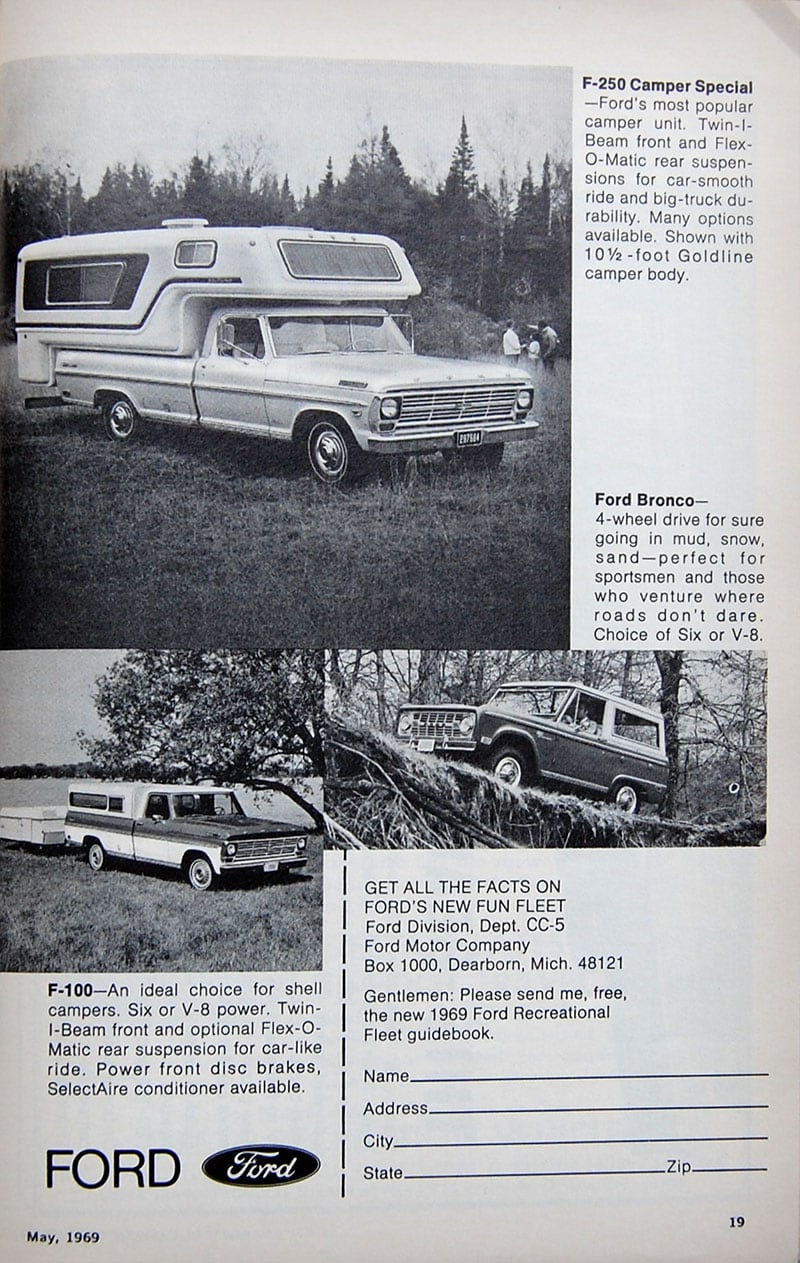 A Ford truck ad with a truck camper?  It just gets better!
This ad not only shows a very modern and aerodynamic molded fiberglass camper design – a 10.5-foot Goldline – but it also promotes a, "Camper Special" edition truck.  A Ford truck made and marketed especially for truck campers?  What a great idea!  Hey Ford, bring back the Camper Special.
3. General Motors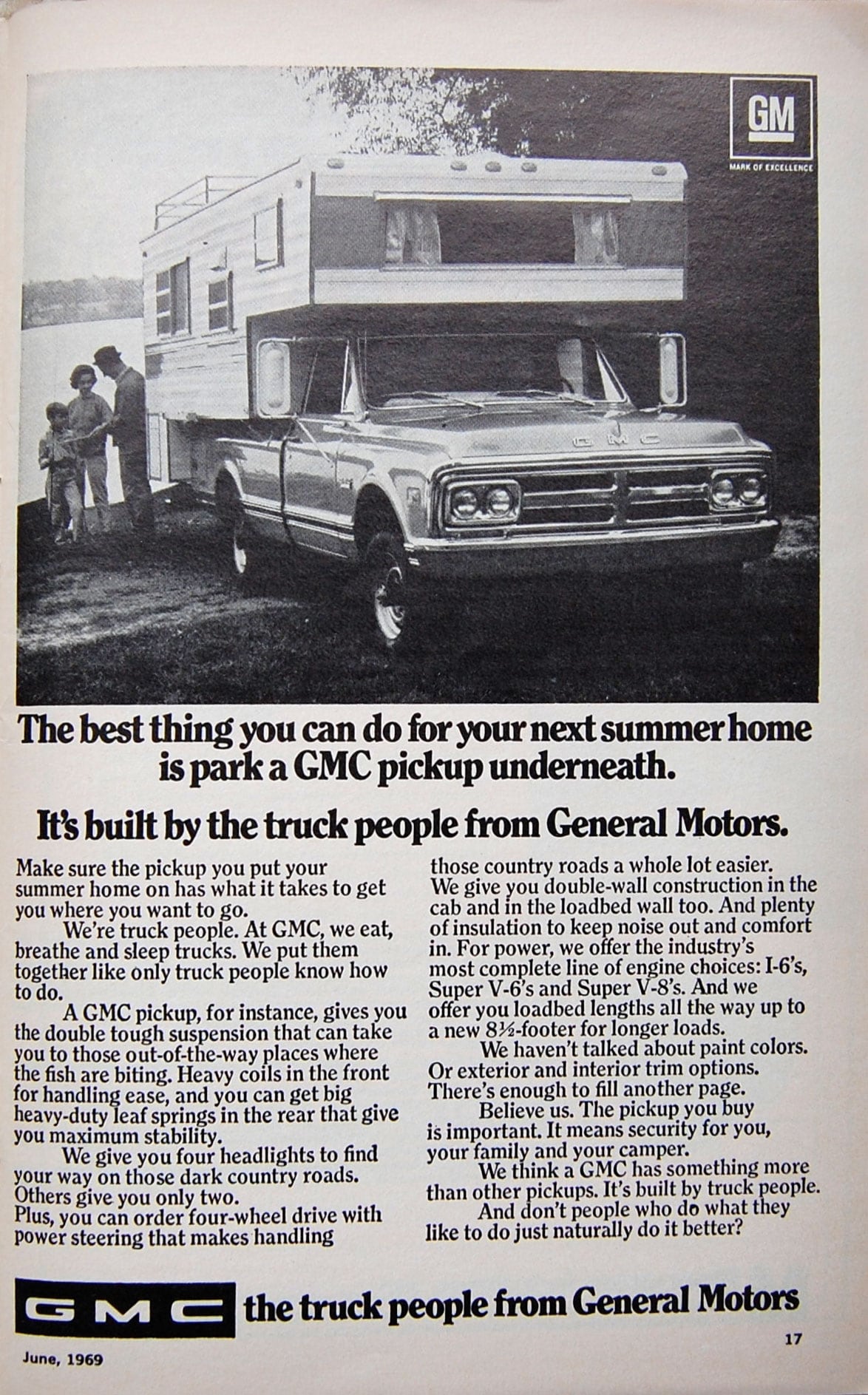 GM?  Jeep, Ford, and now GM?  It's incredible how aggressively the big three were at pursuing the truck camper market 50-years ago.  This ad encourages owners to, "Load up to capacity" and describes how the truck makes it easy to maneuver through rugged terrain with "fingertip control".
4. B-W Manufacturers, Inc. / Philips Radio Division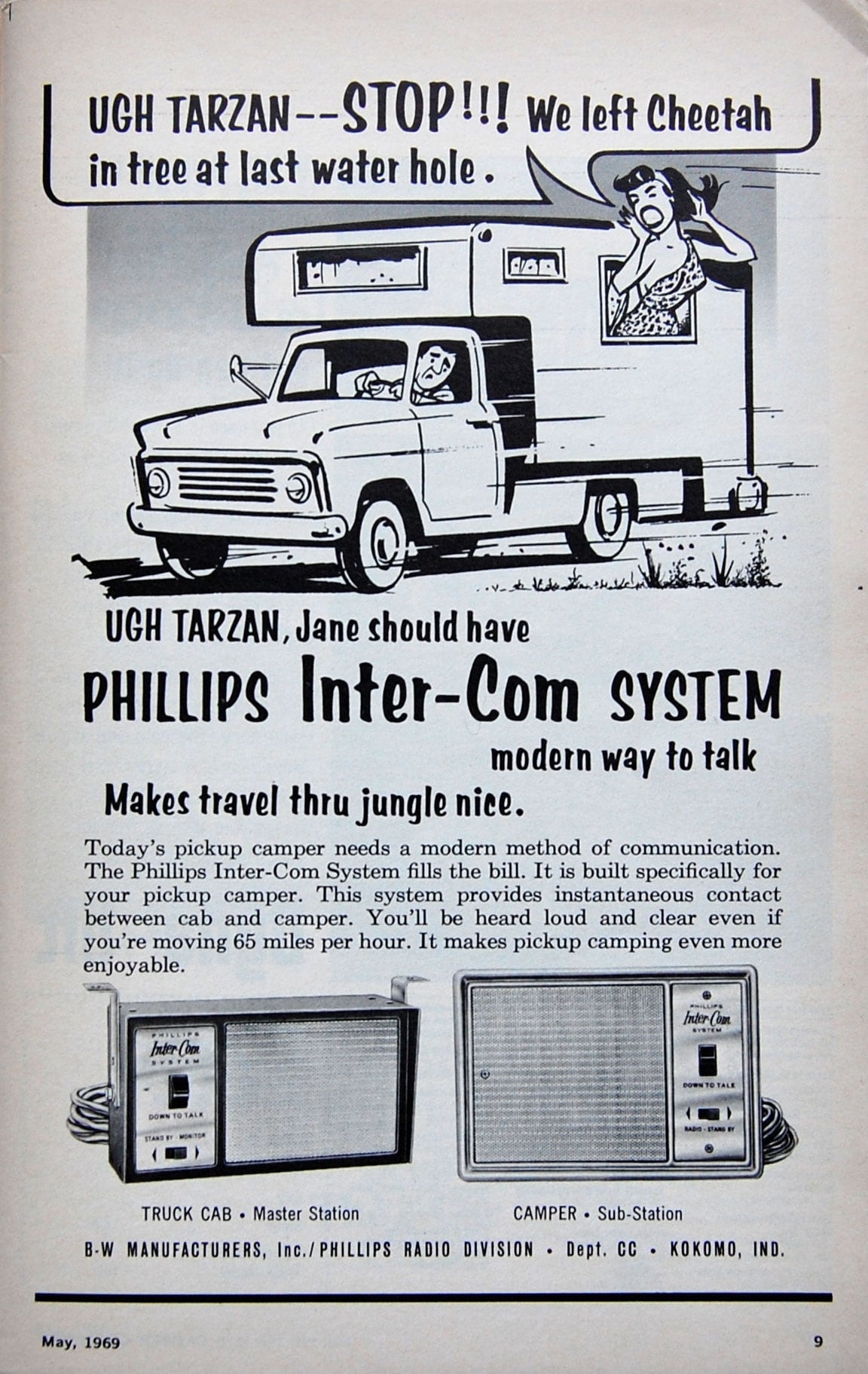 This ad is truly unbelievable.  Phillips is blatantly showing the act of riding in the camper while driving at 65 miles per hour!  They even show "Jane" (with quite the leopard-print number I might add) standing half-way out the window.
While this may have been a common practice in the late 1960s, riding in the camper during travel widely considered a dangerous no-no in 2019.  That said, a set of modern walkie-talkies could be a great idea for couples communicating during out-of-cell-range truck camping adventures.
5. Firestone Tire and Rubber Company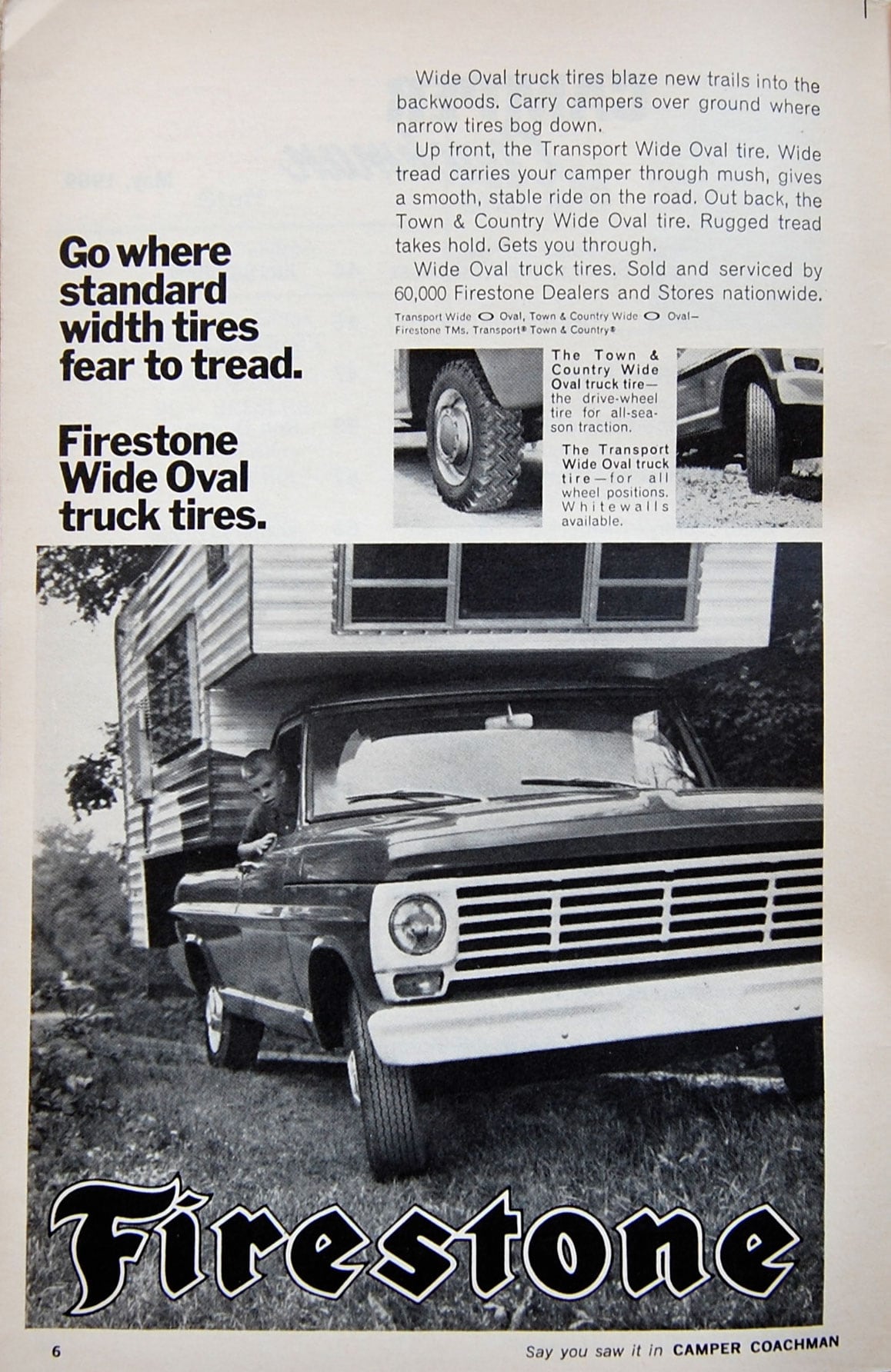 Firestone was yet another big automotive company marketing to the truck camper community five decades ago.  The ad says, "…blaze new trails into the backwoods.  Carry campers over ground where narrow tires bog down."  Maybe the guys at Firestone didn't get truck campers in 1969, but their advertising agency sure did.
6. H&H Equipment Company, Inc.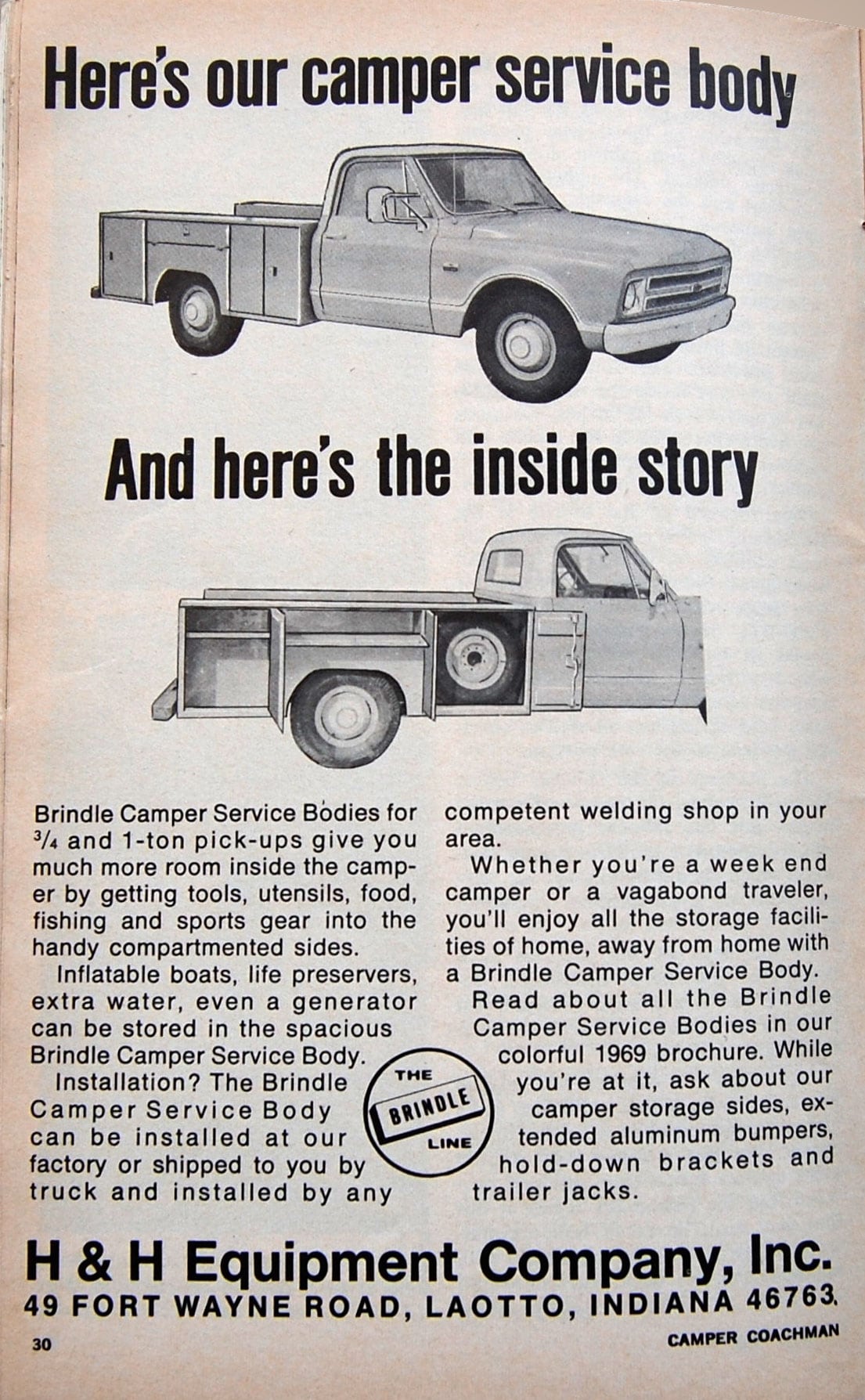 Every time we think we've discovered something new for campers, we should check what was going on fifty years ago.
Take custom truck beds for example.  TCM has published many stories about trailblazers who designed custom truck bodies for their campers.  As this ad from H&H Equipment Company shows, custom truck bodies for campers are old school.  And H&H Equipment was not alone.  Koenig and Utility Body Company were also advertising camper service bodies in 1969.
7. Siesta Travel Products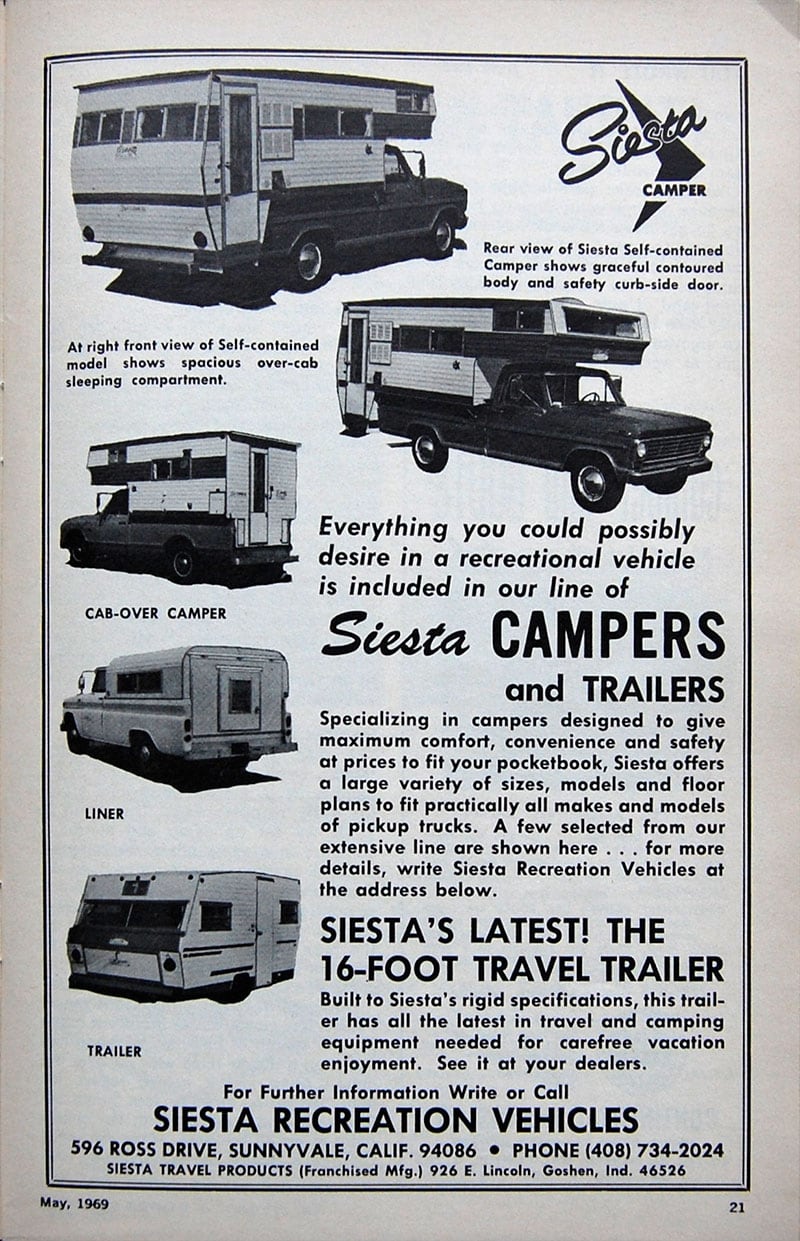 There are dozens, if not hundreds, of truck camper manufacturers from the late 1960s and early 1970s that never saw 1980.  While we do not know the history of Siesta Campers, it's clear that they were serious about truck campers and offered at least three models including a self-contained model.
Note that the Siesta was a long bed side-entry truck camper with a dry bath (including flush toilet, sink and shower), U-shape dinette, full kitchen (with two-bowl sink, four-burner propane cooktop, and refrigerator), water heater and an East-West cabover.  With a few modern updates, the Siesta camper could be competitive today.
8. Tripper Enterprises of Colorado, Inc.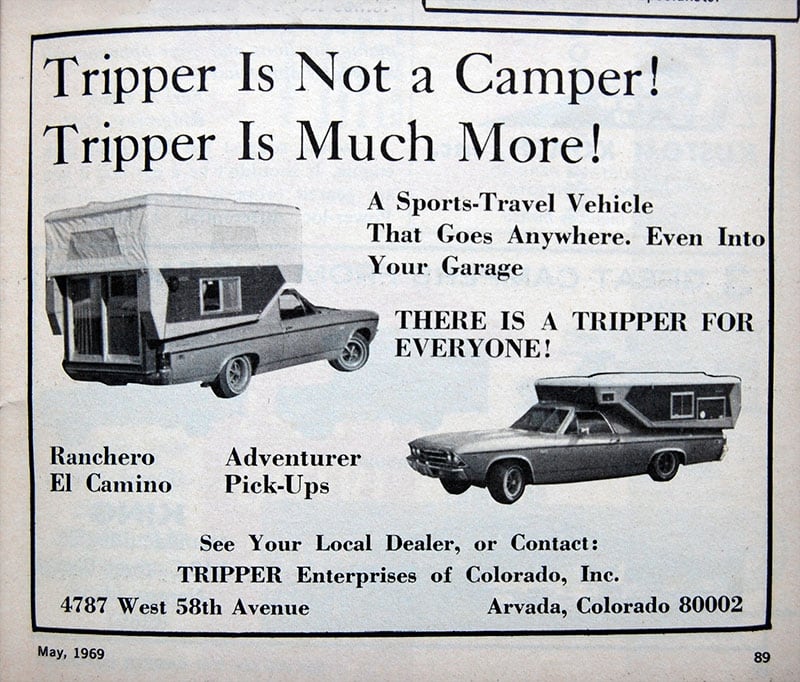 If someone told you that there was a pop-up truck camper for an El Camino in 1969, you might think they were on drugs.   If they told you it was called the Tripper, you'd know for sure.
The best part of this ad is the line, "A sports-travel vehicle that goes anywhere. Even into your garage."   A sports-travel vehicle?  An STV?  That sounds little too much like a social disease.  Then again, this is an idea that might be ready for a comeback.  All we need is a 2019 El Camino.  Low-ri-der…
9. The Huntsman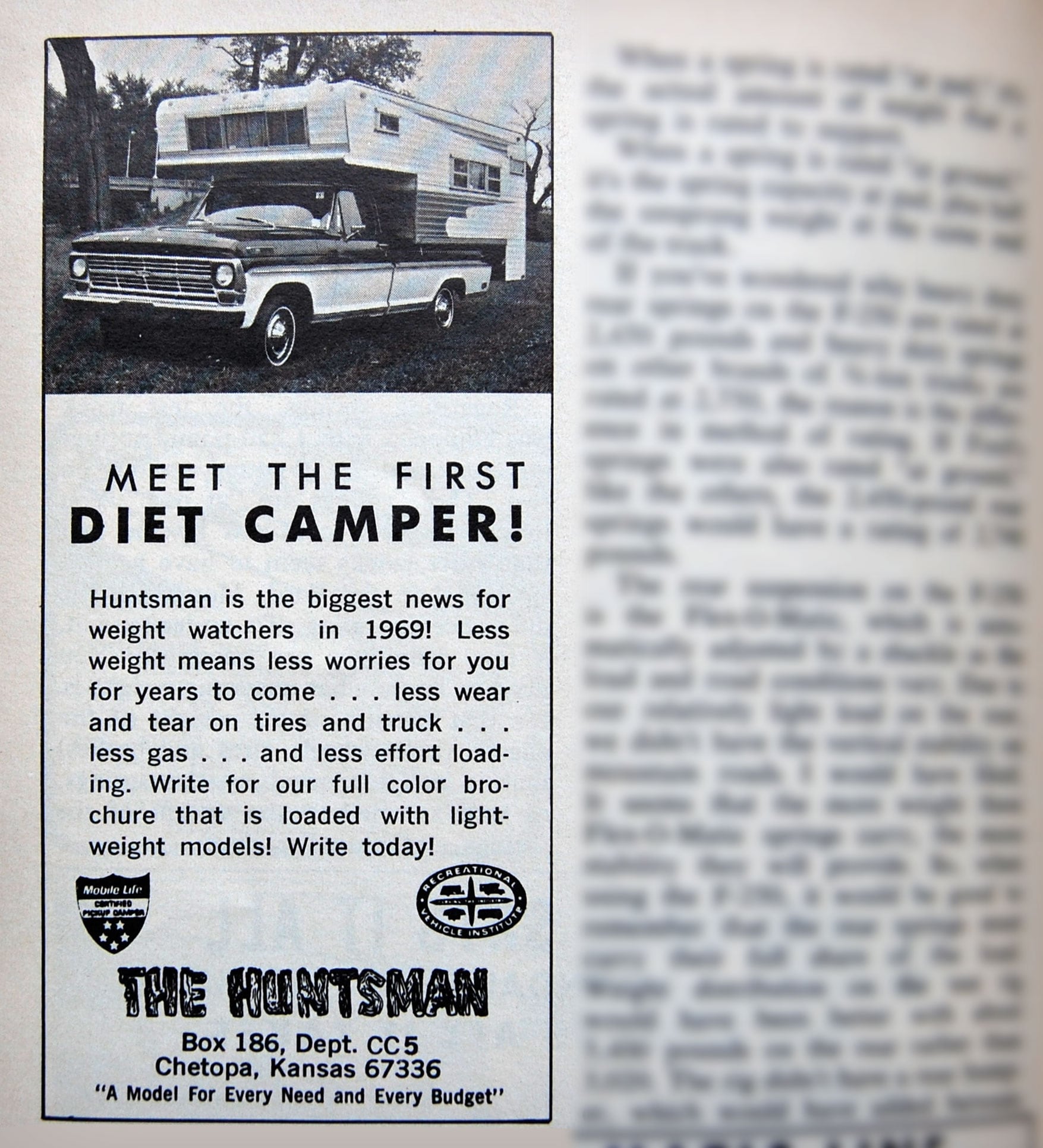 The Huntsman and the other campers of 1969 look almost anemic compared to the single, double, and triple slide-outs of today.  Imagine what they would have thought of a triple-slide truck camper in 1969?
That said, the Huntsman evidently was the first, "diet camper".  And the qualities of the Huntsman would be as relevant today as were then; "Less weight means less worries for you for years to come… less wear and tear on tires and truck… less gas… and less effort loading."
That's a winning pitch in 1969, and a darn good one in 2019.
10. Barth, Inc.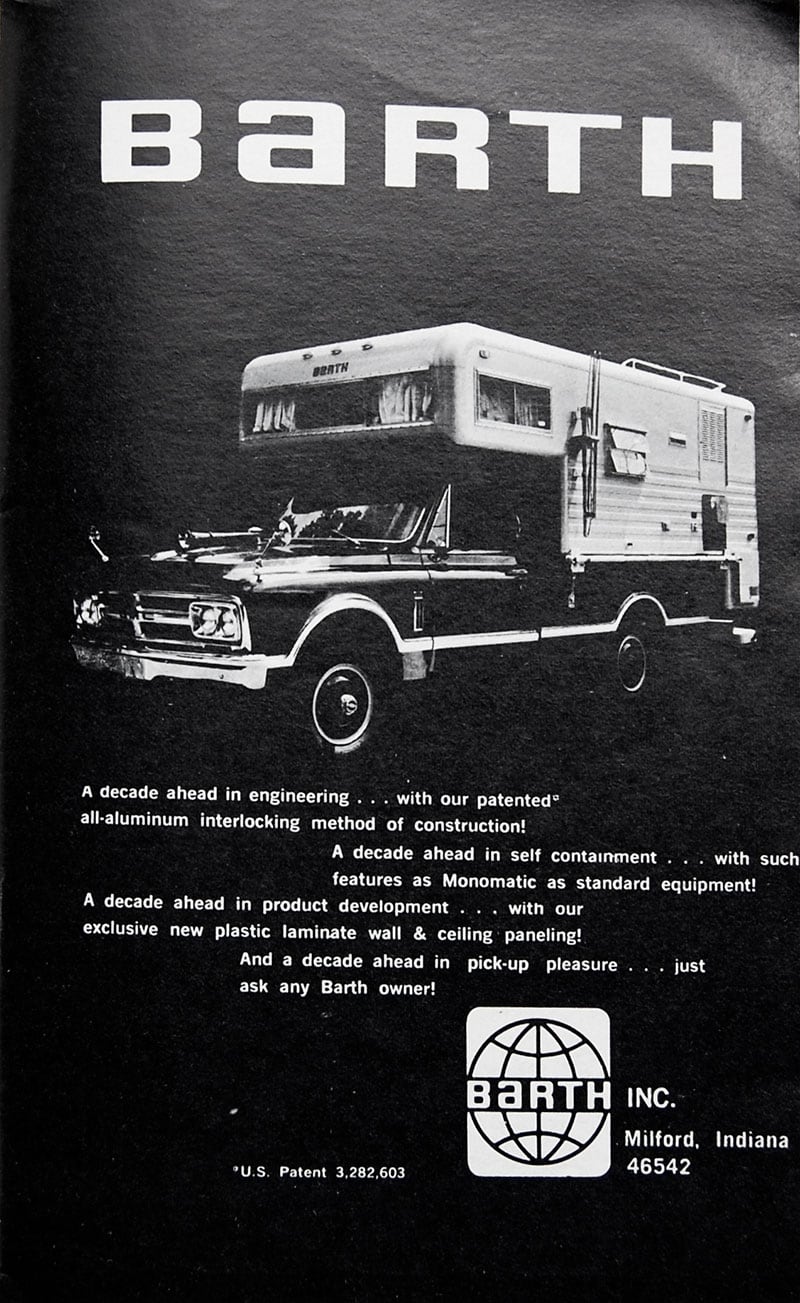 This ad is absolutely incredible!  A full eight years before George Lucas' epic space-opera debuted, this ad seems to predict Darth Vader.  Maybe George was a truck camper then?
Unfortunately, this Barth didn't survive the destruction of the Death Star.  After taking a closer look at the Barth, perhaps a better name would have been the Falcon.  "She may not look like much, but she's got it where it counts kid."
11. Silver Streak Trailer Company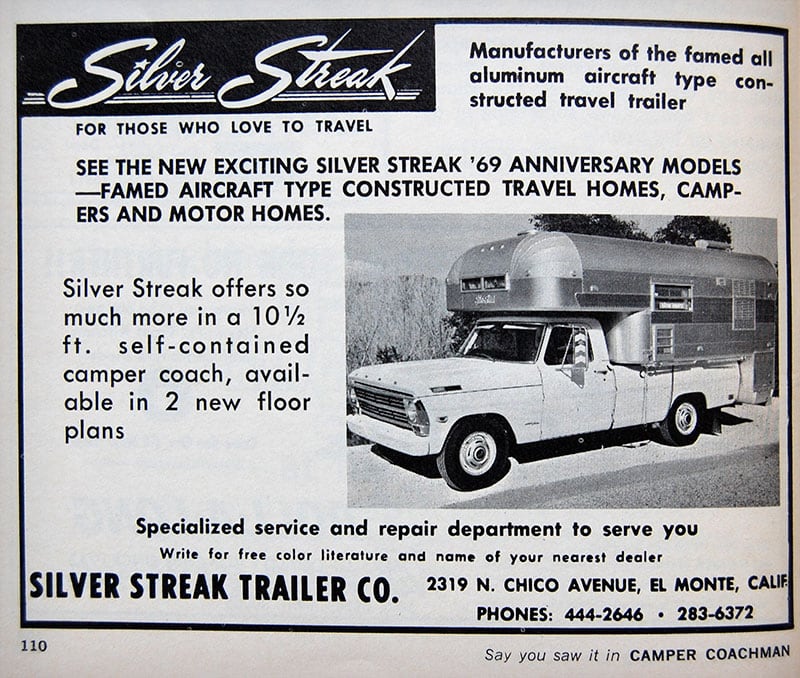 This ad proves beyond the shadow of any doubt that the infamous aluminum versus wood framing debate is nothing new.
The Silver Streak is not only framed in aircraft aluminum, but it's also skinned in aluminum.  The design is also very tight to the overcab of the truck and, relatively speaking, aerodynamic.  This was clearly a truck camper ahead of its time.
The Silver Streak lives on today in the form of a fledgling start-up in Florida called Dynamo Campers.  They are still in the prototype phase but, they are dreaming big.  And like Silver Streak 50-years ago, are only building with aluminum.
12. Avion Coach Corporation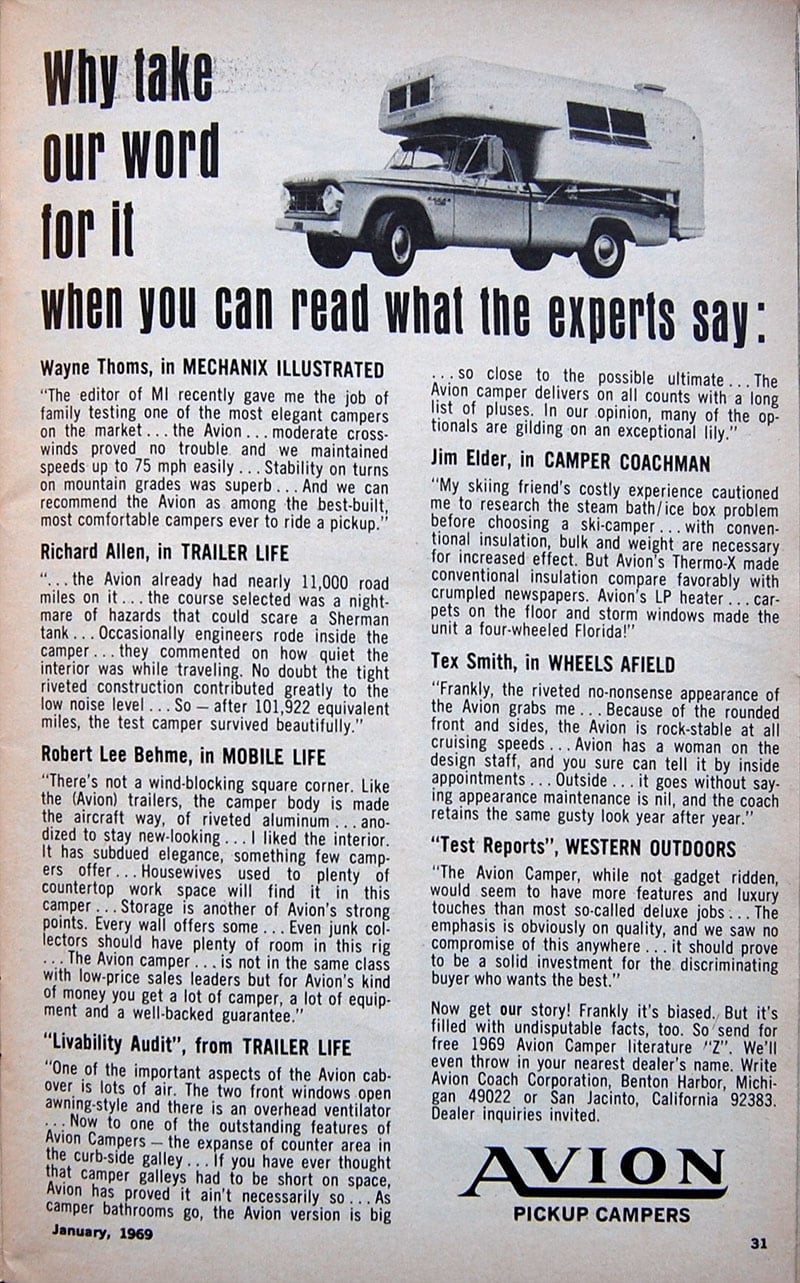 The Avion was also an aluminum framed and skinned camper, in 1969.  The most important part of this ad is the multiple sources of magazine reviews from Mechanix Illustrated, Trailer Life, Mobile Life, Camper Coachman, Wheels Afield, and Western Outdoors.
Today a truck camper manufacturer would be lucky to have one or two magazines review a product.  In 1969, Avion had at least six magazine reviews to share.  Wow!
The Past Challenges The Present
Five decades later, the truck camper marketplace is a shadow of its former self.  Yes, we have an active and vibrant marketplace and community, but there is practically zero participation from the larger automotive world.  Detroit is simply not interested in truck campers like they were in 1969.  They have long since moved on.
What can we do to recapture truck camper's former glory?  How do we reinvigorate our own industry with the passion for the truck camping lifestyle and the spirit of innovation so evident in these ads from half-a-century ago?
Vinyl records have made a comeback.  Maybe if we keep pushing, truck campers will be seen as hip again.  All we need is for more folks – a lot more folks – to Discover Truck Camping.
Do you have anything to add to our look back to 1969?  Please contact us with your insights.  We'll post your vintage camper pictures in our Vintage Camper gallery.
We now return you to 2019.  Bummer man.