Mark and Ellen embark on a cross-county truck camping adventure with their kids, Zachary and Sophia.  After many months together in a short bed truck camper, here's what they've learned.

Those of us who were fortunate enough to travel as children know how profound an education that experience can be. You return with knowledge and perspectives no other experience can offer, and often crave more.  In fact, many of the folks we've interviewed over the years have pointed to their childhood traveling adventures as the very spark of their life-long wanderlust.
The majority of these 1960s memories are car, tent, and trailer camping, but a good number recall truck camping with their parents, grand parents, or extended family and friends as their first real travel event.  Unfortunately, in the decades that followed, truck campers fell out of favor with families with children and are no longer commonly thought of as family friendly RVs.
Flying in the face of this perception, we have published amazing story after amazing story of families with kids who have traveled throughout the United States, Canada, and the world in a truck camper.
If anyone still doubts truck campers and kids are compatible, check out, "Off-Grid With the Kids", "Two Adults, Three Kids, and One Truck Camper", "The Field Trip Of Life", "Around the World From the Netherlands", and our own article, "Are Truck Campers Kid Friendly?"
As they say, this myth is busted.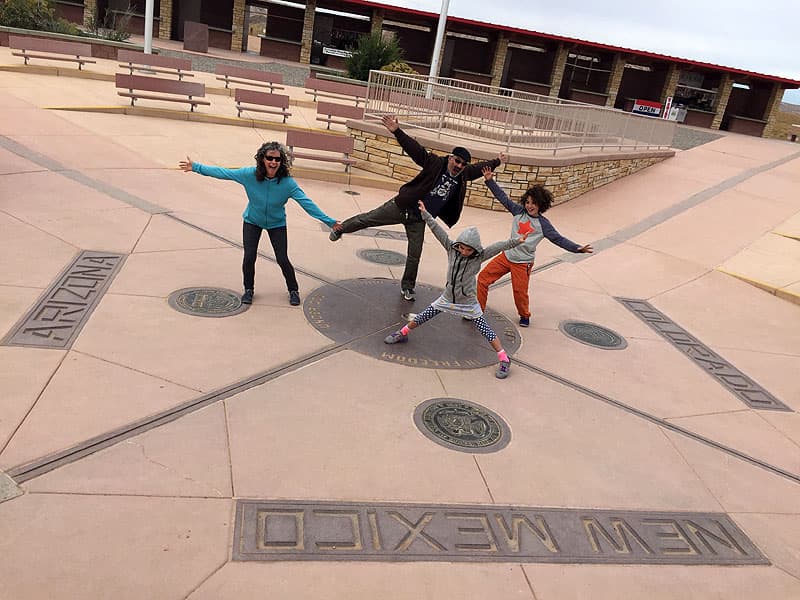 Above left to right: Ellen, Mark, Sophia, and Zachary Siminoff
We now have another remarkable story of truck camping with kids. Before their youngest was even born, Mark and Ellen Siminoff made it a priority to share their passion for travel with their children.
When the time arrived, this meant putting their own businesses on the side burner, pulling their kids out of elementary school, and making significant life sacrifices.  All of this to give their kids the gift of cross-country and world travel while they're young.
Zachary and Sophia Siminoff may not know it now, but they will benefit from their family trip in ways only the future can reveal.  Who knows, maybe Zachary or Sophia will be the Publisher or Editor of Truck Camper Magazine in 2030.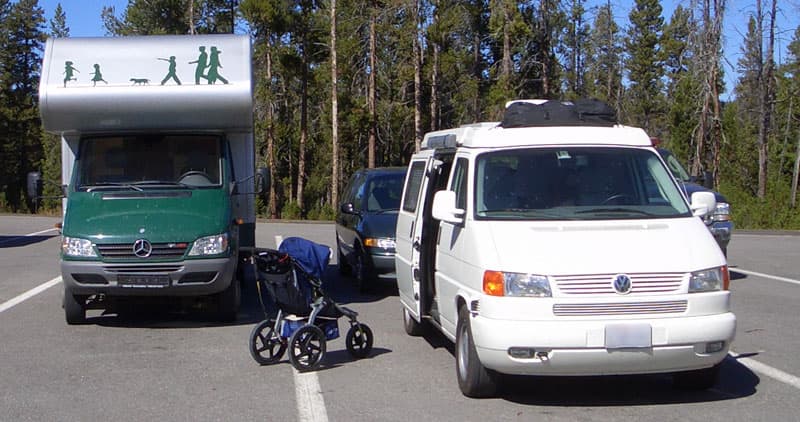 Above: On the left is the German family's RV and right is Ellen and Mark's 2001 VW Eurovan Camper
TCM: How did you get the idea for a ten month cross-country truck camping trip with your kids?
Mark: When Ellen and I first met, we did a lot of car camping and backpacking in a 2001 VW Eurovan Camper.  We also did triathlons and went to ski resorts with our friends.  We loved traveling in a really compact RV.
Ellen: When Zachary was eight months old we went on a month long trip.  During that trip we met a German family who had shipped over their RV from Europe.  They were traveling around the world with their three kids.
Mark and I were planning to have another kid and, when the kids were the right age, we wanted to do the same thing.  About a year before we left we realized that our kids, Zachary (11 years old) and Sophia (9 years old) were the right age.  It was time to go on the trip.  We left on October 6, 2015.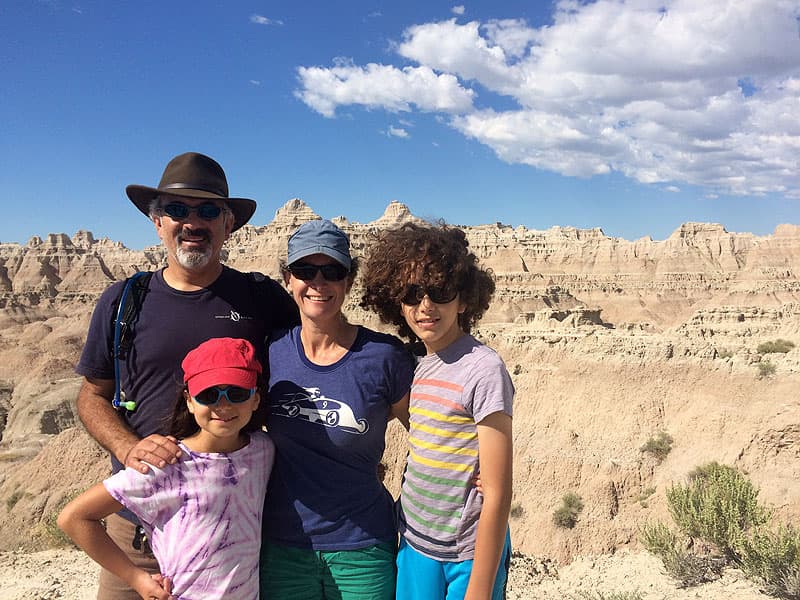 Above: The Siminoffs on the Door Trail, Badlands National Park, South Dakota