We often hear at RV shows that truck campers are not well suited for families with kids.  As Aunt Angela and Uncle Gordon, we put that assumption to the test.

When we're out on our truck camping adventures, Gordon, Harley, and I will send my niece Kate and nephew Sean postcards from the road.  Upon our return, we enjoy sharing our pictures with them and talking about how much fun it is to camp and travel in a truck camper.  After all, it's never too early to start promoting truck campers to the next generation.
This year we decided that Kate, age five, and Sean, age three, were finally old enough to experience their very first truck camping adventure with us.  In fact, this would be their first camping experience of any kind.  With its full-wall slide-out and full-booth dinette that converts into a bed, the 2012 Travel Lite 1000SLRX also seemed like a perfect camper the four of us.  We would soon find out.
Are Truck Campers Kid Friendly?
Above: No, we didn't let the kids drive the rig.  Maybe in a decade, or two.
Before we get into our adventure with my niece and nephew, I'd like to share some thoughts on why I believe truck campers are family and kid friendly.
In our "Do More and Spend Less" article, we point out that truck campers are ideal for staying in the driveways of family members while you're on the road.  For families with kids, this means you can visit grandparents, uncles, aunts, and cousins without being house guests.  The ease of parking in a family member's driveway makes camping safer, more convenient, and more enjoyable for the visiting family, as well as the hosts.  As we like to say, we're guests, but not house guests.
Speaking of easy parking and camping, we know several families who use their truck campers for swim meets and other away games with their children's sports teams.  Staying in the camper allows them to camp at the event so they don't have to fight traffic in the morning, or stay in expensive hotels.  We also know a few parents who have used their truck campers for visiting colleges with their high schoolers.  And there has to be a few Boy Scout and Girl Scout parents who enjoy staying in the comfort of their truck camper while their kids get the "roughing it" experience a few feet away with their Scout friends.
If you go to an amusement park, concert, outdoor event, or even a playground, you can park in a regular parking area, side-by-side with the cars.  That also means you have access to your camper's bathroom should your family need it while you are there.  You also have the ability to drive off-road and boondock in out of the way places.  Imagine sharing the off-the-grid truck camping experience with your kids, far from the hustle and bustle and light pollution of civilization.  Look!  What constellation is that?
With truck campers being relatively limited in run-around room, camping in a truck camper will encourage children to be outside and away from television, computers, and electronic games.  Once outside, children can experience nature and explore their surroundings.  You mean there's more to the world than XBOX and Facebook?
The ability to camp in cold weather makes it so that you can take a family trip over winter break when the kids are on their school vacation.  Truck campers also allow you to tow your toys so you can share hobbies as a family like boating, snowmobiling, ATV driving, and horseback riding.
With the compact size of a truck camper, you can store and keep your camper at your house making a fun place for kids to camp-out with their friends at home.  Truck campers can also make for a romantic child-free "get away" for the parents.  Just be careful as this can lead to more children.
Finally, a truck camper is the ultimate Family Emergency Vehicle (FEV).  With four-wheel drive and provisions ready to go at a moments notice, a truck camper can evacuate your family in an emergency situation such as floods, forest fires, hurricanes, earthquakes, and other natural or man made disasters.  Truck campers are also wonderful support vehicles to help others who are in trouble, such as a sick family member at their home or in the hospital.  For more on using a truck camper as a FEV, read our article, "The Truck Camper as a Family Emergency Vehicle".
When looking for a truck camper as a family, you should consider the different family-friendly features and options like over the dinette bunks, pop-out rear and side tents, and dinettes that convert into beds.  Some campers include all of these sleeping options, not to mention full-wall slide-outs and dry baths.
If you're considering a truck camper for your family, we suggest taking into consideration not just the size of the camper, but the lifestyle it offers.  A truck camper can give your family a safer and more active lifestyle than other RVs offer.  They're also ready to go when it's just mom and dad, or grandmom and grandpop, or, as you're about to read, aunt and uncle.
Planning For the Trip
For Kate and Sean's first trip out camping, and our first experience truck camping with children, I wanted to keep things simple and stay local.  What if they didn't like the truck camper?  What if they couldn't sleep?  What if they got scared and wanted to go home?  With those questions in mind, I started looking at campgrounds near our home in Lancaster, Pennsylvania.
My normal mindset for selecting a campground is to look for free wireless internet, laundry facilities, and reasonable rates.  With the kids, I quickly realized that I would need a very different mindset.  For example, a few campgrounds here in Lancaster don't allow children.  I had heard of campgrounds not allowing truck campers, but was shocked to learn that some don't want anyone camping under the age of fifteen.
I also needed to find a campground with a playground near the campsites.  After dinner, the kids would need to play and run around.  Surprisingly, there were only a few campgrounds in the area that had playgrounds.  That limited my choices even further.
Eventually I settled on Pequea Creek Campground in nearby Pequea, Pennsylvania.  The campground is about twenty miles south from our house, just enough to give the kids a sense that we traveled somewhere.  Perfect.
The Camping Experience
Kate and Sean arrived at our house around lunch time.  We had lunch and then Sean went down for a nap.  I told Kate she could help me pack the camper while Sean napped and we took everything from the house that I had already packed.  Of course we made sure to pack children's books and toys for extra entertainment.
We started our truck camping experience right in front of our house by setting the ground rules for using the camper.  The big rule was that they could not get in and out of the camper without our help.  With our tall four wheel drive Dodge, the camper is about two feet up off the ground, which is way too high for Kate and Sean.
Pequea Creek Campground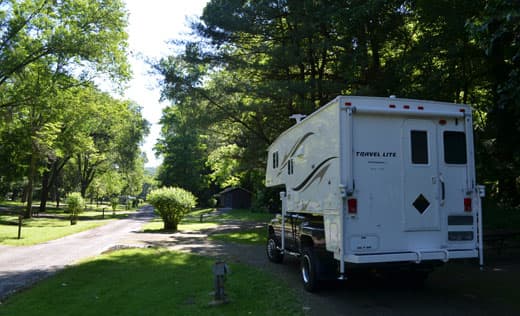 After Sean's nap, we headed south to Pequea Creek Campground.  It took us forty-five minutes to get there as there were two bridges that we had to avoid, one being at 12' and one at 11'5".  I was not going to risk going under the 12' bridge even though we probably would have been fine.
We arrived around 5:00pm.  It was the middle of the week and the campground was almost empty.  As soon as we pulled into our campsite, Gordon plugged the camper into shore power and Harley, Kate, Sean, and I went into the camper.
Kate and Sean jumped right into the dinette.  I will never forget the first words out of Sean's mouth.  He sat there with this huge grin on his face, belted out one of those wonderful kid belly laughs, clapped his hands, and shouted, "I love the camper!  I love the camper!"  You could just see the thrill and excitement in his face.
As Sean celebrated the camper, Kate had a question.  "How do you sleep in the dinette?" she asked.  So I demonstrated how the table comes down and the cushions move.  Clearly satisfied, Kate said, "I can't wait to sleep in the camper.  It's going to be so much fun!"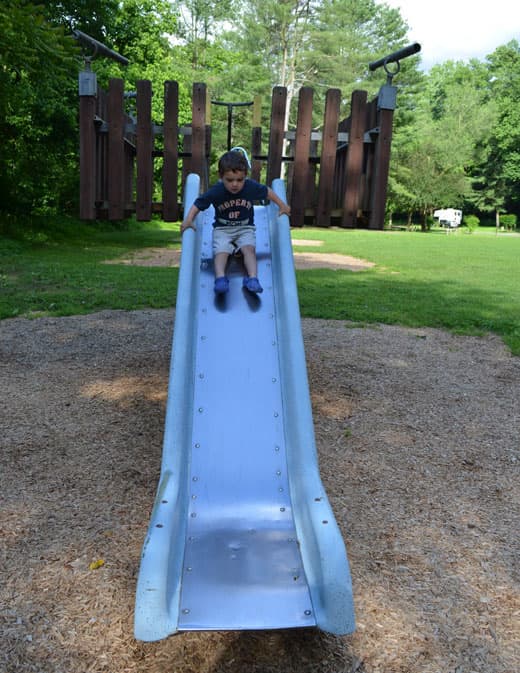 With all this energy and excitement brewing, it was a good time to run around.  The kids and I went to check out the playground while Gordon waited for the campground director to deliver the firewood.
Collecting Branches and Twigs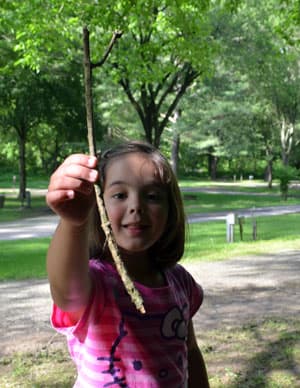 When we saw the firewood being delivered across the campground, Kate, Sean, and I headed back to the campsite.  It had just rained for several days in Lancaster, Pennsylvania and the firewood was damp.  This would make building a fire, and thus cooking our dinner, a little more challenging.
Gordon volunteered to be the fire maker and selected the driest logs while the kids and I went around collecting small branches and twigs.  Kate and I found lots of semi-dry branches in the wooded area while Sean picked up a branch, walked around, and put it right back down.  The joy of being a three year old.
Kate, Sean, and I brought our collection of semi-dry branches back to Gordon who was having little luck starting our evening campfire.  So we decided to go around again and collect more branches.
"How many more do we need Aunt Angela?" asked Kate.  I recognized it right away, the dreaded, "Are we there yet?" whine coming through loud and clear.  I think I was asked that question about fifty times.  Luckily, by the time the kids were fit to be tied and ready to eat, the fire was starting to catch.  I said, "It's time to roast some hot dogs!"  The kids cheered and were clapping excitedly in anticipation.
Campfire Fun
With the fire burning hot, Gordon and I told the kids to keep a safe distance from the fire and drew a line in the dirt showing them where to stand.  Kate and Sean were really good about staying a safe distance away from the fire.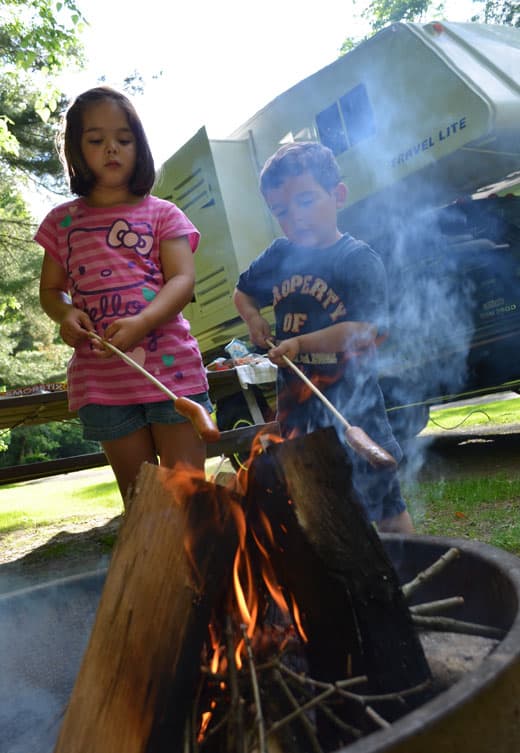 All of us were getting hungry as we poked the hot dogs with spears and the hot dog roasting began.  Naturally, the kids wanted to stick their hot dogs right in the flame.  We showed them how to cook and not burn their hot dogs, to no avail.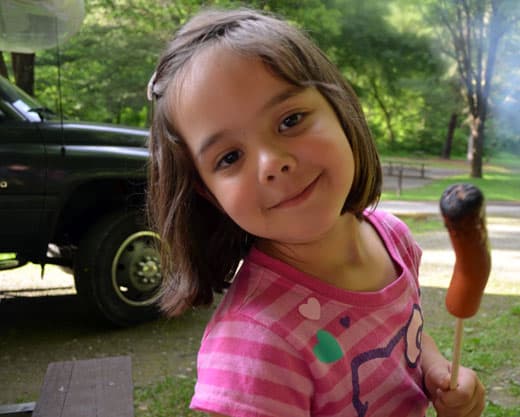 It's a good thing campfire hot dogs are still great no matter how well done they are.
After the hot dogs, it was time for S'mores!  No first campfire is complete without S'mores!  I prepared the chocolate and graham crackers squares while Gordon helped Kate and Sean roast marshmallows.  They were so excited!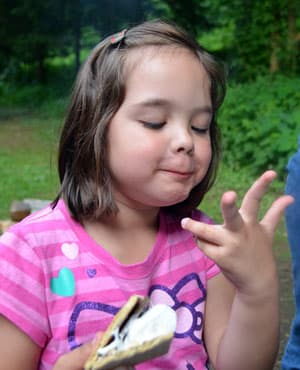 When we put the S'mores together, the S'mores were so tall that Kate and Sean could barely take a bite.  Kate wound up only eating the chocolate and Sean picked his S'more apart, eating it piece by piece.
A few moments later the sugar rush kicked in.  I announced, "Playground!" and the kids were running for the swings.  After half an hour, it was starting to get dark, and we made our way back to the camper for bedtime.
Sleeping In the Truck Camper 
Kate and Sean were really looking forward to sleeping in the camper.  Earlier in the day Kate had said to me, "I can't wait to sleep in the camper.  It's going to be so much fun!".
When we returned from the playground, Gordon and I converted the dinette into a bed and got all the bedding ready.  After brushing our teeth and getting into pajamas, we all jumped up into the overcab bed to watch "Finding Nemo".
Once the movie was over, we gave Kate and Sean the flashlights and played some "flashlight tag" on the camper's ceiling.  It was a good way for them to settle into their area for the night.  Soon thereafter we were all asleep.
Breakfast and Beyond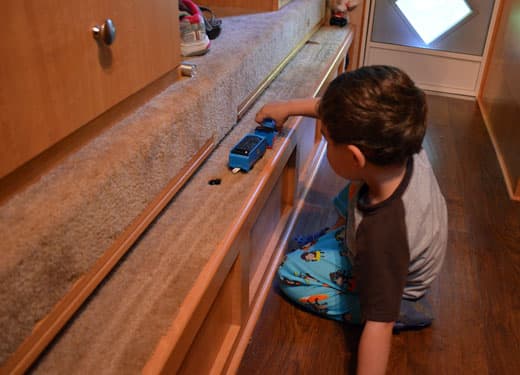 The next morning, Sean was up first playing with his trains.  He found the slide-out step-up to be a perfect railroad track.  When Kate woke up, we converted the dinette bed back into a dinette and got breakfast together.  After some cereal, milk, and coffee for the adults, we packed up and went to our destination for the morning, an Amish miniature horse farm.
The farm had a barn with about a dozen miniature horses in separate stalls.  The stalls even had little doors with holes in them that the kids could reach through to pet the horses.  You could tell by the way the horses approached us that they were used to children.  We spent about an hour at the miniature horse farm and then meandered our way back to our house in Lancaster.
For Kate and Sean's first camping experience, staying at a local campground and keeping it to twenty-four hours was perfect.  We were able to get them used to the camper without overwhelming them.  After this successful first camping trip I'm sure we'll be taking them on many more truck camping adventures.
Article by Angela White, Google+ page.