Imagine taking two young children and a brand new truck and camper you've never seen on an around-the-world trip of a lifetime.

We should all be so lucky as to have parents like Marc van Yperen and Anja Krijnberg.  These two travelers have embarked on a one year globe-trotting adventure with their young children that will take them to three continents and dozens of countries.  Best of all, much of their trip is in a truck camper.
For Part 1 of their adventure, we join Marc and Anja as they explore Canada and the United States.  But before we hit Route 66, we need to find out exactly how a family from the Netherlands decided to make this amazing trip.  And how are they pulling it off?  And how can we get them to adopt us?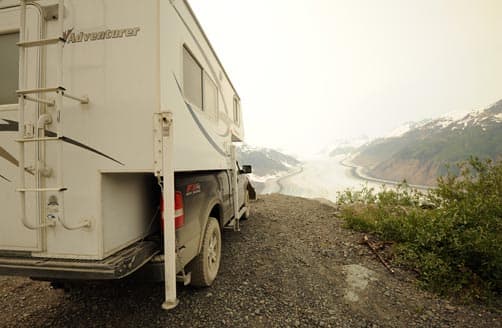 TCM: Did you go camping before purchasing your truck camper?
Marc: We have always been tent campers.  Lightweight camping gear enabled us to camp everywhere in the world.  All of our equipment fit in one duffel bag that we could carry on planes.
Traveling for a whole year with two kids in countries with bears, mountain lions, snakes, and spiders made the comfort and safety of a truck camper very tempting.
TCM: I bet it did.  Tell us about your year world-wide long truck camping adventure.
Marc: When we were planning our current trip, we needed to consider the limitations of traveling with two little ones.  For example, we would be traveling through countries with malaria.
We decided to travel through North America first and buy a truck camper here.  We started in Vancouver, British Columbia.  We wanted to go further north to Alaska, but we could not because the road was closed due to forest fires.  Instead we went to Jasper.  From there we went to Edmonton, Calgary, and then Saskatoon and Ontario. The main reason for the Canada trip was to visit family.  We have family all over Canada.
After our tour of Canada, we traveled south into the United States.  We started Route 66 at Chicago on the shore of lake Michigan.  We drove Route 66 all the way to Santa Monica, California with a 3,500 kilometer detour through Canyon de Chelly National Monument, Monument Valley, Grand Canyon National Park, Bryce Canyon National Park, Zion National Park, and Death Valley National Park.
Then we backtracked on I-40 to the place where we left Route 66 and continued on Route 66 to the end.  From Los Angeles, we are shipping our camper to Australia.  It's en route now.  Meanwhile, we are flying to Hawaii and Fiji and then to Sydney.  We plan to travel seven months through Australia.  After touring Australia, we will ship the camper home the the Netherlands.  While the camper is on it's way home, we will fly to Bali and Singapore and then home.  All together we think our trip will take a year.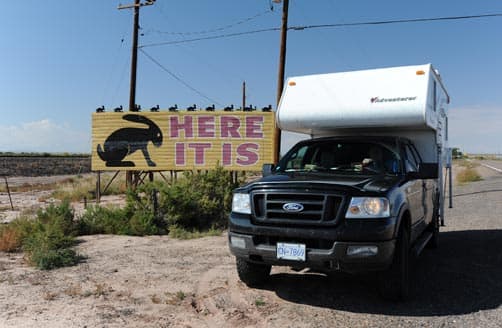 TCM: What did you have to do to get organized for a trip of this magnitude?
Marc: It took about eight months to plan the trip if you include just thinking about where we would be going.  The main thing that we had to arrange was the truck camper.  This was quite complicated because we first had to find out where we could buy and insure a car as foreigners; especially that last part is difficult and is different in every state in the United States and province in Canada.
When we knew where we were going to buy our truck camper, we arranged the flight tickets.  We also did some research about transporting the truck camper from the United States to Australia and then home.  We wanted to know if it was possible and if we could afford it.  We soon had quotes from shipping agents that were within the price range that we could afford.
We also found out that we needed a Carnet de Passage to get the vehicle into Australia.  When we got all the information together, we decided to actually arrange it while we were on the road.  It was not possible to do it at home because we didn't have the details from the truck and camper unit yet and we also wanted to keep things as flexible as possible.  Another thing we arranged while we were on the road was our visa for Australia and places to stay in Hawaii, Fiji, and Sydney.
Something else we had to do was arrange for the immunizations.  We both had all the vaccinations that they recommend for the countries we were going to visit, but the children needed Hepatitis A shots.  Michelle couldn't get that when she was still at home because you have to be over a year old.  Michelle also needed two shots from her immunization series that babies normally get at about twelve to fourteen months.  We found that Canada had similar immunization schedules to the Netherlands, so we were able to get her shots in Canada.
We also had to organize things at home.  We rented out our house, which meant that we had to get out all of our personal stuff.  And there was some other paperwork to arrange to make sure that everything at home was in order for the next year.
Then we needed a special travel insurance, because normal insurance will only cover a stay of up to three months abroad.  We also did some preparations for our websites.  I think that is about it.  And then of course we had to pack our bags.
TCM: Wow!  That's some serious planning.  Why did you chose a truck camper over any other form of RV for this trip?
Marc: We looked at our options on the internet.  We had a few things that we wanted in our RV.  First of all, we are not allowed to drive a camper that is heavier than 3,500 kilograms with our Dutch drivers license.  That shuts out a lot of options.  Second, we wanted an RV that sleeps four people.  And third, we preferred a four-wheel drive truck for our trip to Australia and we were willing to give up some luxury and living space for that.  A truck camper met all these requirements.  We also thought that it would be a big advantage if we could leave the camper unit and just drive with the truck if we want.
TCM: How did you find out about the truck and camper at Fraserway?
Marc: We looked on the internet to find where in the United States or Canada we could buy a truck and camper.  We found the website of NATCOA which was a great help.  Here we had access to the website of almost every manufacturer of truck campers in the world.  We started our research there and we sent emails to companies we found on the internet, but we hardly got any response.  People probably thought we were not serious.  We started to call the factories directly, including Adventurer who directed us to Fraserway RV.
TCM: How did you know you wanted an Adventurer 80SK truck camper?
Marc: The Adventurer 80SK met our weight requirements, had a hard roof, and the photographs of the interior looked bright.  A lot of campers have old fashioned designs at least to our taste.  We never actually saw the 80SK before this trip.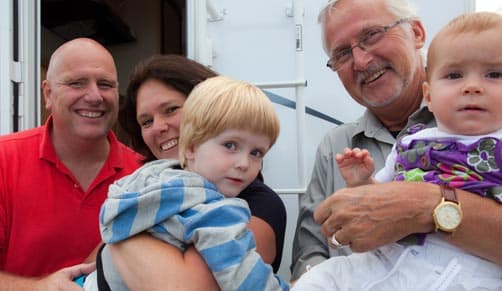 Left to Right: Marc, Anja, Youri, John Vanderboom (Fraserway RV), and Michelle
TCM: How did you arrange it with Fraserway RV to pick up your truck and camper?
Marc: We told Fraserway that we where only interested in a camper if we could find a good and reliable truck to carry it.  Shortly after our first contact with Fraserway, they referred us to a Ford dealer in Abbotsford.  One of the salesmen there used to work at Fraserway so he knew the camper units and could therefore advise us which truck was good for carrying the unit.
He then went looking for a suitable truck.  This took awhile because of the weight restrictions, but he managed to find one.  After he did, we contacted Fraserway and told them that we were interested in the camper unit.  We told them that we were arriving on July 21st and that we would pick up the truck first and then would come to them.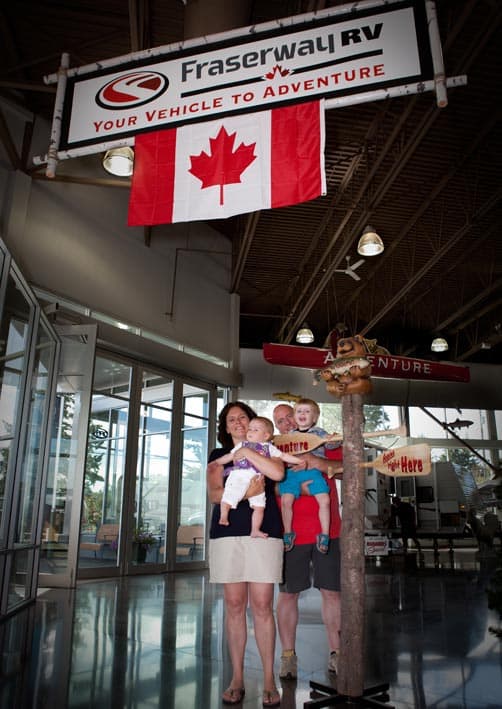 TCM: Tell us about the day you went to pick up your truck camper.
Marc: We were really excited.  Normally you don't buy a thing like this without seeing it!  First we went to the Ford dealer.  We were looking at all the trucks outside to see if we could find ours, but we didn't see it.  So we went inside and met Bruce, the guy that arranged everything for us.  When he showed us our new truck, it looked even better than we expected.
The guy from the insurance company came over and we arranged all the paperwork.  Then we drove to Fraserway.  At first they took us to the camper unit so we could see it.  This also looked very nice.  We looked inside and opened all the closets and imagined what it would be like to live in this for a year.  Youri, our son, climbed on the bed and looked everywhere.  He told us he liked it all, so that was perfect!
We left the truck at Fraserway so they could prepare it and made an appointment to come back the next day to put the unit on the truck and take delivery of our new rig.
The next day we came back and everything was prepared.  First we did the paperwork and then we got all the instructions about the camper.  After that, Fraserway helped us to put the camper unit on the truck.  Then it was time for taking pictures!  All the people at Fraserway were very nice and interested in our travel plans.  They prepared a wonderful welcome package with Fraserway and Canadian goodies.
TCM: That sounds like a very exciting day.  Did you have to make any modifications to your truck and/or camper to make it legal in any of the countries you will be visiting?
Marc: Because a Ford F-150 was the largest truck we were allowed to drive, the weight of the camper came really close to the truck's available payload.  To improve the driving abilities, we had Ford install airbags between the rear leaf springs and a leveling kit in the front.  We also had E-rated tires installed which we can inflate to 80 psi instead of the normal 36 psi.  These modifications made it possible to level out the load and made the whole combination significantly more stable.  This was money well spent.  We also had bull bar installed to lower the impact of road crossing kangaroos in Australia.
TCM: After leaving Fraserway RV, where did you go first?
Marc: First we went to Harrison, a small town on a lake.  We still were feeling some jet lag and the last days at home were pretty hectic.  So we chose a place to relax a little bit and get used to our new camper.  We chose Harrison because it was remote and the change for going there on a short holiday is not much.  It also had a good climate.

TCM: Did you find anything unexpected or challenging in your first week?
Marc: The only thing we found challenging was demounting the camper the first time.  Putting the camper back on the truck was the real challenge of course.  But we worried for nothing because it went really easy.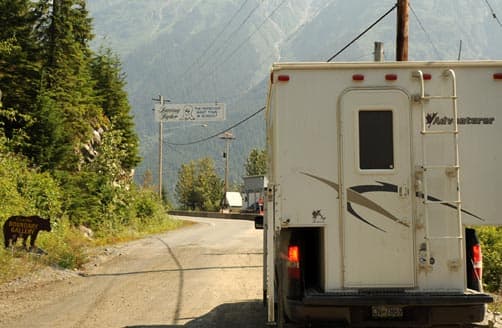 TCM: What are some of the highlights of your trip so far?
Marc: We loved Hyder and Stewart, which are small towns on the border with Alaska and British Columbia.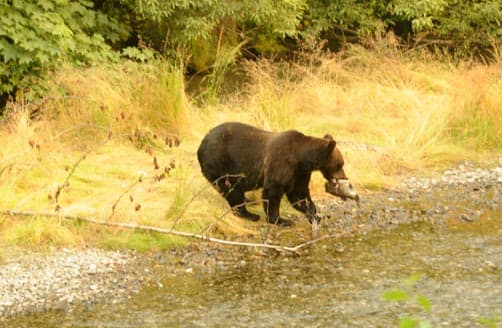 It is a place where you can see grizzly bears catching salmon if you are there at the right time of the year.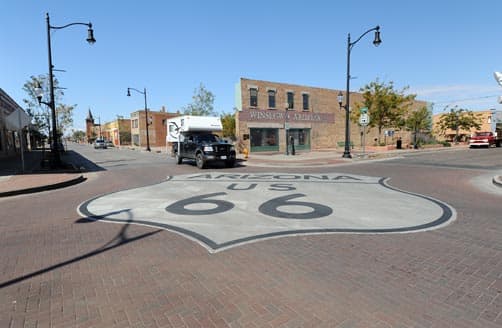 We also loved traveling Route 66.  There are a lot of nice places on the road, but it is the feeling of the road in general that makes it so nice to travel.  It has a real good old-time and laid back feeling.  There are plenty of opportunities to meet very nice people.  It is also a fun way to travel because it's a bit of a puzzle to find the road.
We also loved Death Valley, Bryce Canyon, and Monument Valley.  We especially enjoyed the four wheel drive through Titus Canyon in Death Valley.  We lost our bull bar there.  Hiking through Bryce Canyon and camping in the primitive campground right in front of the mesas in Monument Valley was also great.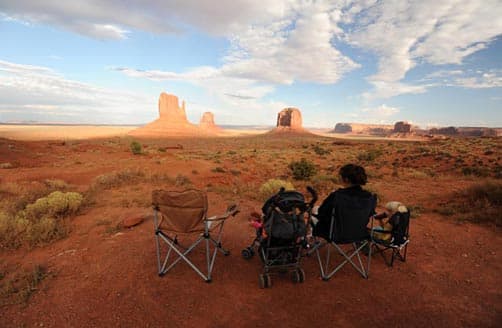 It's especially nice to travel for a longer period because that makes that you travel differently.  You have much more time, so you are never in a rush to see all the sights.
TCM: We know exactly what you mean.  Slow down and take it all in.  What do you like to do when you go out truck camping?
Marc: A bit of everything.  We love to go sightseeing, go for hikes, go swimming, and meet other people.  We love to camp in the National Parks, make campfires, or simply enjoy a full breakfast in the outdoors.
TCM: How do your children like truck camping?
Marc: They love it.  They think the camper is nice and cozy.  They love to be outside and sit by the campfire.  They also love to travel around and see different places all the time.  Actually, this answer goes especially for Youri.  He turned four in October.  Michelle is only a year old and she is too young to really answer this question.  But she is always happy, so she must enjoy it!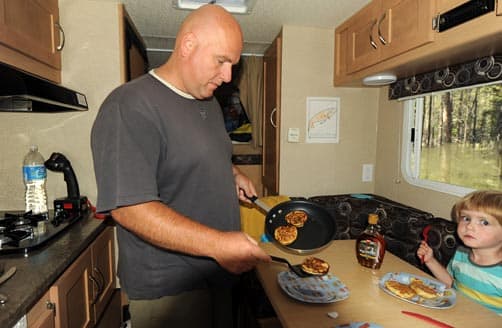 TCM: How do all four of you do in such a small camper?
Marc: We do fine!  We travel usually in good weather, which makes our living space much larger.  For the occasional rainy day we find our way to use every inch of the camper efficiently.  For instance, we use the cabover bed as a place for the kids to play.  The 80SK has a pretty smart design and it is incredibly roomy for such a small camper.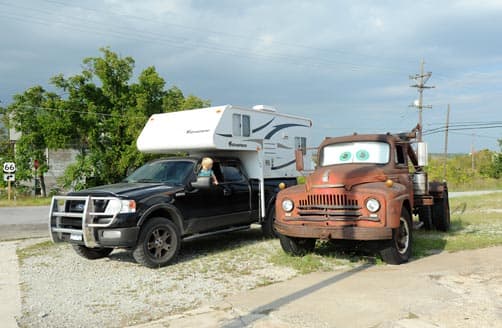 TCM: You are shipping your camper to Australia next.  What did you need to do to prepare your truck camper for overseas travel?
Marc: We just cleaned the truck and camper very thoroughly because they are very strict on that in Australia and we taped all the doors of the closets.  We also had the propane tank emptied.  We delivered the rig to the shipping agent and they took care of putting it into a container and taking care of the paperwork.
There is a huge price difference between different shipping agents and most have no idea what a truck camper is.  We knew from our research that Rhonda from Galaxy Campers has a lot of experience with shipping campers.  She introduced us to CFR Lines.  They knew exactly what we needed.
For the paperwork we arranged a Carnet the Passage.  This is a document for Australian customs that is like a guarantee that we will not import the vehicle into the country.
The truck camper is on the boat right now.  We just hope it will arrive in one piece and gets easily cleared by customs.  We got a message that the truck camper will arrive two weeks later than we first expected.  That's not a problem.  You just can't expect a strict time schedule, so we don't worry about that.
With handling time before and after, it will take almost two months from when we shipped our camper in the United States to when it arrives in Australia.  That is why we decided to stay two weeks in Hawaii and three weeks in Fiji in the meantime.  We will stay a couple of weeks around Sydney until the camper arrives.
TCM: Thank you so much for sharing your adventure so far.  We can't wait to see how your Australian truck camping trip goes.  Safe travels!