Imagine taking two young children and a brand new truck and camper you've never seen on an around-the-world trip of a lifetime.

We should all be so lucky as to have parents like Marc van Yperen and Anja Krijnberg.  These two travelers have embarked on a one year globe-trotting adventure with their young children that will take them to three continents and dozens of countries.  Best of all, much of their trip is in a truck camper.
For Part 1 of their adventure, we join Marc and Anja as they explore Canada and the United States.  But before we hit Route 66, we need to find out exactly how a family from the Netherlands decided to make this amazing trip.  And how are they pulling it off?  And how can we get them to adopt us?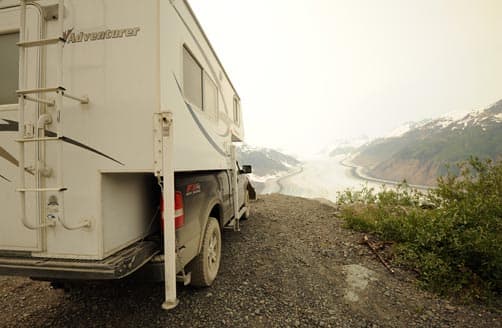 TCM: Did you go camping before purchasing your truck camper?
Marc: We have always been tent campers.  Lightweight camping gear enabled us to camp everywhere in the world.  All of our equipment fit in one duffel bag that we could carry on planes.
Traveling for a whole year with two kids in countries with bears, mountain lions, snakes, and spiders made the comfort and safety of a truck camper very tempting.
TCM: I bet it did.  Tell us about your year world-wide long truck camping adventure.
Marc: When we were planning our current trip, we needed to consider the limitations of traveling with two little ones.  For example, we would be traveling through countries with malaria.
We decided to travel through North America first and buy a truck camper here.  We started in Vancouver, British Columbia.  We wanted to go further north to Alaska, but we could not because the road was closed due to forest fires.  Instead we went to Jasper.  From there we went to Edmonton, Calgary, and then Saskatoon and Ontario. The main reason for the Canada trip was to visit family.  We have family all over Canada.
After our tour of Canada, we traveled south into the United States.  We started Route 66 at Chicago on the shore of lake Michigan.  We drove Route 66 all the way to Santa Monica, California with a 3,500 kilometer detour through Canyon de Chelly National Monument, Monument Valley, Grand Canyon National Park, Bryce Canyon National Park, Zion National Park, and Death Valley National Park.
Then we backtracked on I-40 to the place where we left Route 66 and continued on Route 66 to the end.  From Los Angeles, we are shipping our camper to Australia.  It's en route now.  Meanwhile, we are flying to Hawaii and Fiji and then to Sydney.  We plan to travel seven months through Australia.  After touring Australia, we will ship the camper home the the Netherlands.  While the camper is on it's way home, we will fly to Bali and Singapore and then home.  All together we think our trip will take a year.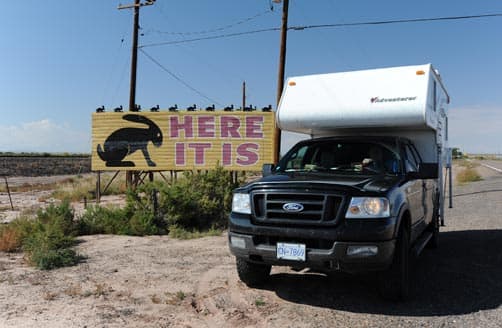 TCM: What did you have to do to get organized for a trip of this magnitude?
Marc: It took about eight months to plan the trip if you include just thinking about where we would be going.  The main thing that we had to arrange was the truck camper.  This was quite complicated because we first had to find out where we could buy and insure a car as foreigners; especially that last part is difficult and is different in every state in the United States and province in Canada.
When we knew where we were going to buy our truck camper, we arranged the flight tickets.  We also did some research about transporting the truck camper from the United States to Australia and then home.  We wanted to know if it was possible and if we could afford it.  We soon had quotes from shipping agents that were within the price range that we could afford.
We also found out that we needed a Carnet de Passage to get the vehicle into Australia.  When we got all the information together, we decided to actually arrange it while we were on the road.  It was not possible to do it at home because we didn't have the details from the truck and camper unit yet and we also wanted to keep things as flexible as possible.  Another thing we arranged while we were on the road was our visa for Australia and places to stay in Hawaii, Fiji, and Sydney.
Something else we had to do was arrange for the immunizations.  We both had all the vaccinations that they recommend for the countries we were going to visit, but the children needed Hepatitis A shots.  Michelle couldn't get that when she was still at home because you have to be over a year old.  Michelle also needed two shots from her immunization series that babies normally get at about twelve to fourteen months.  We found that Canada had similar immunization schedules to the Netherlands, so we were able to get her shots in Canada.