When long-time friends bought a pop-up Northstar for their family, Kristin and Brad Copeland were inspired to get their own.  First family rule: no electronics allowed.

At Truck Camper Magazine, we have the amazing ability to see exactly what you're doing.  For example, we can "see" that you're on a computer, tablet, or smart phone.  You're literally right in front of one of these devices – right now.  Isn't that amazing?  We're so smart.
Of course Truck Camper Magazine is online only, so there's really no other way you could be reading this article.  Okay, you could have asked your nephew to print the article and send it to you in the mail.  In that case, we can "see" that you're reading this article on a piece of paper.  Again, we are quite clever.
Taking a step back from all this silliness, it's become quite evident that most of us are inextricably tied to our devices.  Go into any restaurant and you'll find couples sitting across from one another, not talking, and clicking away on their smartphones.  Look again and you may notice their kids are doing much the same.  It's a little out of control, and I am increasingly freaked out about where this society-wide trend is going.
Kristin and Brad Copeland's story gives me hope.  As parents of two young daughters, they not only take their children truck camping in some of the most beautiful locations in the West, but they ban any and all electronic devices while camping.  No, they're not Amish.  They're just doing their best to make sure their kids aren't swallowed whole by Apple or Samsung's latest device.  These kids may not know it yet, but they are extremely lucky.
If you have young children in your life, perhaps you could take take a page from the Copeland's family playbook.  Leave the devices off, and introduce the next generation to a little something we call nature.  With a geyser here, and a Moose there, and a rainbow after a thunderstorm, we may just pull a few more kids out of the web, and into the world.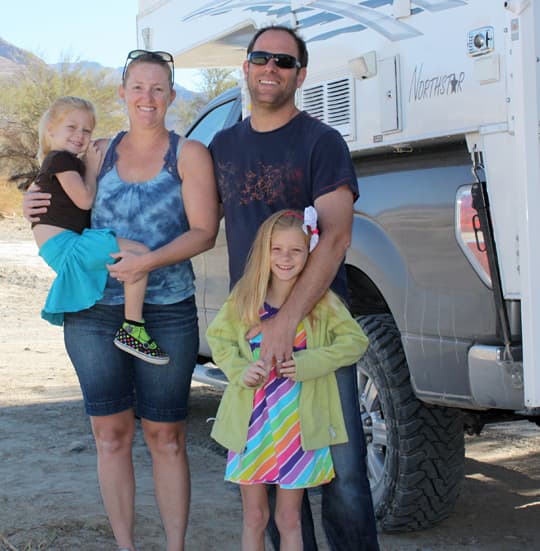 Above Left to Right: Kaitlyn, Kristin, Brad, and Karleigh Copeland
TCM: How did you and Brad get into truck camping?
Kristin: My grandparents had a truck camper and took my brother and I camping every once in awhile.  My parent's idea of camping was a mint on the pillow and room service.  When Brad and I met, he introduced me to tent camping.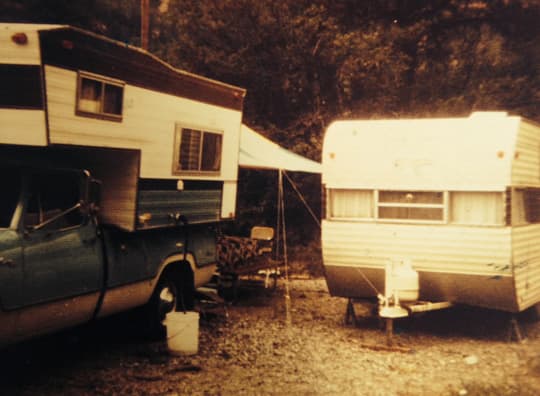 Above: Kristin's grandparents had a truck camper
Brad and I have long time friends, the Rowleys, that live in Mammoth, California.  Before we had kids, we went on long hikes and backpacking trips through the Sierras together.  Once the children were born, it was more challenging to go tent camping.
Above: The Rowleys and the Copelands camping together – click to enlarge
When our friends got their Northstar pop-up truck camper, I fell in love with it.  There was a bed and a kitchen.  The truck camper made it much easier to go camping with the kids.  That's when we started looking at a Northstar truck camper.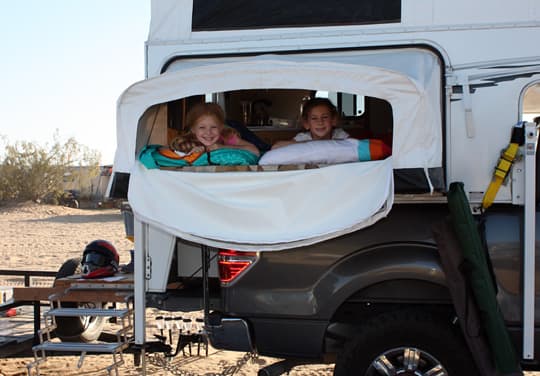 Above: The XB bed gives the Copelands more room when camping
Our friends have one daughter so the dinette bed works great for them.  With two girls, we needed more room.  That's when I saw that Northstar offered an extra pop-out bed, or XB option.
I was very lucky and found a Northstar with the XB option on Craigslist.  The first owner bought it new and only had it for a year.  We drove up to Oregon and bought the camper.  We have enjoyed every moment of owning the camper ever since.