When Kerry and Amy Langdale tell their kids to take a hike, they say, "How far?"  Anyone with kids, grandkids, nieces, or nephews should read this amazing family story.

To see something that resembles a landscape in Pennsylvania, we often need to be on a hill, in a clearing, on a clear day.  Unfortunately, most of these spots have long been occupied by expensive homes on private property.
When we drive out west, we can't believe how open the landscape becomes, how big the sky gets.  Mile by mile, America blooms before of us.  Of course the sky is the same size, but we can actually see it in out west.
Without this amazing experience, would we have fallen in love with the great outdoors?  Is it possible that we would have stayed glued to the myriad of screens that surround us?  Would the national parks be merely backdrops for movies we watch?
For far too many people, the answer is clear.  They have never seen The West in person, and think their favorite TV programs are more important than seeing it anytime soon.
Fortunately, we have families like the Langdales.  Not only are Kerry and Amy Langdale taking their kids into the national parks in a Hallmark truck camper, but they're venturing out on long hikes.  When their peers are probably staring into iPads, the Langdale kids are taking on Angels Landing in Zion, or conquering an eleven mile hike into Yosemite.
Please join us in celebrating the Langdales and other families who peel their children from the relentless onslaught of screens and venture into the wilderness.  Take a hike kids.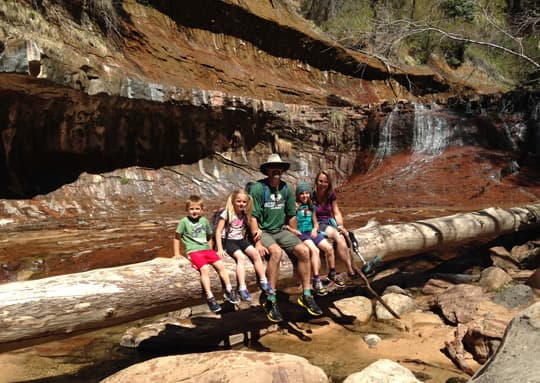 Above: Luke, Ryann, Kerry, Hannah, and Amy Langdale
TCM: Did you go tent camping or RVing when you were growing up?
Amy: My husband went on one tent camping trip as a kid and I went tent camping as a teenager.  My family lived on a heavily wooded lot with nearby wetlands, so I grew up loving all things nature.  Neither of us had much camping experience as kids because our parents were not campers.
Our true love of camping came to fruition when we were young adults in college.  I went to school in North Carolina and went camping as much as I could.  My husband lived in Flagstaff, Arizona and was an avid hunter, rock climber, and outdoorsman.  He had some amazing experiences camping and climbing all throughout the west.
I moved to Flagstaff on an exchange program that was supposed to be a year long.  I never returned to North Carolina once I discovered Flagstaff and, of course, met my future husband.
We camped in tents and his VW Vanagon as often as we could, mostly in areas where we intended to rock climb or mountain bike.  Together we would go to beautiful places including Yosemite National Park, Zion National Park, Red Rocks State Park, Joshua Tree National Park, and places around Flagstaff.  We often returned to college classes on Monday with dirty fingernails and no clean clothes, but contented hearts.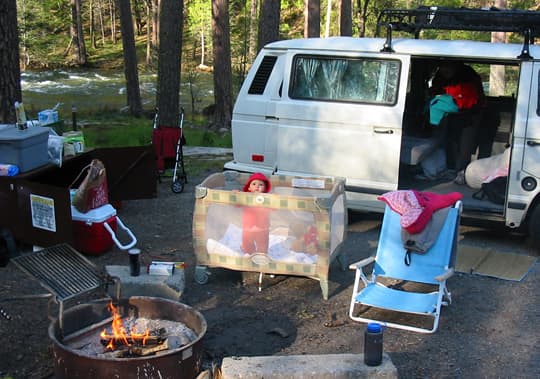 Above: Camping with the Vanagon
Then we got married and the adventures continued both tent camping and in the Vanagon.  After we had our first child, we took her on her first camping trip to Yosemite when she was about six months old.  Two more kids came along and we started tent camping with them at a younger age, sometimes using a laundry basket as a crib in the tent.
Life got busy with work, kids, and responsibilities, but we continued to camp as often as we could going on two to three big trips a year.  We mostly spent weeks at Yosemite, and Zion National Parks.
Soon the Vanagon was no longer big enough to hold our family of five, and packing and transporting the necessary supplies for tent camping was tedious.  But that didn't keep us from getting out there!