When Kerry and Amy Langdale tell their kids to take a hike, they say, "How far?"  Anyone with kids, grandkids, nieces, or nephews should read this amazing family story.

To see something that resembles a landscape in Pennsylvania, we often need to be on a hill, in a clearing, on a clear day.  Unfortunately, most of these spots have long been occupied by expensive homes on private property.
When we drive out west, we can't believe how open the landscape becomes, how big the sky gets.  Mile by mile, America blooms before of us.  Of course the sky is the same size, but we can actually see it in out west.
Without this amazing experience, would we have fallen in love with the great outdoors?  Is it possible that we would have stayed glued to the myriad of screens that surround us?  Would the national parks be merely backdrops for movies we watch?
For far too many people, the answer is clear.  They have never seen The West in person, and think their favorite TV programs are more important than seeing it anytime soon.
Fortunately, we have families like the Langdales.  Not only are Kerry and Amy Langdale taking their kids into the national parks in a Hallmark truck camper, but they're venturing out on long hikes.  When their peers are probably staring into iPads, the Langdale kids are taking on Angels Landing in Zion, or conquering an eleven mile hike into Yosemite.
Please join us in celebrating the Langdales and other families who peel their children from the relentless onslaught of screens and venture into the wilderness.  Take a hike kids.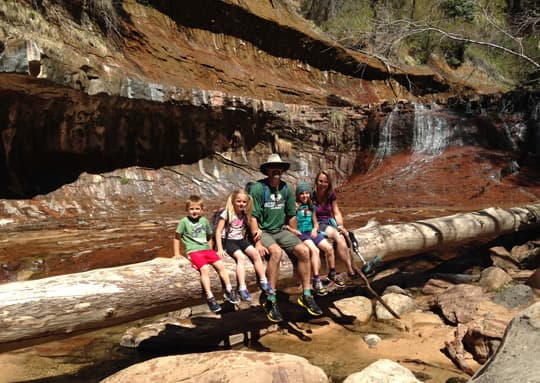 Above: Luke, Ryann, Kerry, Hannah, and Amy Langdale
TCM: Did you go tent camping or RVing when you were growing up?
Amy: My husband went on one tent camping trip as a kid and I went tent camping as a teenager.  My family lived on a heavily wooded lot with nearby wetlands, so I grew up loving all things nature.  Neither of us had much camping experience as kids because our parents were not campers.
Our true love of camping came to fruition when we were young adults in college.  I went to school in North Carolina and went camping as much as I could.  My husband lived in Flagstaff, Arizona and was an avid hunter, rock climber, and outdoorsman.  He had some amazing experiences camping and climbing all throughout the west.
I moved to Flagstaff on an exchange program that was supposed to be a year long.  I never returned to North Carolina once I discovered Flagstaff and, of course, met my future husband.
We camped in tents and his VW Vanagon as often as we could, mostly in areas where we intended to rock climb or mountain bike.  Together we would go to beautiful places including Yosemite National Park, Zion National Park, Red Rocks State Park, Joshua Tree National Park, and places around Flagstaff.  We often returned to college classes on Monday with dirty fingernails and no clean clothes, but contented hearts.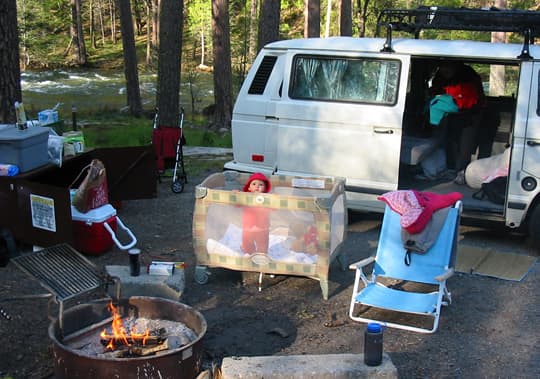 Above: Camping with the Vanagon
Then we got married and the adventures continued both tent camping and in the Vanagon.  After we had our first child, we took her on her first camping trip to Yosemite when she was about six months old.  Two more kids came along and we started tent camping with them at a younger age, sometimes using a laundry basket as a crib in the tent.
Life got busy with work, kids, and responsibilities, but we continued to camp as often as we could going on two to three big trips a year.  We mostly spent weeks at Yosemite, and Zion National Parks.
Soon the Vanagon was no longer big enough to hold our family of five, and packing and transporting the necessary supplies for tent camping was tedious.  But that didn't keep us from getting out there!

Above: Camping with fellow truck camper friends, the Hales, Capitol Reef, Utah, hiking the Subway
TCM: Two adults and three kids in a Vanagon does sound tight.  How did you get into truck camping?
Amy: In 2012, we met our dear friends, Frank and Erin Hales, through our church.  We soon discovered we had all the same loves.  They had a truck camper and we soon started camping with them; us in a tent, and them in their Hallmark truck camper.
During one of these camp-outs, we experienced a flash flood in Yosemite.  The rain was just pouring and flooded the valley floor.  Frank and Erin were toasty and dry in their truck camper, but we were freezing cold and soaking wet in our tent.   I was wondering if the kids were going to get sick.  We stayed awake all night listening to the rain.
As we spent more time with the Hales, we realized how amazing a truck camper could be for our family.  We loved the idea we could camp comfortably in all seasons, and not be unmotivated by snow, rain, or cold weather.
Above: Samuel P. Taylor State Park, Northern California
My husband researched and looked for used campers on Craigslist.  He soon discovered used campers were hard to find.  Then, in September of 2013, a used Hallmark camper, in our area, was listed.  Our family immediately jumped on the opportunity and picked it up a day later.  The camper was in great shape, given up by its owner because of a move out of state and the need for something less rustic.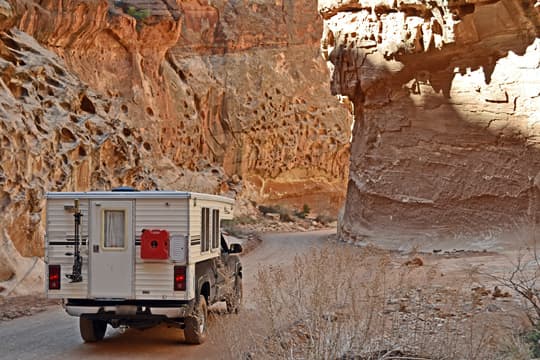 Above: The Langdale's camper in Capitol Reef National Park on Grand Wash Road, Utah
We started using our Hallmark the following weekend by taking it to nearby San Clemente State Park.  We were in love!  Since that first maiden voyage, we've been truck camping with the Hales as often as we can.  We go to local places like San Elijo, Caspers Park, and San Clemente all over Utah, Northern California, and Nevada.  Now we have a warm and dry place to go when it's cold and raining.
Our truck camper chose us!  It literally was a gift from God.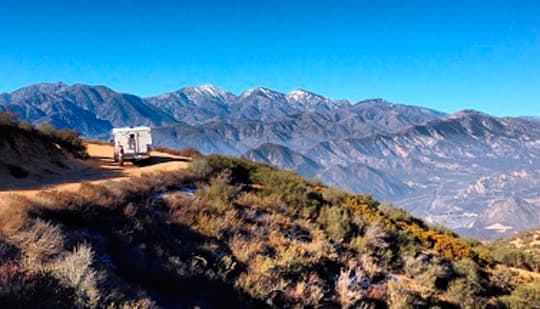 Above: Mormon Rocks, along state highway 138 in the Cajon Pass, California
TCM: A lot of people are going to look at your pop-up camper and think there's not enough room in there for a family of five.  How does it work with storage, sleeping, and space?
Amy: We attempt to be minimalists and our camper is all we need.  We live in a small 1,100 square foot house.  When we're camping we basically only take clothes and food.  Each of us gets one duffle bag for clothes.  That way, clothes for each person are in one place.  We are definitely learning ways to improve our packing with each trip that we do.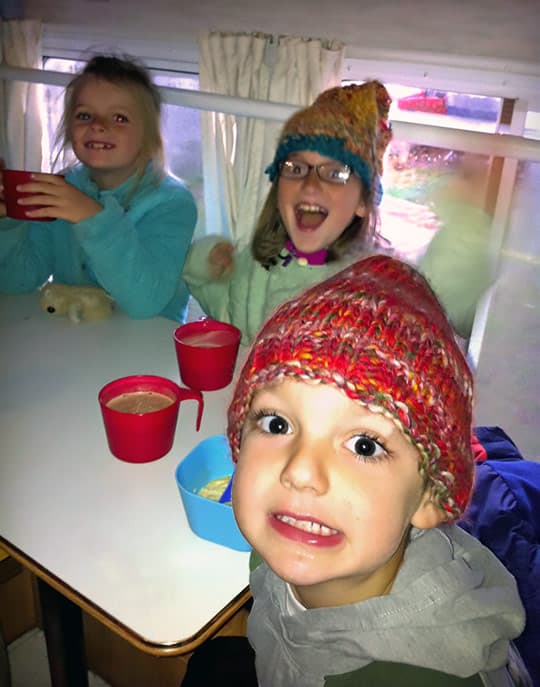 Above: Ryann, Hannah, and Luke eating in the dinette of their Hallmark pop-up
We have a large cabinet for storage, but we don't really need a lot of space.  There's also large storage area under the cabover bed.  That's where we keep our pillows and sleeping bags.  Kerry made two custom bunk beds that come down in sections and store away under the cabover bed.  The bunks are genius!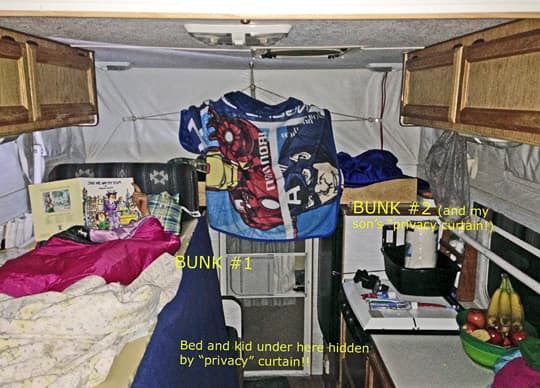 Above: The bunks that Kerry made for the kids
We only have the bunks out when the kids are sleeping.  While I'm making dinner, Kerry might put the bunks up.  If it's rainy outside, we have a table in the camper.  We also have a makeshift awning made out of a tarp and some old tent poles for extra outdoor space to relax.
Here in southern California it doesn't rain too much.  It's usually nice weather when we're camping.  If we do get wet in a rain storm, we'll go for a hike.
We have a limited amount of space, so we only pack what we need.  We can be 100% off-the-grid and as comfortable, as if we were at home.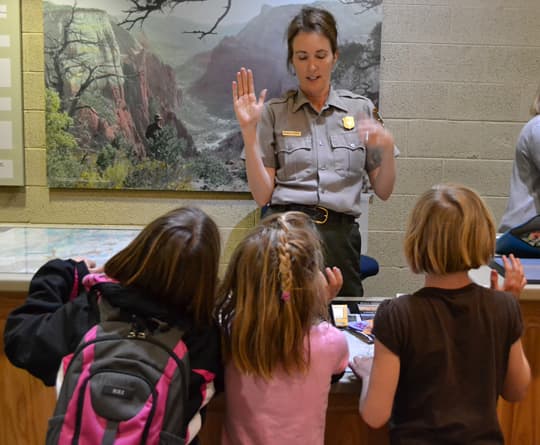 Above: Becoming Junior Rangers at National Parks is something the kids enjoy
TCM: You're packing style is certainly a model of efficiency.  What does your family like to do when you're out truck camping?
Amy: We love to explore new places.  We hike, bike, swim, take hundreds of pictures a day, explore off the trail, climb around, and look for amazing animals and rocks.  The kids enjoy becoming Junior Rangers at every park, and we like to attend interpretive talks and learn more about the amazing places we visit.  Mostly, we love to pick an area to visit and fully explore that area and spend time with good friends there.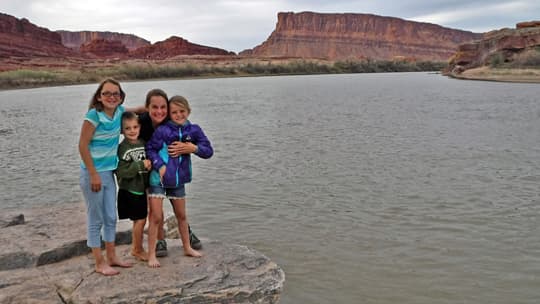 Above: Amy, Hannah, Luke, and Ryann at the Colorado River, Utah
Camping has definitely brought our family closer, literally.  If someone's feet stink, we're all feeling it.  We are a tight knit family, and camping helps to cultivate that.  Being on the road also gets us away from the internet and screens, and gives us family time.  People need to take time and get away.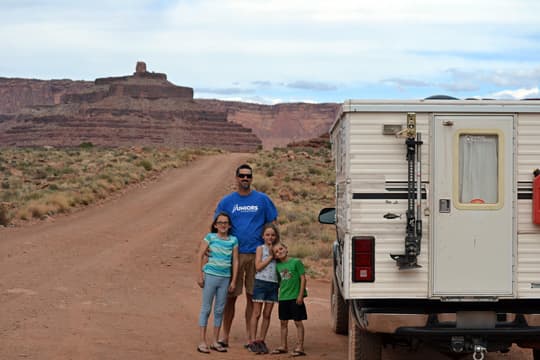 Above: Hannah, Ryann, Luke and Kerry with their Hallmark pop-up camper on the White Rim Trail, Canyonlands, Utah
TCM: I agree about stinky feet in a truck camper, and the need to get away from screens.  Tell us about your kids and their perspective on truck camping.
Amy: Hannah is my ten year old, Ryann is eight, and Luke is six.  They've been camping since they were little.  They think we are the luckiest people in the whole world to have a truck camper.  My husband will pop-up the top on the weekend and they will hang out in the driveway.  We'll make lunch and they'll eat it in the camper.  It's a home away from home for them.
Before we had the truck camper, we stayed in a hotel once near Yosemite.  It was not a desirable place with bars on the windows, but it was a cheap place to sleep for a few hours.  Well, my two older kids ran into the room like it was the Hilton.  All they had done up to that point was tent camping.  Now they love the truck camper.
My friends at work ask how it works and how big it is.  Everybody is amazed.  People can't resist peeking in.  They want to see what it's like, and then they want one.  Everyone becomes a kid when they see our truck camper.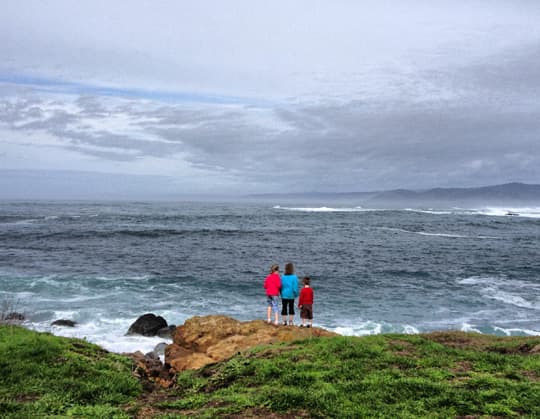 Above: MacKerricher State Park, California
TCM: Where have you been with your truck camper that you would recommend to other truck campers?
Amy: We've been to so many great places!  Big Sur, McKerricher State Park, Santa Cruz, Russian Gulch State Park, Van Damme State Park, Point Reyes, Yosemite, Zion, Bryce Canyon, Arches, Canyonlands, Capitol Reef, Virgin River Gorge, San Elijo, and San Clemente, to name a few.
McKerricher State Park in Northern California is a favorite.  It has breathtaking views, and we camp right along a forested beach.  Driving Potash Road and skimming the beginning of the White Rim Trail gave us a strong desire to return to Canyonlands to do the entire thing!  Big Sur is a big hit.  It's so beautiful!  Julia Pfeiffer Burns State Park was incredibly beautiful and we had fun floating down the river while eating ice cream.
TCM: With the amount of hikes you've done with your family, do you have some stand-out favorites?
Amy: We have a number of favorites.  Here are a few:
1. Remote Arch in Arches National Park is a favorite.  It's an out of the way hike requiring a drive down a four mile dirt road.  There's a tiny parking lot there, one porta potti, and a sign that says, "Rocks can fall on you".  I took a picture of the sign because I thought it was funny they printed that on a sign.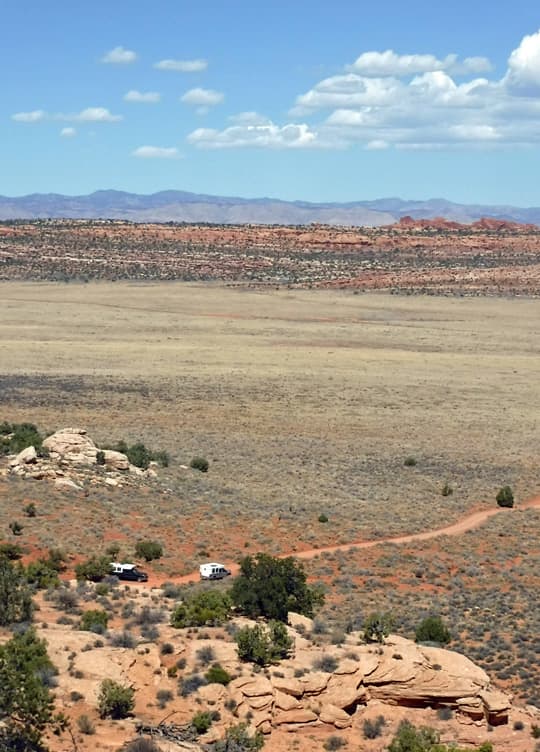 Above: Arches, Utah, the hike leading to Remote Arch.  This place had the funny, "Rocks can fall on you" sign and one porta-potti.
The hike takes you through amazing terrains.  It's uphill right away and then it takes you back to an incredible canyon. Nobody was there.  A lot of people are going to Arches National Park in cars, and are going on the shorter hikes.
2. The Subway hike outside of Zion National Park is absolutely amazing!  You have to get a permit to do it.  Once again, it's accessed down a dirt road.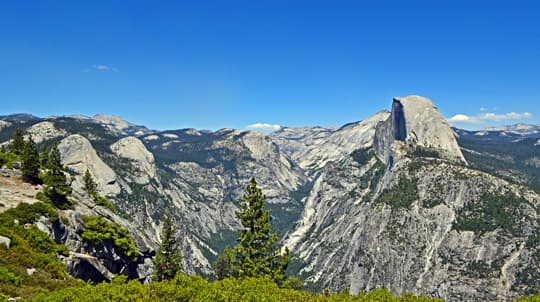 Above: Yosemite National Park, California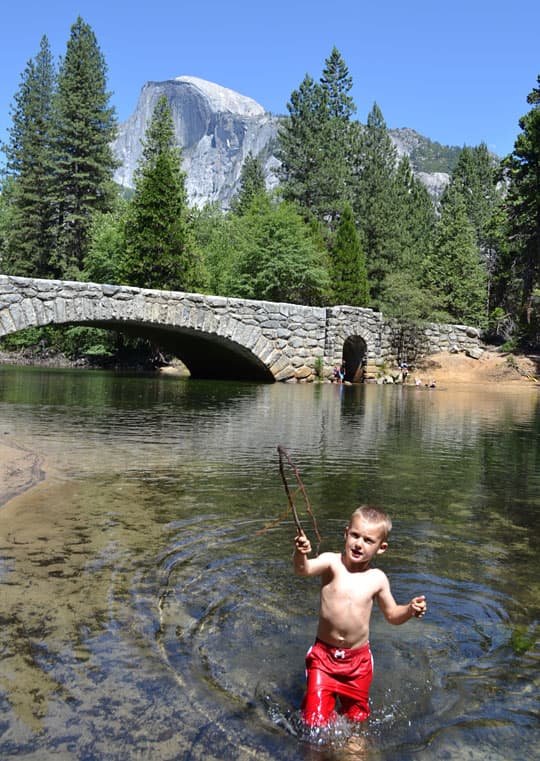 Above: Yosemite National Park, California
3. In Yosemite National park, we like the Panorama Trail.  It's a ten mile hike that basically takes you all the way around the park.  You pass waterfalls, including one waterfall that gets you wet as your hiking down a hill.  That was definitely a highlight.
4. Angels Landing in Zion National Park was scary, but fun.  It's one of our favorites.  Get there early in the Spring or Fall.  We usually go in September or October.
5. The Narrows in Zion National Park was the hardest hike, and definitely not created for someone with a prosthetic leg.  It was beautiful and super physically challenging for me.  It's all water, and part of it you have to swim.  I'm 5'3" and was not able to touch the bottom.  My eight year old completed it with me.  She was a champ and was ahead of me the whole time.
Every hike in Capitol Reef National Park was a favorite.  They're all amazing!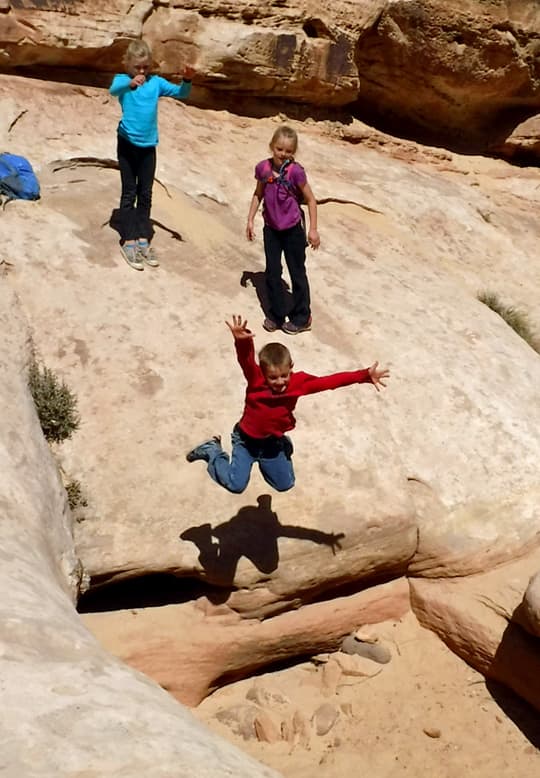 Above: Capitol Reef National Park hike, Utah
TCM: Those are some impressive hikes, and distances, for your kids.  How are the kids with the long hikes?
Amy: The longest one the kids have been on is eleven miles.  In general, we try to plan shorter hikes that are three to five miles, but we also try to do an epic hike, once every trip.
We don't really talk about it ahead of time like it's going to be this big, huge, long hike.  The kids will sometimes ask because they've had experience, "how long is this one?".
We just assume they are going to do it, and they love it.  Erin and Frank, our friends with the Hallmark camper, have kids the same ages as our older two children.  They come with us.  For the long hikes, it helps having a buddy.  They have someone to explore with.
A big part of our hikes are snacks, and making sure we have enough food and water.  I also try to pack something special.  If we get to a down point where they're tired or we go uphill a long time, I'll bring out the special snack.  Who doesn't love chocolate or a treat to reset their attitude?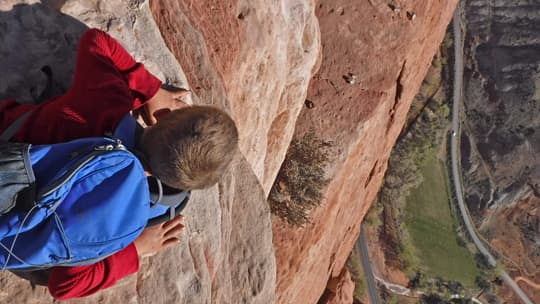 Above: Exploring in Capitol Reef National Park, Utah
And we do a lot of exploring.  We look at things that are cool, rock hop, climb trees, and just explore.  There's an element of discovery to our hikes.  We'll talk about the animals and the birds, and God's creations.  There's all this stuff to enjoy.  It's not just a physical hike.
It's taking time to have conversations and be with our friends.  That makes the hard work come easier.  Plus, they're seeing cool stuff they've never seen before.  The length of the hike doesn't even hit them.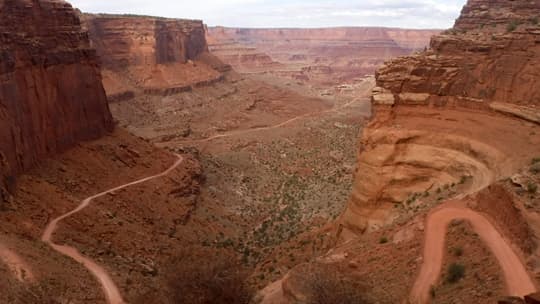 Above: Driving Potash Road in Utah
TCM: How do you find the remote places you like to explore?
Amy: Kerry and Frank look online, or at books and topographic maps.  They'll also talk to other people and see what they recommend.  Kerry also uses Truck Camper Magazine as a tool for inspiration!
When we took our trip to Arches National Park we decided to take the long route.  We took the freeway to a certain point, and then we got off.  We knew it would take a few more hours, but we want to see the scenic pass versus staying on the freeway.  For us, the whole trip is the adventure.
When we went up the pass in Capitol Reef National Park, we were giddy with excitement because we saw the biggest most beautiful Aspen grove.  We want to go back in the fall, and see it again.  It was huge, and we totally would have missed it if we had taken the shorter route and gotten there two hours earlier.  We go a different way, and see what's out there.
We love our truck camper because we can go down a road and, if get hungry, we can pull over and I'll make sandwiches.  Everything we need is in one place, and we can go anywhere with our camper.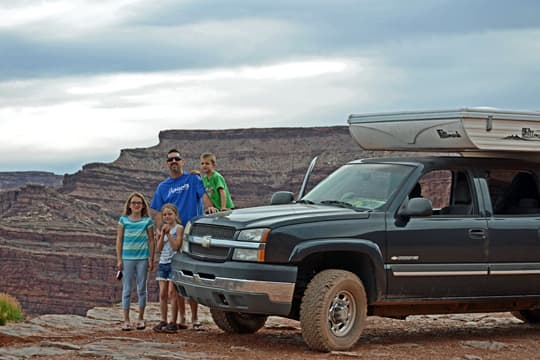 Above: Potash Road in Canyonlands with the Colorado River in the background, Utah
TCM: You both have full time jobs and your kids are in school.  How do you make all of these trips possible?
Amy: I am a trauma nurse, and I work three nights a week.  I have control over my schedule for the most part.  I call it a creative schedule.  I may work Sunday, Monday, and Tuesday nights one week, and then the following week, Thursday, Friday, and Saturday.  So, I'll basically have a whole week without taking off.  Other times we go camping, I'll just take off.  Kerry is a teacher, so he gets spring break, fall recess, and (usually) summer.  Unfortunately, the kids have different times off than he does because they are in different school districts.  If it coincides, it's great!
Sometimes we pull the kids out of school using the Independent Study Agreement.  This is a legal document that allows parents to homeschool for up to two weeks with no ding on attendance records.  They bring their school work with them and do it in the morning in the camper or they will do it in the car enroute to our destination.  They get it done!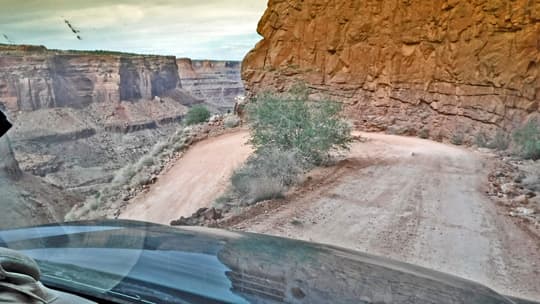 Above: Potash Road which leads to the White Rim Trail, Canyonlands, Utah
TCM: Your Hallmark doesn't have a toilet and you holding tank sizes are relatively small, at least for a family of five.  How do you make that work?
Amy: The camper came with a portable toilet.  That was the first thing my husband took out of the camper.  We did save it.  At some point when the kids are older, and we go on longer trips, I may want it back.  I don't think he realizes how miserable it can be for us women when there is no bathroom nearby and it is freezing outside!
We stay off-the-grid seven to fourteen days at a time.  Believe it or not, we have never put water in our fresh tank.  We just bring fresh water with us.  We have bottled water, and a big portable 20 to 30 gallon water container.  It stays outside of the camper and under a table to keep the sun off of it.  We use that water for washing dishes.
Frank and Erin have a portable shower with its own water tank.  We'll heat it up and we'll wash off that way.  We're not very clean when we're camping.  Our hands are clean, but that's about it.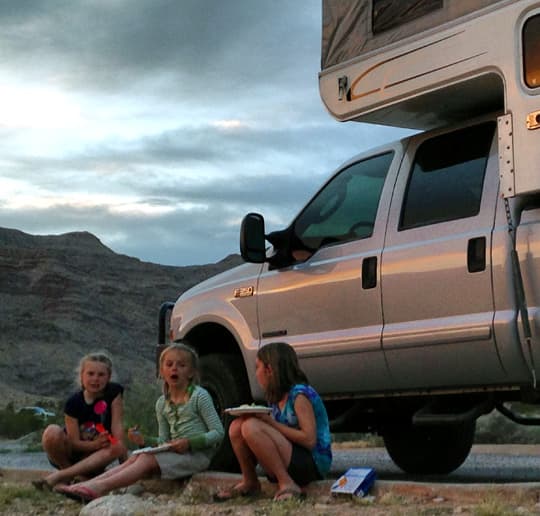 Above: The girls in front of Frank and Erin's rig
Erin and I have a system for washing dishes in a wash basin, like mom used to use in the sink.  We both have two basins.  We'll boil water and we started having the kids help.  We have an assembly line, of soaping, rinsing, and drying.  We'll set it up on table.  We also use paper plates a lot and put them in the fire.  Everyone has their own spork and their own water bottle.  We try to keep dishes to minimum.
I also prepare food at home to cut down on the dishes.  For example, we'll dice onions at home before the trip.  Then I don't have to clean a dirty cutting board.  Erin and I have created a system that really works! It all all about planning and prepping ahead of time.
Since we don't have a toilet, and don't use the camper fresh or grey water systems, we never have to fill or dump our tanks.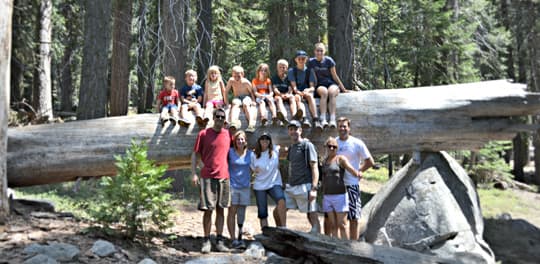 Above: The Curtis Family, The Averell family and the Langdale family in Sequoia National Park, California
TCM: It's tough enough to find time with your own family schedule.  How do you coordinate camping with your friends, and their schedules?
Amy: Erin and Frank Hale are our truck camping partners, but we also camp with other tent campers including dear friends the Averell family, and the Curtis family.  We lovingly call our group the Curhaverdales!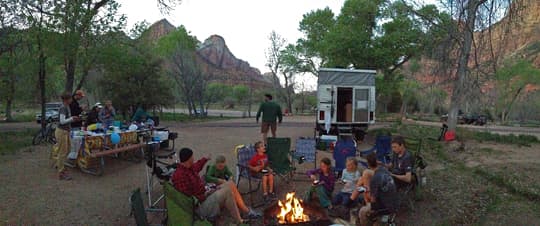 Above: The Curhaverdale group (Curtis, Hales, Averells, and Langdales) in Zion National Park, Utah
We just make it happen.  There are a couple of families who can't go on certain trips because of scheduling.  We plan way ahead of time.  We have some weekend local trips planned, and now we're starting to talk about a fall trip.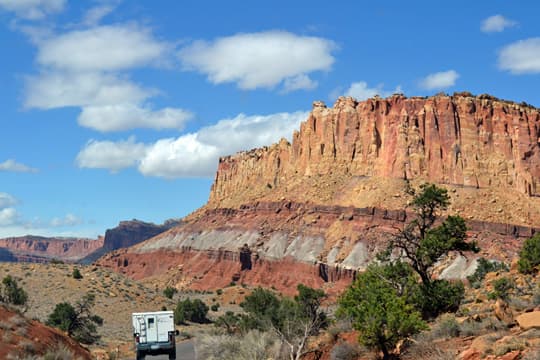 Above: Somewhere in Utah
TCM: What are your truck camping plans for the future?
Amy: We have plans to go back and finish the White Rim Trail in Canyonlands.  Other plans brewing include Alaska, Montana, Colorado, Idaho, and more of Northern California.
Traveling for us is all about exploring and finding new stuff.  We always discover more opportunities when we're out exploring.  We'll find a cove or an incredible place.  Just getting out there, even locally, we have fun.
Also, living in California with earthquakes and other threats, we never worry because we have our house on wheels.  A natural disaster could happen at any time, and we have an emergency place to live, ready to go.  Our Hallmark truck camper has everything we need.  There are so many benefits to having a truck camper.
Rig Information
Truck: 2003 Chevy Silverado 2500HD, Crew Cab, Short Bed, Single Rear Wheel, 4×4, 8.1L Gasoline
Camper: 2001 Hallmark Ute
Tie-Downs and Turnbuckles: Torklift tie downs and regular old turnbuckles
Suspension: Rancho 9000 shocks, air bags, Torklift Stable Load
Gear: recovery gear, shovel, ax, tow straps, hi-lift jack, Rotopax 3 gallon gas can, custom built bunks inside, 140W solar panel with two 6V deep cycle batteries