Dean, Kim, J.C., Hunter, and Madelyn Geisenhaver climbed aboard their Lance 1030 for a cross-country family trip through the West none of them will ever forget.

We met the Geisenhaver family at the 2012 Mid-Atlantic Truck Camper Rally this past April.  When Dean and Kim Geisenhaver told us about taking their three children on a four week cross-country trip in a Lance 1030, Angela and I had the same reaction, "Wow"!  Our second reaction was also the same; we had to get their story in Truck Camper Magazine.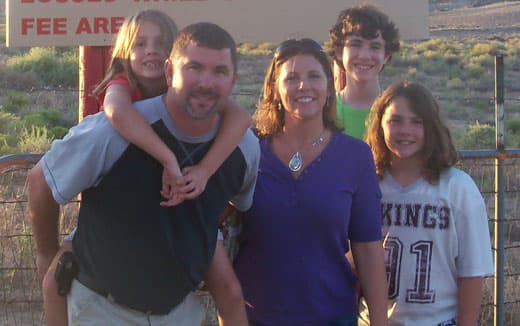 Above: Madelyn, Dean, Kim, J.C., and Hunter Geisenhaver
TCM: How did your family get into truck camping?
Dean: My grandfather had a truck camper and a 1968 Chevy camper special truck.  I have wonderful memories of hunting, camping, and riding in the cabover.
Kim and I went tent camping before we had kids.  Then we moved to a pop-up trailer.  We really enjoyed the trailer, but we needed something that would work at a snowcross track, and also let us pull a snowmobile trailer.  That's when we started looking at truck campers.
We eventually bought a 2001 Lance 820, a small hard-side truck camper that we found used.  The Lance worked for us.  We liked camping in the winter, and the Lance had heat and heated holding tanks.  We also took trips in the summer, on the weekends, and for vacations.
When we got pregnant with our third child, we knew we couldn't have five people in an eight foot Lance, so we sold it.  We were without a camper for a year.
Then we actually bought a thirty-one foot travel trailer with a bunkhouse, figuring that's what we had to do.  We had that trailer for two years and enjoyed it for summer vacations, but that's all we could use it for.  That bothered us.
Above: Winter Camping in Michigan
That's when we sold the trailer and found the Lance 1030, in March of 2009.
Kim: We couldn't use the travel trailer like we use the truck camper.  It was a pain in the neck to take the big trailer somewhere.  You didn't want to just take it out for the weekend like we do with our truck camper.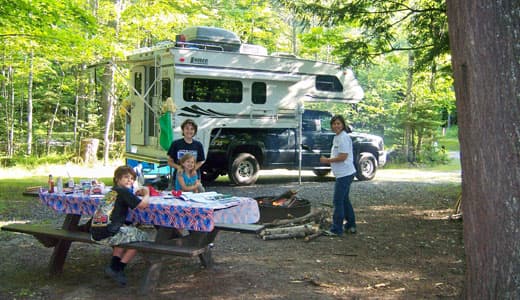 Above: The Geisenhavers with their Lance 1030 in the Upper Peninsula of Michigan
TCM: When did you decide to take your family on a long distance truck camping trip?
Dean: A big trip was always in the plans.  That was the main reason for the truck camper.  To make sure the truck camper would work for the five of us on a long trip, we started taking weekend trips.  Then we took a twelve day trip to the western part of Michigan's Upper Peninsula.  That's when we knew the 1030 would work well for us on a cross-country trip.
Kim: We typically camp in forest areas.  The camper is fully self contained, and that's good for the Upper Peninsula.  There are lots of state and national forest areas up there and there aren't many camping amenities.
TCM: How did you plan for the cross-country trip?