Captain Ray VanHorn, aka the Gypsy Angler, travels the United States in his CampLite rig searching for bucket-list salt and fresh-water fishing opportunities, and great television.

For some readers, this article is going to be too much to bear.  It's bad enough that Captain Ray VanHorn gets to go truck camping all over the United States and spends his winters near Everglades National Park in Southwest Florida.  It's truly over the top that he gets paid to go fishing, and stars in his own television show, Gypsy Angler.  Truck camping and fishing enthusiasts, meet your new hero.
Ray, 62, founded and hosts Gypsy Angler, a television show that airs from January through July on the Sportsman's Channel and Fox SunSports.  For the show, Ray seeks out the best fresh and salt-water fishing opportunities from coast-to-coast and does his best to educate and entertain his audiences on fishing techniques.  He does this, of course, with his CampLite truck camper and Ranger Boat in tow.
To find out how Ray reeled in this incredible lifestyle, we contacted the Captain himself.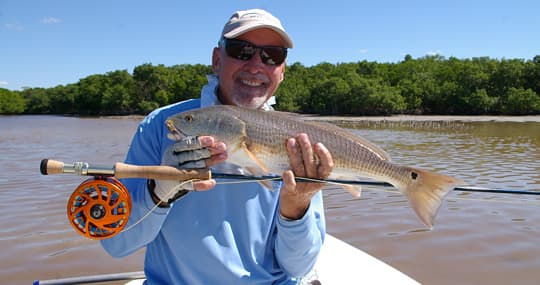 Above: Ray VanHorn with an Everglades Redfish
TCM: Tell us about your profession and what you do.
Ray: I was honestly put on this planet to chase fish.  I am obsessed with angling.  Younger guys in this area think I'm crazy.  Even on my days off, I fish.  Typically I leave before the sun comes up and come off the water when the sun comes down.
You will not get this day back.  I think the longer you are on the planet, the more that becomes obvious.  I have a few spins on the planet, and realize that I am blessed with each day I get.  I am going to fish as much as I can.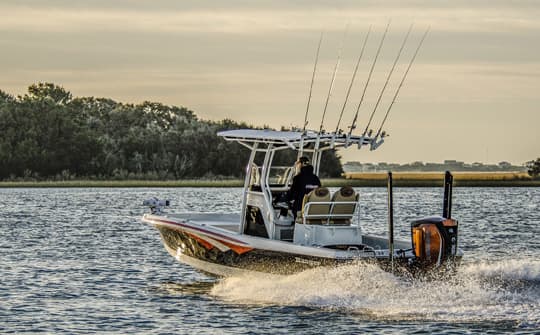 Above: Ray with his Ranger boat in North Carolina, photo courtesy of Garrick Dixon
I have also been blessed with my career.  I have worked with Ranger Boats for over thirty years.  The relationship with Ranger Boats started when I was a young aspiring bass tournament angler, and they were the only people who would help me.  Ranger Boats helped me forge my career.  I wouldn't be where I am now without them.  I have had a lot of opportunities to look at other offers, but my honor, integrity, and loyalty aren't for sale.
I gave five years to the B.A.S.S. tournament tour.  Then, I became active in the IFA Red Fish Tour and won a championship in 2001.  I came to a crossroads in my career and had to make a decision.  So, I focused on chartering.  I have been a fresh and salt water guide for many years.
About nine years ago, a producer in Minnesota called me and told me that they were filming s segment for a television show.  The producer and videographer were starting their own production company.  We knocked out the segment in two days.  When we got done so quickly they said, "Do you know anyone else that we can film so that we can capitalize on this time?"
Captain C.A. Richardson, was my tournament partner and produced an instructional series on fishing called Flats Class.  We thought the instructional series would be a good television format.  The four of us started Flats Class television.  I was one of the original founders and co-hosts.  That's how it all got started.  I had no aspirations to do it.  It was a timing thing.
Then, about five years ago, the Gulf oil spill happened.  We couldn't give away fishing tackle, rods, and reels.  We lost a lot of revenue.  The in-shore salt water niche was a great platform, but that oil spill hurt us.  At that time one of my sponsors said, "If you had a fresh water version, I'd have some marketing dollars for you".
That's when I launched Gypsy Angler, which was originally going to be called Angling Tactics and Techniques.  The production manager said that title sounded like a graduate course.  He said that the show should be about me and my lifestyle.  Gypsy Angler came to be about me and my nomadic, gypsy lifestyle.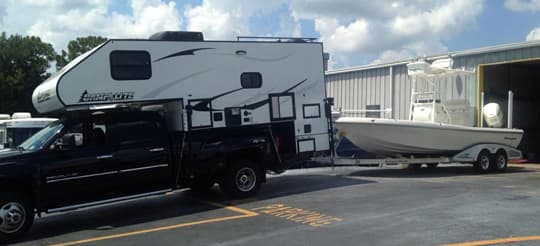 Above: Ray's GMC and CampLite before the wrap was added
TCM: When did you mix your passion for fishing with truck campers?
Ray: For the first couple of years of Gypsy Angler, I moved around from hotel to hotel while taping the show and angling.  This year I said, "I've had it with hotels!"  Honestly, I'd rather have a root canal than stay in another hotel.
I like the idea of my own space.  We struggled with the idea of a fifth wheel because you can't triple tow in Florida.  A Class C motorhome might have been okay, but it's difficult to back a boat down a boat ramp with a motorhome, especially without four-wheel drive.  Plus, motorhomes are quite expensive.
The truck camper with a one-ton dually was the best way to go.  I have been running GMC trucks for twenty-five years, so I bought a 2014 GMC Sierra 3500.  A one ton dual rear wheel truck was the best solution because I tow a boat.  I am also happy to have a dually because it gives me stability with the truck and camper in the wind and rain.  My truck is a great platform for my CampLite camper.

Above: Ray's newly wrapped truck and camper, towing his boat with the Torklift SuperHitch and SuperTruss
I needed a good hitch product, so I went with Torklift International's SuperHitch and SuperTruss extension.  With an eleven foot camper, I need a four foot extension with 740 pounds of tongue weight.  I have my life bolted together back there, so I need a product that is engineered right.  I also have 2,000 pounds of weight distribution.  Torklift offered the best products for what I need.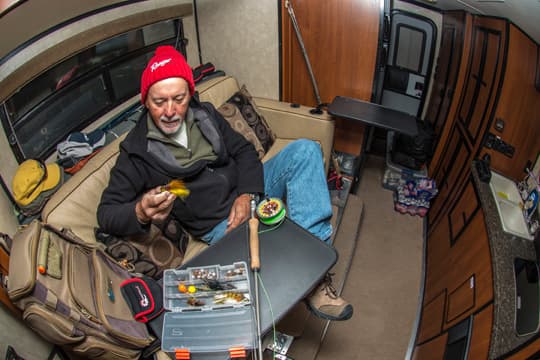 Above: Inside the CampLite TC11.0 truck camper, photo courtesy of Garrick Dixon
When I started researching truck campers, I looked at all of them.  I liked Livin Lite's CampLite truck campers for their no-wood, all-aluminum and composite construction.  That means no rot.   CampLite's construction is the best construction for me because I am in a marine environment, and wood would be susceptible to moisture.
Rick Barna, the Truck Camper Product Manager at LivinLite, has been a huge fan of our original show.  We finally connected and the relationship with LivinLite has been just wonderful.
Above: The CampLite and GMC in Montana, photos courtesy of Garrick Dixon – click to enlarge
TCM: You were recently in Montana with your truck camper rig.  What were you doing there?
Ray: There were two reasons I was in Montana; friends, and fishing.  I wanted some time off to visit with friends who live in the Everglades and travel to Montana in the summer.  I also have friends who are truck campers who travel to Montana like I do.
The first time I went to Montana, my mentor, Stu Apte, an iconic angler in the IGFA Hall of Fame and a fishing legend, got me to come to Montana.  I'm a zero altitude swamp guy.  I don't like being a mile high in the air.  Stu said, "It will change your life".  I've seen some pretty cool things in my time, and it was a bold statement.  But, I looked at Stu's experiences, and said, "I'm going to check it out".
Above: Fishing in Montana, photos courtesy of Garrick Dixon – click to enlarge
The first time I was there I spent two days.  The next time, a week.  This year, two months.  Every time I go to Montana, I stay longer.
I film with Stu every chance I get.  I have been in films with him in the Everglades and, over the past five years, we have done seven trout fishing shows while visiting Montana.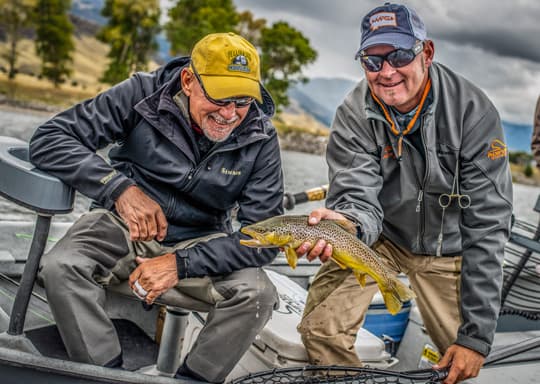 Above: Yellowstone Valley Lodge guide Eric Adams and Ray VanHorn on location, photo courtesy of Garrick Dixon
TCM: What's it like to film an episode of Gypsy Angler?
Ray: When we're filming, I'm not going fishing.  I'm producing a fishing television show.  This past year we were filming in tropical conditions all the way to 21 degrees.  The logistics of filming television shows is enormous.  It's all about the people you surround yourself with.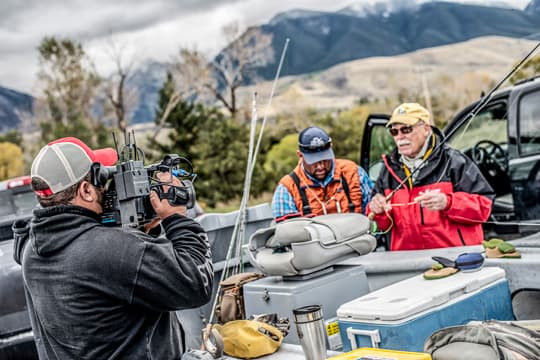 Above: Guide Jamie Benedickt of Wild West fly fishing and Stu Apte on location in Yellowstone being shot in picture by Cameraman, Cory Vannederynen, photo courtesy of Garrick Dixon
The weather is the number one determining factor.  It's hard to film in rain with the video equipment.  If we're blessed with good weather, we can do a complete show in a day.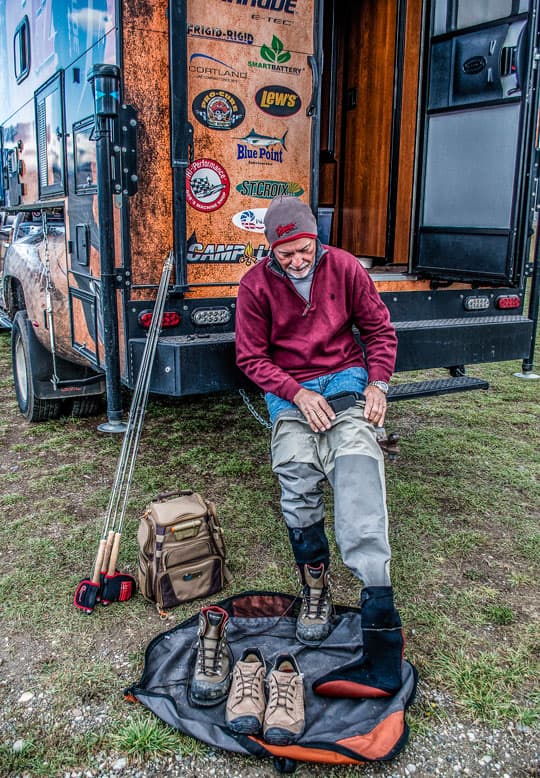 Above: Ray getting ready to go fishing on the Yellowstone
Unfortunately, Montana had an unprecedented amount of rain this past September.  The Yellowstone river was our designated area.  It's a freestone natural river with no dams, so it's subject to flooding and mudding out.  Fishing goes in the bucket in those conditions.
Above: The entire production crew on location at Yellowstone, including videographers, guides, and anglers.
We were contemplating moving the whole production to Bighorn River because of all the rain but, at the last hour, we had a window of opportunity.  We filmed two shows in two days.  It was a huge production.  A dozen people were involved.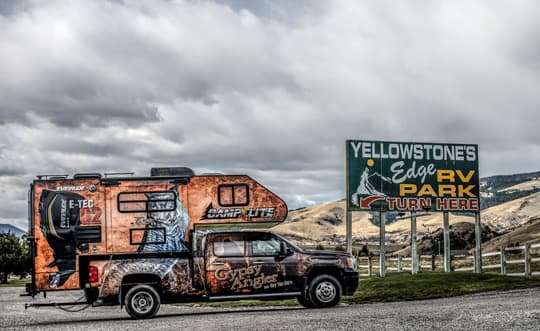 Above: Ray's rig at Yellowstone Edge RV Park, photo courtesy of Garrick Dixon
Even though they all stayed in the Yellowstone Valley Lodge, I stayed in my camper at the Yellowstone Edge RV park.  I like to stay in my camper.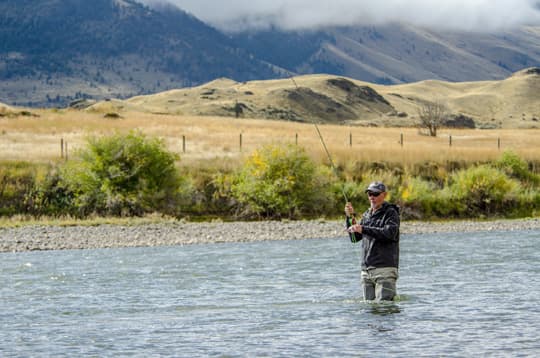 Above: Ray VanHorn fishing in the Yellowstone River, photo courtesy of Garrick Dixon
TCM: Does each show have a theme, or are they just different fishing adventures?
Ray: We have educational themes for each show.  For example, on one particular show we focused on the Yellowstone River and a technique called streamer fishing.  Streamer fishing is the closest fresh water technique to salt water fly fishing.  I like it the best because it's power fishing.  In September the Yellowstone river lends itself to streamer fishing.  It's a blast!  We can see trout coming twenty feet away.  It's like a missile hitting your fly.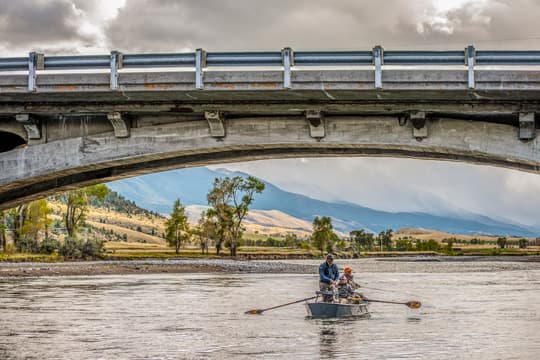 Above: Fishing in Montana, photo courtesy of Garrick Dixon
TCM: How did you get Gypsy Angler on the Sportsman's Channel and Fox SunSports?
Ray: That's not hard.  We buy time on the networks.  There are major channels for outdoorsmen; the Outdoor Channel, Sportsman Channel, Pursuit Channel, Destination America, the Travel Channel, and regional channels.
A lot of the channels are very expensive, so we are limited.  The World Fishing Network is the one I like the most because it's 100% fishing, but it's not financially viable this year.
Originally we launched the Gypsy Angler on the Sportsman's Channel because my production company and I had a history with them.  This is the third year of the Gypsy Angler with the Sportsman's Channel.  In 2015, we are adding Fox SunSports.  Floridians watch it.  When I was building a new show with limited resources, the Sportsman's Channel made sense.  That's where we started.
Paying for airtime means a lot of out-of-pocket money early in the production.  We don't get funding from our sponsors until the first of the year.  By then I have been filming six to seven months in advance.  We have been spending money on travel, filming, and fuel, so we're way out of pocket.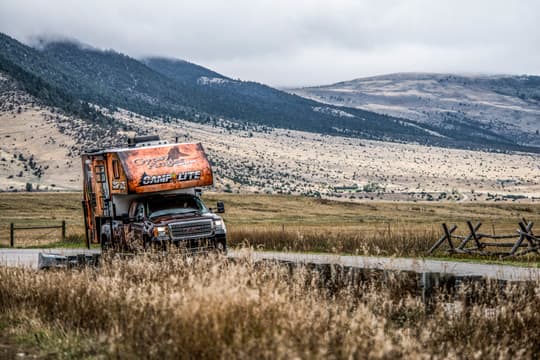 Above: CampLite in Montana, photo courtesy of Garrick Dixon
A lot of outdoor programs wait until they get funding, but I like having my program run the first quarter because the people in the northern tier of the USA and Canada have cabin fever.  We get people watching our show in the north that would probably not be watching at other times of the year because they are avid anglers who are out fishing.
I own the show, sell the show, and help the produce show.  My editor probably wishes I wasn't so involved.  Then I do the marketing, hosting, and the entertainment part, like when I take my sponsors fishing.  There are also promotional events, like Boat and RV shows, in-store promotions, and tackle promotions.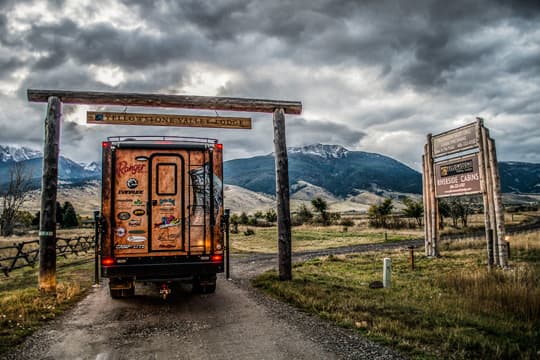 Above: Ray's rig at Yellowstone Valley Lodge, photo courtesy of Garrick Dixon
TCM: Wow, that's a busy schedule.
Ray: I don't sleep much, maybe four to five hours a night.  I am up at 4:00am working out.  I am not going to be cheated out of time on this planet.
I also learned about success early on from Forrest L. Wood, Founder of Ranger Boats.  He surrounded himself with good people.  You can't be the master of everything.  You have a limited skill set, and you have to get help.  Besides, it becomes more fun when you have good people to work with because of their expertise.
Garrick Dixon is my videographer and photographer and he's twenty-four years old.  He has taken Gypsy Angler to the next level.  He had experience with the Bassmasters Tour.  He is that good.  When I land a fish, he takes fifteen to twenty still photographs and is jumping through a lot of production hoops.
If you have passion, it drives you.  That's what separates average people from something else.  I feel bad for people who work in jobs they don't enjoy.  I live a blessed life.  I do something I truly love and make a living at it.  I live and breathe it.  I thank God for another day because of that.
TCM: Since your show is about fishing, how much air time will your truck camper get?
Ray: Actually, about 40-50 percent of the show next year will be dedicated to the RV lifestyle.  Focusing more on the RV lifestyle will help diversify our audience.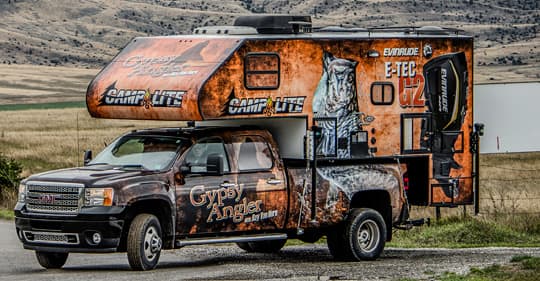 Above: To promote his show and sponsors, Ray's rig has a 3M vinyl wrap, photo courtesy of Garrick Dixon
TCM: I bet you get some looks driving down the road with the wrap on your truck camper rig.  Tell us about the wrap and how you got it done.
Ray: It's a 3M vinyl wrap from Rapid Graphics is Punta Gorda, Florida.  It took two or three men a week to administer the whole process.  They had to clean and take off the moldings on the truck and camper.  Then they had to take the seals off the camper to administer the wrap.
It took five days to put on the images.  The dually fender was a huge process because it is a huge curved surface.  They wanted to apply it without distorting the image.
The final day was basically re-sealing and caulking, and making camper weather tight.  Rapid Graphics is an amazing graphics company.  I was in a rush to get to Louisiana and Montana.  The moment I got the CampLite back, I loaded the camper, and hit the road the next day.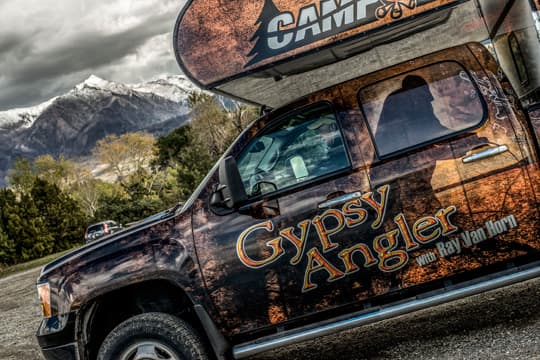 Above: The artwork was done by Reel Hobby in Punta Gorda, Florida, photo courtesy of Garrick Dixon
The artwork for the wrap was designed by a young artist in the angling community, Mike Turbeville, who is also the owner of Reel Hobby in Punta Gorda.  I wanted the wow factor in the wrap to catch people's eye, and Mike's artwork delivered.  We use the CampLite truck camper rig as a backdrop during interviews.  That was the viewers can see my rig for a few minutes of each episode.
The CampLite never comes off my truck.  The wrap is like a billboard.  Opportunities sometimes present themselves at grocery stores and fuel stops.  I get asked about the wrap, the camper, and boat all the time.  Having the wrap generates a lot of impressions.  I've traveled 16,000 miles with the wrapped rig since August.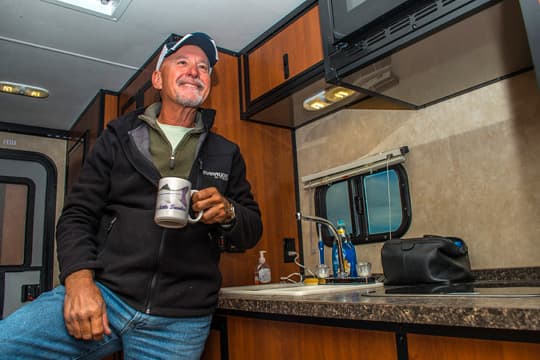 Above: All the comforts of home are in Ray's truck camper, photo courtesy of Garrick Dixon
TCM: That's an interesting point.  We have often thought about a "Truck Camper Magazine" sign or wrap on our rig, but we like to be low profile on the road.  For example, we want to park for the evening at Walmart, and not get knocks on the door.  Now that you've had the camper for a while, what do you think about the truck camping lifestyle?
Ray: My truck camper is my warehouse, where I live, where I sleep, and it provides me with the comforts I need after a long day.  It has a comfortable bed, television, and shower.  It's amazing that a small unit can provide all that.
If you're an angler, hunter, or active RVer, you need to look at the truck camping lifestyle.  As a no-wood, all-aluminum and composite truck camper, the CampLite is going to outlast me.  It's pretty cool.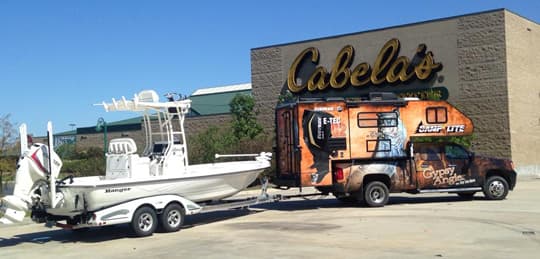 Above: The CampLite 11.0 and GMC 3500 at Cabela's, photo courtesy of Garrick Dixon
TCM: When can we expect to see the Gypsy Angler on the Sportsman's Channel and Fox SunSports?
Ray: The show is on Sportsman's Channel and Fox SunSports for the first and second quarters, from January to July.  It's on for twenty-six weeks and we filmed thirteen original episodes.  As they say, check your local listings.
My entire rig will be in the LivinLite booth at the Florida SuperShow from January 14th until January 18th, 2015.  I'd love to meet Truck Camper Magazine readers.  Please stop by and say hello.  I'll be passing out free lures and talking about CampLite and why it is the truck camper choice of the Gypsy Angler.
Truck: 2014 GMC Sierra 3500, crew cab, dual rear wheels, long bed, diesel, 4×4
Camper: 2014 CampLite 11.0
Tie-downs/Turnbuckles: Torklift Fastguns
Suspension: Torklift Upper StableLoads
Gear: Torklift SuperHitch and Torklift SuperTruss