Captain Ray VanHorn, aka the Gypsy Angler, travels the United States in his CampLite rig searching for bucket-list salt and fresh-water fishing opportunities, and great television.

For some readers, this article is going to be too much to bear.  It's bad enough that Captain Ray VanHorn gets to go truck camping all over the United States and spends his winters near Everglades National Park in Southwest Florida.  It's truly over the top that he gets paid to go fishing, and stars in his own television show, Gypsy Angler.  Truck camping and fishing enthusiasts, meet your new hero.
Ray, 62, founded and hosts Gypsy Angler, a television show that airs from January through July on the Sportsman's Channel and Fox SunSports.  For the show, Ray seeks out the best fresh and salt-water fishing opportunities from coast-to-coast and does his best to educate and entertain his audiences on fishing techniques.  He does this, of course, with his CampLite truck camper and Ranger Boat in tow.
To find out how Ray reeled in this incredible lifestyle, we contacted the Captain himself.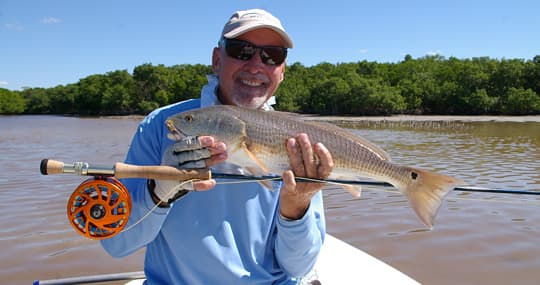 Above: Ray VanHorn with an Everglades Redfish
TCM: Tell us about your profession and what you do.
Ray: I was honestly put on this planet to chase fish.  I am obsessed with angling.  Younger guys in this area think I'm crazy.  Even on my days off, I fish.  Typically I leave before the sun comes up and come off the water when the sun comes down.
You will not get this day back.  I think the longer you are on the planet, the more that becomes obvious.  I have a few spins on the planet, and realize that I am blessed with each day I get.  I am going to fish as much as I can.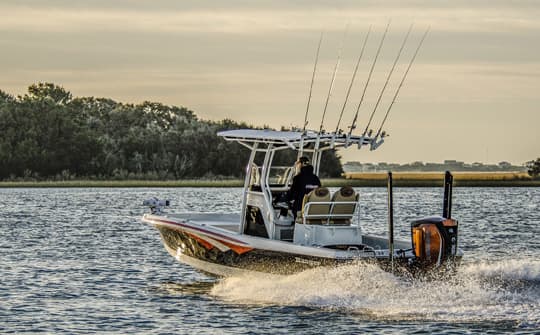 Above: Ray with his Ranger boat in North Carolina, photo courtesy of Garrick Dixon
I have also been blessed with my career.  I have worked with Ranger Boats for over thirty years.  The relationship with Ranger Boats started when I was a young aspiring bass tournament angler, and they were the only people who would help me.  Ranger Boats helped me forge my career.  I wouldn't be where I am now without them.  I have had a lot of opportunities to look at other offers, but my honor, integrity, and loyalty aren't for sale.
I gave five years to the B.A.S.S. tournament tour.  Then, I became active in the IFA Red Fish Tour and won a championship in 2001.  I came to a crossroads in my career and had to make a decision.  So, I focused on chartering.  I have been a fresh and salt water guide for many years.
About nine years ago, a producer in Minnesota called me and told me that they were filming s segment for a television show.  The producer and videographer were starting their own production company.  We knocked out the segment in two days.  When we got done so quickly they said, "Do you know anyone else that we can film so that we can capitalize on this time?"
Captain C.A. Richardson, was my tournament partner and produced an instructional series on fishing called Flats Class.  We thought the instructional series would be a good television format.  The four of us started Flats Class television.  I was one of the original founders and co-hosts.  That's how it all got started.  I had no aspirations to do it.  It was a timing thing.
Then, about five years ago, the Gulf oil spill happened.  We couldn't give away fishing tackle, rods, and reels.  We lost a lot of revenue.  The in-shore salt water niche was a great platform, but that oil spill hurt us.  At that time one of my sponsors said, "If you had a fresh water version, I'd have some marketing dollars for you".
That's when I launched Gypsy Angler, which was originally going to be called Angling Tactics and Techniques.  The production manager said that title sounded like a graduate course.  He said that the show should be about me and my lifestyle.  Gypsy Angler came to be about me and my nomadic, gypsy lifestyle.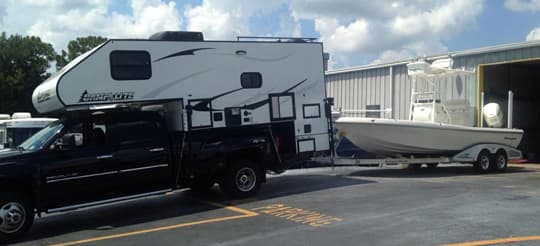 Above: Ray's GMC and CampLite before the wrap was added