Doug: I found my truck at the Ford dealer I've worked with for years.  I trust them.  I then went to a farm supply dealer and they helped me get my flatbed from a flatbed manufacturing company called Bradford Built.  They make many different models of flatbeds, and a model that works great with truck campers.  It didn't need any alterations.  I just had to order one with a narrow headache rack.  They can even do custom jobs if you like.
It was a nine month wait for the model I wanted with the narrow headache rack.  We didn't want to wait that long so I took one off the farm supply dealers lot and altered it a little to work for the truck camper.  It was simple for him to do.
I'm really happy with the combination.  This brand of flatbed is great for my camper.  Most flatbeds are perfectly rectangular. Ours behind cab is tapered at an angle.  We had to get extension bracket for the camper to clear the duallies.  Since this flatbed was cut in on the front corners, it has the perfect place for electric jacks to have their own area.  Whenever we stop, it's amazing on the amount of people who come to look at my rig.
TCM: Tell us about your truck camping lifestyle.
Doug: We don't have typical trips.  It's wherever we feel like going.  This past January and February we went to Missouri for two weeks.  On April first, we went up to Spirit Lake here in Iowa.  I am a farmer for a living and that slows us up in the Spring and the Fall.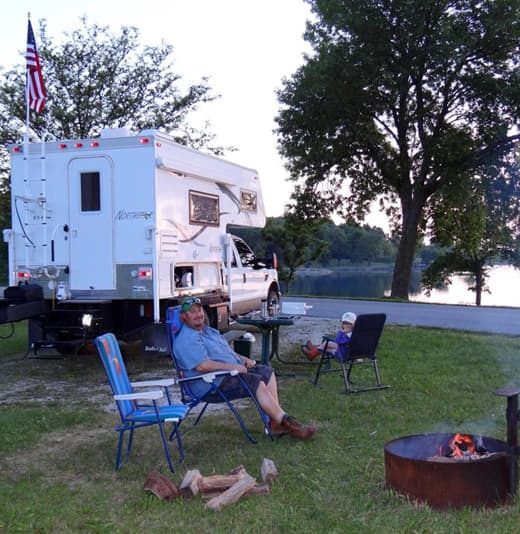 Above: Prairie Rose State Park, Iowa
This past year we went to our Prairie Rose State Park after I got the crops planted.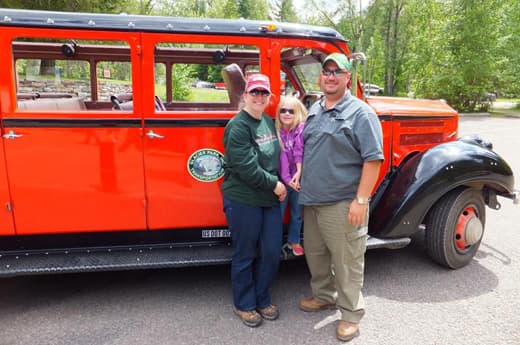 Above: The Red Bus tour at Glacier National Park during the Montana Camper Rally
Then we took a trip from Iowa to the Montana Truck Camper Rally for three weeks.
Above: Click to enlarge
On that trip we saw as many sights as we could.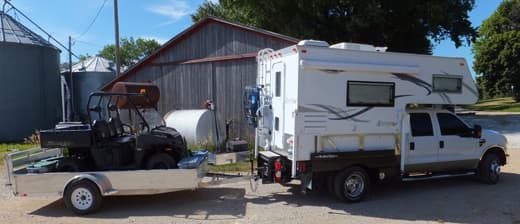 Above: Doug's UTV being towed behind the truck camper
In August we packed up our trailer, and our UTV to pull behind the truck camper.  We headed to our Midwest Truck Camper Rally that we were hosting at the Amana Colonies, in Amana, Iowa.  The campground where the rally was held is large.  The UTV helped in getting things set up.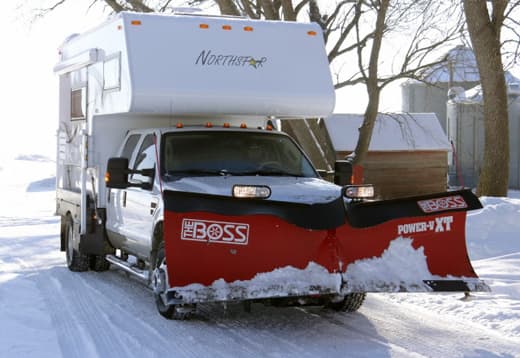 Above: Go Anywhere, Camp Anywhere, Plow Anything?
TCM: And you plow snow with your camper on your truck?
Doug: The day we picked up the camper was December 28th.  It started snowing half way home.  I wasn't excited about that since I had never driven a large vehicle on ice and snow covered highways before.