TCM: Alaskan is factory direct.  Tell us about working with the company.
Aaron: We live almost exactly three hours from Alaskan.  When I was ready to buy, we went to look at their facility.  We talked to Bryan Wheat, President of Alaskan, and he answered all the questions we had.
On that first visit to Alaskan, we designed and ordered our camper.  We confirmed that design and order a week later, and carefully went through the option list.  Not that decorating the camper interior is that much of a priority, but we did get to choose our own flooring and fabric.  The personal touch was nice.
TCM: What options did you chose?
Aaron: We got a different table shape, a bigger sink, our own kitchen faucet, an upgraded electric only marine style refrigerator, and our cabinetry is custom.  Having the option to customize is not an option with many of the manufacturers without paying a lot more money.  It was no problem with Alaskan.
Above: Elco, British Columbia and Anahim Lake, British Columbia
TCM: You regularly meet up with another Alaskan owner.  Tell us how you met.
Aaron: I go on an annual hunting trip near Elko, British Columbia in the Kootenays.  On my 2010 trip, I walked about 1,000 feet up a mountain side near camp and could see the road down below.  From that vantage point, I saw a truck with an Alaskan camper driving past.  My immediate reaction was that someone was stealing my truck and there was nothing I could do.  I briefly considered shooting out a tire.
As it went further down the road, I saw that it was a smaller Alaskan with a dark grey Toyota Tundra.  I thought, "That's weird" and didn't think too much past that.
Later that night I was setting up my rig and there he was.  So I started talking to Jim, the owner of the other Alaskan camper.
Jim is retired and has an eight foot Alaskan camper.  He's been going to the Elko area for twenty-five years or so, close to the same time each year.  He also gave me a couple of pointers about my Alaskan.  That was it the first year.
Last year, Jim showed up with another friend who also owns an Alaskan.  It turned out that Jim was on his second Alaskan and had sold his older one to his friend.  They both showed up last year at the end of October.  So the three of us were there in that remote location with our Alaskans.  It was funny to see them all together with no one else around.
I was fully expecting to see them again this year but, unfortunately, they didn't show up, at least not while we were there.  Hopefully I'll get his contact information in the future.  I know he spends a lot of time in his camper, like three or four months a year.  It may be harder to keep in contact than I anticipated.
Above: Bella Coola, British Columbia and Kootenay Lake, British Columbia
TCM: What draws you to go truck camping in British Columbia?
Aaron: There are lots of remote, rugged areas in British Columbia and not much of it is restricted.  For the most part it is all open.  The southeast Kootenay region is definitely a favorite.  Peace country in northern British Columbia is another with a combination of different terrains; prairies, foothills, mountains, and rivers.  There is everything there except the ocean.
We also like the coastal rainforest area around Bella Coola on the mainland coast.  It is roughly even in latitude with the top of Vancouver Island, and it's a relatively small town.  There is definitely a lot of native history in that area.  It's not terribly populated, except for when there are big salmon runs in fall.  I also love the Canadian national parks, but they fill up in the summer.  We enjoy less popular spots that are more remote.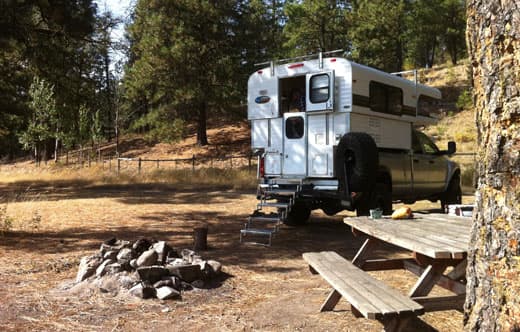 Above: Okanagan Valley, British Columbia
TCM: Where else do you like to go truck camping?