Chuck Webb takes us to a baker's dozen of odd and uniquely fun RV destinations.  Most of these spots were accidental discoveries Chuck found with his Alaskan Camper rig.  Always stop and follow the signs.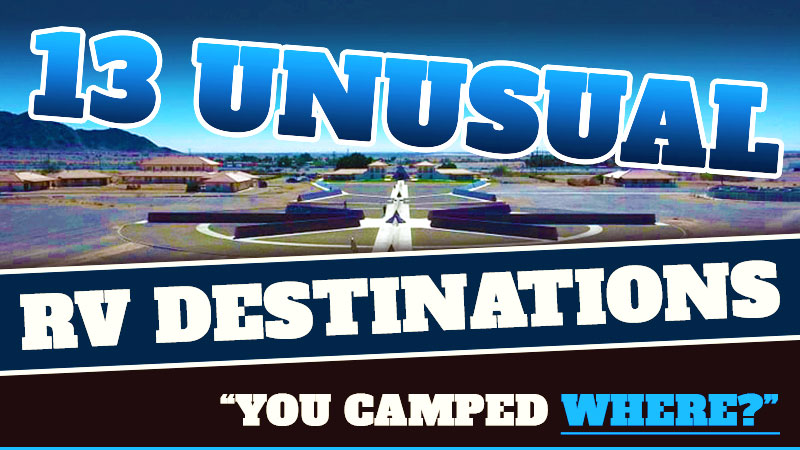 The past year has been pivotal for the RV industry, marketplace and community.  There can be no doubt that the overall volume of public interest in RVs and RVing has rocketed.  Lest anyone think this information is merely anecdotal, Truck Camper Magazine itself has seen a 40.3-percent increase in readership (users) year-over-year.  We also gained 10,952 new subscribers in 2020.
With so many more people RVing, the more popular and obvious campgrounds and destinations are more likely to be booked and/or crowded.  That doesn't mean that every popular destination will be booked and crowded, but you shouldn't be surprised if they are.
In the aptly named article, "6 Ways Covid-19 Changed RVing", we offered insights and advice on how to work with and around the changing landscape.  Anyone with an interest in RVs should read that article and reflect on the implications, at least until this situation is past us.
One solution is to avoid the more obvious and popular destinations and campgrounds all together.  That's the spirit of Chuck Webb's article.  In a nutshell – where many of us have been living these past months – seek out more out of the way, and obscure locations.  The more out of the way and obscure, the more likely nearby camping opportunities will be available, and not crowded.
Here's the best part.  There's an absolute ton of fantastic things to see that are nowhere near Yellowstone, Grand Canyon, Zion, or Glacier National Park.  Yes, just reading those park names makes me want to visit every one of them, but those destinations might need a pause.
Two of our favorite websites to find fun and unusual places to visit are RoadsideAmerica.com and AtlasObscura.com.  On these websites you'll find thousands of amazing places to visit that are far off the radar of the next RVer.
For more ideas about how we plan our camping trips, check out Angela's excellent article, "How To Plan Truck Camping Trips".  Evidently we really need to get more creative with our titles.
Chuck's thirteen suggestions are fantastic.  A number of them made it to our truck camping bucket list.  When we finally escape again, we have a granite pyramid to read, some deep space dishes to scan, a beautiful blooming expanse to explore, and more pie than should be legal to eat.  And maybe, just maybe, we'll be there all by ourselves on a random Tuesday afternoon.
13 Unusual RV Destinations
by Chuck Webb
1. The Center of the World – Felicity, California 
Certified by the United Nations and other organizations, the Center of the World is located in the town of Felicity near the California and Arizona border.
The site includes laser-etchings into long, pink granite slabs. The pyramid houses the plaque for the Center of the World. The slabs contain interesting history of women in parachuting, the complete history of the French Foreign Legion, and more.
The pyramid slabs were built to retain all sorts of mankind's history, and also includes astronomical, geologic, and language history. You'll spend the better part of the day here, but it's only open from December to March due to the desert climate.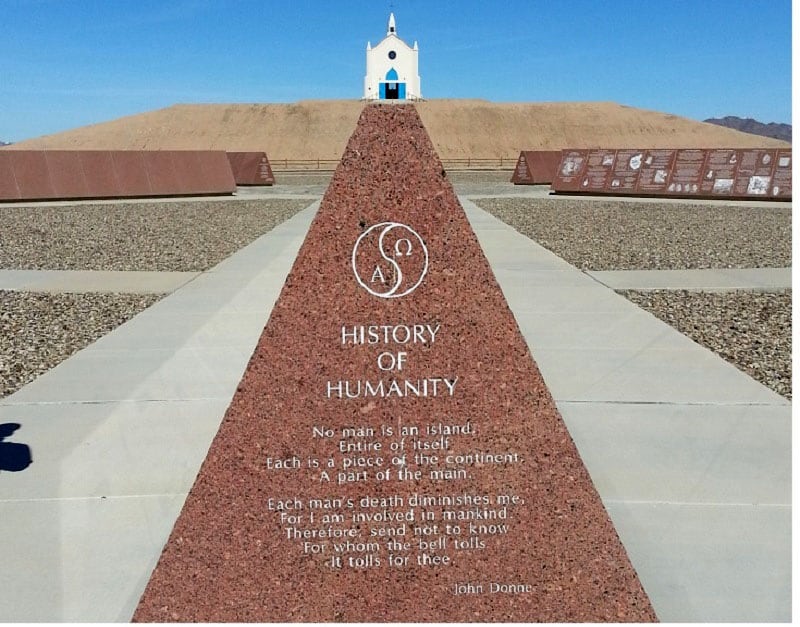 There is a gift shop, post office and a small inside kiosk with the history of the attraction. There is plenty of parking for RVs of every size.
I believe we paid $5 each for a certificate and gained access to the pyramid housing the plaque engraved with Center of the World. If you don't want the obtain the certificate, then there is a $3 charge to wander the grounds.
Want to have your own personal history preserved?  No problem.  Pay a fee and have your own granite slab etched.
My wife, Joyce, is Irish and she was fascinated that there was a complete history of Gaelic and Celtic migration, as well as a history of St. Patrick. There is also a Maze of Honor that allows you to get lost.
Another fun attraction in the area is the old Yuma Territorial Prison.
2. Carhenge – near Alliance, Nebraska 
Near Alliance, Nebraska, there is a tribute to Stonehenge with old cars.  It is known as Carhenge and it's full of very unusual sculptures.  You can spend all day exploring.
For photography buffs, there is no end to the different points of view in and around the Carhenge itself. All around this multi-acre facility are welded and painted sculptures of a giant fish, a dinosaur, covered wagon replicas and more. It's amazing the creativity you'll find.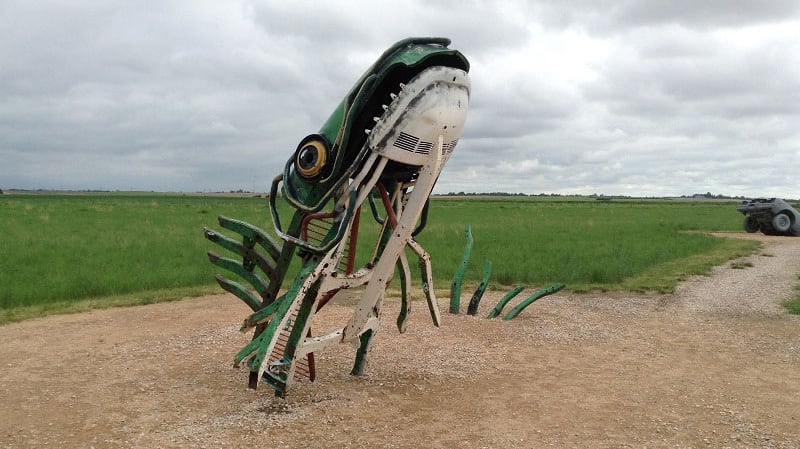 Joyce's favorite sculptures were repurposed pickup tailgates and wheels forming several versions of benches and chairs.
There is a decent parking lot that can accommodate RVs of every size. A small gift shop is also located on site with picnic tables and shade trees. Admission was free during our visit, but donations are welcome.
We were passing through Alliance on our way to run a marathon in Valentine, Nebraska. Valentine is located near Smith Falls State Park and it is home to the largest waterfall in Nebraska. The Niobrara River is a very popular river rafting and canoeing area.
3. Very Large Array – Soccorro, New Mexico
We were camped at the Datil Wells BLM campground near US Route 60 in west central New Mexico. After dinner we hiked up to a bluff overlooking the campground to do some exploring. With our binoculars we spied a satellite like dish, way off in the distance.
As we kept scanning, we saw several more. Since we were heading east in the morning anyway, we would check it out. We are extremely glad we did.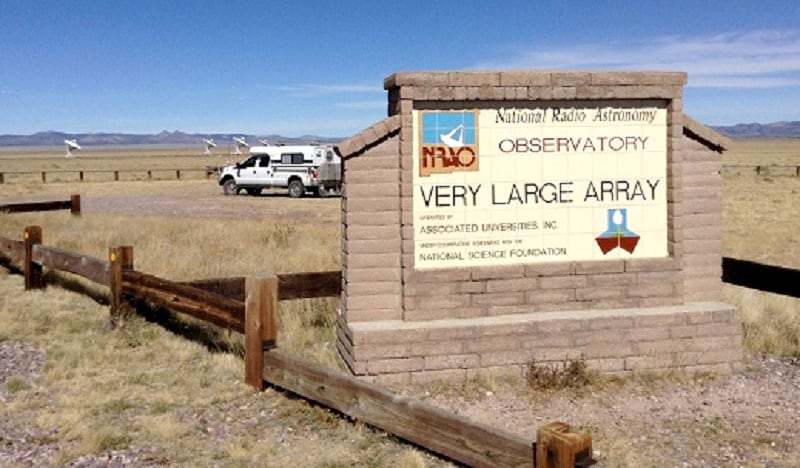 Very Large Array (VLA) is a radio satellite listening site.  Located in a natural desert bowl, the 27 radio telescope receivers are mounted on railroad tracks and can be reconfigured to meet the scientists' needs.  The natural desert bowl where the VLA is located creates its own dish, thereby amplifying the sensory collection of the dishes.
We paid $6 each for a self-guided tour of the internal facilities and to access the grounds for some fascinating displays. There is an odd sun dial and something called a Whispering Dish. There are two dishes about 100-feet apart where you and a partner face each other. The acoustics provided by the dishes allow you to talk to each other without any electronic means, just by whispering.
The VLA scientists have recorded the electronic signature of every device known to man. With these recordings they can filter out any man-made electronic noise and concentrate on signals from space. You can briefly turn on a cell phone in airplane mode to take pictures, but anything with an on/off switch must be turned off, including the GPS in your vehicle.
Remember the Jodi Foster movie Contact? It was filmed there.
There is a huge parking area. Sadly, the VLA has been shut down by Covid, but you can still see the array from the highway or wait until it is open again.
4. Pie Town – Catron County, New Mexico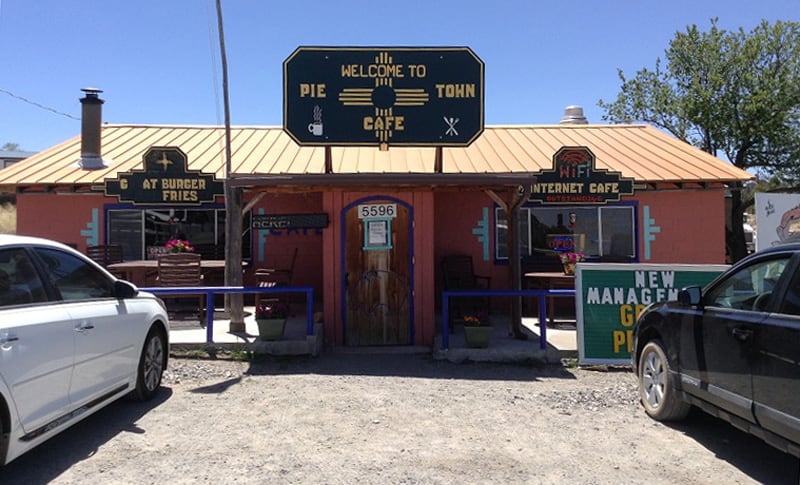 We were exiting the south side of El Malpais National Conservation Area driving down gravel NM C41/A33 and at the intersection of U.S. Route 60 we found Pie Town! All the restaurants in town specialize in their own creations.
After stuffing ourselves with some awesome green chili cheeseburgers, we only had room for a couple pieces of pie. There was traditional apple, various berries pies and even some cobblers. Being in New Mexico, we opted for the apple and green chili pie. Sometimes opposites attract and this was certainly the case with this combination. Apples with a subtle spiciness. We were just too full to handle any more, but they all looked great!
Located next to the popular Continental Divided Hiking trail, Pie Town is a true oasis for hikers. There is an annual pie festival the second Saturday of September. The 40th anniversary of the event is scheduled for September 11th, 2021.
There was plenty of roadside parking. This town is a favorite of through truckers along Route 60. El Malpais National Conservation Area is just north and is another must see area with natural bridges and massive lava flows.
5. Village Historique Acadien – New Brunswick, Canada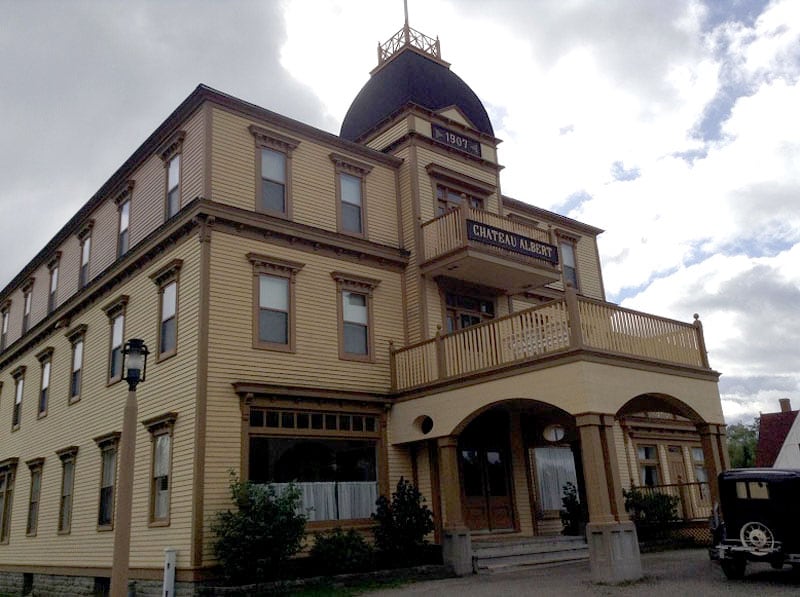 While hugging the coast leaving Campbellton, New Brunswick and traveling to Kouchibouguac National Park on the Gulf of St. Lawrence, we saw a sign to an Acadian history village.
Joyce was driving, so she turned to follow the sign. We pulled into a huge empty parking lot. A ground's keeper let us know that the area had just closed for the season the day before! But, we were invited to wander the facility to our hearts' content, which we did.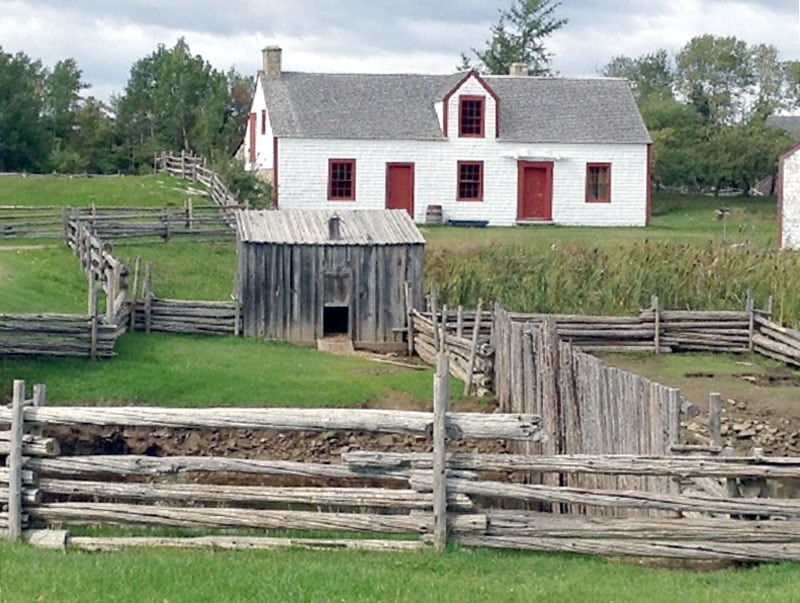 It's an awesome cross-section of local history replicated into distinct villages from the 1600s to early 1900s. In the 1900's village, The Chateau Albert is actually a working hotel, but guests must park their new vehicles a few hundred feet away, and behind trees, so the ambiance is not interrupted.
Did I mention Joyce is Irish? We spent a great deal of time in the sections of Irish immigrant farm houses, where she returned to her childhood seeing the old churns and other farming tools.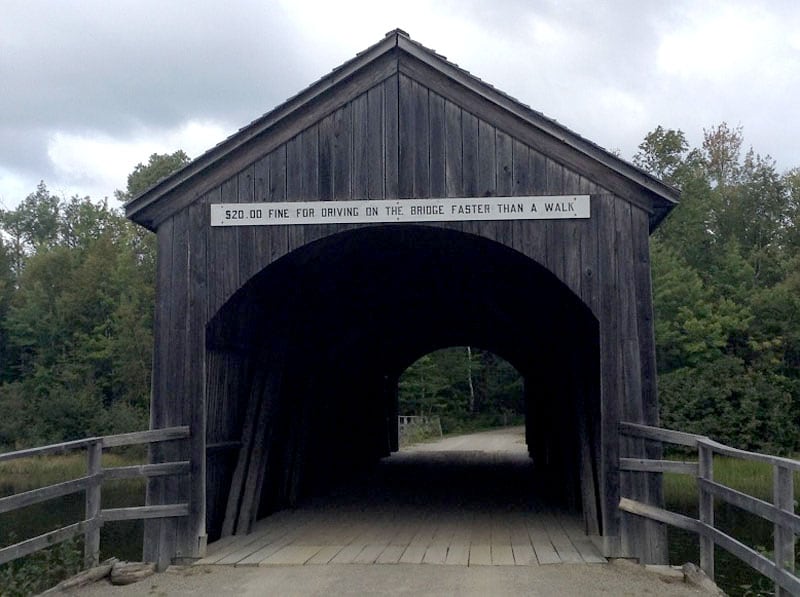 Day late and dollar short should not be a deterrent to explore. As we experienced, ask nicely and doors will open. After leaving the Acadian history village, it was getting near dark, so we pulled into an ocean-side commercial campground.
They too had closed the day before. But, since we in a truck camper and didn't need any services, they raised the gate and told us to park wherever we wanted. We had the whole place to ourselves and were treated to one of the most beautiful sunsets we've ever seen!
As with all things north of the border, you can't get there right now. Hopefully next summer will be different. There are lots of coastal villages along this road with Acadian heritage. New Brunswick has a lot to offer and it's on the way to Prince Edward Island, which is a whole story on its own.
6. The Bridge of Flowers – Shelburne Falls, Massachusetts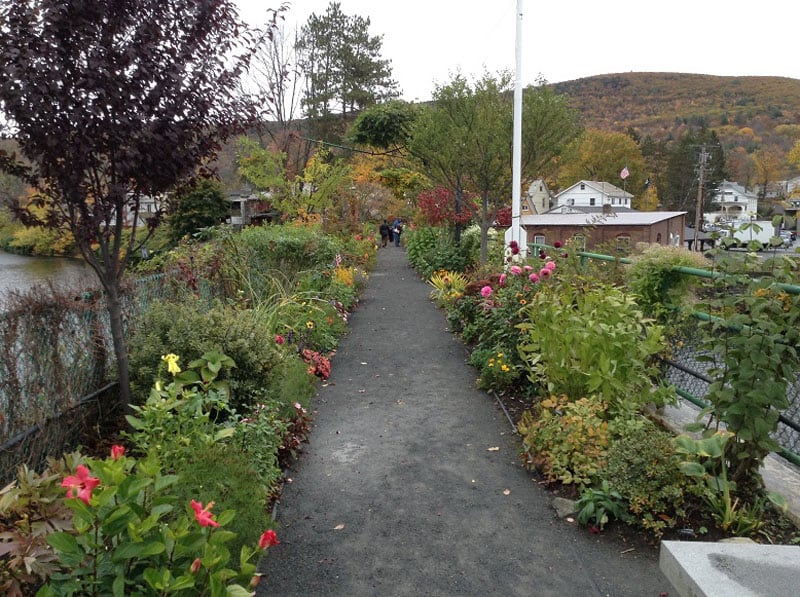 We were passing through Franklin Country on the way to visit friends in Hartford. When we approached Shelburne Falls, Massachusetts, we saw a sign to The Bridge of Flowers.  How can you pass that up?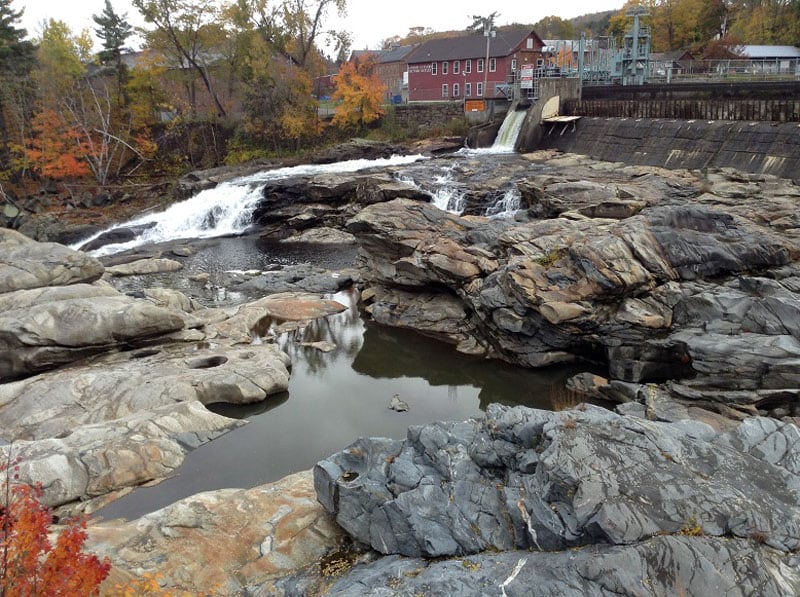 Shelburne Falls is a unique New England town that once boasted a thriving trolley car system linking several towns.  After the end of the trolley age, they abandoned the trolley bridge across the town's river, as it was too narrow for cars.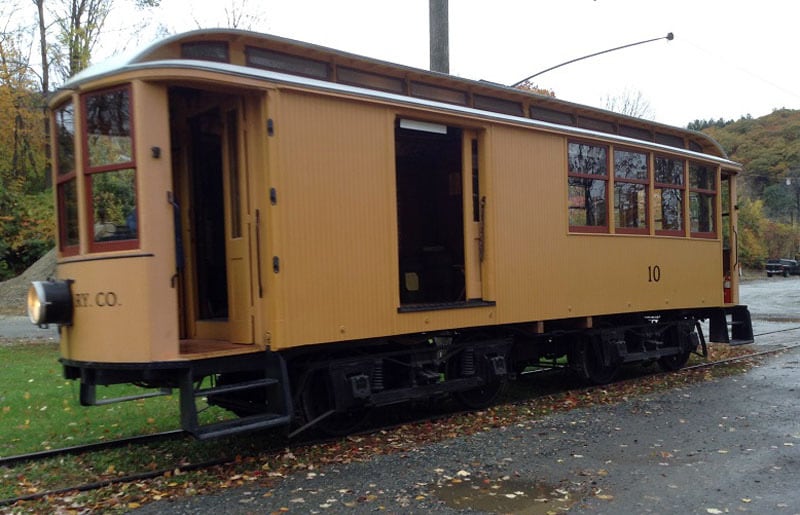 Instead of tearing the bridge down, the town decided to build a garden as an attraction.  It worked.  The Trolley museum is a must see as well as the local waterfalls.
There are lots of gift shops in town for shopping. We didn't see any sign prohibiting picking of flowers, but it was nicer to just wander through and enjoy the color. This was late October, so leaves were peaking in the surrounding hills, adding to the magic and color.
Parking is a bit tight in town. There was some public parking just on the outskirts and it was a short enjoyable walk through town.
7. Ark Encounter – Williamstown, Kentucky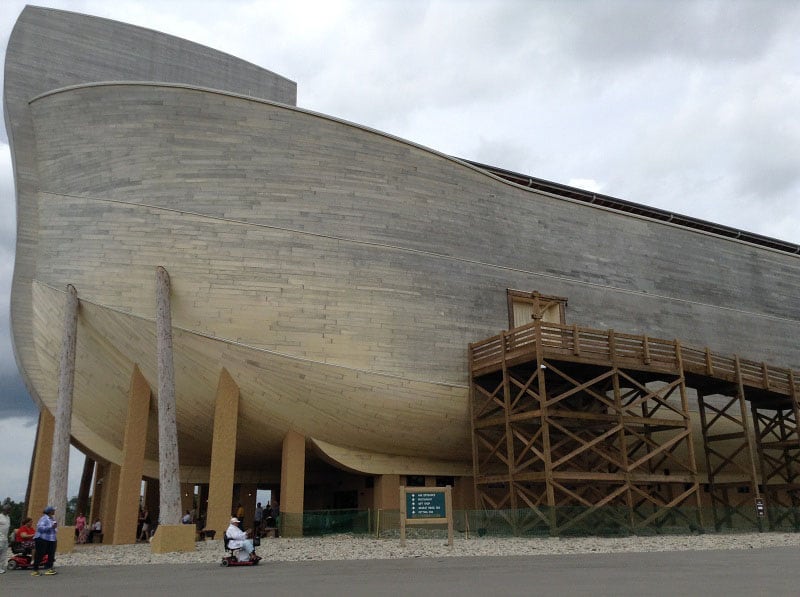 The Ark Encounter is only one of two places on this list that was not due to a sign between two destinations. We were going to Cincinnati to get our annual fix of Cincinnati Chili. If you've ever had Cincinnati Chili, you'll know why we made the detour.
Across the border in Kentucky, just south of Cincinnati, is a spectacular piece of engineering in the form of an imaginative recreation of Noah's Ark.  The size of this thing is enormous and the interior is amazing.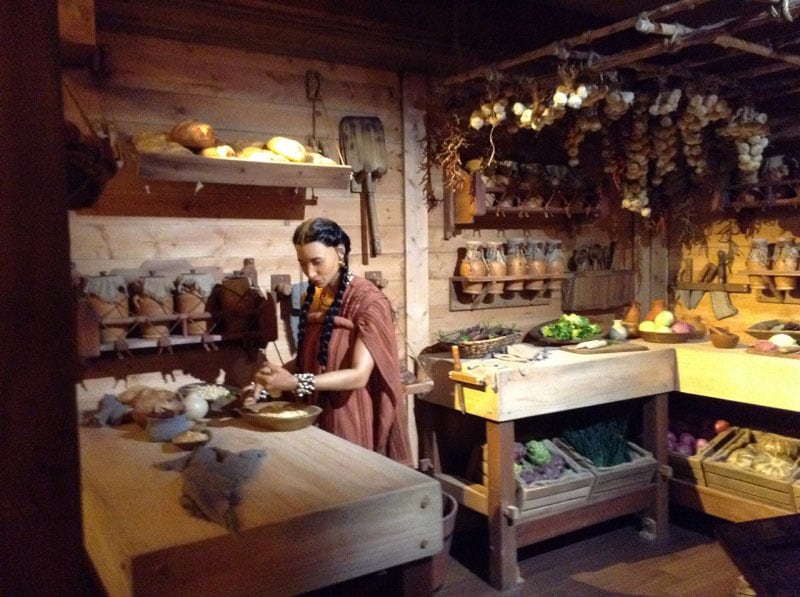 Inside the Ark are some dioramas depicting everyday life of people and animals. You'll see the storage of water and feed in bins, and even how manure was gathered and eliminated through a system of channels.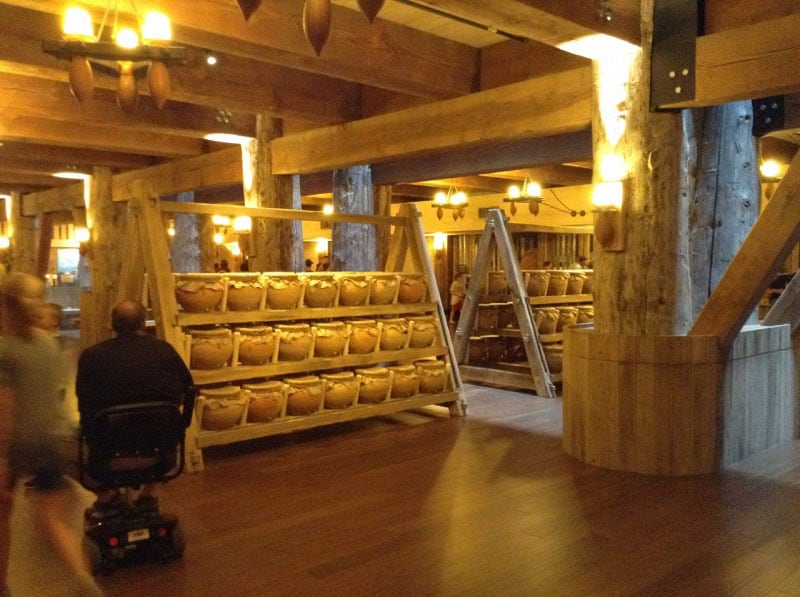 There's a ton of information on how animals were represented and segregated. The staff rotates some live animals like alpacas and goats throughout the day, and Joyce was happy to pet and feed them. Small animal cages as well as bird cages are hung from ceilings and walls. There are several floors and the entire facility is handicap accessible.
The parking area is huge and outside of the actual park. You can't drive directly into the park, and must take a bus. Tickets can range from $25 to $50, depending on what you do. Parking is not included. There are commercial RV parks in the area since it's very close to Cincinnati. Kentucky state parks are within an hour or so.
8. Campsite of Lewis and Clark – Near Walla Walla, Washington
We actually found this spot while house hunting in the Walla Walla, Washington area. On the way out of town heading toward Lewis and Clark State Park, we saw this very unusual spot. We didn't find a house, but this stop was worth visiting.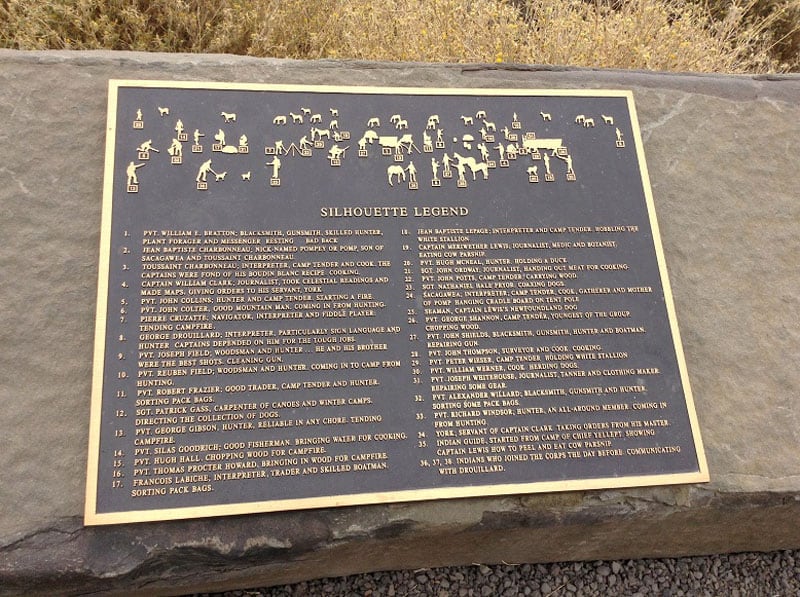 Have you ever just driven by historic roadside monuments?  Don't do it.
At this roadside pull-off is a plaque denoting a campsite of the Lewis and Clark expedition.  Lewis and Clark had very precise notes of everyday life, and this silhouette exhibit shows the interrelationships with all the members, including animals, by name.
It appears the scene is actually on private property, so there is a barbed wire fence surrounding it. You can see it from afar, but you can't walk on the grounds. Since it's a roadside pull off, there is a parking area adequate for a couple Class A motorhomes or buses.
9. Chena Hot Springs, Alaska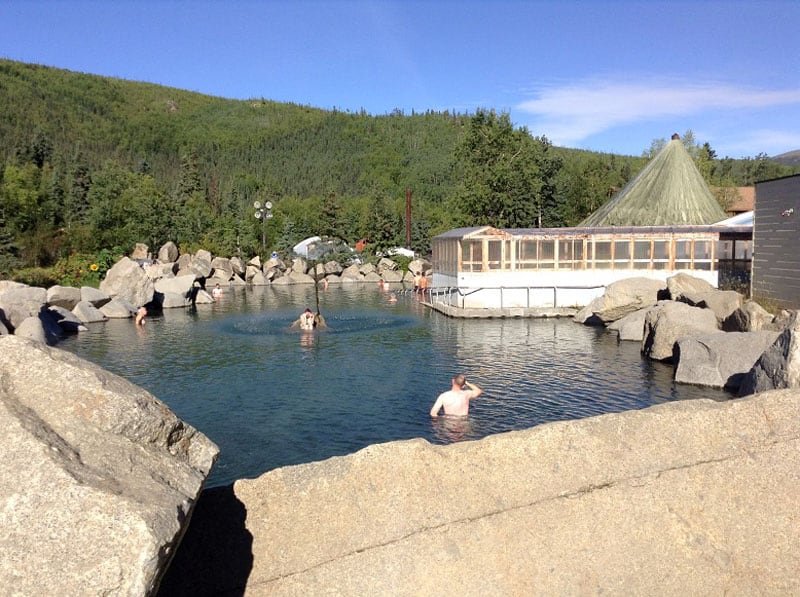 This was the other spot on this list that we didn't drive past. We actually found out about Chena Hot Springs from a clerk at the REI camping store in Fairbanks, Alaska.
Located about 60-miles northeast from Fairbanks, Chena Hot Springs is a must see place. It's also a good destination for before or after your drive up the Dalton Highway.
Chena is a unique village totally self-sustained by geothermal energy for electric production. Chena also features year-round greenhouses, hot springs, an Ice Museum/Bar and a hotel with a great restaurant.
We did take a dip in the springs. The closer you get to the inflow, the warmer it is. The young lady at REI in Fairbanks related that a winter dip is awesome, as your hair and eyebrows will freeze in the bitter cold of winter while the water keeps you warm. A dip in the springs at the time we were there was around $10, but you can stay all day.
There are several great hiking trails in the area to get you away from the valley, and the resort runs some Yurts on one of the nearby hill tops. There are ATV, horseback riding and sled dog tours available, too. Winter has snowmobiling and Snowcat rides to see the Northern Lights.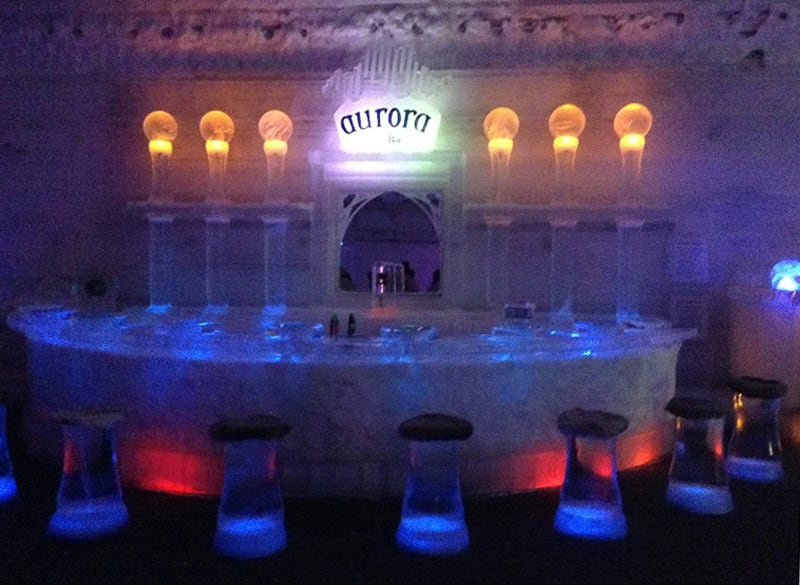 There is ice sculpting happening year-round in the Aurora Ice House, with some inspiring designs. You'll get a handmade ice martini glass to use for the beverage of your choice at the Aurora Bar in the Ice House.  Depending if you want alcohol in your Martini, a tour of the Ice House/Bar can range from $15 to $20. Those were 2018 prices, so things have probably changed.
There are rooms available for an overnight stay in the Ice House, but the beds are pretty hard since they're made of ice.  They will provide sleeping bags and jackets, but a dip in the great hot springs seems like a better choice.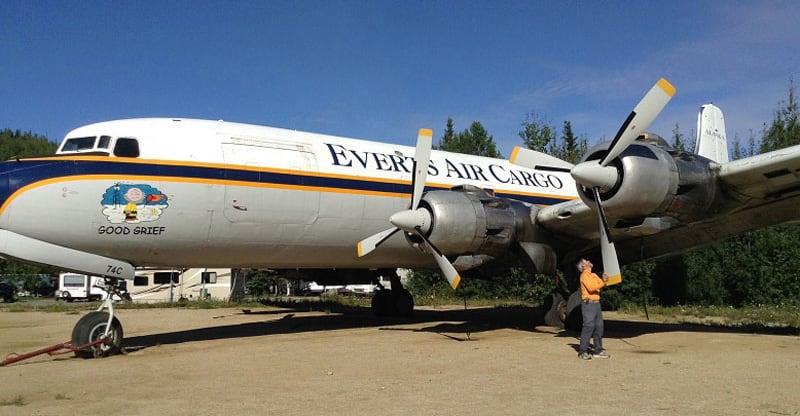 The owner bought and flew-in a huge plane several years ago, knowing they would never be able to have it take off again.  The purpose was to make a bar, which was still in the design phases when we were there.  Chena is open all year round for viewing of the Northern Lights, and is very busy in the winter.
There is a small RV park at the springs and an abundance of great hiking. We stayed in the RV park for three nights. It ran $25 a night with electric. The spots in the woods are suitable for any size truck camper. Larger RVs will park in the open parking area where there is plenty of room.
The Chena Recreation Area, and several national and state forest campgrounds are close by. Fairbanks is only 60-miles away, so you could make it a day trip.
10. BASE. Parachute Jumping – Twin Falls, Idaho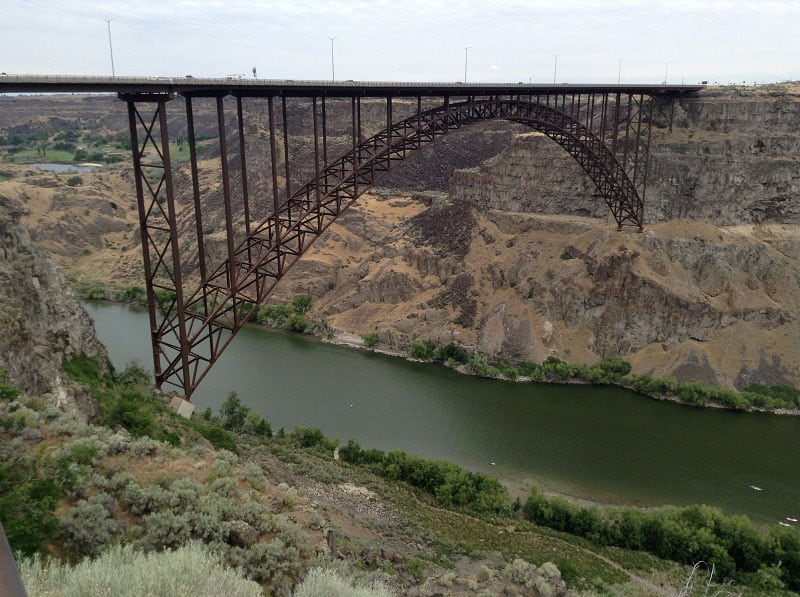 Twin Falls, Idaho is on a major interstate route. Be sure to pull over.  As you head into town, you'll cross a deep chasm of the Snake River.
Spanning this canyon is a steel bridge, which is open to BASE (Building, Antennae, Span and Earth) parachute jumping.  There are no restrictions. On any given calm day you will see some truly adventurous folks leaping off.  Some chose to land in the water and some glide to the shore.  There is always a safety boat to assist with retrieval of jumpers that hit the water.
And no way did we jump! We were actually re-stocking after a stay at Craters of the Moon National Park, which is about 80-miles northeast of Twin Falls. We stayed at a commercial RV park north of the interstate to do the normal laundry and showers. The RV park was awesome because they did their own barbecue, and delivered it to your site.
The next day we drove into town and crossed the bridge across the Snake River. We noticed some people with what we thought were backpacks walking on the outside of the handrails. Then, one of them just disappeared over the side!
Hurrying across the bridge to report the apparent suicide, we pulled into a visitor's center, and found several people repacking parachutes! Now we got it. There's a walk way on both sides of the Snake River Canyon, and in an hour, we saw dozens diving off the bridge.
A local advised us to be prepared for a worst-case scenario. He had seen several over the years. We did witness one jumper have a shoe rip off his foot with the shock of deploying his chute, and it dropped into the river. The big problem for him was that he had a steerable chute to land on the shore, and the shore is rocky. He landed successfully. Jumpers must climb back out of the canyon. I bet that was a tough climb with one shoe!
Another pair of jumpers had non-steerable chutes and jumped with the intent of a river landing. The lady of the pair failed to pull her rip cord immediately and was very late in deploying her chute. She hit the water with a big splash. A rescue boat is always on standby and quickly assisted her.
We have a video of this, but the shouted expletives may not be suitable for everyone.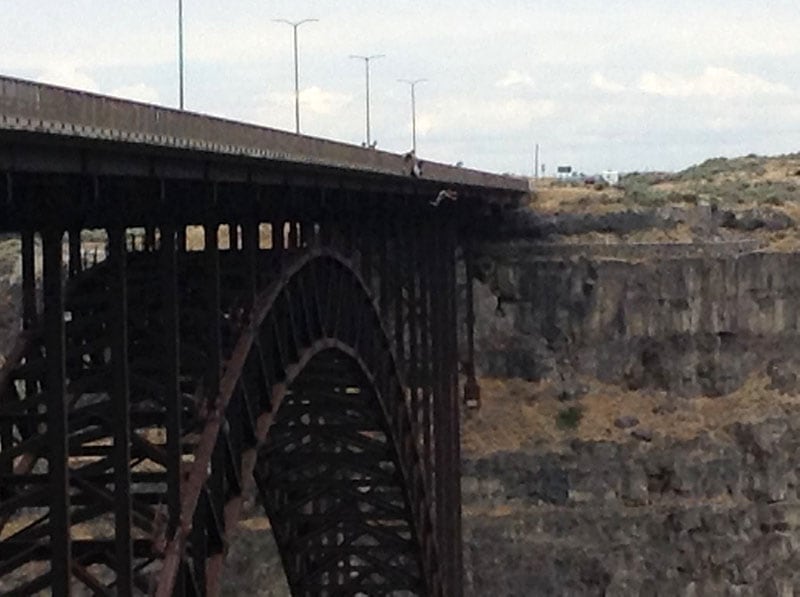 The resolution of the picture of the bridge above is pretty stretched out, but if you look intently at the top middle of the bridge, you'll see a couple people and one body hurling off the bridge.
Please note that this is an extremely dangerous activity and accidents do happen.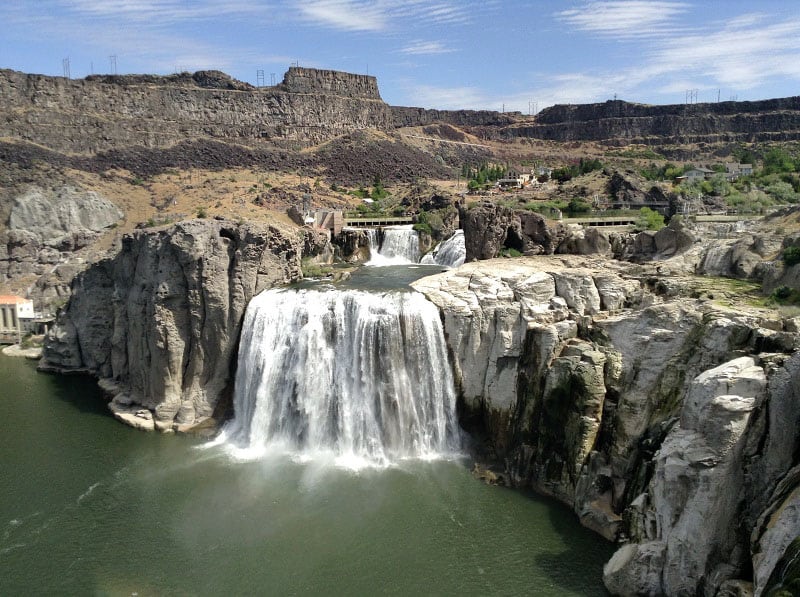 If this seems a little too stressful a sightseeing destination, follow the signs to the Shoshone Falls, just east of town on the south side of the Snake River.  Another area destination is Craters of the Moon National Park, northeast of Twin Falls.
11. Paris, Tennessee
For those who are looking for a theme to a trip, try searching for a particular name in a state.  Almost every state has a town name Paris, and usually they have something to identify with the French namesake.  Or try hunting for hot springs.  You'll find some in out of the way places.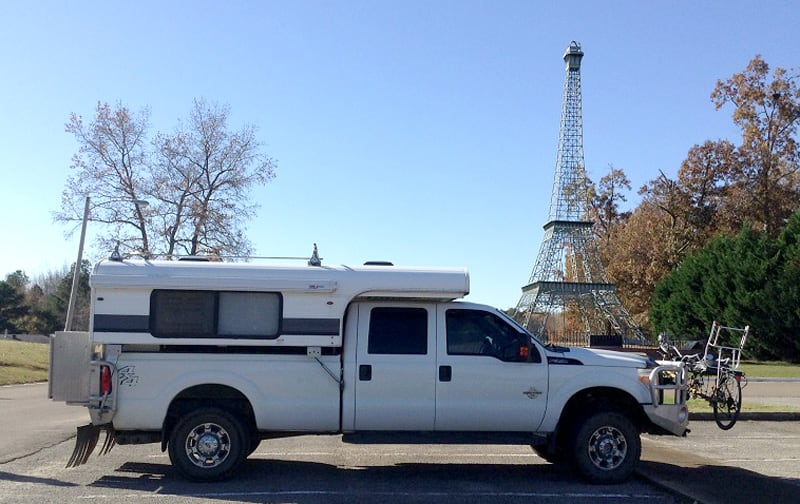 Paris is conveniently located between Reelfoot Lake State Park and Land Between the Lakes National Recreation Area. We were navigating to Land Between the Lakes and passed through Paris, Tennessee. The sign on the road said Tower Park. We followed it and found this Eiffel Tower replica in a city park. This is a fairly large city park with plenty of parking for any size RV and even has picnic areas.
The Tower is just a small replica, so there is no access inside.
12. Roswell, New Mexico
And there's always Roswell, New Mexico.
A must in Roswell is the International UFO Museum, which was $10 each. It has the interesting history of the Roswell alien crash and resulting "cover-up" by the Air Force. The movie Roswell runs non-stop in a small theater in the museum.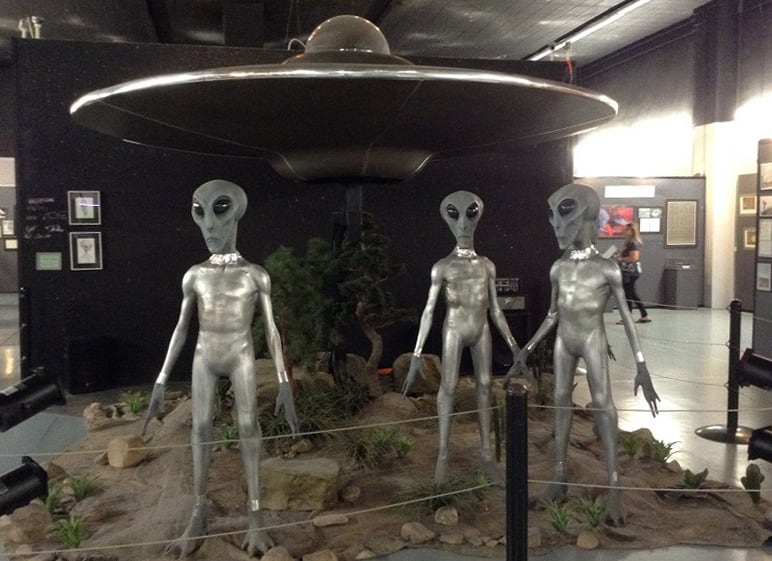 A great place to camp outside town is Bottomless Lakes State Park, just southeast of Roswell. In town, there are several commercial campgrounds. There is plenty of off street parking for large RVs, and public parking in grocery parking lots where you can walk to attractions.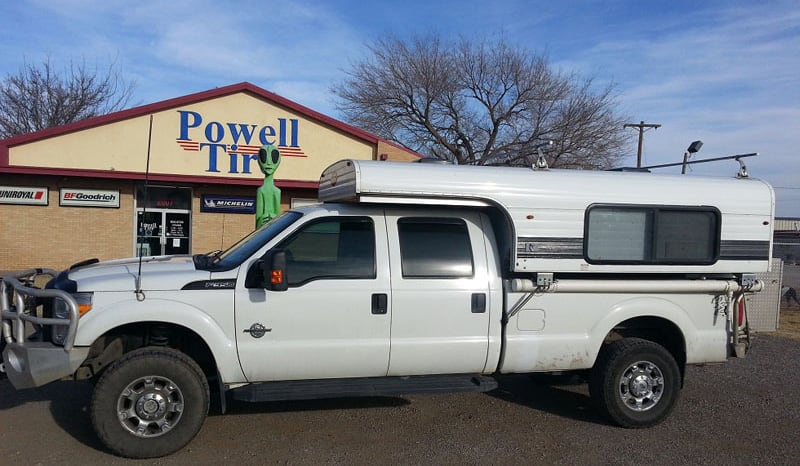 Roswell is more of a walk around and see what you see kind of place. Green and grey aliens are everywhere. And the street light globes have alien-like faces. Quirky denotes Roswell.
Not that we are Star Wars nuts, but we did see one of the latest releases of the series at the awesome Galaxy Theatre. Star Wars, Galaxy Theatre, Roswell? Out of this world!
13. Tombstone, Arizona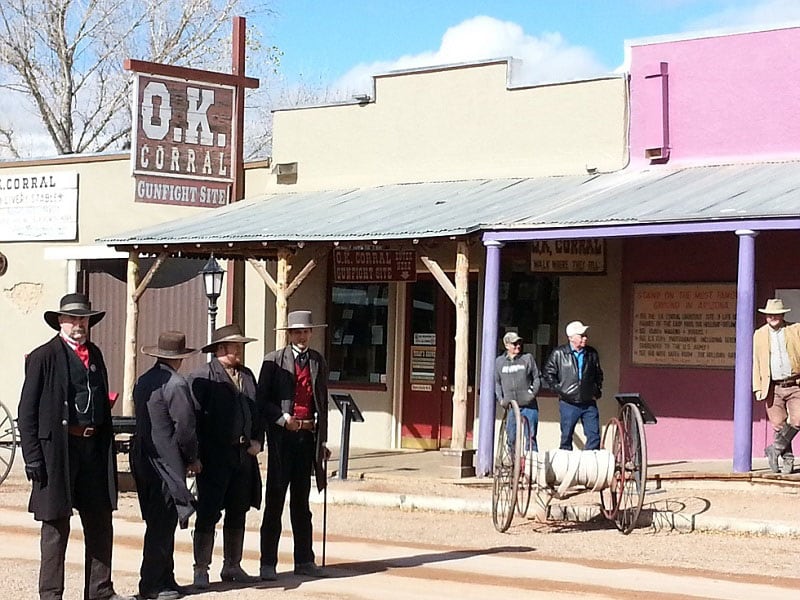 Tombstone was a stop between Chiricahua National Monument and Kartchner Caverns State Park. History buffs will find plenty to do in the western United States.  How about a visit to Tombstone to see the real OK Corral?
There is always the OK Corral tour, which unfortunately was delayed while we were there. So, we wandered the streets and checked out all the familiar names like the Doc Holiday Saloon.
There are plaques aplenty on main street where sheriff so and so shot what's his name, or the other way around. The town runs a stagecoach ride up and down main street, and lots of local characters are in costume. The court house is an old west architectural wonder, too.
Off the main street are areas for large RV parking, and signage will direct you. There are a couple commercial campgrounds just outside of town, but we continued on to Kartchner Caverns.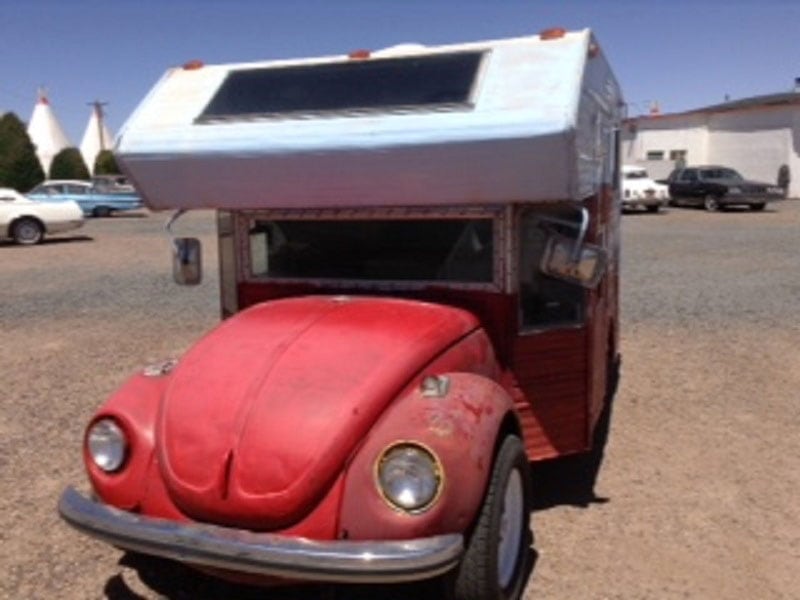 Added Bonus: You may not find this in Holcomb, Arizona like we did, but we found this truck camper parked at the Wigwam Motel.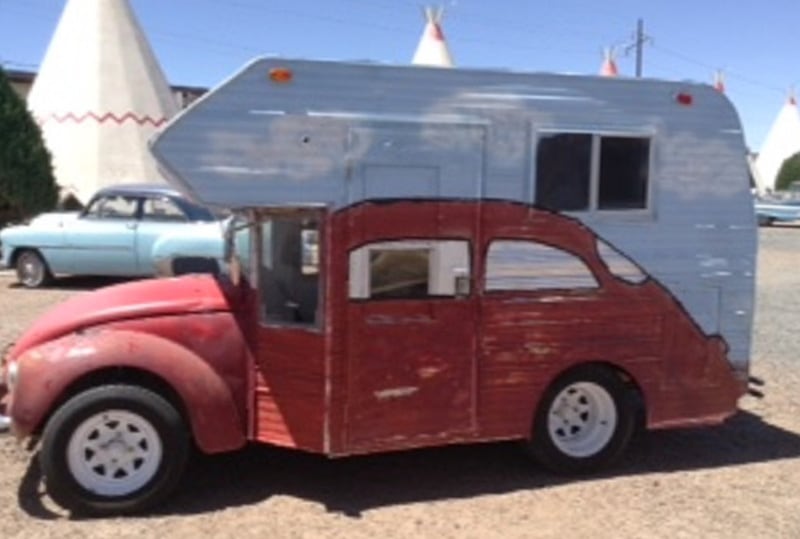 It takes time to find out of the way places.  Some are in plain sight and some you have to chase.  Either way, they're worth it.
Pull off the road often. To paraphrase a famous movie line – getting somewhere is not a 'rule, but a guideline'.
Do you have a different unique and fun destination to add to this amazing list?  If so, please share your destination here, and we'll add it below.