Look out Jack Frost!  We're not going to let a little dark, cold, and snow scare us.  We're truck campers and we can go anywhere, any season we want, even winter.  Off to Zion National Park!

Most folks winterize their truck campers before the first freeze of winter sets in.  Months of cold and darkness pass as we eagerly wait for another truck camping season.
Wait a minute!  Why can't we go truck camping in the winter?  Some truck campers are even designed to be four season products.  Like the mail person's motto, "Through rain or snow, or sleet or hail, we can go truck camping!"  I think the post office folks were talking about delivering mail or something, but you get the point.
Tom Watson wrote us an email about some of the tips and techniques he uses to make winter truck camping not only possible, but fun.  Tom had just returned from a three week trip in his Alaskan Camper through Zion National Park, Death Valley National Park, and the Valley of Fire went he sent in these winter truck camping tips.  Thank you for sending this in Tom!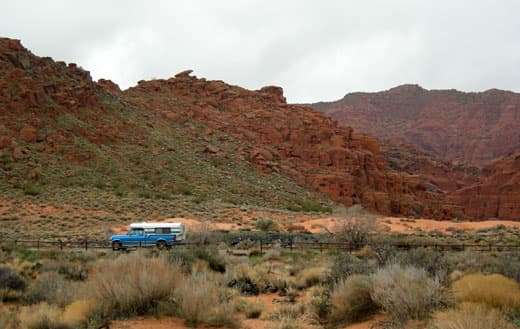 Winter Truck Camping
by Tom Watson
For most of our married lives, my profession kept us apart; my wife at home with the children and me endlessly traveling.  When we were home all together, we tried not to miss an opportunity to get out and enjoy the winter weather.  Our children were on skis by age four.  As a family, we have enjoyed cross county skiing, downhill skiing, and winter camping in tents.
Since then, decades have passed and Sue and I are free to choose between traveling in our Alaskan Camper and accepting a grandparent assignment.
Last winter we spent thirty-one winter nights in our Alaskan camper.  We were truck camping in Zion National Park during a period of record rain (eleven inches in three days) which forced the evacuation of the park and surrounding cities.  The Virgin River was a vengeful chocolate moose color ripping trees off the banks.  It was clear to us that we should leave the valley.  There were blizzard conditions north of the park with the temperatures as low as four degrees Fahrenheit.  We stayed the night in Cedar City in a snow storm and high wind that packed snow on the sides of the camper to the point that I had to scrape the sides of the camper to lower the top.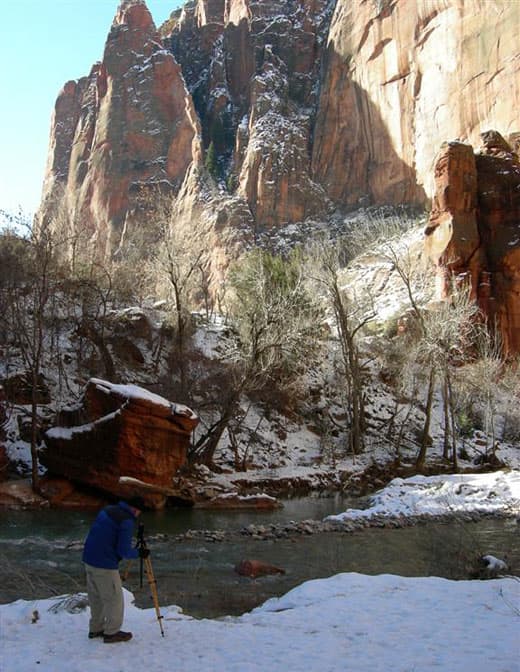 During these days of character building weather, we saw very few people on the Zion National Park hiking trails.  In the campground, there were only a few hardy tent campers, two or three truck campers, and no motorhomes.
We were wondering why, with so many four season truck campers available, that there were so few truck campers out winter camping.  We thought we would offer some suggestions from our experiences that may be helpful to enjoy truck camping in winter weather.
Winter Clothing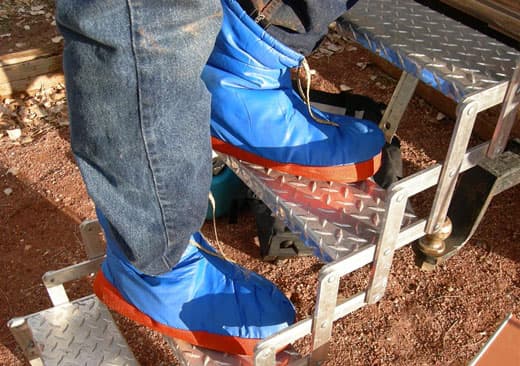 To be comfortable with the range of temperatures you can expect while winter truck camping, you need three layers of synthetic clothing.  I recommend a base layer of a long sleeve zip turtleneck and long pants to match, a second layer of a polar fleece top and hiking pants, an outer layer of Gortex shell parka and wind pants and, depending on the temperature, a down parka with 800 fill down.
I recommend down booties for walking around inside and outside the camper and micro fleece sleepwear.  Croc footwear is also handy as it can be rinsed off easily and worn in public showers.
Winter Gear
We have North Face sleeping bags rated to fifteen degrees Fahrenheit.  We have been buying North Face products for decades and find them to be extremely well made.  We carry a 1500W electric heater to use on those occasions when we are in campgrounds with electric to save our propane.  We keep the interior temperature at 55 degrees and dress accordingly.  When it is really cold, we have used a full four gallon propane tank in five days.  We never leave the camper without a liter of water per person, especially in Utah high country.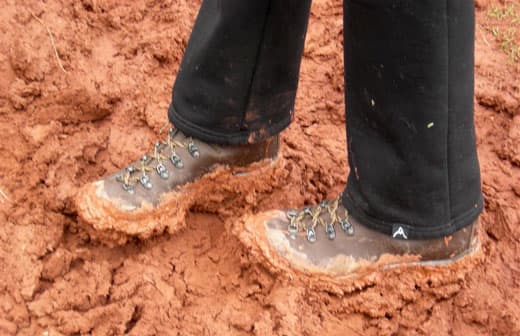 Other gear we carry with us are hiking poles, stout warm boots, LED head lamps, backpack with extra warm clothing, and energy bars.
Low Water Use Hygiene
Instead of a shower, we use baby wipes.  Alcohol based hand sanitizers are in the cab as well as the camper for frequent use.  A tube of Bacitracin ointment is handy for the inevitable cuts and scrapes.
Coffee and Food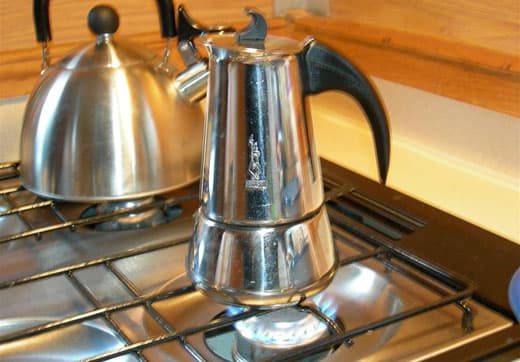 The most efficient way we have found to enjoy our morning coffee is our small Bialetti stovetop percolator that makes one cup at a time very quickly.  This eliminates the need to keep a volume of coffee hot.
Our food choices on the road are very simple.  We eat foods that are boiled like oatmeal with raisins and nuts, peanut butter and jelly sandwiches, low salt canned soup, spaghetti and sauce, fresh fruit, soy milk, yogurt, etc.  We carry high quality chocolate chips, walnuts, and raisins to make our own trail mix.
The Camper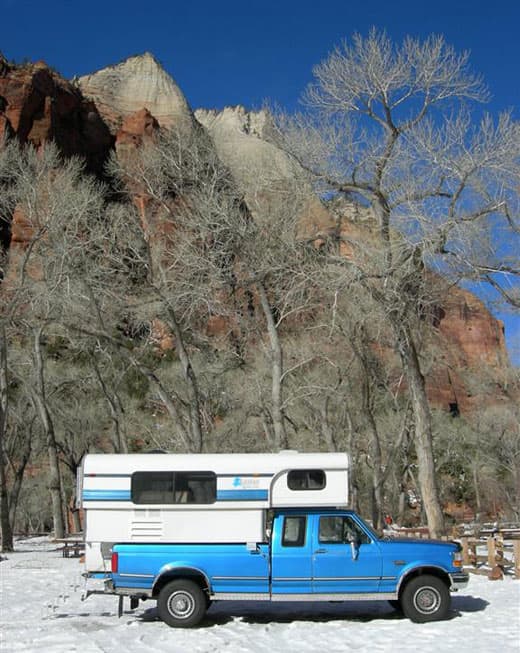 A winter capable camper for us must have a Thetford cassette toilet.  If you do not have a Thetford cassette toilet system, make sure your holding tanks are heated and that a nearby dump station is open for use.  Many dump stations are closed during the winter.  Pit toilets are numerous and maintained in the winter throughout the southwest.  There is a pit toilet in Little Cottonwood Canyon, Utah that we saw buried under ten feet of snow with a tunnel shoveled to the front door.  It was located near a slope used by back country snow boarders and had a sign stuck in the snow on the roof that said, "No Shredding".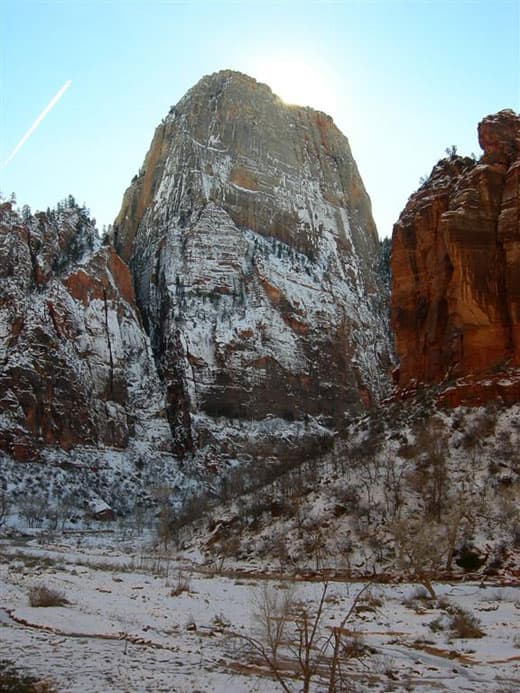 The rewards of winter truck camping are many.  For one, there are many less people at the parks and other destinations.  Sometimes the campgrounds are practically empty.
Our Alaskan is a fully winter capable camper, however it was manufactured in 1994 and since then there have been technology changes that we will be looking for in our next camper.  We will be looking for a hard-side truck camper with a wood frame, high R-value insulation, a Thetford cassette toilet, a compressor refrigerator, and Dometic acrylic thermal pane windows.   If you and your truck camper rig are up to it, winter camping is a wonderful experience.