Seven-months into the coronavirus pandemic in the United States and Canada, we take a look at six significant Covid-19 impacts on the RV marketplace and lifestyle.  We also have eight essential tips to help current and prospective RVers navigate these potential challenges.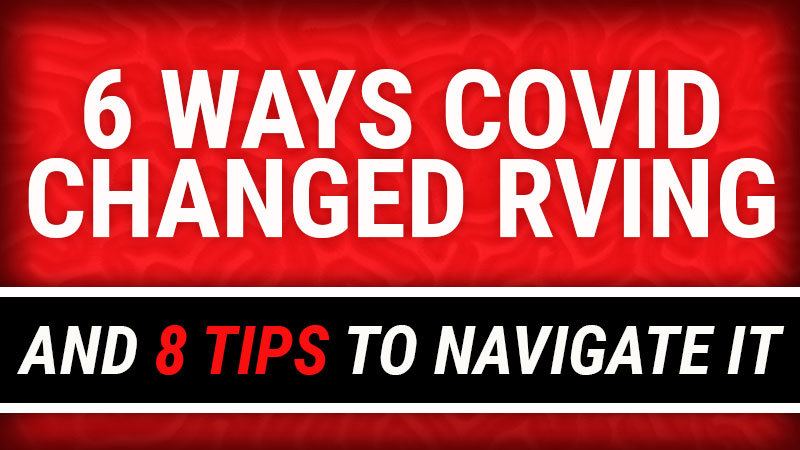 It seems like we've been dealing with the various effects and consequences of the Covid-19 pandemic forever, but it's really just been in the United States and Canada since February.
There are numerous reports of Covid-19 infections prior to that moment, but community spread was first proven about seven months ago.  It just feels like seven years.
What follows is our in-depth analysis of the impact Covid-19 has brought to the entire RV industry and community.  We have also provided eight tips to help you navigate these impacts, starting with the most important.
TIP #1 – The following article points and tips are critical for RVers to be aware of right now, but most of these items should resolve, or at least subside, once Covid-19 is behind us.
The Red Flag Warning
On Tuesday, March 17th, a Florida state campground ranger knocked on our camper's door, stood back, and informed us we had to leave the campground and park by that Friday.  Everyone camping in the Florida state parks was being evicted, no exceptions.
A quick online search revealed concerning accounts of fellow campers being forced out of their campgrounds coast-to-coast.  As campgrounds closed, many full-time and far-from-home RVers were stranded.  Worse, our future campground reservations were automatically cancelled.
First Impact: Campgrounds Temporarily Close
Closing campgrounds was the first major RVing impact of Covid-19.  For us, it was the red flag warning that coronavirus was not something that we could not ignore.  Our immediate and future travel itinerary had to be changed.  Our truck camping way of life needed to be paused and re-evaluated, at least for a short while.
By mid-March, national, state, county and private campgrounds were closing down coast-to-coast due to a gathering cloud of various Covid-19 shut-downs and shelter-in-place orders.  By late April, Campendium reported 46-percent of their listed campgrounds were closed due to the pandemic.  Essentially half of the possible campground sites across the continent were shut down.
Over the course of the following four months, federal, state and local authorities lifted and adjusted Covid-19 related orders allowing campgrounds to reopen.  By mid-July, Campendium reported just 9-percent of their listed campgrounds remain closed.  Although they have not updated that information, it's likely to have further improved.
While we are all hoping the worst of this wretched experience is behind us, campground closures could return if Covid-19 flares up this fall or winter.  Don't let what happened to us happen to you.  Have a Plan B ready.
TIP #2 – Always have a Plan B campsite plan ready, Covid or not.  Also be aware that best made plans can occasionally fall through on the road.  Things happen.

Second Impact: High RV Demand
Seemingly every journalist who could locate their laptop in 2020 has published an excited article on how RVing is the, "…best socially-distanced travel alternative to flying and cruising".  It's as if every network, newspaper and knucklehead blogger simultaneously discovered RVs and decided to join the Go RVing marketing team.
Having read a few of these articles I have no doubt that (a) most of these intrepid reporters have never stepped foot in an RV and (b) are probably bored out of their minds working at home with no pants on.  You can practically hear the, "Maybe I could get an RV and get out of here" in their hastily researched essays and segments.
This rampant coverage has triggered unprecedented demand for RVs from the general public.  Total newbies who weren't even thinking about RVs in January went out and bought an RV.  Naturally this has been an absolute godsend for the RV industry, but it's not all roses and sunshine for those of us who already love the RVing lifestyle.
Third Impact: Tight RV Supply
RV inventory on dealer lots across the United States and Canada is currently the lowest we have ever seen.  Even more challenging, the RV manufacturers, hampered by Covid-19 shutdowns and related supply shortages, are struggling to keep up with the extraordinary demand the pandemic triggered.
What this means is that if you want a specific brand new RV or camper now, it could be hard to find.  You can still find RVs and campers on dealer lots, but your selection will likely be limited.  For customers set on a specific RV make and model, some dealers are having customers pre-order units for delivery next year.
On balance, the RV and camper manufacturers are all currently producing and shipping units.  We spoke to a prominent manufacturer while developing this article and they reported being at the same production capacity they were at just before Covid-19 struck.  In theory, that means we should see a slow return to normal product availability over the next six months to a year.
TIP #3 – If you want a brand new RV or camper that's not in stock at your local dealer, put your order in as soon as possible.  Otherwise, it may be a considerable amount of time before they have what you're specifically looking for on their lot.
TIP #4 – With the high demand and the low availability of new RVs and campers, interest in used RVs and campers is high.  If you have been considering selling or trading in your camper, now would be a great time.
Fourth Impact: Stretched RV Service
Long before Covid-19 hit, the RV industry was already challenged to find qualified service techs.  When the pandemic created a tremendous surge in new customers, it exacerbated already tight service availability.  Service has been further hampered as customers, managers, and service techs are required to maintain social distancing and safety protocols.
As we wrote about back in April, RV dealers have implemented the mandated safety measures and are moving forward with pre-delivery inspections, walk-throughs, RV fixes, and repairs with as much efficiency as possible.  Dealers want you to be happy, but also need to keep you and their teams safe.  It's a challenging balance many service businesses are experiencing right now requiring understanding and patience from all of us.
TIP #5 – If you need RV service, call for an appointment as soon as possible.  When you call, be prepared for an appointment date further out than you would prefer.  Try to be patient and understanding as the dealers work through the truly unprecedented service demand.
Fifth Impact: Strained Campground Availability
The sudden surge in RV popularity has also dramatically increased demand for campgrounds.  We have even received reader reports of increased demand for BLM campsites and campground alternatives like Harvest Hosts and Boondockers Welcome.
This demand should subside once people feel safe flying, cruising, and staying in hotels again. Covid-19 has allowed a lot of RV newbies to discover the magic and fun of our beloved lifestyle, but some of them won't stick with it.  Even the ones who do probably won't be as active with their RVing once safe and viable alternatives return.  Heck, we'd love to go on a cruise again ourselves – someday.
TIP #6 – Don't assume that the camping location you've always counted on, without reservations, will be available.  We had a reader report that his favorite out-of-the-way BLM spot was taken when he arrived.  Once again, always have a Plan B campsite or overnight location ready.

TIP #7 – This predictable subsiding of enthusiasm will likely create fantastic late-model used RV and camper opportunities next year.  RVing is a wonderful hobby, but it's not cheap, and it requires considerable effort to keep an RV maintained and ready to go.  We forecast some good used RV and camper deals in 2021!
Sixth Impact: Travel Restrictions
As of this writing, the United States, Canada, and Mexico have agreed to extend the border closings to non-essential travel through September 21st.
Furthermore, many US states have their own specific travel restrictions.  Travelers from a state with a higher positivity are required to self-quarantine for 14-days in Connecticut, Kentucky, Maine, Massachusetts, New Jersey, New York, Ohio, Rhode Island, and Vermont.  In most of these states, you can bypass this process by providing proof of a negative Covid-19 test within the previous 72-hours.
Each state has a different list of states that make their high positivity list.  However, most include Alabama, Arkansas, California, Florida, Georgia, Idaho, Kansas, Louisiana, Mississippi, Missouri, Nevada, North Dakota, Oklahoma, South Carolina, Tennessee, and Texas.
Alaska requires a travel declaration, a self-isolation plan, and proof of a negative Covid-19 test upon your arrival.  If you don't have proof of a negative Covid-19 test, you can purchase a $250 Covid-19 test upon arrival and self-quarantine until you get the results.
Needless to say, these restrictions are not exactly what, "Go Anywhere" RVing is all about.  We fully expect these restrictions to lift as soon as the Covid-19 situation is resolved.
TIP #8 – The above-listed travel restrictions will change.  Make sure to research any possible travel restrictions along your route before setting out, and keep an eye on them as you go.
The Bottom Line: Covid Stinks, But We Can Adapt
The impacts of Covid-19 are both good and bad, sometimes at the same time.  We are certainly delighted to see our domestic RV industry doing so well when many others are struggling.
At the same time, that strength and the unprecedented (anyone else sick of this word?) interest in RVing has brought its own challenges.  The six impacts mentioned above should be temporary, but they cannot be ignored.
In a nutshell, anything and everything related to RVs – including the availability of units, service, campgrounds, dump stations, national parks, BLM lands, and even rentals – are all under unprec… (no, not that word again) exceptionally higher demand than ever before.  Even international and interstate travel can't be taken for granted right now.  As RVers, it's important to understand these realities and respect their implications, however temporary.
And this will all be temporary.  RV manufacturers will eventually meet the increased demand, and that demand will subside to normal.  The RV dealers will eventually work through the increased service need, and that need will subside to normal.  The campgrounds will expand and new campgrounds will emerge, as the reservations come back to Earth.  And yes, we all will visit Canada, the United States, and Mexico again.