For Behind the Shot Part 8, we are featuring photos and stories from Grand Teton National Park, Jedediah Smith Redwoods State Park, and many more!  Click here to participate in the 2021 Truck Camper Magazine Calendar Contest and be considered for a Behind the Shot feature.
Gary Anderson
White River National Forest, Colorado
2018 Chevrolet Silverado 3500
2019 Lance 865
Camera Used – Samsung S10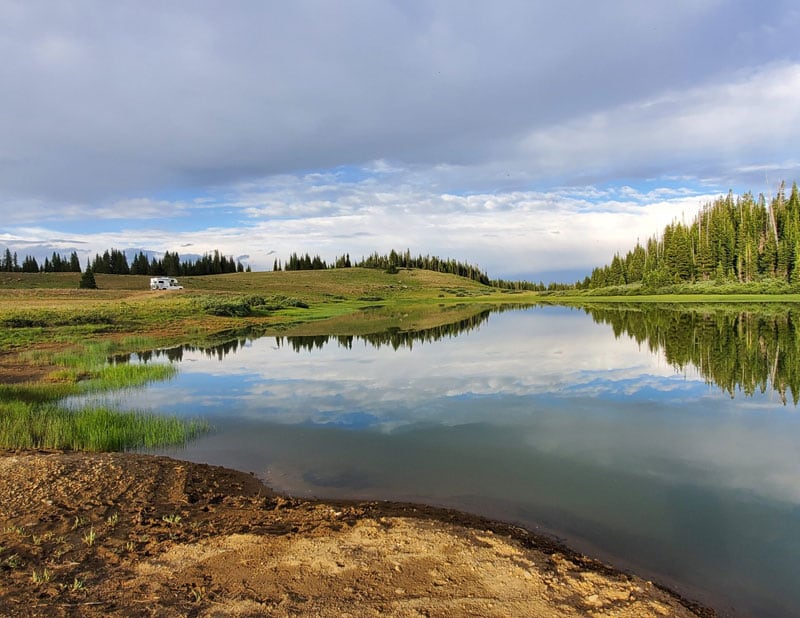 We wanted to get away for a few days and had heard from a friend of a nice place in the White River National Forest.
We left I-70 at Dotsero and headed north until we turned on to Forest Rd 600. We started a 30-mile drive up and over the mountain on what was labeled a "Gravel Road, Suitable for Passenger Cars". On our drive up I think we averaged around 14 miles per hour. This is a steep climb on a narrow washboard dirt and rock road.
The views are breathtaking as are the drop-offs. On our way up we paused at Deep Creek Overlook. This has incredible views into the canyon 2300 feet below. Only 14 miles and another hour from there we came to a series of lakes south of the Flat Tops Wilderness Area. There is one Forest Service Campground at Deep Lake with a handful of sites, but it is closed as of 2020. All around this area there are many lakes and many dispersed campsites. We found this site on a small lake and had it all to ourselves.
Kenneth Gomes
Jedediah Smith Redwoods State Park, California
2012 Ford F-350
2019 Four Wheel Camper Grandby, Woolrich Edition
Camera Used – Phone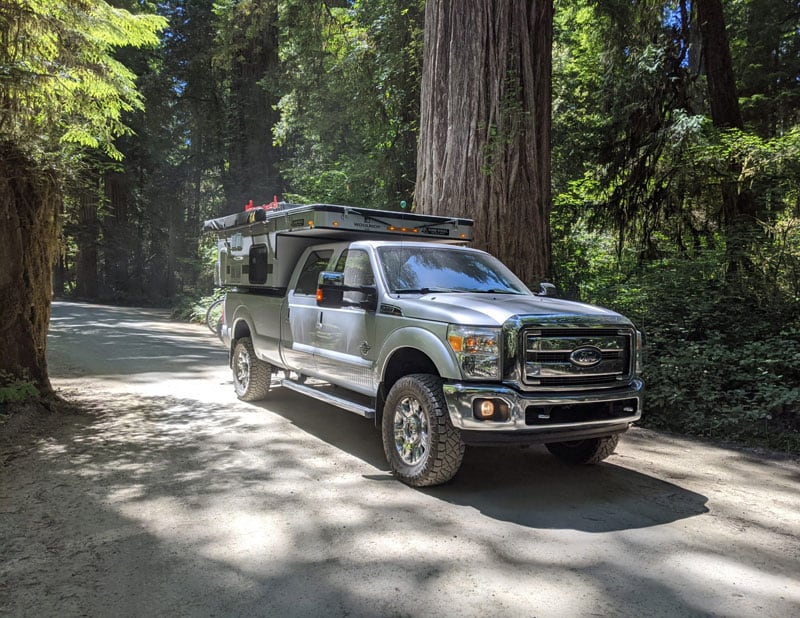 This was from my 4th of July camping trip. We were camping at Panther Flat Campgrounds in Gasquet, California. We decided to go on a scenic drive on July 10, 2020 through the Jedediah Smith Redwoods State Park and drive among the giants.
Mary and Bruce Cyr
Signal Mountain, Grand Teton National Park, Wyoming
2010 Ford F-250
2013 Northstar Liberty
Camera Used – Samsung Galaxy S9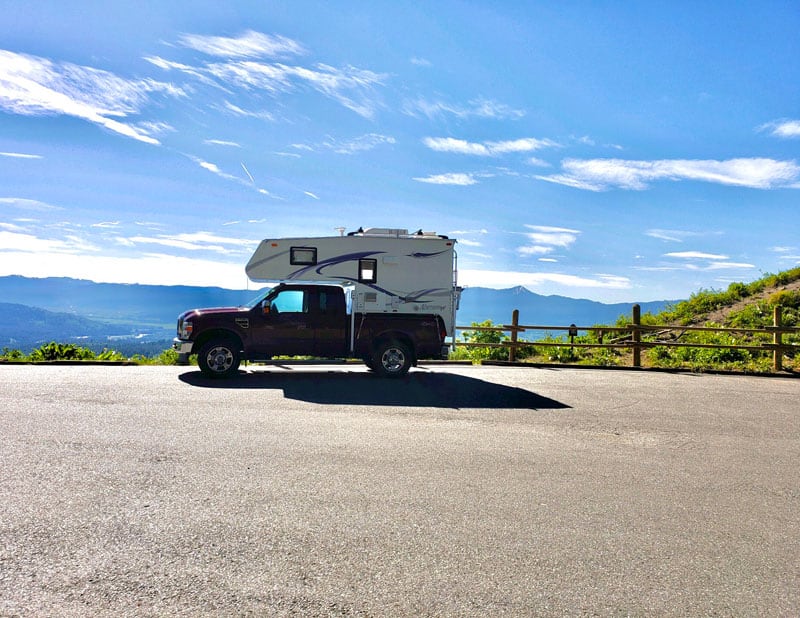 We were on an epic bucket list National Park road trip to Badlands, Yellowstone, Grand Tetons, and Rocky Mountains during a pandemic. We wanted to get up in elevation to see the area and turned onto this road to a scenic overlook. We were the only ones up there! We saw a grizzly on our way back down, the only bear our entire trip. It was the best time for highway travel and to visit the national parks because there were fewer crowds and no tour buses. With our camper, we didn't have to depend on airlines to get us there and we could sleep in our own bed every night. We covered 5,210 miles in 14 days across 16 states!
Bryan Burgess
Blue Ridge Parkway, Mt. Jefferson Overlook, Virginia
2018 Ford F-150
2018 Capri Cowboy XL
Camera Used – Fuji XT2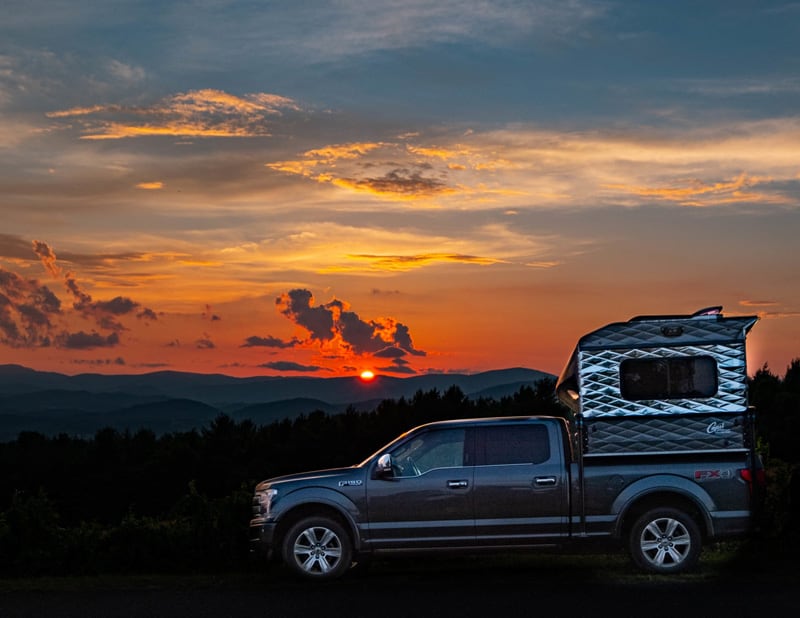 After too many months of captivity in the social distancing bunker, I broke loose for a week of wandering freedom in the Appalachian Mountains of North Carolina, Tennessee, and Virginia. I was also eager to road test the new "Nose Cone" on my Capri Cowboy XL. This photo was taken at the Mt. Jefferson (Virginia) overlook on the Blue Ridge Parkway. My hopes of seeing the Neowise comet were in vain, but the sunset was a nice one!
Darcy Senft
Icefields Parkway, Banff National Park, Alberta
2015 RAM 2500
2018 Palomino Real-Lite SS-1608
Camera Used – Nikon Z6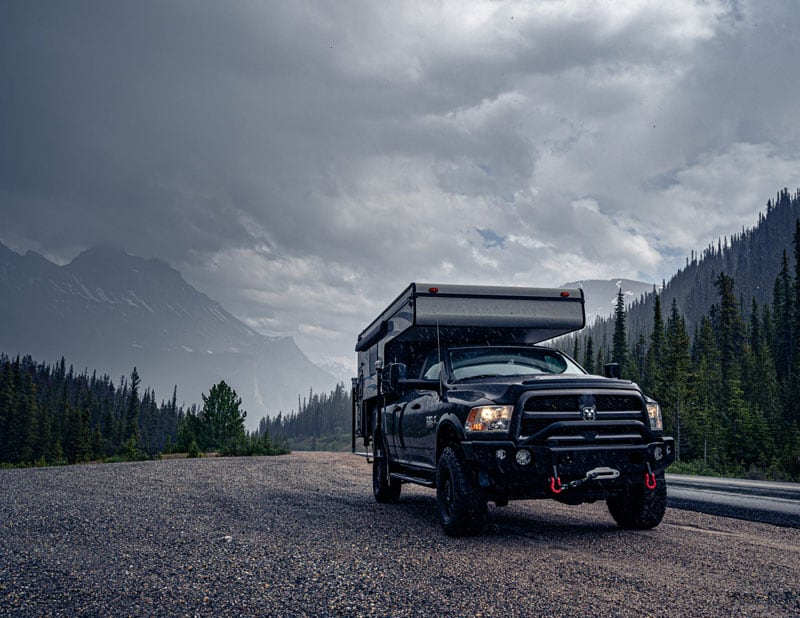 We had planned a June trip to Banff and Jasper Alberta back in January. Then COVID-19 hit and the parks were closed for the period we had booked our campsites. It looked like we wouldn't make it out to the Canadian Rockies this year, but with a bit of perseverance and a bit of luck, we managed to get some sites booked for July. One of the 'bucket list' items was to finally drive the Icefields Parkway that connects Banff National Park to Jasper National Park. The scenery was amazing. What is typically a 3.5 hour trip took all day with all the stops to take in the beauty. It's a must see!
Coly Hope
Independence Pass, Colorado
2015 Ford F-250 XL
2019 Capri Retreat
Camera Used – Galaxy 10 Smartphone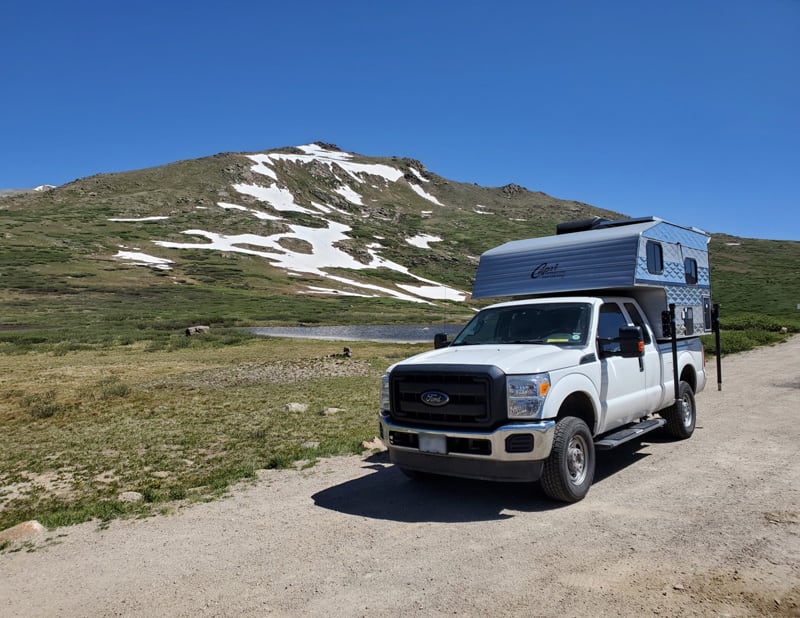 I had been camping in Buena Vista, Colorado when I decided to take a side trip and took Route 82 up to Independence Pass. The pass is 12,095 feet above sea level. When I went in early July there was still ice in one of the ponds. The drive up to the pass is steep with switchbacks however the road is wide enough for two way traffic and it was safe.
Mark Burkhardt
Delemar, Nevada
2015 Ram 2500
2020 Northstar TC800
Camera Used – Canon SX30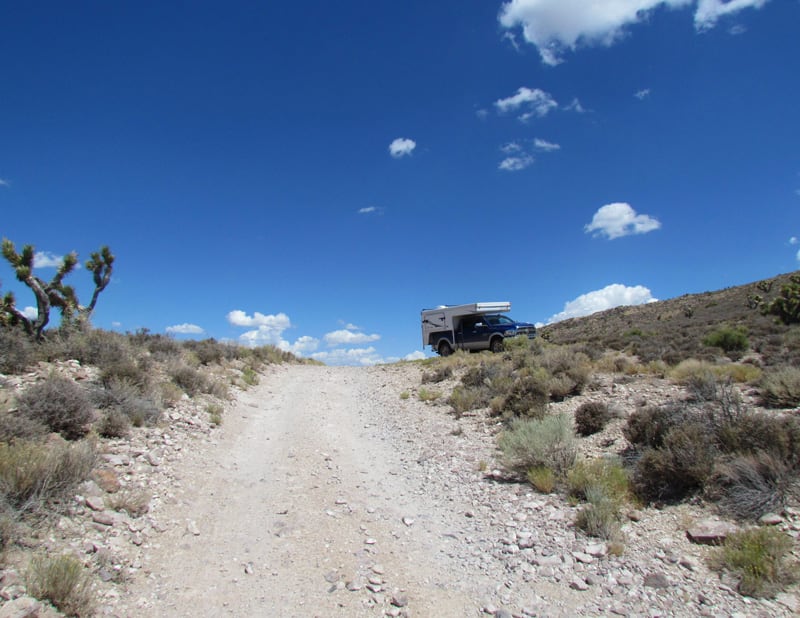 This picture was taken approximately a half-mile from Delamar, Nevada. Delamar is an abandoned mining town (ghost town) in Nevada. The final two miles require high clearance, four wheel drive vehicles. We were traveling between Las Vegas and Hawthorne, Nevada, with this being a planned stopover to see the town. It was one of several ghost towns we planned to see on our travels through Nevada.
Jacob Cartier
Prince Edward Island
2012 Ford F350
2012 Lance 855S
Camera Used – iPhone 8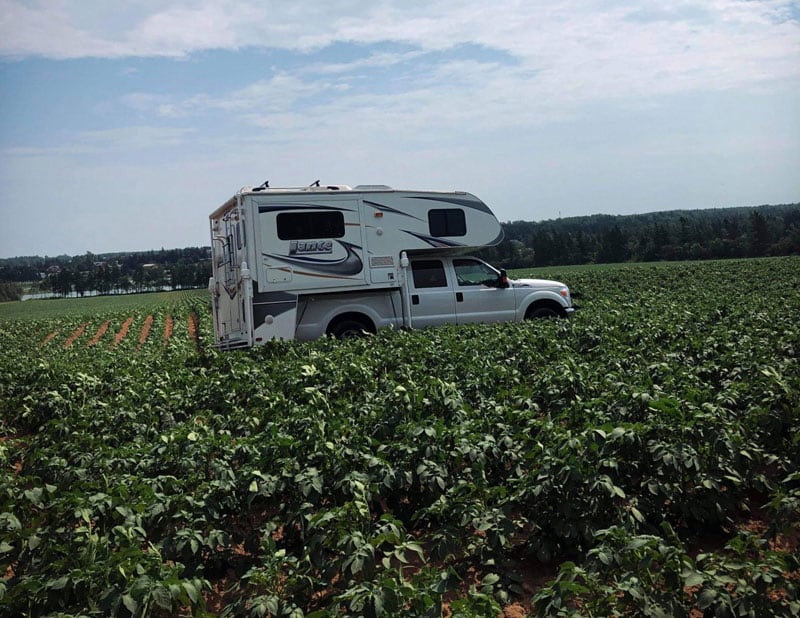 Every three years we grow potatoes in the field in front of our house here on "spud island". Our grandson, Jacob, is getting into photography so I drove the truck along the field headland and he took the shot. Our PEI farm has been in the family for over one hundred years.
Mike Hervey
Cape Lookout National Seashore, North Carolina
2018 Ram 3500
2014 Lance 865
Camera Used – iPhone 8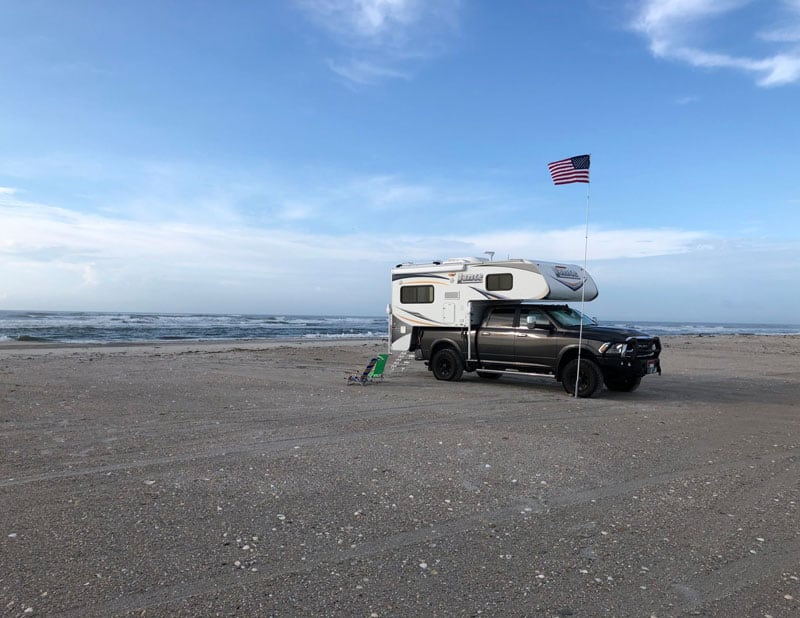 It was my first trip to Cape Lookout National Seashore. We were boondocking by the ocean for four days. We've wanted to do this for years and finally did it!
Tom Patterson
Grand Teton National Park, Wyoming
2015 Ford F250
1998 Lance SquireLite 186
Camera Used – iPhone 8 Plus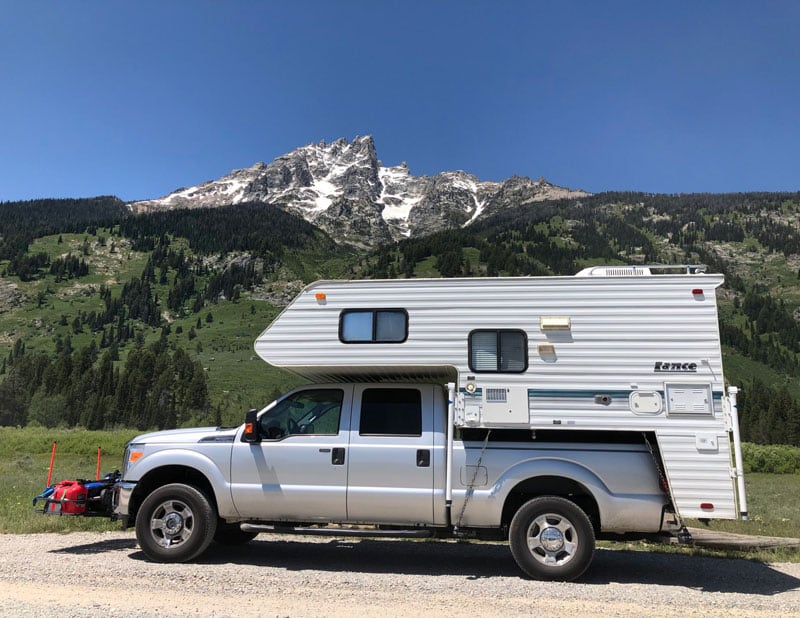 We were on a camping trip and were driving through Grand Teton Park and stopped to take the picture.
Phillip Borchelt
Seedskadee National Wildlife Refuge, Wyoming
2007 Dodge Ram 3500
2012 Lance 992
Camera Used – iPhone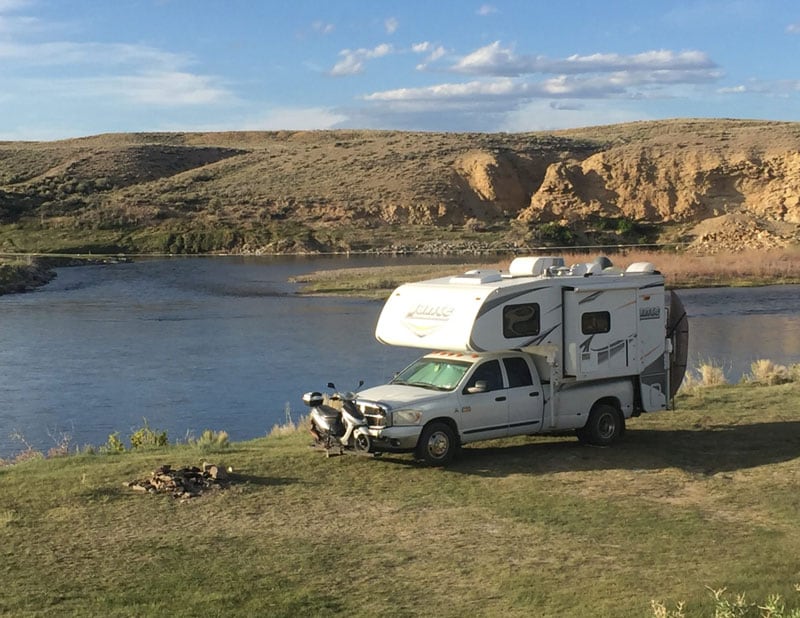 This is one of my favorite spots in Seedskadee National Wildlife Refuge. It's right on the banks of the Green River and it's free! There's great fishing and absolutely no noise from traffic or generators.
Click here to see all of the photos entered so far in the 2021 TCM Calendar Contest. Enter your truck camper photos today!