About half the places we have gone over the past decade have been inspired by fellow readers and their amazing stories and photographs.  In this spirit, we asked readers what TCM stories have inspired their own truck camping adventures.

Article: Cracking The Ice Road In A Truck Camper
"Reading the Truck Camper Magazine story of the folks that took the ice road to Tuk was an inspiration.  Now that the road (November 2017) is finished we can drive to it.  I don't have to worry about and ice road being in, which will be a lot of fun." – Mark Turnbull, 2013 Chevy 3500HD, 2017 Cirrus 820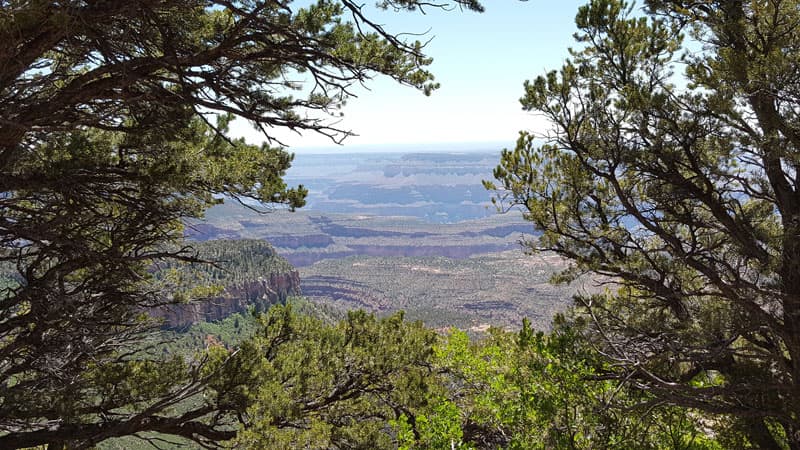 Articles: Get Out and Move and Behind the Shot: Part 9
"I have read about so many great destinations on Truck Camper Magazine.  I don't remember which exact article inspired me to drive many miles on dirt roads in the Kaibab National Forest to camp at the north rim of the Grand Canyon.
There were many places to camp and the spot we picked was just steps from the edge.  We had the place to ourselves.  We hiked, cooked a gourmet meal, and yodeled into the canyon.
Truck camping gifts us the most amazing and inspiring front yards in the world.  Let's all help protect them!" – Darcy Hubbard, 2014 Ram 3500, 1998 Lance Legend

Articles: We have an entire Canada section with lots of ideas
"A couple of years ago, Truck Camper Magazine had an article from Leo LaRochelle about a Canadian Maritime province trip that he was trying to put together.
We had always wanted to see the Maritime provinces.  I so much wanted to go with him on that trip but I was taking care of my father who had terminal cancer.
Leo had no takers, so he and his wife did the trip by themselves.  Leo took his website down and was not planning anymore trips because of his wife being ill.  The trip has been on my mind ever since as a bucket list trip.
We have not been on the trip yet, but we are signed up to go this summer on a 80 day some what similar trip with SMART (Special Military Active Recreational Travelers).  So this trip is a direct result of a TCM article." – Erwin Greven, 2002 Chevrolet Silverado 2500HD, 2002 Lance 921

Article: Driving Through Doesn't Count
"This was a last minute camping trip after reading about this trip in a story on Truck Camper Magazine.   We loaded up the Arctic Fox 990, threw in the fur kids (Missy and Bella) and headed out to Boulder, Utah.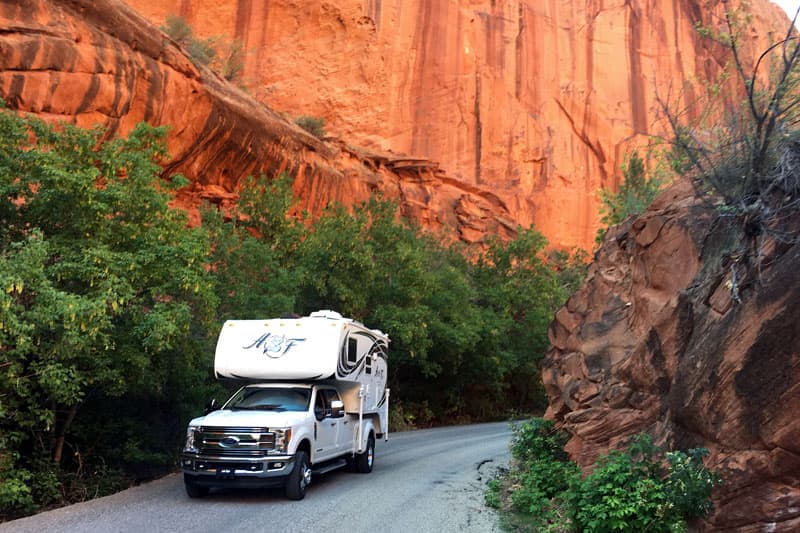 It ended up being a nine-hour drive, but we found a nice secluded camp spot, fed and watered the kids, fired up the Weber and had a nice dinner of grilled salmon and asparagus with a cold bottle of wine.
The next morning we had a leisurely breakfast, packed up, and headed towards Bullfrog.  We stopped along the way to snap pictures and admire the beauty around us.  The photograph was taken to show the enormity of the surrounding red rock." – Sam and Lisa Pounds, 2017 Ford F350, 2018 Arctic Fox 990
"In some respect everywhere we have gone in either of our truck campers.  It was because of Truck Camper Magazine that I transitioned from a bumper pull trailer to a truck camper in the first place." – Les Brush, 2002 Dodge Ram 2500, 2007 S&S Montana Ponderosa 8.5FBSC