It's a wonderful wake up call to meet someone who challenges you to live a fuller life.  By example, they prove that we can do more, and have more fun, if we just keep moving.

This past week we had an enthusiastic newbie reader call us and explain that he was having a really hard time selecting his first truck and camper combination.  He launched into a laundry list of "this or that" questions; this camper or that, this truck or that, this floor plan or that, this feature or that, and so on.
Clearly our newbie friend was deep into the analysis paralysis swamp, and sinking.  When he paused, I said, "For goodness sake, stop reading Truck Camper Magazine!  Get out there and experience some campers in person on dealer lots.  These questions will start to answer themselves".  He laughed and agreed.  Hopefully he's not reading this article, and is currently sitting in a camper dinette deciding on this camper, over that camper.
What the reader didn't know is that I had just read Cheryl White's interview and was still glowing with her enthusiasm for life.  Her story has a wonderful and powerful underlying message, "Get out there, and move.  Live your life, while you still can".  It's simple advice and it resonated with me deeply.  None of us know how much time we have left, and there's so much amazing stuff to do out in the world.  As the saying goes, "So much to do, so little time".
Carpe Diem Cheryl!  We are inspired.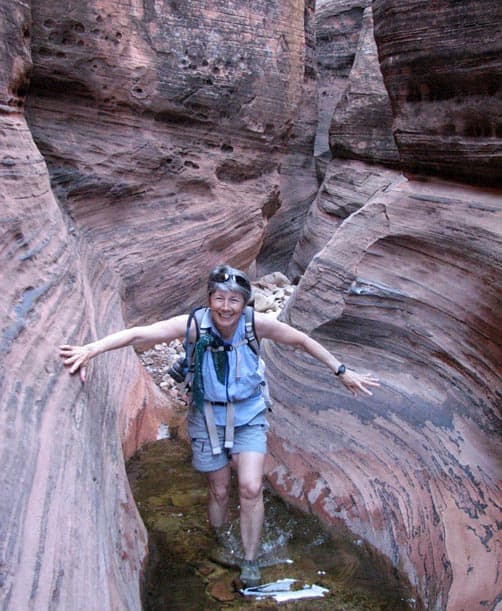 Above: Slot Canyon near St. George, Utah
TCM: How did you get into truck camping?
Cheryl: We first got into truck camping after thirty plus years of tent camping.  We wanted something more comfortable than a pad on the ground and tarps over our gear.  We started by looking at all the alternative types of RVs.  Then, in 1997, we saw a truck camper in Zion National Park.  The owners gave us a tour and we were hooked.  We were amazed at the room in their camper and that truck campers contained all you could ever need for a trip.
Knowing our love of National Parks and camping in the boonies, we started our hunt for a truck camper.  It took a bit of time before we started seriously looking for a big truck to carry the camper load.  As luck would have it, we found our present truck with all the bells and whistles, including the camper package, at a great price.  We bought it on the spot.
Then began our hunt for a truck camper.  Camper shows and visits to dealers became our weekend fun.  We found an older model 1992 Lance 900, bought it, and used it for two years.  Then we sold it for only $500 less than we'd paid for it.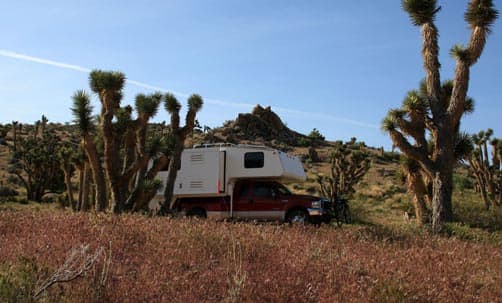 Above: Beaver Creek Wilderness in Utah 
TCM: We did almost exactly that with our first truck camper.  If you buy right, it's amazing how well a truck camper can hold it's value.  When did you get your Arctic Fox?
Cheryl: In 2005.  The search for a new one actually overlapped the sale of the old one.  At that point, we knew a truck camper worked well for us.  And knowing we were planning to retire and travel for months at a time, we needed a bit more space than our first camper afforded us.  My husband, Ted, is 6'1" and needs moving around space, so the full-wall slide became important.  Soon we had located the 2005 Arctic Fox 1150.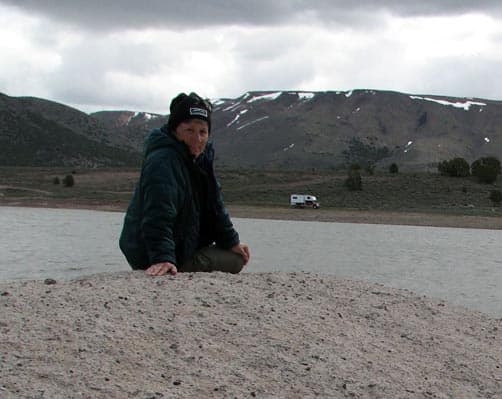 Above: Cheryl White at Honeycomb Rocks, Utah
TCM: Since this is Ladies' Week, give us a ladies perspective on truck camping.  The biggest complaint I get at RV shows from ladies is that there isn't enough room in a truck camper.  What's your take on that?
Cheryl: For one thing, we always took too much with our first camper.  There are always going to be compromises, like less storage.  But that also means a smaller house to keep clean.  We tend to wear our favorite comfortable clothes, so we choose those for the camper.  Life is more simple in a truck camper.  We keep trying to complicate things by taking too much stuff!  It is really all about priorities.  We take the items that enhance our experiences and leave the rest home.