For Behind the Shot Part 9, we are featuring photos and stories from Newfoundland, Mount Shasta Skipark in California, Sajama National Park in Bolivia, Dinosaur National Monument in Colorado, Piteå in Sweden and many more!
To participate in the 2018 Truck Camper Magazine Calendar Contest and be considered for a Behind the Shot feature, click here.
Tim Zeh
Hearts Content, Newfoundland, Canada
2005 Chevy Silverado 3500
2007 Arctic Fox 1150
Camera Used – Panasonic DCM FZ200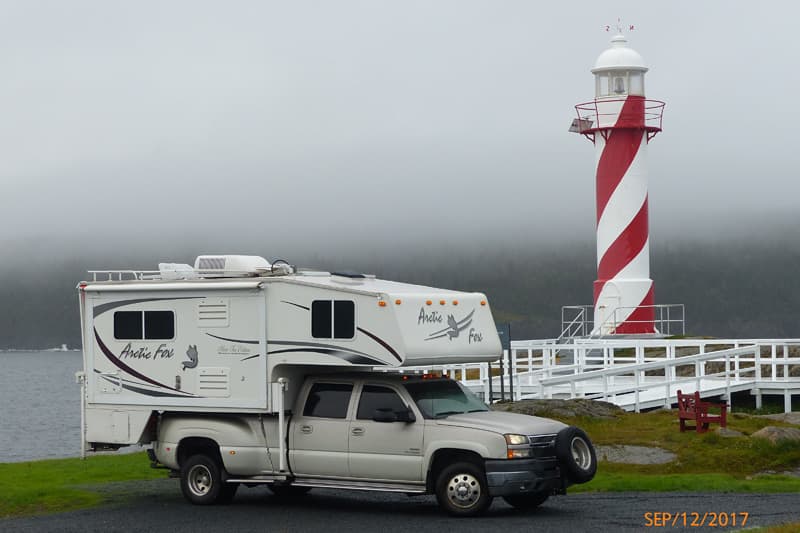 Linda, Snickers and I were traveling through Newfoundland and decided to stop in Hearts Desire to see the Cable Museum. This is the location of the first Trans-Atlantic telegraph cable that connected North America and Europe. The cable was laid across the Atlantic in 1860s and Hearts Desire became a telegraph station for the North American side of the cable.
We got to the museum about 4:50 and it was about to close, so we decided we'd stay in the area overnight. We were driving out of town and we looked over and there in the distance was the lighthouse. We followed a road and found it.
We parked for the night and it was really windy. I pulled the slide in that night to keep the topper from blowing away. The next morning was still with a misty rain and fog. The museum opened at 9:30am. I thought I'd snap a picture for the calendar. I turned the truck around to get a picture of its good side, but that's another story. Needless to say, check your lug nuts!
Jack Riordan
Navajo Lake, Utah
2006 GMC 2500HD
2006 Six-Pac D850
Camera Used – iPhone 7+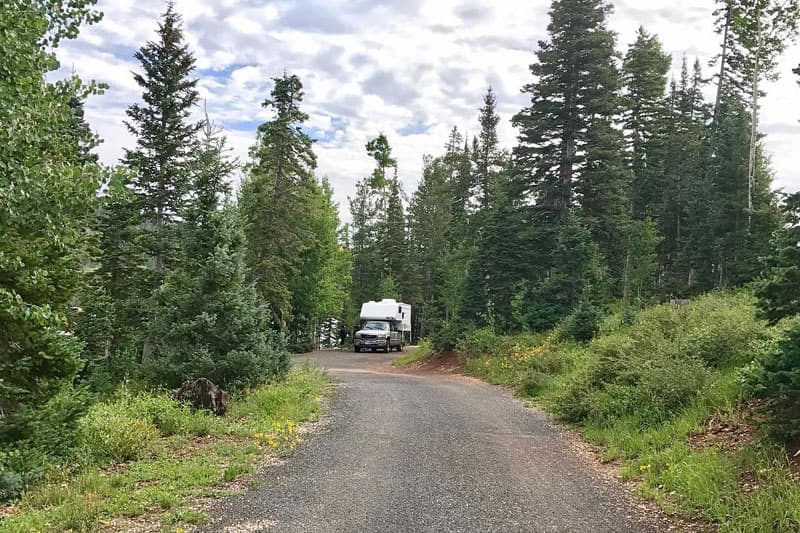 After three days in Zion National Park with temperatures soaring well over 100 degrees, we raised our legs and headed north on I-15 seeking a cooler climate. Having lived in Southern Utah for a few years, we knew that there was no shortage of boondocking options, but had our heart set on Navajo Lake.
We arrived in the midst of a hailstorm that had the landscape blanketing in white. That evolved into an epic thunderstorm for the rest of the night! Our trusty Six-Pac kept me, my wife, our two kids, our 80-pound golden retriever, and a four week old puppy safe and snug as the thunder rolled on by.
Van Rebstock
Mount Shasta Skipark, Mount Shasta, California
2006 Toyota Tundra
2001 Four Wheel Hawk
Camera Used – iPhone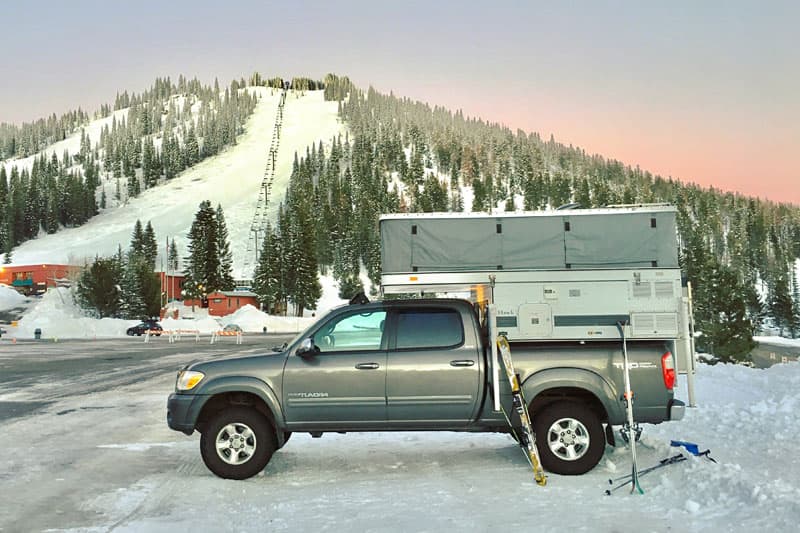 January of this year we were fortunate enough to get a week off and headed north to Mount Shasta to get some skiing in. The timing was fantastic and we got some absolutely epic powder conditions followed by clear skies with great snow conditions. The camper served as a great basecamp to warm up and hang out after a few runs, and we even camped at the park one night (for free). I snapped this picture at the end of a particularly good day.
Laughlin Drake
Sajama National Park, Bolivia
1994 Dodge Ram
1986 Alaskan Camper
Camera Used – Canon EOS Digital Rebel XS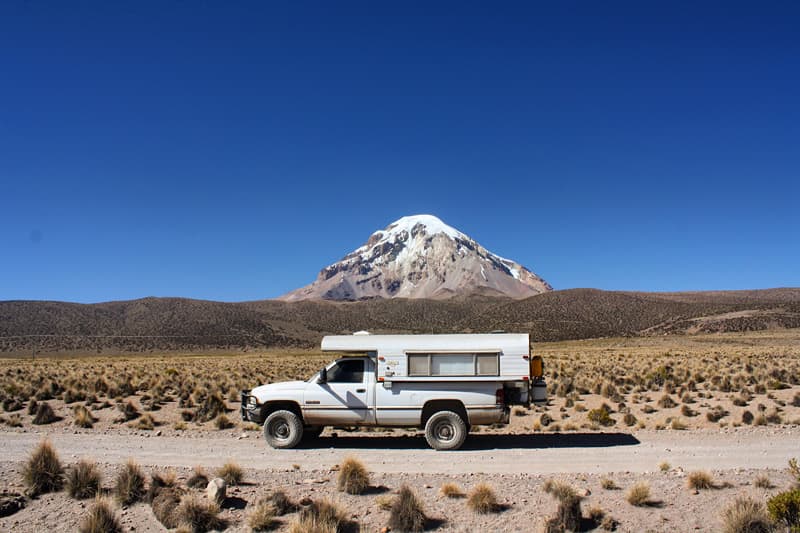 After spending a month in Peru and the previous eight traveling there from the United States, we pulled into La Paz, Bolivia to visit a mechanic to replace our brakes that were toast after 20,000 miles of abuse. We were told it would be a week before work would begin so we took off to Sajama National Park to continue exploring while we waited for the time to pass.
Sajama National Park holds the Sajama Volcano which is the tallest peak in the high altitude country at over 20,000 feet in elevation. We couldn't drive more than a few miles without stopping for photo shoots, most of which included our truck and camper. Each time we stopped, our jaws dropped as we stared at this incredible mountain. The glaciers and snow, rocks and crevices changed with each turn of the wheel and we admired its beauty with each stop. Finally, after eight months of hot weather, our Alaskan Camper felt at home at the cold, high altitudes of Bolivia. This was another sign that we were right where we should be.
Sam and Lisa Pounds
Burr Trail Road, Boulder, Utah
2017 Ford F350
2018 Arctic Fox 990
Camera Used – Nikon D7200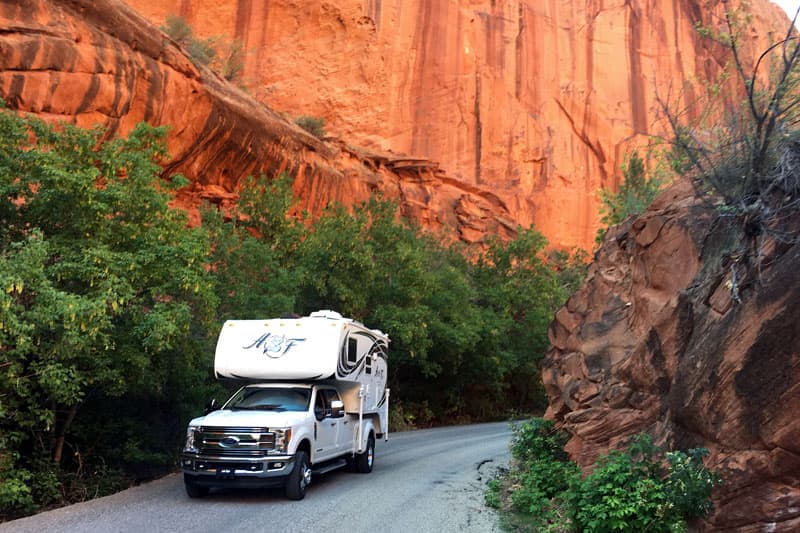 This was a last minute camping trip after reading about this trip in a story on Truck Camper Magazine. We loaded up the 990 threw in the fur kids (Missy and Bella) and headed out to Boulder, Utah. It ended up being a nine-hour drive, but we found a nice secluded camp spot, fed and watered the kids, fired up the Weber and had a nice dinner of grilled salmon and asparagus with a cold bottle of wine. The next morning we had a leisurely breakfast, packed up and headed towards Bullfrog stopping along the way snapping pictures and admiring the beauty around us. This shot was done to show the enormity of the red walls we were surrounded by.
Don Hentschel
Quonnie, Rhode Island
2001 Dodge Ram 2500
2000 Fleetwood Caribou
Camera Used – Phone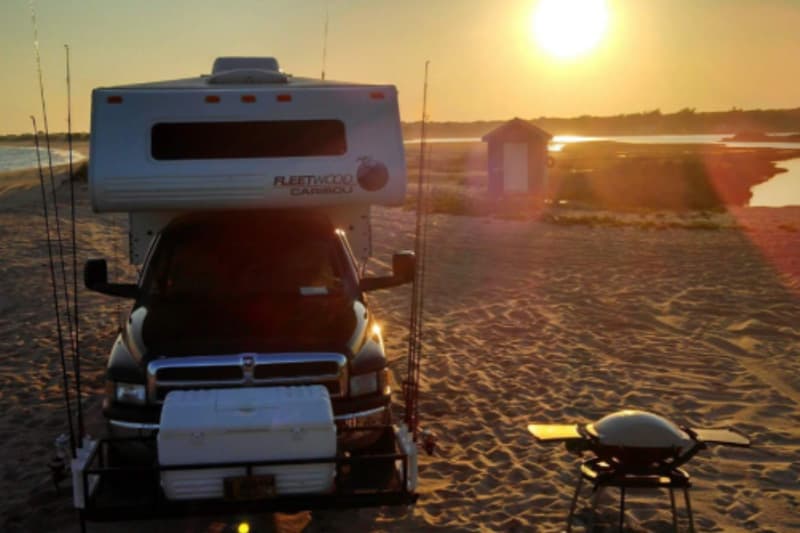 This is my fishing club, R.I.M.S., Rhode Island Mobile Sports Fishermen. The club has been in existence since 1958 with many generations growing up on the beach. The club is a big advocate on conservation and fighting for public access.
Gregory Parker
Dinosaur National Monument, Colorado
2012 Chevrolet Silverado 3500 HD
2017 Northern Lite 8-11 QCSE
Camera Used – Canon 6D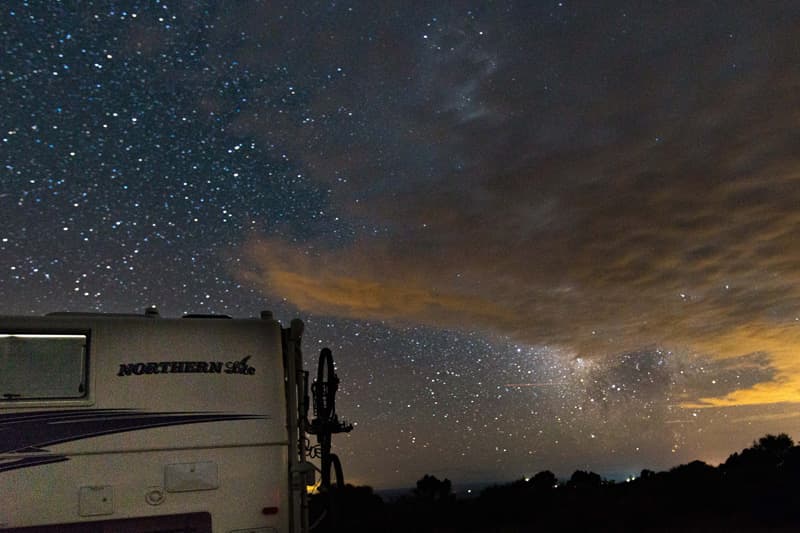 My wife and I were exploring the lesser known public lands in August this year, and had a wonderful time in Dinosaur National Monument. We entered on the Colorado side and found a BLM space where hang gliders launch their craft. We were all alone on the ridge and just after the moon had set in the west, the Milky Way began to radiate behind a thin cloud cover.
Angela Klinger
Mount Robson Provincial Park, British Columbia
2004 Dodge Ram 3500
2017 Arctic Fox 1140
Camera Used – iPhone 6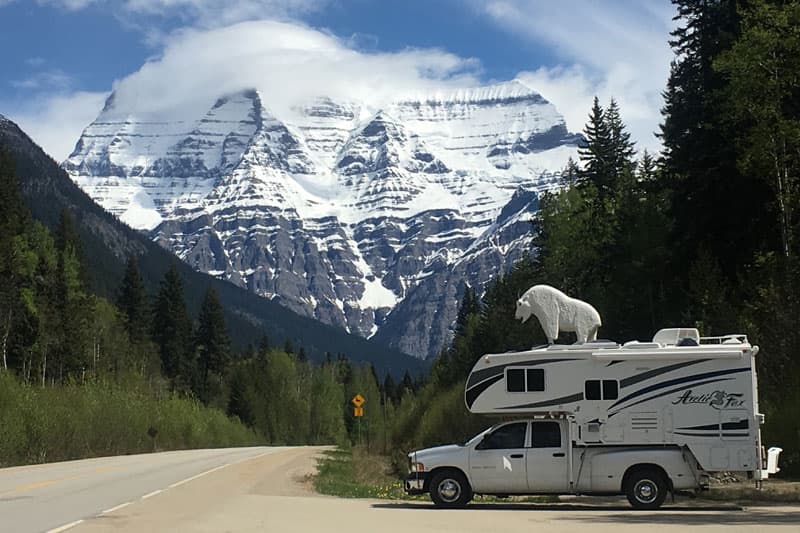 This photo was taken at Mount Robson Provincial Park on Route 16, Yellow Head Highway in British Columbia, Canada.
Kurt Lundberg
Piteå, Sweden
2012 Isuzu D-Max
2000 Easy Camper EC6L
Camera Used – Canon 5D MK2
My Sambo and I live in northern Sweden. We are out almost every weekend with our camper. We are close to nature so we take mostly short trips. The pictures were taken midsummer when it was bright all day.
Alex Blasingame
Joshua National Park, Eagle Mine Road, California
2007 Ford F250
2002 Lance 815
Camera Used – Rebel Ti3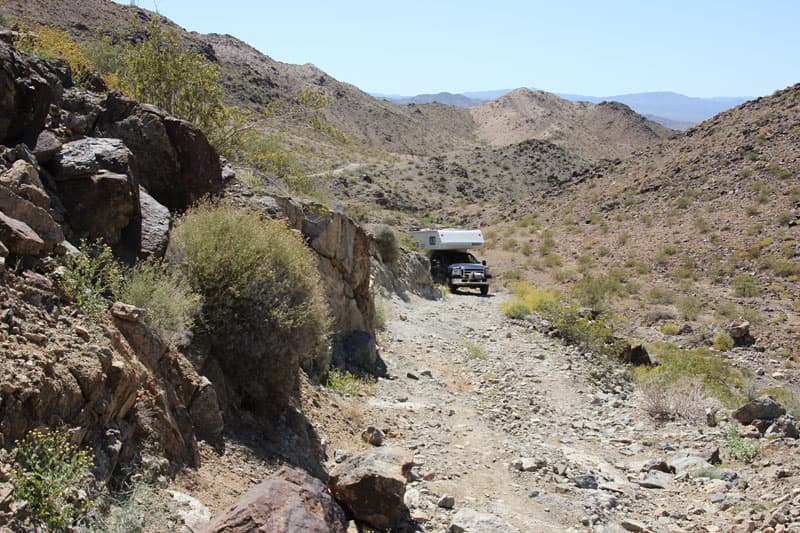 Traveling beyond the Joshua National Park boundary on Black Eagle Mine Road we were in the Eagle Mountain mining district. We were unable to travel any further due to a very large boulder blocking the roadway at about 2.1 miles from the park's boundary.
Bob Smith
Grand Canyon North Rim, Arizona
2001 Ford F250
2015 Lance 1050S
Camera Used – Samsung S7 Edge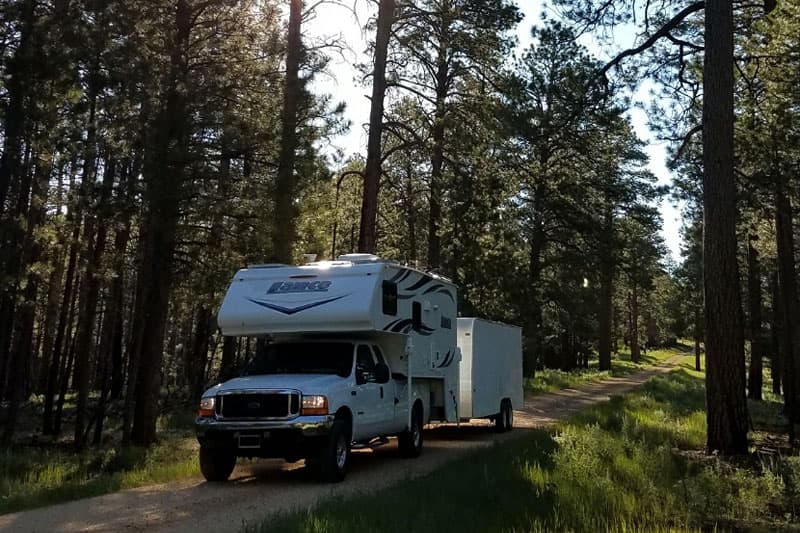 Just another adventure with my truck camper. This is a dispersed camping forest road in Kiabab Natural Forest.
Audra Abbott
Cape George Point Lighthouse, Nova Scotia, Canada
2008 Ford F350
2006 Lance 1181
Camera Used – Olympus Tough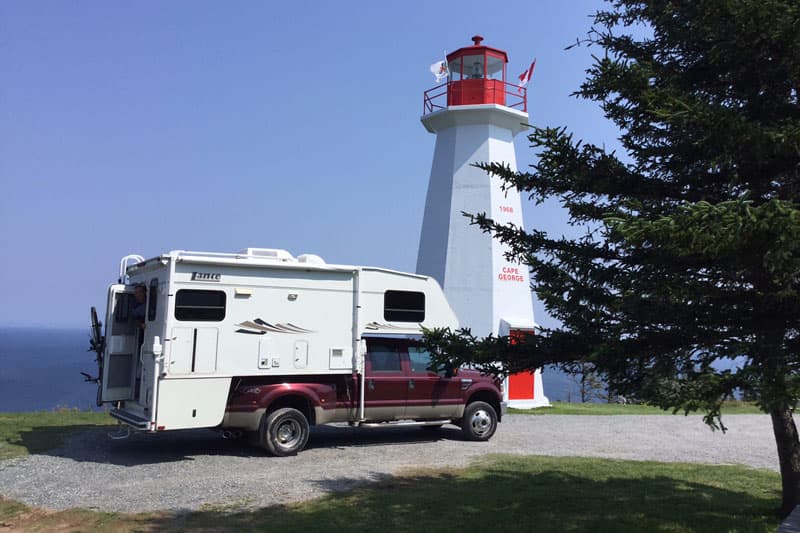 Cape George Point Lighthouse is situated at Cape George Point in the Northumberland Shore region overlooking the waters of St. George's Bay in Nova Scotia, Canada. Cape Breton Island and Prince Edward Island could be seen on this clear day. The lighthouse sits atop a high cliff and guides vessels into St. George's Bay. This stop was part of our one month long Staycation of traveling the shoreline of our own beautiful province. We loved stopping at the many lighthouses along the way for a bite to eat and to snap a picture.
Tony and Sue Duke
Crescent Beach, Lockport, Nova Scotia
2013 Chevy Silverado 3500
2014 Adventurer 910DB
Camera Used – Motorola Moto E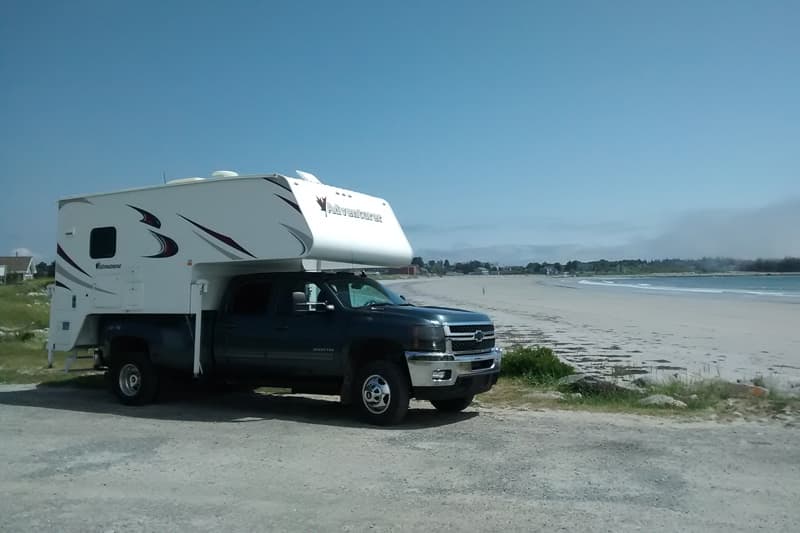 Crescent Beach near Lockport Nova Scotia is just one of the many wide sandy beaches along the province's south shore. Boiling your lobster in the camper and having lunch on the beach with a glass of Tidal Bay white wine is just one way we spend a summer day in the province. We're never far from the coast in Nova Scotia.
David Holler
Bodie Island Lighthouse Cape Hatteras, North Carolina
2002 Chevrolet K3500
2017 Arctic Fox 990
Camera Used – Phone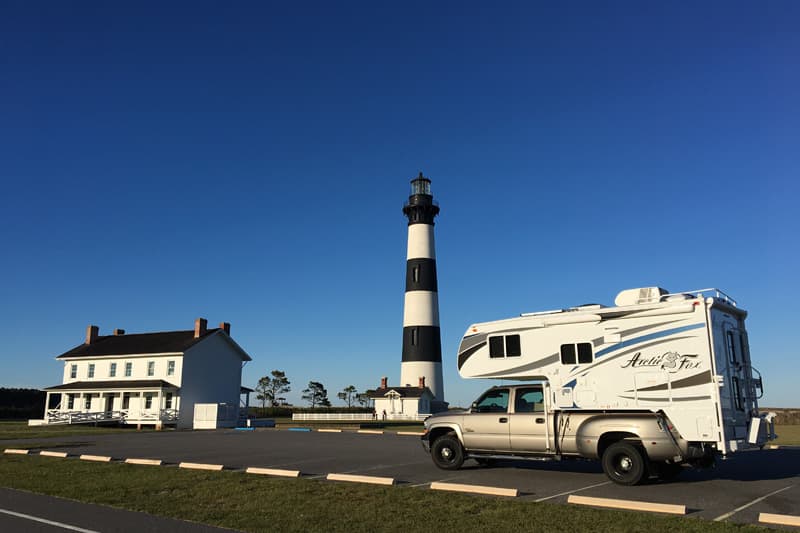 We picked up our new 2017 Arctic Fox 990 truck camper at A&M Services in Kittrell, North Carolina and took a road trip to Cape Hatteras before going back home to York, Pennsylvania. We parked here to go walk the beach. ThOne of our many beautiful sites along the way!
Jason Hammond
The Great Smoky Mountains, Tennessee
2011 Ford F250
2017 Cirrus 820
Camera Used – Sony Alpha 6000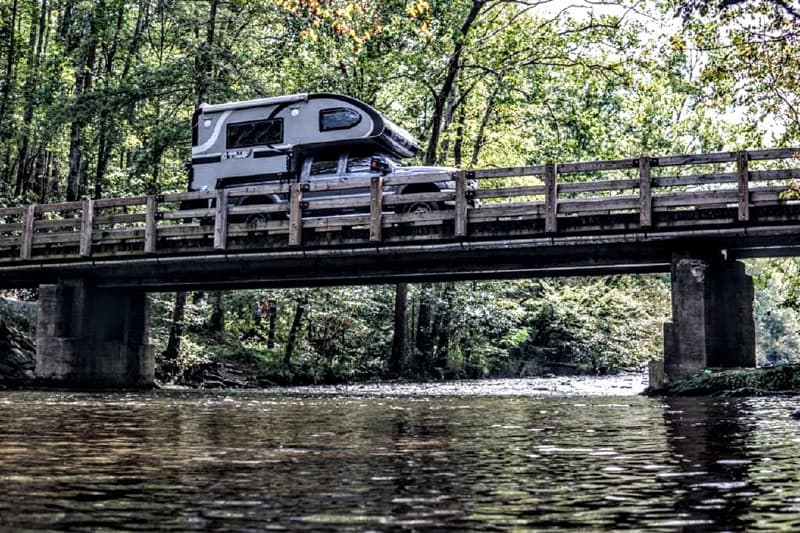 We visit Gatlinburg, Tennessee at least once a year. We travel across this bridge coming in the back way through the Smokies all the time. I like the older wooden bridge and thought it would be a cool photo op.
Scott and Johanna Cameron
Devils Tower, Wyoming
2003 Ford F350
2000 Lance Lite 915
Camera Used – Panasonic Lumix LX100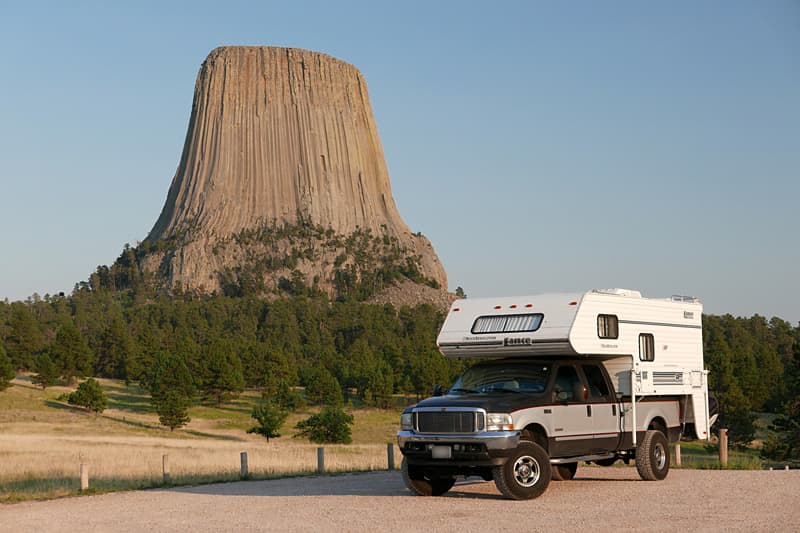 This picture is very dear to us.  On our cross-country road trip, Devils Tower had been a major climbing objective since day one.  We managed to contain our excitemen and stress for the first few months, but when we drove to the tower last August, and we saw it from the hills, miles away, it hit us.  We were about to climb to the top of that huge tower raising out of the plains of eastern Wyoming.
As we arrived, we drove straight to the visitor center to inquire about the current rock climbing closures on the tower (due to falcon nesting).  The route we had planned to climb was closed, so we had to decide on a different way to achieve the summit the next day.  We drove to the overlook, took some pictures with the truck and the tower, and set up camp for the night. Neither of us slept very well and we woke up before sunrise to get an early start in hopes of avoiding afternoon thunderstorms.  We successfully made it to the top of Devils Tower, and it is definitely one of our biggest accomplishments of the trip.
To participate in the 2018 Truck Camper Magazine Calendar Contest and be considered for a Behind the Shot feature, click here.  Check out all the calendar entries – click here.