With military precision, Russell and Gretchen Berquam have systematically toured every state capitol building in the Continental United States and taken some of the most compelling off-road challenges in The West.  And a horse almost ate their rig.

We have all seen the ubiquitous state sticker travel maps slapped onto the exterior of motorhomes, trailers, and truck campers.  On the honor system, RV owners fill in each state as they "experience" that state.
Here's the rub: there are no rules or guidelines as to what qualifies as "experiencing" a state.  Even worse, there's no official oversight for these decal displays.  Anyone can put a sticker on a state for any reason.  It's literally the Wild West, even when it's Maine, Virginia, or South Carolina.
While you consider the ramifications of this state sticker situation, ask yourself, "What should be required to publicly represent that you have experienced a specific state?"  Is it enough to simply drive through a state?  Imagine someone driving through your state (or province) and saying, "Been there, done that, where's that sticker?"
All of this is in good fun of course, but the idea that you can't just drive through an area and check it off the list is worth thinking about.  We, too, are guilty of driving through long stretches of the United States and Canada on our way to a destination, never considering what these areas might offer should we bother to slow down, and look.
Fellow truck campers Russell and Gretchen Berquam highlight one opportunity every state and province offers; capitol buildings.  Often spectacular architectural achievements, capitol buildings are loaded with history, culture, and art exhibits from that state or province.  These exhibits might inspire you to explore that area even more.
The Berquams have a rule that they cannot officially say they have visited a state until they have experienced the state capitol.  Perhaps we should all adopt similar guidelines before claiming another state or Canadian province.  Peel off those drive-through stickers!  It's time to go back and experience what we missed.
But that's not where Russell and Gretchen's story begins, or ends.  The Berquams reveal their experiences of volunteering at National Parks, their spectacular off-road adventures down some of the most scenic areas of Utah, and why they are considering becoming full-time RVers – again!  Meet the Berquams.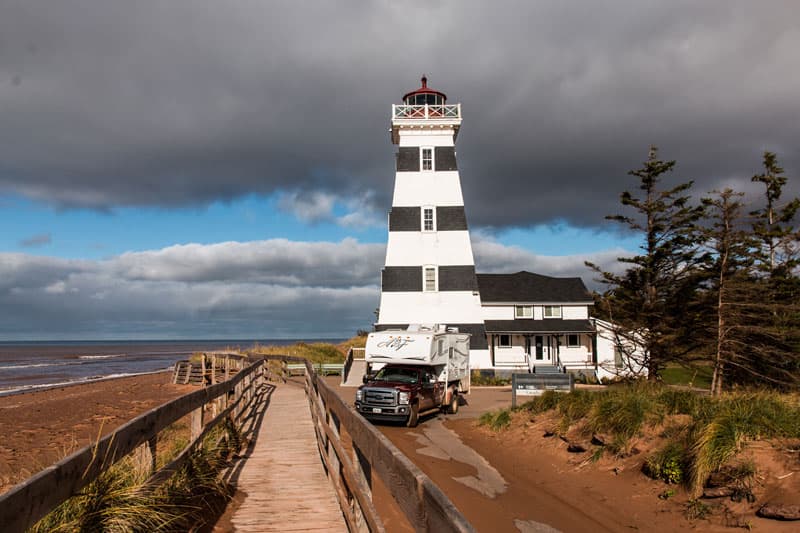 TCM: How did you get started with truck camping?
Russ: After I retired from the military, we bought a fifth wheel and went camping during our two weeks of summer vacation.  Once or twice every month we would plan a weekend camping trip.  Our destinations were often square dance events where we would camp and dance all weekend.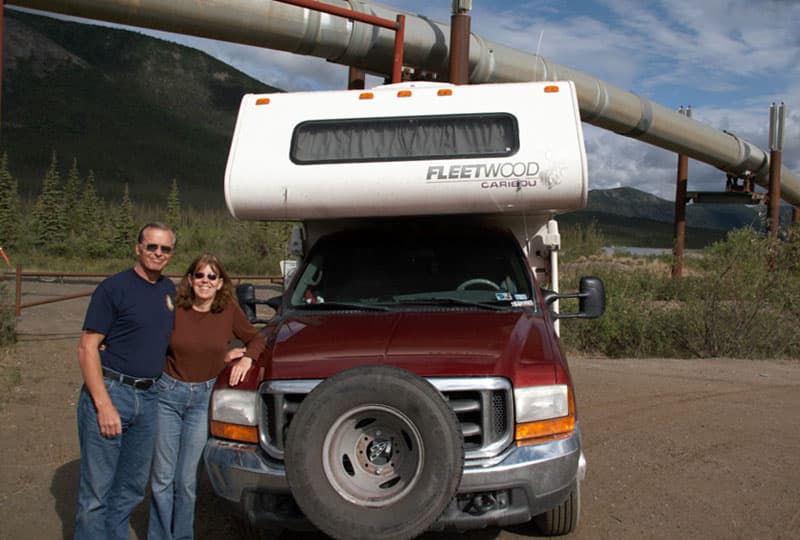 Above: The 1999 Fleetwood Caribou they took to Alaska
Then we planned a trip to Alaska in 2008.  While Gretchen thought our fifth wheel would work, I convinced her that a truck camper would improve our experience.  We bought a 1999 Fleetwood Caribou for that trip.  Now she is a camper believer.  We have been truck camping ever since.
TCM: What led you to choose your current truck camper?
Russ: After talking to several Arctic Fox owners about their campers, we went with Arctic Fox.  For Gretchen, it was mainly because the Arctic Fox 1140 has an eight-cubic foot refrigerator instead of the standard six-cubic foot.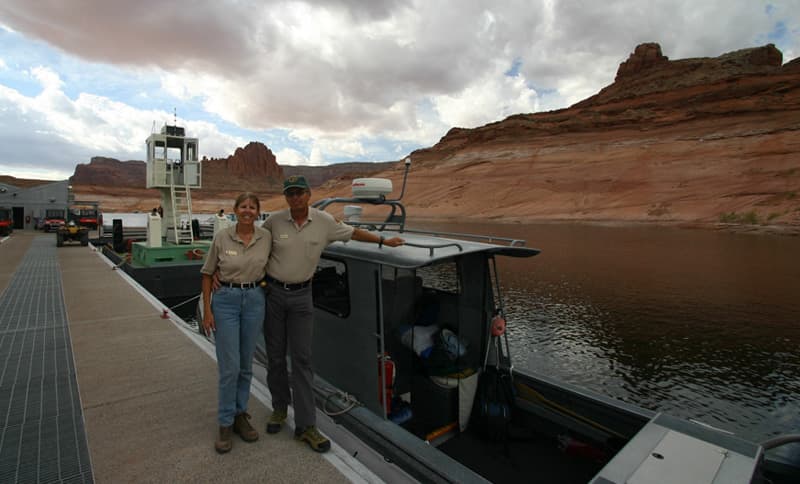 Above: Volunteering in Glen Canyon
TCM: How did you get into volunteering at the national parks?
Russ: We went to volunteer.gov and signed up to be campground hosts at Bryce Canyon National Park.  We were volunteers there for three months and really enjoyed it.
After that positive experience, we wanted to volunteer at other national parks.  We went to Glen Canyon National Recreation Area and worked there for three months.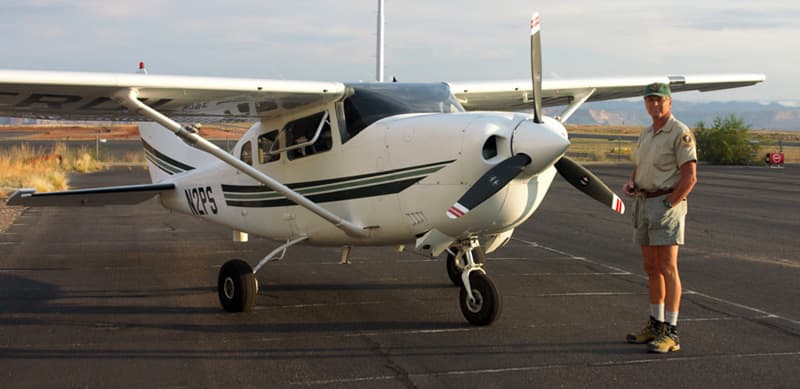 Above: Park transportation in Glen Canyon
TCM: What were those park volunteer experiences like?
Russ: At Bryce we worked four days on and four days off.  To get a good taste of the area, we took the camper off the truck and traveled around on our days off.

Above: The Window, Chisos Mountains, Big Bend National Park, Texas
When we hosted for three months at Big Bend National Park, we were in the visitor center.  We had a nice campsite site with a beautiful view of the Chisos Mountains from our dinette window.
Gretchen: When you volunteer for three months you get full hook-ups and are typically volunteering for twenty hours per week per person.
In Big Bend, we would volunteer in the Visitors Center for three days.  Our fourth volunteer day at Big Bend was always a project.  For one project they had us photograph the backcountry campgrounds of Big Bend.  Everywhere you volunteer is different.
When you get on the volunteer.gov website, you can read the job listings and figure out where you want to go.  I usually contact four to five places that we're interested in and send in the applications.
It's just like a job interview.  Follow up is important.  About three weeks later I would call to talk to the contact person.  I would tell them that I was really interested and they'd say they were working on it, or the job is yours, or it's been filled.  It's not as hard once you get in the system because you have references.
Russ: If you are a reliable person and have good values, they'll take you.  They'll call us now because they know we're good people and they want to have us back.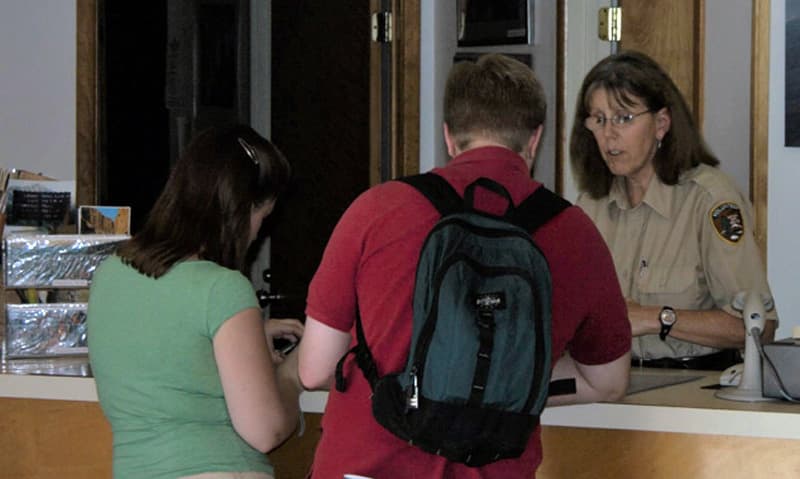 Above: Gretchen working at the Big Bend Visitor's Center
Gretchen: You can pick the job you want.  The online descriptions are pretty accurate.  If you want a maintenance job, you can do that.  There are also jobs as camp hosts and visitor's center hosts.  A lot of people work in the visitor's center because it's not as strenuous as being a camp host.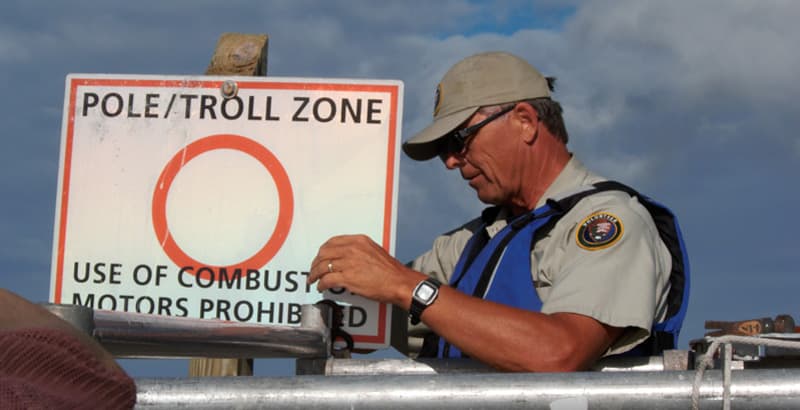 Above: Russ volunteering in the Everglades, Florida
TCM: What kinds of things did you do on your days off?
Russ: We went hiking a couple times a week.  When you get to know the rangers, they tell you about the places to see in the area.
While we were at Big Bend, we learned about the geology of the area.  We also went on an overnight canoe trip there.  It's really fun to be based in a national park.
We canoed with alligators and crocodiles in the Everglades.  The ranger was there to protect us.  They also have a ranger led hike swamp walk which was not quite waist deep.  That was interesting.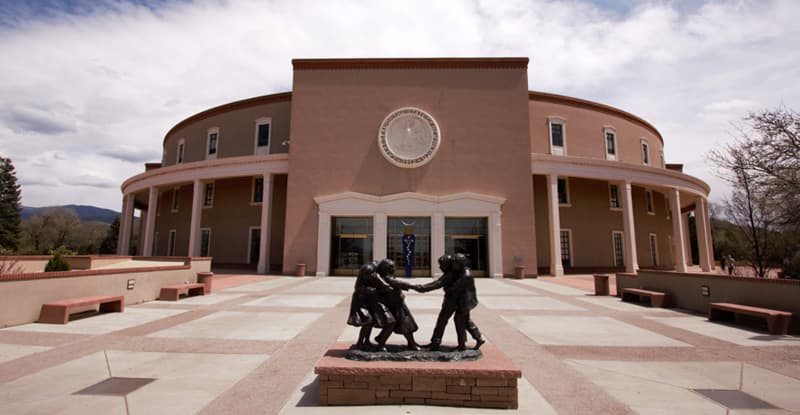 Above: New Mexico capitol building in Santa Fe
TCM: That sounds interesting – in an "up to your ears in alligators" kind of way.  You have an interesting definition of what counts as completing a state during your travels.  Tell us about that.
Gretchen: We don't count a state unless we have been to their state capitol, and visit the state capitol building, and go to the national parks in that state.  We have been in every state capitol building except for Hawaii.  We have also been to about 300 of the national park sites.  Right now there are 417 of them.
Russ: We tour the capitol buildings and learn about each state's history.  New Mexico's capitol in Santa Fe has an amazing art display.  There are millions of dollars of art in the building.  It has flat walls and no dome.  The Capitol Building in Washington DC is also impressive.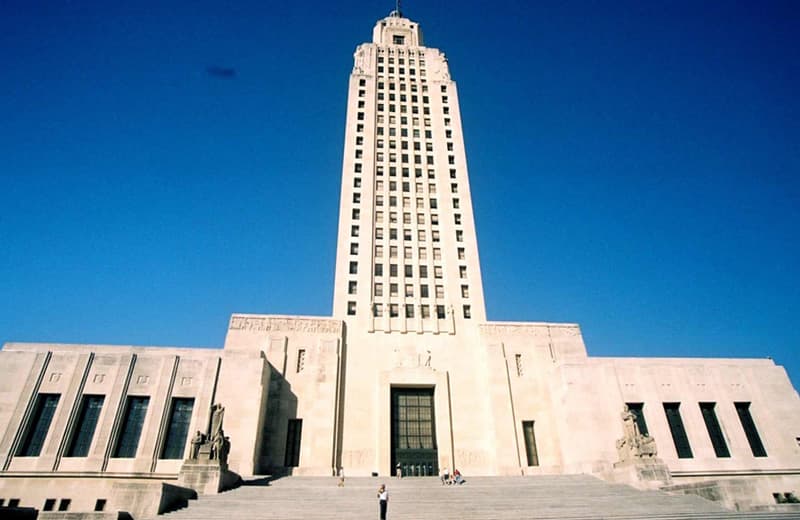 Above: Louisiana's capitol building is the tallest
Gretchen: Nebraska has a really tall capitol building at 400 feet.  It's one of the tallest in the country.  But, Louisiana's capitol is 450 feet just so they could be taller than Nebraska, thus making them the tallest in the country.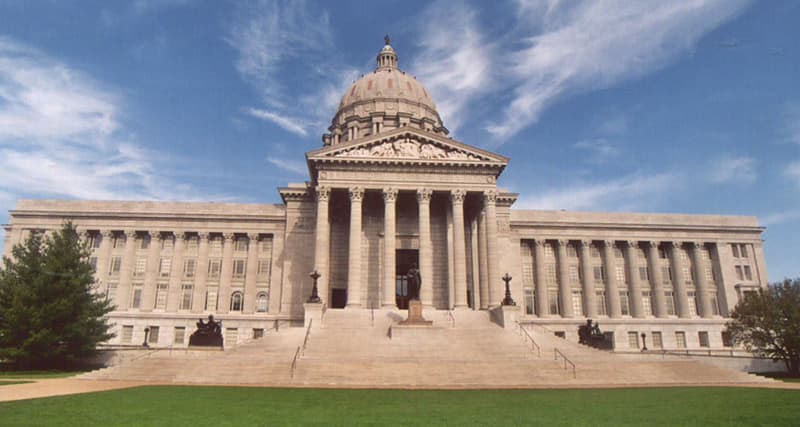 Above: Missouri's state capitol in Jefferson City
Missouri's capitol building is also very pretty.  A lot of the capitol buildings have been based on the Capitol Building in Washington DC.
Portland and Santa Fe have flat topped buildings and Alaska's capitol in Juneau is an old bank building.  The exteriors don't look like anything exceptional, but inside they are awesome.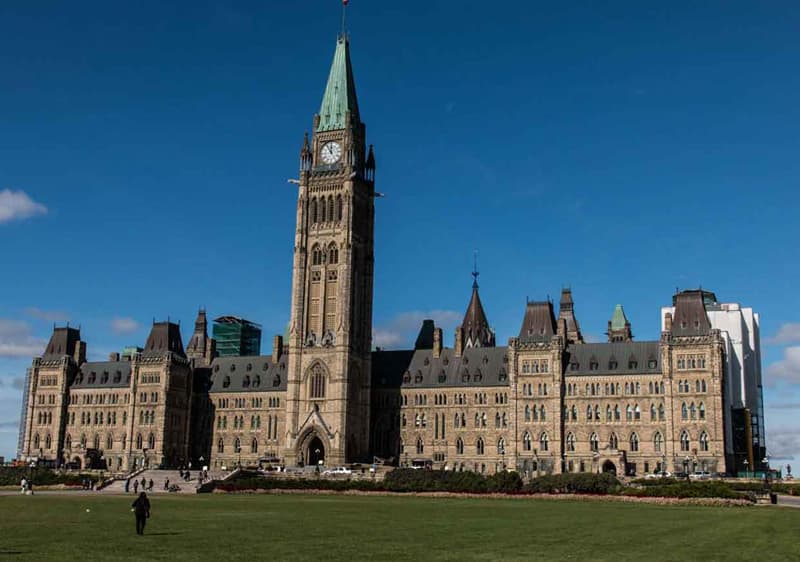 Above: The Parliament building in Ottawa, Canada
TCM: You must have spent a long time on the road to be able to visit all of these places.
Russ: We became full-time RVers in 2001.  We sold our house and had a great time on the road.  Then we had a few medical requirements and needed to find a good doctor.
Gretchen: We just turned 65 this year.  Now that we're on Medicare, our medical care is more portable and we can go anywhere.  Do we really need to have this house?  We're going back and forth the road keeps calling us back.
The one thing holding us here is that Russ can't do his wood working on the road.  It's hard to take wood working tools with you.  We had everything in storage for so long.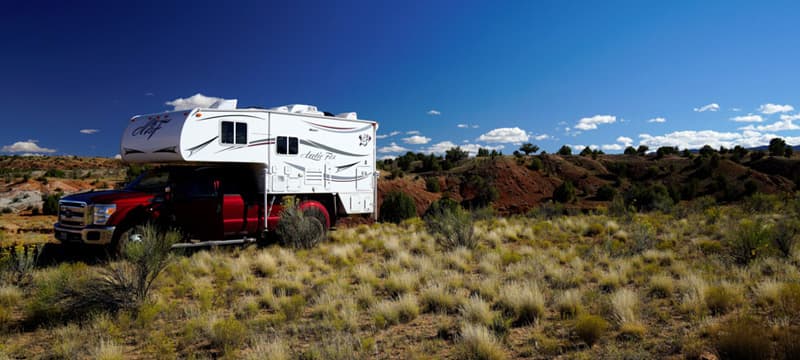 Above: Camping in Escalante, Utah
TCM: From conversations with many folks who went full-time, it's not an easy decision.  Where have you been with your truck camper that you would recommend to other truck campers?
Russ: Utah's National Parks are the best!  It's is hard to pick only one.
Also in Utah, Grand Staircase-Escalante National Monument has some great back country areas to explore.  We went down Hole-in-the-Rock Road, but could only go about twenty miles before the road was under water.  It's a lot of washboard.  We have been all the way to the Hole-in-the-Rock before and loved the trip.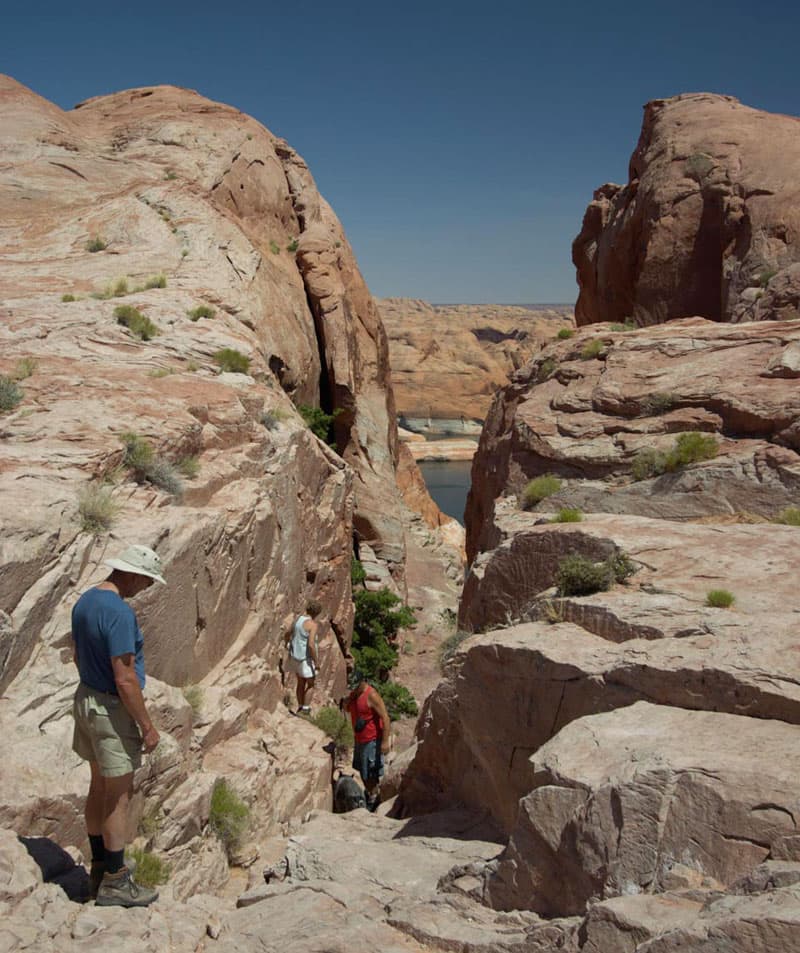 The Hole-in-the-Rock is the place where the Mormons Pioneers cut the hole in the rock in 1879 to get their wagons down to the river.  Along the way there are many interesting formations and we always stop at Devils Garden, about 12 miles in on the road.
Above: Devils Garden along the Hole-in-the-Rock Road
You need a free permit to camp along Hole-In-the-Rock Road.  There are several slot canyons that are only accessible from Hole-In-the-Rock Road.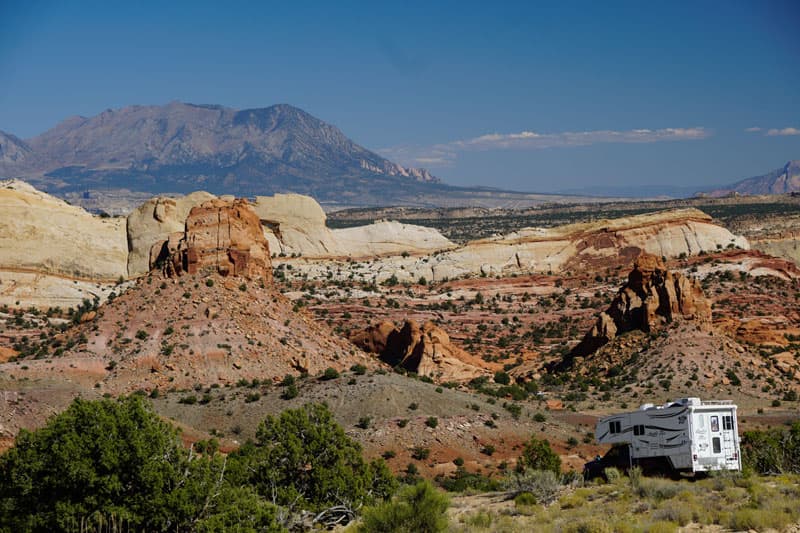 Above: Last year's calendar cover photo was taken by Russ and Gretchen
TCM: One of your calendar submissions was taken on the Burr Trail in Capitol Reef.  Thanks to that photo, the Burr Trail is now on our bucket list.
Russ: No one should visit southern Utah without driving the Burr Trail.  The Burr Trail is like a trip down the Colorado River, but on a road.
It was November and we were looking for fall colors but never quite managed that.  Fortunately, the colors of the Waterpocket Fold of Capitol Reef are always breath taking.
As we were driving down the hill towards Capitol Reef Gretchen said, "Stop I see a picture".  The picture was taken two miles from the stream bed, where the road drops off down switchbacks into the Notom Bullfrog Road.  We didn't get that far.  We camped next to the sandstone walls back up the trail.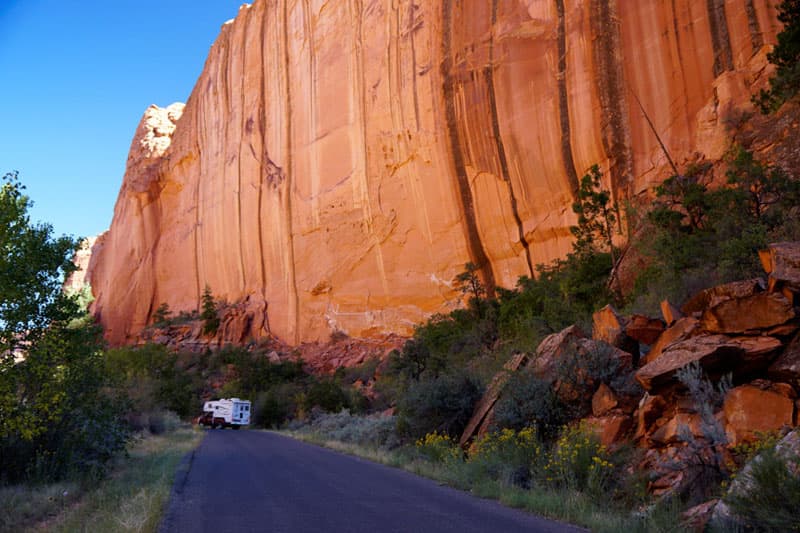 TCM: How difficult was that trail with your truck camper rig?
Russ: The Burr Trail is a black top road for about twenty-five miles.  Once you get into Capitol Reef it turns into dirt.  Overall, the Burr Trail road is in good shape.  However, from Notom to Bull Frog, the road is not as good.
Inside the canyon you'll see sand stone walls that are 600 to 800 foot tall.  It's a majestic road.  We camped down there.  The Burr Trail is all BLM land, so just find a place and camp.

Above: Navajo Sandstone Walls along Burr Trail
Then you'll see the Waterpocket Fold, which are exposed rock layers from the fold.  You go down switchbacks into the main area.
They had a wash out while we were there because the road drives through a stream bed.  After the stream, they hadn't graded it yet.  After it dried out, we went to the Bull Frog camp area on Lake Powell.
There's another road from Bryce to Page called Cottonwood Road that goes through layers of white, yellow, and green rocks.  If it rains, it's not passable.  There are so many areas like that in southern Utah.  They are hard to go through in bad weather, but in good weather you can generally get through.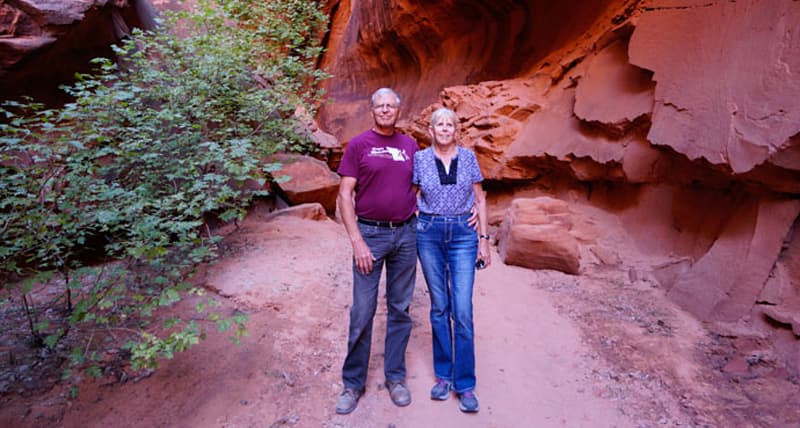 Above: Russ and Gretchen exploring a slot canyon off the Burr Trail
Delorme maps and four wheel off-road maps give you ratings for the various roads. Generally, the parks will have information online.  I also recommend talking to the rangers at their visitor's center.  They will tell you the current condition of roads.

Above: Russ made camper supports to use when the camper is off the truck
TCM: You have also entered a few of our mod contests.  Tell us about some of the mods you have made on your Arctic Fox.
Russ: We added solar panels to the roof which are required for our off-grid dry camping lifestyle.  We hate the sound of generators in nature and solar is quiet power.  In fact, we removed our generator.
We have taken the microwave out and now have a cupboard in its place.  We removed the sliding wire basket pantry and installed shelves to make it more useful and homey.  We also removed the classic window treatments from the camper and installed drapes to keep the camper dark at night and warm in the winter.
Gretchen: Drapes are also nice because they keep the light out.  They can also keep the camper's light in.  When we were on Florida we couldn't find a place to camp.  Well, we ended up in a hospital's emergency room parking lot.  We parked and pulled the drapes.  We kept the slide in that night, and no one knew were there.  We had dinner, watched television, and no one was the wiser because the curtains blacked out the light.  Plus, having the curtains gives a feeling of being at home.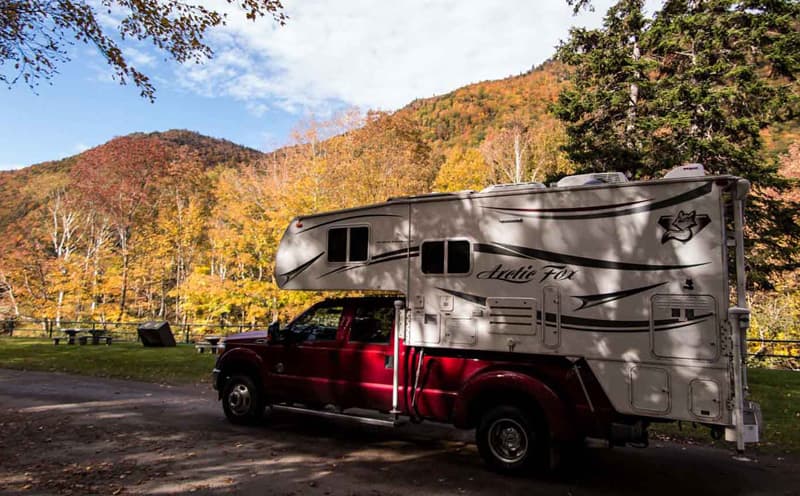 Above: Camping in Nova Scotia, Canada
TCM: Now that's stealth dry camping.  Now that you've been almost everywhere, where do you plan to go next?
Gretchen: That's a hard thing for us.  We want to explore more of Canada, so that's on our list.  There are some places like the East Coast that we went with our fifth wheel, but haven't with our truck camper.  We'd like to do that again and maybe go to more state parks.  There are lots of plantations that we want to see.
There are places we want to go back to, like Alaska.  You've have to realize that it's not going to be the same the second time.  As long as you know that ahead of time, you can find different things to do.  It's a challenge.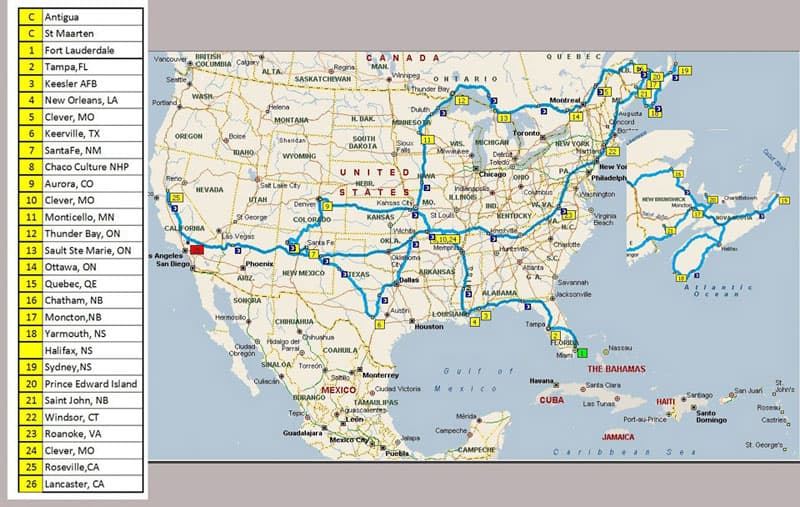 Above: Their 2015 travel map
We travel so much that it gets jumbled together.  Photography is my hobby.  One thing Russ came up with is that he makes placemats from each year we've traveled.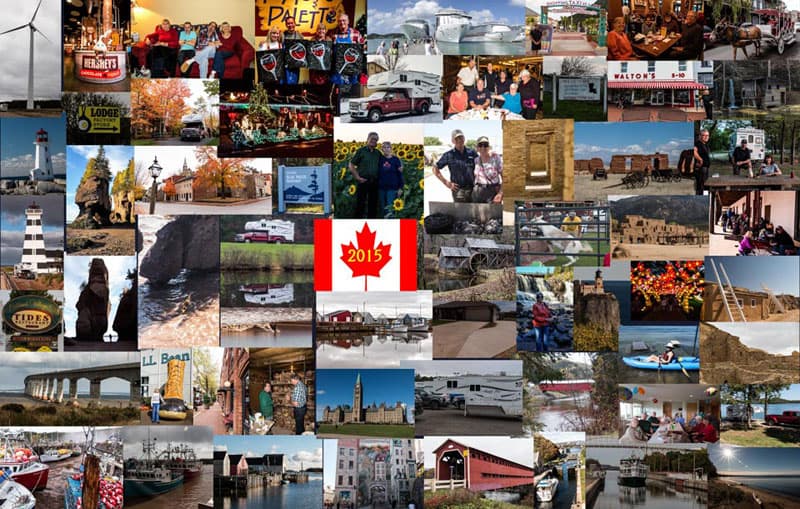 Above: Their 2015 photo placemat
When there is a dispute on where we went when, we refer to the placemats.
TCM: That's a neat idea, and a handy way to settle the classic question, "Where were we when…?"  What else do you enjoy doing while truck camping?
Russ: We like hiking and photographing nature.  We have an inflatable kayak that we use whenever we find a lake that needs exploring.  We enjoy getting off-road.
One time we were in the Pryor mountains where we were surrounded by wild mustangs that were trying to eat our camper and truck – obviously they hadn't seen anything like it before.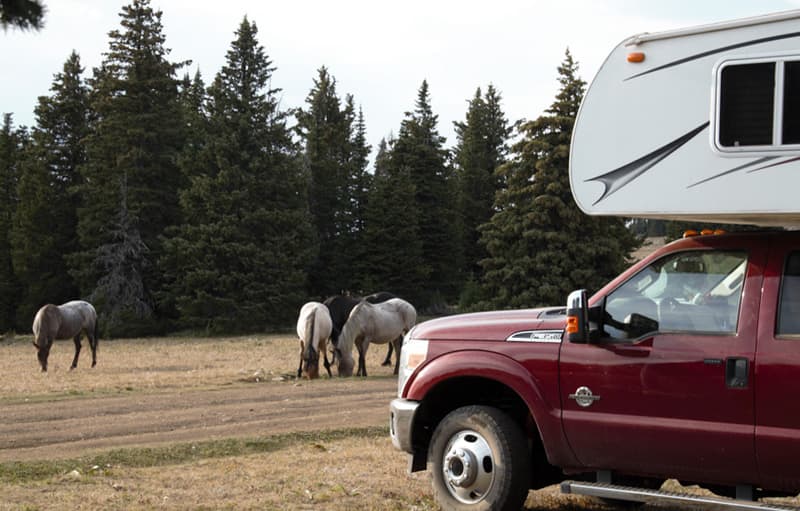 Above: Mustangs on Pryor Mountain
TCM: Wild mustangs trying to eat your camper and truck?
Russ: We had heard about the wild mustangs and went to the Pryor mountains to see them.  The road up to Pryor mountain was one of the roughest we've been on.  We went five miles, and averaged 1.5 miles per hour.
Gretchen: We wanted to find the mustangs so we could photograph them.  Russ followed the road apples and found the watering hole.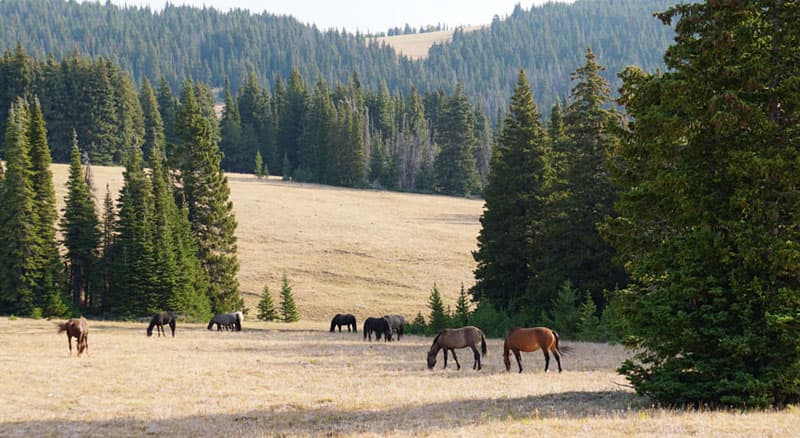 Russ: We camped near their watering hole.  After their evening drink, we were in the way.  At first they sniffed the camper and were moseying around it.  It was very interesting.  Of the 30 to 40 horses there, each stallion has 4 to 5 mares.
Gretchen: We were taking pictures of a couple horses, and I wasn't paying attention.  Two of them circled around the watering hole to check us out.  Russ told me to go because horses can bite.  They chased us right back to our camper and proceeded to gnaw on it.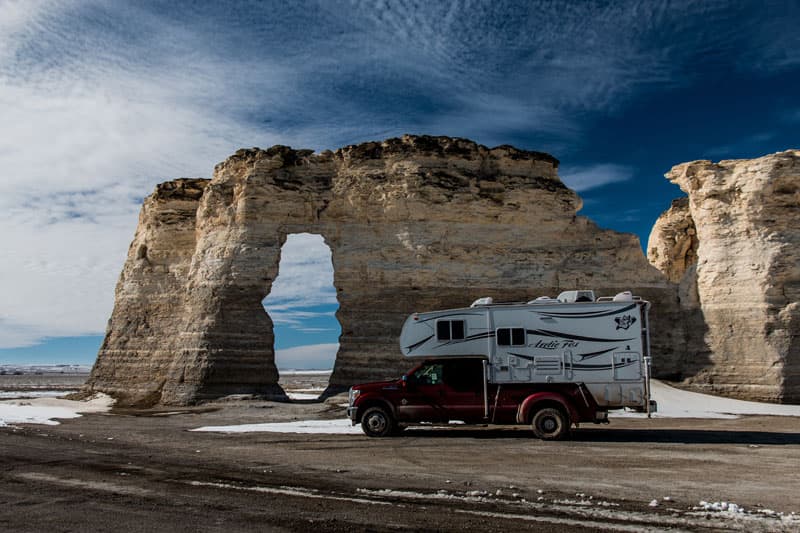 Above: Monument Rocks, Kansas
TCM: That's one for the insurance company!  Any advice for fellow truck campers reading your story?
Russ: We have talked to many people who wait until they are 65 years old to hit the road.  They have never been in a small space with their spouse for a long period of time.  A truck camper is small, so practice ahead of time.  Go for two to three days a couple weekends a month and two weeks for vacation.
The lifestyle grew on us instead of us being thrown into it.  It can be hard to expect a good outcome unless you are used to confined spaces with your spouse.  If you want to go fishing and she wants to go shopping, it's not going to work.
We had a goal when we started to see the national parks.  Before we get to a state we plan what we want to see there.  We still plan and that gets us through our travels.  We always have a goal to accomplish instead of deciding later.
Gretchen: We're both prior military, so we're organized and planners.  Have a game plan.  That way you can prepare.
The only situation we were not prepared for was when we were down south in hurricane season and the tornado sirens were going off.  We were in a campground and no one told us where to take shelter.  We just let the storm go by.  It didn't look too bad.  I didn't hear a train coming and the sky wasn't turning green.
My mom was alive when we started full-timing.  She said, "Russ will never survive and you won't because you're not flexible".  She passed away shortly thereafter.  She would be surprised to know we lived full-time in a RV for 12 years.  Flexibility is something we learned.
Russ and Gretchen's Rig
Truck: 2014 Ford F-350, Crew Cab, 4×4, Diesel, Dual Rear Wheel, Long Bed
Camper: 2015 Arctic Fox 1140
Tie-Downs and Turnbuckles: Torklift Fastguns
Suspension: Homemade StableLoad type upper and lower spring overloads, Firestone air bags
Gear: Two solar panels on the roof for a total of 320 watts of power with a Trace Charge Controller and a Trace battery power monitor (wouldn't be without one).  Also I have replaced the 12v batteries with two 6-volt batteries.  The last set of six-volt batteries in our fifth-wheel lasted ten years when we were full timing and we never ran out of power.