With military precision, Russell and Gretchen Berquam have systematically toured every state capitol building in the Continental United States and taken some of the most compelling off-road challenges in The West.  And a horse almost ate their rig.

We have all seen the ubiquitous state sticker travel maps slapped onto the exterior of motorhomes, trailers, and truck campers.  On the honor system, RV owners fill in each state as they "experience" that state.
Here's the rub: there are no rules or guidelines as to what qualifies as "experiencing" a state.  Even worse, there's no official oversight for these decal displays.  Anyone can put a sticker on a state for any reason.  It's literally the Wild West, even when it's Maine, Virginia, or South Carolina.
While you consider the ramifications of this state sticker situation, ask yourself, "What should be required to publicly represent that you have experienced a specific state?"  Is it enough to simply drive through a state?  Imagine someone driving through your state (or province) and saying, "Been there, done that, where's that sticker?"
All of this is in good fun of course, but the idea that you can't just drive through an area and check it off the list is worth thinking about.  We, too, are guilty of driving through long stretches of the United States and Canada on our way to a destination, never considering what these areas might offer should we bother to slow down, and look.
Fellow truck campers Russell and Gretchen Berquam highlight one opportunity every state and province offers; capitol buildings.  Often spectacular architectural achievements, capitol buildings are loaded with history, culture, and art exhibits from that state or province.  These exhibits might inspire you to explore that area even more.
The Berquams have a rule that they cannot officially say they have visited a state until they have experienced the state capitol.  Perhaps we should all adopt similar guidelines before claiming another state or Canadian province.  Peel off those drive-through stickers!  It's time to go back and experience what we missed.
But that's not where Russell and Gretchen's story begins, or ends.  The Berquams reveal their experiences of volunteering at National Parks, their spectacular off-road adventures down some of the most scenic areas of Utah, and why they are considering becoming full-time RVers – again!  Meet the Berquams.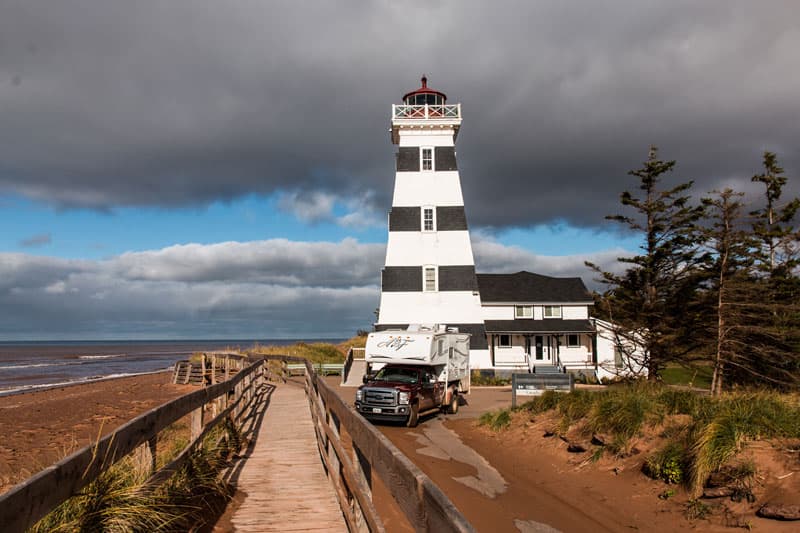 TCM: How did you get started with truck camping?
Russ: After I retired from the military, we bought a fifth wheel and went camping during our two weeks of summer vacation.  Once or twice every month we would plan a weekend camping trip.  Our destinations were often square dance events where we would camp and dance all weekend.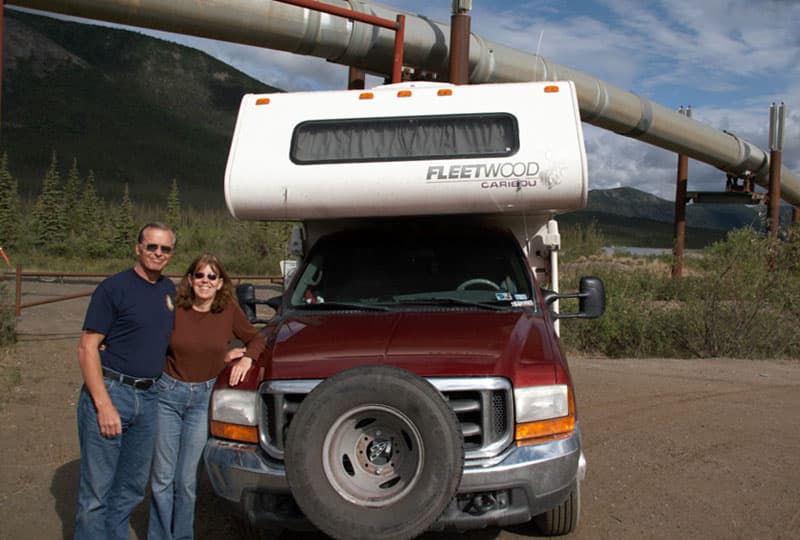 Above: The 1999 Fleetwood Caribou they took to Alaska
Then we planned a trip to Alaska in 2008.  While Gretchen thought our fifth wheel would work, I convinced her that a truck camper would improve our experience.  We bought a 1999 Fleetwood Caribou for that trip.  Now she is a camper believer.  We have been truck camping ever since.
TCM: What led you to choose your current truck camper?
Russ: After talking to several Arctic Fox owners about their campers, we went with Arctic Fox.  For Gretchen, it was mainly because the Arctic Fox 1140 has an eight-cubic foot refrigerator instead of the standard six-cubic foot.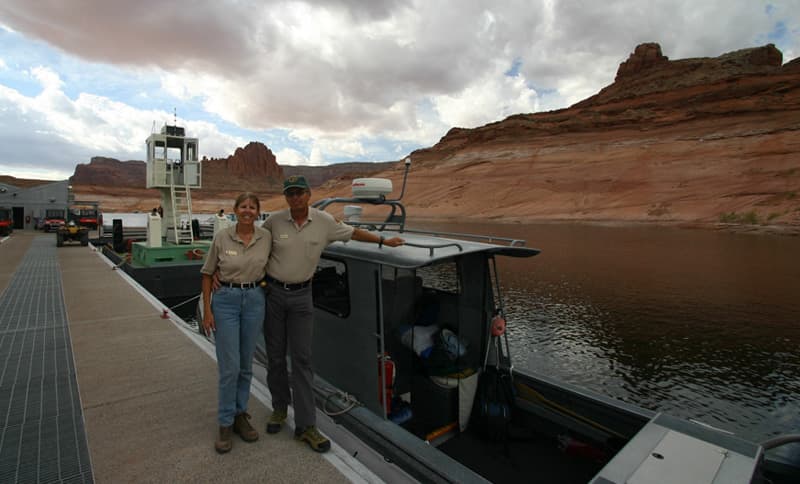 Above: Volunteering in Glen Canyon
TCM: How did you get into volunteering at the national parks?