Reader storage solutions ranged from using homemade dollies, cinder blocks, X-shaped support structures, saw horses, Torklift Wobble-Stoppers, and Rieco-Titan Camper Dollies.  Many readers just put their camper low to the ground, with no underbelly support.  Others keep their camper on truck with the jacks up and/or down.
The oldest camper from our question this week was Mark Arnold's 1976 Dreamer.  That's 351 years old in truck camper years.  How does Mark Arnold store his truck?  Well, he uses it year-round, so he hardly stores it at all!
Here are the reader ideas on how to store and support a truck camper: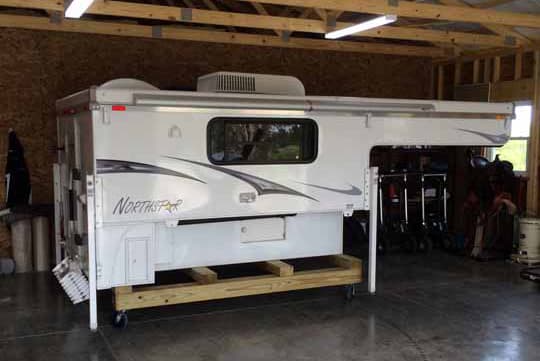 "We take the camper off the truck and rest it on a dolly so we can move it around the garage." – Dave Barker, 2014 Ram 3500, 2015 Northstar 850sc
"We unload the camper and place cinder blocks for extra support at the four corners." – Barry and Carol Schoenwetter, 2006 GMC Sierra 2500HD, 2005 Lance 1030
"We leave our camper unloaded without support." – John and Cathy Strasser, 2012 Chevy 2500, 2013 Eagle Cap 850
"I unload my camper without underbelly support." – Mark Larson, 2014 Ram 3500, 2013 Lance 865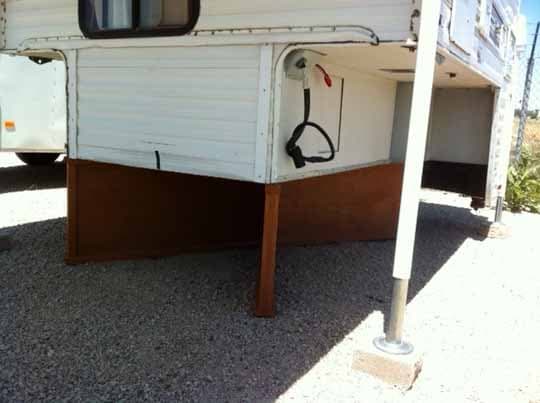 "I remove my camper from the truck and use an underbelly support along with the jacks. I put the jacks on blocks with just enough weight so that when I kick the blocks they don't budge.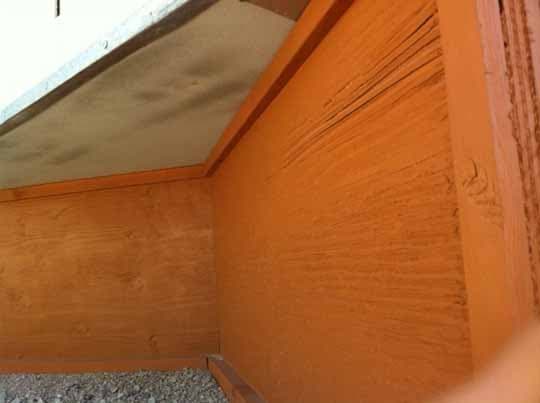 The under belly support is a two piece X-shaped assembly made of 3/4″ plywood reinforced with 2×3 along the edges.  The two pieces are slotted where they cross so I can disassemble them." – Dennis Volz, 2005 Ford F-350, 2006 Lance 845
"Unless I need the truck in the summer, the camper remains on with the jacks down.  It can be removed temporarily for truck use.  For the winter, non-campng season, the camper is off the truck with support beams under the front of the belly to help stabilize the front jacks.  The jacks are as low as possible." – Richard Johnson, 2004 Ford F350, 2007 Lance 1181
"I'm in a HOA area, but with the camper unloaded I can store it in the backyard.  So the camper is off loaded onto stands.  They are set to the jacks being within one-inch of being fully retracted." – Leonard Pennock, 2006 Dodge Ram 3500, 2003 Eagle Cap 950
"I unload the camper with under belly support.  I use a four wheel farm trailer for the base with the camper jacks down for additional stability, but no load on them." – Jim Frensko, 2001 Ford F250, 2003 Sun Lite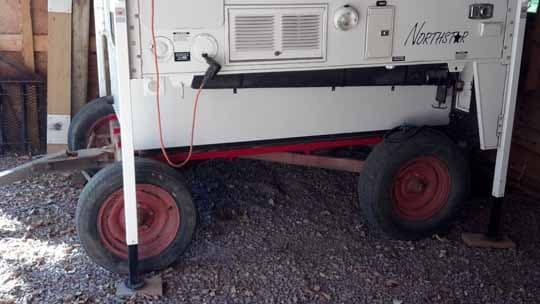 "I took the box off of an old grain wagon and shortened the running gear (frame) and welded square tubing between the axles of the wagon.  Now, I just steer the wagon under my camper, set the camper on the wagon, and raise the jacks a couple inches off the ground.  When I want to use the camper, I raise the camper a couple inches, pull out the converted wagon, and back my truck under." – Stu Dekkenga, 2008 Chevy 2500, 2011 Northstar TC650
More TCM Reader Recommended Products:
The 50 Best Flashlights and Lanterns  | The Best Maps, Apps, and GPS Devices | The Best Portable Air Compressors | The Best Portable Grills
"We are fortunate to be able to store our Lance inside a pole barn when it's not in use. Since it is not subject to weather or winds, we store in on the jacks just low enough so that we can walk under the cabover without hitting our heads.  We have never had a problem storing it this way.  Years ago when we stored another truck camper outdoors, we would place a railroad tie on two cement blocks set upright at both ends of the bed body and lower the camper onto the ties.  We would leave just enough tension on the jacks to provide stability.  This was when truck campers had only three jacks.  We never had a problem with that either." – Shelley Pike, 2009 Ford F350, 2006 Lance Sportster