Truck Camper Magazine readers reveal the best portable grills for RVs and camping.

The Most Popular Grills For Campers
The most popular portable grill of truck camper users is the Weber 1000 Baby Q grill.
Other popular grills are the Coleman Road Trip grill, the Coleman Fold-N-Go, and the Weber Smokey Joe charcoal grill.  Unique grills we've never heard of before, but found very interesting were the BioLite Basecamp stove, the Traeger tailgater grill, the Cook Air is a wood chip burning grill, and the Magma Cabo Adventurer.
The Weber Q-1000 Camping Experience
"Our Lance camper came with a LP quick connect fitting.  With a bit of work I converted a Weber Q-1000 (Baby Q) with a worn out regulator so it would work with the quick connect fitting.  The barbecue regulator was removed.  An adapter of some sort needs to be constructed since you cannot use two regulators in line.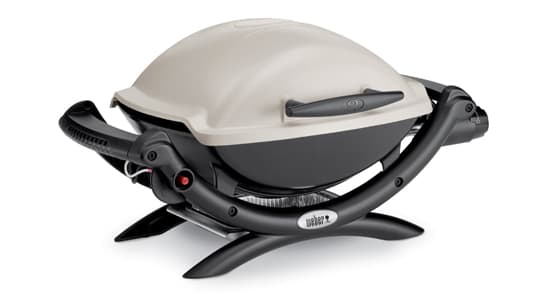 We must have a regulator between the LP tank and the device.  With a long propane hose I can store it on a table under the slide and pull it out to use it.  During travel I can store it under the table in a large plastic bag." – Peter Staples, 2013 Chevy 3500 HD, 2013 Lance 1172
The Coleman Road Trip Grill Camping Experience
"The best portable grills are those that you're willing to pack and carry.  But, if your grill has its own regulator as part of the propane plumbing, you must remove the regulator and have some custom parts made up to make your connections.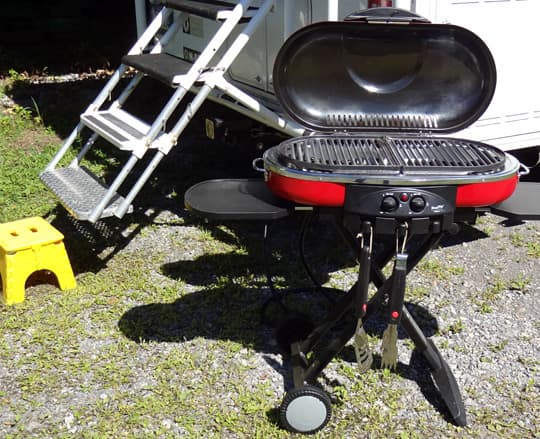 We use a Coleman Road Trip Grill.  Since we enjoy entertaining guests, we prefer the larger cooking surfaces and the sturdy design of the grill and plates.  The Road Trip is versatile because of the accessories like burner plates for pots and pans as well as griddle plates.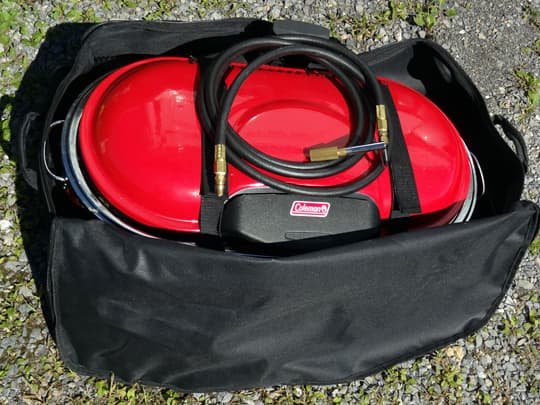 The Coleman Road Trip Grill has a nice wheeled storage case for stowing when not in use.  It runs on small bottles of propane.  I went to my local propane dealer and explained what I wanted to do.  We fabricated a quick-detach hose using the original propane bottle attachment on one end.
I'm very happy with this arrangement.  This unit is a bit larger and heavier than many dedicated RV grills. Our Chalet camper has a large basement, so this is not a problem for us.  It could easily fit in the back seat of your truck." – John Wells, 2011 Chevy 3500HD, 2012 Chalet S100F
To see more charcoal, propane, and electric grills for camping, check out the detailed camping grill reviews from TCM readers.
More TCM Reader Recommended Products:
The 50 Best Flashlights and Lanterns  | The Best Maps, Apps, and GPS Devices | The Best Portable Air Compressors