Fifty-three readers give their opinions about the grills they use for camping.  From charcoal to propane to electric grills, readers share their grill experiences.
To see the top grills readers have chosen, take a look at "The Best Portable Grills For RVs and Camping".  If you want more detailed responses from fellow campers, continue reading.
Let's dive into the TCM reader camping grill reviews.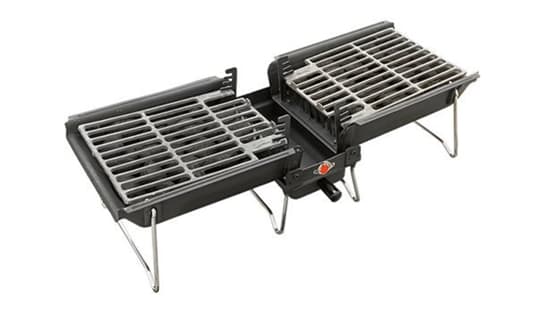 "We have a Coleman All-In-One Propane Deluxe Cooking System.  We use one pound propane bottles.  It works great and we like it very much." – John and Cathy Strasser, 2012 Chevrolet 2500HD, 2012 Lance 855S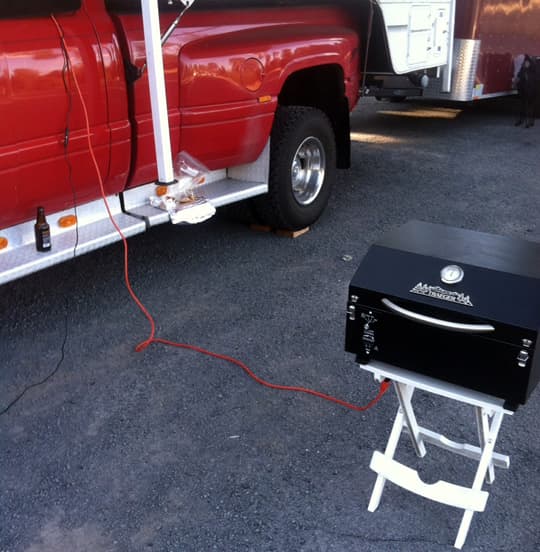 "I have a Traeger tailgater grill.  Propane?  What propane?  The Traeger uses a pellet system and the taste is so much better than any gas grill I have tried.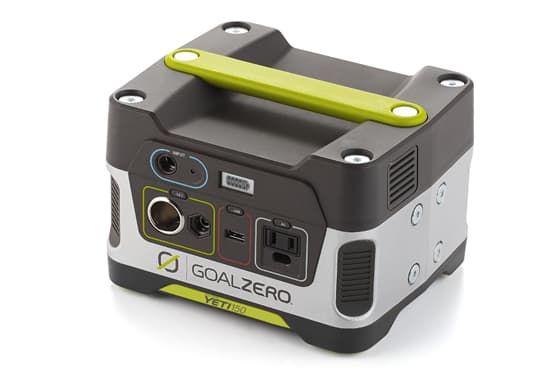 I power it either with my 1000 watt Honda or with a Goal Zero Yeti battery pack.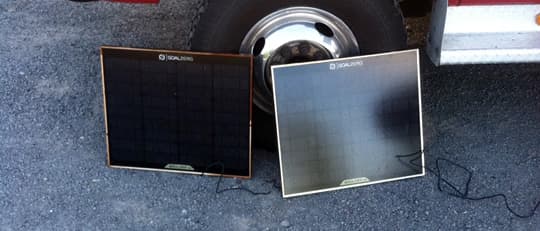 The grill uses most of its power at start up, but once the pellets have caught fire, the power is only needed for the auger and fan.  My battery pack has roughly 1,400 watts and is recharged with either my generator or with solar panels." – Ken Lindhorst, 1998 Dodge 3500, 2002 Arctic Fox 1150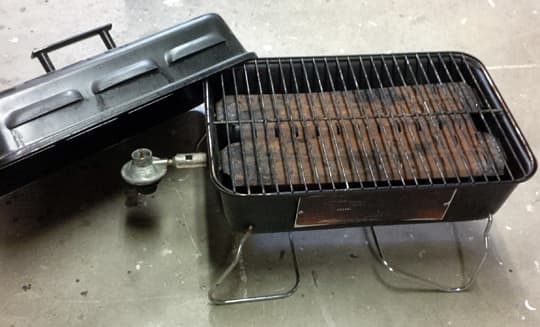 "We simply use a small compact hibachi which can either use the large propane bottles or the small disposable ones.  It works great for roadside picnics or grilling up a steak for dinner at camp." – Shawn Hartman, 2004 Chevy, older 80s model Travel Mate
"We have a Weber Q-1000 (Baby Q).  A five pound propane bottle is stored in an outside compartment.  We have had several BBQ grills in the past, but the cast iron grill on the Weber cooks evenly when food is placed anywhere on the grill!" – Stafford Miller, 1999 Ford F350, 1997 Lance Legend 900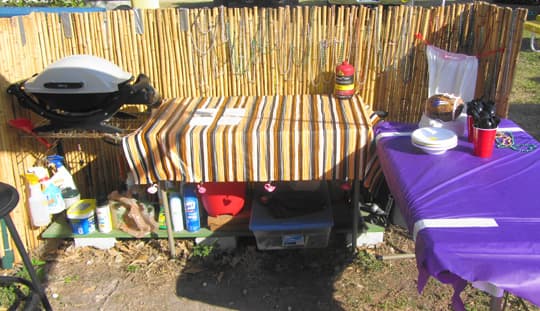 "I have a Weber Q-1000 (Baby Q) with a one pound Colman cylinder.  Two other grills were purchased prior to the Weber.  This barbecue grill also has the grill option for cooking bacon and eggs in the morning.  The grill itself can handle fish, steaks, kabobs, or brats.  The grill works well on a picnic table or a RV portable table.  Do I like the grill? You betcha, Kemo Sabe." – Paul Foster, 2005 Ford F250, 2008 Lance 845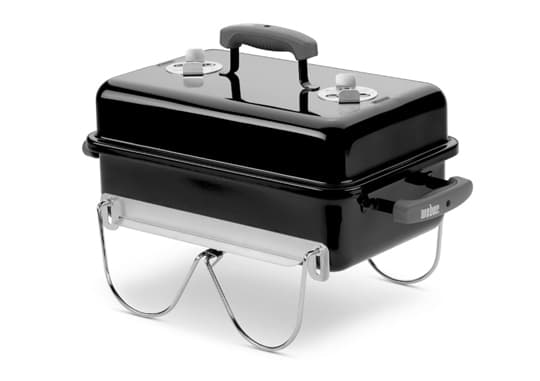 "I use a propane grill at home because I'm always in a hurry.  However, when we camp, I don't like to rush and I prefer charcoal.  So I ordered a Weber Go-Anywhere charcoal grill.  It's rectangular in shape and the legs fold up to hold the lid in place.  It's very easy to store in my camper." – Bruce Baker, 1997 Suburban 2500, 2013 Flagstaff Super Lite (not a truck camper)
"Our Coleman Road Trip was used to connect to our camper's 20-pound tank, but now we just use bottles for the convenience of not being connected to the camper.  I love the grill and all options available for it." – Ray Pawelczak, 2003 Ford F-250, Lance 835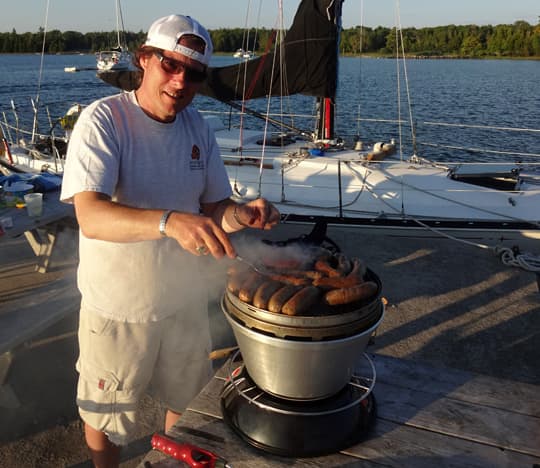 "The Cook Air  is a wood chip burning grill.  It's battery operated with a five speed blower.  It can sear meat at 1,000 degrees or smoke food at low setting.  I use it on my sailboat, and off the boat on shore.  It uses very little wood and burns everything down to ash.  It gives you a true smokey flavor.  Start time to cook time is just a few minutes. You can always find some small twigs or kindling to get the fire going.  I carry some Hickory Pellets to add to the kindling when it has gone to coals.  Gas is good but this is better and very portable." – Stephen Balcerzak, Going to be an RV guy soon, Harmonie 30 foot Odessey Sailboat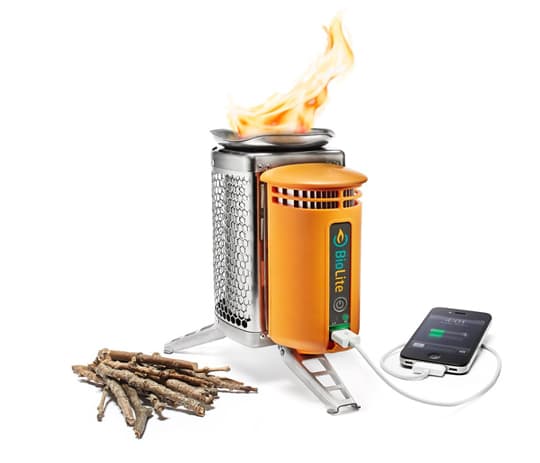 "We thought long and hard about this, having made the move from a large fifth wheel down to a truck camper this year.  I've been following the progress of the BioLite Basecamp stove, and we decided it was the perfect choice for us.  You can grill on it, cook on it, and it also charges tablets, cell phones, etc.  But the best part, in my opinion, was not having to haul charcoal along.  It burns using twigs, leaves, and small branches." – CJ Tinkle, 2008 Ford F450, 2014 Lance 992
"I bought the Arctic Fox external barbecue directly from Arctic Fox recently.  I have to admit that I have not used it yet as the mounting kit they supplied is a bit of a challenge to figure out.  The kit is not very intuitive and I plan to take the camper to the dealer I purchased it from to get their help mounting it.  Also, keep in mind where you are going to store whatever barbecue you get when it is not in use and traveling.  Storage is a bit short in my 811." – Kent Keyser, 2007 Ford F250, 2011 Arctic Fox 811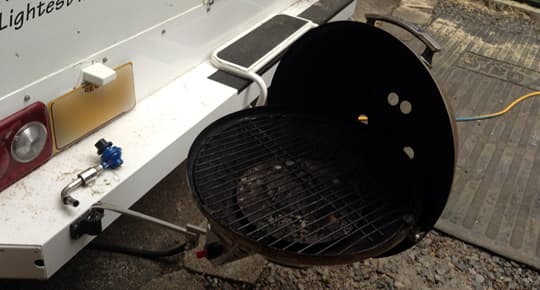 "We have a Magma grill.  It is made especially for the boating industry, and sold in boating stores, so they are safe to use.  It uses a fishing pole mount or rail mount.  I used the pole mount and just mounted the small mount to my rear bumper.  Then I can use the grill in a few minutes.  It uses a propane screw in bottle.  We like it very much and use it almost every time we use our camper." – Brent and Patti Portschy, 2005 Ram 3500, 2006 Host Tahoe 10.5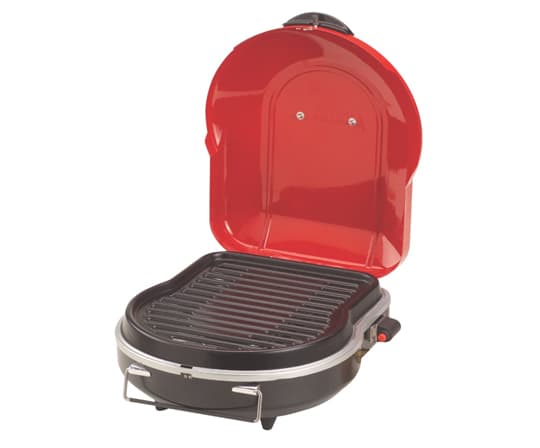 "Charcoal is the best flavor, but it's too much work for me in a truck camper.  I looked and read opinions of others online.  The Coleman Fold-N-Go grill is what I purchased.  I got the low priced one on line, and should have spent just a little more and got the one with a self ignitor. It's just the right size for two of us easy set up and clean up.  I use a small folding aluminum table. " – Bill Harr, 2005 Toyota Tundra, 2013 FWC Hawk
"I have the Coleman Fold-N-Go.  We like this little stove as it is a grill, stove, and griddle.  It's very compact, easy to use and clean, and all-in-one tool.  With a truck camper everything has to be multi purpose to make the best use of space!
I do not like to tether the grill to the camper.  You never know which way the wind will be blowing and we don't like the smoke, grease, flames, etc so close to the camper.  I would rather have the ability to move the grill around.  We use one pound disposable bottles.  Over the entire season we might use three or four bottles.  They last a long time and we cook outside on the grill fifty percent of the time." – Bill Tex, 2006 Chevy Silverado, 2013 Eagle Cap 850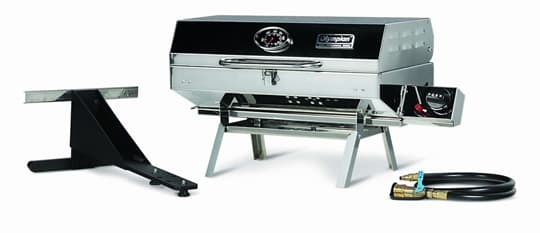 "Great timing on the question.  We were facing the same dilemma of finding a grill to hook into our camper's propane connection.  We just ordered Camco's 57305 Olympian 5500 Stainless Steel grill through Amazon.  It was less expensive than Camping World. It is due to arrive today and we'll be be testing it out over the Labor Day weekend.  All of the reviews I read seemed to say this would work for our needs.  We'll be glad to submit a follow up on how it worked out." – Sally Stomberg, 2006 Ford F-550, 2006 Lance 1191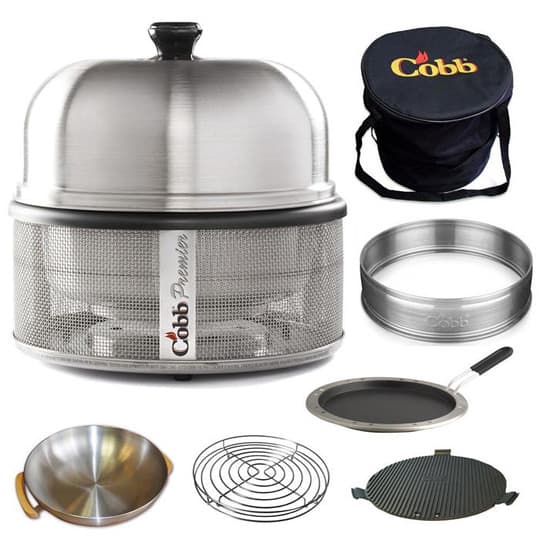 "We do not use a propane gas grill.  We have been using a Cobb Grill.  It runs on about eight charcoal briquets, stores compactly, and we use it for everything from grilling to stir fry.  We also carry a small Coleman propane stove to heat water and are experimenting with a small dutch oven." – Bud Waner, 2006 GMC 2500HD, 2006 Travel Lite 1100
"We in Europe are more austere than you, the Americans.  To start, we drive smaller pickups and cells (campers).  I like the idea of connecting to the outdoor barbecue propane making the cell.  Specifically, we do not use propane in the kitchen, we use gas oil (diesel) from the fuel tank.  Is there any brand of barbecue that uses gas oil (diesel)?  If so, we may make the external connection to the cell.  For now, we continue to use a coal barbecue.  Thank you." – Frederic Amorós, 2011 Toyota Hilux, 2011 Azalai – PSI (fixed Cell)
"We used an Olympian for many years.  The problem there was the size of the little nozzle.  It was marked .50, but must have been drilled in China with a badly worn drill.  I got out my wire gauge bits and enlarged it to allow the grill to heat up.  We switched to a Nexgrill which heats up like crazy, but has such a shallow lid that broiling a chicken is barely possible.
Now for the important part.  We always use a portable propane tank tucked safely under the table on which the grill sits.  The propane hose is never stretched out. We often have little kids running around.  Suppose one of them dashes between the stove and the camper (with hose connected) or between the stove and a tank set off to the side.  Do you have any idea what a kid looks like for the rest of their life after having pulled the grill with a frying pan with hot grease on it onto themselves?  Have you ever seen an RV go up in flames?
Even adults get to talking and walk somewhere without thinking.  It is just not worth the risk.  I have heard people with toy haulers talk about having twelve foot or longer propane hoses made up so the grill could be set up in a central location, while all the kids ran around all over the place.  That is a nightmare.
We are currently thinking about getting a new truck camper, and one of them we are looking at has the propane hookup permanently attached.  We might even use it, but only if we block access between the grill table and the camper.  My wife and I seriously think that hose hook up is a disaster waiting to happen." – Michael Turner, 2007 Ram 3500, 1988 Lance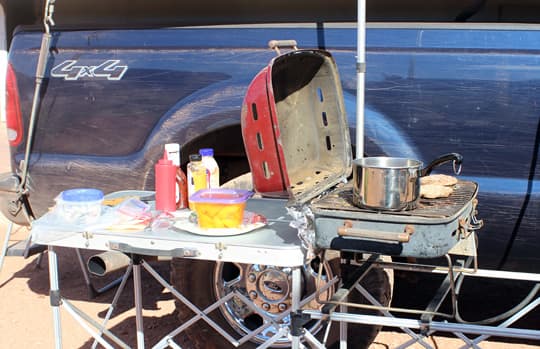 "The grill I have was bought at Walmart several years ago, a simple clam shell style.  At that time, we were looking around for a small portable table grill that wouldn't break my pocket book.  Walmart had their store brand that filled the bill, along with folding legs that made it easier to store.
I use a type of extent-a-stay hose set up to connect my barbecue to the propane system in the tank compartment.  From time to time, I take a look at what's out there and find many of the table top grills are too costly for what your getting.  I'm happy with my choice and it has served us very well." – Alex Blasingame, 2007 Ford F250, 2002 Lance 815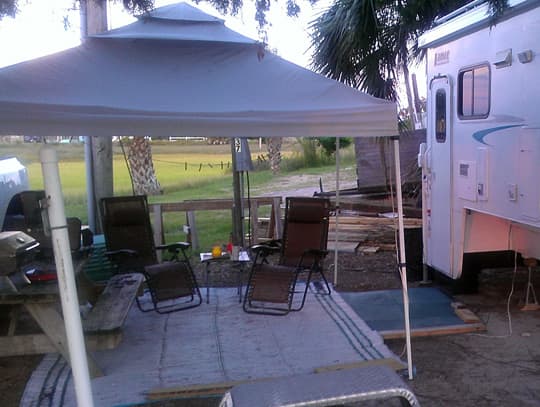 "I've been boating most of my life and went through a lot of grills.  I wanted one that stayed lit in wind.  Magma grills are stainless steel and do work in the wind.  I have a Catalina model.
I normally use a five pound propane bottle that I got from Camping World.  Sometimes I will bring a ten pound bottle that I use that on a larger grill for fish fries.  My camper has a propane outlet, but I have never used it since the five pound bottle has worked well.  Since I have a Lance 1191 side-entry camper, I have a dock box mounted on the rear bumper.  All the grill stuff is stored there." – Gary Raymond, 2014 Ram 3500, 2006 Lance 1191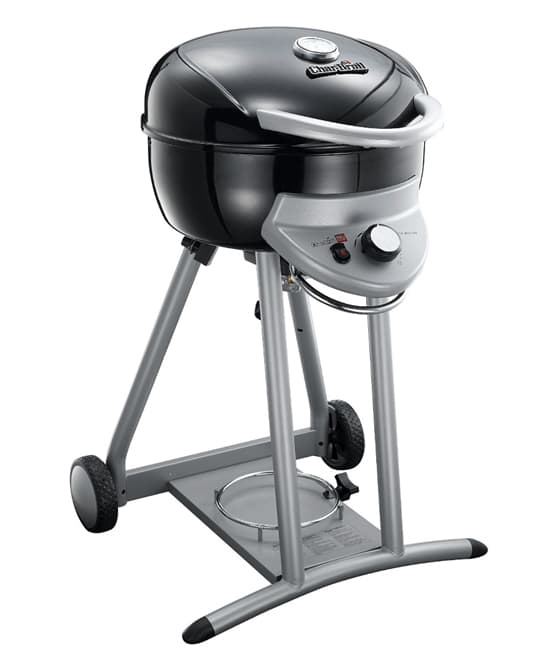 "I have a Charbroil Tru-infared Patio Bistro connected to a five pound propane tank.  It fits in a carry box with separate tank.  It sets up anywhere.  We have an old, small Coleman stove stand that folds up." – Carol Brockway, 2015 Chevy Silverado 2500HD, 2013 Northstar Laredo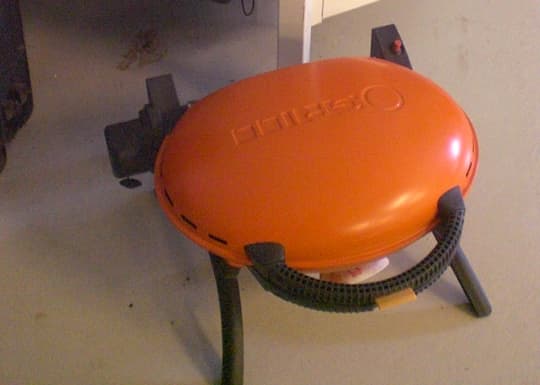 "I love my O-Grill.  It's fast to heat and fast to cook, keeping the juices in the meat.  It takes maybe less than two minutes to heat and then two minutes to cook a steak, pork chop, or a couple of burgers.  It's compact with a travel bag that comes with it so it can stand up and slide in behind your pickup truck's seat or lay flat.  I built a table that has a pin (not shown in picture) that slips down in a bracket that is mounted on the camper permanently.  It's made out of aluminum and welded together for the grill to set on.  It  only weighs maybe a pound.  I removed the four, quarter inch pins holding the folding legs on and made two long quarter inch rods.
I set the grill on the table and slip the long pins in to hold it on the table.  It only takes about a minute to put table on the side of the camper and set the grill on it.  The grill has a built in regulator.  You need to buy an adaptor to go in between the propane tank and the fitting that connects to the tank.  It has a T that you will connect a hose to the grill.  I also carry a standard gas bottle that you buy for the grill if you want to take it away from the camper, patio, or wherever you want to use it.  My gas bottles are just above it so it's very convenient." – Frank Niehus, 2007 Ford F350, 2007 Arctic Fox 1150
"I have a Weber Q-1000 (Baby Q) which fits nicely in one of the outside storage bays in my Lance.  I use the disposable green propane bottles and have been very happy with this setup.  My camper has an external propane hose for attaching a grill, but the grill does not work well with the low pressure gas from the on board tanks.  And, since I use the individual bottles, I can set the grill up anywhere." – Eldon Rhodes, 2008 Chevy 3500HD, 2011 Lance 1050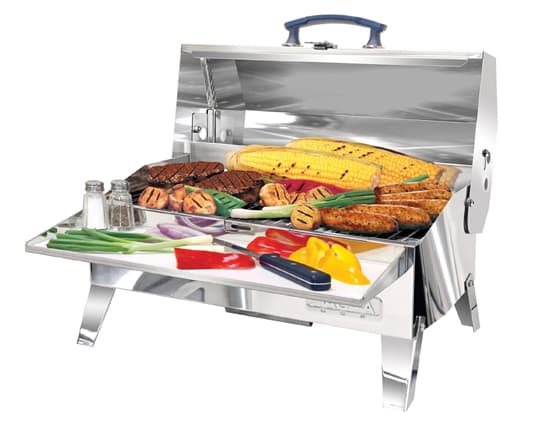 "I use a Magma Cabo Adventurer connected to the exterior connector." – Russell Erbe, 2013 GMC Sierra 3500, 2012 Lance 990
"We use to use a Weber Q-1000 (Baby Q).  It was big and didn't fit under the camper in the basement.  We had to keep it in the back seat of the truck.  Then, we looked for a barbecue that would fit under the camper and still be good quality.  The O-Grill 500 fits in the small eight to nine inch height opening without difficulties. We are happy with the way it cooks, the size, and quality." – Carol Starzyk, 2010 Ford F350, 2011 Bigfoot 9.4
"I have a Brinkmann, Model #810-1100-SB.  We got it from Home Depot for $59!  It uses the disposable green propane bottles." – Greg Sellers, 2002 Ford F250, 1999 SunLite popup
"As you can guess, I have to be different.  I carry two different grills depending on the fuel source.  For dry camping, I use a Camco Olympian 4100 tabletop RV propane grill.  I am now in my fourth burner.  Since this grill was only designed to work properly off the high pressure side of a propane system, I use twin six-foot extend-a-hoses to connect to the thirty pound propane tank, and a 90 degree Stay Flow Adaptor by Mr Heater. (Part# F273753).
When camping with utilities, I use a 120 volt electric grill made by Gen-Air.  Why use precious propane when electricity is available?  They are almost the same in size and, with the new barn door storage in the rear of the 1172, space in not an issue.  This grill was bought at a yard sale for $10 and it was never used." – Mike Tassinari, 2002 Ford F350, 2014 Lance 1172
"I use the small rectangular Weber grill which has the spark igniter.  The screw-on propane bottles work well and always carry two extra bottles.  I also carry and have used a six-foot propane extension hose which I connect to the camper's propane system. When connected to camper I use my aluminum folding table with extended legs to set the barbecue on.  Both of these items fit under the dinette table when traveling." – Roger Odahl, 2008 Dodge Ram 3500, 2004 Eagle Cap 950
"I use a stainless folding barbecue by Pyromid out of Oregon.  It is over twenty-five years old and works great.  I think the company is gone.  I saw some small 12″ ones on eBay.  Mine is 15″.  The new company marketing it is Ecoque in Washington." – Mike Johnson, 1986 Chevy K30, 1987 Four Wheel Keystone pop up camper
"We elected not to get a propane connection on our camper because most national, state, and forest service campgrounds that we visit have the picnic table/fire pit area away from the camper pad and often the table is not moveable.  Usually we cook wherever the table is.
We recently moved up from our old Primis two-burner camp stove to a Coleman Road Trip grill.  It is a large, covered grill with two removable mix/match cooking surfaces (grill, griddle, and stove).  It comes with a detachable stand that we usually leave home.  At home it doubles as our deck grill.
The grill is a heavy twenty-four pounds, but stores easily in the truck cab or on the camper floor.  A carrying case is available with wheels.  It uses disposable 6.4 oz propane canisters.  We like it because it is very versatile and is easy to clean-up.  It has a removable water pan around the burners to catch drippings.  It is often on sale at Camping World.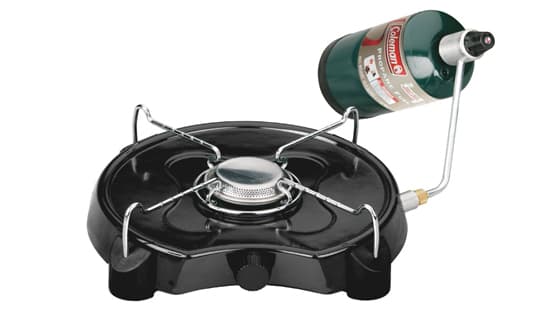 We also carry a Coleman Powerpack single-burner propane burner.  It has a 11.5″ cooking surface, but is compact and light weight.  We use it for large pots and heating water.  It is very handy to have a third burner for larger groups or more complex meals.  Dish water is heated without re-configuring the grill.  I like using disposable propane canisters because of their portability.  There is also less drain on the camper's propane supply which is mainly for the refrigerator and an occasional shower." – Dave and Carolyn Thalman, 2013 Ram 2500, 2013 Northstar 850SC
"I use a Weber Q-1000 (Baby Q) with disposable propane cylinders." – Tom Orlowski, 2000 Chevrolet K2500, 2008 Travel Lite 840 SBR
"Outdoor Gourmet grills are sold at Academy Sports or online.  I have not actually used it other than a test light, but it seems to fit our needs.  It uses one pound propane tanks." – June O'Meara, 2014 Ford F250, 2006 Lance Lite 815
"We don't use a portable barbecue grill.  I built a grill for camping out of one inch square tubing and one inch grating.  The grates are height adjustable and the legs are width adjustable.  We do all our cooking over an open fire.  We prefer this to using propane.  It's easy clean up and easy to store." – Tom and Deanie Krzanowski, 2001 Chevrolet Silverado 2500, 1996 KZ truck camper
"We don't use a propane grill.  The Eco-Que stainless steel folding charcoal grill is for times we do not have electric.  We also have a Traeger pellet grill, which is the smallest one for tailgating.  These work great for us, especially the Eco Cue as it only uses nine chunks of fuel for steaks and sides per meal.  Foil liners make clean up easy.  It can also use other fuel like leaves and sticks in a pinch and can set right on any table since the legs prevent heat transfer." – Cheryl Nelson, 2004 Chevy 3500, 1990 Shadow Cruiser 9.5
"We buy a new $25 gas grill at Lowes each year.  After a season of usage, we toss it rather than trying to clean it.  They use the small green propane canisters that cost around $6 for two of them.  These grills are small and light weight and easily stored.  To keep the grease from soiling the floor of the storage cabinet, we keep it in a plastic storage container with the grill brushes and igniters.  It's simple, cheap and works for us." – Jim Cornwell, Chevy 3500 HD, 2012 Lance 1191
"We use a Weber Q-1000 (Baby Q).  It's perfect for the camper.  It's not too big and not too small.  The Weber Q-1000 comes with a collapsible cart to sit on and a bag with wheels to easily transport the grill.  The Q-1000 uses the slender propane bottles that screw on.  It has an electronic igniter that lights the burner first time every time.  We have an external propane outlet, but we use it for our outdoor stove." – Dennis De Ville, 2008 Ford F350, 2008 Lance 1191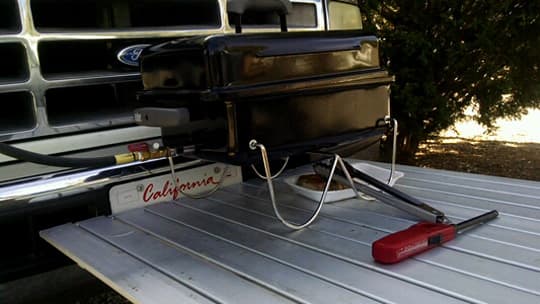 "We have a Weber Go Anywhere grill.  It can use disposable one pound cylinders.  We carry a one gallon tank or a fifteen foot hose that we connect it to the camper.  We are on our second one.  They work well, are easy to clean, are made here in America and are reasonably priced at around sixty dollars." – Chuck and Sue Currie, 1995 Ford F250, 2009 Lance 815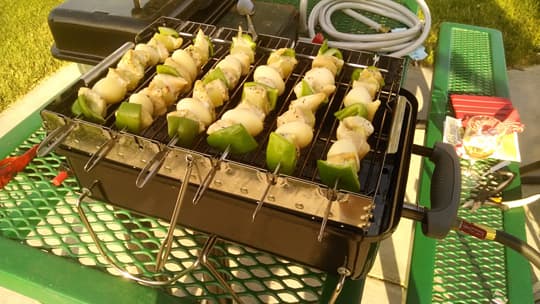 "I have a no-name brand (generic) type of portable barbecue, which cost $20.  It uses the small propane cylinders which last about five hours of steady use.  I also have a Walmart charcoal barbecue which cost ten dollars.  We have the external propane connector on the Lance, but currently do not have the hose we would need to use it.  Having the portable units does well for us since, at the most, we will be cooking for three people and sometimes two dogs." – Harry Palmer, 2008 Dodge, 2008 Lance 915
"We have a tiny Coleman that uses a little green bottle.  It works well and cleans easily. We uninstalled the gas line on the outside of the camper after accidentally pushing the lever on and realizing how close we could have come to blowing up everything." – Bonnie Pascucci, 2011 Chevy 3500, Adventurer 86FB
"I use a Weber Q-1000 (Baby Q) model.  It will run on disposable bottles, or as I haul a boat, the majority of the time I'll carry a regular tank to hook up to.  It's a great little unit." – Jim Brown, 2010 Ford F-250, 2009 Lance 825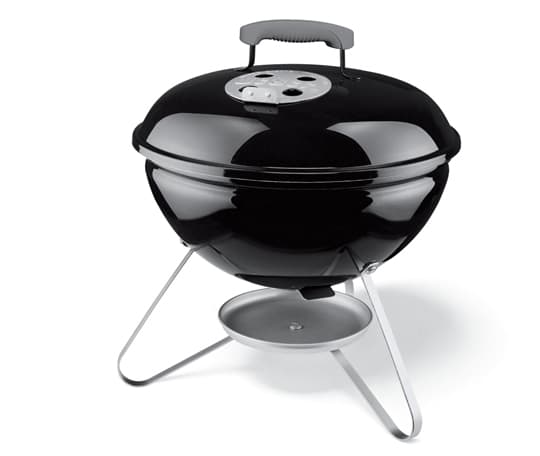 "We have a Weber Smokey Joe charcoal grill and love it.  We also have a propane stove that is great for boiling water and frying foods.  For grilling meat you can't beat charcoal." – Richard Musso, 2008 GMC 2500HD, 2010 Lance 1040
"We have a Weber Q-1000 (Baby Q) on its foldable wheeled stand and we use bottled propane.  It's lightweight and easy to fold up and wheel into the camper.  The small bottles of propane take up so little space yet last a long time for grilling purposes.  We also purchased the fold out side trays for the grill along with a Weber griddle.  There's nothing like a Weber grill!  Love it." – Mary C, 2010 Ford F-250, 2013 Northstar Liberty
"We have had all types of portable grills and prefer our fifteen dollar charcoal grill that folds flat for storage." – Ted and Joan Berger, 2001 Dodge 2500, 2012 Northstar Laredo SC
"I have a small rectangular Weber grill that uses one pound propane bottles.  It stores under the table in a cardboard U-Haul box when traveling.  The grill was given to us by a neighbor who used it in their motorhome and it works very well for us.  We even use it at home instead of uncovering the big Weber when cooking for the two of us." – Chuck and Pat Mickelson, 2012 Ford F-250, 2006 Arctic Fox 990
"I use a Camp Chef 2 burner stove with the add on Camp Chef 2 burner grill.  Then I had a propane hose made up that hooks into the back of my camper or into the regulator that I attach to my propane bottle with a quick disconnect like the one on the back of the camper." – Rik Osborn, 2004 Dodge Ram 3500, 2013 Arctic Fox 990S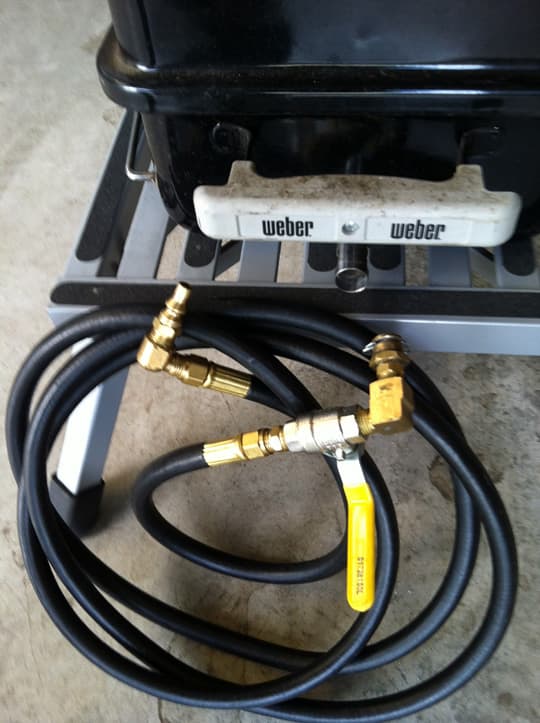 "I have an inexpensive Weber gas grill with the regulator removed from the gas orifice.  I had a hose with fittings and ball valve suitable for low pressure propane made by my local House of Hose.  You will need the proper male fitting for your camper.  The Arctic Fox uses a Cast Products #829001 female fitting with valve.  Other brands are not compatible with Cast." – Mark St. John, 2003 Dodge Ram 3500, 2013 Arctic Fox 990
"I have a Weber Q-1000 (Baby Q) with a quick connect to the camper's gas system." – Don Fillman, 2014 Ford F350, 2007 Okanagan 117DBL
"I have a Weber Q-1000 (Baby Q).  This grill has a separate regulator and control.  I removed the regulator, attached a hose and connected it to the low pressure hose on the camper.  Then I connected the regulator to another quick connect so that I can use the grill connected to the little green bottles (if we need a grill away from the camper).
It's the best of both worlds.  It's one grill that can be used off bulk propane from the camper, and off small bottles away from the camper.  I have seen them in campgrounds, but have never seen another converted to work off the low pressure line on the camper." – Bob Fenton, 2004 Ford F250, 2014 Lance 1050S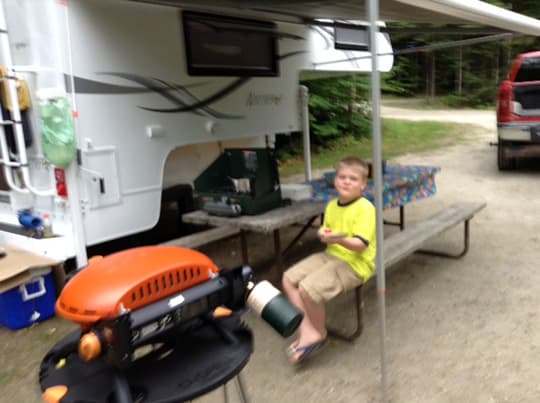 "I use an O-Grill 500 with one pound canisters and a tiny Backyard charcoal grill.  Choices!" – Jonathan Aubin
"I have a Weber Q-1000 connected to the camper's auxiliary propane port.  It is tied into the camper's two twenty pound tanks." – Mike Gormley, 2004 Ram 3500, 2013 Lance 1050S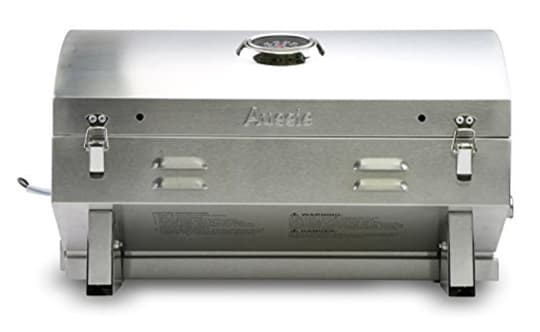 "I have an Aussie Grill that I use it a few times a year.  It works well even though is a little big to carry full time.  It uses the small propane tanks.  I plan on getting a smaller grill someday." – Jeff Hagberg, 2002 Ford F250, 2006 Travel Lite 800SBX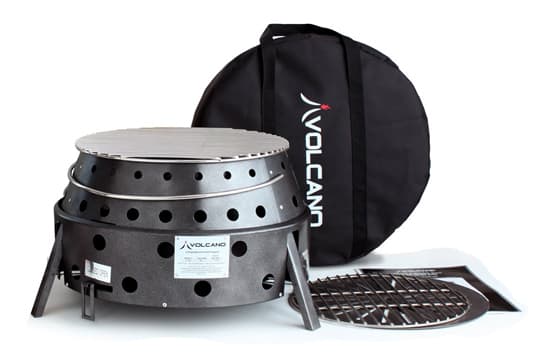 "We just switched from a small Weber portable with the little portable propane disposables to the Volcano charcoal/wood grill.  It's so great to tote, being about five inches tall and twelve inches in diameter.  It's quick to setup, and can be used with propane, even though we opt not to." – Nancy and Keith Rivers, 2004 Ford F250, 2013 Northern Lite
"I use a Bush pig.  It uses real fire." – Gordon Kidson-Petlem, 1987 Landrover 110, self built camper
"We use a Weber Go Anywhere Grill that runs on a one pound cylinder.  If we get the old-style long cylinders, two of them and the regulator fit inside the grill for storage and travel.  We've been happy with it for about ten years.  I think they still sell that model." – Al Hubbard, 2004 Silverado 2500HD, 2002 Starcraft Roadstar
"I have a Weber Q-1000.  It uses a five-pound propane tank with a hose.  I also have a Cob charcoal grill.  Both will barbecue a whole chicken in 1.75 hours." – Rick Law, 2005 Ford F-550, 2003 Bigfoot 30C
More TCM Reader Recommended Products:
The 50 Best Flashlights and Lanterns  | The Best Maps, Apps, and GPS Devices | The Best Portable Air Compressors | The Best Camping Chairs