Fellow truck campers reveal their absolute favorite paid campgrounds throughout the United States and Canada.  Here's proof that some campgrounds are truly worth paying for.

There are some among us who have sworn to never, under any circumstances – even if poked at the wrong end of a sewer hose before the grey is pulled – pay for a campsite.
We often go for weeks without paying for a campsite.  It's amazing how far you can go with BLM lands, Cracker Barrels, Walmarts and moochdocking in driveways.  At one point last year we hadn't paid for a campsite for over three months.  For us, camping for free quickly becomes a fun challenge.
Then again, there are some spectacular paid campgrounds that should not be missed.  We suggested two of our favorite campgrounds in the lead up to this week's question.
What follows are another 24 paid campsites for your bucket list.  We have been to a number of them and put the rest on our Google map.  Thank you to everyone who submitted a favorite paid campsite.
This week's Question of the Week was, "What is your favorite paid campground?"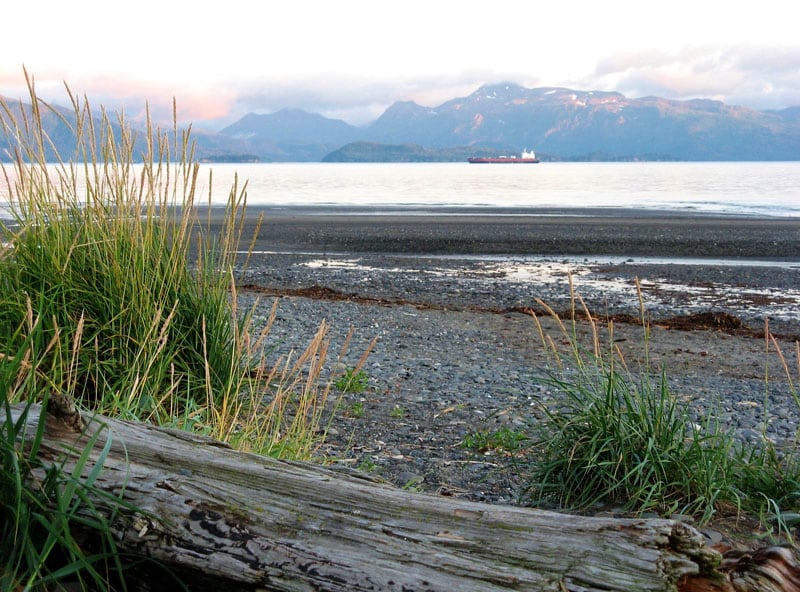 "At Mariner's Park in Homer, Alaska, we backed right up to the sand dunes looking right out at the water. The mountains are the backdrop. At low tide you can walk forever along the water. People come and play with their dogs, try out a new parasail, take wedding pictures, and bring their horses down for a swim, but it's never busy.
There is lots of wildlife. We saw a pair of resident eagles and seals. Once we saw a sea otter swim up the little creek and it entertained us for a half hour.
The location is Homer, Alaska, right at the very beginning of the Spit. The campground is run by the city of Homer and cost $12 in 2017. The only facilities are a couple of outhouses and some picnic tables. We loved it!" – Audrey Ruccio, 2016 Ram 3500, 2008 Host Everest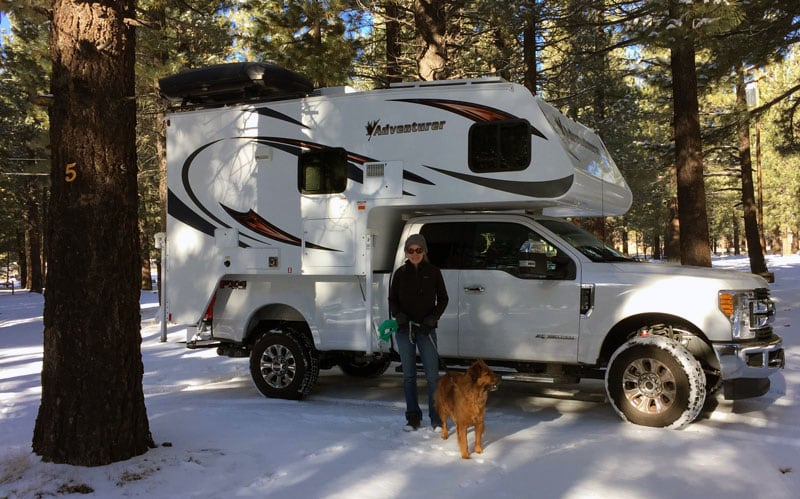 "Favorite? The one we use the most is Mammoth RV Park at Mammoth Lakes, California. It's not cheap at a tick over $50 a night, but Mammoth is our local snowboarding mountain.
There is no street parking or mountain lot overnight parking so what are you going to do? I do admit the hot showers, jacuzzi, and electric hookups make things a little sweeter in the winter when it's between 0 and 20-degrees Fahrenheit at night." – Marc Wilde, 2017 Ford F250, 2017 Adventurer 89RBS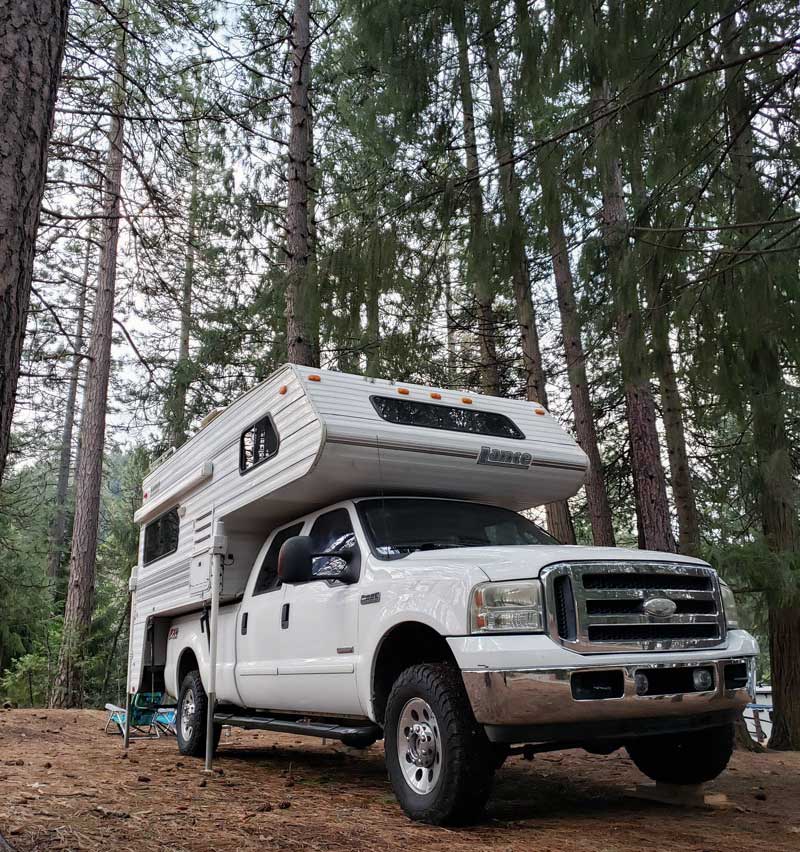 "Our favorite paid spot is Sly Park Campground in Pollock Pines, California. It's only an hour from our house so we can load the kids and some food and have an awesome change of scenery in no time.
The sites are $30 a night. We can usually get one right on the lake and next to hiking/mountain biking trails. There are no hookups but there are water stations, pit toilets and a dump station." – Chas Steinwand, 2006 Ford F250, 1999 Lance 910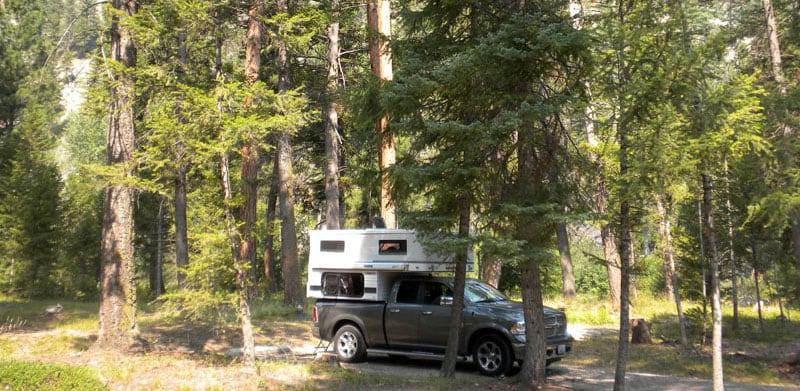 "We have camped in so many wonderful places it's hard to pick one. If I have to, I would choose the Alta Campground in the Bitterroot National Forest in Darby, Montana. It's a beautiful little campground that has 15 sites. The cost is $8.
It's located on the West Fork of the Bitterroot River. The sites are spacious, forested and widely spaced. They can take rigs up to 30-feet, so our pop-up truck camper had plenty of room.
The campground has vault toilets, potable water, and a camp host. There are no hook-ups, no cellphone service, no WIFI and no TV. It's just you and nature. It's quite secluded and away from everything. We've never seen it crowded, even in the summer. One night we had one whole end of the campground to ourselves.
Nearby is a cabin, built by my wife's great-grandfather. It's the oldest ranger station still standing in a National Forest." – Phil Semas, 2013 Dodge Ram 1500, 2013 Four Wheel Hawk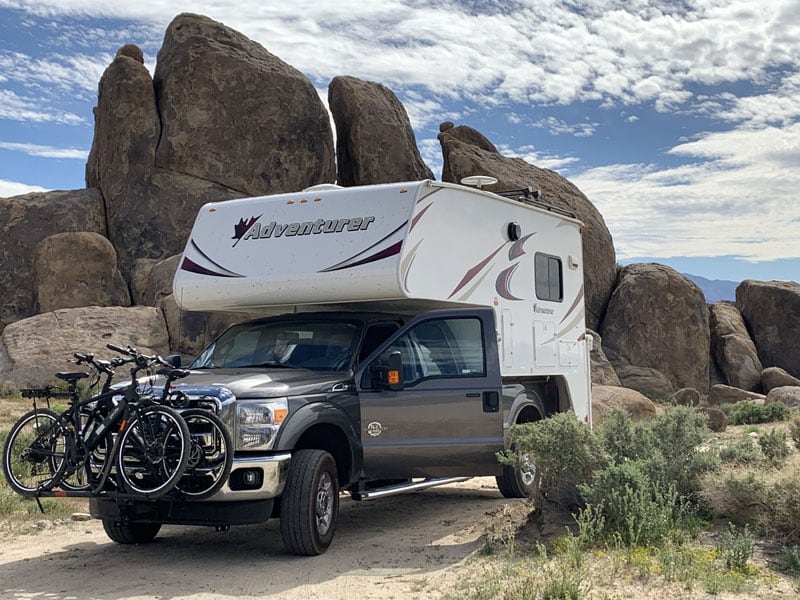 "D.L. Bliss Lake Tahoe is on the west shore of Lake Tahoe, California going north on Highway 89 just before Emerald Bay. It is a California State Park and under $50 a night.
From the campground there's easy access to the beach. You can back up to the beach in the day use parking area. It gets extremely crowded, so it's only for the early birds.
There is great swimming later in summer. It is accessible to good hiking and has unbeatable scenery. Actually, forget I posted this. It's too crowded already." – Chuck Kight, 2014 Ford F350, 2014 Adventurer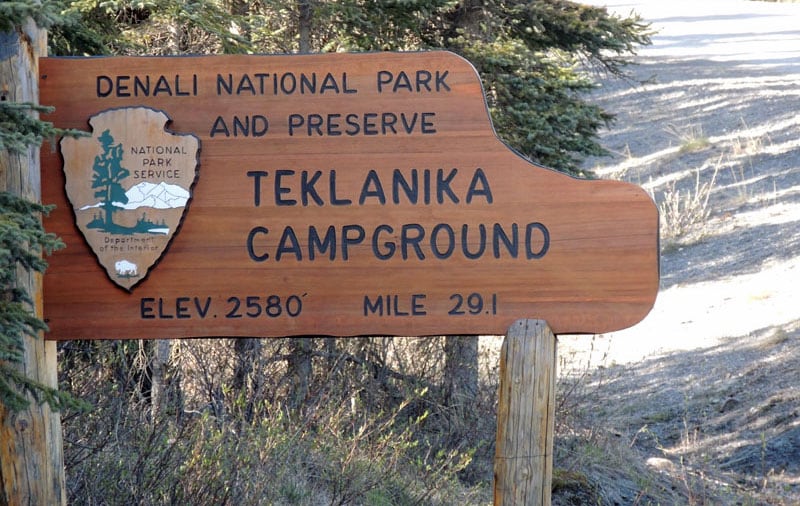 "I have camped in a tent, travel trailer, truck camper, motorhome and even a Beaver floatplane. But, for my 70 years young, no vehicle-accessible campground beats the Teklanika River campground inside Denali Park, Alaska.
The campground is 21-miles inside the park. The only way to get that far with a private vehicle is to be registered with the campground. The only amenities are well built outdoor bathroom facilities. There is no water, power or cell service. The cost is $25.00 a night with a minimum of three nights stay required to get in.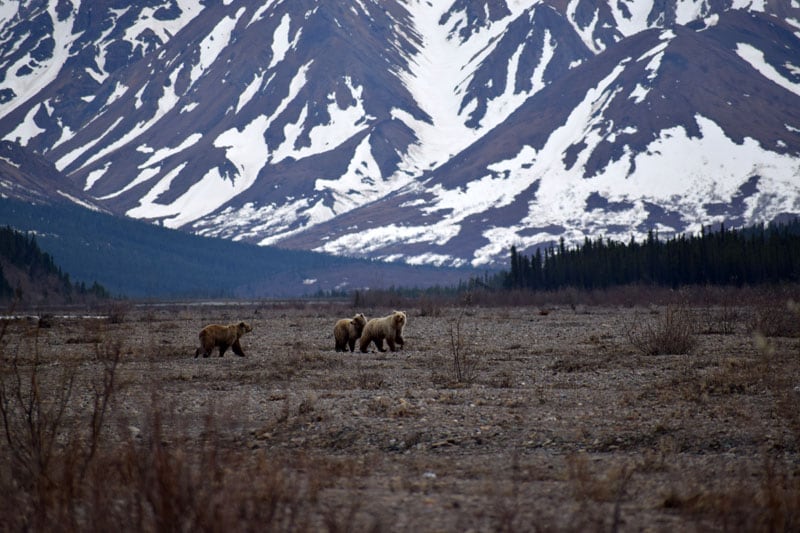 What you get is a home base to one of the most spectacular wilderness areas left in North America. Both times, within 20-minutes of arrival, I stepped out on the river bed and saw a bear. If you are looking for theme park camping, this is not it." – Gary Theunick, Ford F-350, Travel Lite rental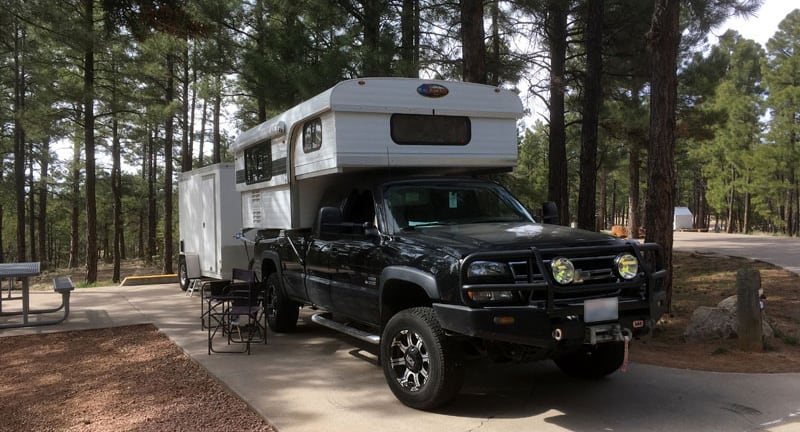 "Our favorite paid campground is Fool Hollow State Park in Show Low, Arizona. It is a great wooded campground just above Fool Hollow Lake. A full hookup site was $40. It was worth it, even though we did not use the sewer. There was a full restroom directly across from our site.
The sites are not crowded together, so they feel quite spacious. There is a wonderful paved hiking trail all the way around the lake. People were fishing from a little promontory above the lake and catching fish.
We were just passing through, but I could see us spending a week or two at Fool Hollow and kayaking and fishing on the lake!" – Pat Anderson, 2006 Chevrolet Silverado 3500, 2017 Alaskan Camper 8.5
"That is a tough one. There have been several paid campsites we love from state parks to forest service to RV resorts. For this answer I will go with a RV resort.
Wine Country RV Park in Prosser, Washington would be my choice. The location is perfect for exploring the wine region of Washington. The amenities are top notch. Most importantly, the staff there is simply awesome. They are very nice and very helpful. It is obvious that they love their job there and it reflects on to the guests." – Rich Bain, 2004 Dodge 3500, 2010 Adventurer 810WS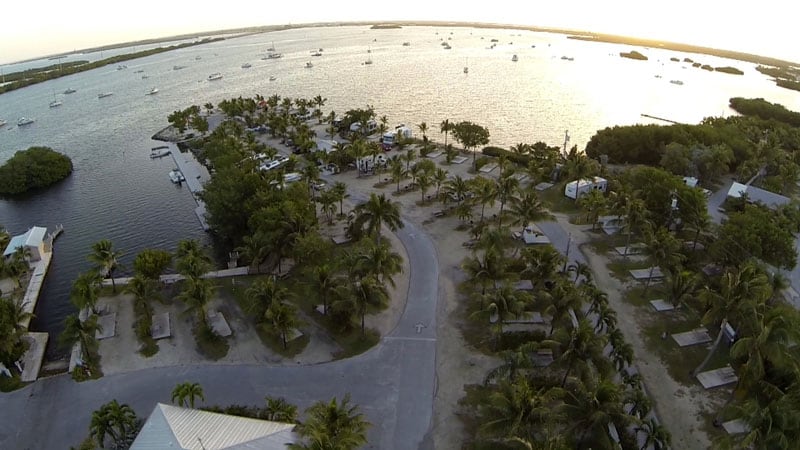 "One of our favorite paid campgrounds is Boyds in Key West, Florida. The cost is around $125 a night. We love this campground best because its the closest campground to Key West, and enables us to take our scooter for a nice ride into Duval Street every day to go bar Hopping or on a quest for the best piece of key lime pie.
The campground's proximity enables us to enjoy the festivities of Key West without having to worry about a long drive after an adventurous day. Check out my video above of Boyd's Campground." – Charles Coushaine, 2001 Ford F350, 2012 Chalet DS116RB
"My first choice would be Gettysburg Campground in Gettysburg, Pennsylvania. Good sites, immaculate, friendly and welcoming staff. The surrounding area has history, orchards, lots to see with also good pubs and breweries.
My second favorite would be Assateague National Seashore just south of Ocean City, Maryland. It's an amazing place with wildlife, big sand beaches, and level sites." – Anne Brown, 2013 Ford F450, 2018 Host Mammoth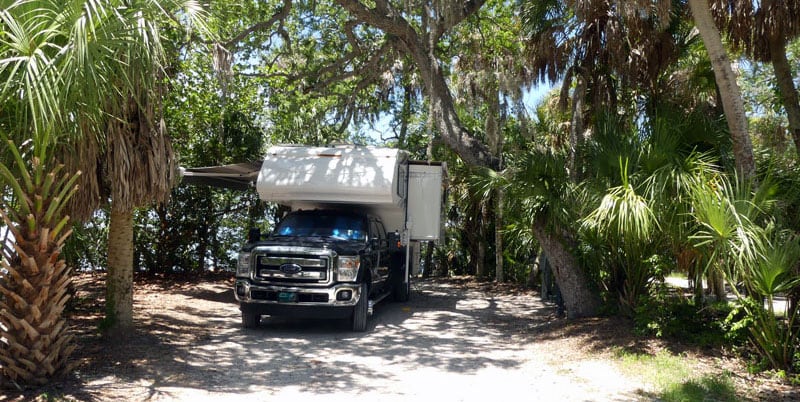 "I like Fort DeSoto Park in Pinellas County, Tierra Verde, Florida. There are many secluded waterfront sites. Fort DeSoto Park is dog friendly, and has lots of hiking, kayak and bike trails. It has one of the top three beaches in the country. There are huge boat ramps for offshore fishing.
The cost is $30- 43 per night depending on your campsite and the season. Life's too short for cheap beer and sleeping in parking lots!" – Gary Usher, 2017 Ford F350, 2015 Lance 1172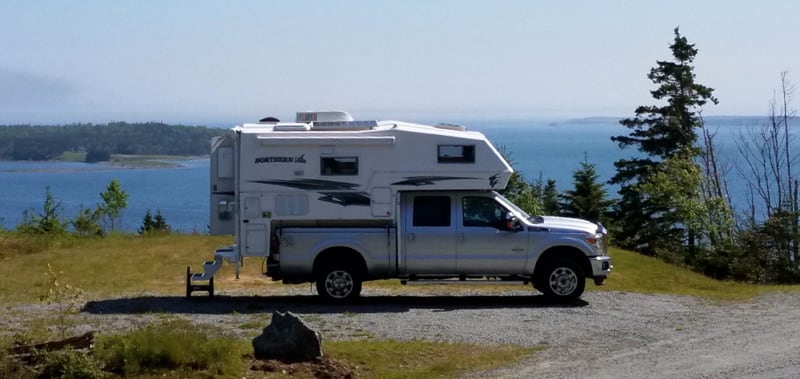 "Battery Provincial Park in St. Peters, Nova Scotia has huge ocean views and some hiking. There is an interesting canal/lock to visit that allows boats to access the Bras D'Or Lake. The cost is 2015 is was $26 Canadian." – Neal Kellogg, 2016 Ford F350, 2016 Northern Lite 8-11

"One of our favorite paid RV parks is Pechanga Resort in Temecula, California. Yes, it's a casino, but the park is well maintained with smooth flat concrete to park on. It also has good Wi-Fi, a beautiful pool and hot tub. They now accept Passport America Sunday through Thursday which makes their nightly rate more affordable. The cost with Passport America is about $25 during the week. Weekends are $60. It's a little less with the Good Sam discount.
There are good restaurants in the casino and the shuttle service comes to your campsite. There were plenty of places to ride my Rad Mini all through the area." – Roger Odahl, 2008 Dodge Ram 3500, 2004 Eagle Cap 950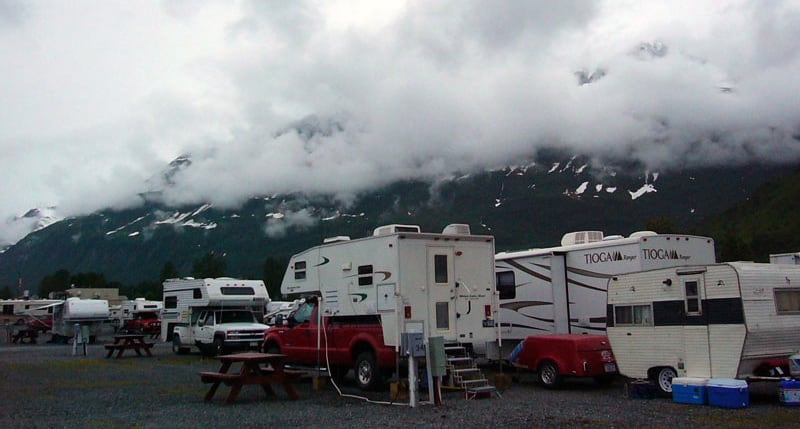 "Eagle's Rest Campground in Valdez, Alaska is one of our favorites because it is where our niece and her family live. We love the wildlife. The mountains seem to come right down on the edge of the campground. Valdez is walkable and we have celebrated two 4th of July celebrations there. Watching the eagles and people salmon fishing is great.
The cost is about $38 per night with full hookups.  The truck camper in the picture is our first camper from 2012. We have since upgraded!" – Dean Larson, 2016 Ford F350, 2019 Arctic Fox 990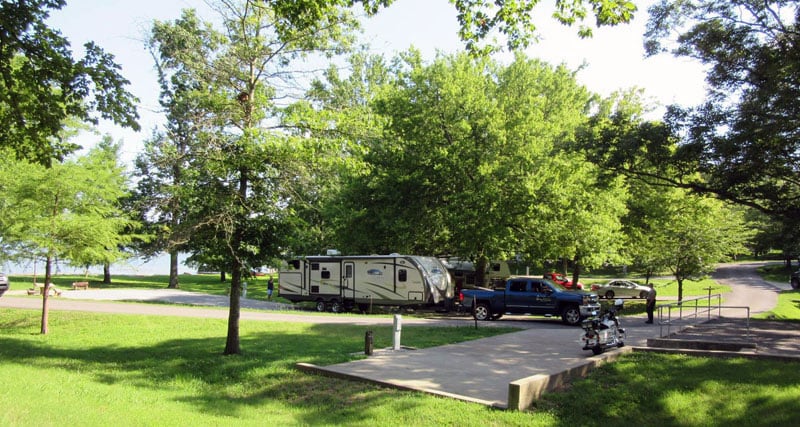 "We loved Cages Bend Campground at 1125 Benders Ferry Road in Gallatin, Tennessee. It's 30-minutes outside of Nashville. The cost is $30-35/night.
Most of the campsites are on Old Hickory Lake where you can swim, sail, and fish for catfish, crappie and bass. The sites are paved with plenty of space for visitor parking, and include picnic tables and fire pits.
Cages Bend Campground has water and electric hookups. There is a dump station and bath house on the premises. This year the season is from April 11 to October 21, 2019. I attached a photo that illustrates the proximity to the lake. It is not our camper." – Leigh and John Bennett, 2003 Ford F-550, 2016 Eagle Cap 1160 truck camper

"After more than 26 years of truck camping, how do I narrow it down to just one? We have stayed in just about every different type of campground. Some have been next to lakes, some next to rivers, some with great mountain views, some in dense trees, and some by the ocean.
There is one we stayed in last summer that we really liked in Lubec, Maine. We stayed at the Sunset Point RV Park. It is labeled as the eastern most campground in the USA. The cost was $35 per night.
We were backed up right to Johnson Bay which is just off the Bay of Fundy. We watched the large tidal drops and the wildlife right from the camper. We watched the seals swimming by and all kinds of shore birds.
Sunset Point RV Park is just a short drive over to Campobello Island where FDR had a family summer home. The island is Canadian so bring a passport." – Erwin Greven, 2002 Chevy Silverado 2500HD, 2002 Lance 921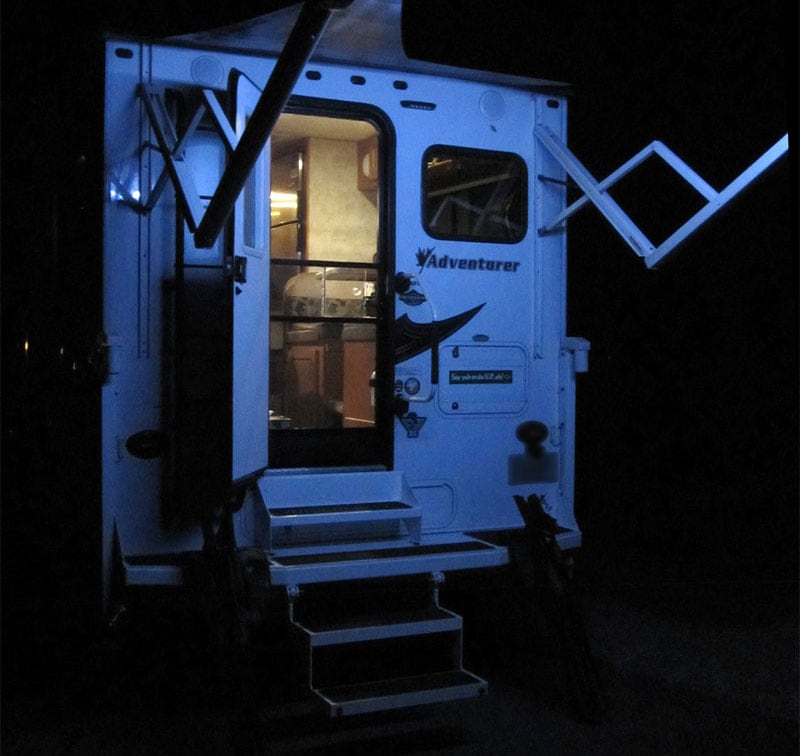 "Missouri's Roaring River State Park, just south of Cassville, has quickly become our very favorite paid campground. There are usually sites open without a reservation during the week. It gets pretty crowded on the weekends, so reservations would be recommended.
The campground has great showers, bathrooms, a laundry facility and a convenient dump site. The campsites are spaced generously and there are delightful views of the 300-plus foot hills surrounding the river valley.
There's a trout hatchery across the road and the campground houses lots of trout fishermen. You can also go on the great hiking trails around the park. A well stocked little park store is within walking distance to fill up on necessaries. This place is a treat!
The location is 6.3 miles south of Cassville, Missouri on Hwy 112. The cost is $19 per night with senior citizen discount. For additional rates, visit their website." – David Bosshard, 2018 Ford F-350, 2019 Adventurer 86FB
"Ponderosa State Park in McCall, Idaho on the Payette Lake has campsites in the wooded ponderosa pines.
There is a paved trail around one side of the lake for biking or walks to see the beautiful sunsets. There are a lot of hiking trails in the park and one that takes you up to the overlook where you can see for miles across the lake.
The campground is just outside McCall, Idaho which is a fun town on the lake. Be sure to get your ice cream fix at ice cream alley after taking a boat tour of the lake!" – Donna Silverthorn, 2005 Silverado 2500 HD, 2014 Arctic Fox 811
"In the southeast, there are very limited options for free or dispersed camping. There are some nice national forests with very reasonable rates, especially with the Senior Parks Pass discount. If we have to stay at a pay campground in order to experience a specific area, we try to find a Passport America campground simply to save money.
Check out my video tour:
The north Georgia mountains are quite beautiful anytime of the year. The Blue Ridge Mountains are the southern connection to the Appalachian Mountains. Our favorite spot under these circumstances is Mountain View Campground at 157 Swallows Creek Road in Hiawassee, Georgia. The cost is the Passport America Rate of $17." – Neil and Yoly Mullen, 2016 Ram 2500HD, 2018 Travel Lite 840SBRX
"I was very surprised when we pulled into Blackwater River State Park in Pensacola, Florida simply because we had never seen a state park that was so nice. The cost is $11 for a Florida senior.
The swim area is just a short walk. There is a beautiful river for swimming or paddling.  I caught a nice mess of fish for supper.
The sites and restrooms are perfect. You can easily pull into camping area and back into the site. It's very unusual for government run state park." – William Preston, 2016 Ford F150, 2011 Northstar 650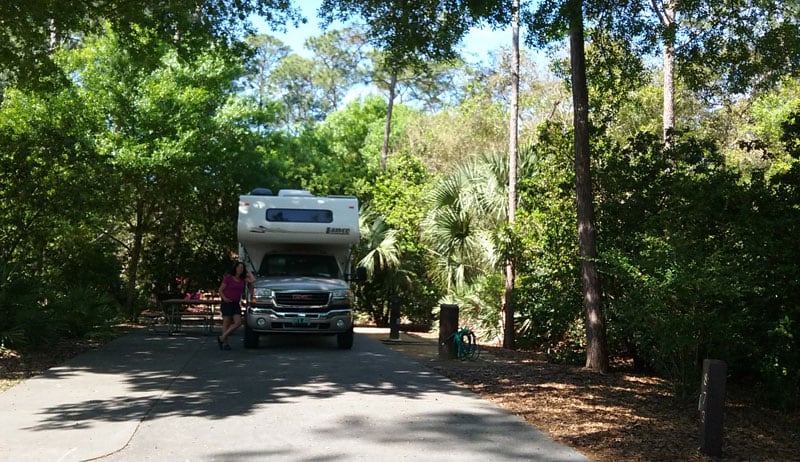 "It's hard to pick, but I will say Disney's Fort Wilderness Campground in Orlando, Florida. It is expensive at $85 to $140 per night. However, the reasons are many to visit such as the large, clean and beautiful full hookup sites on cement and the very clean and nice bathrooms, showers and laundry room.
You also have the ability to utilize Disney's transportation by using their shuttles and ferries. There is also a pool, restaurants and snack bars on the campground premises, so there is always something to do." – Barry and Carol Schoenwetter, 2006 GMC Sierra 2500HD, 2005 Lance 1030
"I like Kring Point State Park in Thousand Islands near Alexandria Bay, New York.  The cost is depends on the site. Our camper with electric was approximately $32." – James Sykora, 1993 Dodge W350
"Cedar Bay Marina in Henry, Idaho is a private campground open to the public. It is right next to Blackfoot River and Lake. There is a cafe, marina, and laundry facilities on site. Pets are welcome. You can have open campfires and there are ATV and UTV trails. Plus, you'll meet the very friendly owners" – Steven Anderson, 2007 Chevy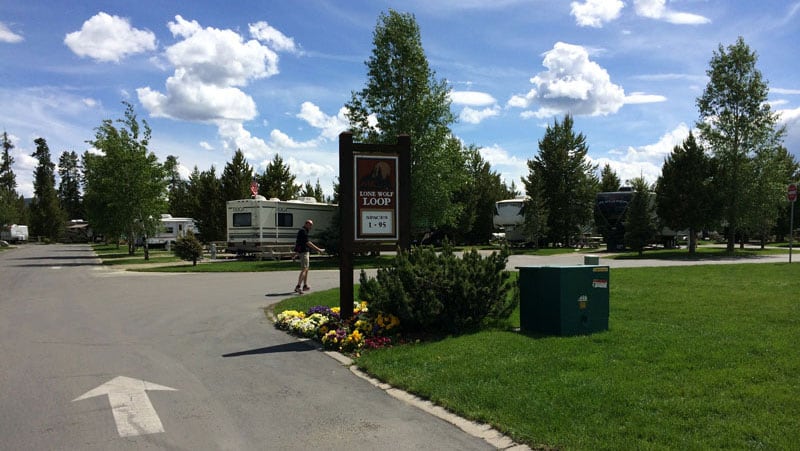 "I recommend the Grizzly RV Park in the town of West Yellowstone, Wyoming. This campground is right in the town of West Yellowstone, and close to the west entrance to Yellowstone National Park. The cost is $76 per night.
There are many nice places to eat, two grocery stores, and several gasoline and propane stations. There's also an IMAX theater, museums, ATV rentals, hotels/motels and a bakery. All of that can be walked to from the campground." – George Visconti, GMC 3500HD, 2016 Arctic Fox 990
"I like Alpine Country Store and RV Park in Hayden, Idaho and Pismo Coast Village in Pismo Beach, California." – Vicki Cossairt, 2017 Ford F-450, 2017 Landmark 365
"Woodland Campground in Pennsylvania is off exit 123 on I-80. It is in a beautiful setting with full hookups. Easy in and easy out. The cost is $44 a night. We stayed three months at their monthly rate of $480 with utilities included.
I also recommend Woodall's RV Village in Lakeland, Florida. It's a lovely park that's very friendly with all the amenities." – Dee Gheen, 1999 Dodge Ram 3500, 2007 Yellowstone Host