With his Four Wheel Camper, multi-calendar winner, Suni Williams, surfs the beaches of Baja, conquers the White Rim Trail, and dares to take roads he knows not where they lead.

When Suni Williams finds a road into the wilderness, he takes it.  Where does it go?  He has no idea.  What obstacles may present themselves?  He hasn't a clue.  Is he afraid to drive off a cliff or get hopelessly stuck out of cell range?  Yes, but he takes the road anyway.  In fact, he absolutely loves these mystery road opportunities.
Suni isn't reckless.  As he explains it, he was born exploring and has decades of off-road experience.  He even tells us about times when the hair stands up on the back of his neck and he turns around, but that's not the point.
The point is that he is fearless to take the unknown road.  He's not blind to the fact that there may be dangerous conditions ahead, but he's not going to let that stop him.  He trusts his preparation, equipment, and knowledge to get him out, and takes the leap.
Suni's story was very inspiring for us at Truck Camper Magazine.  We have seen many roads to somewhere during our travels, and kept going.  Next time we see one of these roads, we're going to say, "Suni would go there".  Given our relative lack of off-road experience, I'm fairly sure that's all we'll do, but maybe we'll take one more look down that mysterious road.  If it looks like it's within our skill level, or maybe one step beyond, Suni's inspiration may just take us forward.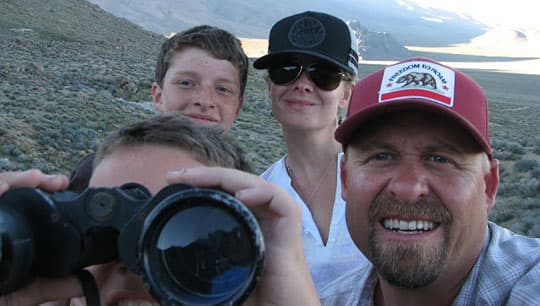 Above back: Ben and Jessica, Above front: Ethan and Suni
TCM: How did you get into camping?
Suni: I grew up camping literally since birth.  Some of my earliest memories are of camping with my parents.  These early outdoor experiences ultimately led to me to becoming an avid backpacker in my early teens and into my twenties.
Once I began my career, I would mostly camp out of my truck and a camper shell on the weekends.  Not long after, I started venturing to Baja for extended surf trips.  I discovered pop-up truck campers after a friend acquired one.  It became obvious that this was the only choice for me and my style of camping.  And it was certainly more appealing to my wife.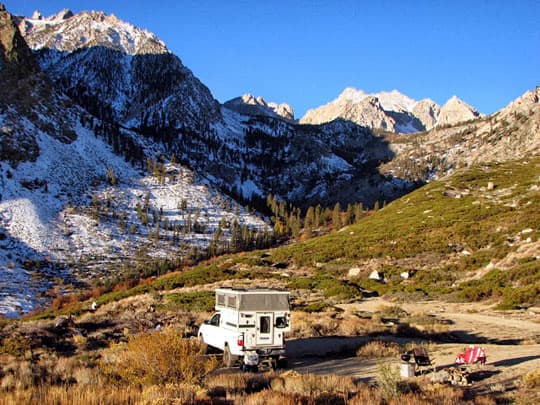 Above: Onion Valley, Eastern Sierras, California
TCM: So, how did you get your current truck camper?
Suni: My friend had a very old Four Wheel Camper Fleet from the 1980s, but I had never seen it popped up and didn't really understand what pop up truck campers were all about.
Pop up campers are popular in Baja.  I saw quite a few truck camper rigs down there and began to understand what my friend had.  That's when the light went on.  It sucks it to be out in the wind, and it's notoriously windy there.  When you're wet and cold, having shelter from the wind and weather is great.
I scoured Craigslist for well over a year.  In November of 2007, I found a good camper at an affordable price and drove six hours to get it.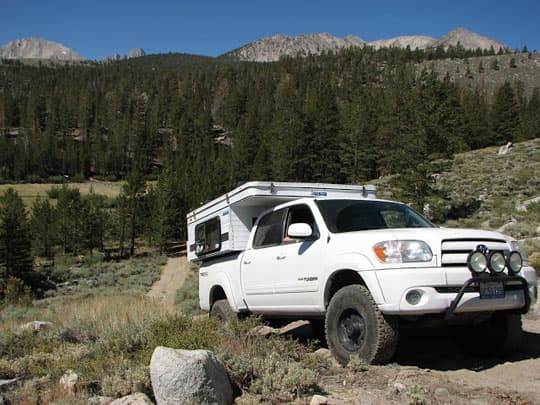 Above: Coyote Flats, Eastern Sierra, California
TCM: Why did you want a Four Wheel Camper?