With his Four Wheel Camper, multi-calendar winner, Suni Williams, surfs the beaches of Baja, conquers the White Rim Trail, and dares to take roads he knows not where they lead.

When Suni Williams finds a road into the wilderness, he takes it.  Where does it go?  He has no idea.  What obstacles may present themselves?  He hasn't a clue.  Is he afraid to drive off a cliff or get hopelessly stuck out of cell range?  Yes, but he takes the road anyway.  In fact, he absolutely loves these mystery road opportunities.
Suni isn't reckless.  As he explains it, he was born exploring and has decades of off-road experience.  He even tells us about times when the hair stands up on the back of his neck and he turns around, but that's not the point.
The point is that he is fearless to take the unknown road.  He's not blind to the fact that there may be dangerous conditions ahead, but he's not going to let that stop him.  He trusts his preparation, equipment, and knowledge to get him out, and takes the leap.
Suni's story was very inspiring for us at Truck Camper Magazine.  We have seen many roads to somewhere during our travels, and kept going.  Next time we see one of these roads, we're going to say, "Suni would go there".  Given our relative lack of off-road experience, I'm fairly sure that's all we'll do, but maybe we'll take one more look down that mysterious road.  If it looks like it's within our skill level, or maybe one step beyond, Suni's inspiration may just take us forward.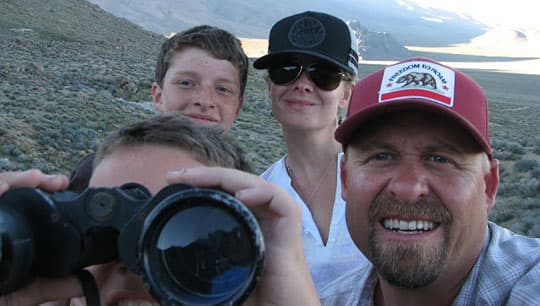 Above back: Ben and Jessica, Above front: Ethan and Suni
TCM: How did you get into camping?
Suni: I grew up camping literally since birth.  Some of my earliest memories are of camping with my parents.  These early outdoor experiences ultimately led to me to becoming an avid backpacker in my early teens and into my twenties.
Once I began my career, I would mostly camp out of my truck and a camper shell on the weekends.  Not long after, I started venturing to Baja for extended surf trips.  I discovered pop-up truck campers after a friend acquired one.  It became obvious that this was the only choice for me and my style of camping.  And it was certainly more appealing to my wife.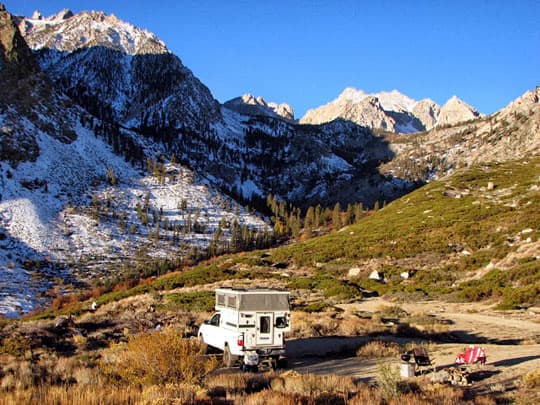 Above: Onion Valley, Eastern Sierras, California
TCM: So, how did you get your current truck camper?
Suni: My friend had a very old Four Wheel Camper Fleet from the 1980s, but I had never seen it popped up and didn't really understand what pop-up truck campers were all about.
Pop-up campers are popular in Baja.  I saw quite a few truck camper rigs down there and began to understand what my friend had.  That's when the light went on.  It sucks it to be out in the wind, and it's notoriously windy there.  When you're wet and cold, having shelter from the wind and weather is great.
I scoured Craigslist for well over a year.  In November of 2007, I found a good Four Wheel Camper Hawk at an affordable price and drove six hours to get it.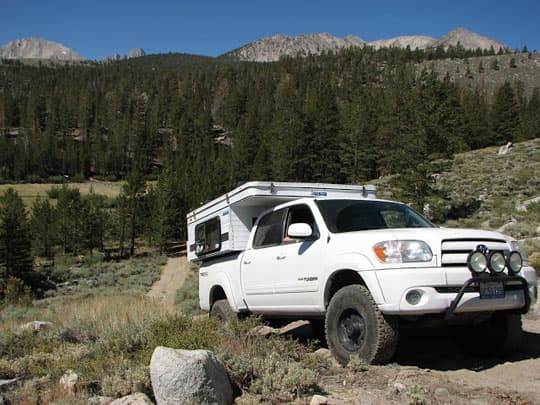 Above: Coyote Flats, Eastern Sierra, California
TCM: Why did you want a Four Wheel Camper?
Suni: Once I became intrigued with truck campers, I learned about Four Wheel Campers.  They are designed and built for off-road use.  I didn't want a full-size hard side unit because of weight.  I would be four-wheeling and in the sand.  As a family, we're into remote places.  Having done my research and learning about campers, I wanted something that could be abused and take the abuse.
We don't hang out in the camper unless the weather is bad.  We cook outside.  Should the weather turn, it's nice to duck inside, read a book, and not get sandblasted.  Having the camper is so easy.  Release the four roof buckles, pop it up, and we're ready to go.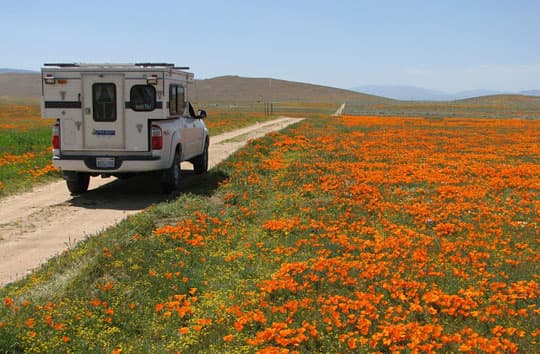 Above: Antelope Valley Poppy Reserve, California
TCM: What's your truck camping lifestyle like?
Suni: It varies.  We mostly go out on weekends.  We try to get out at least once a month.  We recently bought a house, which has taken up most of my spare time, so we have not been out as much as usual this year.  But, even with that, we still try to get out once a month.
We generally take a couple of week-long trips each year but I'm mostly a weekend warrior for sure.  I can't really go to Mexico for the weekend.  That's at least a one-week trip.
We live an hour north of Los Angeles.  Anywhere we want to go is within a few hours.  Our local mountains are a half-hour away, so a lot of what we do is spur-of-the-moment trips.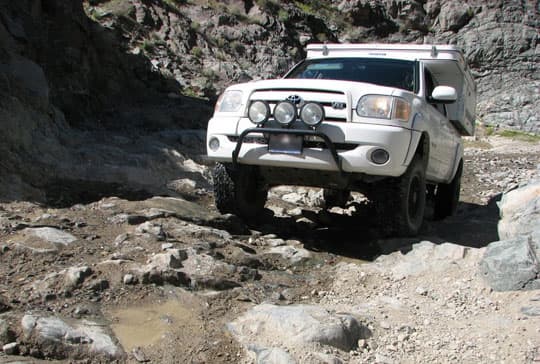 Above: Goler Wash, Death Valley, California
Some of the most famous national parks are in California.  We've got Yosemite, Death Valley, the Sequoias, and Redwoods.  For me, the parks are too crowded and the Sierras are about as good as it gets.  There are lots of options in the Sierras, and it is there that we can get away from people.
Above: Camping in Big Sur, California (click to enlarge)
Big Sur is a favorite of mine even though there are not a lot of remote camping opportunities.  We have to camp in a campground, but it's beautiful there, so it's worth it.  The Mojave desert in general has a lot of great camping.  I've also still got the desert in Anza Borrego to explore.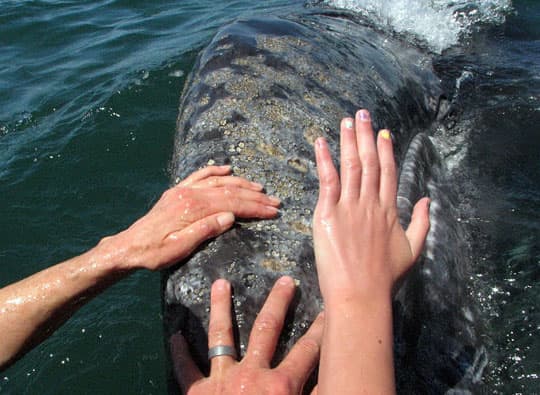 Above: Suni and his family go see the whales in Baja during the Spring
We don't get out as much in the summer.  We usually go see the whales in Baja during the Spring.  Right now, during the winter, is prime camping season for us.  We love Death Valley and try for a Baja trip during the holidays.  Winter is go time!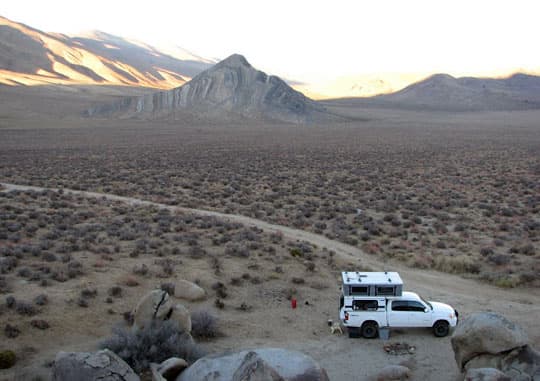 Above: Off-the-Grid in Striped Butte, Death Valley, California
TCM: How do you find places to explore off-road?
Suni: I find most of the places through serendipity.   I just find places.  I use a Benchmark map as my go-to guide.  Most of the roads we travel are in there.  I also have the GPS.  Typically we decide on a trip, like Death Valley, where there are lots of back roads.  We'll just see one, and try it.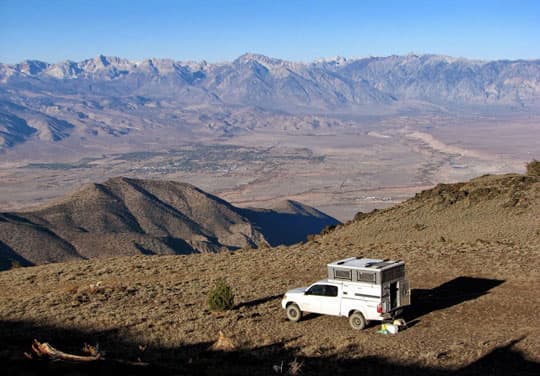 Above: White Mountains, California
I'm not generally worried about the roads I take.  I know what my truck is capable of.  There are plenty of times I'll take a trail and say no.  When my hair stands up on the back of my neck, I turn around.
I always carry a Hi-Lift jack and a recovery shovel.  I bought the jack before I had the camper for trips to Baja.  I have never used it.  When I have been stuck, I've been able to get out with the shovel and by airing down.  I worry more about catastrophic vehicle failure.  I am always prepared with more than I need.
I'm in my truck now with my camper.  If I were to go out now, I could eat for a week.  We always have provisions in the camper.
Since I was a backpacker, I've always had the mindset to have the proper gear.  I always know where I'm at, and what the odds are.  I also know that usually I'll see someone by days' end.  Situational awareness is key.  I ask myself, "What if?", every time.  If I'm camping with another vehicle, I might try more.
Above: Winning TCM calendar photos Big Sur, California, Alabama Hills, California, and Punta Canoas, Central Baja or Baja California Norte (click to enlarge)
TCM: You won on the Truck Camper Magazine calendar cover and the month of June in 2010 and 2011.  Is photography a passion of yours?
Suni: I took the cover photo and the other calendar winners with my crappy three-megapixel Canon camera.  I do enjoy photography, but I wouldn't call photography a hobby since my camera is on automatic.  I really do want to get an SLR and learn a bit more about it.  There are a lot of places I've gone to because I was inspired by other people's photos.
TCM: What does your wife think about off-road travel?
Suni: When I met my wife, she hadn't really experienced camping much.  When we first got the camper, it was funny because I'd be driving down the road, and she'd say, "You can't go there!" or "You can't go over that!"  Sure, I could.  I'd put the truck into four-wheel drive low and get through.  Now she's usually reading a book and not worried at all.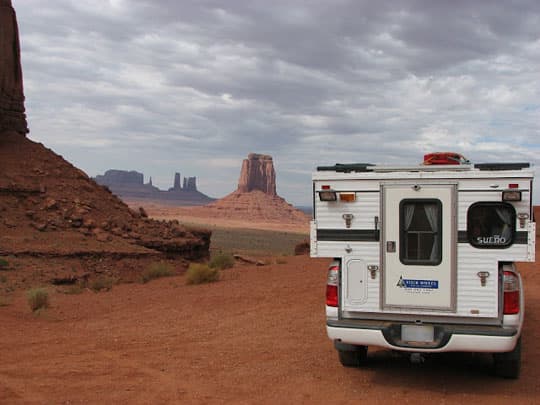 Above: Monument Valley, Utah
TCM: Tell us about your southern Utah trip.  From your pictures, it looks like you covered a lot of ground.
Suni: We completed a nine-day trip to Southern Utah which absolutely blew our minds.
That trip was inspired by Expedition Portal and Wander the West trip reports.  I was getting sick and tired of looking at the southern Utah pictures on the web.  I had to go there and see it for myself.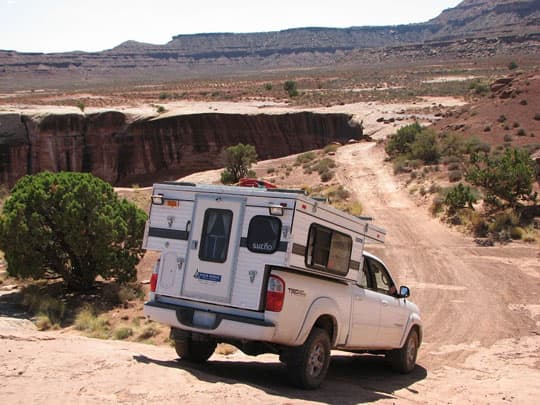 Above: Suni's Four Wheel Camper Hawk on the White Rim Trail
We did a big loop traveling to Arches, Valley of the Gods, Monument Valley, Bryce, Zion, and the White Rim trail, which was the main point of the trip.  We did the White Rim trail in two days and should have done it in three.  I want to do it again.  It's spectacular.
Above: The opportunities to drive on dirt roads are endless in Utah (click to enlarge)
The great thing about Utah is that I'd see dirt roads on the map that were twenty-five miles long, and then they'd link up with other roads; the opportunities seem endless.  We went through Waterpocket Fold and then came up the Burr Trail into Escalante and out to Kodachrome.  I'd be driving, and constantly wondering, where does that road go?  It was wonderful!
That area is pretty much the pinnacle of off-road camping and we intend to continue to explore it.  We really wish it was closer to home.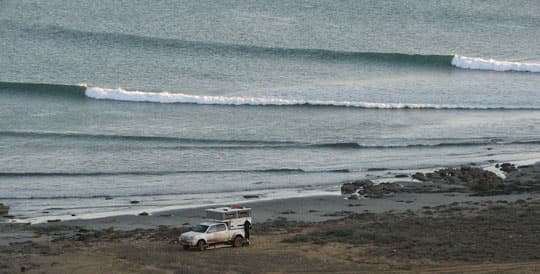 Above: Camping right next to the water in Cuchillo, Baja California Norte
TCM: You said in your email that Baja is your favorite truck camping destination.  What makes Baja special?
Suni: I'm a surfer.  My life revolves around catching waves.  Baja is great because I can camp and surf.  That's why I initially bought the camper.  My camper is the perfect surf platform.  In Baja, there are loads and loads of places to surf with quality waves.  Most of the places I go are remote, with no facilities, which is why having a camper is so nice.
Everyone thinks if you go to Baja you will die.  The border towns are what you generally have to be concerned with.  When I cross into Mexico, I leave my house the night before, stay in San Diego, and cross the border first thing in the morning at daylight, after all the bad guys hopefully have gone to bed.  Once you are past the border towns, you will meet nothing but the kindest people in the world.  Most of them have nothing and are happy to share what they have with you.
I go to some of Baja's most remote beaches and all I ever run into are fisherman and fish camps, not the criminal element.  That's not to say they can't or won't be there.  You've got to keep your head on a swivel, but, just like other places, you learn and get that sixth sense.
Above: Camping in Baja (click to enlarge)

TCM: How is cell phone service in Baja?
Suni: I'm on AT&T.  They offer a Mexico plan.  Your phone will work, you will just pay more to use it.  In most of the places I travel in Baja, I don't have coverage anyway.
TCM: How about language issues?
Suni: My Spanish has gotten better over the years.  It may not always be grammatically correct, but I get my point across.  I do admit that speaking a little Spanish has given me an element of security.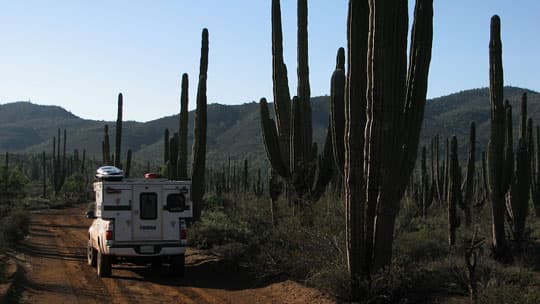 Above: Baja California Norte
TCM: How about insurance in Mexico?
Suni: Knock on wood, I have never been in a traffic incident there.  Everyone is presumed guilty immediately until insurance investigators sort it out.  If you're in a wreck, you need insurance.  With that insurance comes a lawyer if you need it.  You can buy insurance by the day, but I buy annual insurance.  I think I pay 300 dollars for my annual policy.  That is generally the smart way to go about it if you plan on spending more than a week or two.
When I have this conversation about traveling to Mexico with people, some say I'm crazy.  But right this second there are loads of snowbirds driving monstrous RVs in Mexico who speak no Spanish.  And they are having a blast.  It's really not that big of a deal.
Follow the Golden Rule and don't drive at night and don't put yourself in bad positions.  There are people out there who will rip you off, but that's true anywhere.  Make sure you secure your rig.  The biggest risk is petty theft.
TCM: Other than surfing, what do you like to do while you're out truck camping?
Suni: I love to fish.  I often bring a kayak.  We like to go see something different.  When it's normal California camping, we'll go hiking and exploring.  Death Valley is great for that.  We like to see waterfalls, cave paintings, old cabins, and mines.  Generally, we're just exploring the area.  I mountain bike some, but rarely bring a bike on a truck camping trip.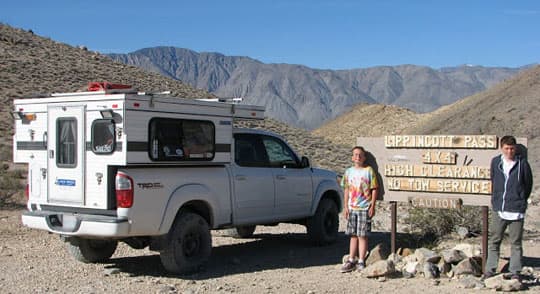 Above: Ethan and Ben at Lippincott Pass, Death Valley, California
TCM: Do you take your kids truck camping?
Suni: The kids go with us a lot.  Now that they've grown – one is sixteen and one is fourteen – they have branched out into a tent.  When they were younger, we'd put them on the lower couch.  After a couple of years, they were outside in a tent.  They love the freedom.  Each year the tent gets further and further away.  They are outdoor maniacs.
I am teaching them how to drive off-road.  Depending on the road, I'll usually drive in and let one of them drive out.  As I'm driving these tough roads, I explain what I'm doing.  I tell them why I'm taking a certain line.  I want to pass this knowledge down to them.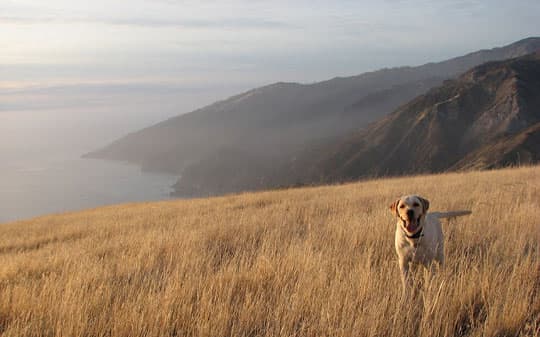 Above: Gunner in Big Sur, California
TCM: They are so lucky!  Tell us about your dog and what he thinks of truck camping.
Suni: Gunner is our trusty hound.  He's a seven-year-old lab, and he goes with us everywhere.  He is one lucky animal; he's been to a lot of neat places.
It is a good thing to have a dog when we're in Mexico.  Most animals aren't cared for as pets down there, so dogs in Mexico can be unfriendly.  As a result, Mexican people are generally leery of dogs.  When I go to Mexico alone, he's good security.
TCM: Is it tricky to get him across the border, and back?
Suni: Going into Mexico is not an issue with Gunner.  It's coming back to the USA that can be tricky.  There's an international health certificate from the vet that you should carry with you, although I have never been asked for paperwork.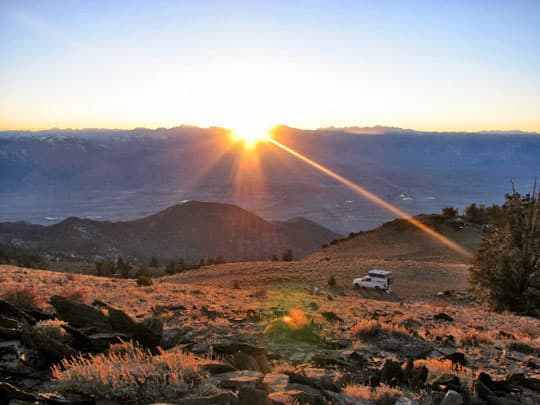 Above: White Mountains, California
TCM: Thanks for the interview Suni.  Is there anything else you'd like to add?
Suni: I'm just another knucklehead out there, trying to enjoy nature.
To visit the Four Wheel website, go to fourwheelcampers.com. Click here for a free Four Wheel brochure.
Suni Williams' Rig
Truck: 2006 Toyota Tundra TRD Limited, crew cab, single rear wheel, gas, 4×4
Camper: 2003 Four Wheel Camper Hawk
Tie-downs/Turnbuckles: Four Wheel's system
Suspension: Rancho RS9000 shocks, Firestone Ride-Rite airbags, American Mojave wheels
Gear: 2″ leveling kit/lift, KC Daylighters, which are the lights in the front