Fellow truck campers share their favorite beach boondocking spots, snowbird friendly campgrounds, unprecedented whale watching experiences and real life stories of traveling and camping throughout Mexico's Baja California Peninsula.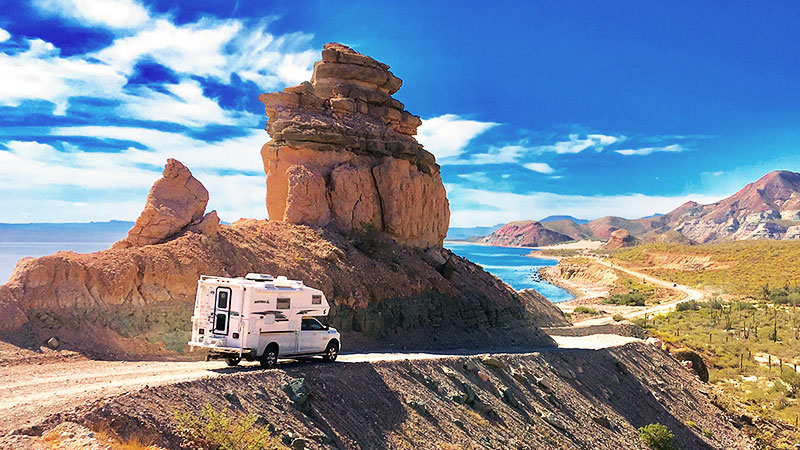 Above: Driving in the Baja Peninsula, photo taken by Barb and Nick Malden
Nothing seems to entice and terrify RVers from the United States more than the thought of traveling by RV in Mexico.  Don't believe me?  Next time you're talking to fellow RVers at a campground in the USA, ask, "Has anyone been RVing in Mexico?"
The answers are usually instantly polarized. Something like:
"Mexico is too dangerous. No way!"
"Absolutely, I would love to go!"
The funniest part about this is how these statements are sometimes made by the same people as they vacillate wildly between their desire to experience Mexico, and their fears about it.  "I'd love to go" to, "No way" and back again.
We completely understand this reaction.  While Angela and I visited San Miguel de Allende, Mexico in 2004 and felt safe there, we have never been to Mexico in our truck camper.  We would love to go truck camping in Mexico, but we're chicken.  That said, we are going to go – eventually.  If we don't lose our nerve.  Oh heck!
"What about the Baja California Peninsula?  We could start there."
Angela agrees, but wants to phone a friend, or ten.  "Yes, but let's poll the readers about how it works, and where you stay.  And we'll need some Baja books.  Maybe cross the border with fellow truck camping friends – in 2022."
Somehow traveling to the Baja California Peninsula seems like a much safer, much easier way to start exploring Mexico.  Baja is Mexico light.  Practice Mexico.  South of the border, in a trial size.  You get the idea.  With an appropriate amount of research and preparation, Baja feels approachable.
Speaking of research, what follows are some incredibly valuable insights for anyone considering a truck camping adventure into Mexico's Baja California Peninsula.  Want to know where to go, where to stay and what to do in a truck camper?  Start here.
Laurie Heimbigner
2013 Ford F-550
2013 Phoenix Camper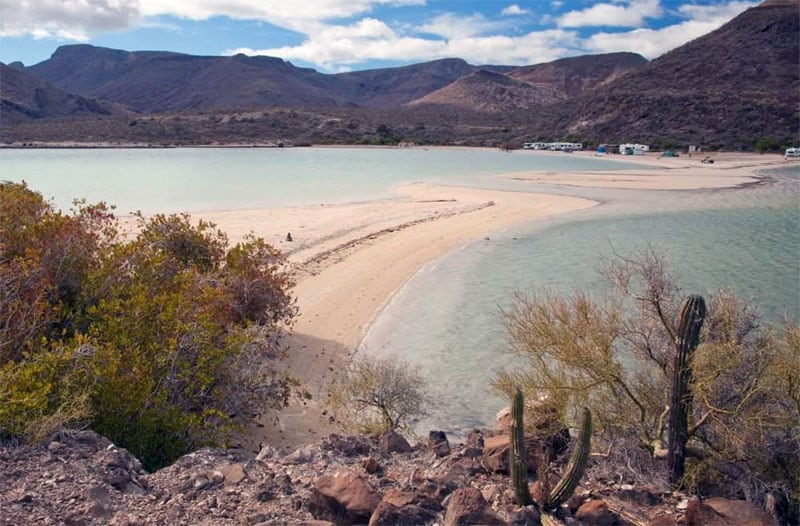 We love Baja and have driven there nine times, most recently for over two-months from December through February 2017-2018.
It is helpful, but not necessary to speak a little Spanish.  My Spanish is very limited and Bruce's almost non-existent beyond, "cervesa" and, "baño" – beer and bathroom.  Our biggest communication problem was interpreting road signs, so we found it very helpful to bring along a list of sign translations.
We almost exclusively wild camped and never felt unsafe.  However, we did have our car broken into once with things from our campsite stolen while we were out kayaking.  If leaving your camp it's best to be in a place with other people and to ask someone to watch over your stuff while you're gone.
As you drive be prepared to go through multiple military checkpoints with automatic rifle toting soldiers.  Smile and relax.  They're just doing their job.  They may want to inspect your camper and/or cab.
Be calm and polite, but stay with them and open only one door at a time, and then close it before showing them the next one.  We had an item pilfered when we weren't watching them closely.  On the whole, the people we have met in Baja have been extremely friendly and helpful.
When To Go To Baja
Baja is very different at different times of the year and we haven't traveled in Baja between mid-summer and the end of fall when it's hot and stormy.
December and January have comfortable temperatures in the 70s and 80s.  This is the time most of the snowbirds crowd the beaches.  They are there until Easter.  Winter is rather windy, which is great for windsurfing, but bad for kayaking and snorkeling.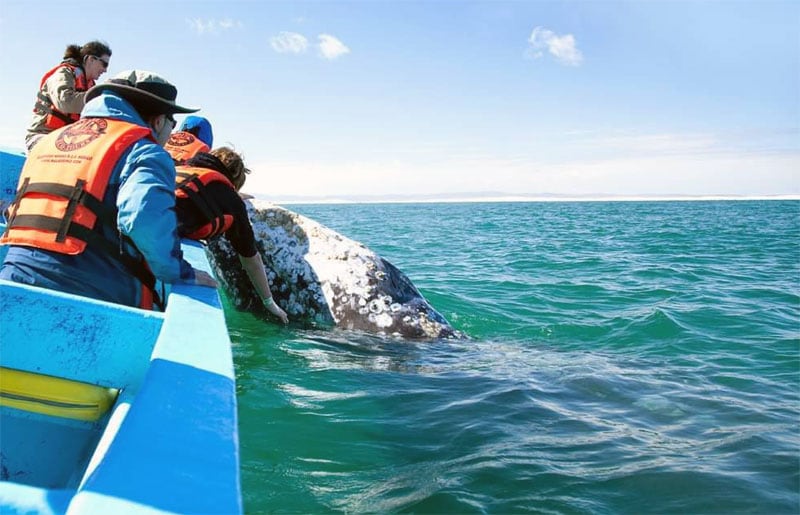 February and March still have cooler temperatures, but are not quite as windy.  That is the best time to go if you want to visit the friendly whales at either Guerrero Negro or San Ignacio.
Mama gray whales bring their babies right up to your guided "panga" (Mexican fishing boat).  Early January and late March had fewer whales.  We've been to both whale watching places and highly recommend them both.  It was a peak life experience for us that you can only experience in Baja.
May and June temps are in the 90s and low 100s.  The wind is gone and so are the crowds.  You have the beautiful sandy beaches almost to yourselves, and the kayaking and snorkeling are excellent.
Getting There
To us the real Baja doesn't start until we're past Ensenada, so we try to cross the border by 7:00am or 8:00am in order to make it to our campground before dark.  The book, "Traveler's Guide to Camping Mexico's Baja" by Mike and Terri Church has detailed instructions on the paperwork you need and on getting through the border.
When crossing at the Tijuana border, I always open their book and read out the directions as Bruce navigates the maze of streets.  It also has other very helpful information on driving in Baja.  The first night we stay at one of the campgrounds on the road to La Bufadora just south of Ensenada.
Our Favorite Places
Cataviña: An amazing jumble of huge boulders and cardón cactus in Baja Norte with scenic wild camping on your way south.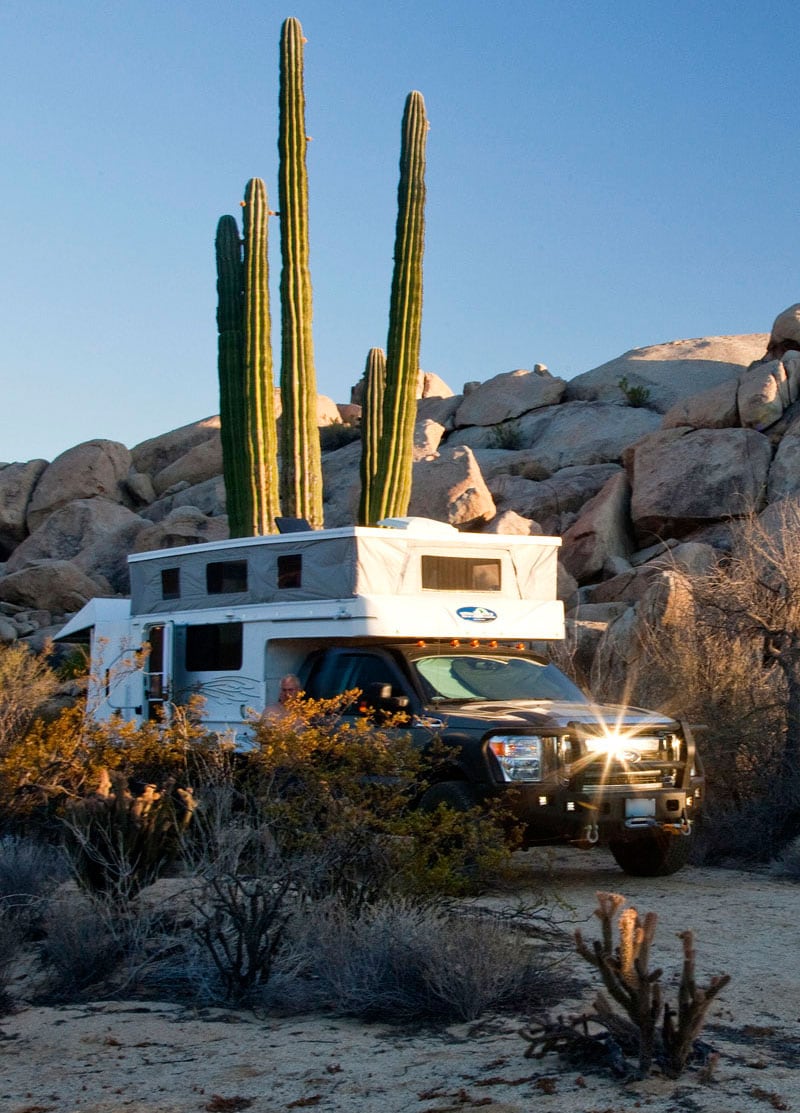 Santa Rosalia: The first town on the Sea of Cortez.  It has a utilitarian-looking cast iron church made by Eiffel of Eiffel Tower fame, and a great bakery where no one speaks English.  We point to each pastry we want and hold up fingers to indicate how many.
Mulegé: Our favorite small town.  Located just before the Bahía Concepcion.  You know you're in Mexico there.  It's great to wander around in on foot, but quite narrow and curvy with challenging parking for truck campers.
Bahía Concepcion: Also called "The Brick Oven".  It's a huge emerald blue bay that is always warm and is protected from the winds.  It's edged by numerous beautiful white sand camping beaches, most with palm leaf shelters called palapas at each site.
Expect to have someone come collect a camping fee in peak season, but they usually don't bother in the summer.  If the ladies with tamales come and offer to sell you steaming hot tamales out of the trunks of their cars, just say yes!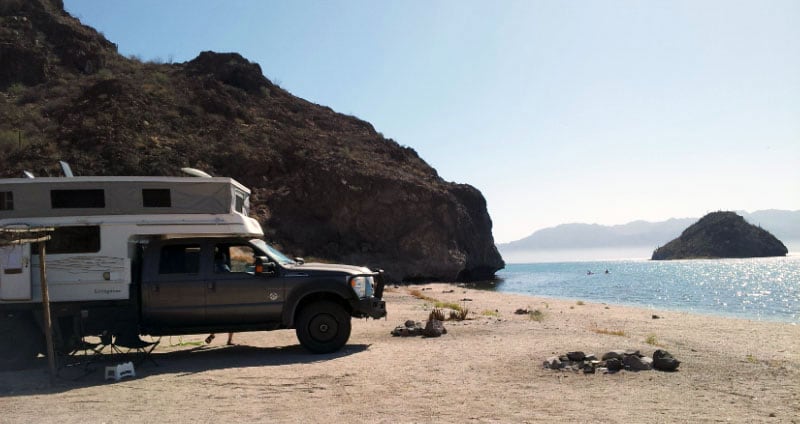 Loreto: Our favorite medium size town.  It has better parking, a beautiful cathedral with nice museum anchoring the central tourist outdoor mall, and great restaurants (tacos at Del Ray are a must!).  It's also fishing central if you want to take a chartered fishing trip.
La Paz: Our favorite big city.  It has a wonderful waterfront for strolling and, other than the waterfront, the city doesn't have a designated tourist area.  Locals and tourists are all mixed together.
Cabo Pulmo Marine Preserve: Located about three miles past the tiny town of Cabo Pulmo, Cabo Pulmo Marine Preserve has the best snorkeling in Baja.  Though it's not a campground, you can pay a small extra fee and camp overnight in the sand parking lot.  While there take a hike south over the bluffs along the beach to Dinosaur Egg Beach.  You'll know when you've arrived.
Todos Santos: A small tourist town with a significant community of US and Canadian ex-pats, it has very nice art galleries and tourist shops galore along with really good restaurants.
Roads and Driving
The main road down length of the peninsula is Mex 1.
The road in Baja Norte, the northern state of Baja, narrows significantly south of Ensenada.  It's great fun if you're driving a small nimble car.  In a bigger vehicle it is not for the faint of heart.
The road is just wide enough for two semis to pass each other without their mirrors touching.  There is rarely any shoulder and sometimes the edges of the roadway are crumbled away, necessitating a sudden swerve into the oncoming lane.
The road goes through mountains so it's often winding with many blind corners and some steep grades.  The road is very well signed, though, warning you clearly when you're coming to a curva peligrosa – a dangerous curve.
Often times there are miles and miles of potholes around the area of Cativiña, some years extending over 100-miles towards Guerrero Negro.  There can also be areas of road washouts if there was flooding in the winter, but the road crews are quick to create detours.
One trip we towed an 8-foot wide sailboat down the length of Baja and back.  Not only were there very few launch ramps so we only used it twice, but towing it took nerves of steel as semis, busses, and Class A motorhomes rushed by mere inches from the fender.
The road widens on the southern half when you enter Baja Sur, and has actual shoulders.  So driving in southern Baja is much easier.
The road is regularly patrolled by The Green Angels (Ángeles Verdes).  This is a government-funded fleet of bilingual mechanics/first-aid technicians who are there to provide free assistance to travelers in need.
Things To Watch Out For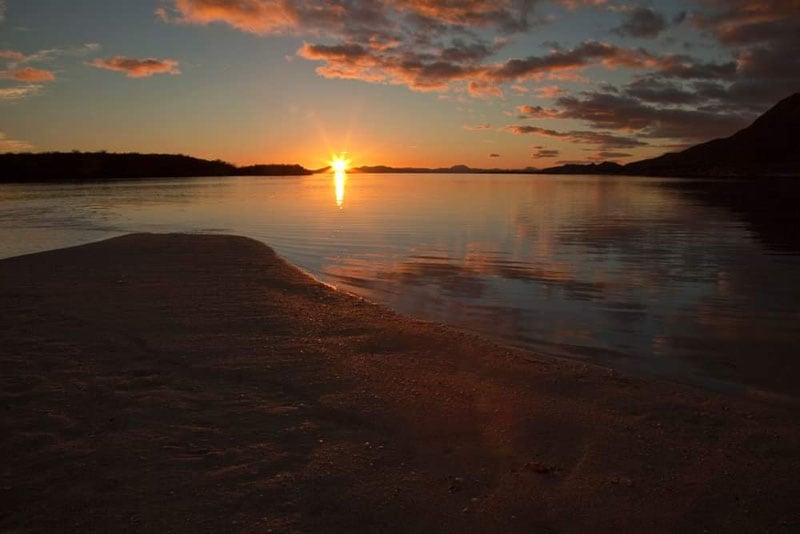 Virtually every small town on Mex 1 has a varying number and size of speed bumps called topes.  Some have warning signs or are painted, but many do not.  Expect them as you approach all towns.  They are also scattered randomly throughout the town.  Take them very slowly.
Stop signs may be placed in unusual locations in towns including very high or on the wrong side of the street, so look carefully at intersections.
A red painted curb means no parking and a green painted curb means parking exclusively for the patrons of that business.  If you park in the wrong place, not only are the police are quick to ticket you, but they remove your front license plate and turn it in to the police station to make sure you pay your ticket.
Most rural areas are free range and there are often cattle on the road.  They like to hang out in the vados (dips in the road that allow water to flow during the rain).  Approach vados with caution.
It's often difficult to see around semis, so they commonly turn on their left turn signal to indicate that it's safe for you to pass.  Alternatively, it could mean they're about to turn left.
Driving at night is to be avoided due to black cows on black roads, cars without functioning head or tail lights, and a higher percentage of intoxicated drivers on the road.
Resupplying For Fuel, Groceries, and Water
Gas/diesel: Fuel is readily available throughout Baja, but you won't always find ultra low sulphur diesel.  We filled our 100-gallon tank just before the border, and then as needed over the next three weeks and didn't experience any engine problems.  Important – Always watch the person at the pump to make sure that he selects the correct fuel and that he zeros the pump before he starts pumping.
Groceries: Small towns all have tiendas with a stock of basic necessities such as fruits, veggies, room temperature eggs, beer and soda.  Medium and large towns also have western style grocery stores.  Our favorite chain is Lay.  The larger Super Leys all have a deli section with a large steaming aluminum pot.  Inside the pot you'll find fresh and delicious tamales.
Water: We didn't have much success getting potable water at campgrounds.  It was generally salty.  Most towns have an Agua Purificada business where you can have them fill your water tank with purified water for a very reasonable price.
Favorite Resources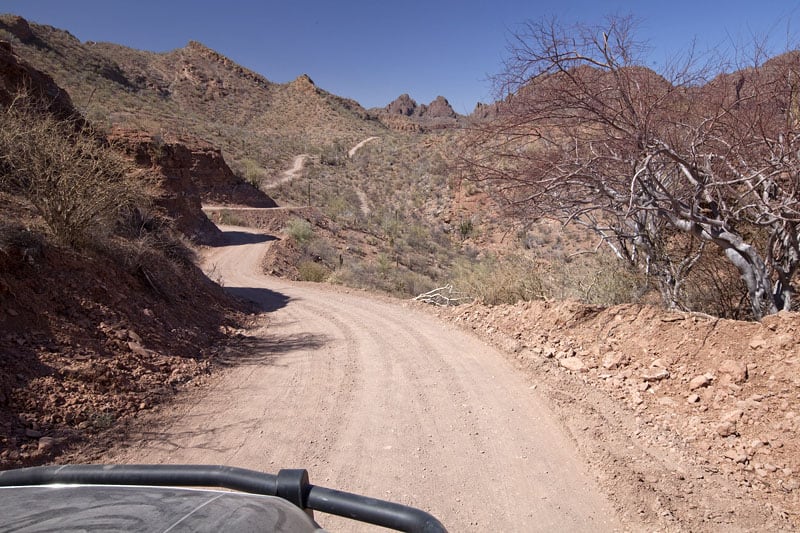 Our very favorite traveling app is iOverlander.  Travelers list and review wild, informal, and formal camping sites as well as information on border crossings, military/police check points, locations of mechanics, stores, laundry mats and so forth.
When you click on each link on the map it takes you to the description and to an additional link to get driving directions on your choice of mapping apps.
The MAPS.ME app allows you to download maps so you can use them off-line which is a useful feature in Baja.
If you're not planning on leaving Mex 1 you really don't need a map, but if you're planning on getting off the beaten track you'll probably find the National Geographic Baja Map Pack helpful.
We like paper maps for getting the big picture and for having other travelers highlight or circle suggested places to visit.  We found that the maps were not totally accurate if you're going way off the beaten track (such as across the center of Baja), though.  The GPS worked better there.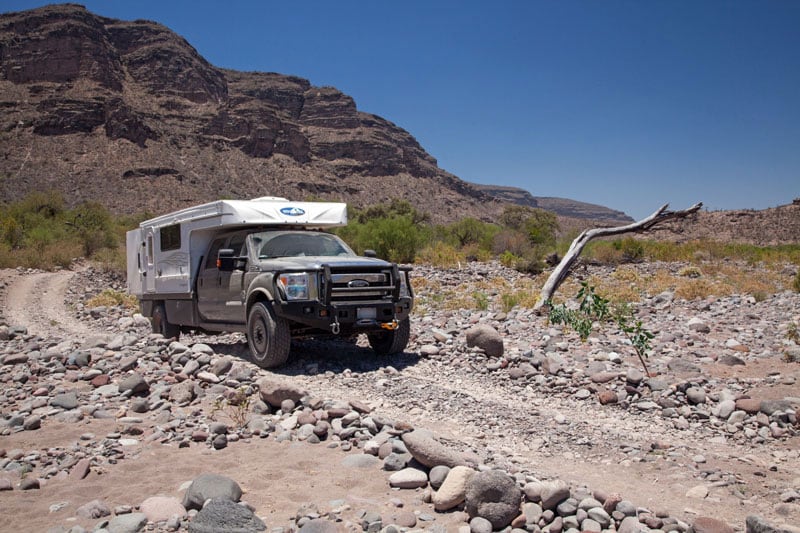 The, "Traveler's Guide to Camping Mexico's Baja" by Mike and Terri Church is helpful.  They have been traveling to Baja for decades and update the book regularly.  It also has loads of invaluable advice about driving in Baja, and includes a translation of road signs.
We also recommend, "The Baja Adventure Book" by Walt Peterson.  This is an older book from 1998, but we still use it because it describes places to see and to explore down the length of Baja based on their kilometer marker along the road.  We've explored lots of cool places thanks to this book.
Baja and its people are awesome! We always feel richer for having gone there.
Kris Cassidy
2003 Toyota Tacoma
2016 Northstar 600SS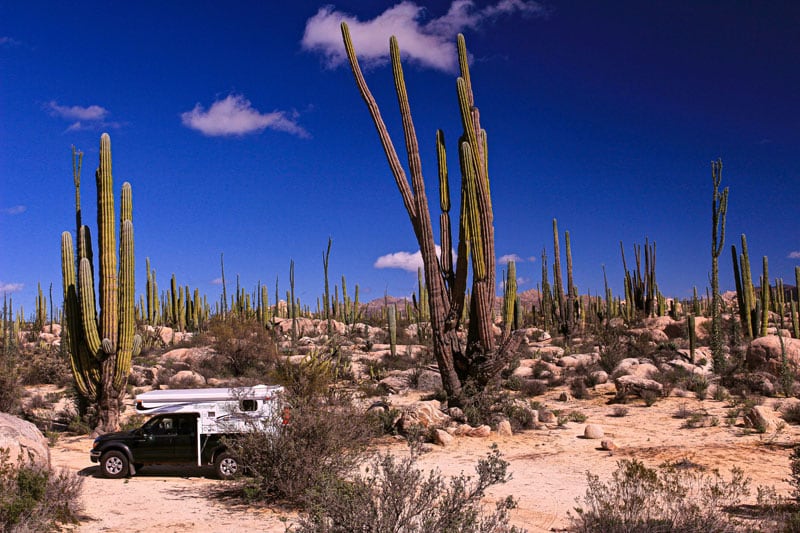 Above: Boondocking among the giant Cactus in the Cataviña Desert
In my experience the best and quickest place to cross the border is Tecate.
Puertocitos has a beautiful beach in a cove where you can camp on for $10 a night.  It is also a 15-minute walk to some natural hot springs in tide pools.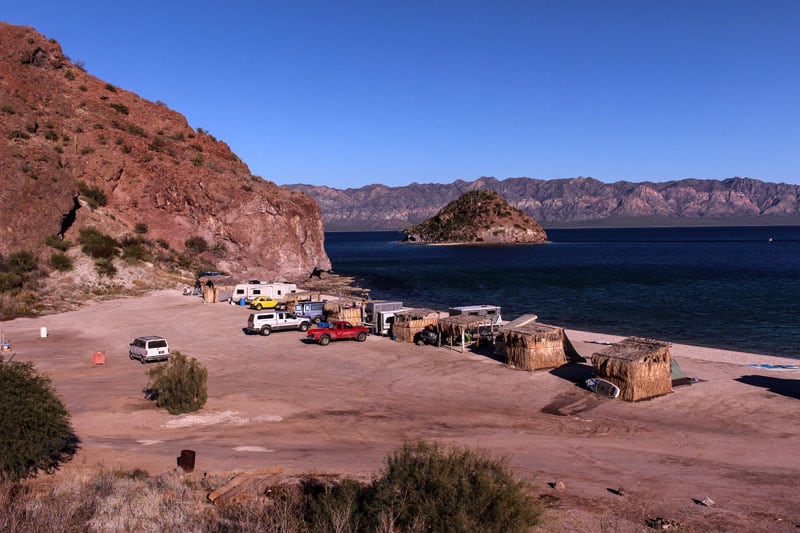 Above: One of the beaches in Bahía Concepción
I recommend going to the beaches in Bahía Concepción.  They may be crowded with other campers, but the swimming, snorkeling and views are not to be missed.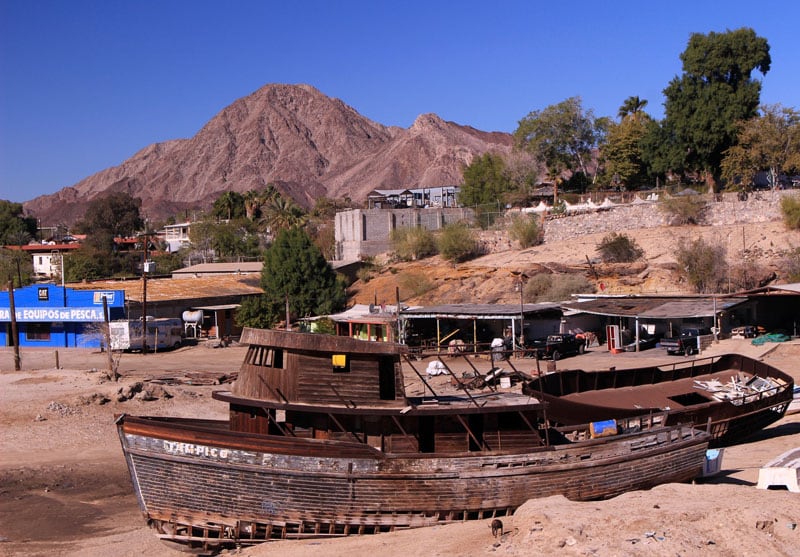 Above: San Felipe, Baja
Pete's in San Felipe has good camping on the beach and good facilities.  I boondocked on other beaches. Sometimes someone would come around to collect a modest fee.
Do not miss camping on the beach at Ojo de Liebre campground.  From there you can take unforgettable whale excursions in season (January through May).  Gray whales come to this lagoon to give birth.  I went out two days in a row.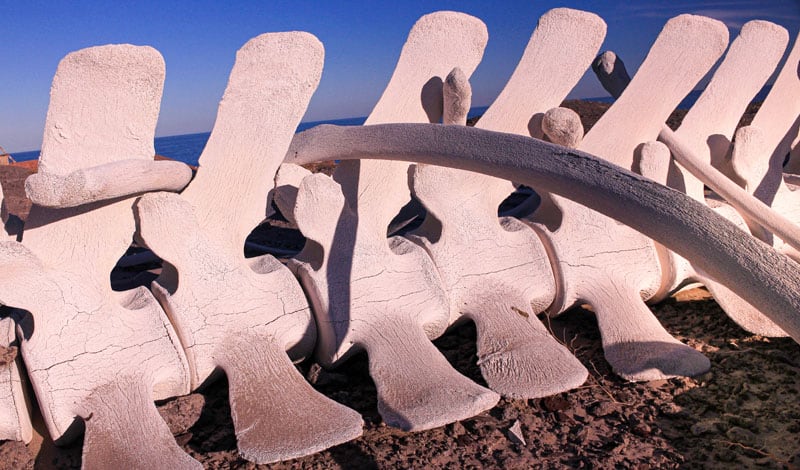 Above: Whale bones near Puertecitos
Barb and Nick Malden
2014 Ram 3500
2018 Northern Lite 10-2EX CDSE
Above: Barb and Nick in Loreto
Baja is a skinny peninsula bordered by the pounding Pacific Ocean on one side and the vibrant Sea Of Cortez on the other.  It's divided by lush desert expanses, snowy twisty roads, raw purple-peaked mountain chains, colorful cliffs dropping to the water's edge, and gentle rivers flowing through high valleys.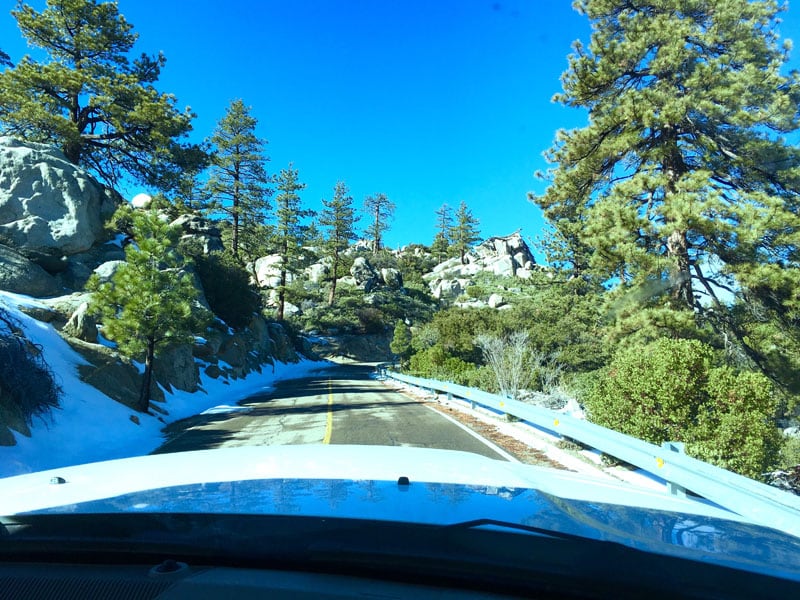 Above: Snow in Parque Nacional San Pedro Martir
It's all interspersed with tantalizing history, wildlife of all sizes, interesting people and, of course, great food.  Oh, and did I say there's wine country, too?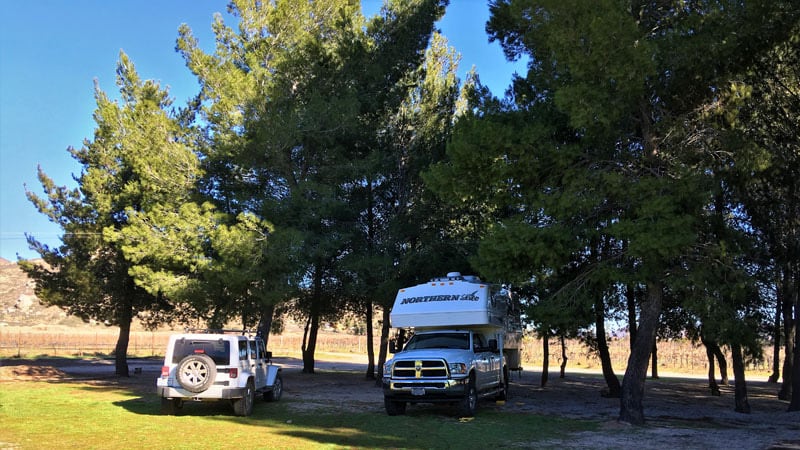 Above: Overnight stay at a winery in Baja
Don't miss the backroads!  Go to Puerto San Francisquito.  It's a pleasant enough little town, and a prime example of, "it's the journey, not the destination".  Access looks easy on the map and the views en route are fantastic, but you will be tested.
Mex-1 is a good quality road from north to south with plenty of convenient campgrounds along the way.  It is not a wide road and there are some white-knuckle moments when passing 18-wheelers heading in the opposite direction.
Drivers were always courteous and tried to give as much space as possible.  In addition, there are reasonable quality spur roads off Mex-1 leading to beaches.
The entire Baja Peninsula is perfect for boondocking.  There are also some very unreasonable secondary and tertiary roads off the spur roads.
We got off Mex-1 and tried to follow the coastline as closely as we could.  We traced the eastern shore southbound to Cabo and the western coastline heading north.
This led us to take some very rough roads passable only at very slow speeds in four-wheel drive.  We spent many sub-100-mile days picking our way along.
Luckily, we had the advantage of our Jeep and would often scout a route before attempting to pass with the camper.  There were some hairy sections, but we only encountered one impassable spot.  Although infrequent, a heavy rain can completely change the quality of some roads from one day to the next.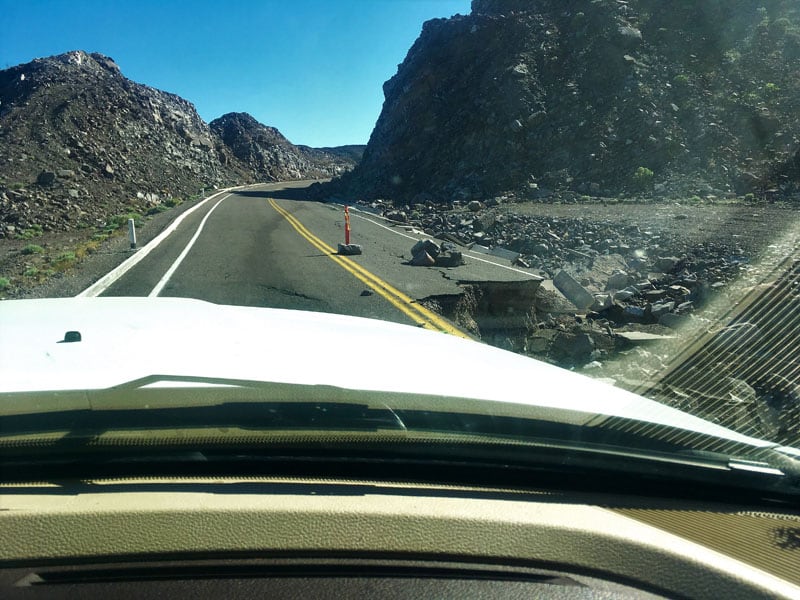 Above: Watch out for road holes in Baja
Because it's the desert, there are many overhanging branches and sticker-laden limbs on secondary roads.  We had to let go of cringing at every scratching noise we heard as we crept along with our beautiful camper.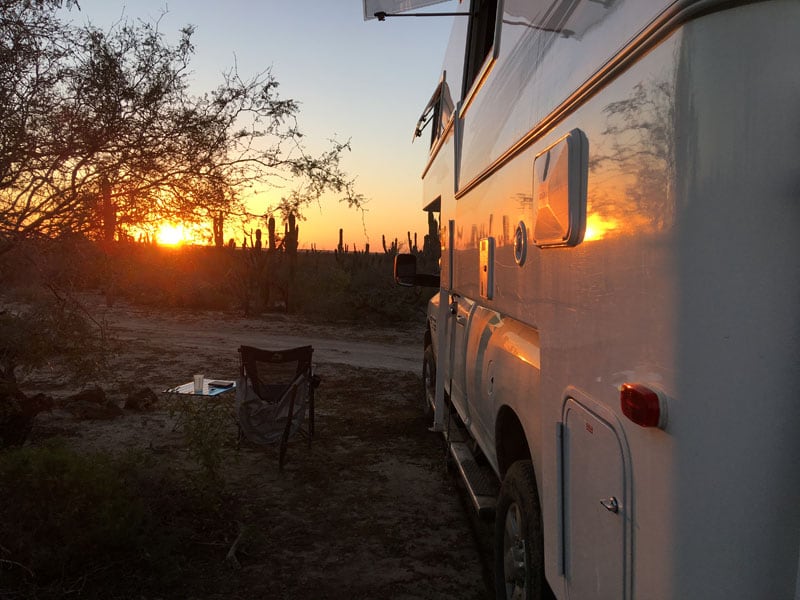 Above: Pull off the road and find a spot in the desert
Even so, we knocked our roof rack off (those cacti don't give an inch) and lost plenty of vent caps.  We eventually bought a machete and hatchet to clear low hanging branches in some spots.  We also now carry a supply of vent caps.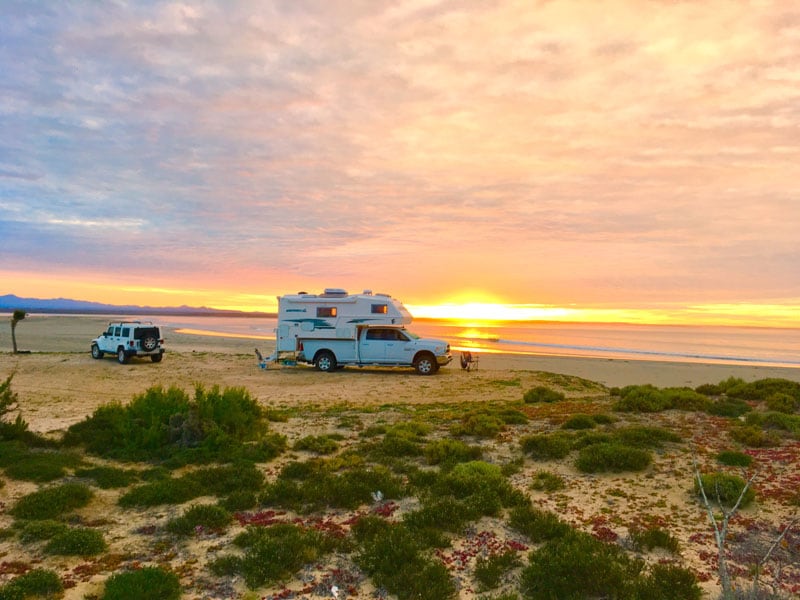 Above: Lots of empty beach space to boondock beach camp
The beauty of Baja is off the beaten path.  We had deserted beaches all to ourselves topped only by night times in the desert.  To appreciate it you must get off the asphalt and onto backroads and accept slow speed.  We traveled without a schedule, enjoyed boondocking and found things to like at every spot.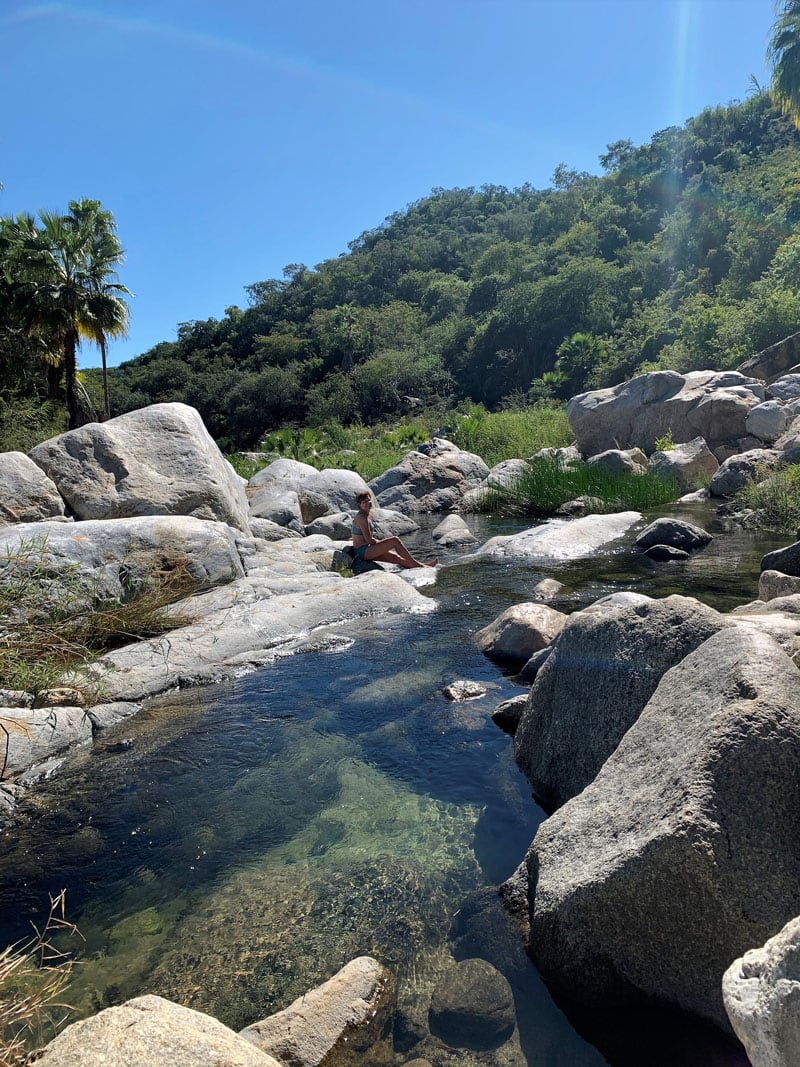 Above: Hot springs at the end of a dirt road outside Santa Rita which is itself about an hours drive north of Cabo.  The springs are hot tub temperature and heat a stream with various pools you can sit and/or swim in.  Very nice spot.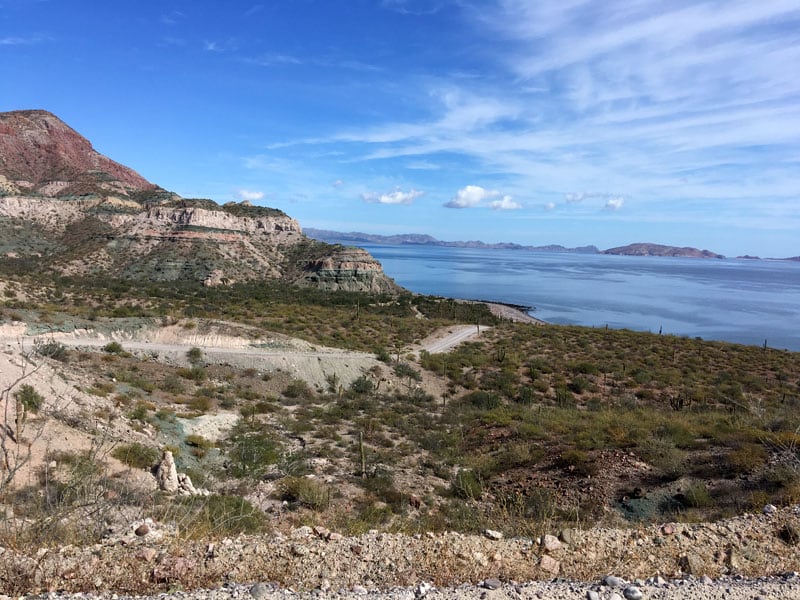 Overall, we enjoyed the east coast more than the western side.  On the Sea of Cortez side, the beaches were generally more accessible, and the surf less violent.  The Pacific beaches are wilder and remote.  For the nature lovers, January and February bring prime whale watching at a couple of spots.
There are many comfortable full-service campgrounds in Baja and many more officially organized dry campgrounds.  We used, "Traveler's Guide to Camping Mexico's Baja" by Mike and Terri Church for planning the occasional night in a civilized full-service campground.
Usually we simply pulled onto a beach or stopped in a quiet desert spot or dry riverbed.  We much preferred finding our own spots and never had any issue anywhere.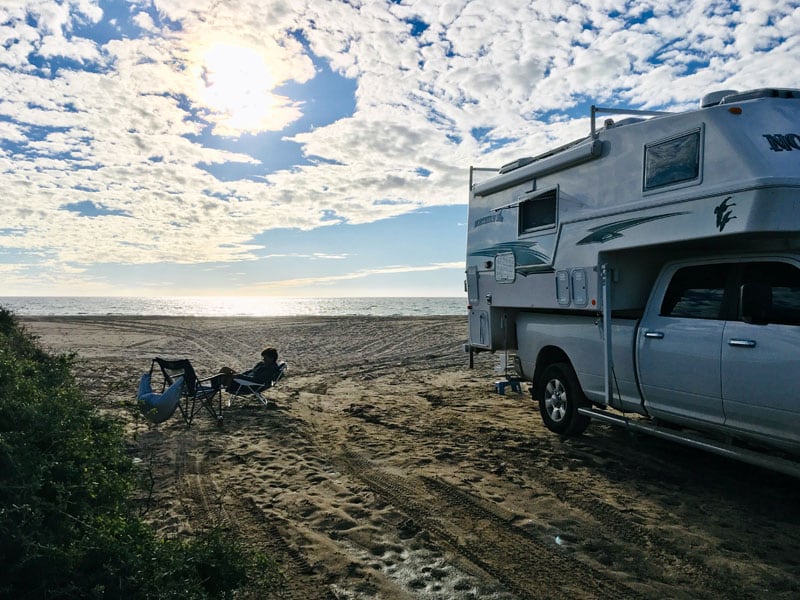 Rather than list spots, our number one recommendation is to download the iOverlander app.  This crowd-sourced app overlays the Maps.me mapping app and provides fantastic information and reviews on both campgrounds and boondocking sites across Baja, and all over the world!  We would not travel without it.
We prefer a smaller border crossing such as Tecate as opposed to Tijuana or Mexicali.  There is little commercial traffic and nowhere near the waiting you find at busier crossings.  If you are towing a vehicle you must drive it across the border separately and reconnect on the other side.
You must carry Mexican insurance for your rig and towed vehicle if you plan to drive more than 25-miles into Mexico regardless of your US insurance situation.  These policies are simple to find and you can buy them online, or they can easily be bought on the USA-side before crossing the border.
Do not attempt to carry any firearms or drugs.  They're going to ask at the border and there are frequent military checkpoints en route in Mexico.  You may need to open your camper for inspection.  We had no issues and the soldiers were very friendly, but it's not something we're used to.  The inspections were cursory.  Be polite.  They're just doing their job.
There are money exchange places at the border and in the larger towns, but we had no problem finding ATMs where we could use a debit card to get pesos.  US dollars seemed to be generally accepted in Baja, but we preferred to get and spend pesos.
There was no issue using credit cards throughout the trip including at gas stations.  We followed Mexican custom to tip the attendant a few pesos after a fill up of fuel or water.  There were dump stations at campgrounds.
We had no trouble finding either diesel or propane although propane is only available at specific propane outlets (iOverlander shows where the propane stops are).  The little green propane bottles are very hard to find so bring a supply if that's what you use.  We found some at the Ace Hardware in Cabo.
We used Maps.me and paper maps to navigate and referred often to the book, "Exploring Baja by RV" by Walt and Michael Peterson.  Accurate and complete road maps are virtually impossible to find although the Almar Dive Shop in Ensenada sells a pretty good one.
Maps.me was very good and showed many dirt tracks in the middle of nowhere (much more than Garmin).  Maps.me functions without cell connection once you've downloaded the map (so no data usage).  Even so, there are many more roads than what's on the map.  If you're going to boondock, you need to get comfortable with dead reckoning.
Editor's Note: We were not exactly sure what "dead reckoning" referred to, so we looked it up.  Dead reckoning is the act of calculating your current location by considering your previously verified locations and then making an educated guess about your current location based on how fast you've been traveling and how long you've been traveling that way.  Basically, it's navigating by what you know plus navigational experience and instinct.
Alex Lockfeld
2016 Ram Laramie 1500
2016 Four Wheel Hawk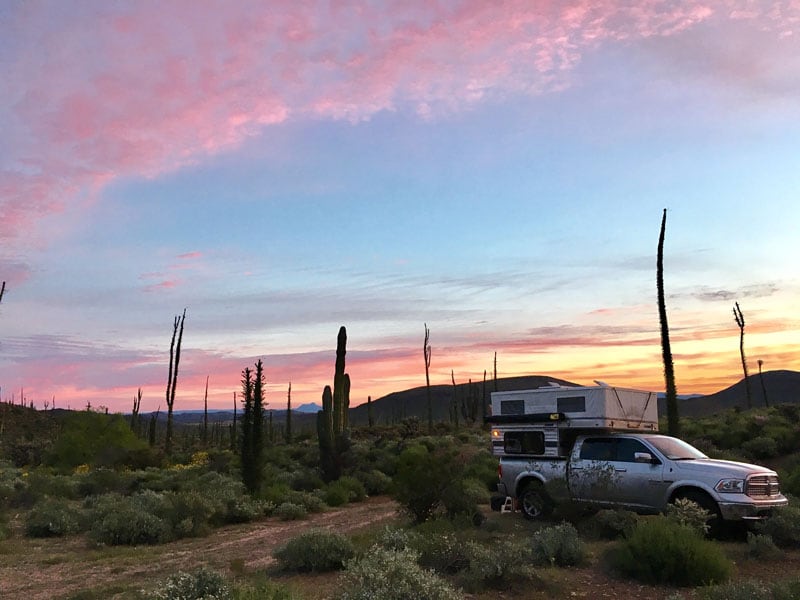 Above: Boondocking along the Trans-Peninsular Highway 1 in Baja California near Rancho Descanso
My wife and I have traveled to Baja several times in the past with a variety of vehicles.  We used to mix tent camping and staying in hotels, but I have only been once with my truck camper.
I went down solo in a bit of a hurry to rendezvous with my sister and her husband on their sailboat in Bahía Concepción.
There are a number of great stops on the way down.  In the past we have used, "The Magnificient Peninsula" guidebook by Jack Williams.  The latest edition appears to be from 2002, so it will be somewhat dated.
There has been a fair bit of development in some areas.  We always stopped in the Cataviña region where there is great desert vegetation including the unique to Baja Cirio (or "boojum tree"), rock formations, Indian pictographs and a very nice classic parador hotel.  There are dirt roads that can be taken out into the backcountry for dispersed camping.
The area around Bahía Concepción is wonderful including the town of Mulegé which has a charming mission church built in 1766 by Jesuits.  There is much new development, but there are still some beaches with rough access.  The rough access keeps out the big RVs.  It is primitive camping for cheap or even free with opportunities for kayaking, snorkeling, swimming or just hanging on the beach.
Above: Camping on the beach at Playa Santispac in Bahía Concepción
On the 2017 trip while at Bahía Concepción we stayed at Playa Santispac which was where my sister and husband's sailboat was anchored.  It had large numbers of Canadians with large RVs.  It has a couple of restaurants and bars.
When we have been to that area in the past we preferred to camp at nearby areas such as Playa Escondida that have rough road access.  On the way down the trans-peninsular highway, there are numerous side roads that an adventurous traveler can take for great boondocking opportunities.
Crossing at Tecate is less crowded than the San Diego area crossings.  In 2017 we had to pay for the entrance fee at the Mexican bank on the US side of the border before we crossed the border.  Otherwise you will have to find a place to park your rig and walk back across the border – been there, did that.
The rules are always changing.  It is also very important to note that (as of 2017), if you have a newer diesel truck, ultra low sulfur diesel (ULSD) was not available in Baja California Sur, at least not until you get to the Cabo San Lucas area.
From the last station that has USLD near the border to Bahía Concepción is about 500-miles, with a few side trips.  I was able to do it on one tank.  This situation hopefully will be changing soon.
Mary and Ken Strasser
2009 Toyota Tundra
2015 Hallmark Ute
Above: Agua Verde with their camper across the water
Everyone should visit Agua Verde.  It is south of Loreto on the sea of Cortez.  The road there is slow and tedious, but that keeps larger RVs out.
Agua Verde is a fishing village, so pangas (modest-sized, outboard-powered, fishing boats) are going in and out.  It's a safe and beautiful bay for sailboats, which was how we visited before the Hallmark.
Camping is on the beach.  Watch out for soft sand and tides.  In Agua Verde there are no hookups, so you must bring your own water.
Take your kayak, hike over the hill to an old cemetery, listen to the bells of the local goats, and just hang out.
There are a couple of little stores and, from time to time, wonderful little local restaurants spring upon the beach.  Don't go during Santa Semana week because the locals overrun it.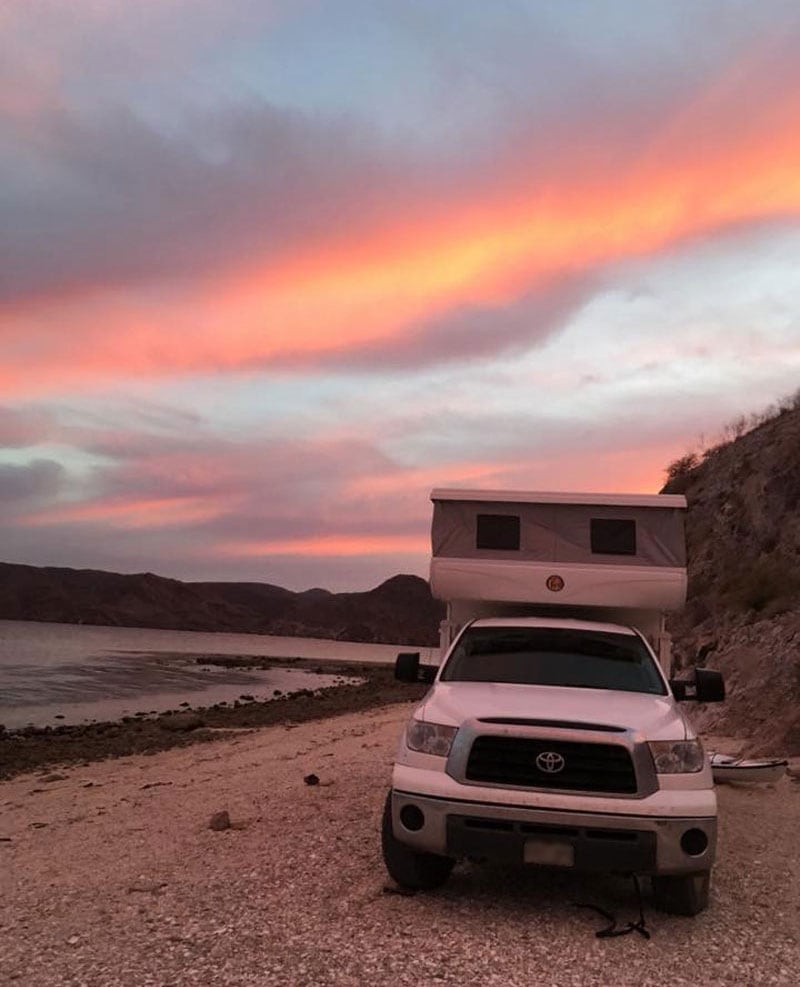 Above: Concepcion Bay is crowded, but they have always have found our own little niche on the beach
Throughout Baja we were dry camping, except for the towns of Loreto, La Paz, and Mulegé where we stayed at campgrounds to restock and empty tanks.  The Church's book gives some excellent suggestions.
My suggestions are to go early and don't try to come back to the United States on the weekend or on a Friday.  Be polite and leave your entitled attitude at home.  We have never had a problem or issue.
Carlos Navarro
1968 GMC 3500
Unknown camper
My first solo trip to Baja was back in April 1990, just after graduating from college.  To prepare for the trip, I took a 1968 GMC with an inline six.  The truck was given to me and I completely rebuilt the engine, brakes, and cooling system.  I chose the GMC for its simplicity to diagnose and repair, and because it was free.
I found a used camper (can't recall the brand), cleaned it up, spruced up the interior, and mounted it on the truck.  I used sailboat turnbuckles to secure camper to truck, keeping things simple!
Here are some of my favorite places that are still some of the best places to visit.
1. Playa Santispac/Coyote Beach is a place for boondocking. It is located near Mulegé.  The beaches are clean and the water is pristine! Fresh fish and clams are to be had from local fisherman and there is a makeshift restaurant on beaches of Santispac.
2. Loreto is the site of the oldest of the California Missions.  It is a very nice small town that is family oriented.  There are great restaurants all over town.  Eat where the locals eat for all Baja locations.
In Loreto there is propane, auto repair, tires, fresh vegetables, fruit, a grocery market, and more.  Local physicians there are excellent.  Charter fishing trips are fantastic!  Dorado and Yellowtail are caught locally.
3. Puerto Escondido is about 15-miles south of Loreto.  It had a small RV park which has since burned down.  Now I hear that there is a very nice full-service marina there.  It's worth a stop.
4. Ciudad Constitución is south of Loreto.  It's an agricultural community with restaurants, markets, local physicians, and a great feel of what an agricultural community is like in Baja.
5. La Paz is my favorite!  It's a larger city with all conveniences of the United States.  You will find physicians, a university, shopping, cultural and historical sites.  Malecon is about 500-years old!  The standard of living is very high, and many citizens are highly educated.  John Steinbeck visited here several times and wrote a book about his travels called, "The Pearl and Log of the Sea of Cortez".
5. Avoid Cabo San Lucas.  In my opinion it is too touristy, expensive, and crowded.
6. Todos Santos, on the Pacific Ocean side, is a very cool laid back artist type of town.  It is a must see on the southern Pacific side of Baja about 50-miles north of Cabo.
Roberto Freyre
2017 Ford F-150
2019 Northstar 650SC
I am originally from Cuba and I speak fluent Spanish.  I almost did not travel to Baja because I bought into the fear mongering that people express about this most wonderful place with wonderful people.
I entered Baja in San Felipe and traveled down the entire peninsula on the Sea of Cortez down to Cabo San Lucas and up the entire pacific side to San Diego entering the United States in Tecate close to San Diego.
It is all fairly desolate and spectacularly beautiful.  You can boondock on a desolate beach and be all by yourself.  I boondocked two-thirds of the time I was there.  The roads in Baja can be quite rough specially if you are traveling in an overloaded truck camper.
February and March are good months to visit the three lagoons where California Gray Whales give birth.  It is highly recommended.
Guerrero Negro and San Ignacio are amazing.  Loreto has abundant opportunities for nautical activities.
My advice is to be polite.  Have your paperwork ready to go and readily available.  And make sure you have Mexican insurance.